Japan is a hot favourite among many couples. The pleasant culture and scenic landscapes are a great place for travelling as well as having a photoshoot. Find out more about our affordable Japan Pre-wedding photoshoot packages!
Seasons
The wonderful thing about Japan is that it is beautiful in all seasons. There is never a dull moment in Japan and every season exudes a charm of its own. Find out which backdrop you prefer from the photos below!
Spring
Spring is the most popular season for a photoshoot in Japan, when its cherry blossoms are in full bloom. If you are looking for a sweet fairytale-like backdrop, this is the time of the year to visit!
SEE ALSO: Japan Cherry Blossom Forecast 2020 And Where To See Them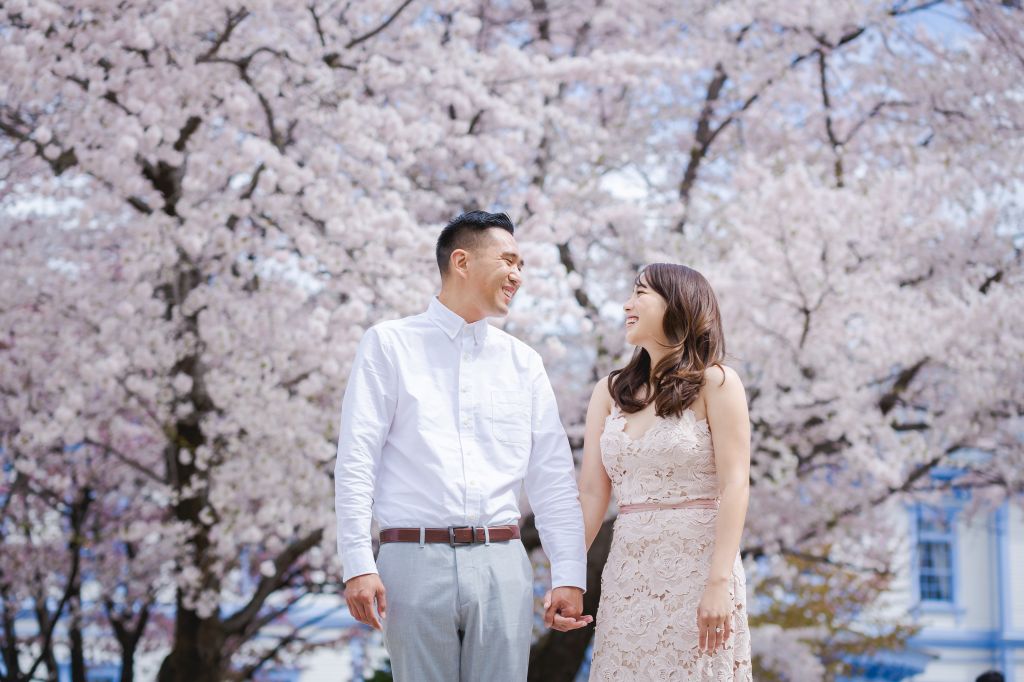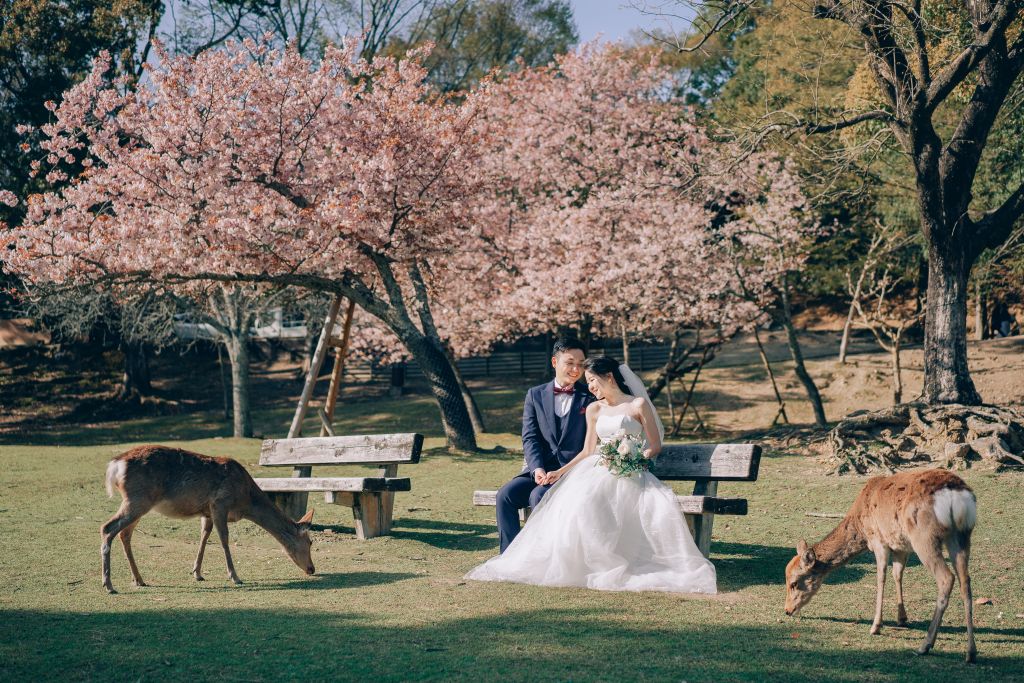 Autumn
Autumn is also a popular season for photoshoots, when Japan's beautiful parks form a golden tunnel. The crimson hues add a rustic but magical touch to your photos.
If you would like to have a wedding photoshoot during the autumn season in Japan, you can find out more about the Top 9 Places To Catch The Blazing Autumn Foliage In Japan here!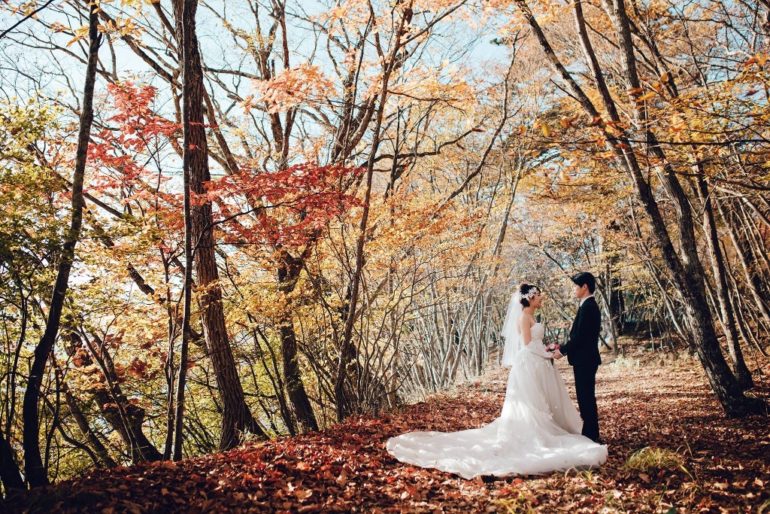 Summer
Having a photoshoot during the summer season is popular amongst many couples, as this is the perfect season to capture a myriad of colourful flowers in full bloom! The flower fields in Funaro are simply breath-taking, and they can definitely add a pop of colours to your photos!
If you would like to learn more about having your photoshoot in Hokkaido, you can also check out our Best Summer Wedding Photos in Hokkaido and Hokkaido Summer Photoshoot Guide here!
Winter
This may be a little difficult for couples who are afraid of the cold! However, for those who love it, this is a great time to visit! Some parts of Japan only receive a small amount of snow every year but we know the best places to bring you. You will be walking down a winter wonderland with us!
Not sure what a winter photoshoot will be like? You can check out our Best Winter Wedding Photos in Hokkaido , as well as our Hokkaido Ultimate Winter Guide for more information!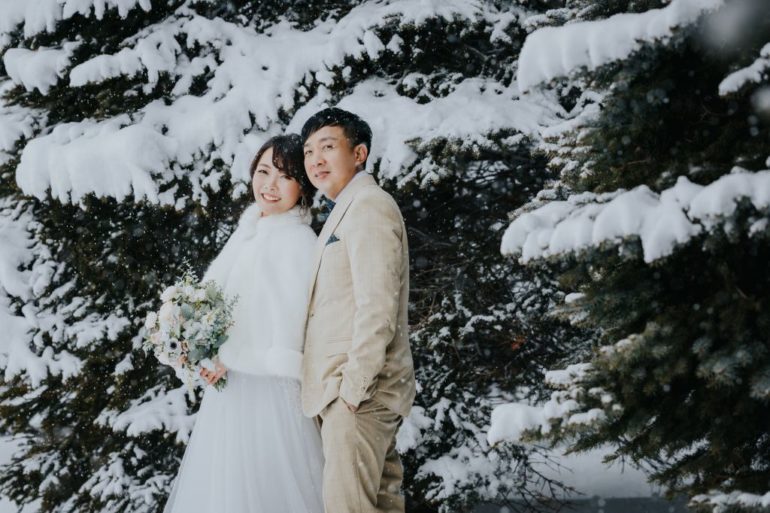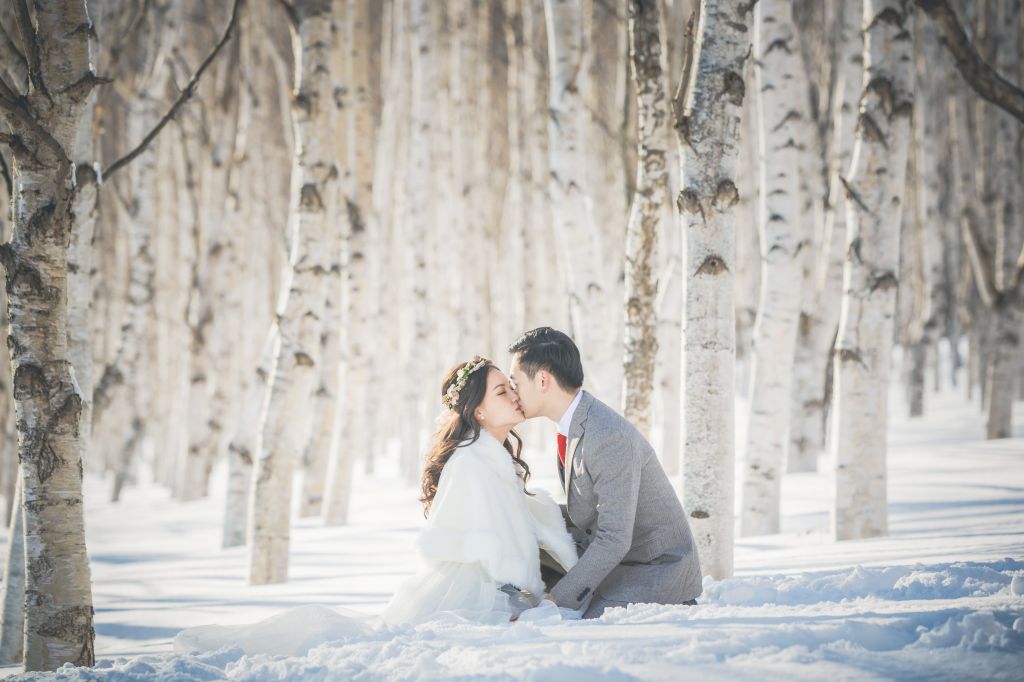 Locations
Japan is full of beautiful places and you can get so many different backdrops in this country alone. We have several picturesque places for you to choose from!
Tokyo
As the capital of Japan, Tokyo is one of the most modern and most populous cities in Japan. Thus, Tokyo is the perfect location for capturing the bustling streets of Japan, like the crowded Shibuya Crossing, and the Shinjuku Food Alley. The outskirts of Tokyo also offer amazing natural scenery, such as Mt Fuji and Lake Chuzenji.
Tokyo also has many other beautiful locations which will serve as a stunning backdrop for your photos, so be sure to check them out!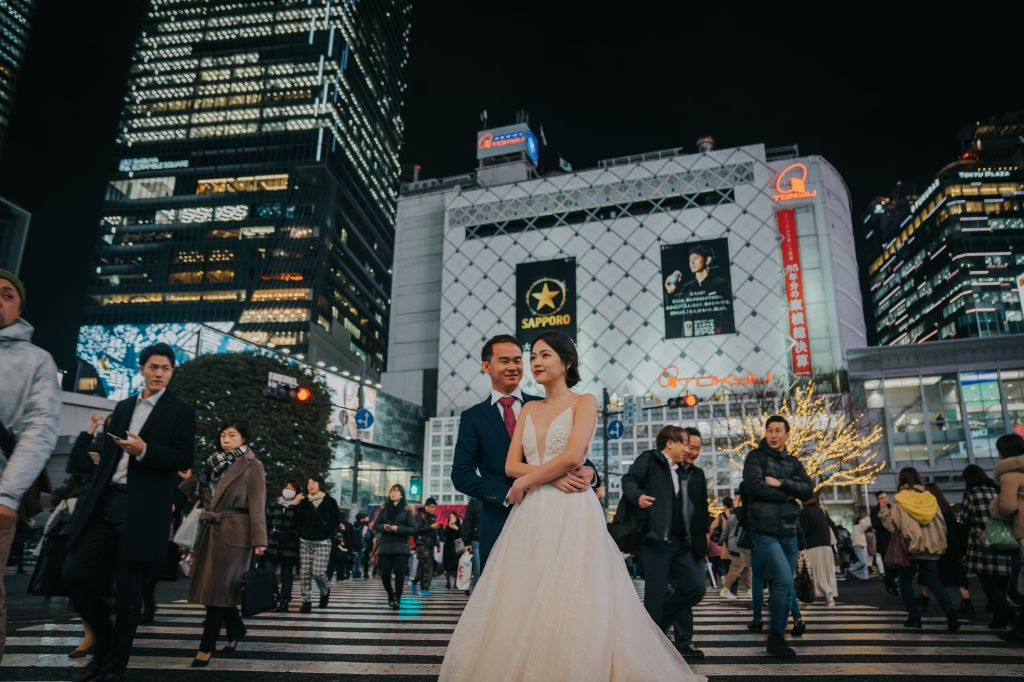 Kyoto
Kyoto is a city which is rich in Japanese culture, with its streets filled with preserved Japanese traditional houses and old temples. Kyoto also has many well-known locations, such as the Fushimi Inari Shrine, Gion district, and the Bamboo Grove.
The Fushimi Inari Shrine is a pathway filled with numerous bright orange Torii gates, while the renowned Gion District is lined with traditional wooden shops and houses. The Bamboo Grove in Kyoto showcases Kyoto's beautiful nature scenery, and the grove is perfect for a romantic stroll in the afternoon.
If you would like to check out more stunning locations in Kyoto, you can head over to our article on 8 Picturesque Locations That You Must Visit !
Hokkaido
Hokkaido is well-known for its breath-taking natural scenery. The flower fields in Furano are a hot spot for photoshoots, where one gets to enjoy a stunning view of colourful flowers. With its alluring blue hues, the Blue Pond in Hokkaido is also a great location for a photoshoot.
There are many other scenic locations in Hokkaido apart from the Furano flower fields and the Blue Pond in Biei, which you can explore!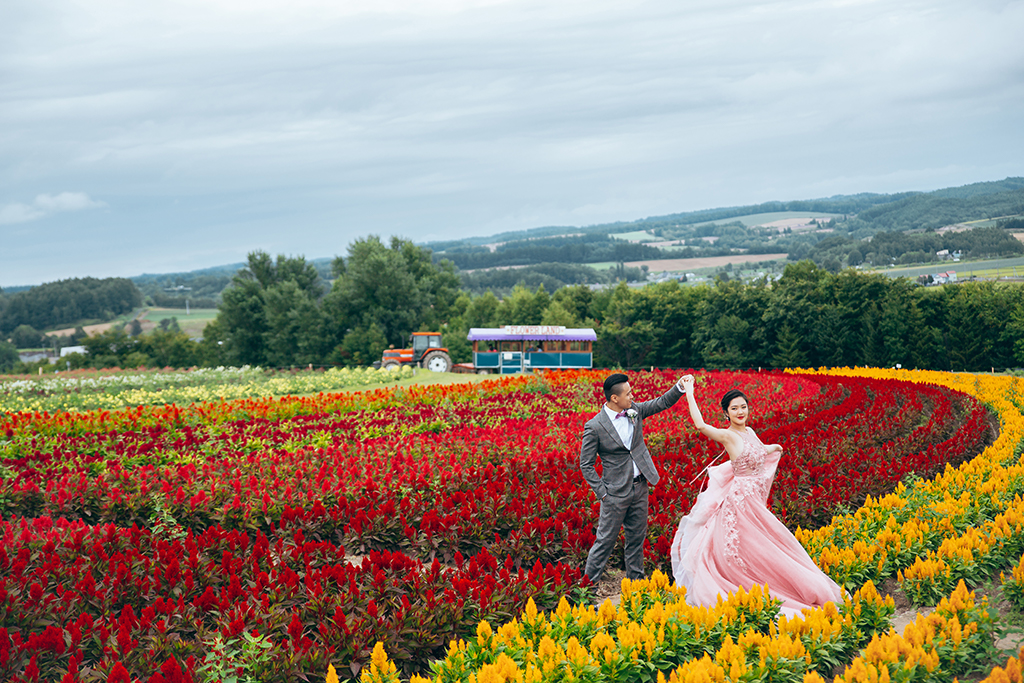 Shirakawago
Listed as one of UNESCO's World Heritage Sites, Shirakawago is one of Japan's most beautiful traditional villages, and having your photoshoots here will definitely add a historical charm to your photos. Shirakawago is famous for its traditional Gassho style houses, which are wooden houses with steeply sloped, thatched roofs.
Packages
Classic Package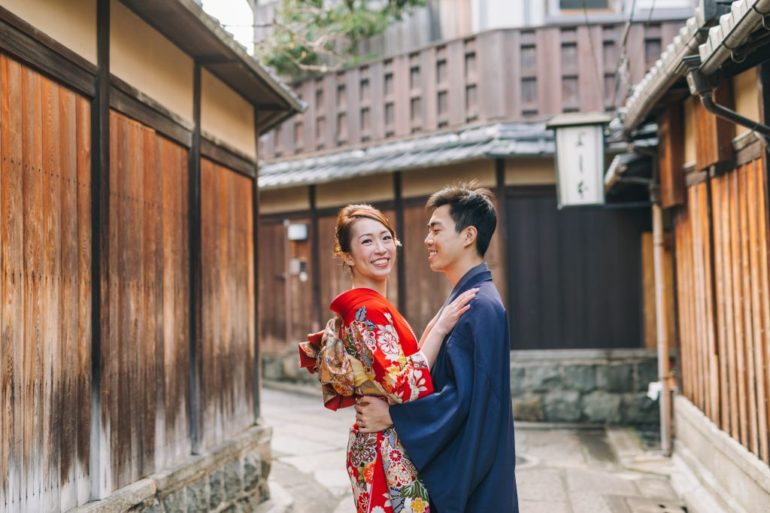 4 hours of photoshoot
30 edited photos
2 locations
Accompanying makeup and hairstyling artist
Our basic packages are around 4 hours and you will be able to cover 2 locations. However, you may have to be prepared to rush a little!
Price: JPY 210,000 (~SGD 2,750)
Premium Package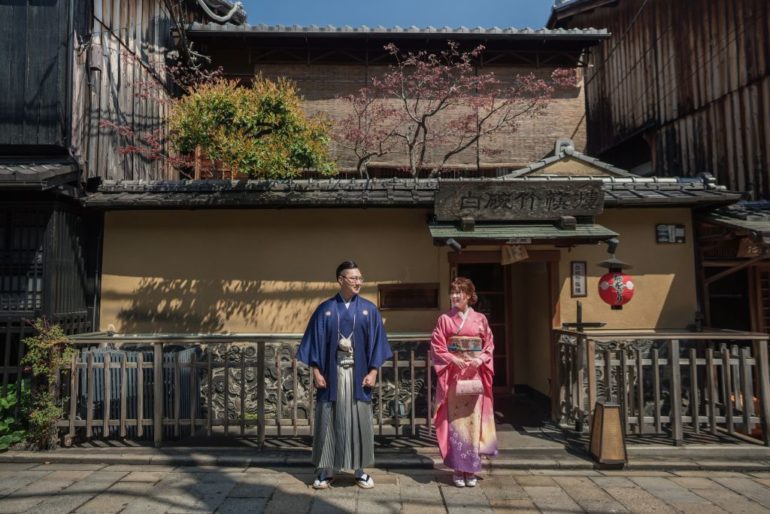 8 hours of photoshoot
40 edited photos
3 – 4 locations
Accompanying makeup and hairstyling artist
2 wedding dresses + 1 suit
This is the most popular package amongst our couples. You will be able to cover 3-4 locations with ease as transport is provided. The extended photoshoot session will also allow you to shoot at each location comfortably and cover more beautiful places.
Price: JPY 320,000 (~SGD 4,200)
*Please note that for Shirakawa-go, we only provide the premium package.
Diamond Package (Tokyo only)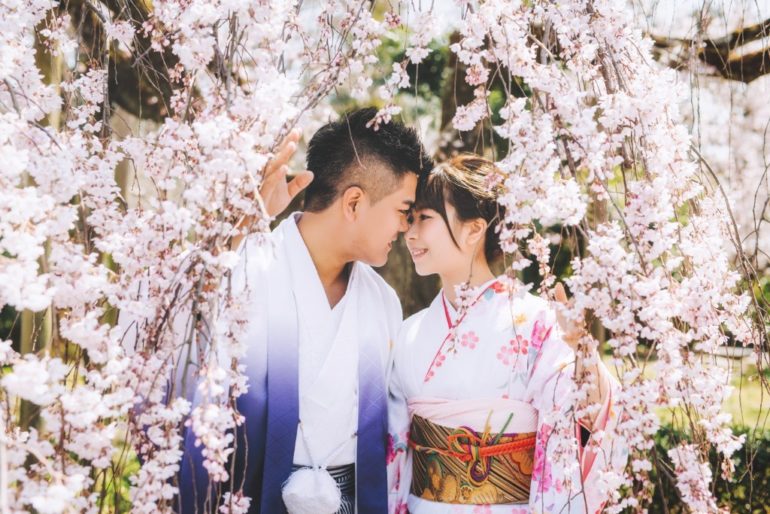 12 hours of photoshoot
70 edited photos
5 locations
Transport during shoot
Accompanying makeup and hairstyling artist
Kimono provided
1 set of casual outfits (prepared by client)
Free night shooting
This package is for couples who have a few locations in mind that may be a little further apart. With 12 hours of photoshoot, you can safely shoot at 5 locations. It is also great for sunset or night shoots if you are planning to have them!
Price: JPY 450,000 (~SGD 5,900)
Reviews
Wondering how a Japan wedding photoshoot will be like? You can read about our couples' photoshoot experiences in Japan to find out more!
Winter wedding shoot in Hokkaido: Dazzling wedding winter photoshoot in Hokkaido, Japan
Summer wedding photoshoot in Hokkaido: A scenic summer wedding photoshoot in Hokkaido
Kimono wedding shoot in Kyoto: A traditional kimono photoshoot in the vintage streets of Kyoto
FAQs
What is the best time for photoshoot?
Depending on the season, the sun rises and sets at different timings in different parts of Japan. For example, in Hokkaido, during summer, the sun rises at around 4am and sets at around 7pm, while during winter, the sun rises ar around 6-7am and sets earlier at 4-5pm.

Thus, you should always check the daylight hours of the season and of the specific locations in Japan where you intend to shoot at. In general, we recommend couples to do their shoot in the early mornings and late afternoons. In the early mornings, you will be able to capture the soft rays of the morning sun while in the late afternoons you can capture the golden hour.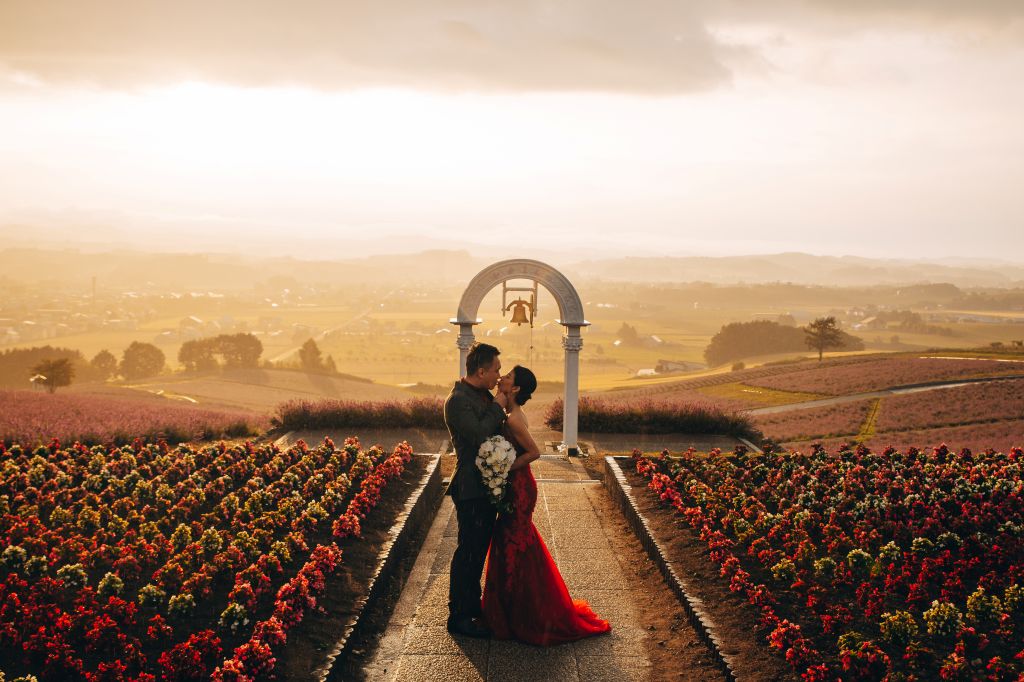 Where should I stay when I travel to Japan for my photoshoot?
Generally, across all destinations, we recommend couples to stay within the city area, close to their chosen photoshoot locations, or close to amenities like subway stations. For Japan, you can choose to stay near the key photoshoot locations in which we have mentioned above!
Are there any extra fees?
Japan has plenty of locations that have become popular for wedding photoshoots. Some locations charge an entrance fee, while others may charge a photo fee to couples who are using their space for photoshoot.

For example, both the Fushimi Inari Shrine and the Gokoku Shrine charge a JPY 5,000 permit fee for couples who want to do their photoshoot there. Take note that these fees are charged by the management of the location, not by the photographers.

For OneThreeOneFour couples, you won't have to worry for any hidden costs, as we will advise the relevant fees when we plan the photoshoot for you.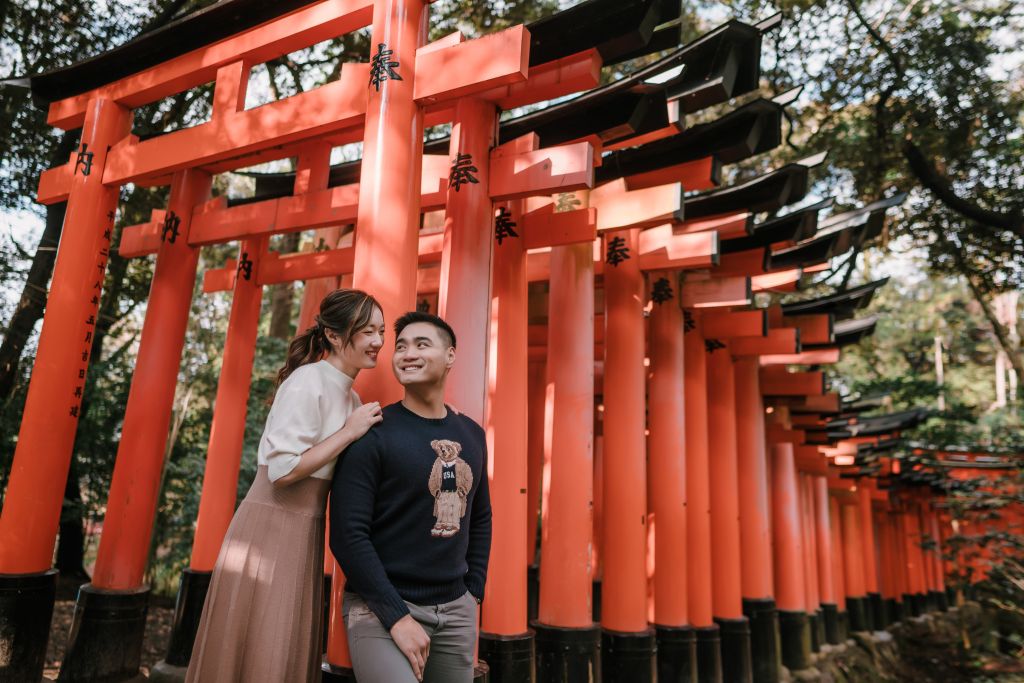 We hope this guide will be helpful for couples who are planning to do their wedding photoshoots in Japan. For more details or bookings, do visit our website.