So your long anticipated engagement or pre-wedding shoot is finally coming up soon and you've done all your preparation, from deciding on a theme to getting your outfits.
But… how are you going to pose during the shoot?
Though often overlooked, poses are one of the most important things that couples should prepare for as they will either make or break their photos. It's crucial not only to know what poses you intend to do during the shoot, but also to practice doing them before the shoot so as to familiarise yourself with the pose. After all, you don't want to look awkward while posing do you?
So, here we are with a list of pre-wedding photoshoot poses to provide you with some inspiration as you prepare for your all-important shoot!
For our grooms, check out the 10 Foolproof Couple Photoshoot Poses For Guys That Will Impress Your Girl 
1. Kissing Under A Veil
For a unique twist to the typical kissing pose, do it under a veil! Not only is it creative, it gives a hint of romance and intimacy to your photo too.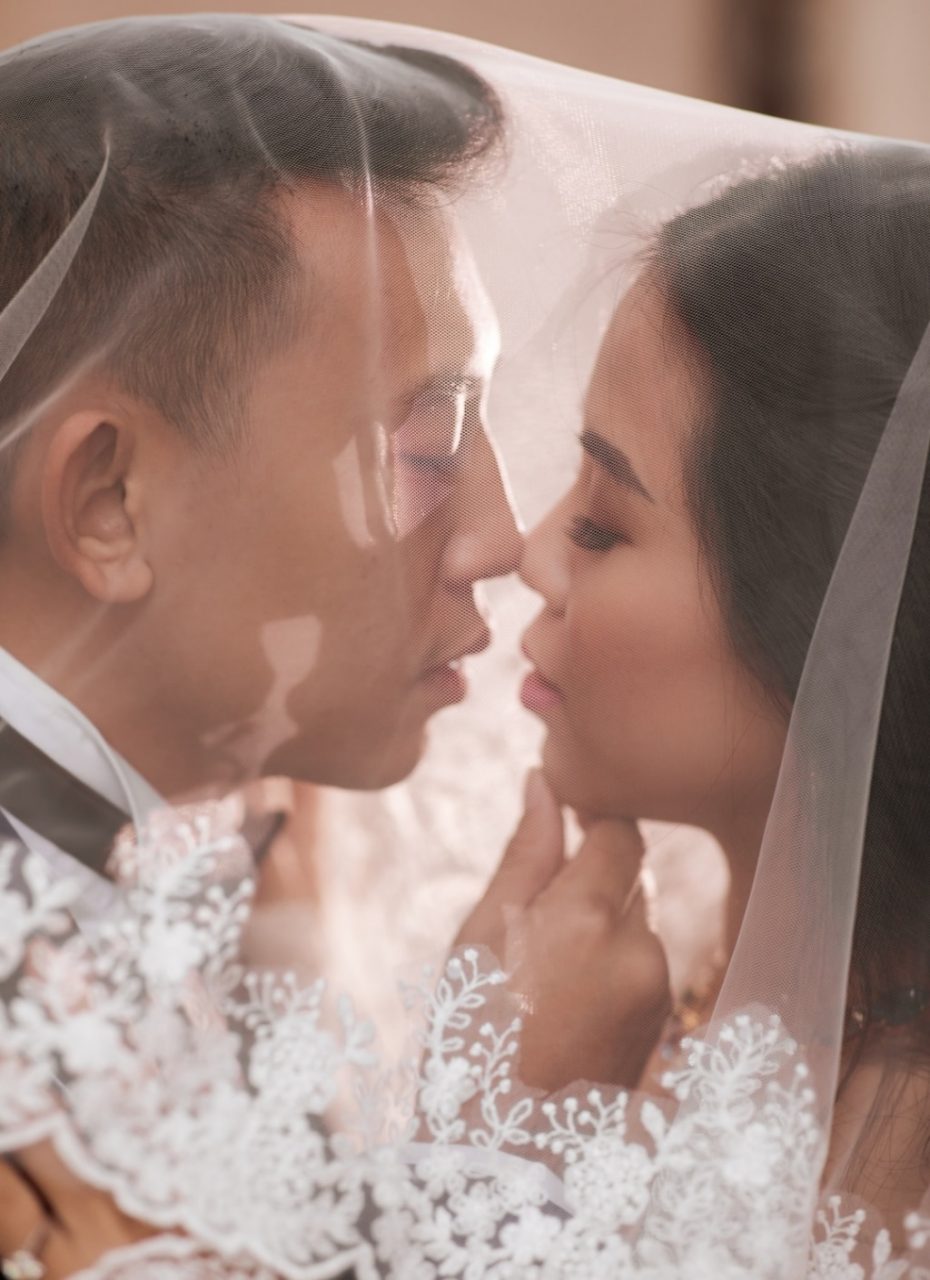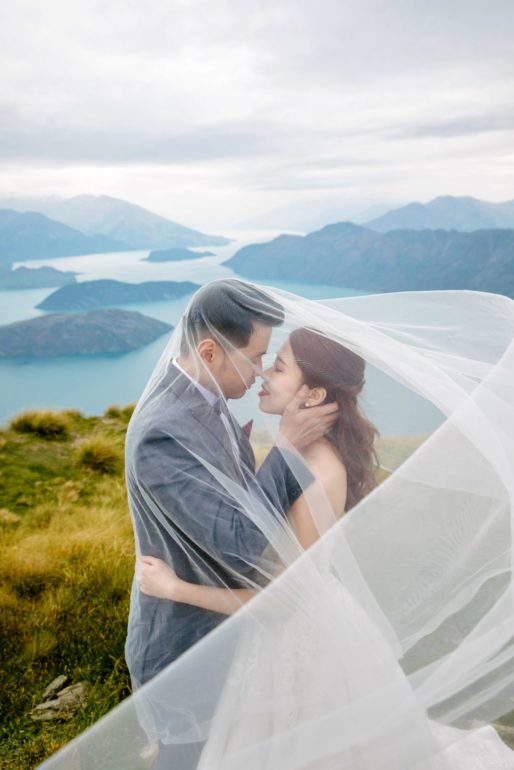 2. Hidden Kiss
If you're feeling coy, why not hide your kiss behind a handy prop that you've prepared for the shoot.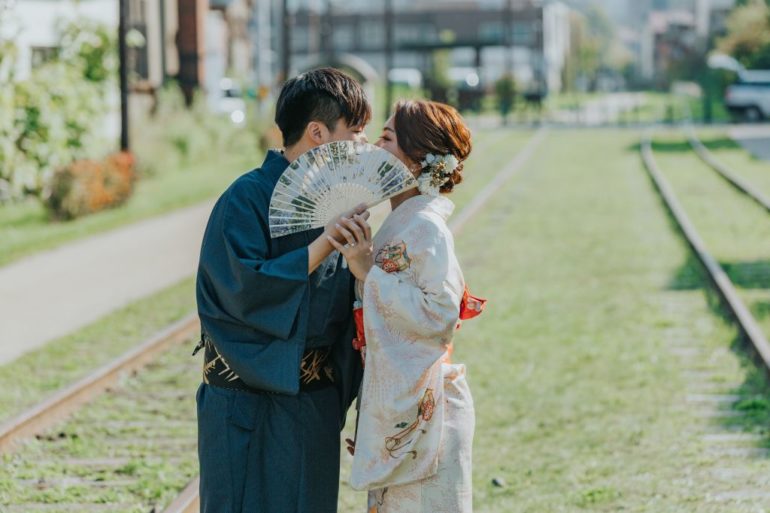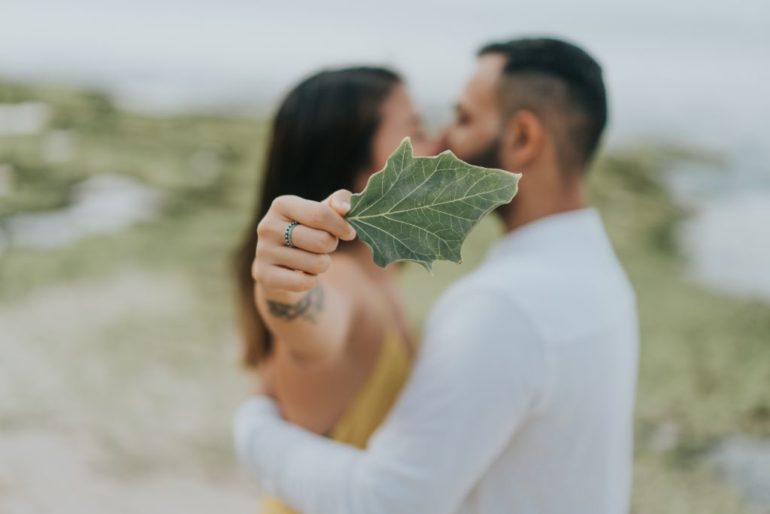 3. Piggyback
Enjoy a throwback to your younger dating days as your husband piggybacks you. Or, if you're looking for some fun, you could piggyback your husband instead!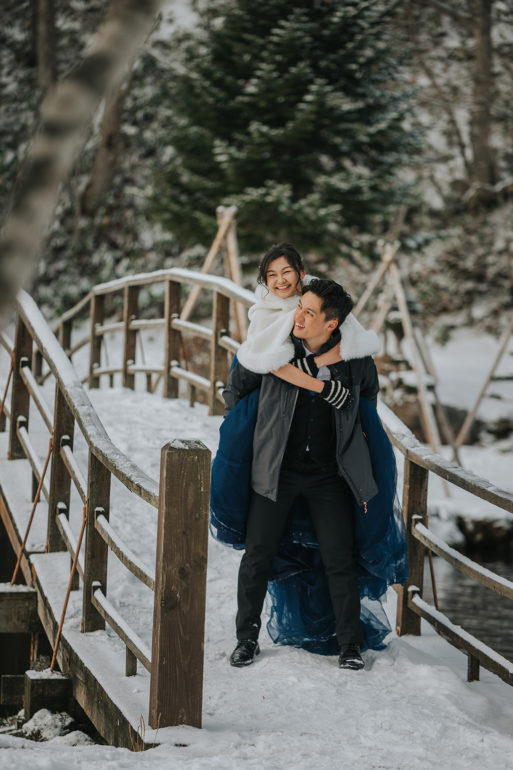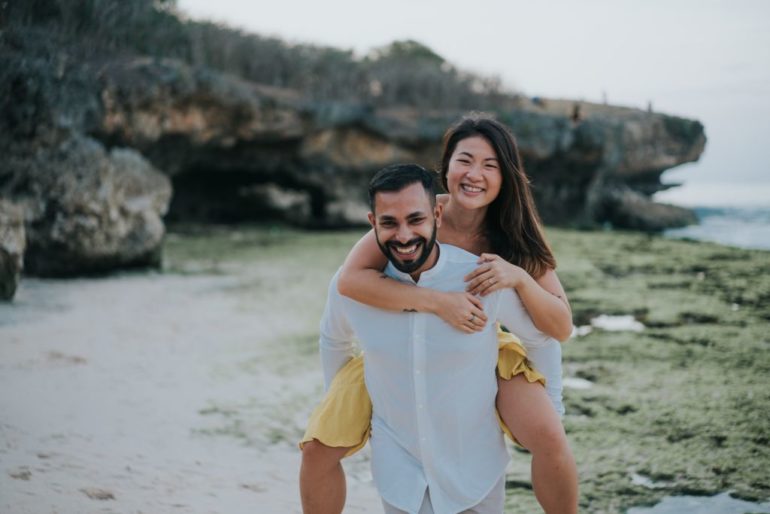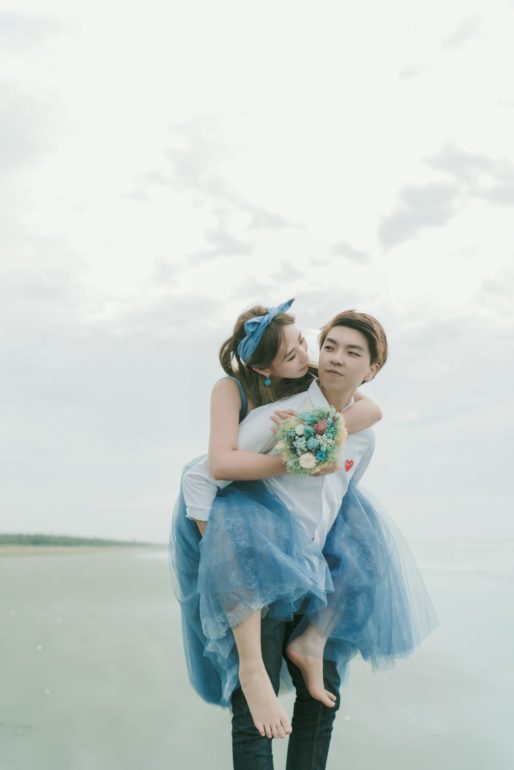 4. Lean Against Your Partner's Back
If you're aiming for a more mysterious atmosphere for your pictures, try this pose. There's something strangely intimate about leaning against your partner's back.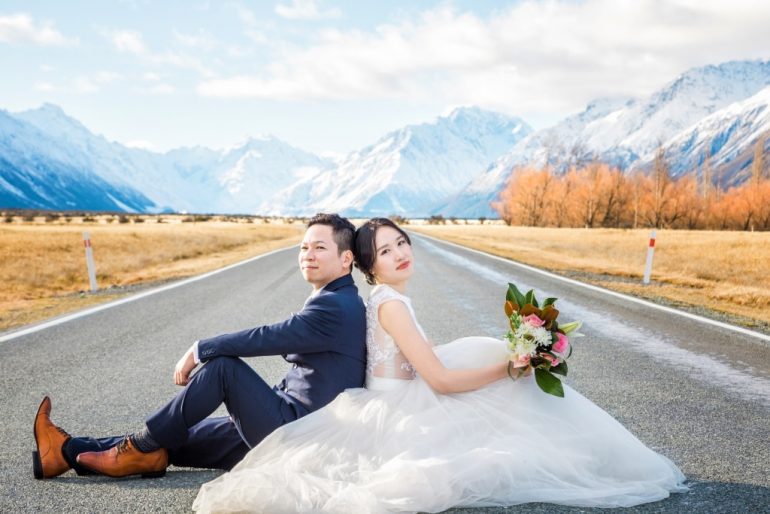 5. Back Hug
A favourite pose of many couples and understandably so: back hugs are so intimate and make such a sweet photo, especially close-up where you can see the joy in the couple's eyes.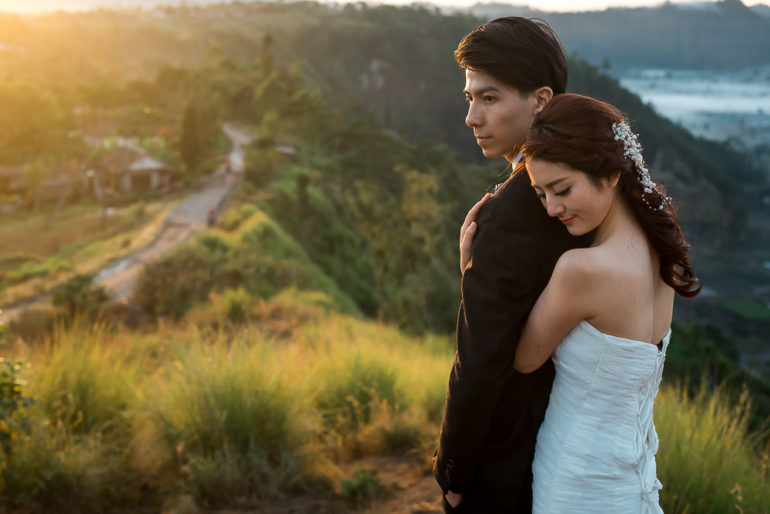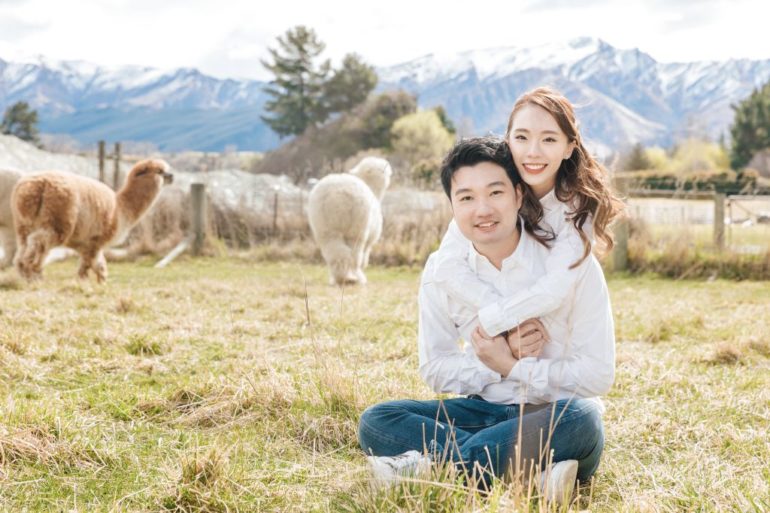 6. Show Off Your Ring
What better time to flaunt your wedding ring than at your pre-wedding shoot, right?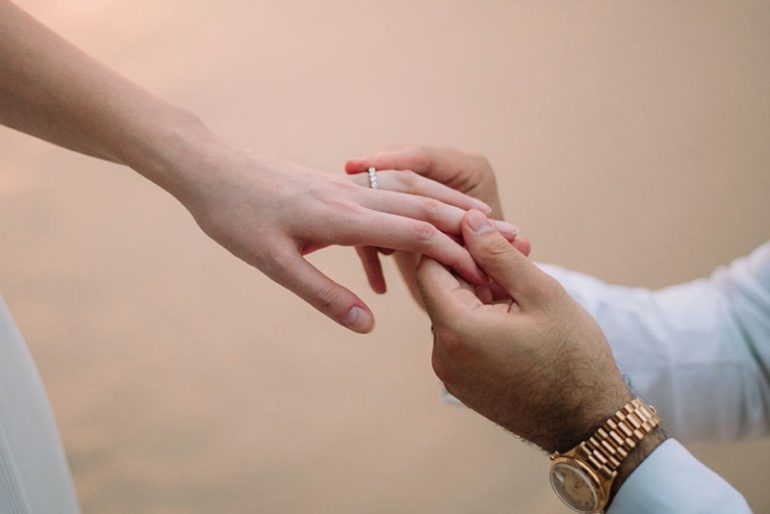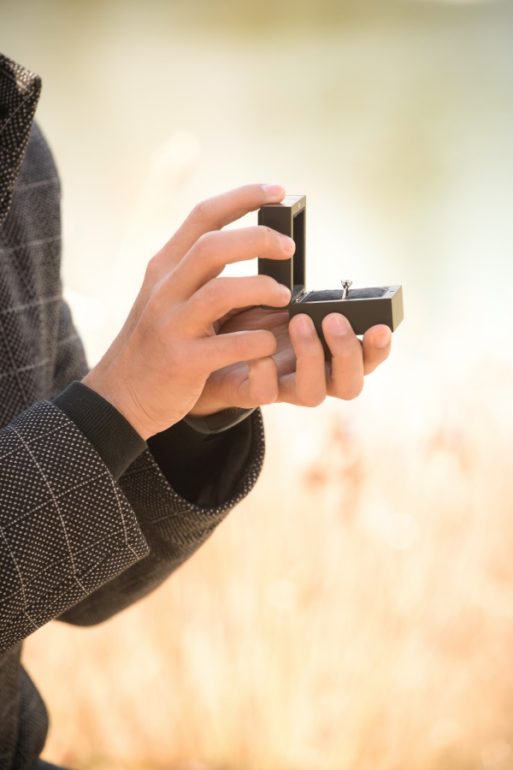 7. Cheek Kiss
A simple pose, but one that brings on the feels when you see face of the one kissed lighting up with happiness.

8. Proposal
Relive your romantic proposal by incorporating it in your pre-wedding shoot too! You might not have gotten the actual proposal on film, but re-enacting it during your shoot works just as well.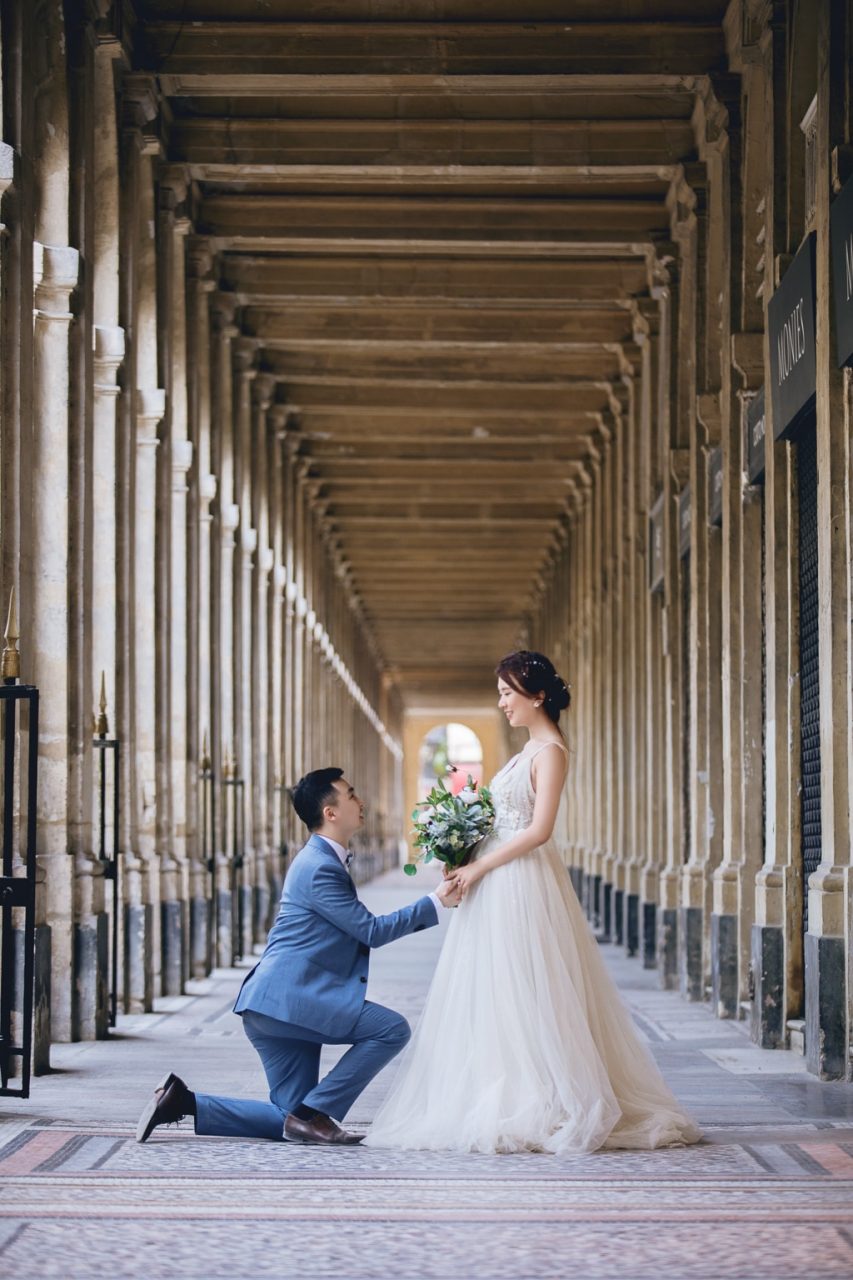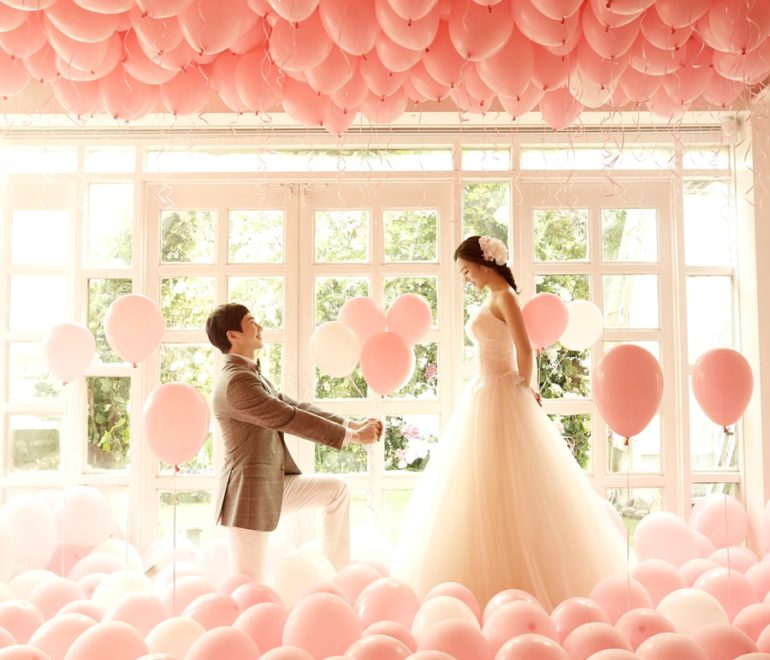 9. Forehead Kiss
It's often been said that a forehead kiss surpasses all other kisses as it shows that the guy truly cares for his partner. What, then, could be a better pre-wedding shoot pose than this?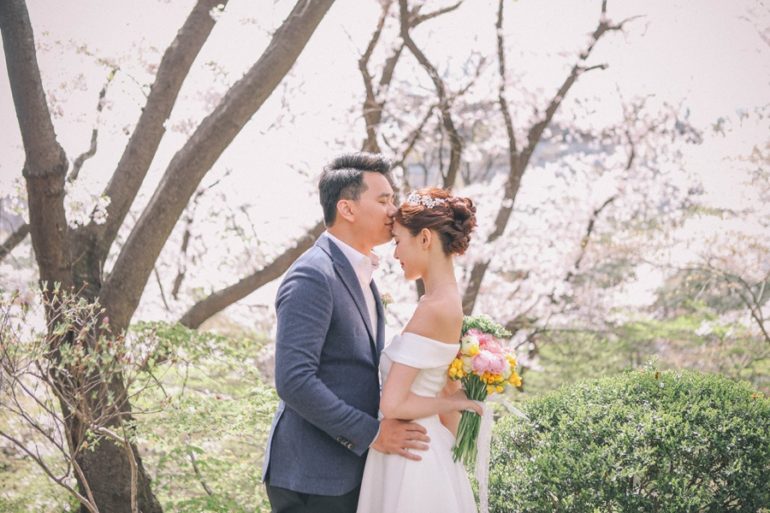 10. Lying On Your Partner's Lap
Lying on your partner's lap not only shows your willingness to be vulnerable with them, it's also a highly intimate pose that makes for a truly sweet picture.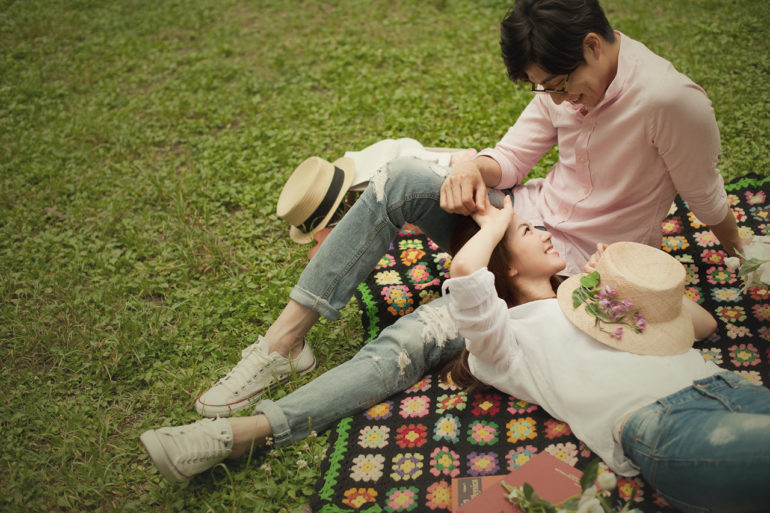 11. Feeding Each Other
An undeniably adorable pose for couples and highly romantic too, feeding your partner is a classic pre-wedding pose for those opting for a casual shoot.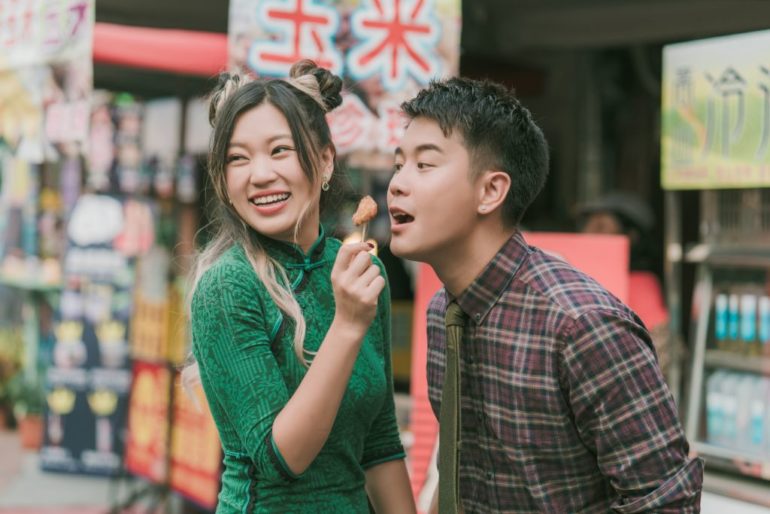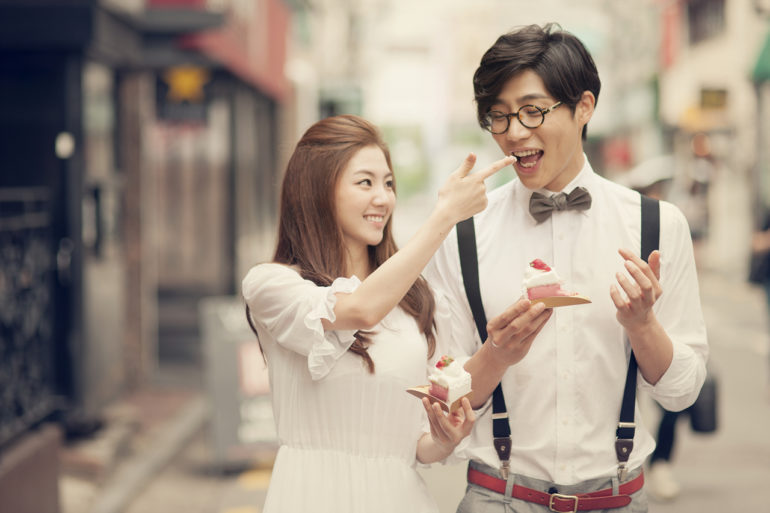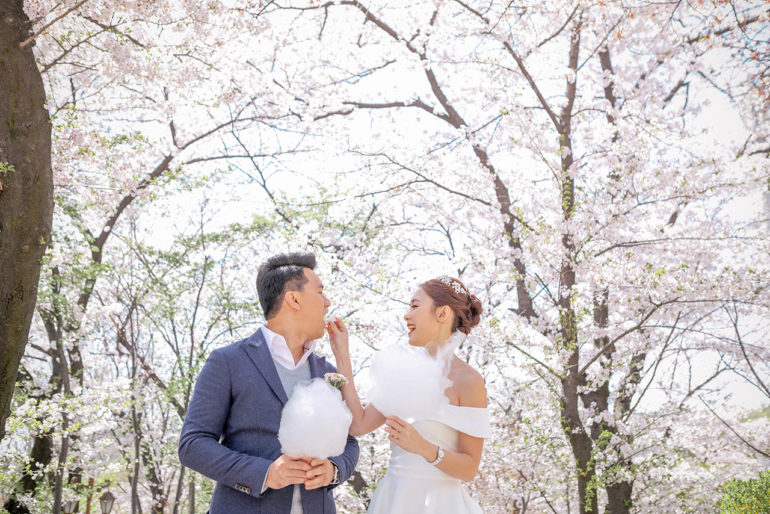 12. Sweep Your Partner Off Their Feet
Your partner swept you off your feet enough for you to want to marry him/her, so why not show that literally in your photos?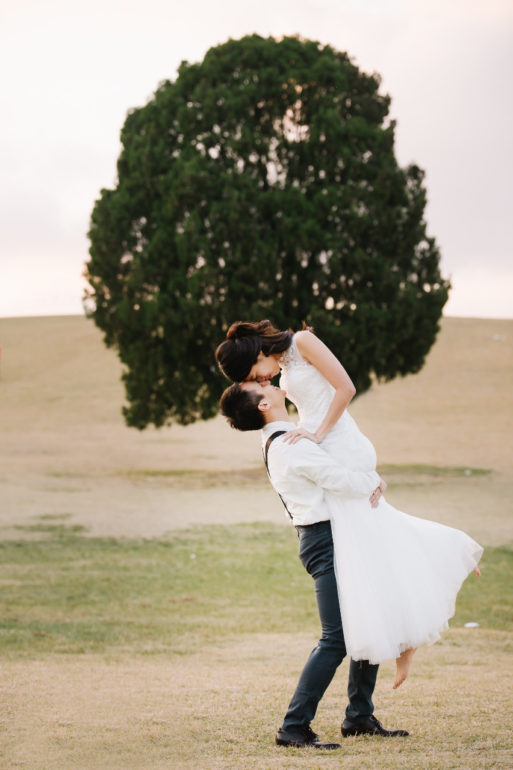 13. Hand Heart
The usual hand heart may be overused and cheesy, but there are still ways to do it that won't look old-fashioned and yet convey your love for your partner at the same time.

14. Lying On The Ground
If you're not afraid of getting down on the floor and maybe getting a little dirty, then this is one romantic and intimate pose that you must try!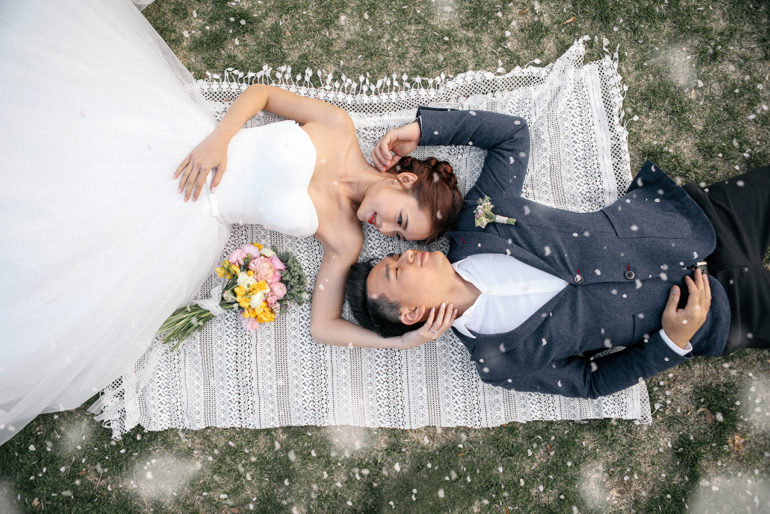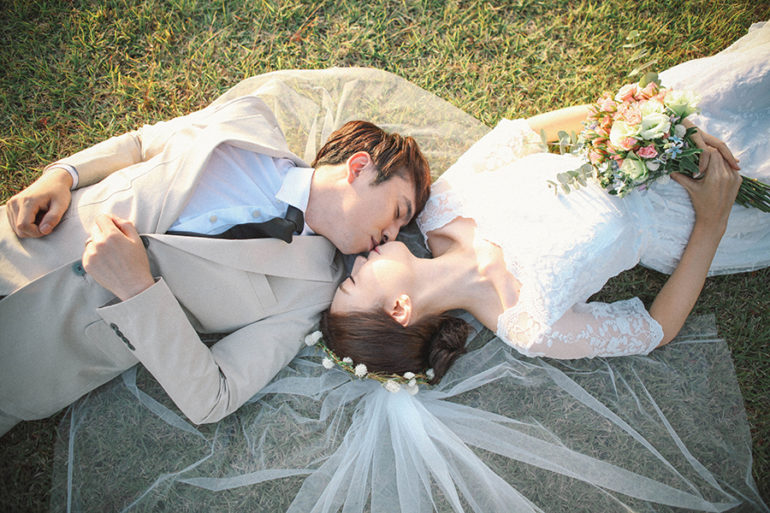 15. Holding Up Balloons
Holding a bunch of latex balloons are a tad bit too mainstream now, so why not give it a twist by holding up balloons that spell out your wedding date or good ol' love?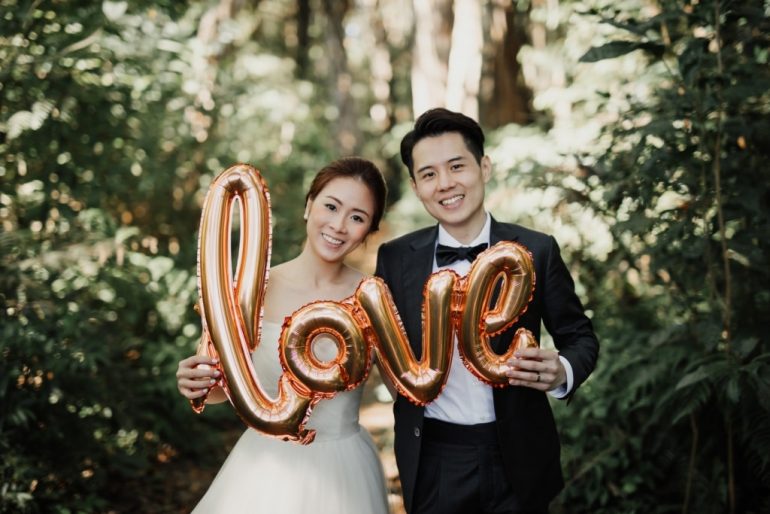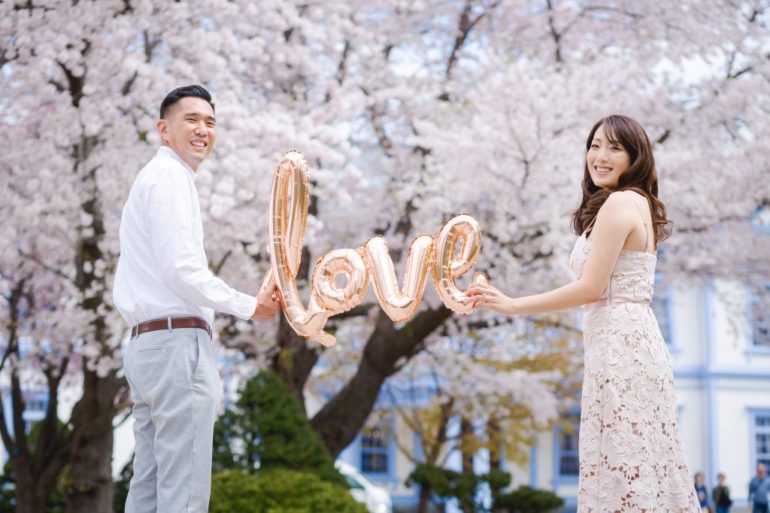 16. Looking Back At The Camera
This "just-got-caught-by-the-camera" pose gives off a subtly alluring and cheeky vibe perfect for couples who are looking for a fun pose.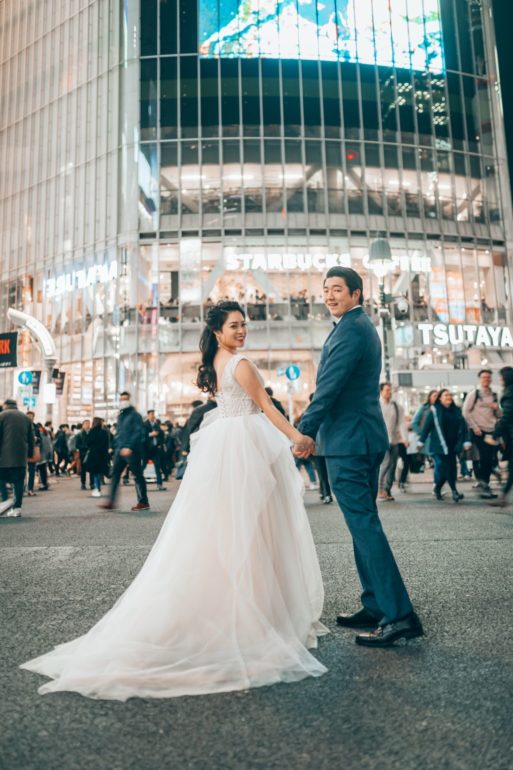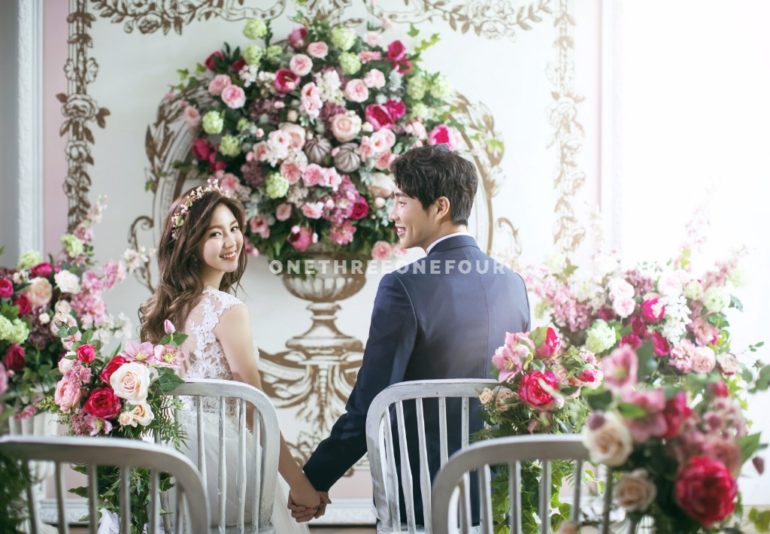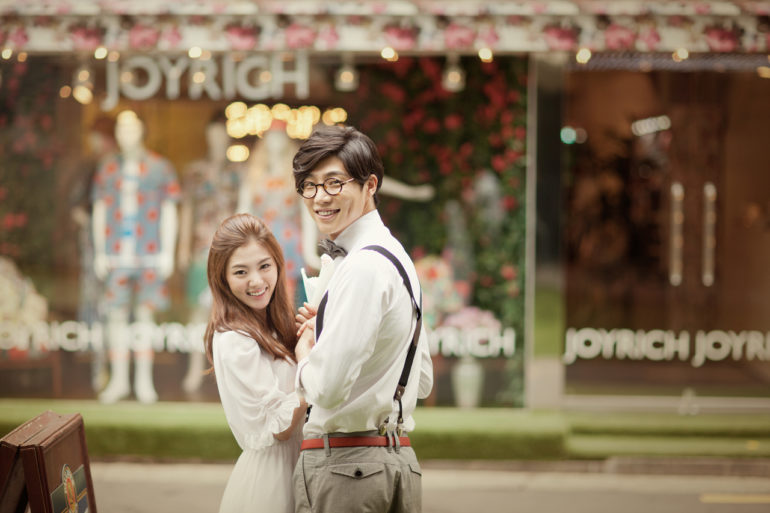 17. Just Before The Kiss
That little moment before a kiss is probably the most beautiful: the anticipation of the kiss and the happiness at being able to kiss the one you love shows in the couple's face and you can't help but feel touched.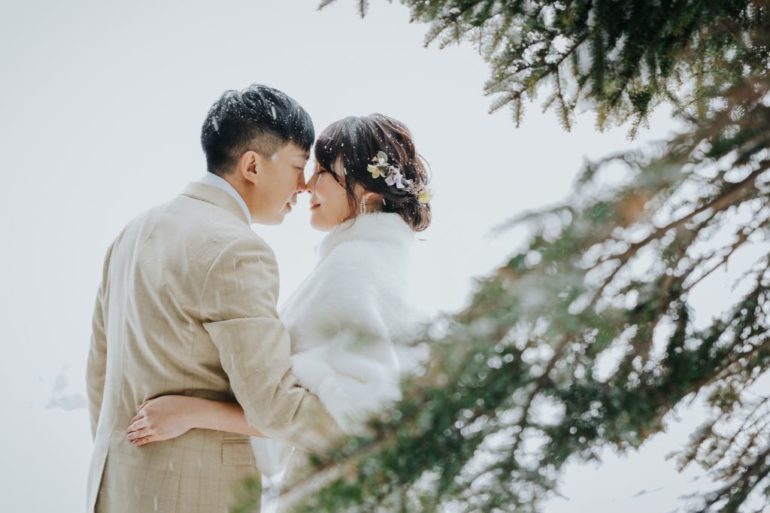 18. Dancing
Whether it's a simple twirl or a ballroom-style slow dance, these poses look oh-so-romantic when you're all dressed up in your wedding gown and suit and gazing lovingly at your partner.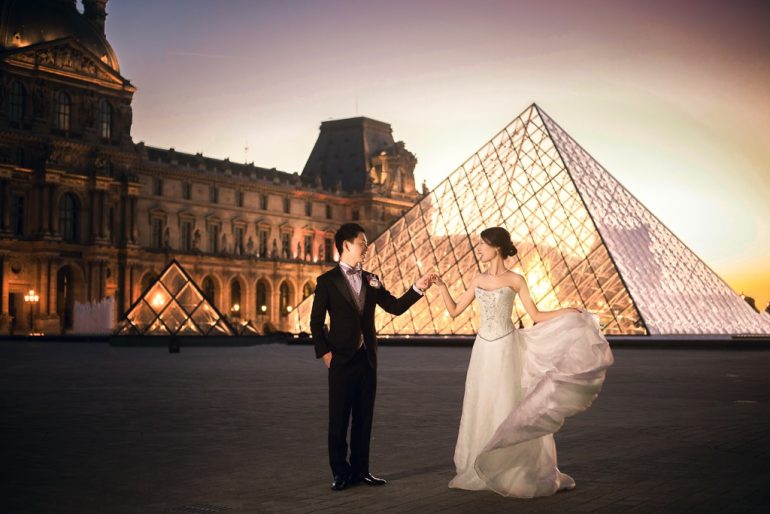 19. Kissing Her Hand
A chivalrous and tender pose, kissing her hand is sure to make her feel like a princess being charmed by their prince charming.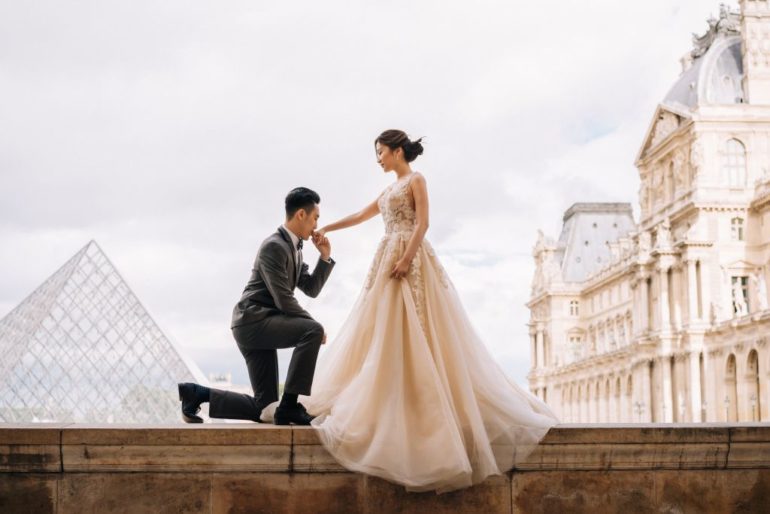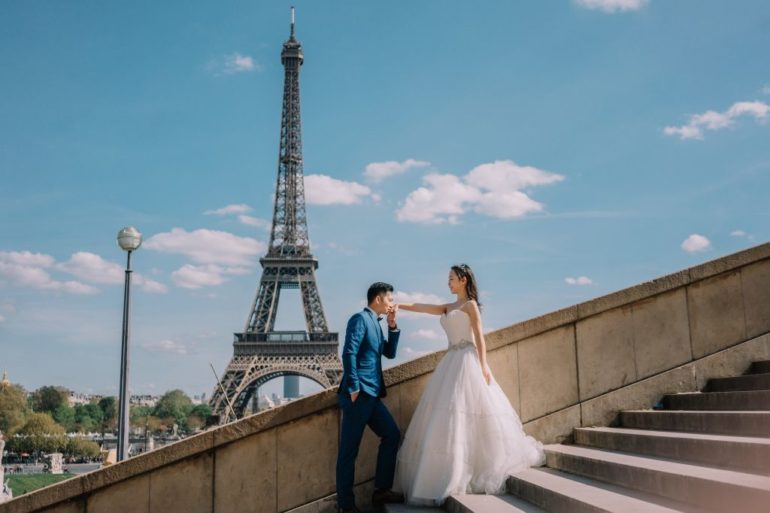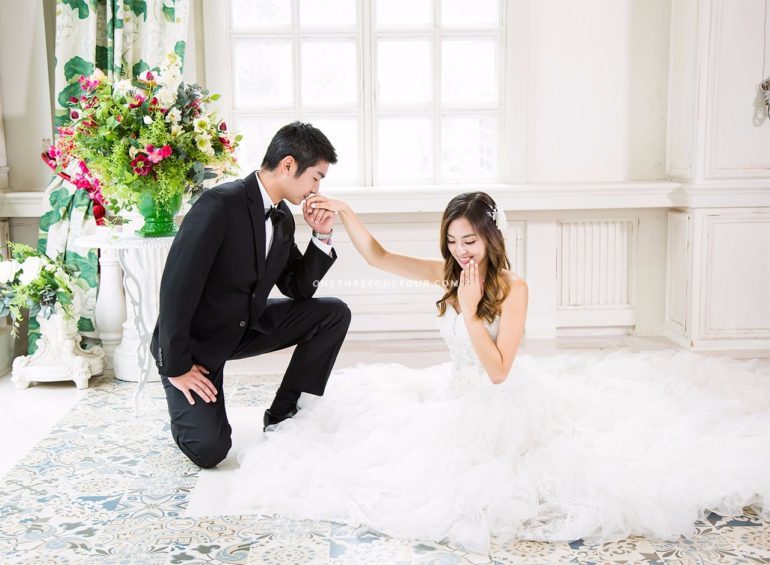 20. Hold Her Head
Arguably the sweetest and most intimate pose which shows how much the guy treasures his girl and wishes to protect her. Holding the bride's head is the best way to both get a highly romantic pose and to make your girl feel loved.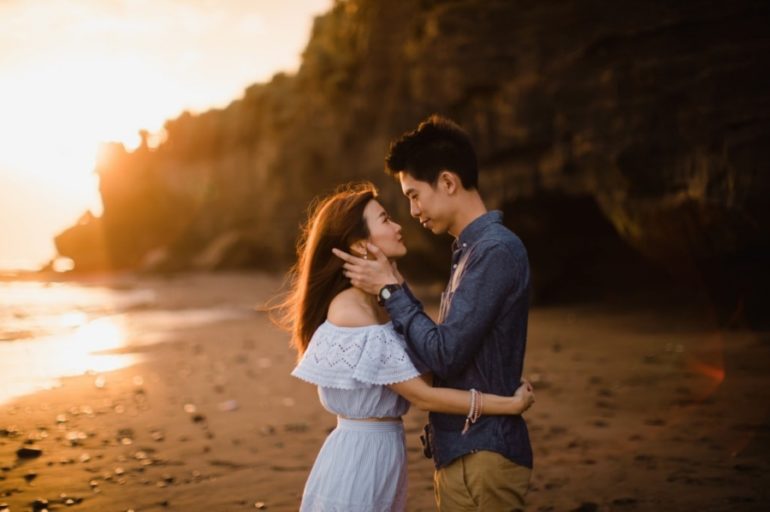 21. Leaning On His Chest/Shoulder
A pose that shows your guy's reliability and protectiveness towards you, it is no wonder this classic pose is a favourite of many brides.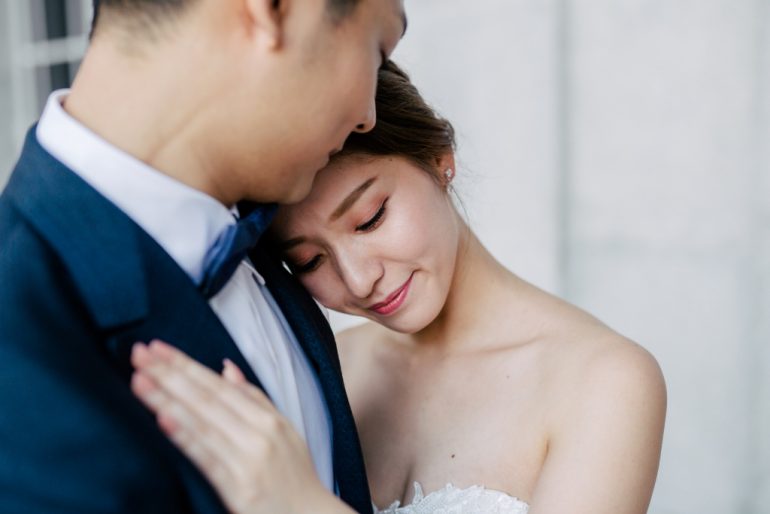 22. Taking A Stroll
This pose is not a classic for nothing — there is nothing quite as romantic and intimate as walking hand in hand with your loved one.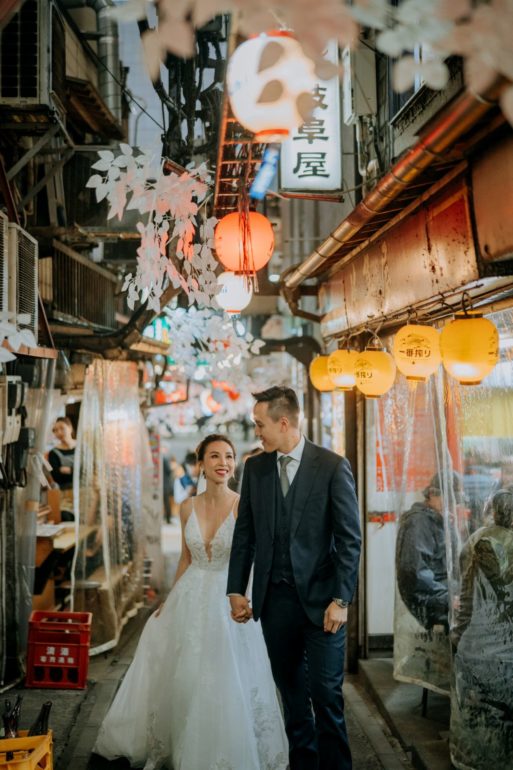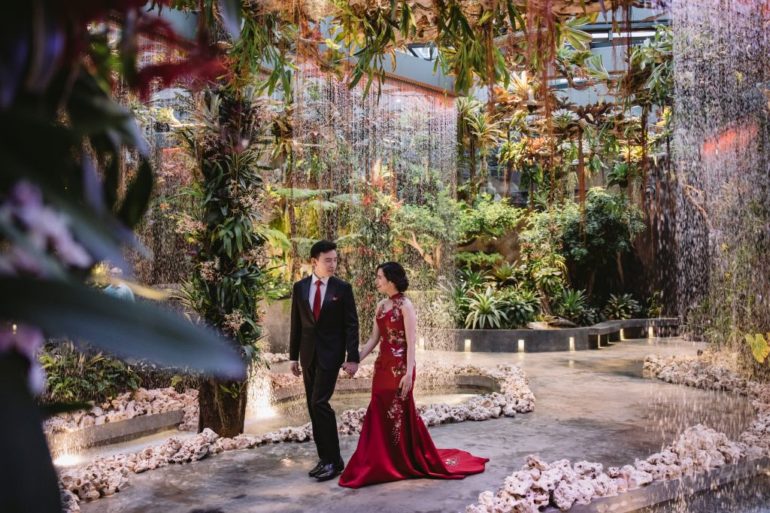 23. Running
Similar to walking, but the dynamism of this action has the potential to create some really fun photos that simply walking just can't bring out.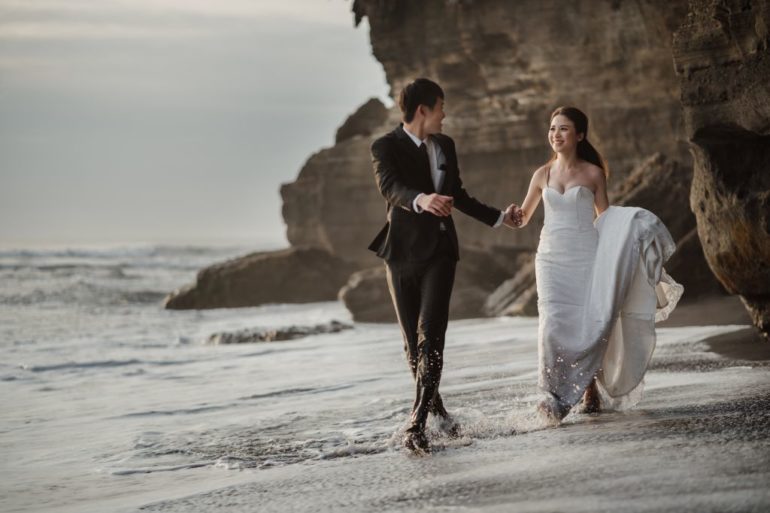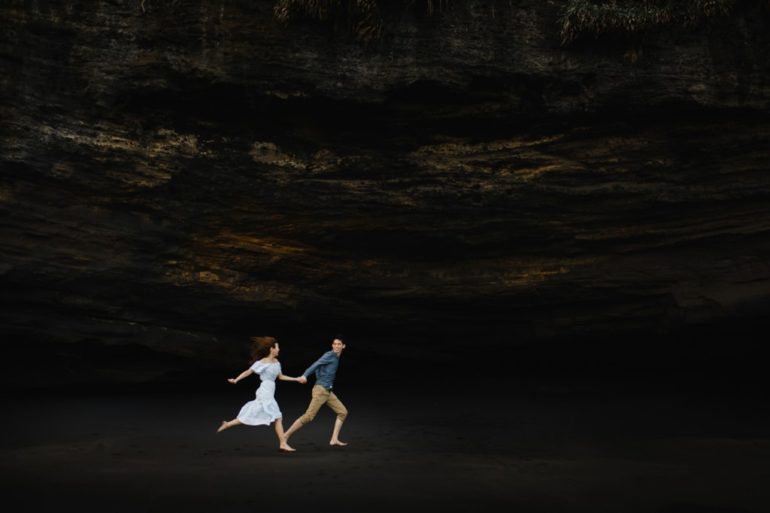 24. Holding Your Save The Date
If you've painstakingly designed a save the date card for your wedding, why not give it the attention it deserves by showcasing it in your pre-wedding photos?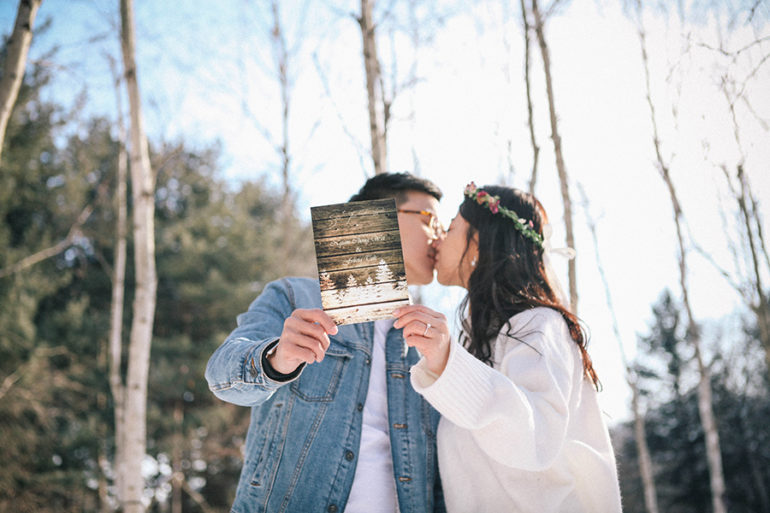 25. Intimate Hug
A go-to pose for most couples, hugs make the most natural and beautiful photos when it comes straight from the heart.
26. Arms Around Waist
An intimate gesture that demonstrates protectiveness and affection, posing with your arms around your partner's waist is a sure way to create a romantic photo.


27. Whispering
The gesture of a secret shared only between the both of you. This is a pose so intimate and so exclusive, only the both of you will know the true behind-the-scenes of this photo. And I think that's just terribly romantic.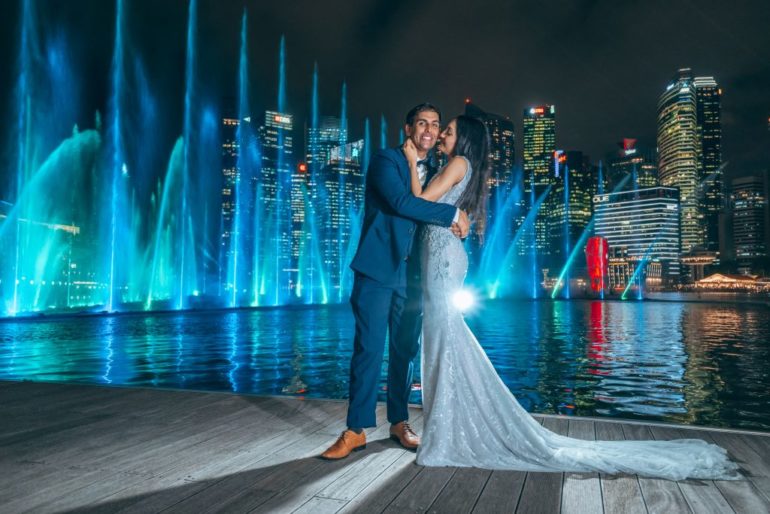 28. Gazing Into Each Other's Eyes
Another oh-so-romantic pose that will cause butterflies to form both in your stomachs and in the stomachs of those who see the sparks flying in your photos.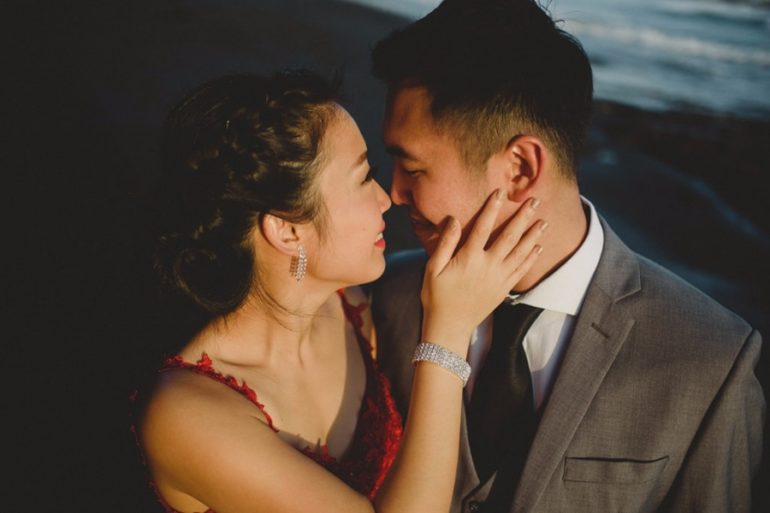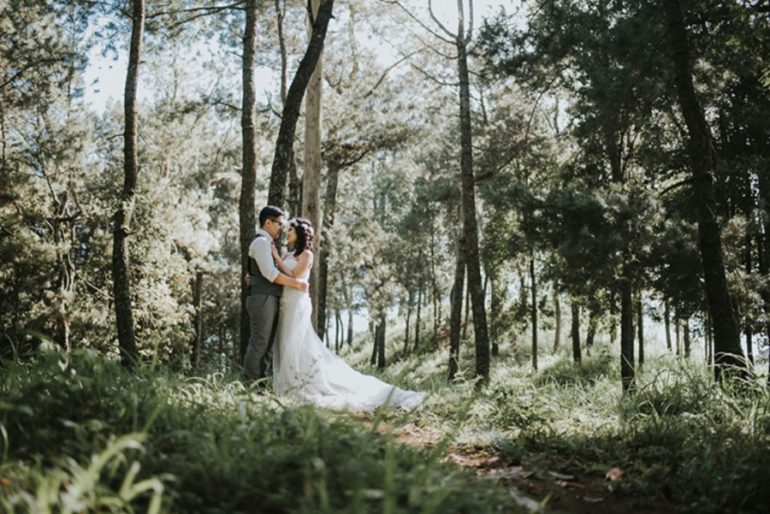 29. Gaze Lovingly At Her
Similar to the previous pose, but this time only the guy gazes lovingly at his partner. This romantic gesture is bound to make any girl jealous of your bride-to-be!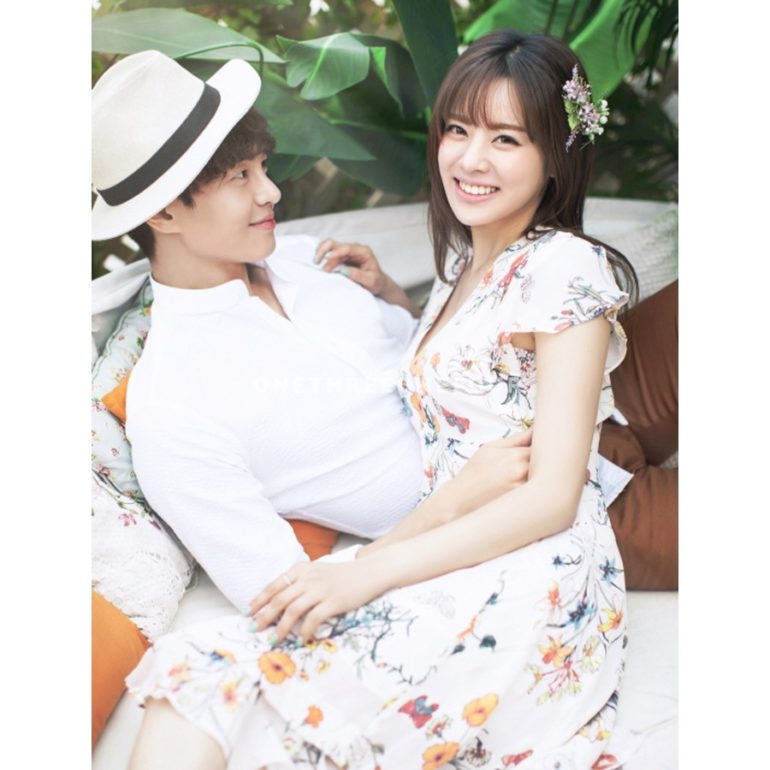 30. Cute And Fun Poses
If you're not a big fan of overly romantic or saccharine poses these cute and quirky poses will do the trick! Not only are they fun to do, your personalities will show through the photos too.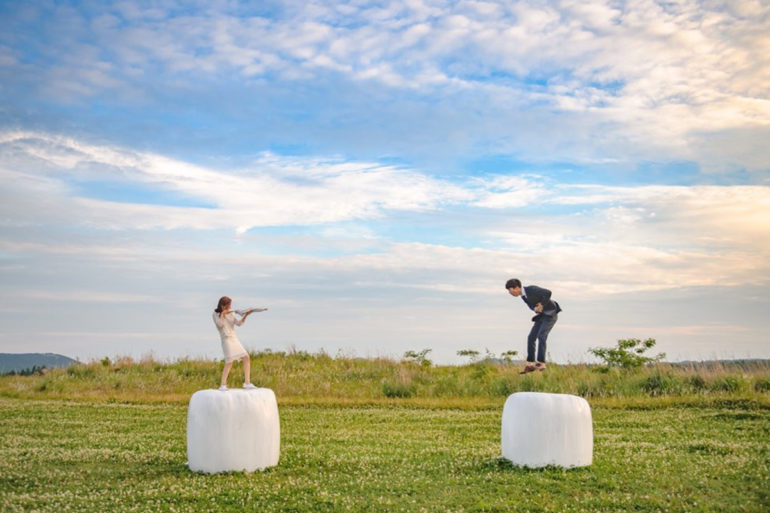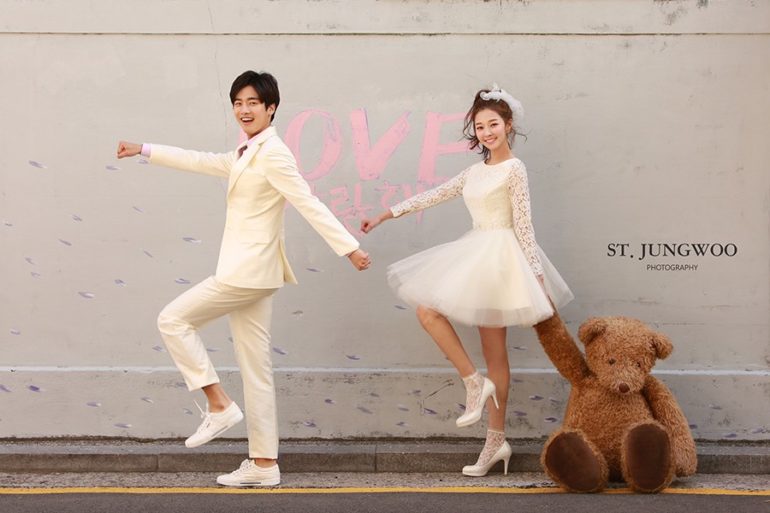 Still unsure of what exactly to do during your pre-wedding photoshoot?
Have a look at our article on props that will pump up the fun at your pre-wedding photoshoot.
If you haven't booked a wedding photoshoot yet, head on over to our website to explore the various destinations that we offer.