Planning to have your pre-wedding photoshoot done in Paris? How do you hire a overseas photographer and makeup artist. Where do you shoot?
This can be a daunting tasks for couples who are unfamiliar with Paris.
For our friends who aren't familiar with pre-wedding photoshoots, these are photography sessions where the bride-to-be and groom-to-be put on there wedding outfits to celebrate their wedding.
SEE ALSO: What is Pre-wedding Photography?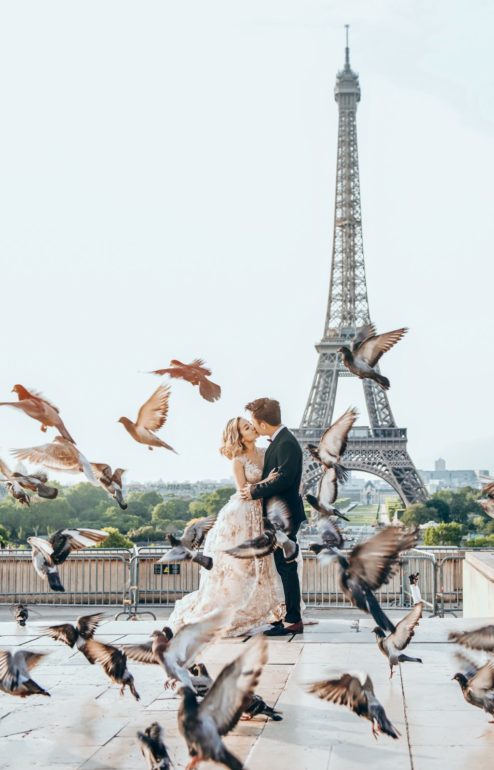 What are your recommended photoshoot locations?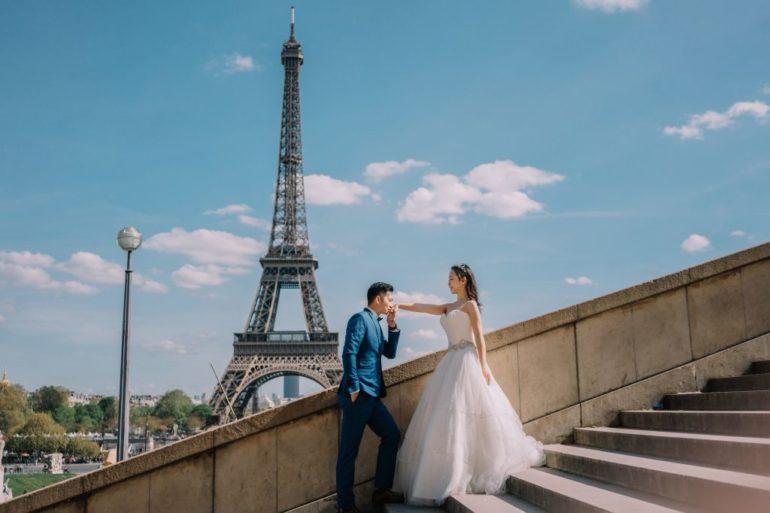 When it comes to location for your shoot, Eiffel Tower and the Louvre Museum are the locations that often comes to mind.
That's perfectly fine because majority of our Paris pre-wedding photography that we do include these two.
But Paris has WAY more places to shoot at…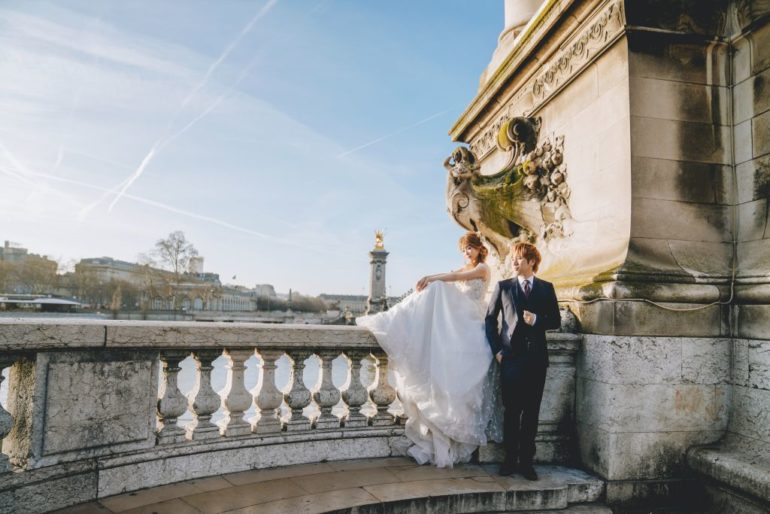 For the start, do not miss the Bir-Hakeim Bridge, Alexdanre III Bridge, Notre Dame, Tuileries Gardens. In between these stunning locations, there are many more opportunities for you to shoot
Couples who are seeking a slightly more Parisian street art vibe, head over to the the Monmarte hill. For a fun and casual vibe, the colourful street of Rue Cremieux would serve as a wonderful backdrop to add to your pre-wedding photoshoot itinerary.
Or simply let us take care of the locations for you! Our team can recommend and plan great photoshoot routes for you to choose.
SEE ALSO: 11 Insta-Worthy Spots For Your Paris Engagement Photoshoot Besides The Eiffel Tower
How many hours do I need for a pre-wedding in Paris?
Our most popular wedding photoshoot package in Paris runs for 3 hours worth of photography time. That allows us to cover 3 to 6 good locations.
However, if your travel schedule or budget doesn't permit, then our Basic package is most suitable. For an hour of photography, you can shoot at 1 key location.
Besides time spent on photography, you have to consider other aspects such as, warming up to the camera, touching up your makeup, changing your outfit and traveling to the next location.
Which brings us to the next question…
How do I travel between the photoshoot locations?
You walk.
Here's why. Since you are spending money on photography, you would want more time in front of the camera, less time stuck in traffic.
Travelling on foot is by far the best option.
Most of the popular locations are nearby each other. Within the 1st district, you have the Louvre, Palais Royale, Tuileries Gardens, Place de La Concorde!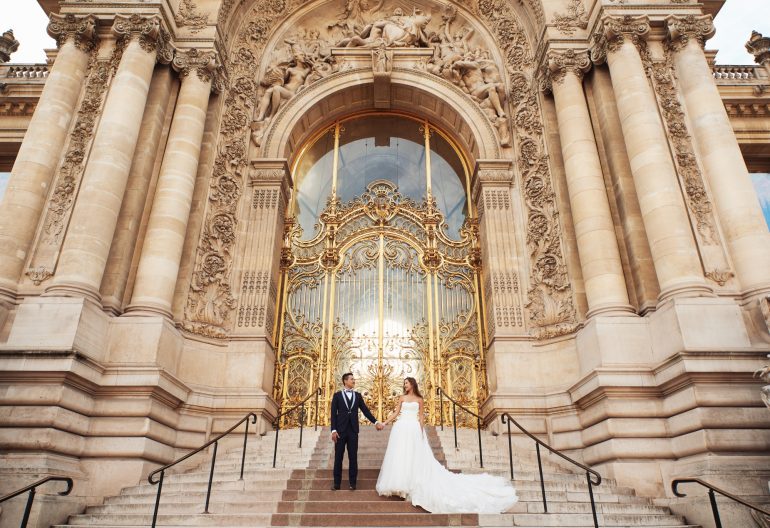 Of course, there are times when walking can be a bit too much. For example, travelling from Eiffel Tower to Pont des Alexandre. We will provide an Uber to travel to the next location.
However, there are times where traffic can get pretty bad in Paris. To make sure we can complete our schedule on time, we take the subway (known as Metro) in Paris. It simply doesn't make sense to be waiting in the car for 20 minutes when the subway can bring you to the next destination in 10 minutes.
For couples seeking a more comfortable experience, we can upgrade your transport to a Mercedes Benz 6-seater van. Besides the transfers between the locations, we'll also pick you up and drop you off at your hotel.
Where should I stay in Paris?
The 15th and 16th district (or arrondissement for those familiar with French) are great neighbourhoods to book your accommodation in Paris. Why? Because they are near the most popular pre-wedding photoshoot location in Paris – Place du Trocadero.
Plus, these are safe districts with reasonable prices for your hotel or apartment rental.
For couples working on a budget, you can opt for apartment rental services such as Airbnb or Paris Perfect.
Do you provide makeup and hairstyling?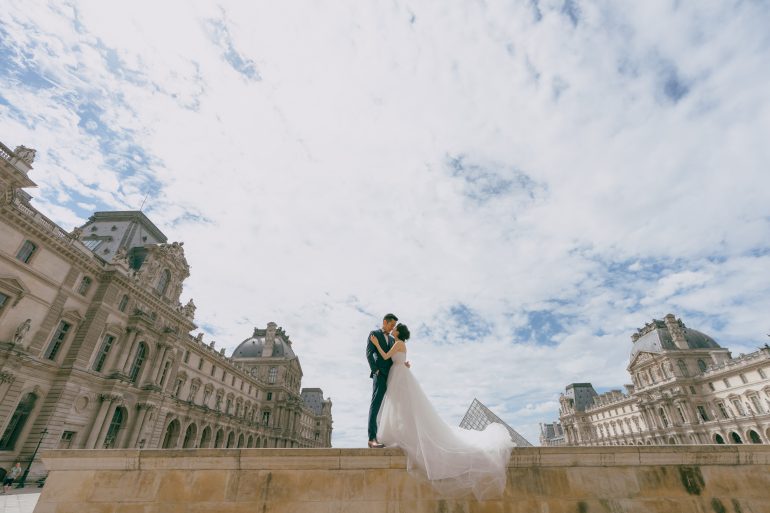 Of course! Our team of Paris-based makeup artists will help you to look your best for your photoshoot.
We usually allocate 2 hours for makeup and hairstyling. This means that for photoshoots in the morning, our makeup artist usually will be at your hotel room as early as 5:00 AM.
For photoshoots stretching from 6 hours and beyond, our makeup artist will accompany and assist you through out the shoot so that everything is holding up nicely.
How should I choose my wedding photographer?
First thing first, you want a Paris photographer. By that I mean one that is living in Paris.
Yes, you can bring in your photographer from your home country. However, there are nuances in a wedding shoot and hidden gems in between key locations that only our local Parisian photographers know. What if a certain photoshoot location is under going renovation?
Second, choose a photographer that can communicate with you. Our photographers are all english-speaking, so you don't have to worry about it. For those who prefer to communicate in their native tongue, just let us know and we can arrange to have our translator to accompany you.
When is the best time for a photoshoot?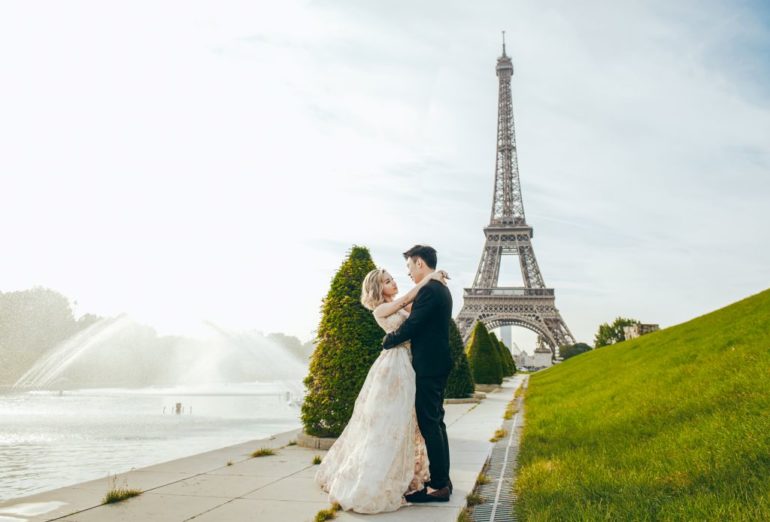 Without a doubt, the hours right after sunrise is the best time of the day to start your wedding photoshoot. Get up early from your bed and you will reward with the best light and a Paris that is devoid of tourists.
If you are unable to adjust your travel plans, the next best time would be the hours before sunset.
What happens if it rains?
Don't be surprised if it rains during your shoot because it rains quite often in Paris. But fret not, rain offers such a wonderful opportunity for us to take some stunning effects and create unique photos
SEE ALSO: 11 Photos That Show Why A Rainy Photoshoot Is Clearly A Blessing In Disguise
If the rain gets too heavy midway through the shoot, we can always switch to sheltered or indoor locations, such as the walkways of Petit Royal or the shopping arcade of Gallery Vivienne.
What are your prices and packages?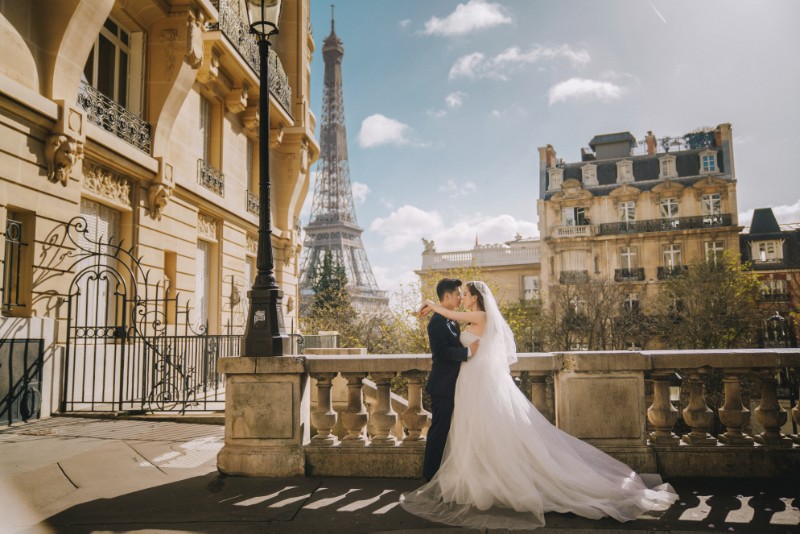 We offer three Paris wedding photoshoot packages; half-day, full-day and castle packages.
A half-day photoshoot, is ideal for couples looking for a short wedding photoshoot at key spots like the Eiffel Tower and the Louvre.

Where as the the full-day session is perfect that want the very best pre-wedding experience. Within the photoshoot duration we can cover up to 6 key photoshoot locations around Paris, including hidden gems!
The castle package are for couples seeking for outstanding photos that will make their friends jealous. We travel out of Paris to shoot at a stunning chateau – a French castle.
Learn about our Paris wedding photoshoot package details on our website.