The location for your pre-wedding photoshoot is one of the most important considerations for a pretty set of photos, but it definitely isn't everything.
What you do in your photos, though often overlooked during the planning stages and left to improvise on the day of the shoot itself, is actually extremely important too. In fact, it may even help to spice up a plain photoshoot location and make a big difference to your pre-wedding photos.
So for those who have no idea what props to use to get that extra-amazing set of photos, we're here to help! These 20 prop ideas for your pre-wedding photoshoot are sure to jazz up any photo.
1. Smoke bombs
You've probably seen smoke bombs being used at events around your country, such as at the Colour Run. They're also quickly catching on as the thing to do in your photos, so why not bring it into your pre-wedding photos too? Be sure to wear white to really bring out the colours of the bombs.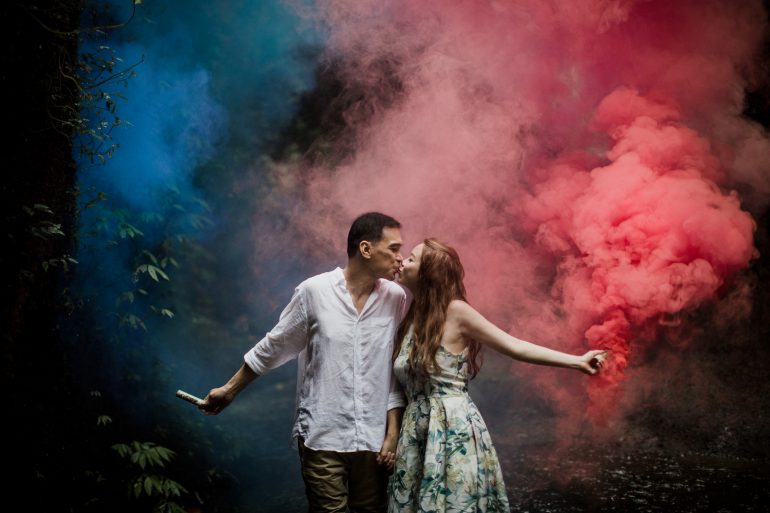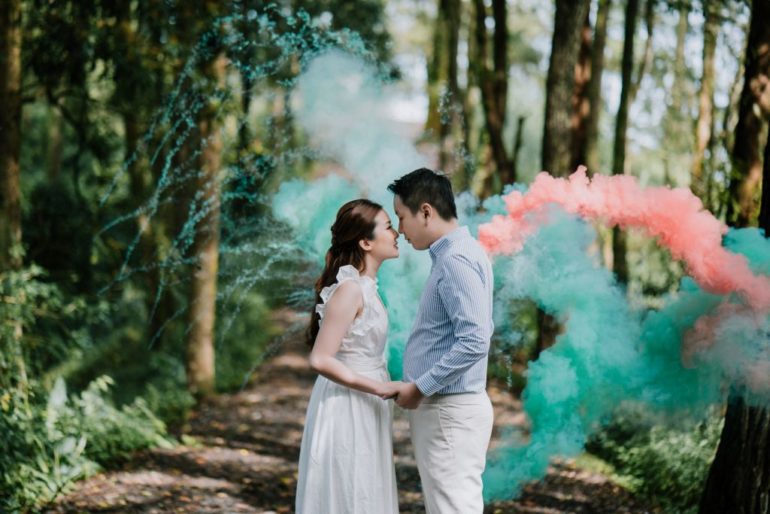 You can get some smoke bombs here or, for those who prefer to be hands-on, here is a tutorial on how to make a smoke bomb.
2. Flower bouquets
Flower bouquets are probably one of the most common props on the list, but instead of just holding them as people usually do, play around with them to achieve an extra romantic effect.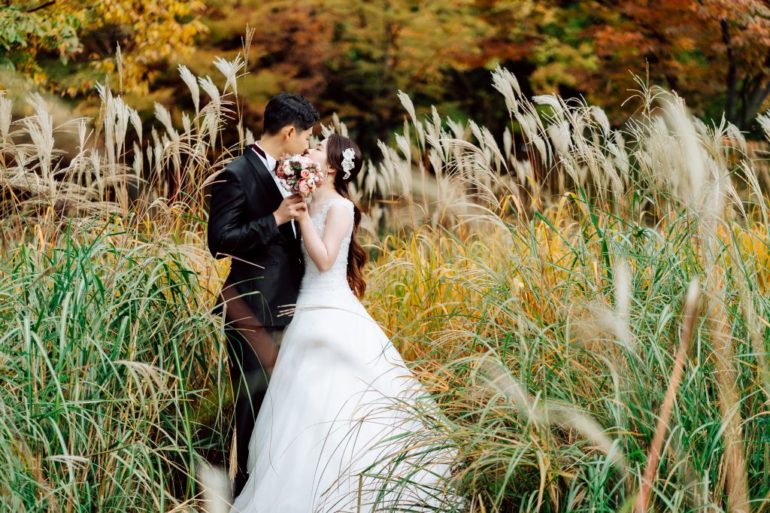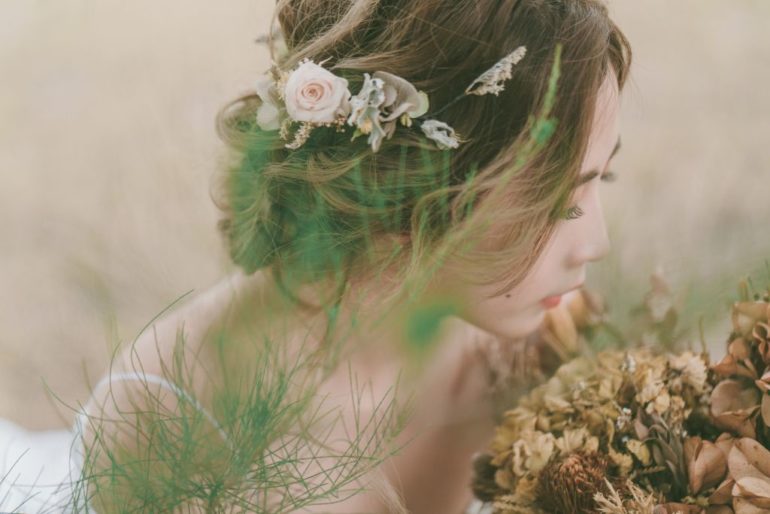 You can check out this guide for some wedding bouquet ideas that can suit any photoshoot concept.
3. Flower petals
If you want a romantic setting but aren't too keen on whole bouquets of flowers, you can opt for just their petals. They might come out to be even more romantic than whole bouquets, with a tinge of classy even!
For outdoor photoshoots, consider taking them during the cherry blossom or autumn seasons to take advantage of the natural pink and red-leaved foliage respectively. Here are some locations to make full use of the seasons' foliage.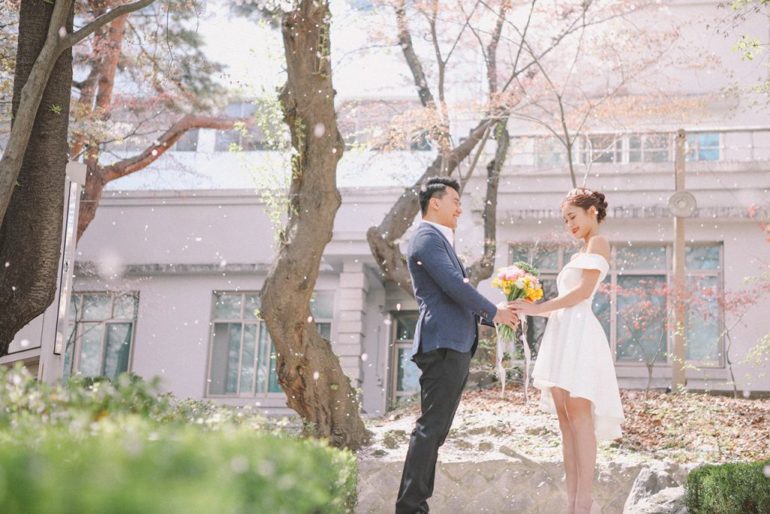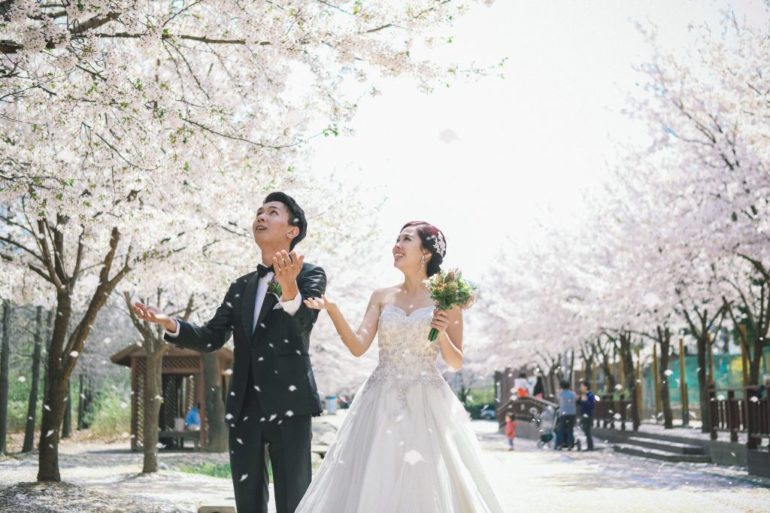 Petals to almost every flower are available, from fake petals of the conventional roses to the more uniquely pretty hydrangeas for the practical to real flower petals of every kind for the naturalist.
4. Fairy lights
Fairy lights are a definite must-have for night photoshoot sessions for sweet and romantic photoshoots. Hang them up to look like little stars twinkling in the background or wrap them around you and your partner for that extra-intimate shot.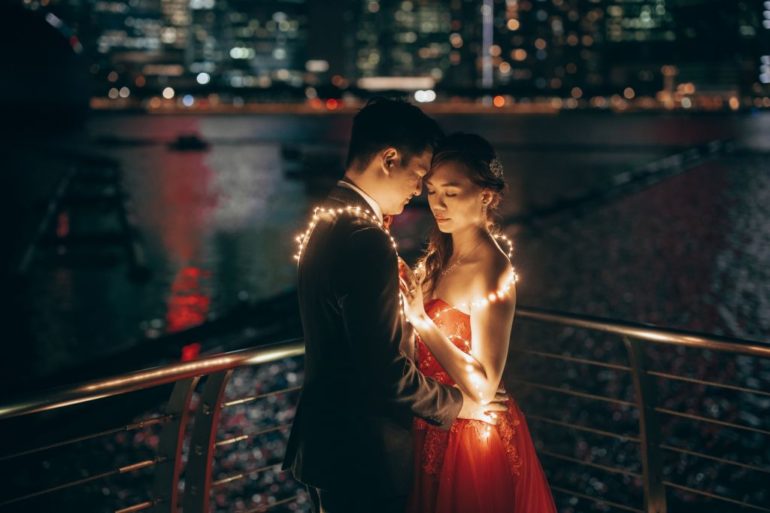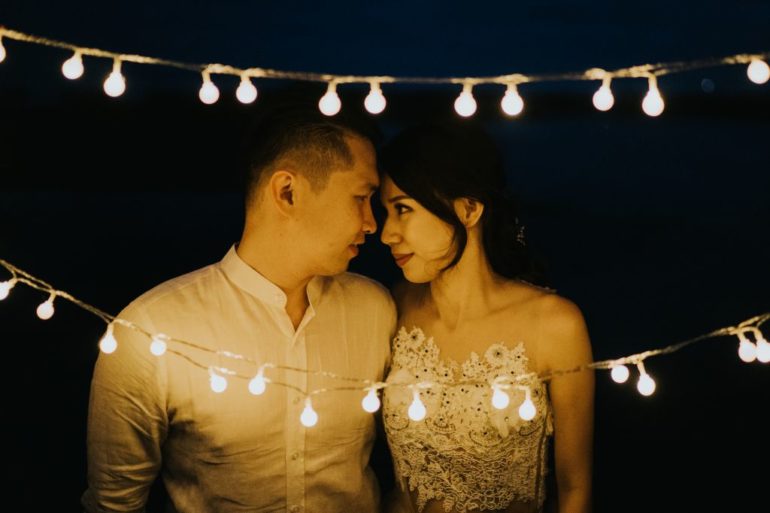 You can buy simple LED bulb fairy lights at Midnight Sparks while Typo sells a wider range of fairy lights in different designs.
5. Umbrella
Don't underestimate the simple umbrella, it can actually lend for really romantic photos, especially when you share it with your partner on a rainy day. It's also the perfect shield for you to use to steal a kiss from your partner during the photoshoot!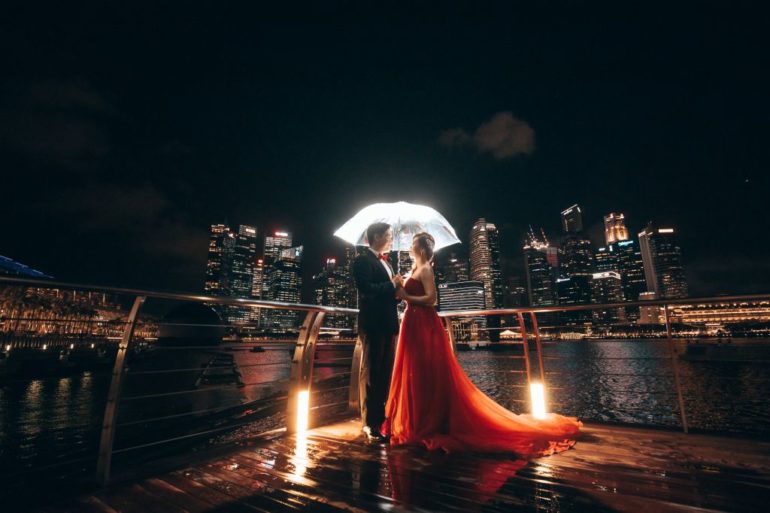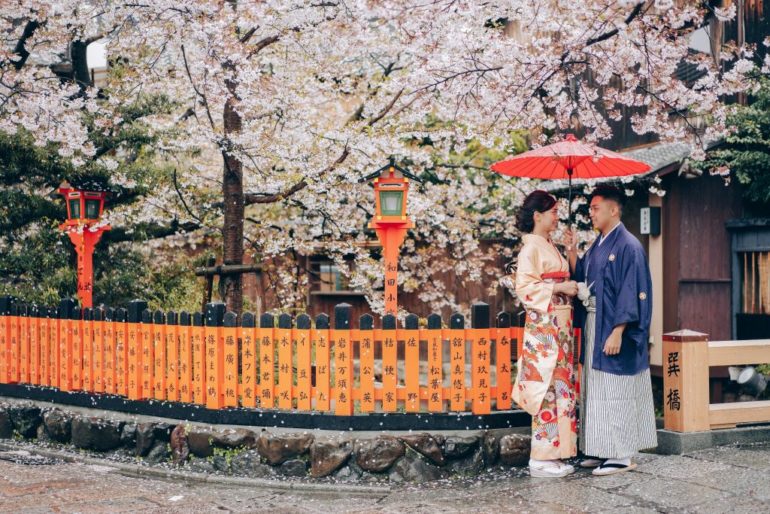 Wedding umbrellas come in various designs, from clear umbrellas to heart-shaped umbrellas to paper parasols.
6. Balloons
Another underrated prop — balloons! These simple props come in all shapes and sizes and can be used to simply give a burst of colour to your photos or even to spell out your wedding date.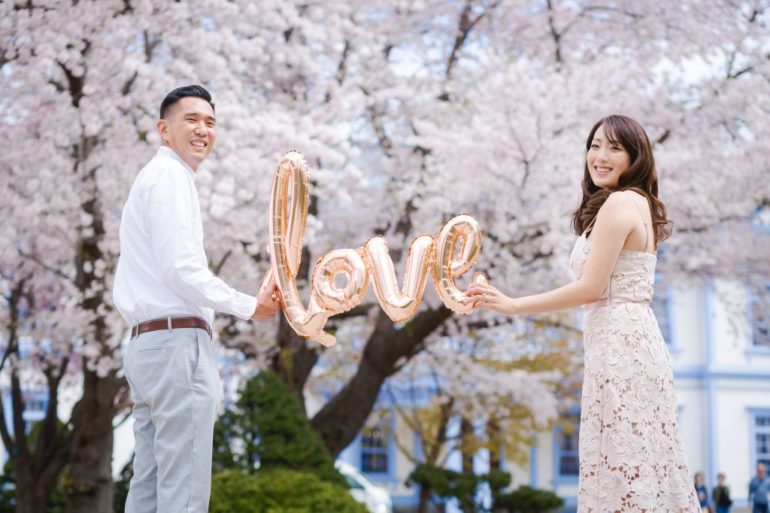 You can get a whole range of balloons from Party Wholesale Centre, from foil to latex, normal shaped to alphabet balloons.
7. Chalkboard
Take things back to the old school with these chalkboards. They're perfect because you can unleash your creativity with them, from writing quirky quotes to saccharine love messages for your partner on them or to simply announce your wedding.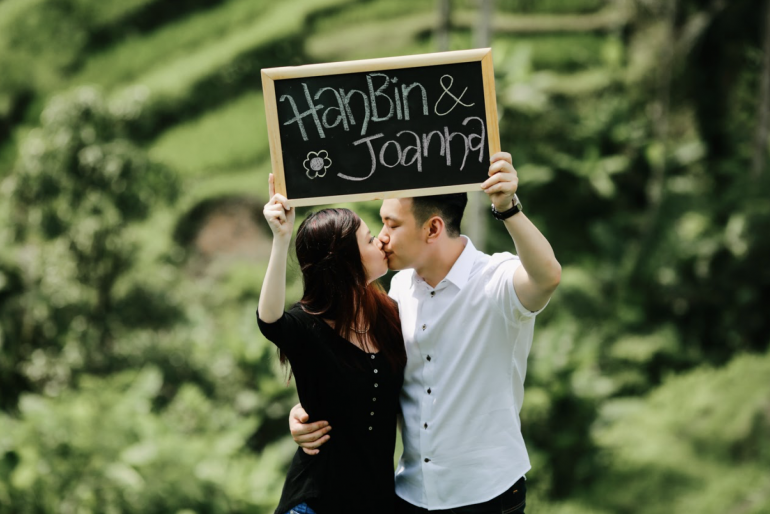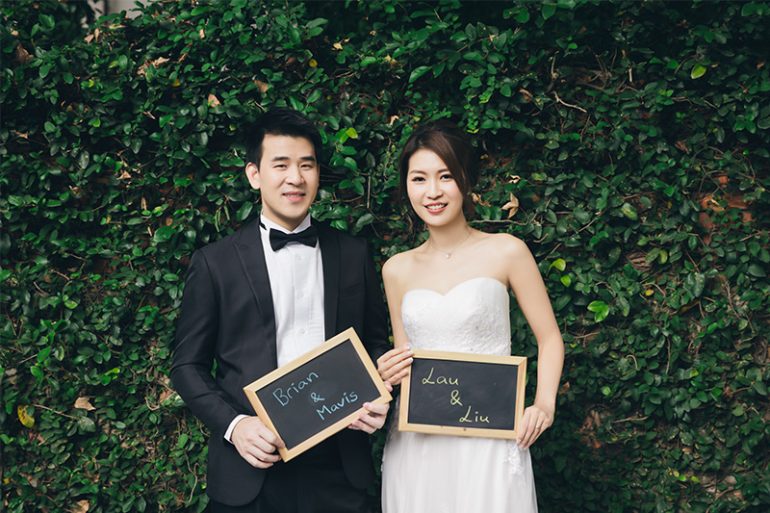 Chalkboards range in size, from mini chalkboards that can either be handheld or put on a small easel to bigger sized chalkboards that come with a stand.
8. Banners & Signs
Similar to chalkboards, banners and signs can be used to announce your marriage. They come in various designs and sizes and can be used more flexibly than chalkboards: you can hang them up on the wall, wrap it around your partner and yourself à la the fairy lights or simply have your partner and yourself hold each end of the banner or hold each sign.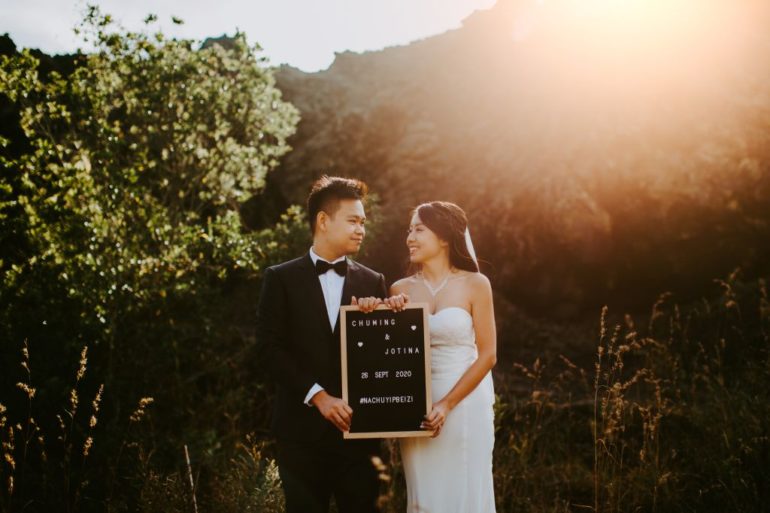 9. Picnic props
Picnic themed pre-wedding shoots are ever popular and understandably so. They not only make great photos, they're super easy to prepare for too. Just grab any picnic rug and basket lying around at home, grab a few snacks from your fridge and you're done! Even if you don't have a mat or basket at home, it's super easy to find them in shops.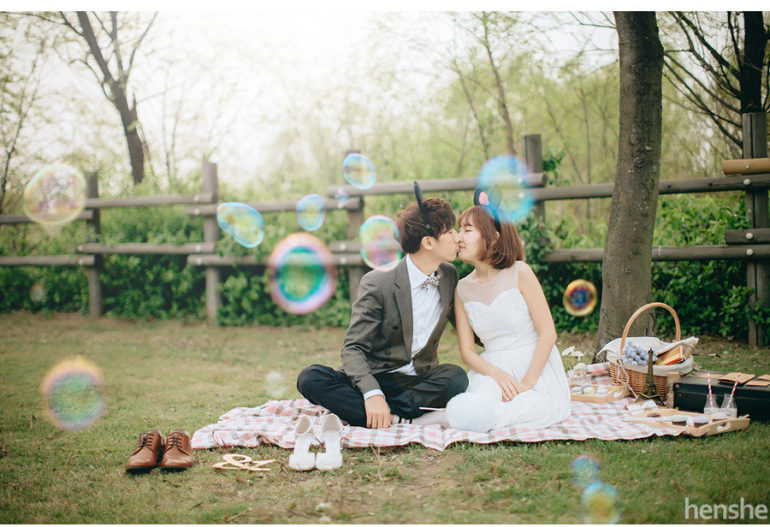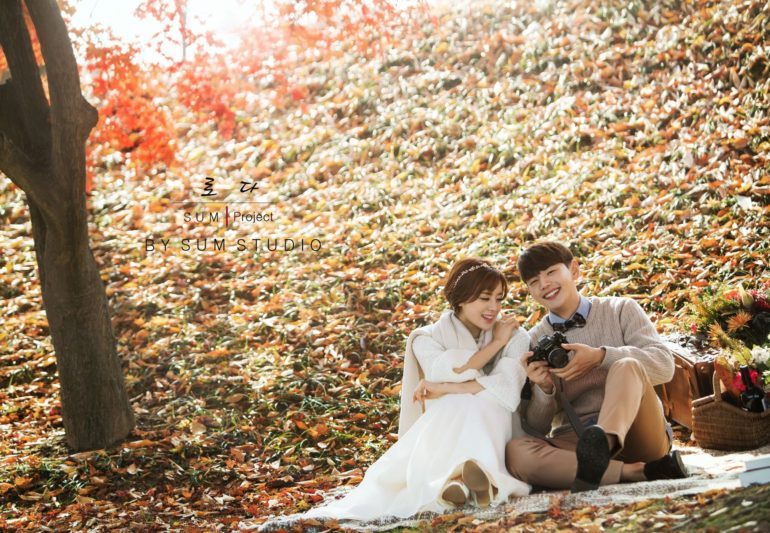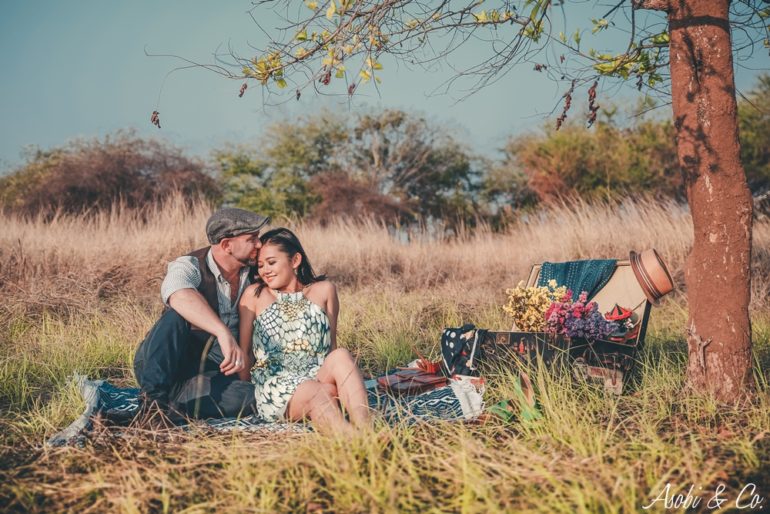 For those who don't have picnic materials at home, you can get a picnic basket and picnic rugs here. If you treasure your aesthetics, here are a few extra items you can consider: a glass tealight holder, glass bottles and straws and perhaps even a pretty frosted sea blue bottle to place your flowers in.
10. Instruments
For the music-loving couples, why not bring in your precious instruments as props? They not only make it much easier and natural for you to pose, they also give that much more meaning to your pre-wedding photos.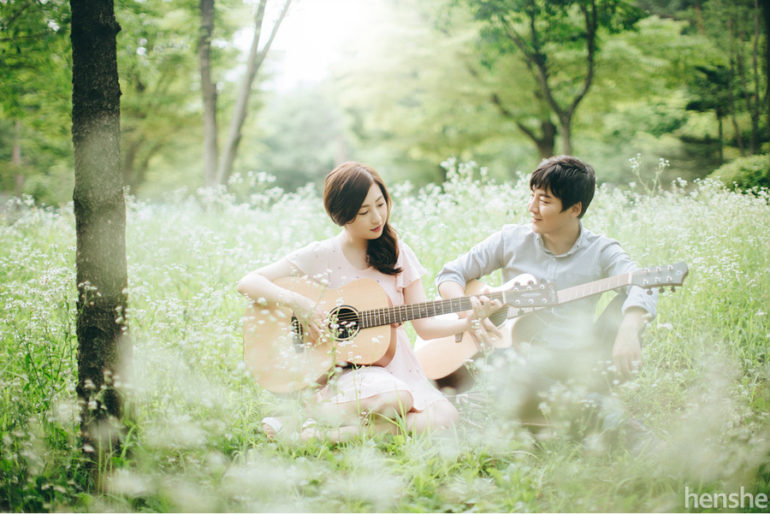 11. A blanket
I know what you're thinking: why a blanket of all things? But they actually lend to really romantic and intimate photos with your partner when you're wrapped up close to each other. Just make sure to bring a pretty blanket that's big enough to be wrapped around the both of you!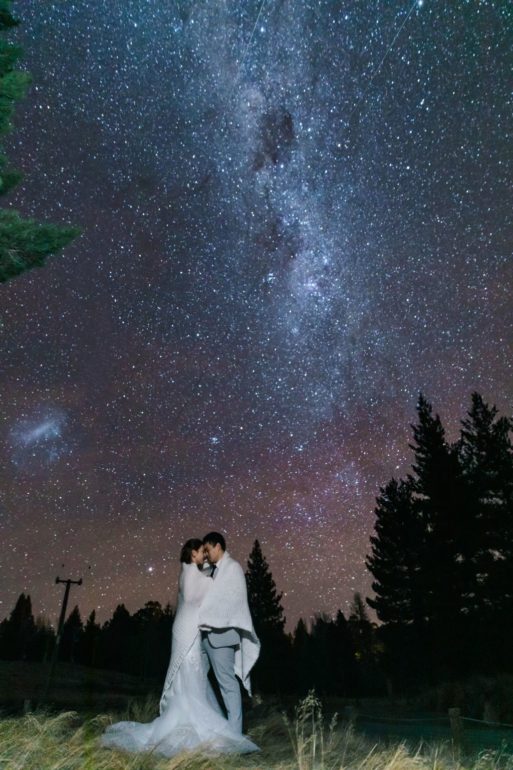 If you don't have a pretty blanket to use for your shoot, check out Etsy's collection of pretty blankets.
12. Bicycles
I'm not talking about those cool mountain bikes or racing bikes, but cute, vintage bikes with a basket that give a rustic vibe to your wedding photos. Though, of course, if you're both bikers then the former would do great too!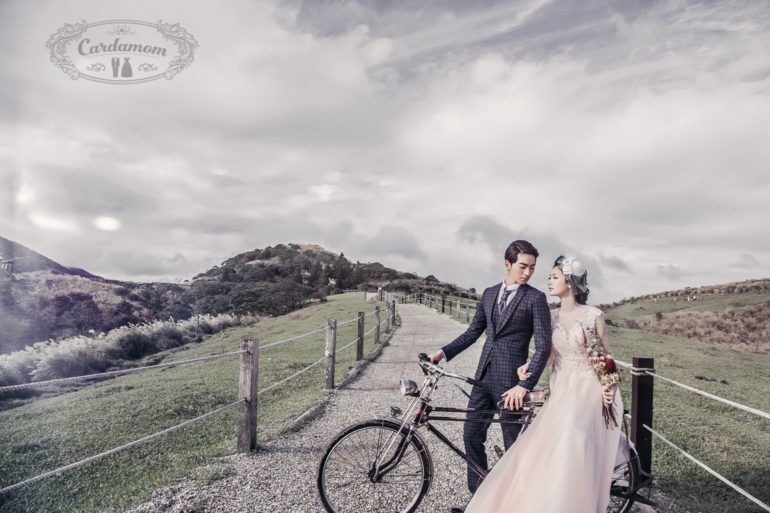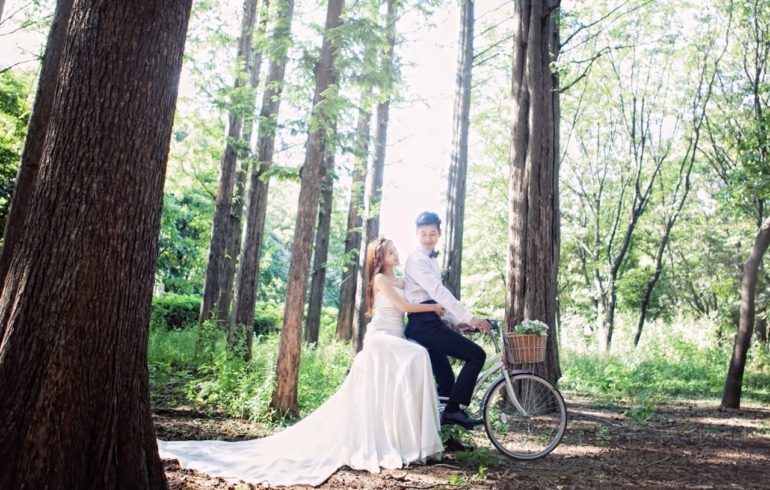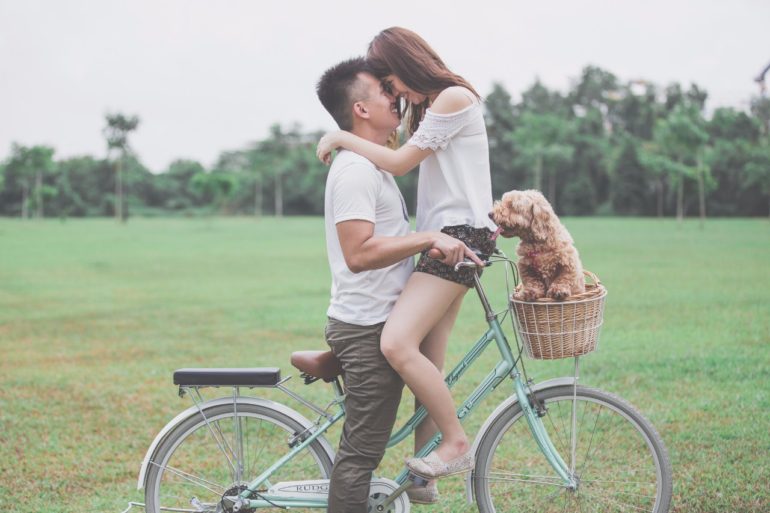 View Cyclelogy's collection of vintage bikes for inspiration.
13. Sparklers
While sparklers are pretty enough to be featured in your photos without much edits, their true magic is unleashed when you take long exposure photos. Request your photographer to take some long exposure shots for you and write away with the sparklers.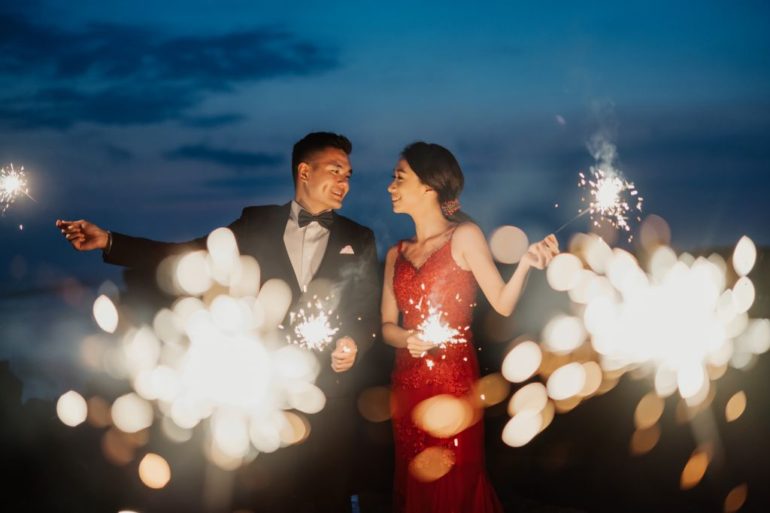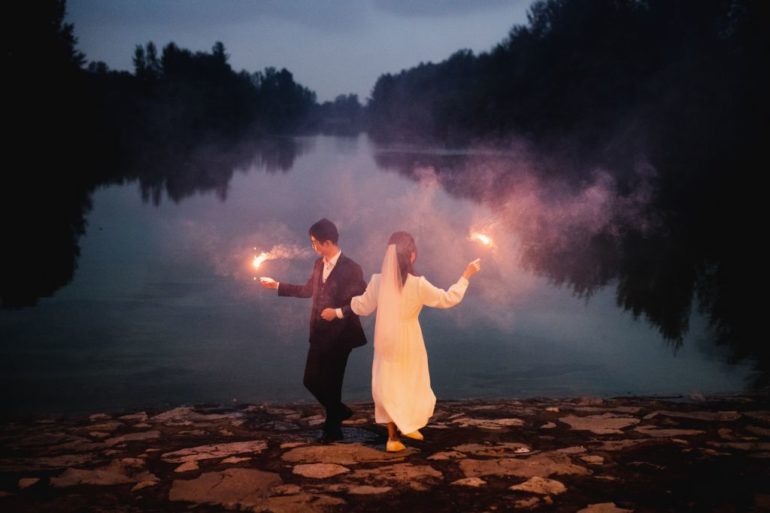 You can get wedding sparklers from SparklersOnline to recreate these mesmerising photos.
14. Your wedding ring
If you've got it, flaunt it! What better place to flaunt your wedding ring than in your pre-wedding photos?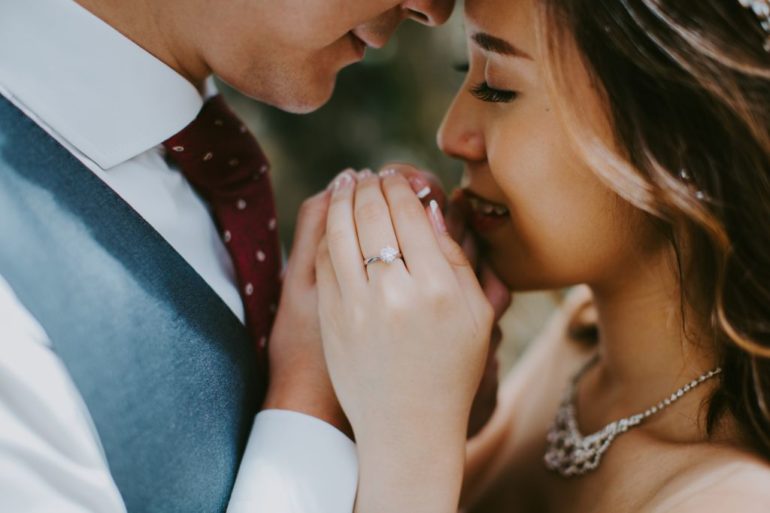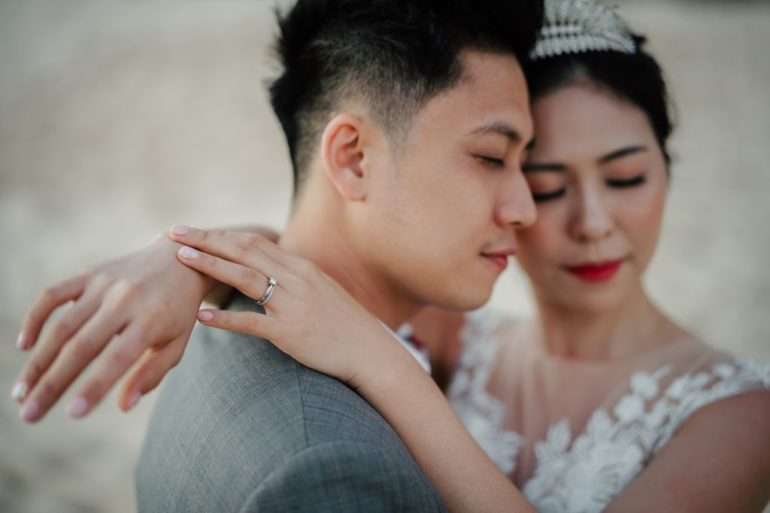 Check out these unique rings you can adorn your other fingers with in your pre-wedding photos and even in your daily life.
15. Your phones
Take a picture of your phone taking a picture of you and your partner for a truly unique phone-ception pre-wedding photo. Your phone can also show your childhood pictures or your couple pictures or anything, really. Just let your creativity take the reign.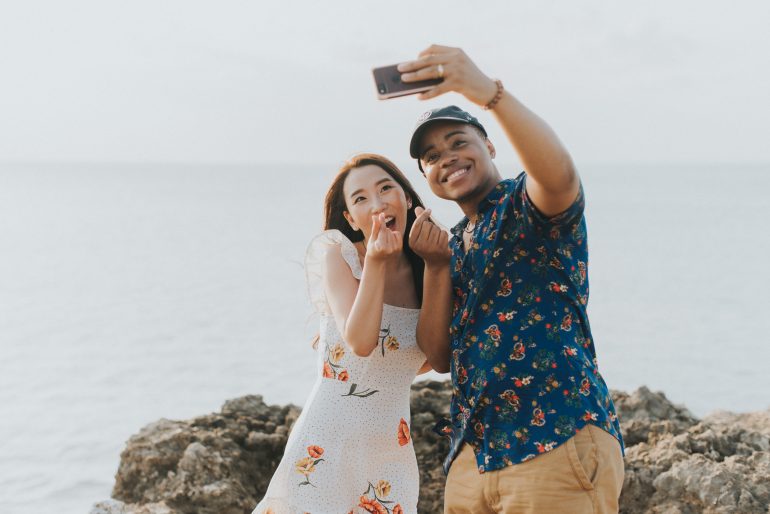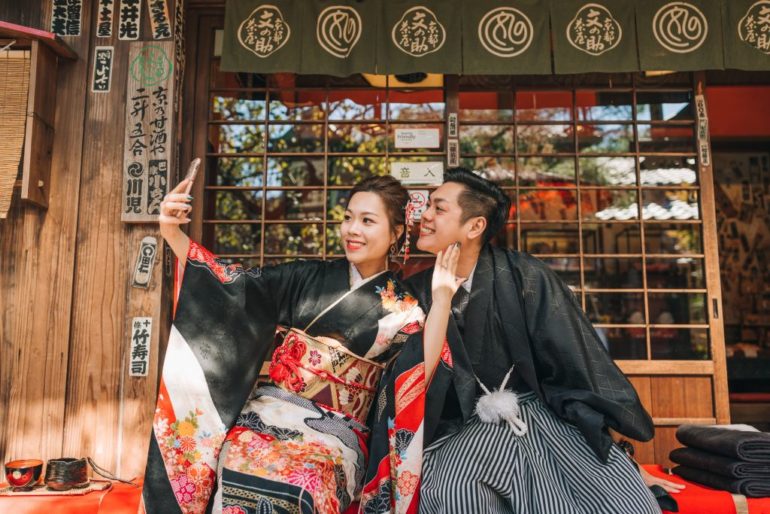 16. Your wedding veil
The veil is usually worn by the women during weddings or in some photos as a background piece, but it shouldn't! Just look at how these humble wedding veils can create such stunning photos.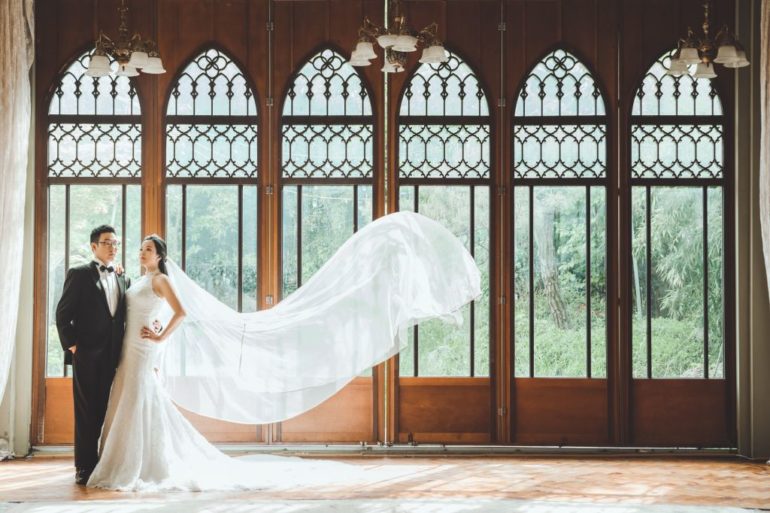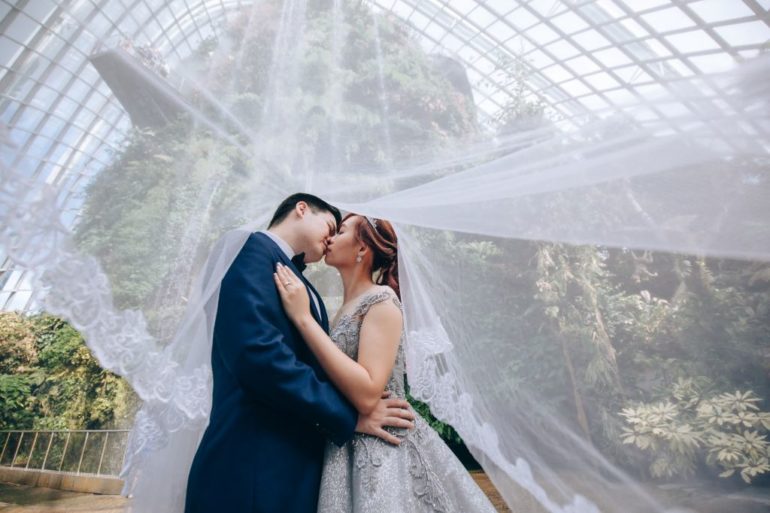 Check out these beautiful wedding veils from David's Bridal and The Knot.
17. A Window
Yes, you read right. A window. How can a window make your pre-wedding photo special, you ask? Simply have your picture taken from the reflection of a window and admire the breathtaking result.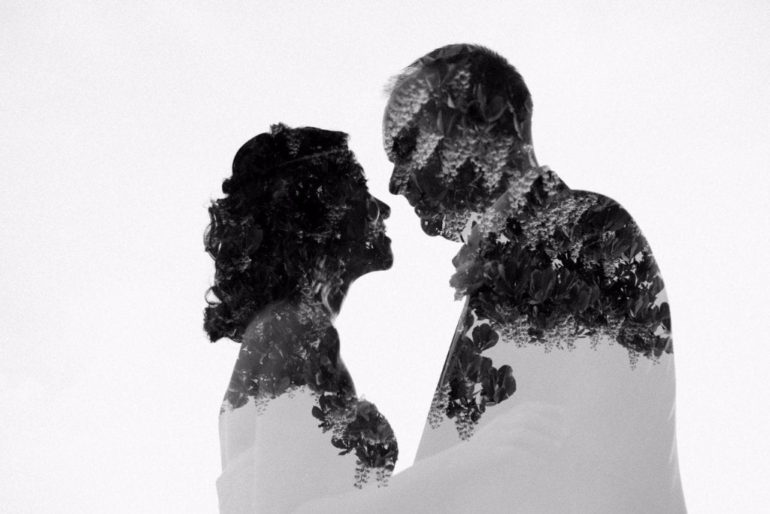 18. Sweets
Just as its name implies, sweets like lollipops and cotton candy not only taste sweet, they contribute to very sweet couple photos too! Share a cotton candy or steal a quick kiss from behind a large candy.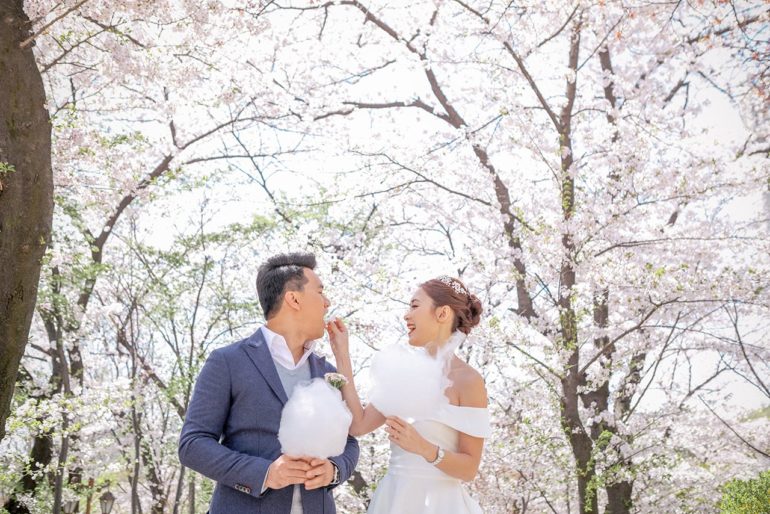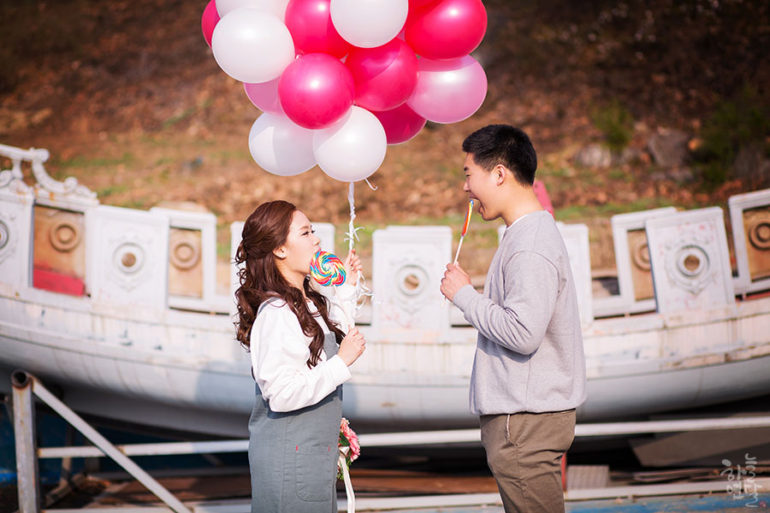 Check out Melville Candy for lollipops of various designs that you can use for your pre-wedding photoshoot.
19. Your pets
Okay so your pets aren't exactly props, but you can bring them in to make your pre-wedding photos extra cute because hey, animals are probably the cutest things to exist. Other than your partner.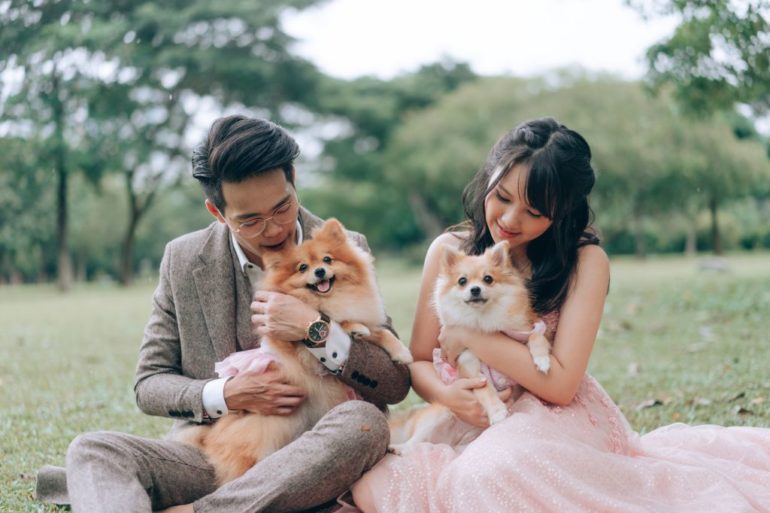 20. Your friends
Okay, again, your friends are definitely more than just props. But they make a great addition to your photos, especially if they're a crazy bunch with an endless list of antics to pull. Also, what better way to make your closest friends truly a part of your wedding?