Are you planning to have a winter wedding photoshoot to capture the gorgeous snow? Hokkaido is the perfect place to have a winter wedding photoshoot!
The snow quality in Hokkaido is consistently good throughout winter, with powder-like texture. Coupled with the amazing natural scenery, Hokkaido is undoubtedly one of the best places to visit during winter.
Hokkaido is also well-known for having snow-capped mountains, which you can choose to do your wedding photoshoot at to make your photos look extra stunning.
You can refer to our list of winter photoshoot ideas for a breath-taking winter photoshoot in Hokkaido!
Here is our Hokkaido winter guide to make sure you are all prepared for a winter wedding shoot!
When does winter in Hokkaido start and end?
Winter in Hokkaido usually begins in December and ends in February, so do keep this in mind if you want to catch the winter snow there!
The highlight of winter in Hokkaido is the Sapporo Snow Festival, where enormous ice and snow sculptures will be displayed. Hence, be sure to visit Hokkaido during the winter time in February to catch the Sapporo Snow Festival!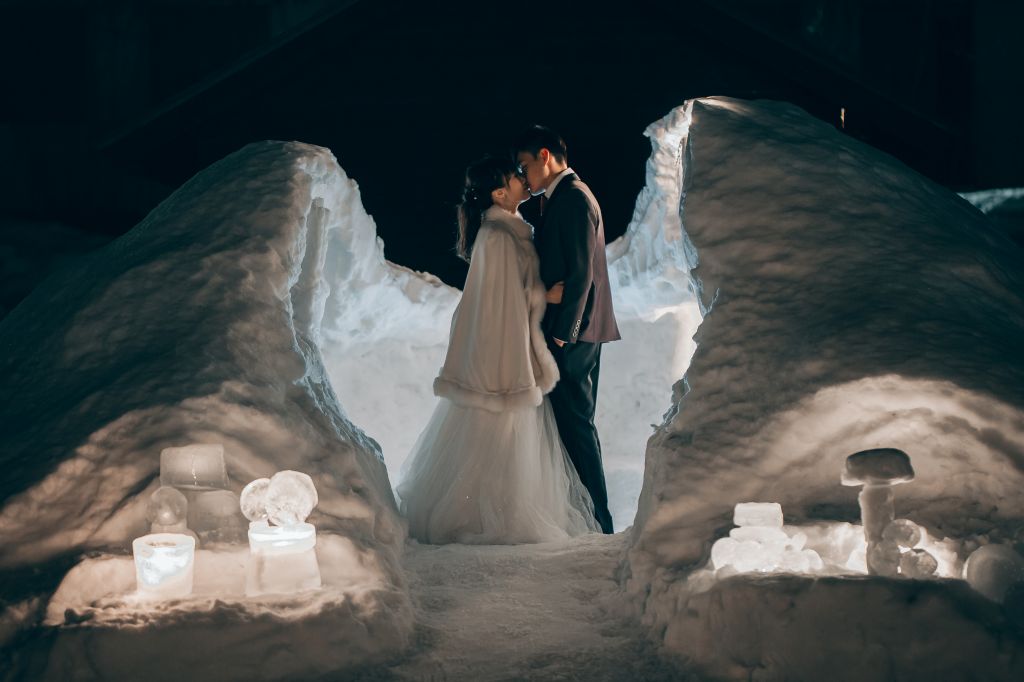 Which are the best locations to shoot at during winter?
Some of the best locations to shoot at during the winter include the Otaru Canal and the Sapporo Fushimi Inari shrine. The historic canal will look even more romantic when it is covered in snow.
In addition, the orange torii gates are a great contrast to the pure white snow. We also recommend you have your shoot with the picturesque Mt Yotei in the background!
You also shouldn't miss out the best locations to do your Hokkaido wedding photoshoot, since these locations are simply breath-taking!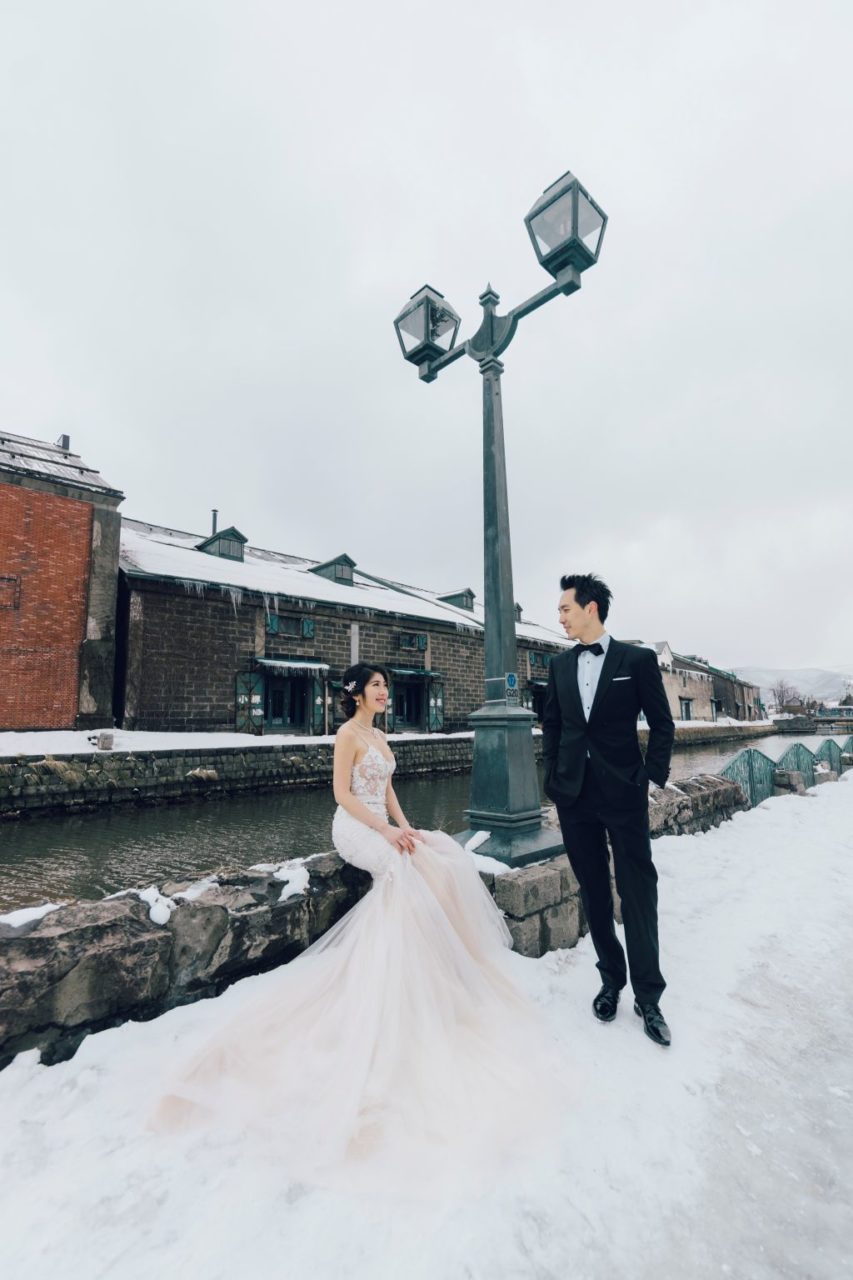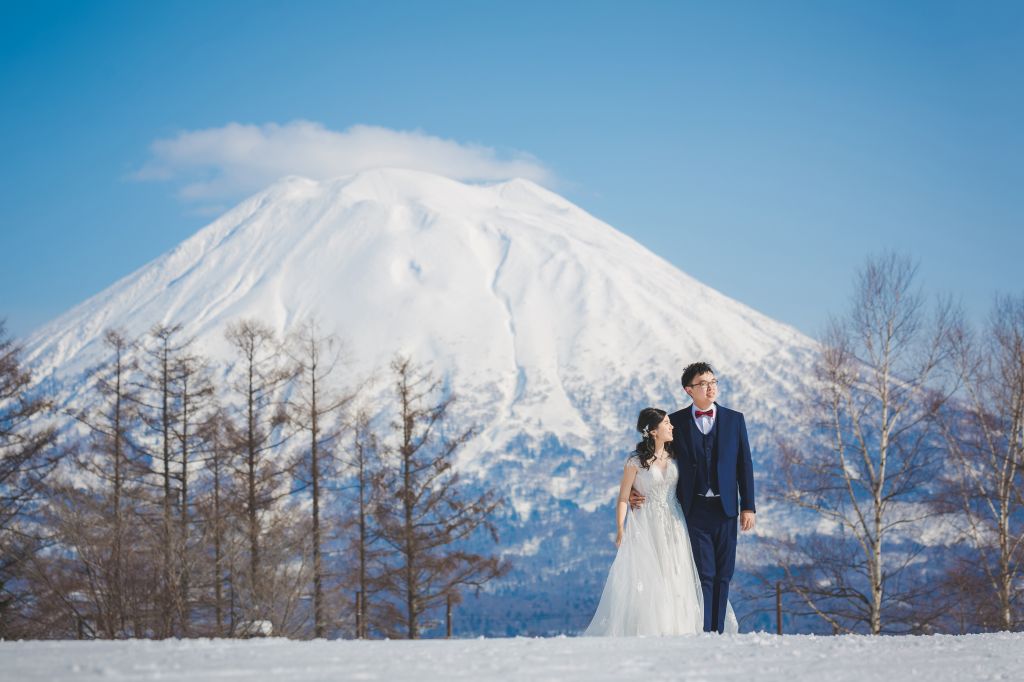 What is the best time for a winter photoshoot?
The days are much shorter during winter, with the daylight hours lasting for around 9 hours. The sun rises at approximately 6-7am and sets at around 4-5pm during the winter season.
We recommend you have your photoshoot before 5pm if you are looking to have a day shoot! At OneThreeOneFour, we usually do our winter Hokkaido photoshoots from morning till sunset.
You should also plan your itinerary carefully to minimise the travelling time from one location to another, since the sun sets early during the winter season in Hokkaido.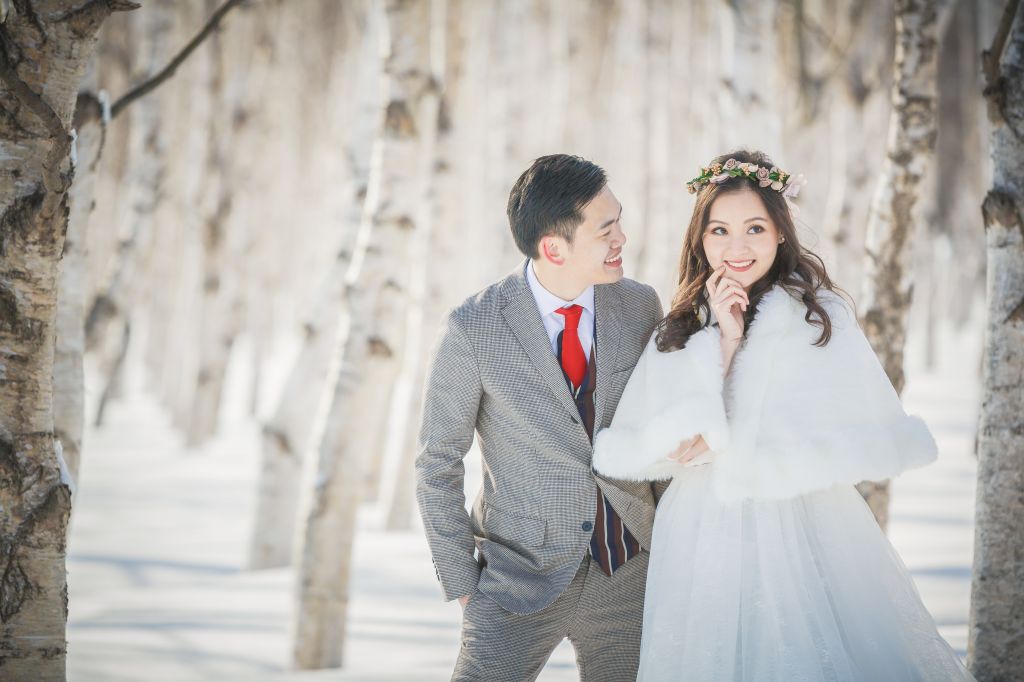 Will I get snowy winter photos?
Winters in Hokkaido are very cold, with temperatures lower than Tokyo and Osaka, at around -4°C . Thus, you will be able to capture the snowy scene throughout the winter season in Hokkaido! The cold winters in Hokkaido then lead us to our next question of…
How do I keep warm during a winter photoshoot?
Winters in Hokkaido can be extremely cold, with biting cold air that chills one to the bones. To keep yourself warm, you can use disposable heat packs called Kairo. You can purchase them at about JPY 100 in kiosks, train stations, as well as in drug stores.
For grooms, a velvet blazer is ideal because of its thick material. Plus, velvet blazers are perfectly on-trend and will make you look chic!
For brides, you can wear thick tights under your wedding dress and attach some heat packs underneath your gown. Bringing along a scarf or pull-over can keep you warm and double as an additional look!
We also recommend brides to opt for boots instead of the usual high heels. We have a list of winter photoshoot tips prepared for you here!
How should I prepare my skin for the winter weather?
Chapped lips and dry skin are inevitable in cold weather. Hence, we recommend you to bring along a good face moisturiser, as well as a chapstick!
Of course, you should also get ample rest on the days leading up to your wedding photoshoot. Try to stay away from caffeine, oily and spicy food, and stay hydrated! Remember to keep your skin hydrated as well, by using a hydrating mask at night! You should also exfoliate your lips to remove dead, dry skin, to look picture perfect for your shoot!
Before your makeup on the day of your shoot, all you need to do is to apply some moisturiser and show up with clean and dry hair!
Do you have any winter makeup tips for brides?
It is important to prepare your eyes for your eye makeup in winter, because the harsh snow and wind can result in runny mascara and eyeshadow. Thus, it is important to prime your eyelids with face powder to prevent your makeup from smudging. Waterproof makeup is also recommended, to prevent smudges.
Remember to set your makeup so that both your makeup will stay intact and your skin will stay fresh all day long!
Which are the best colours to wear in winter?
During winter, colours like red, burgundy, black and dark blue are recommended, since they are a great contrast from the pure white snow. We have also come up with some tips on how to choose the right wedding gown and suits for wedding photos!
Which area in Hokkaido should I stay at during the winter?
We recommend staying near your photoshoot locations so that it is easier for you to get there.
We recommend staying at hotels in the Sapporo and the Otaru area, since these are locations where we frequently do our photoshoots at. Alternatively, you can opt for an accommodation that is near the train station for easier access.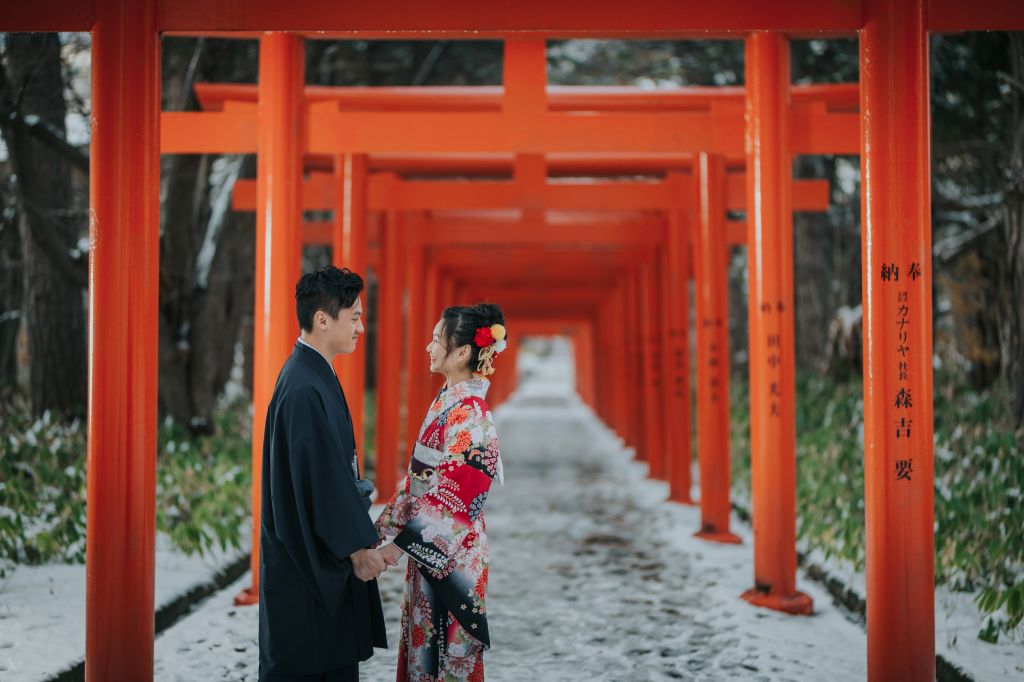 What are some of the best delicacies to eat during winter in Hokkaido?
Winter in Hokkaido can be a harsh season, with temperatures falling well below zero. Having a hot meal is the best way to warm up your body after shooting outside in the cold weather.
Hokkaido is best known for its seafood, and winter is known as the peak season for crab. The sweetness of the crab essence in a hot pot is a perfect way to warm your soul in the chilly winter!
A bowl of piping hot soup is also a great comfort food in the chilly winter, and the Soup Curry is a must-try dish in winter! The dish can be found in many restaurants in Sapporo.
Haven't arranged a photoshoot for your Hokkaido trip? Book with OneThreeOneFour to capture your amazing experience!