Hokkaido is a popular location for many couples to have their wedding photoshoot at. It has the perfect urban-rural blend, from natural landscapes to modernised archictectures, and you will surely not run out of locations to visit there!
Like most couples out there, it is probably your first time doing a wedding photoshoot in Hokkaido. Hence, you may be struggling with many questions on hand in preparing for your Hokkaido wedding photoshoot.
Fret not, we are here to help! With our Hokkaido wedding photoshoot guide, you will be fully prepared for your photoshoot!
What are your recommended photoshoot locations?
When it comes to a photoshoot in Hokkaido, the Fushimi Inari Shrine and the flower fields in Furano are definitely places you can't miss out on! However, there are many more places for you to shoot at!
For a start, do not miss out the Otaru Canal, Temiya Park, and the Blue Pond! The Otaru Canal is a beautifully preserved canal with stunning views that makes it a good backdrop for your photos.
For a pop of colours, you can visit Temiya Park during late April to early May to enjoy a lovely pink foliage when the cherry blossoms are in full bloom! During summer, the Blue Pond offers alluring blue hues, and you can have a quiet stroll with your partner while enjoying the calming views of the pond.
For couples who intent to visit Hokkaido during the winter season, we recommend the Moerenuma Park as well as the Hilton Niseko Village for a magical snowy photoshoot. The surroundings will be covered with a blanket of soft white snow, and your photos will look absolutely breath-taking!
At OneThreeOneFour, we have a curated set of locations that are great for a photohoot without the tourist crowd. You can also check out our recommended list of the best photoshoot location in Hokkaido here. This then leads us to the next question of…
Can I choose the locations or are they fixed?
We work closely with our couples to create a memorable wedding photoshoot experience for them and to produce wedding photos that are stunning.
For our packages, you can pick three locations from a fixed list of area combinations we have come up with. This is because the areas are far from each other, and we hope to minimise your travelling time.
The locations in Sapporo and Otaru are perfect for photoshoots all year round. We would also recommend places in Sapporo, Furano and Biei for the summer months and locations in Sapporo and Niseko for the winter months.
With our years of experience doing photoshoots in Hokkaido, we have built up a wealth of knowledge of the area and our coordinators will be able advice if your chosen locations are feasible. So, feel free to check with us if you have any questions!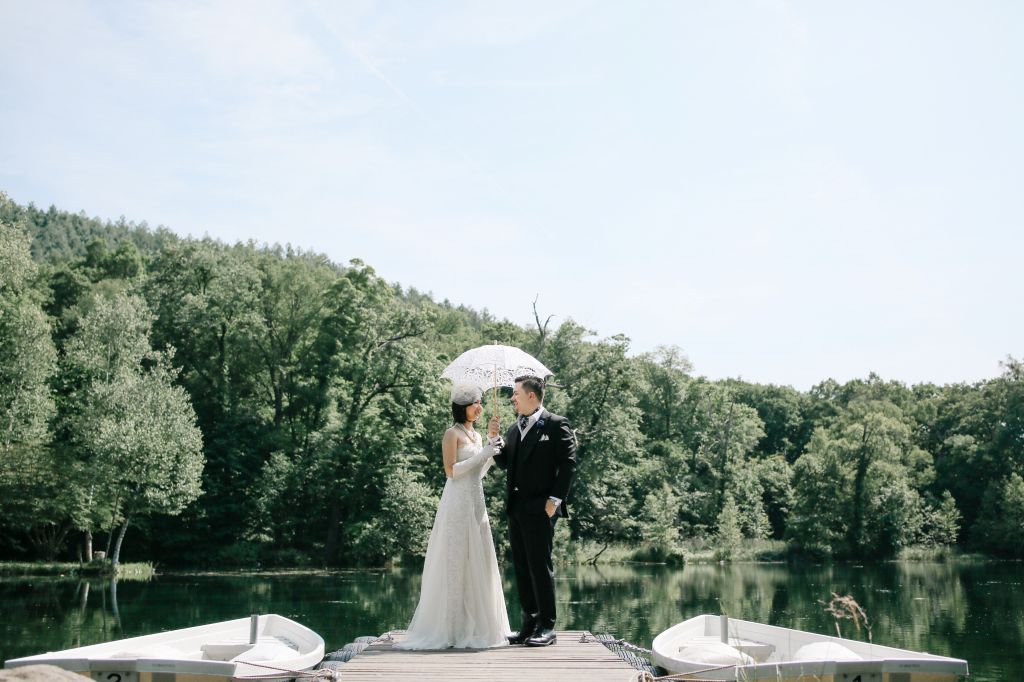 How much time does it take to complete a wedding photoshoot?
Besides the actual time spent on photography, you also have to factor in other aspects, such as warming up to the camera, touching up your makeup, changing of outfits, and the travelling time needed to get to your next photoshoot location. This brings us to the next question of:
Our most popular wedding photoshoot package in Hokkaido spans across the entire day and includes about 8 hours' worth of photography time. This will allow you to cover 3-4 locations that offers a variety of backdrops in your wedding photos.
However, if your travel schedule or budget doesn't permit, we also offer the classic photography package with 4 hours of photoshoot at 2 locations.
How do I travel between the photoshoot locations?
Hokkaido is a HUGE island with many of the photoshoot spots spread across different cities. Some of locations are outside of the cities and are inaccessible by public transport. We highly recommend that you engaged a driver dedicated for your wedding photoshoot.
For couples who booked our service, we provide private transport during the photoshoot, picking you from the hotel, to the photoshoot locations and back to the comforts of your bed.
Our photographers will be the ones in charge of driving you around, from one place to another, in their private cars! That way, you can get some rest on the car while you travel to your next location!
Where should I stay in Hokkaido?
We recommend you stay at a hotel that is near your photoshoot location. This way, you can save time on travelling and you can get more rest for a long day of photoshoot!
We'd recommend our couples to stay in the Sapporo Area or the Otaru Area. These areas are perfect for photoshoots all year round and they are close to key photoshoot locations like the Fushimi Inari Shrine and the Otaru Canal. They also have great shops and restaurants that will make both your photoshoot and your vacation enjoyable.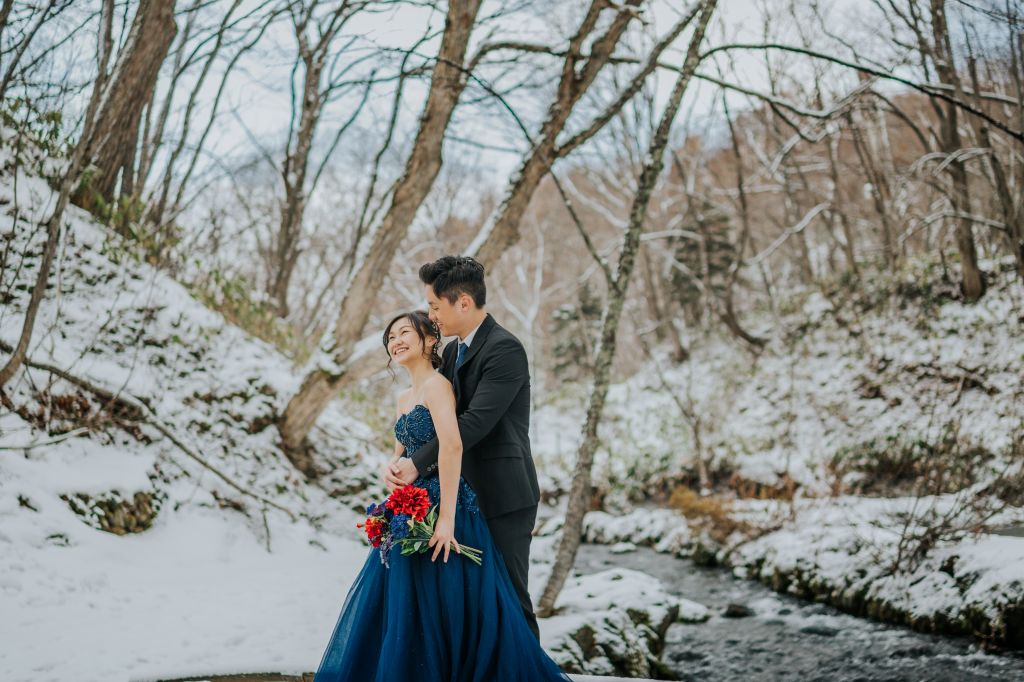 Would I need professional makeup and hairstyling?
We highly recommend to you have a professional makeup artist. It is important to stay relax and enjoy the photoshoot. You wouldn't want yourself to be fretting over whether your falsies is sticking , or if your hair is falling correctly over your shoulders.
Of course! We have a team of Hokkaido-based makeup artists who will help you to look your best for your photoshoot. We usually allocate 2 hours for makeup and hairstyling.
On top of that our makeup artist will stay with you through the shoot to assist you with touching up on your makeup and hairstyle, so that you will always look your best!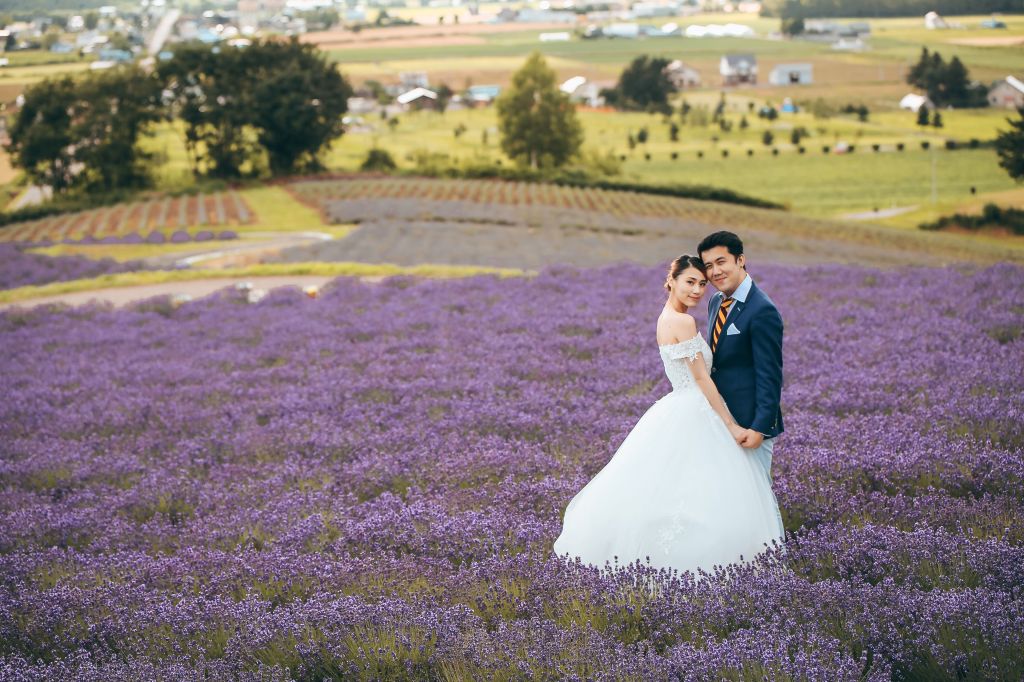 How should I choose my wedding photographer?
First, you want to choose a photographer who is living in Hokkaido. This is because they will have the best knowledge about Hokkaido, and there are nuances in a wedding shoot and hidden gems in between key locations that only a local Hokkaido photographer will know.
You would also want to choose a photographer whom you can communicate with. All our photographers are English-speaking, so you need not worry about having language barriers! We also provide translators for couples who would like to communicate in their native language.
For our Hokkaido photographers, you can take a look at their portfolios on our website.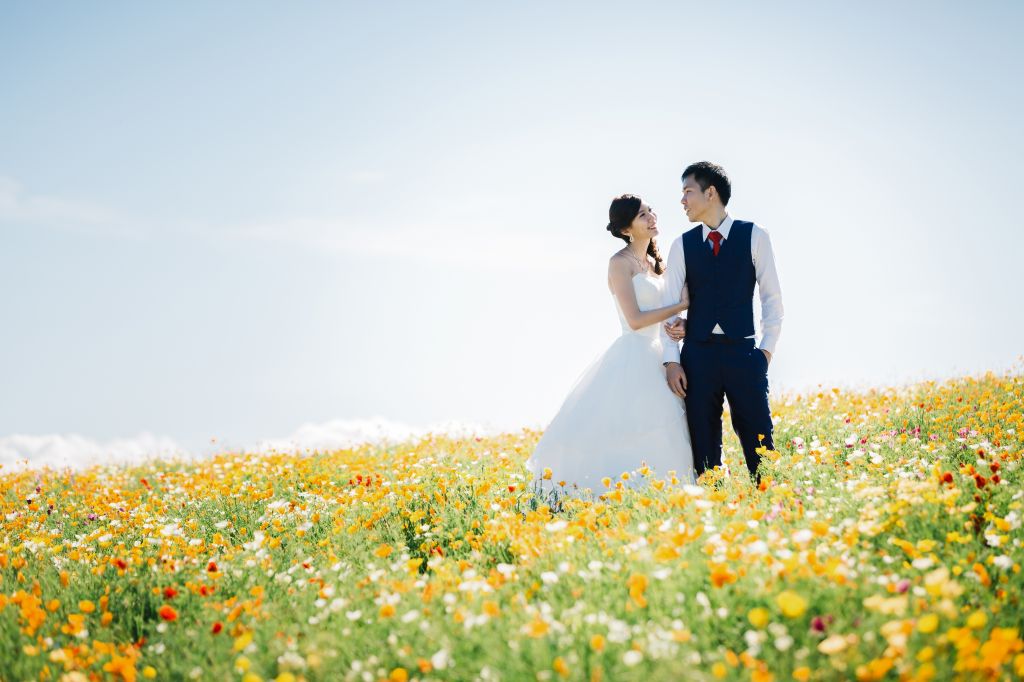 What are the best months/seasons to shoot?
We recommend you have your shoot during the summer or the winter period. Summer in Hokkaido usually lasts from June to August, while winter in Hokkaido usually lasts from December to February.
What happens if it rains?
The weather can be unpredictable, and it may rain even during the summertime in Hokkaido. A light drizzle can create a stunning effect and make your photos look even more unique.
However, if the rain gets too heavy midway through the shoot, we will rearrange the shooting route for you. Since Hokkaido has many different areas to shoot, we can always proceed to another area while waiting for the rain to subside in one area.
In addition, we can always switch to sheltered or indoor locations, such as the former Hokkaido government building, or the Nishin Goten in Otaru.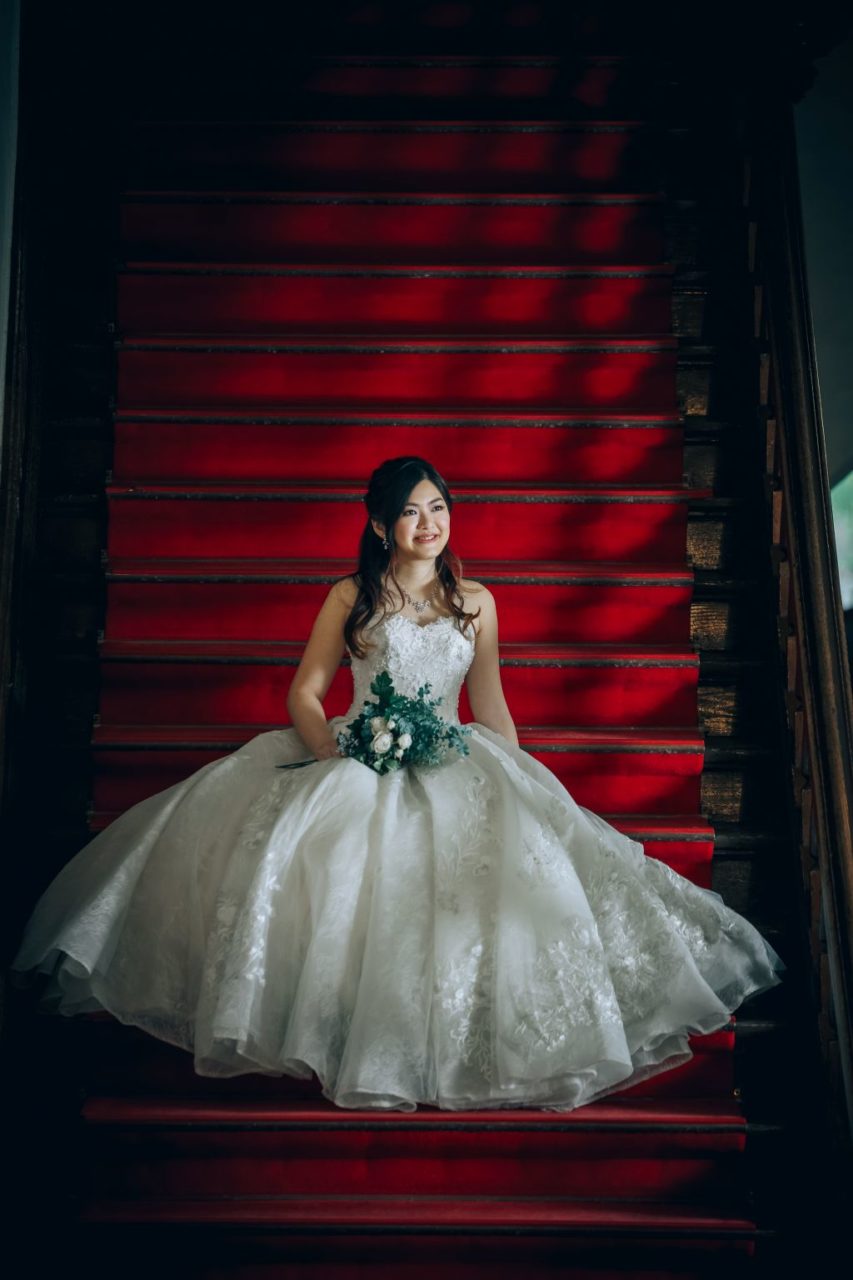 How much does it cost for a wedding photoshoot in Hokkaido?
We offer two Hokkaido wedding photoshoot packages: a classic one and a premium (full day) one. The classic package is ideal for couples looking for a short half-day wedding photoshoot of around 4 hours at 2 locations, and it is priced at JPY 210,000 (~SGD 2,700).
The premium (full day) package is perfect for couples who want the very best wedding photoshoot experience. Within the 8 hours of our photoshoot duration, we can cover 3-4 famous locations around Hokkaido! Our premium package is priced at JPY 320,000 (~SGD 4,100).
Learn about our Hokkaido wedding photoshoot package details on our website.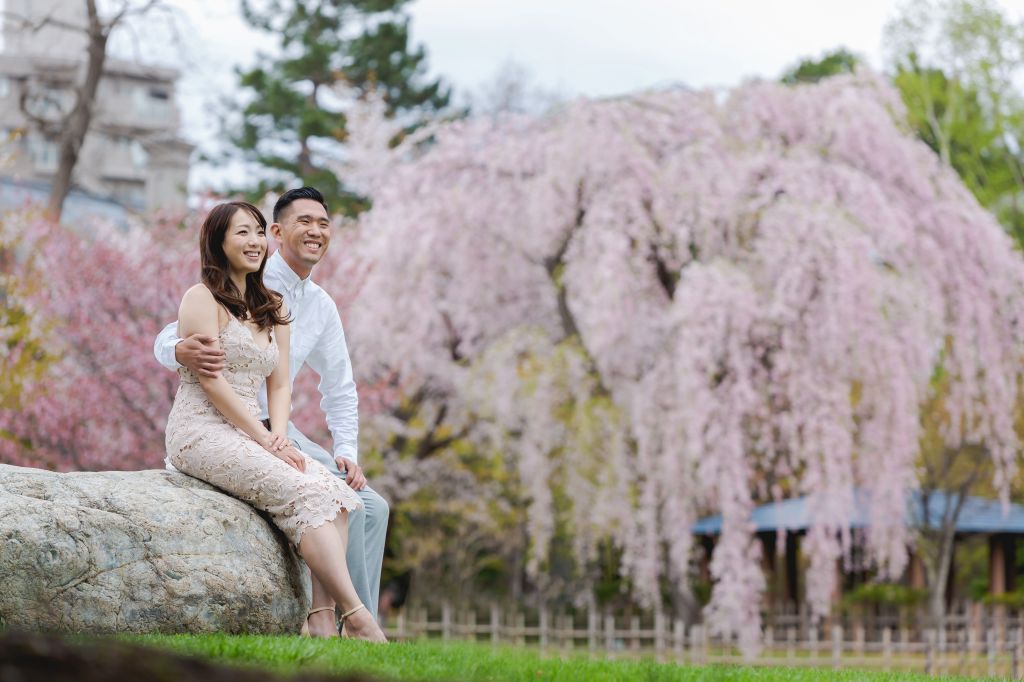 Are there any extra fees for any of the locations in Hokkaido?
Hokkaido has plenty of locations that have become popular for wedding photoshoots. Some locations charge an entrance fee, while others may charge a photo fee to couples who are using their space for photoshoot.
Both the Fushimi Inari Shrine and the Gokoku Shrine charge a JPY 5,000 permit fee for couples who want to do their photoshoot there.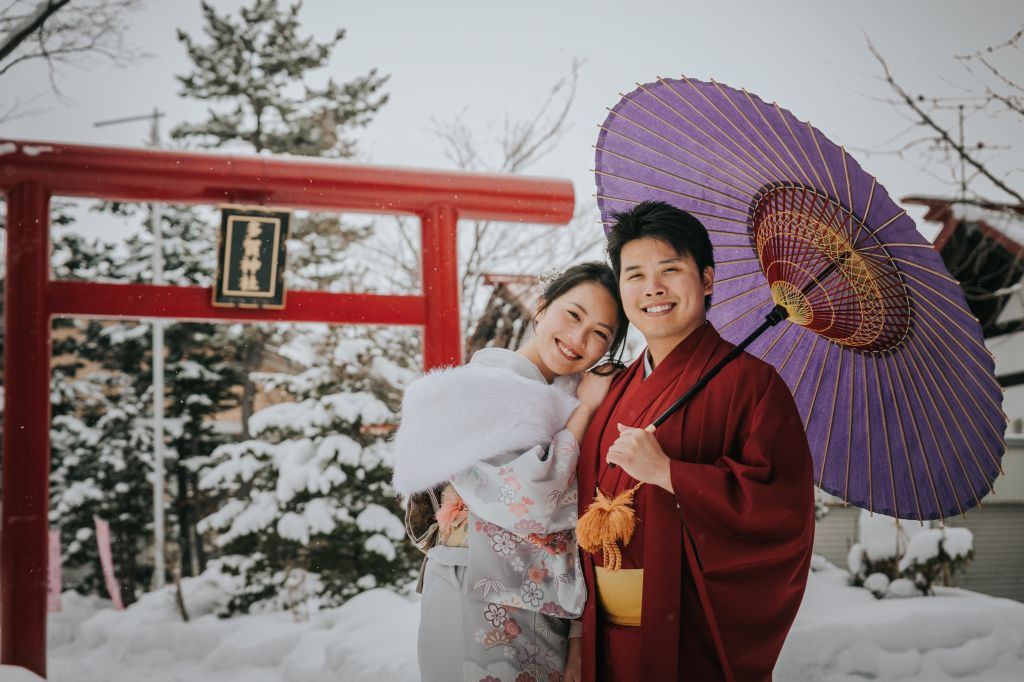 Take note that these fees are charged by the management of the location, not by the photographers.
For OneThreeOneFour couples, you won't have to worry for any hidden costs, as we will advise the relevant fees when we plan the photoshoot for you.
We hope this guide will be helpful for couples who are planning to do their wedding photoshoots in Hokkaido. For more information on our Hokkaido wedding photography packages, be sure to check our website!