Hokkaido is one of the most beautiful places to visit during summertime, because of the stunning natural scenery it has.
One of the highlights of summer in Hokkaido are the flower fields. The view from the vibrant flower farms are simply breath-taking. They are the perfect location for you to do your photoshoots at!
Worrying about what to prepare for a Hokkaido wedding photoshoot in the summer? Don't sweat it, we've got you covered! We have come up with a list of questions and answers for you to adequately prepare yourself for a summer Hokkaido wedding photoshoot!
Which are the best locations to shoot at during the summer season?
We recommend you shoot at Furano, where you can enjoy a carpet of flowers with different colours. The different flowers in the flower fields will all be in full bloom during the summer season!
You can also shoot at the Blue Pond in Biei, where you can get to admire the alluring blue hues of the pond during summer!
SEE ALSO: 5 Best Wedding Photoshoot Locations in Hokkaido That Will Make Your Photos Look Surreal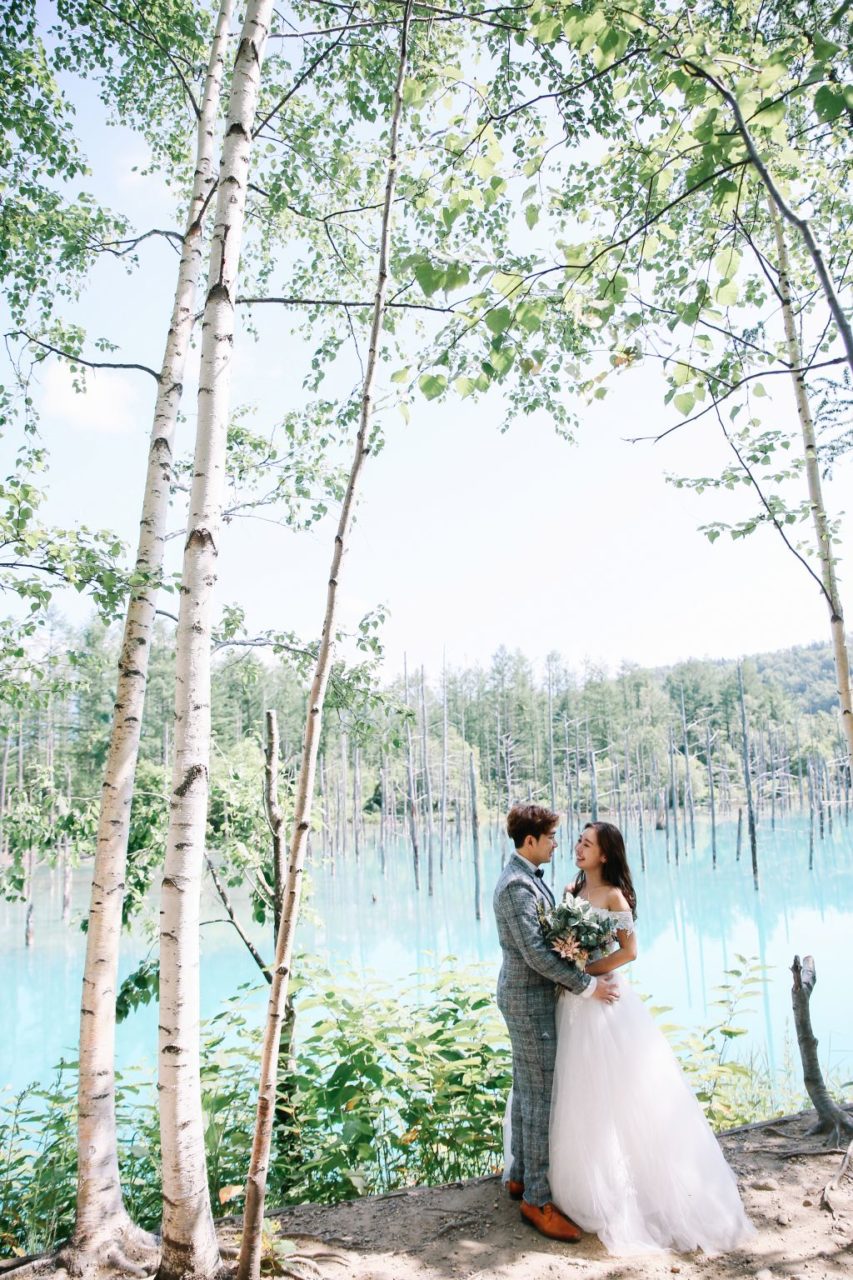 When does summer start and end in Hokkaido?
Summer in Hokkaido usually starts in June and ends in August.
The highlight of summer in Hokkaido is undoubtedly the lavender fields in Furano, and the lavender season usually reaches it peak in around mid-July. Additionally, the lavender is only at its peak for a couple of weeks, so do plan your trip in time to catch the lavender season!
SEE ALSO: Top 10 Lavender Farms to Visit in Hokkaido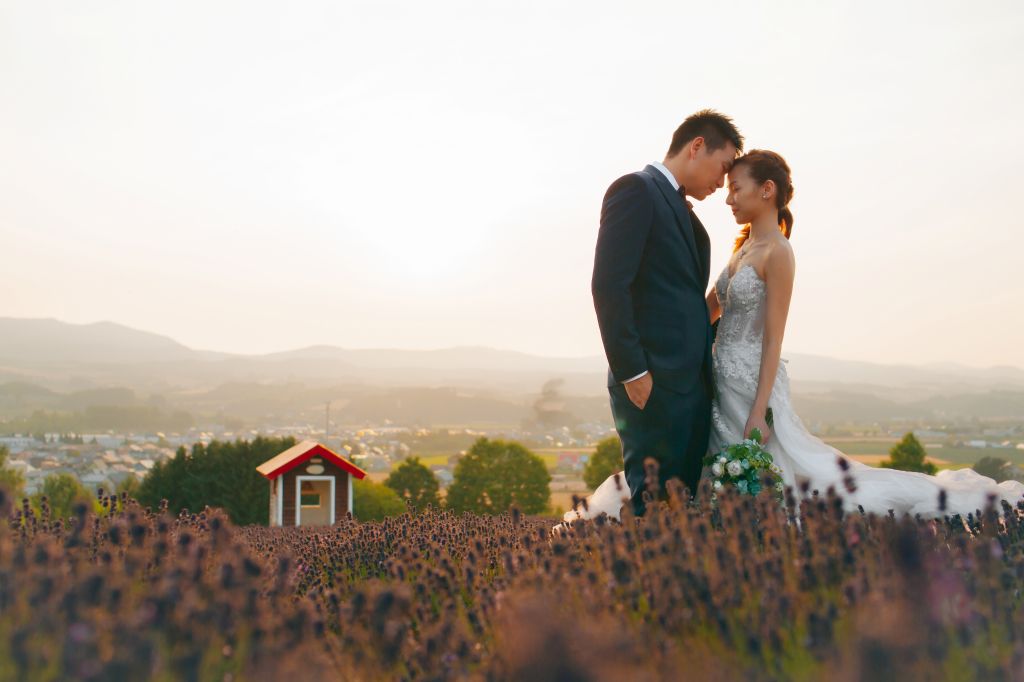 What is the best time for photoshoot?
The sun rises at around 4am and sets at around 7pm during summer, so there is plenty of time for you to do a daytime photoshoot under the natural light!
The turnout of your photos will largely depend on the amount of natural light you can get. Early mornings and late afternoons are the best timings for a summer photoshoot in Hokkaido.
Shooting in the morning will give you a good lighting, and there will be lesser people at the location too! Late afternoon is also known as the golden hour. During the golden hour, daylight is redder and softer, and it is the perfect time to have a photoshoot!
How hot will the weather in Hokkaido be during the summer?
Hokkaido is also fairly cool compared to the rest of Japan during summertime. The average temperature is around 25°C. Hence it is the perfect place to visit for a photoshoot!
However, in the day, it can get pretty sunny because of the strong summer sun. Thus, you may want to carry a foldable umbrella around for some shade when the sun gets too unbearable.
Conversely it can get cold in the mornings and at night. Pack along a around a cardigan or a jacket to layer on top when it gets chilly.
How do I keep cool during a summer photoshoot?
You can bring along little hand-held, battery-run fans, or even paper fans to cool yourself in the warm humid weather! Otherwise, you can always stop by a convenience store on your way to your next location to get a cold drink to cool yourself down!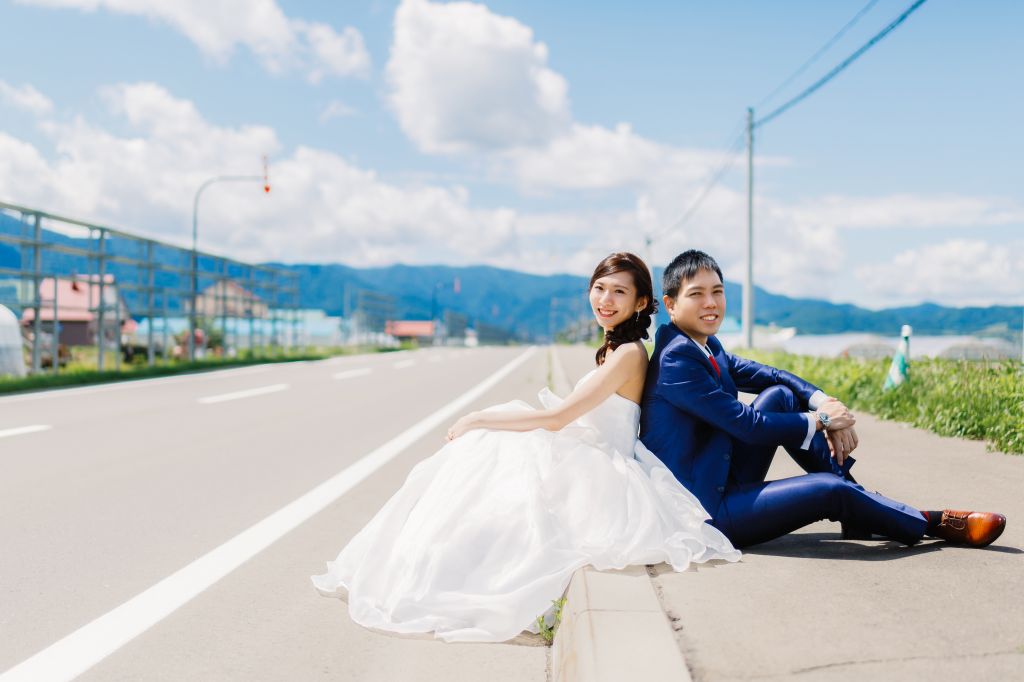 What type of makeup should I wear for a summer photoshoot?
We recommend brides to get the entire waterproof series (from eyeliner, concealer, lipstick to mascara) in preparation for your shoot, to prevent your makeup from smudging under the humid weather.
Remember to opt for a matte foundation so that your face won't look oily in your photos during the long hours of shoot! In addition, to guard against shine on your nose and forehead, you should bring along blotting papers and powder.
Tinted makeups such as tinted brow gel and lipstick are also a go-to for a summer photoshoot as these makeups stay intact even after several washes. You should also apply sunscreen to any exposed skin. We recommend you to wear a moisturizer and foundation or powder that contains SPF!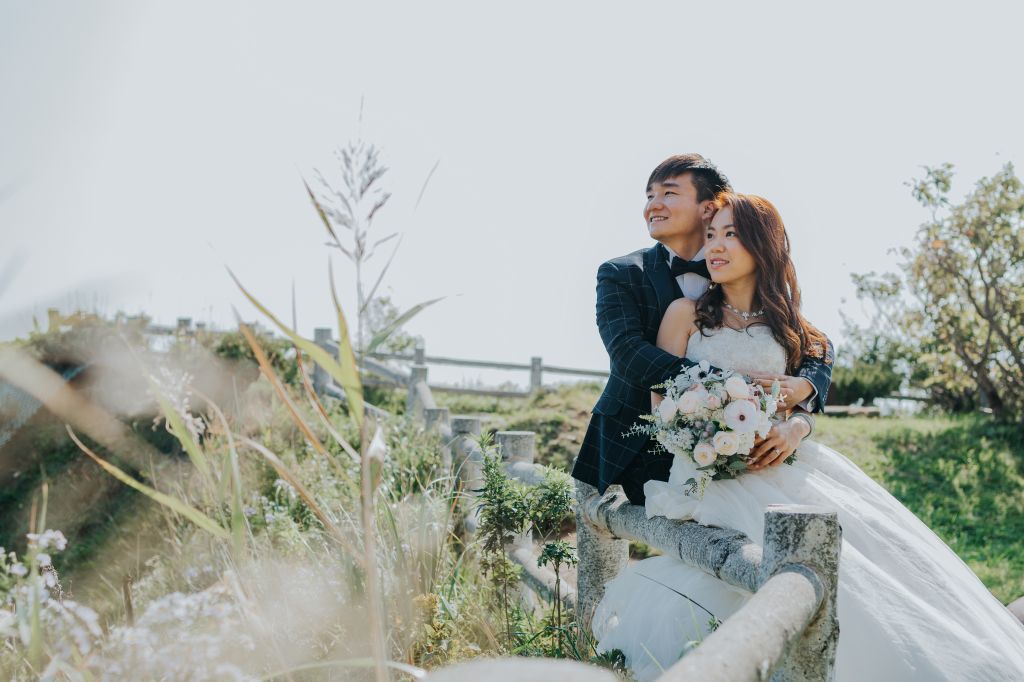 What type of hair style should I choose for a summer photoshoot?
To fight frizz and humidity, you should avoid letting down your hair in the warm weather. Instead, you should request for a hair updo to keep hair off your face and neck to stay cool and picture-perfect!
SEE ALSO: Essential Tips for Wedding Photoshoot During Summer
What type of casual outfits should I wear for summer?
You should dress in thin layers during the sumer, to avoid excessive sweating. Hence, for brides, we recommend wearing a simple summer day dress. If you worry that your dress is too simple for a photoshoot, you can always use accessories to spice up your outfit, such as wearing colourful necklaces, sandals or even a pair of sunglasses.
Grooms should go for a light and airy look and stay elegant and stylish at the same time. We recommend grooms to go for light colours, such as light grey, white or cream short sleeve shirts. For bottoms, a simple pair of chino shorts will do!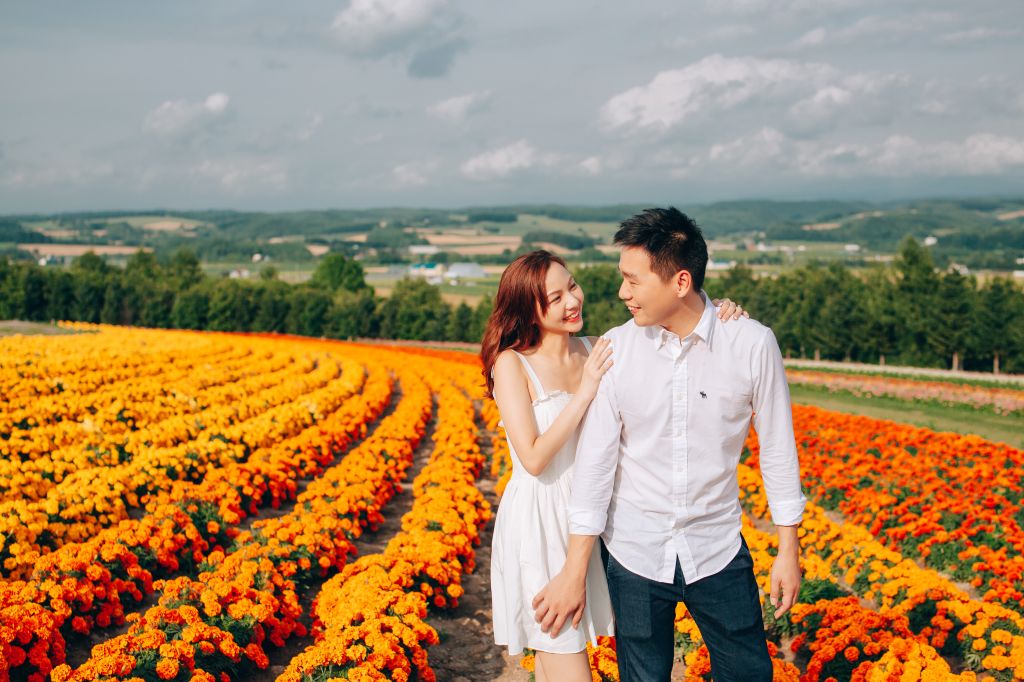 Where should I stay during summer in Hokkaido?
Since the flower farms are the highlight of this season, we recommend you stay at Furano. It would reduce the travelling time and visitors can enjoy picturesque views of the lavender gardens during their stay in the hotel!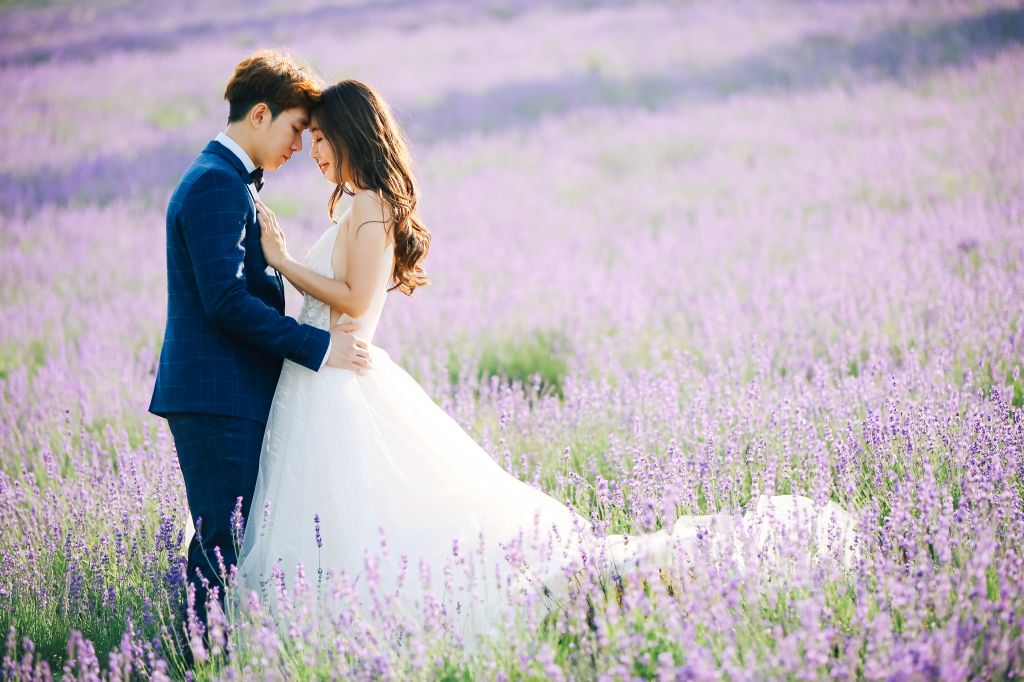 We hope this guide prepared you for your summer wedding photoshoot in Hokkaido Japan.
Have more questions? Head over to our website to learn about our wedding photoshoot package in Hokkaido.
Need more ideas? Steal from our summer photoshoot ideas guide.