When it comes to pre-wedding photoshoots, all that matters is that the photos catch the eyes of your friends and family. While the sights and scenery that a destination has to offer holds a huge stake in this, the way the stars, you lovely couples, fit into the picture is undoubtedly as important.
The dresses and suits you put on can make a huge difference in the way your photos turn out, and your outfits should complement the scenes of your shoot location just as much as the background should paint the best picture for your wedding photos.
Below are some tips for picking your gowns and suits depending on the type of location for the best effects in your photos.
SEE ALSO: 4 Tips for Brides Shooting an Outdoor Wedding Photoshoot
Styles for Brides
Often times, the silhouette of your gown is what helps you stand out in your photos, especially in faraway shots. It is important to strike a balance between not-too-much, and looking underwhelming against the sights behind you.
Stairs and Steps – Long Train
If your shooting location has a stairway, go all out with the train of your dress! This is the perfect opportunity to strike that grandiose bridal look with a long dress flowing all across those steps.



Flowers and Fields – Soft A-line
Catch that light breeze with these soft skirts, or let them swish naturally as you walk between the tall grass. This delicate look will fit perfectly with the sweet wilderness.



European Squares – Ballgown / Big A-line
Town squares in Europe with their wide open spaces surrounded by majestic architecture is the perfect sort of place to dress up like a princess!

SEE ALSO: Disney Themed Prague Pre-wedding Photoshoot


Colours for Brides
The last thing you want is to blend into the background. No matter how beautiful that scenery is, you should be the highlight of your photos.
SEE ALSO: Which Coloured Gown Suits You Best?
Snowscapes – Black / Deep Blue
While most colours in a darker shade will definitely pop against the stark white snow, to go for that matching icy look, black and any deeper shade of blue are your best options.



Foliage – Red / White
With a forest green background of lush flora, go for its complementary red for the most stunning contrast. This colour also works well for yellow autumn foliage! For wintry foliage however, white would be more fitting for keeping the cooler palette of winter.




City Night – Red / Silver
One of the most popular colour options among brides, red also stands out perfectly against the bright lights and dark blue skies of a city night scene. If the contrast is too much for you, a shimmery silver dress will fit in well with the modern city lights while making you dazzle in the dark.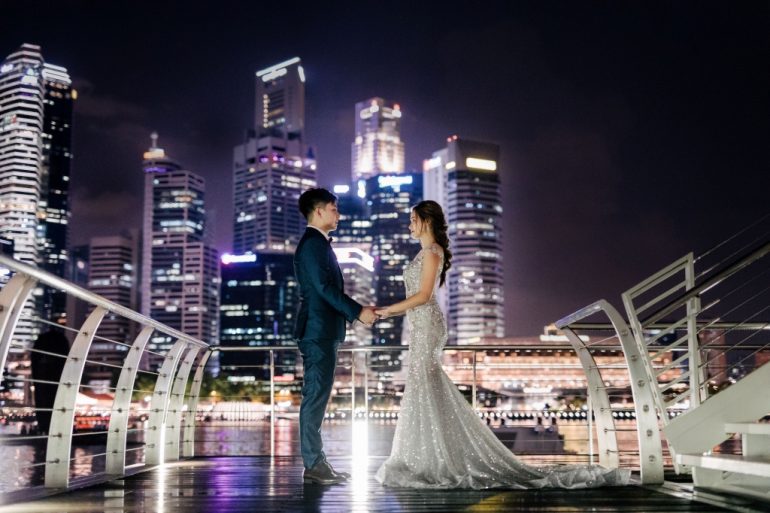 European Architecture – White / Champagne / Blush
The tall, intricately decorated buildings of Europe that are steeped in history often calls for a more formal dress, for which a white gown would be the classic for brides. If you'd like a change from the usual, light champagne or blush tones will match well against the creamy tones of those palace or cathedral walls while providing a subtle contrast.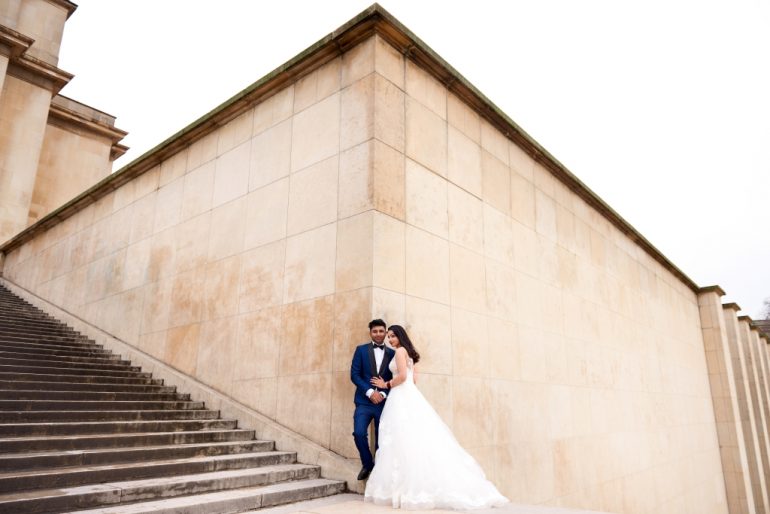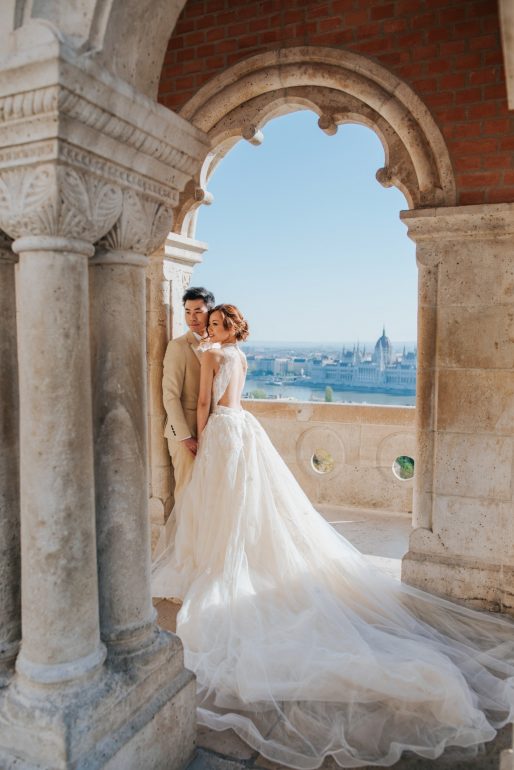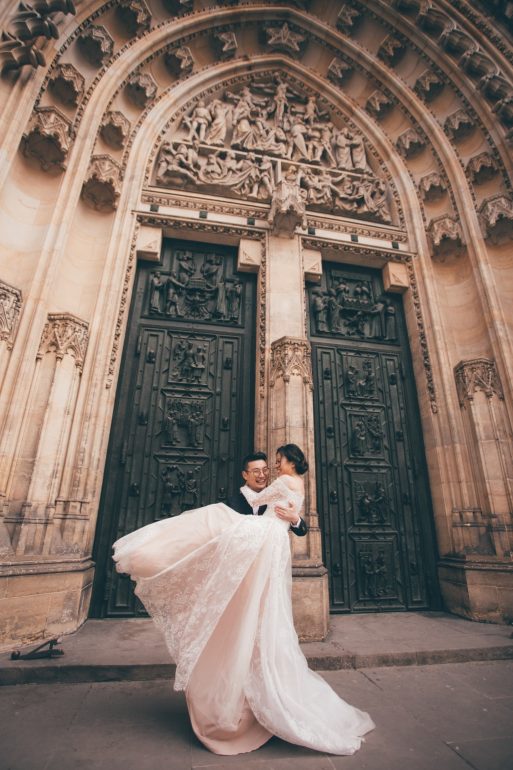 Styles for Grooms
While the silhouettes of tailored suits don't necessarily differ much all around, subtle details such as the print of the fabric, or variations in the jacket opening and lapel design can give off very different vibes for the wearer.
Europe – Checkered
The dandy look of checkered suits fits in ideally with a European city backdrop. Put on a pair of brown leather dress shoes and you will look the part of a fashionable gentlemen.

For more accessories and styling ideas, check out these 6 Essential Styling Tips for Grooms.
Colours for Grooms
For grooms, it's probably an easier job for you when it comes to deciding on colours. All you have to do is find something that matches well with the colour of your bride's dress!
You can either choose to go with a similar hue as what your bride is wearing,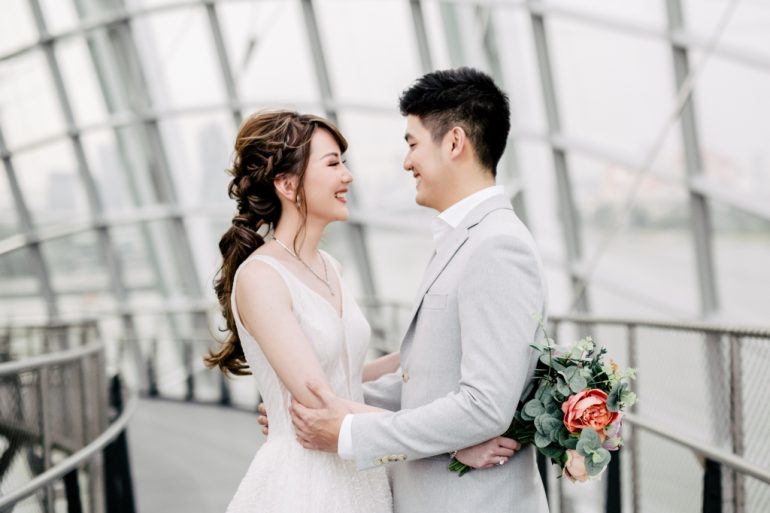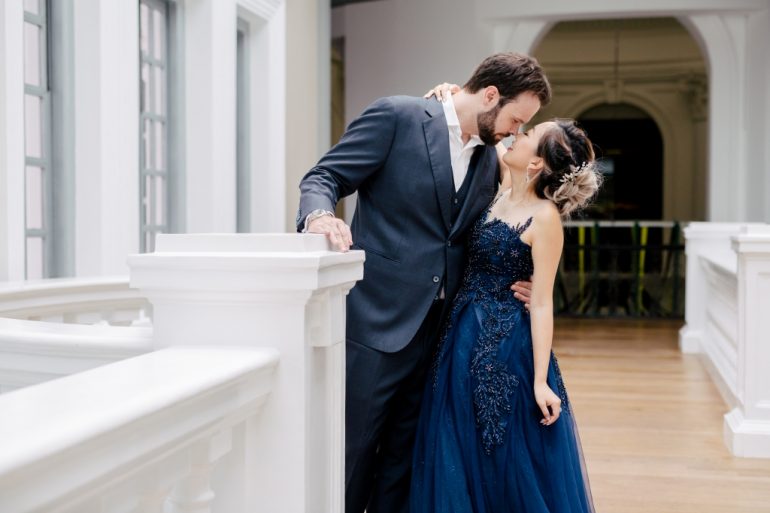 Or choose a contrasting colour that will complement her gown well.
Red Dress – Navy / Black / Charcoal



White Dress – Any Colour!
For a more conventional and formal look, you can choose to go with navy, black or charcoal.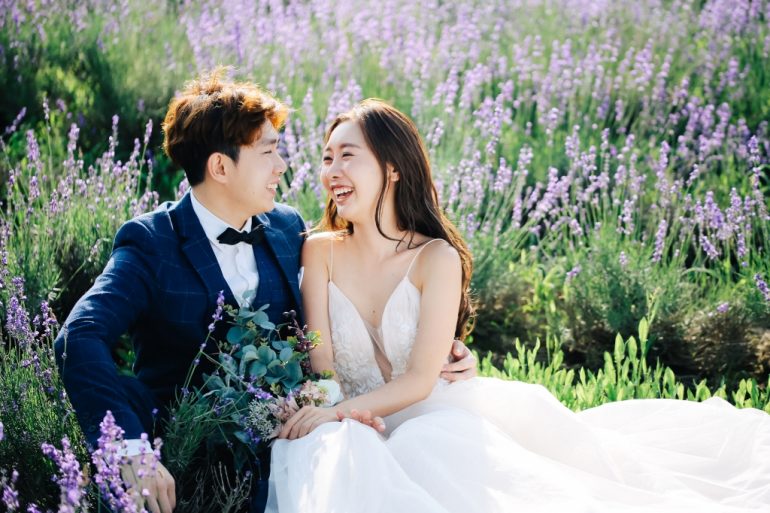 Or go for lighter, pastel colours for a more casual, beach wedding style.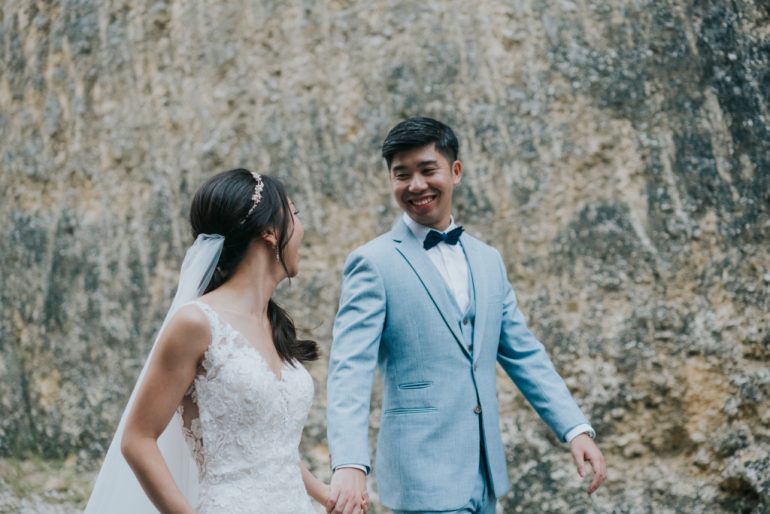 Hopefully with these tips, you will be better equipped at deciding on the styles and colours of your gowns and suits for your wedding photoshoot.
A final tip for gown and suit selection is to choose one that you feel comfortable in, or that goes well with your personality. Confidence is another key to creating beautiful photos!
If you are also looking to do a casual photoshoot, you might like to check out what kind of outfits work best for your location.