It is every girl's dream to head down to a bridal boutique to pick one or two that steal your heart out of the already curated range of wedding gowns. Most of the time, you can't really go wrong with those long sparkly gowns adorned with beautiful lace, especially if you go with the advice of the friendly shop assistant.
SEE ALSO: Top 5 Wedding Gown Colours that Look Extraordinary in Photos
When it comes to having to source for your own outfits for a casual photoshoot though, it is a whole other world of decisions to make. Picking out outfits just to head out of the house is probably a huge daily struggle for most people, much less deciding on one for such a meaningful occasion!
Still, there is no need to panic, for we have come up with some tips to guide you in your selection of outfits according to location type.
1. Beaches
Who wouldn't delight in some couple shots at the beach, especially when accompanied by the setting sun over the horizon? It is unarguably a classic picture of romance.
SEE ALSO: 10 Insanely Romantic Beach Wedding Destinations in Southeast Asia
Honestly, most outfits would look good with the clean backdrop of white shores and blue waters. The only catch here is probably how to make the pictures differ from say, something taken on an ordinary date.
For a more bridal look, ladies can opt for a white dress with some lace details.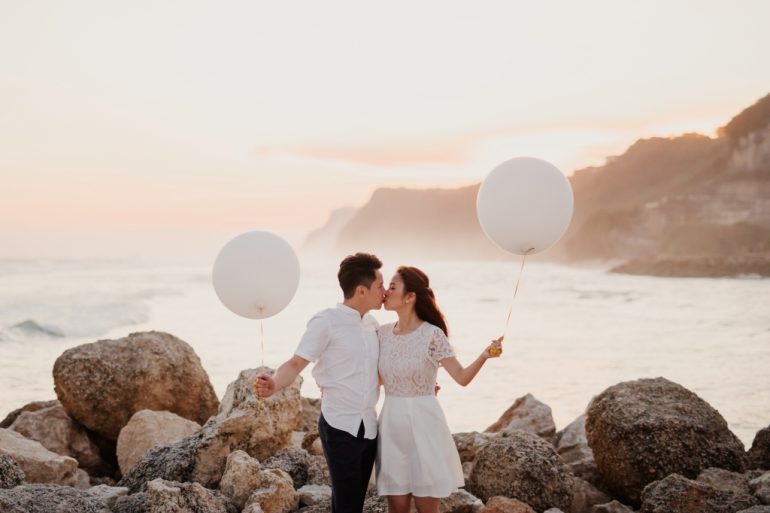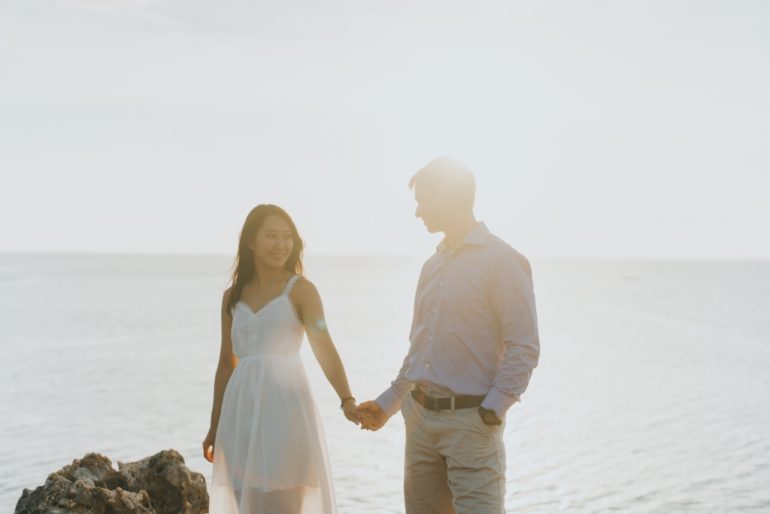 Or if you are willing to spend more, you can get an actual wedding gown that comes with a shorter skirt!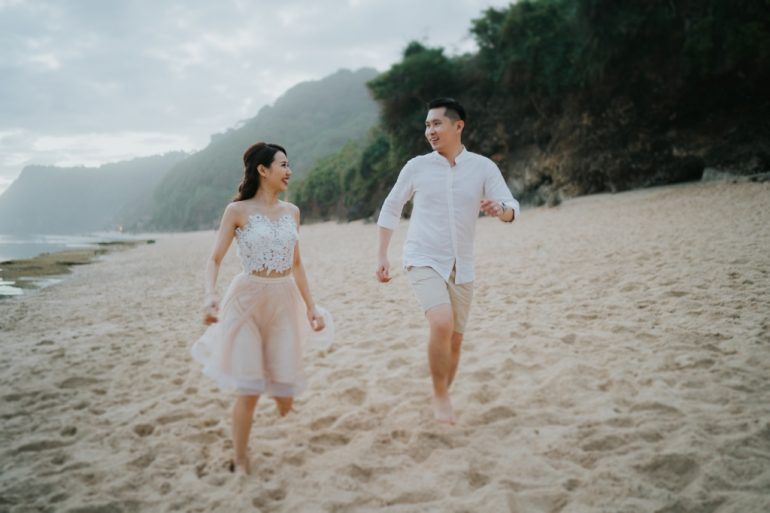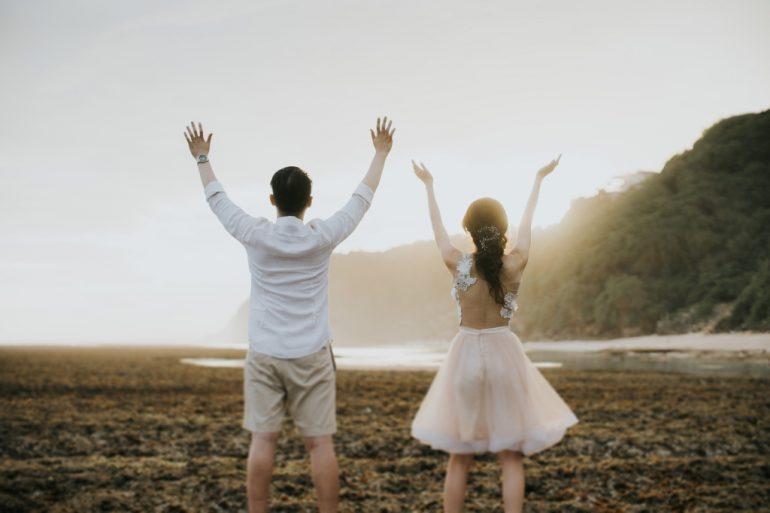 The length of skirt is totally up to your preference and the type of poses you are going for. Shorter skirts would look great in more playful and active shots. But we absolutely love the soft look of these long flowy dresses skimming across the surface of the waters too.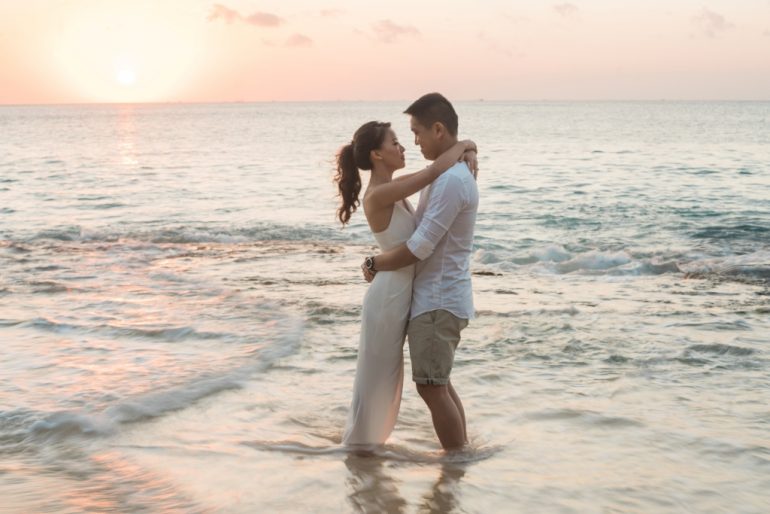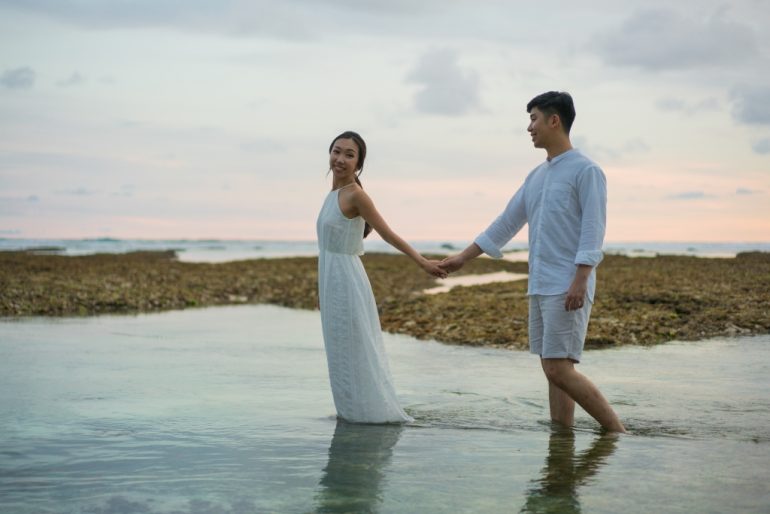 To match the white-dress look, grooms may pick a white linen short-sleeved shirt, or roll up the sleeves of a long-sleeved one, and pair it with khaki bermuda shorts.
If you would like to go all-out casual and skip the bridal look totally, perhaps choose matching outfits with a particular theme. Rompers are a popular choice for girls if dresses are not for you.
An easy idea would be to go with an ocean colour scheme and select colours from the different shades of blue.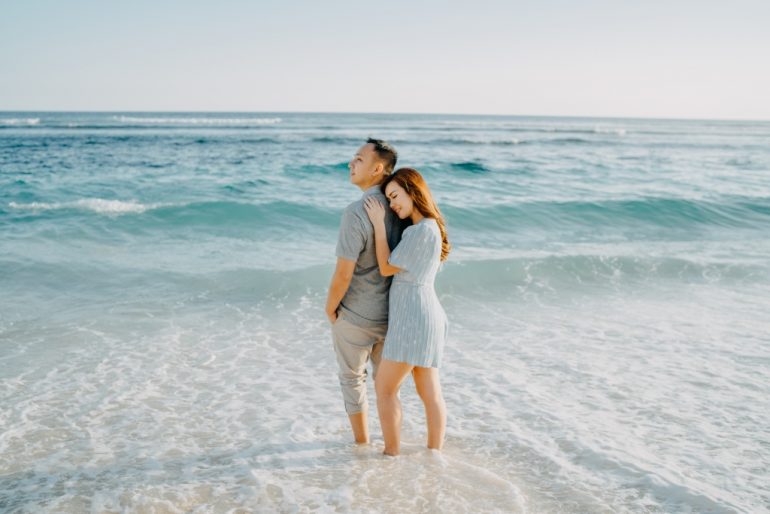 Or, you can go for floral prints like this couple for a more tropical vibe.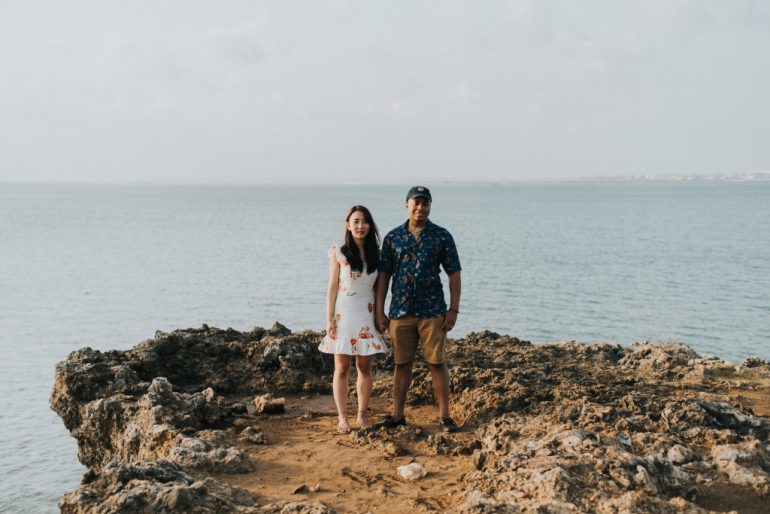 2. Waterfalls
The waterfalls are a must-go for most couples who are doing their pre-wedding photoshoot in Bali. The tall rushing pillar of water is undoubtedly a majestic sight to behold, and the spray of mist on the water surface creates a beautiful effect in photos.
Couples are usually adviced to select a casual ensemble for this location, since it would be really difficult to navigate the wet rocky surfaces in a trailing long dress.
To compliment the movement of the streaming water and cool winds, a light and drapey midi or maxi dress would be perfect for the brides, such as one made of chiffon or satin.
Again, white with some lace details would be ideal for a more bridal look,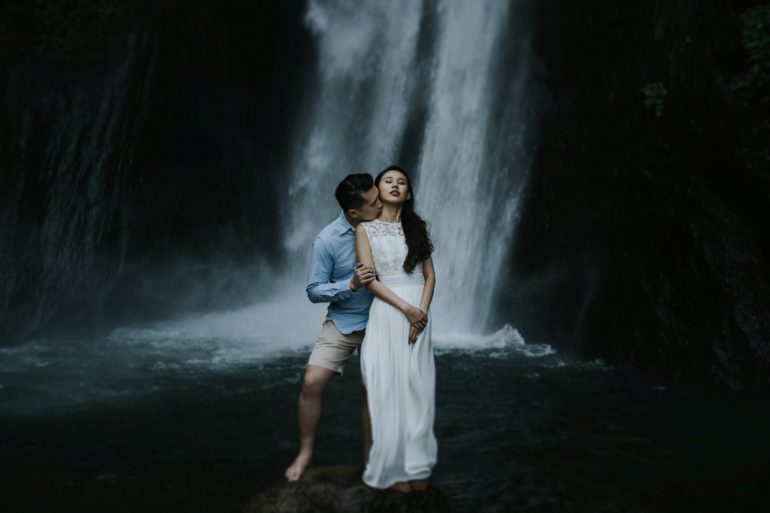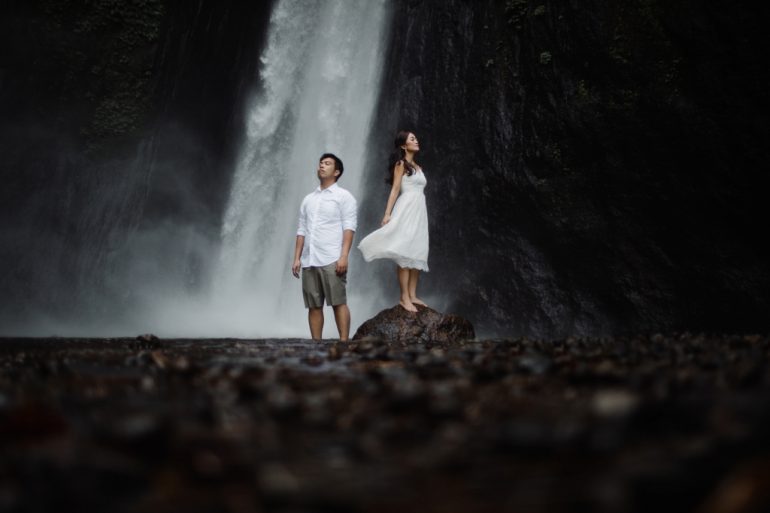 but red creates an interesting contrast against the dark rocks and waters as well.
SEE ALSO: 4 Best Waterfalls in Bali for Wedding Photoshoots
3. The Greens
A pre-wedding photoshoot with some natural foliage in the background is almost inescapable, especially if your destination is not in a city.
Colours that stand out from the greenery, like white or anything close to red are all good options. Also, it's better to go with solid colours and avoid prints for such a densely textured background.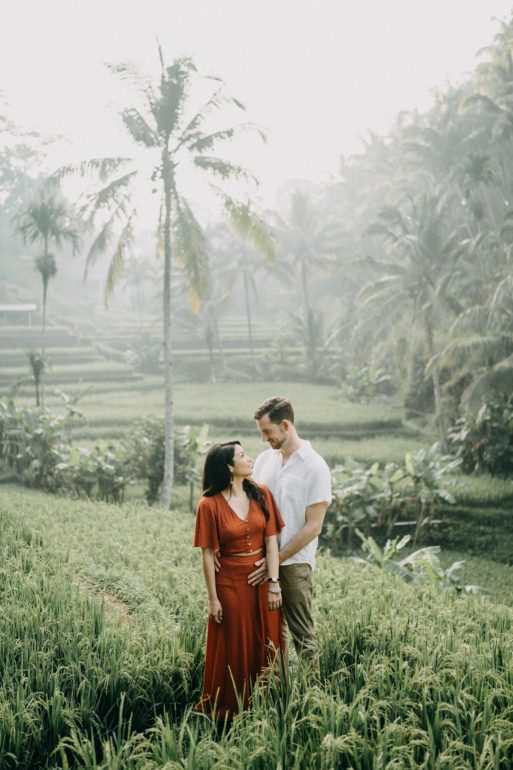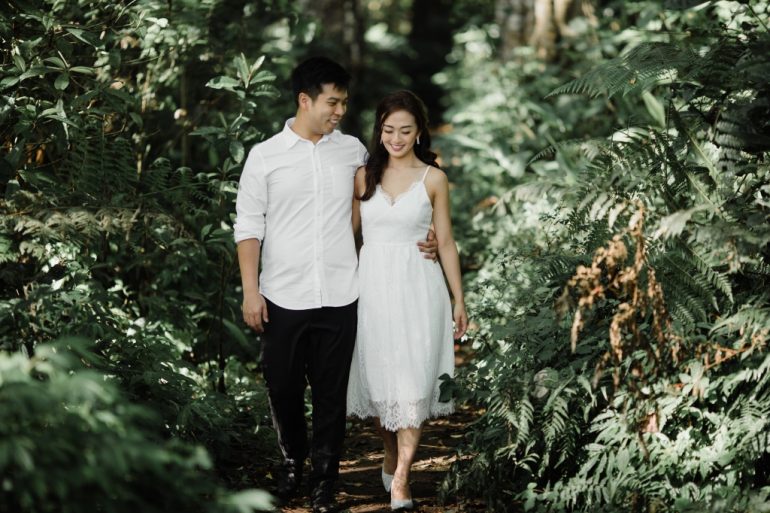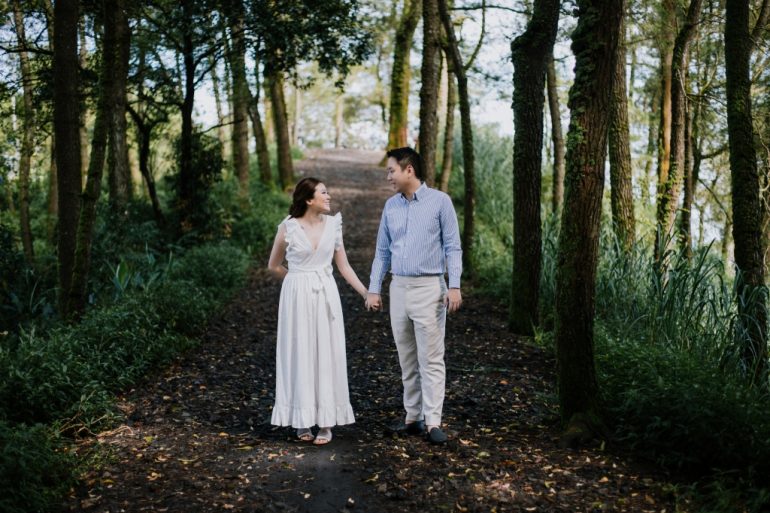 Nature lovers out there may like to check out these 8 wild wedding photoshoot locations around the world for more destination ideas!
4. City Scenes
It is slightly easier to pull off any sort of outfit in a city setting. Still, you may like to add a sturdy-looking outerwear for a more complete and formal look.
We also recommend going easy on the prints and colours, since there is usually already too much going on in the back. Denim, black and white would be the safest combination for any background.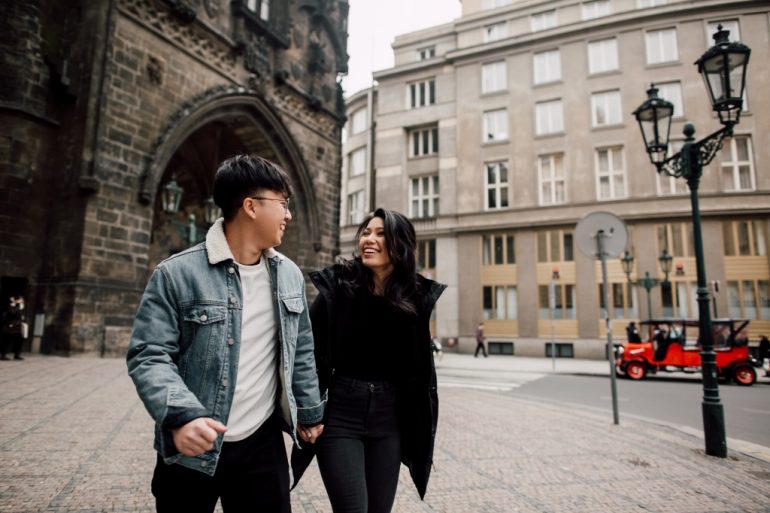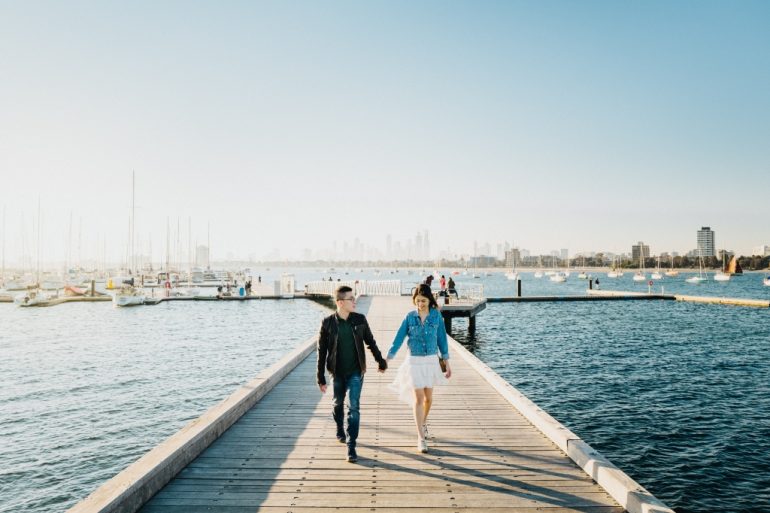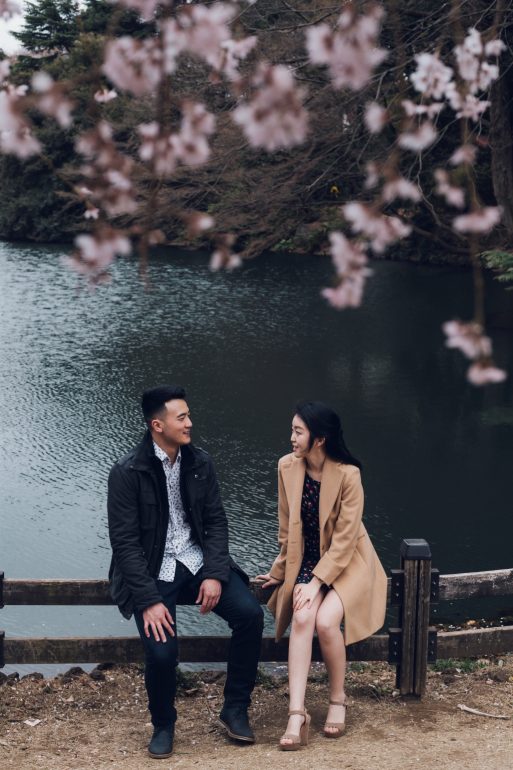 For a pop of colour, try to pick a matching one.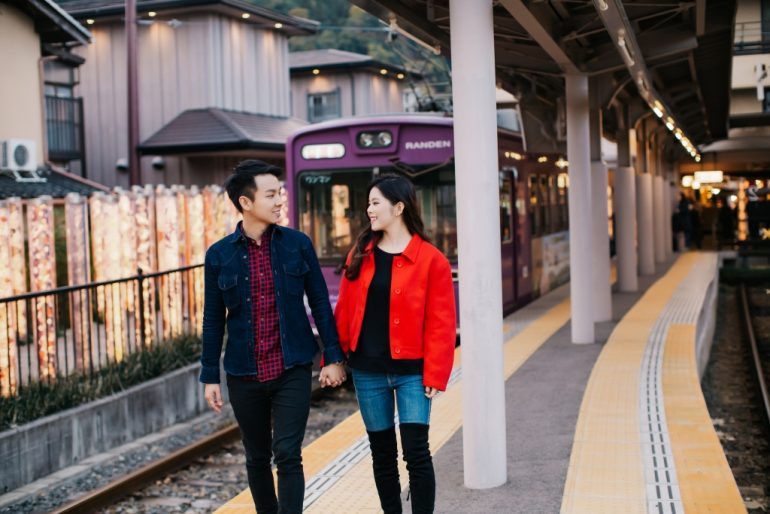 It can get stressful planning out your own set of outfits for a wedding photoshoot, with all the endless options available and the desire to make sure everything will turn out perfect.
We hope that this guide has narrowed down the options for you so that you are no longer feeling so lost in your search!
If you need more tips, here are 4 factors you should consider when deciding on your outfit for a casual photoshoot.