Cappadocia, which is in Central Turkey, is famous for its unique rock formations and thrilling hot air ballooning opportunities.
Many couples choose to have their pre-wedding photos in Cappadocia to capture the otherworldly beauty of its landscapes.
Having 100 uniquely-designed hot air balloons flying in the sky is undoubtedly the most unique way you can add a pop of colours to your photos!
However, you may have some questions and concerns about travelling to Cappadocia for a wedding shoot as it is likely to be your first time visiting the region.
We have prepared this wedding photoshoot in Cappadocia guide to answer all your questions; best spots to take wedding photos, what are the best time to visit and so on! Read on to find out more!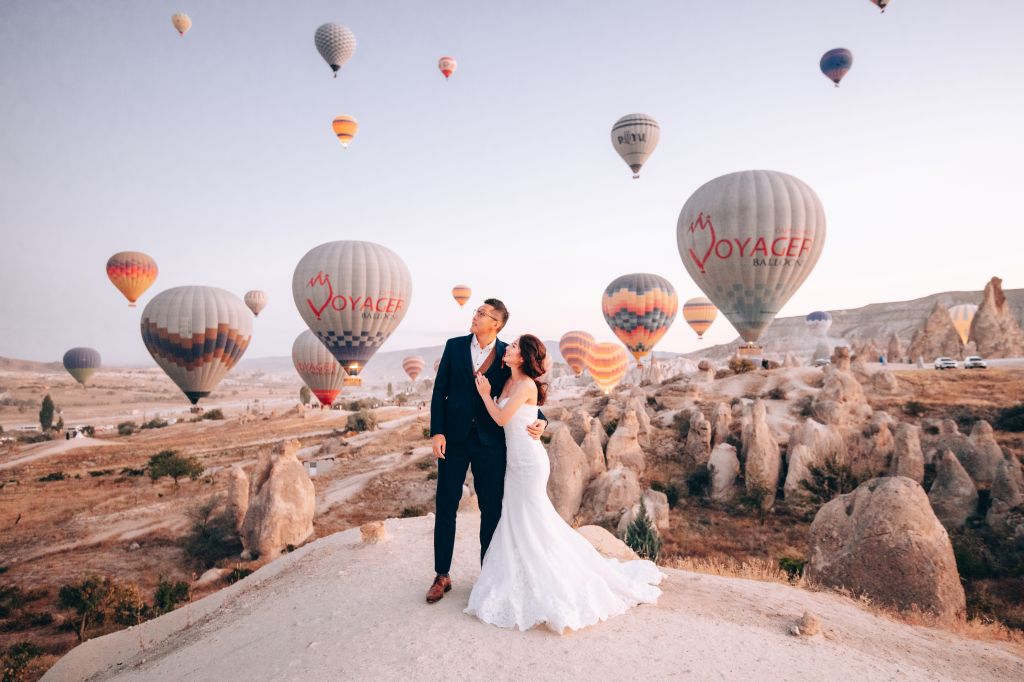 Locations
The hot air balloon is probably the key reason you are considering Cappadocia as your wedding photoshoot location.
An outdoor shoot in Cappadocia will simply look amazing, with a plethora of vibrant hot air balloons and picturesque valleys as your backdrop!
The open-air carpet shop is definitely a must-visit location in Cappadocia! Here, you will be dazzled by the kaleidoscope of colours of the rugs that come in all shapes and sizes.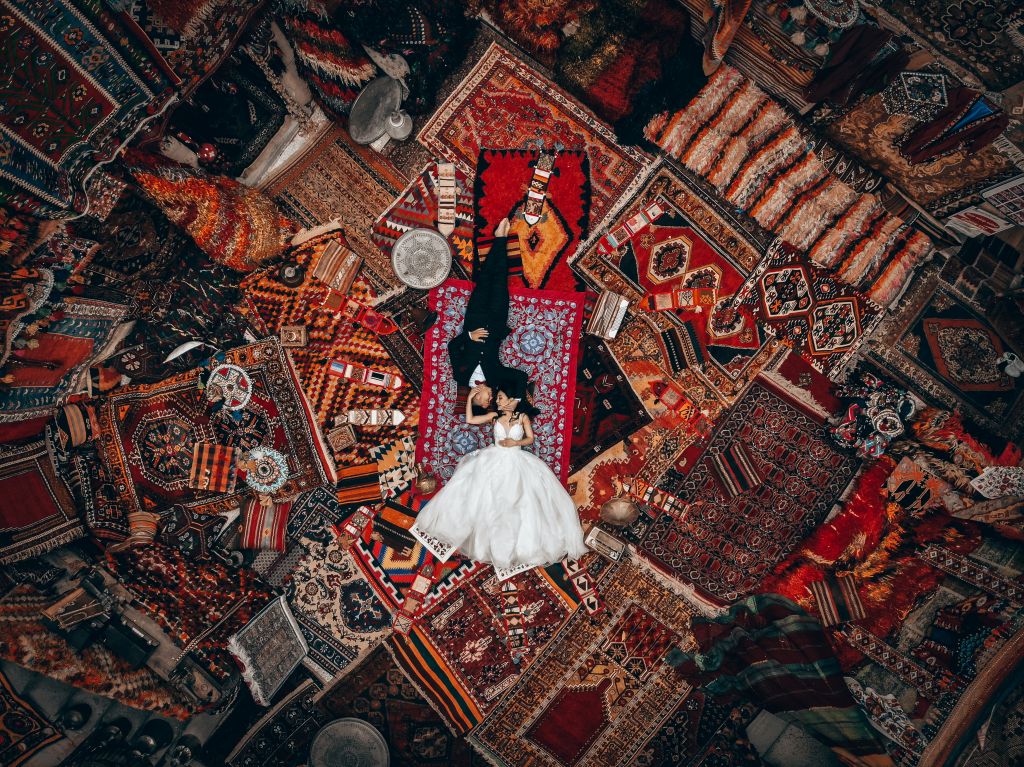 Prices & Packages
We offer a Cappadocia full day wedding photography package (priced at USD 2399) which includes 5 hours of photoshoot time and 30 edited photos.
With our package, you get to capture the sunrise in Cappadocia along with the mesmerising hot air balloons, as well as the Turkish carpet shop mentioned above! You will also be able to enjoy the sunset at Göreme.
Our package is also inclusive of makeup, hairstyling, and transport, along with 2 gowns and 1 suit!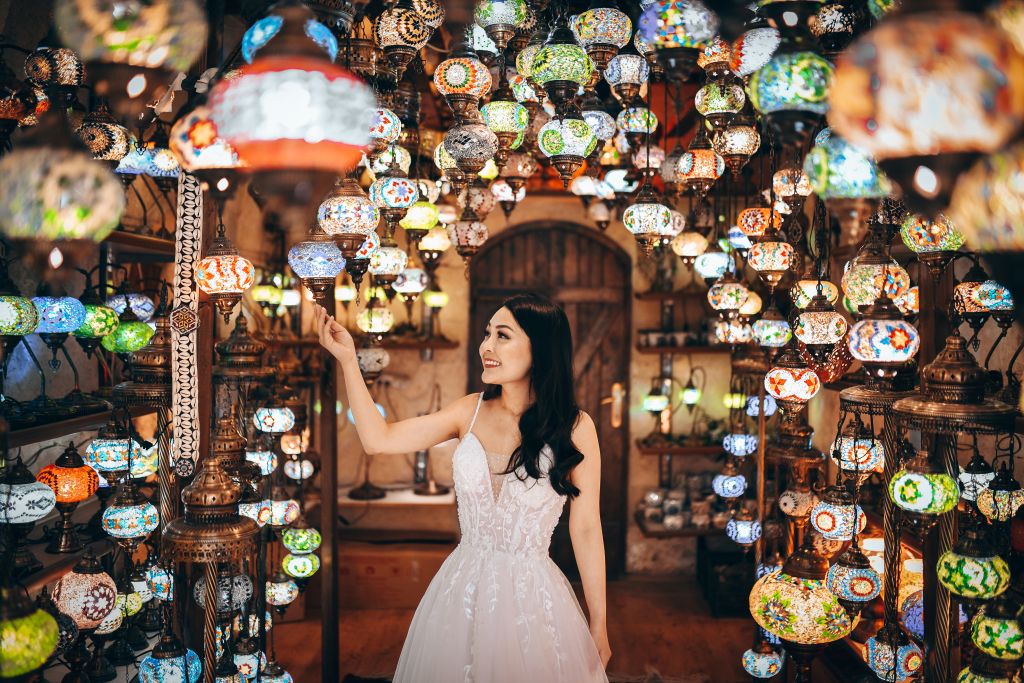 Best time to visit
The best time to visit Cappadocia is during April and May, as well as during September and October. The weather is ideal during these months, at an average temperature of 17°C during April and May, and an average of 23°C during September and October.
The crowd aren't as heavy as they are during the peak season in summer too!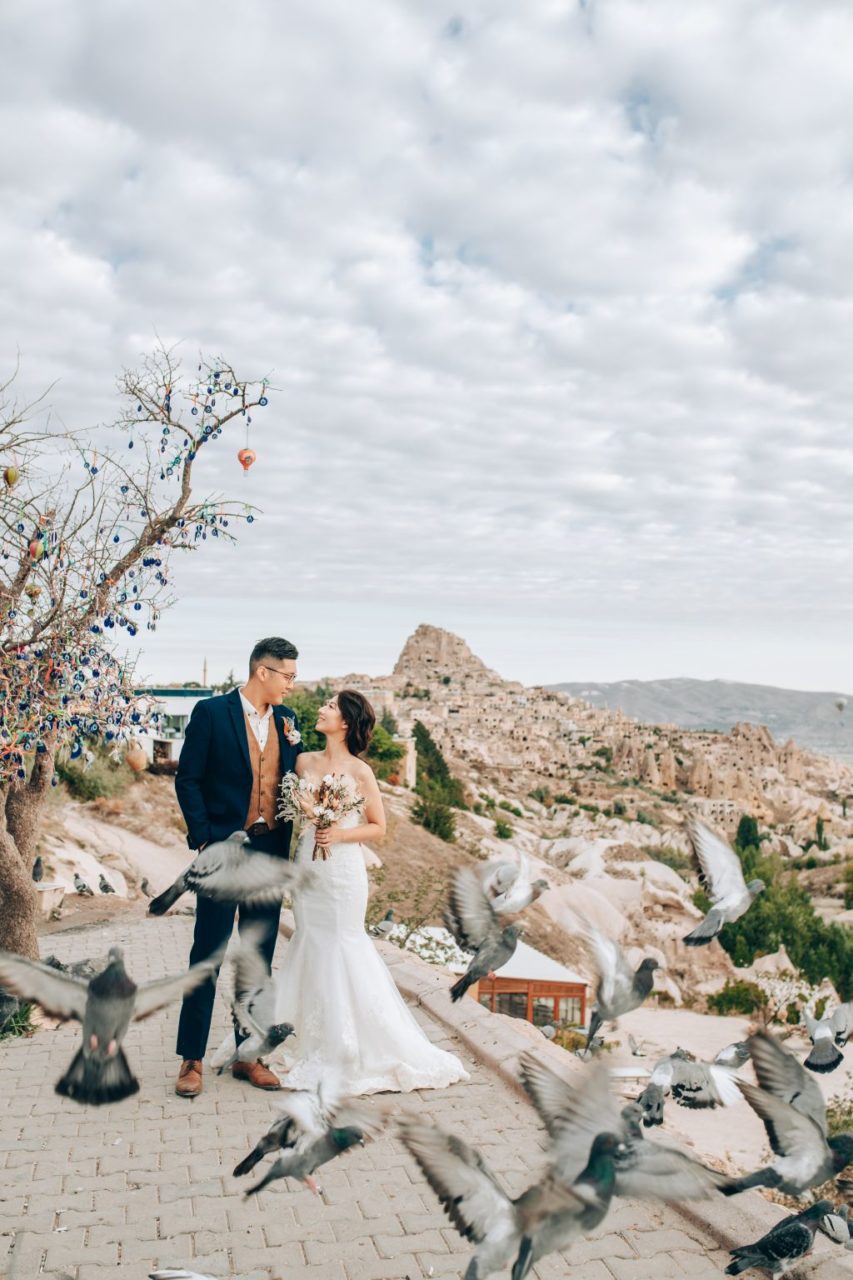 Transport
Since you will be in your wedding gowns and suits, the most convenient mode of transport would be private cars.
For couples who booked our service, we provide private transport during the photoshoot, picking you from your hotel, to the photoshoot locations and back to the comforts of your bed. This way, you can get some rest on the car while you travel to your next location!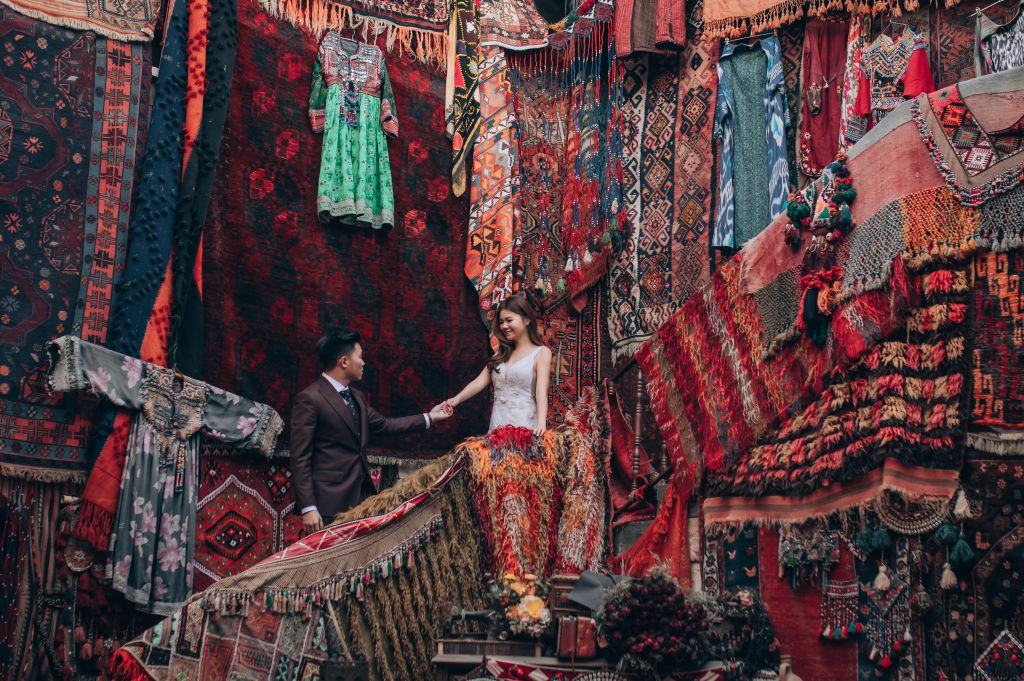 FAQ
Which airport should you go to?
The Erkilet International Airport located in Kayseri and the Nevşehir Kapadokya Airport are the two nearest airports from Cappadocia.
Is Cappadocia safe to visit?
Cappadocia is considered to be an incredibly safe place to visit, even for solo female travellers, with no warnings in place for the region.

However, you should always take certain common precautions like avoiding dimly lit roads or secluded areas and keeping an eye on your personal belongings.
Does the hot air balloon fly every day?
Yes, the hot air ballooning in Cappadocia runs all year long, but it is regulated by the authorities in accordance to the weather conditions.

There may be flight cancellations due to strong winds, rain, fog, snow, or thunderstorms, so you should check for hot air balloon flights prior to your trip.
How much does it cost to ride a hot air balloon?
A hot air balloon ride in Cappadocia costs an average of 130 to 180 Euros (USD 145 to 200), depending on the company, and the number of people riding in the session.

However, it is definitely worth it to pay slightly more to go in a smaller basket for a more comfortable experience and for a slightly longer flight time!
How many days should I stay in Cappadocia?
Three to four days is enough for your wedding photoshoot in Cappadocia plus to indulge in all the unique experiences it has to offer as well.

You should also factor in the possibility of the hot air balloons' flight cancellations; hence three to four days will be adequate!
Where should I stay in Cappadocia?
We recommend staying in Göreme, as the town has several grocery stores, restaurants, and hotels. It is also centrally located, and it will be convenient for you to venture out to the various photoshoot locations and landmarks easily!

For a unique experience, you should stay in a cave hotel in Cappadocia, where the rooms are carved into mountainsides or rock pillars.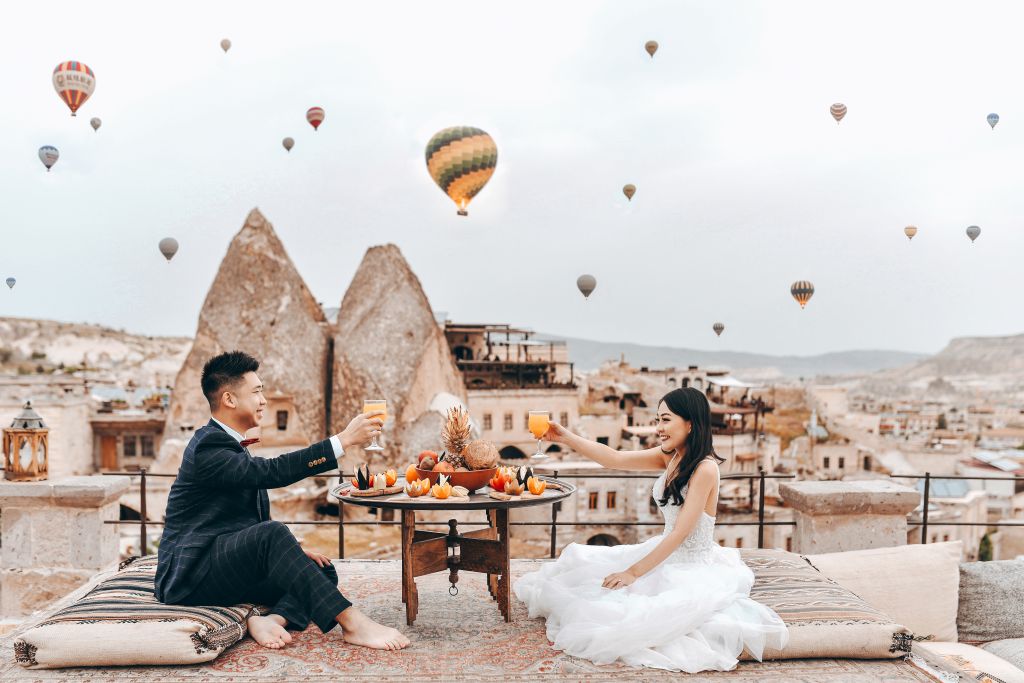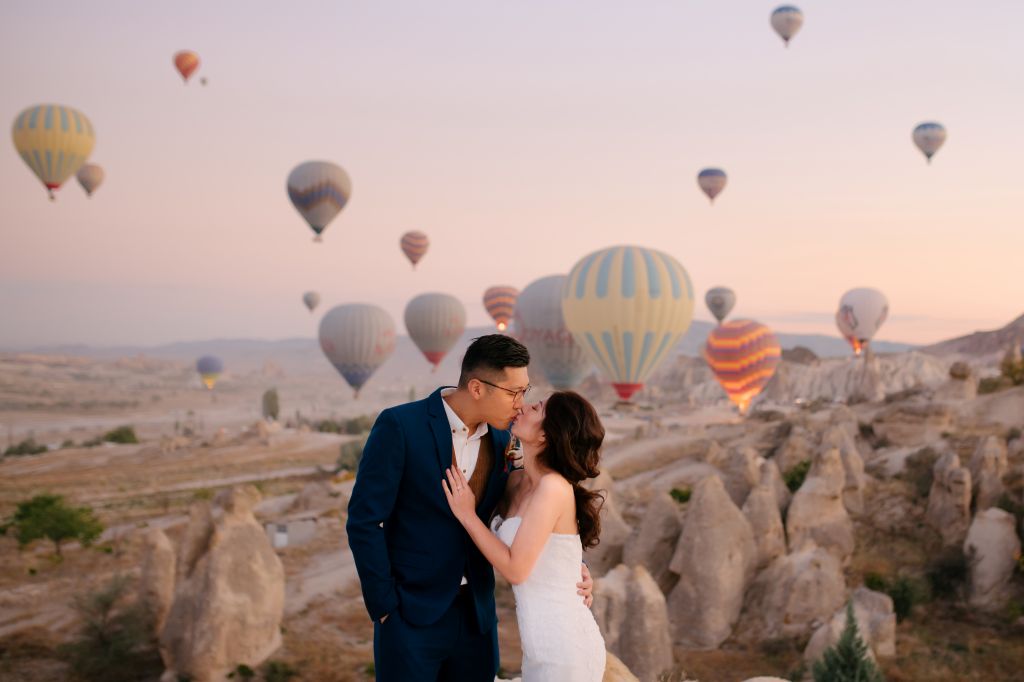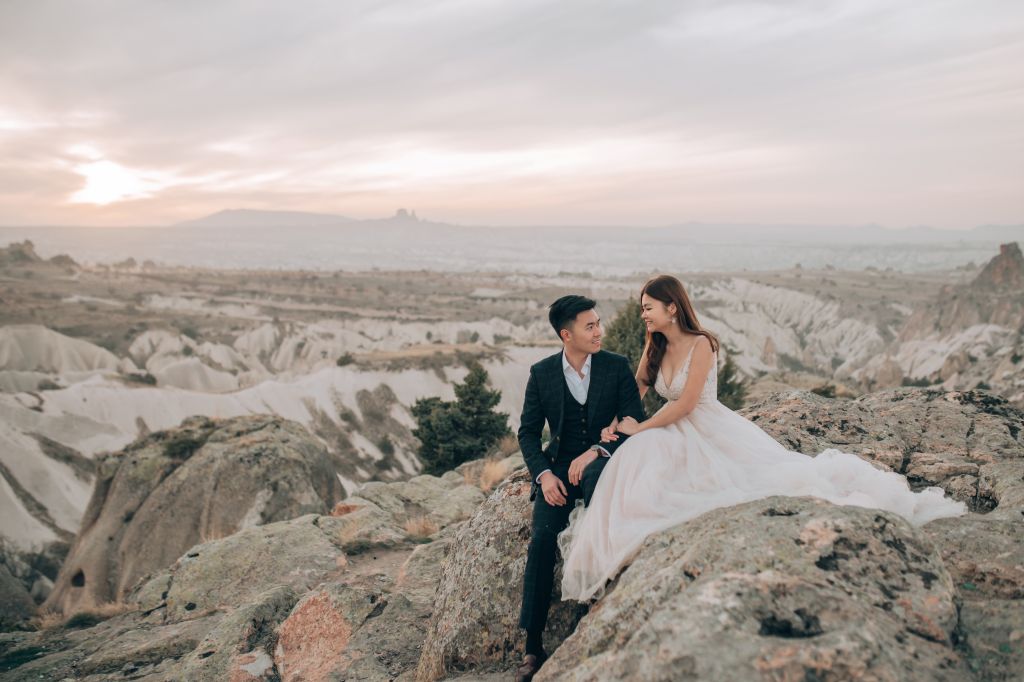 ---
We hope this guide will be helpful for couples who are planning to do a wedding photoshoots in Cappadocia. For more information on our Cappadocia wedding photography package, check our website to view our portfolio and package details.
Learn more about our overseas wedding photoshoot services or explore our other photoshoot guides in these amazing destinations: