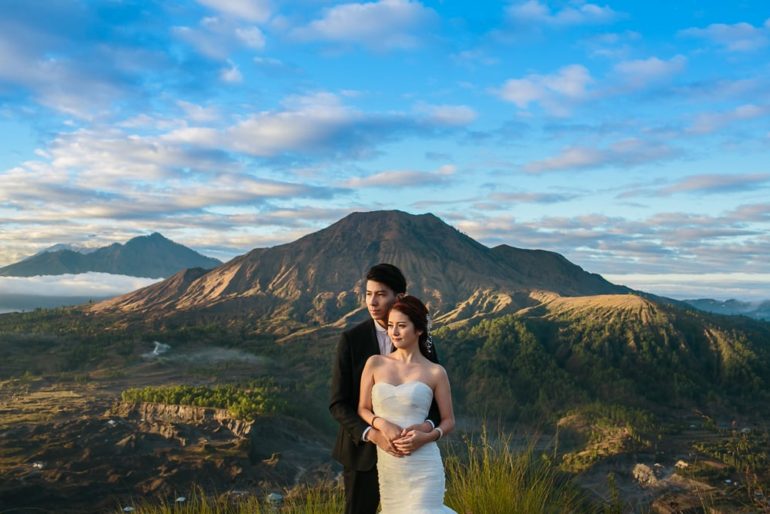 Bali is a hot location for couples! It has beautiful villas, affordable food and plenty of stunning locations for a photoshoot.
Couples often ask me questions such as, how much are pre-wedding photography packages, where should I go for my photoshoot, when should I go to Bali?
After helping couples with all these questions, I decided to write it all down into this Ultimate Guide to Bali Pre-wedding Photography to answer all the questions my fellow couples may have.
Pre-wedding Photography Packages
Pre-wedding photo shoots generally comes in half day or full day sessions. What are the main differences between each pre-wedding package? The key differences are the number of edited photos, photoshoot hours and complementary services like hair and makeup styling and transport.
For the full details, drop us an email or visit our Bali wedding photographers page to choose from our list of photographers.
Pre-wedding Photoshoot Locations
Bali offers tons of outdoor pre-wedding photoshoot locations! You have the mountains in the north, fine sandy beaches all around the east and west cost, and lush green rich paddy fields in central Bali.
We will introduce you some of the locations you should consider when planning your pre-wedding photoshoot in Bali.
See our 10 recommended spots for your pre-wedding in Bali. Looking for somewhere beyond the main island of Bali? Read our guide on 7 Off-the-beaten-path pre-wedding photoshoot locations for locations in Lembongan, Nusa Penida and the Gili Islands.
Beaches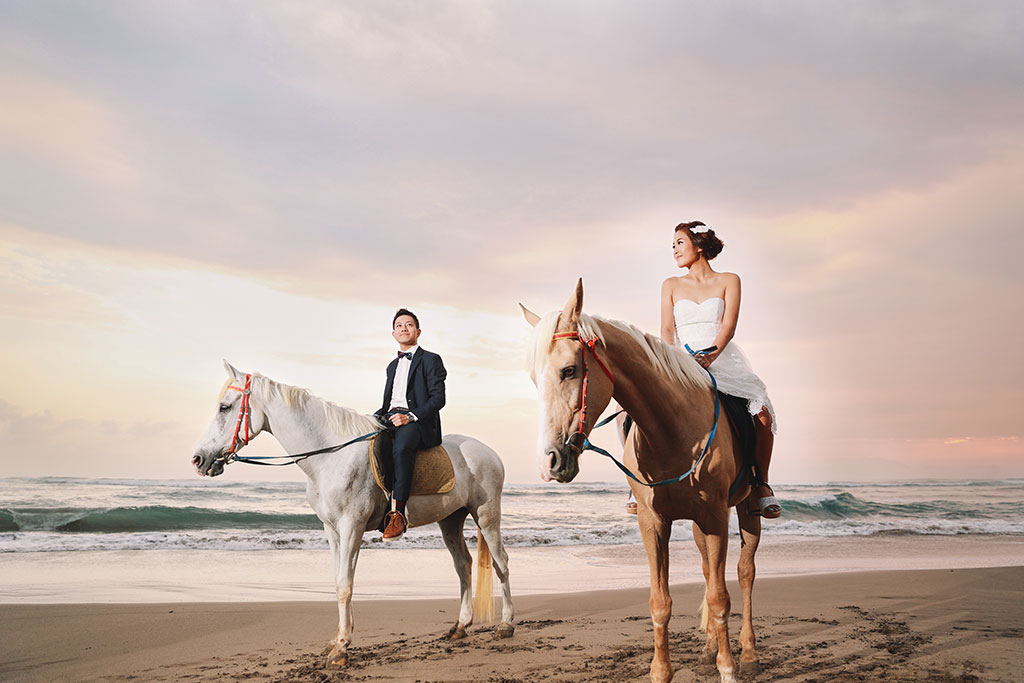 Who doesn't love the beach? Especially during the sunset hours! In Bali, you can find even volcanic black sand beach, which will definitely add a romantic touch to your photos.
Beaches in Bali:
Tegal Wangi Beach
Echo beach
Seminyak beach
Melasti beach
Sanur Beach
Waterfalls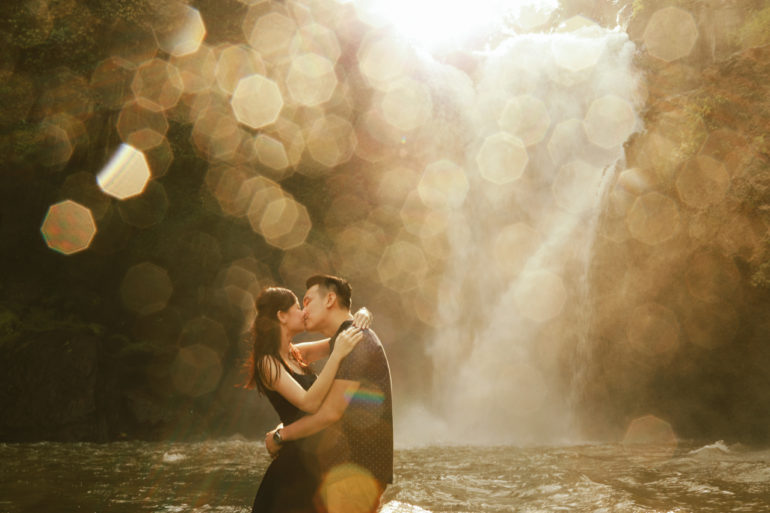 Tegenungan Waterfall is close to Ubud. It's best to visit it in the late morning, or in the afternoon. Let the rays of sunlight shine into the area, creating a beautiful bokeh effect!
Other waterfalls:
Mountains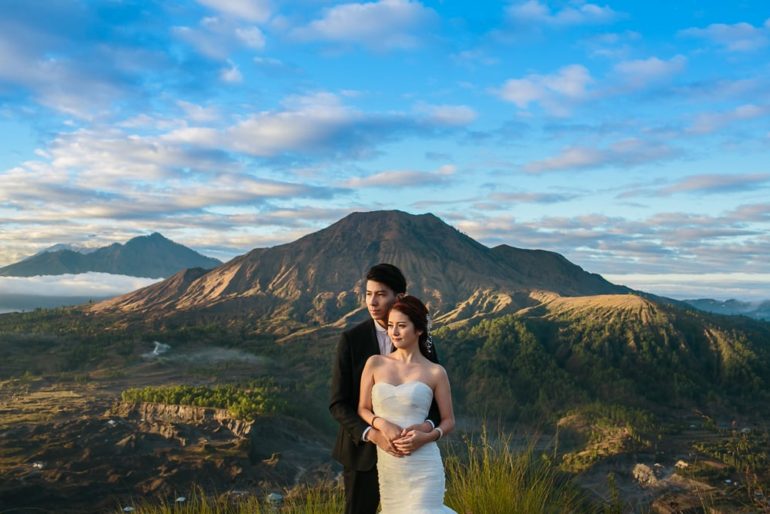 The majestic mountains of Bali are all located in the north. We recommend that you visit places like Mount Batur in the morning, to catch the first light! Because of the location and time, most couples will need to wake up at 2AM to prepare for the makeup so that they will make it in time. Sleep early the day before so that you'll look your best!
See also: Pre-wedding photoshoot in the mountains of Bali
Forest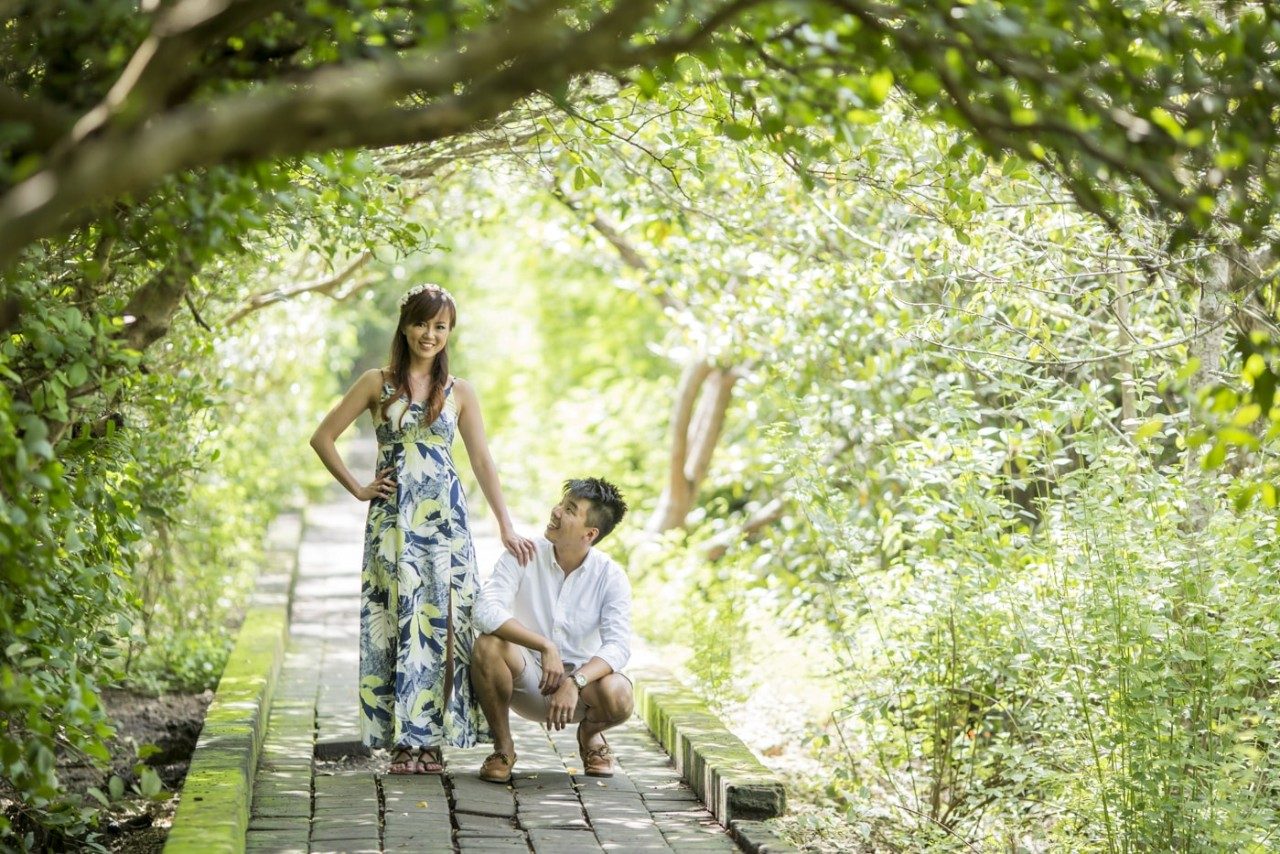 The mangrove forest is a great location, especially to escape from the afternoon heat! The thick canopy of the mangroves provides a nice shade.
See also: Bali Engagement Shoot at Mangrove Forest and Tegal Wangi Beach
Rice Terrace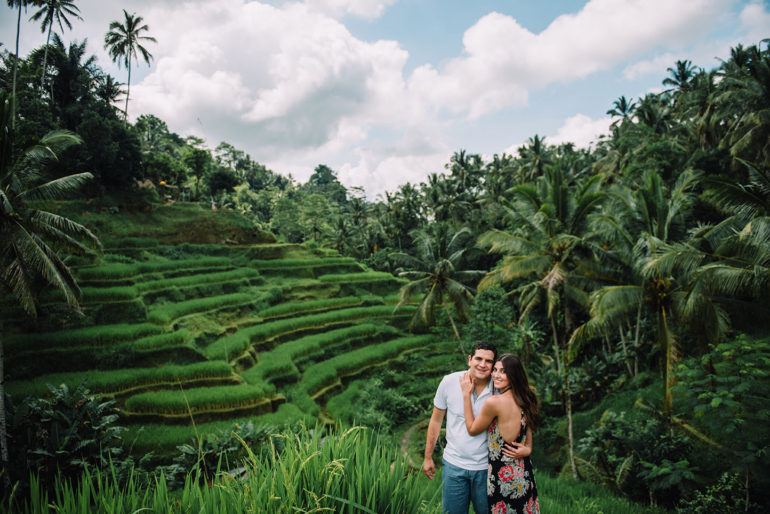 Enjoy a spectacular view of rice paddy fields with lots of amazing photo opportunities at the Tegalalang Rice Terrace. It's just 15 mins drive from Ubud Art Market.
Balinese Cultural Attractions
These place are great for couples look for a touch of Bali cultural traditions that cannot be found anywhere else!
Other cultural places to consider:
Ujung Water Palace
Tanah Lot Temple
Cafes and Restaurants
These cafes and restaurants are an awesome alternative locations for couples seeking an indoor pre-wedding location. In fact, it's perfect when it gets too warm in the afternoon and lighting is too harsh for any good photography. There are plenty of themed restaurants and cafe in Bali, like the photo above taken at the Bistrot Cafe!
See also: 6 Cafes in Bali Perfect for Your Pre-wedding Photoshoot.
Factor in traveling time
Bali is huge. And traffic can quite get pretty heavy, especially if you have travel through the  areas around Kuta or Seminyak. It takes 90 mins to travel up north from Seminyak to the area of Kintamani. I recommend you to select photoshoot locations that are close by to one another, so you spend less time travelling and more time for the photoshoot.
Take note of extra fees
Across the island of Bali, there are plenty of spots that have become popular locations for pre-wedding photoshoots. Some parks charges an entrance fee, others charge a photo fee to couples who are using their space for photoshoot. In some cases, you may want to hire a horse or a camel for your photoshoot, you will need to pay extra to rent them too.
Take note that these fees are charged by the management of the location, not by the photographers. We will advise if there are any extra fees required for the photoshoot location.
| Location | Fee (USD) |
| --- | --- |
| Kintamani | Free |
| Sanur Beach | Free |
| Water Blow | $275.00 |
| Tegallalang Rice Field | $15.00 |
| Kebun Raya Bedugul (Botanical Garden) | $50.00 |
| Bajra Sandhi Monument | $75.00 |
| Benoa Harbour | $270.00 |
| Dreamland Beach | $50.00 |
| Tirta Gangga | $20.00 |
| Melasti Beach | $20.00 |
| Taman Ujung Water Palace | $75.00 |
| Garuda Wisnu Kencana | $100.00 |
| Gitgit Waterfall | $0.50 per pax |
| Tukad Unda Dam | $35.00 |
| Monument Nusa Dua | $20.00 |
| Tanah Lot | $50.00 |
| Tegal Wangi Beach | $20.00 |
| Mangrove Forest | $25.00 |
| Monkey Forest | $25.00 |
| Canggu Beach | $25.00 |
| Kertha Gosa in Klungkung | $1.00 per pax |
| Geger Beach | $1.00 |
| Balangan Beach | $20.00 |
| Bali Museum | $15.00 |
| Amanda Chapel | $120.00 |
| Wiwaha Chapel | $350.00 for guests / $600.00 for visitors |
| Blue Point Chapel | $250.00 per hour |
| Noah Chapel | $200.00 per 2-hour |
| Art Center | $15.00 |
| Don Antonio Blanco Museum in Ubud | $250.00 |
| Bistrot Cafe | $300.00 |
| Charlie Cafe | $150.00 |
| Buyan Lake | $50.00 |
| Tamblingan Lake | $50.00 |
| Ulun Danu Bratan Temple | $45.00 |
| Bali Camel Safari | $65 for 2 camels in 30 minutes |
See also: Compilation of location fees in Bali.
Best time of the year to visit Bali for photoshoot
The best time to go for your wedding photoshoot will be in the months of April, May, June and July. This is when there is less rain so plenty of clear weather for your photoshoot. The rainy season is between the months of November and March.
If your schedule allows, avoid visiting Bali during the peak season between August and September. Accommodation prices goes up and the island gets crowded, which makes traveling around the island difficult because of the traffic.
Share this photoshoot guide
I hope this guide will serve couples who are planning to do their wedding or engagement photoshoot in Bali. I'll keep this guide updated with new information as time goes along. If you see anything that needs to be fixed or updated, feel free to leave us a comment below.
Share this post with your friends who are looking to go to Bali for their shoot!