Prague as a pre-wedding destination
Prague, the Heart of Europe, is a magical city filled with stunning historical and cultural sights, quaint cobbled lanes and walled courtyards. This romantic city draws a great number of tourists to its streets every year, especially couples drawn to its Old World charm that has come to rival the beauty of Paris.
With gorgeous photoshoot backdrops like their grand churches and quaint streets, Prague is the up-and-coming pre-wedding destination for couples to take their engagement photos.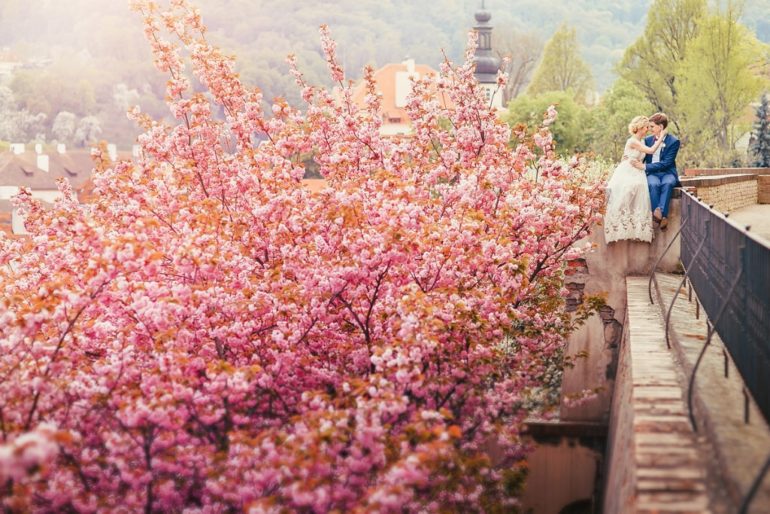 The best season to visit Prague for photoshoot
Spring: March, April and May
Summer: June, July and August
Autumn: September, October and November
Winter: December, January and February
The best time to visit Prague for a photoshoot would be during late spring and early fall, that is, the second half of May and September. During these months, you'll avoid the summer crowd that flocks to Prague so you won't have to wait for the crowd to disperse to take that gorgeous picture in front of the Basilica of St. Peter and Paul or have a bunch of people appear in the background of your shot in Old Town Square. Also, during late spring and early fall, the temperatures are cooler without being too chilly. Temperatures range around 20°C, making it ideal for those shooting in their thick wedding gowns and suits.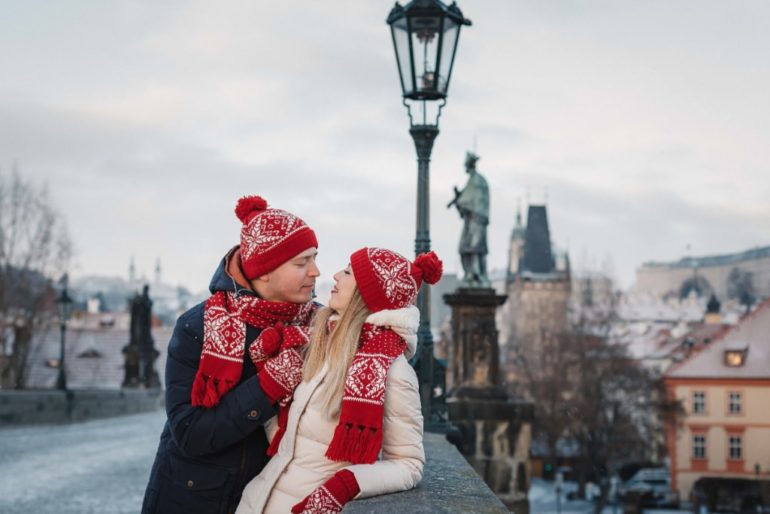 Prague Photoshoot Packages and Prices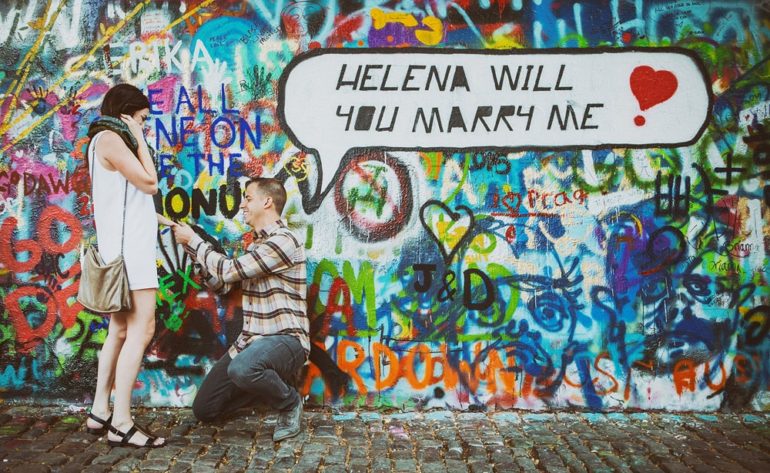 Basic Photography Package
We offer Prague Basic Photography Package, which is suitable for couples who are visiting Prague to celebrate their engagement, anniversary or honeymoon. During the session, we can shoot at 1 to 2 iconic locations in the heart of Prague.
Session time: 2 hours
Photos: 30 high-resolution JPG files
Delivery: Download link ready within 4 weeks
Classic Photography Package
Prague Classic Photography Package is our most popular package. This is perfect for couples who wants the highlights of what Prague can offer. Most couples who are looking for a European pre-wedding photo shoot love this package, as we include photography plus makeup and hair services at a wallet-friendly price!
Session time: 4 hours
Photos: 60 edited high-resolution JPG files
Delivery: Download link ready within 4 weeks
Makeup and hair styling included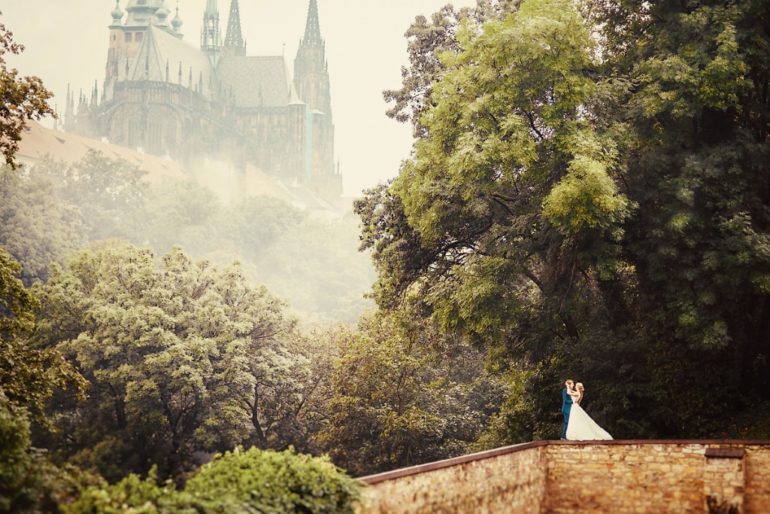 Premium Photography Package
Prague Premium Photography Package is for couples who are after the best photoshoot experience. We would have time to visit many locations, exploring both the icons and hidden-gems in Prague! Makeup and hair styling service is include. We also have the stylist to provide assistance through out the entire photo shoot.
Session time: 8 hours
Photos: 80 edited high-resolution JPG files
Delivery: Download link ready within 6 weeks
Makeup and hair styling included
Makeup and hair assistance through out the entire photo shoot
Feel free to contact us and find out which photography package suits your needs and fits your budget best.
Check our availability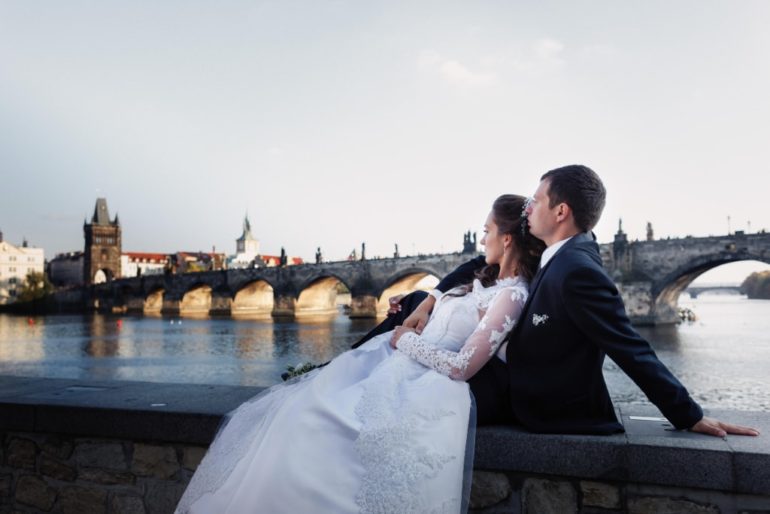 Wedding Photoshoot Tips
Be it an engagement, wedding or a simple vacation shoot, these tips will definitely make give you an easier shoot in Prague:
The best time to shoot would be during the early mornings at dawn or before sunset.
The ideal days for photoshoots are Sundays to Thursdays, as the city is usually quite busy with tourists during the weekends. Do take note that some gardens may be closed on Mondays.
We recommend that you stay in a hotel or apartment near the Charles Bridge, around the streets of Karlova and Mostecka, which is central to many photoshoot locations. The next best area to stay at would be an area in walking distance from Old Town Square or in Mala Strana.
For a formal wedding photoshoot in Prague, it is advisable to choose a wedding dress without a long train. In our photographer's words, "in 5 minutes after you come out into the street, it will in the best case be grey, and in the worst case – dirty." Also, a dress that does not drag on the floor will allow you to walk and move freely during your shoot without you having to hold it in your hands or accidentally stepping on the hem.
Additional fees: Churches in Prague typically do not allow shoots in the interior of the church. If a church does allow it, they will usually charge a fee which is to be covered by the client. Special interior shoots in places such as chateaus and castles can also be arranged but fees have to be paid separately.
Prague Wedding Photographers
Our Prague wedding photographers are experienced and professional. They know the best spots and time to shoot in the city. Not to forget, there are plenty of hidden gems in the city that only our local photographers know!
We also provide photography services for engagements, weddings and vacation. Feel free to contact us if you are interested.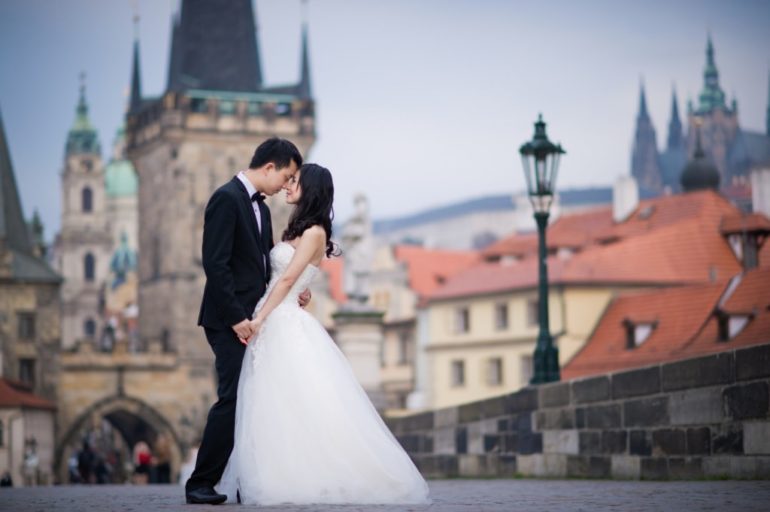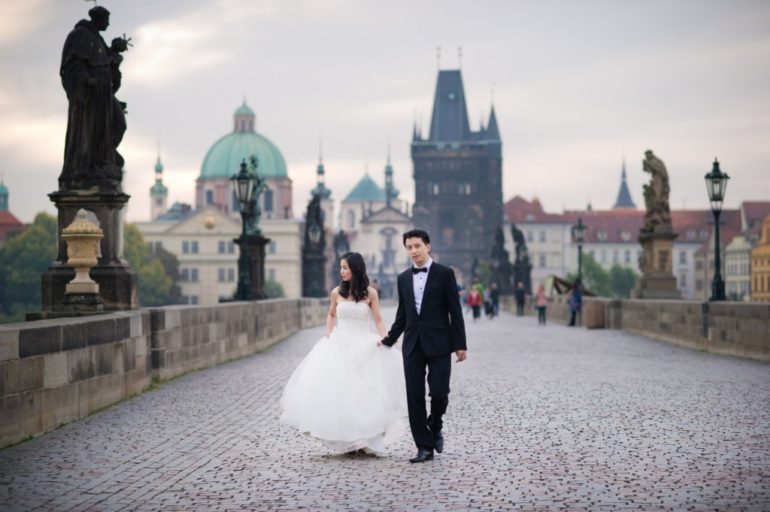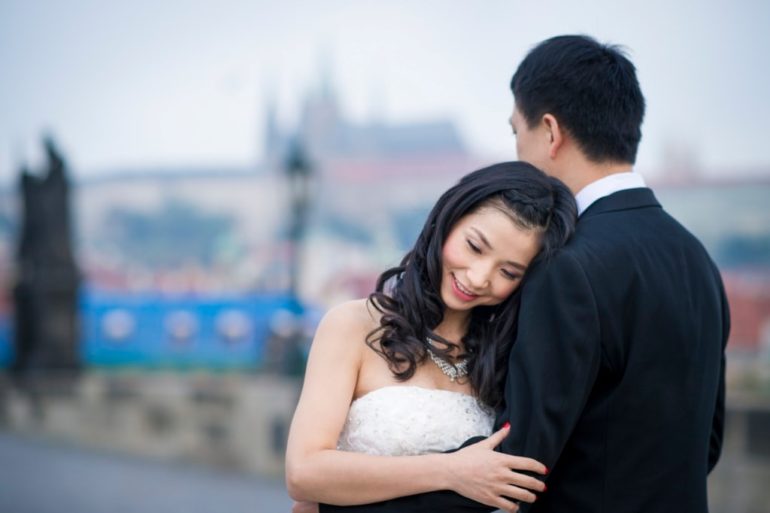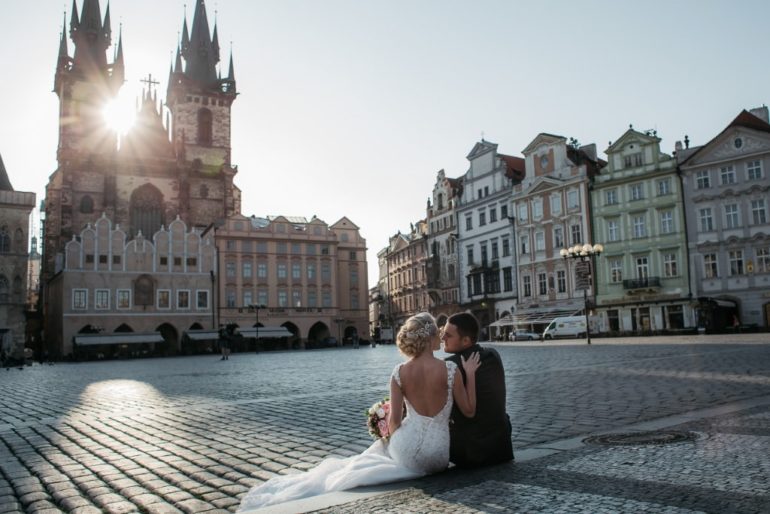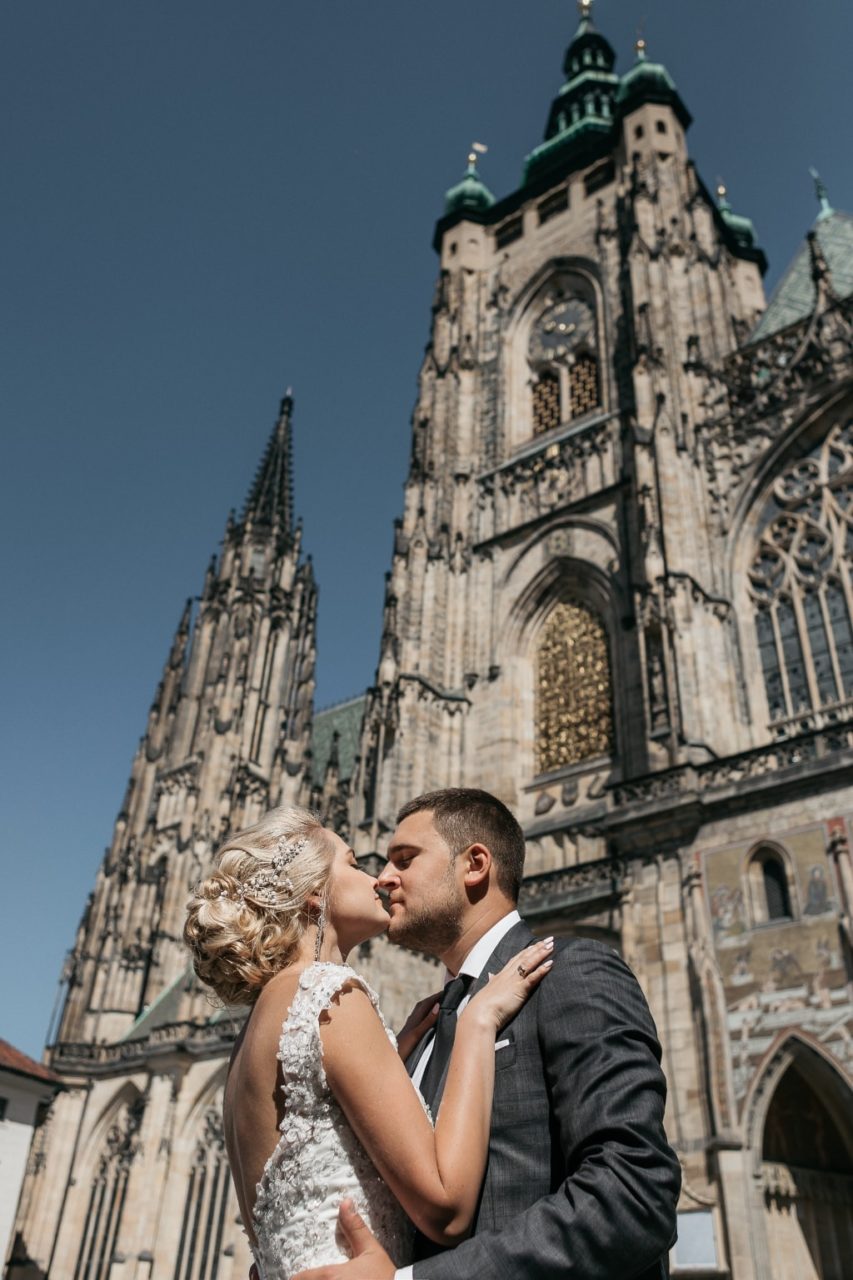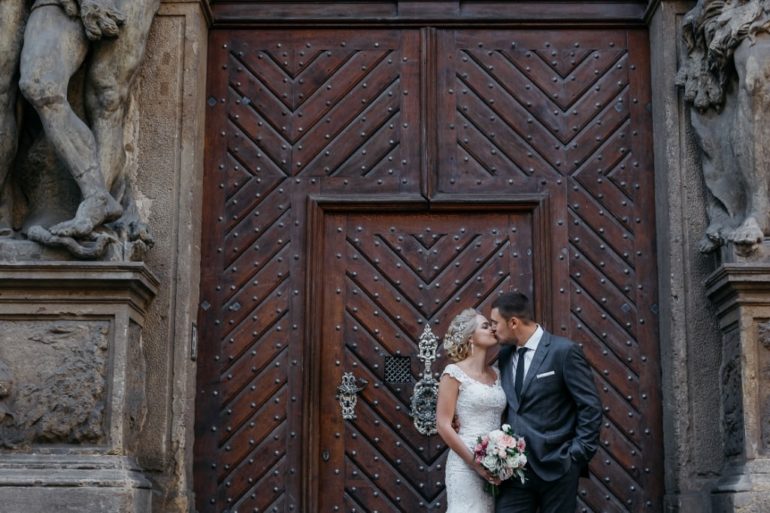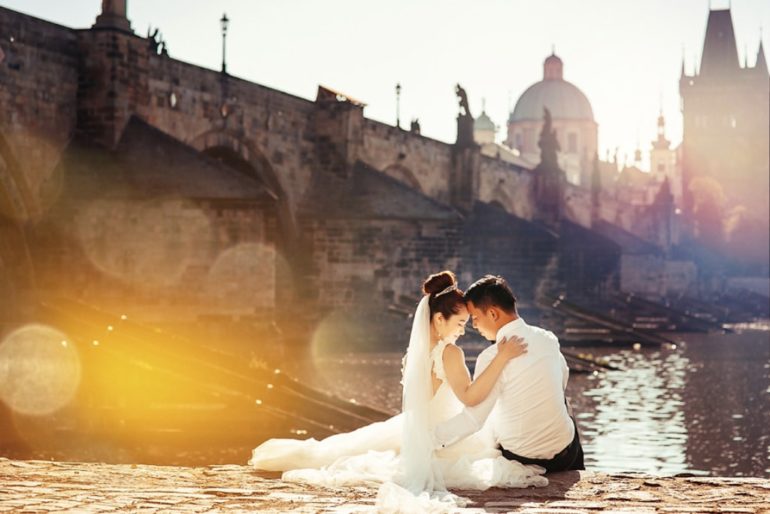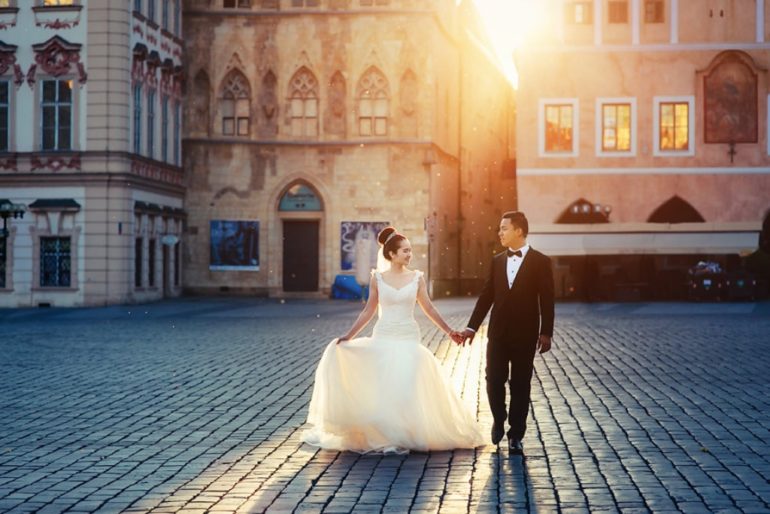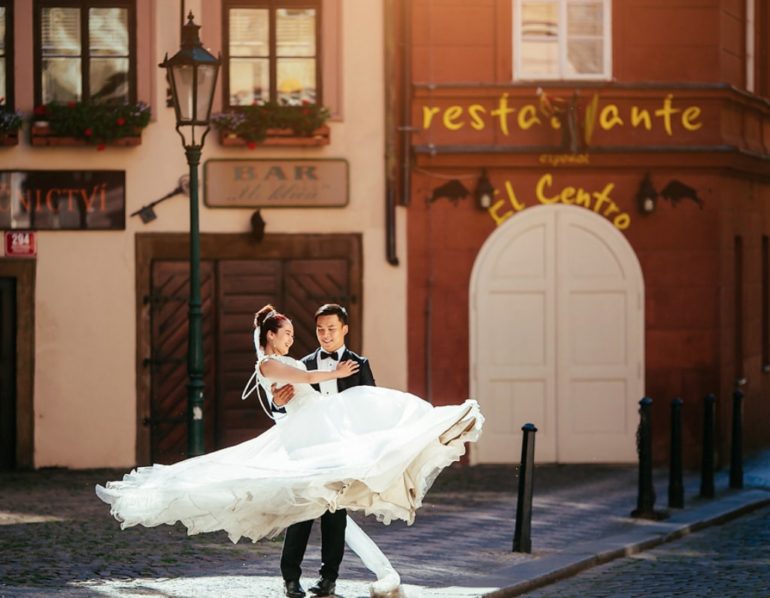 View our complete list of Prague wedding photographers here.
Photography Locations
Prague is regarded by most to be one of the most charming and beautiful cities, and what better way to capture the charm of the city than to have your pre-wedding photos taken there? With the various locations around the city, from the Charles bridge which offers many vantage points to Old Town Square with its various landmarks such as the Astronomical clock and historical landmarks like the Tyn Cathedral to the beautiful Ledeburska Garden. You'll be spoilt for choice when deciding on your photoshoot locations!
Churches
Churches are dime a dozen in Prague, all of them impressively built in the various different styles ranging from Baroque to Gothic to Romanesque. One of the most beautiful churches in Prague is the St Vitus Cathedral, a grand Gothic church located within the Prague Castle compound that boasts vibrant-coloured stained glass panels. Its stunning Gothic facade is the ideal backdrop for a pre-wedding shoot with a grand concept. Apart from the St Vitus Cathedral, the Prague Castle complex is also home to many vantage points and interesting locations and a large free garden area, making it an ideal photoshoot location.
At night, the lighted up Prague Castle also offers a fantastic view. Couples will be able to spend up to 3-4 hours here, with its large complex and many scenic locations and spots.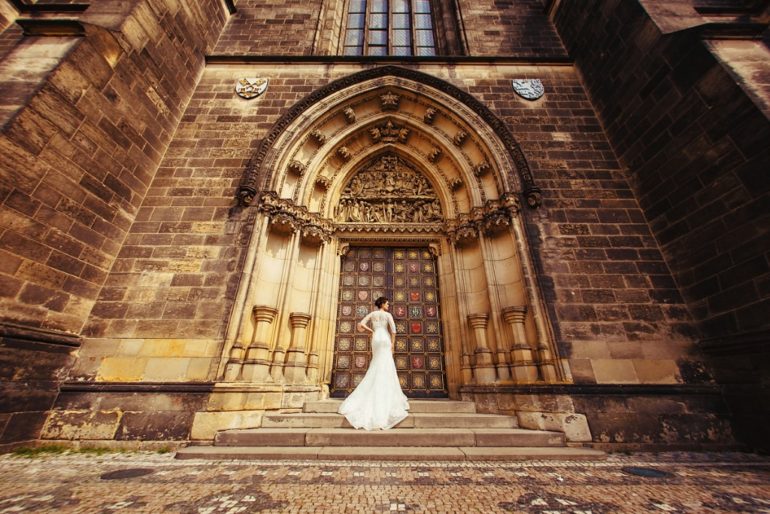 Castles
Prague is also home to some of the most beautiful castles in Europe, such as the Hluboká Castle. This Castle looks like it came right out of a fairytale and is the perfect setting for a majestic and romantic pre-wedding shoot.
Gardens
Prague isn't all about stunning works of architecture, though. Nature is also a big part of the city, from the magical Vltava River that flows through the centre of Prague to the perfectly manicured Vrtba garden, a Baroque garden with historical significance.
Note: Most gardens in Prague are closed for winter and reopens only in spring (October to April).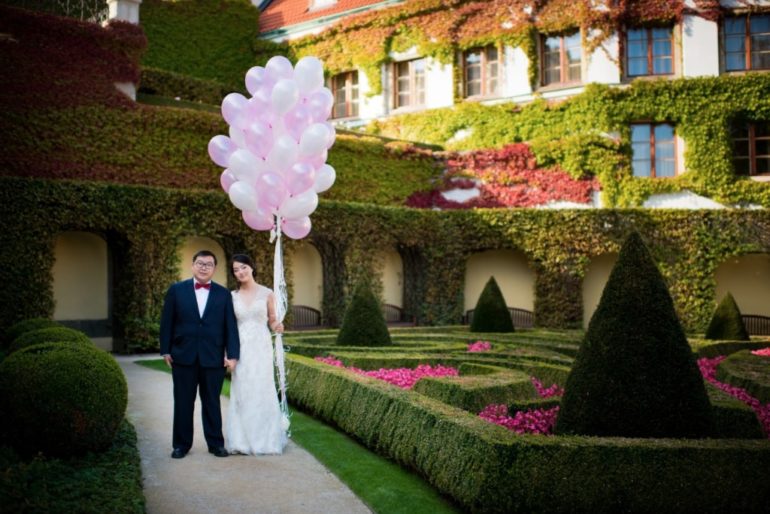 Prague has much more to offer than just these locations, so do head on over to our site to view the list of wedding photoshoot locations in Prague that we've compiled.
We hope this guide serve you well for your research in a wedding photoshoot in Prague. Visit our website for prices of our Prague wedding photographers. You can also contact us or you can chat with us on Facebook Messenger to inquire for more details of our packages.