Wonder what you can do for your Paris engagement shoot?
We share with you 10 best photo ideas across various landmarks and hidden gems in Paris.
Paris is one of the most popular destination for many couples, be it a place for proposal, pre-wedding holiday or a place to unwind for your honeymoon. The City of Love simply exudes romance!
Many couples would hire a Paris photographer to capture the beautiful memories of their vacation. We selected 10 best ideas so that your engagement photos don't have to be dull and awkward 🙂
1. People watching at a Parisian Cafe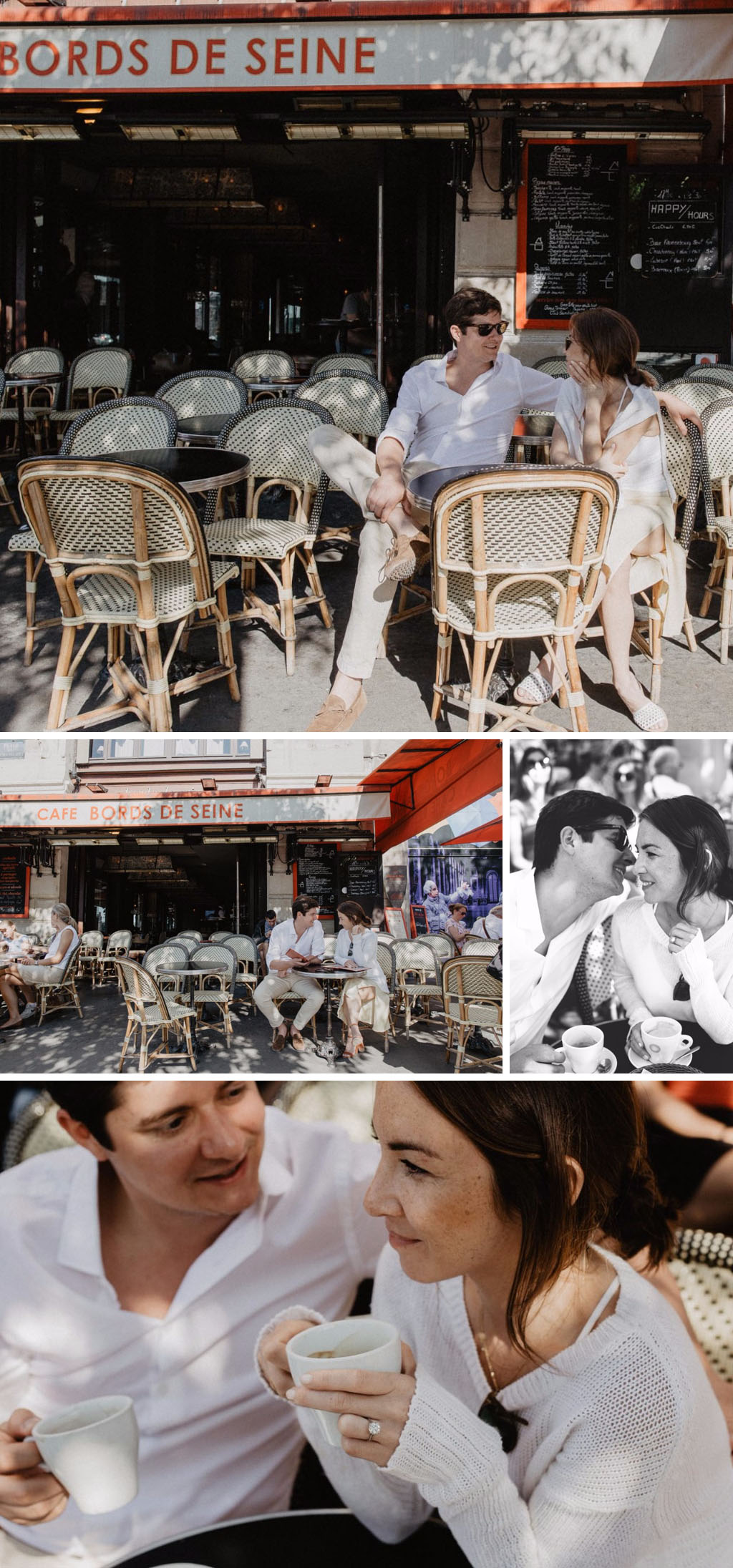 Coffee shops in Paris just give off those romantic vibes. Besides, who can say no to hot chocolate and macaroons? We love the Parisian vibes of Bords de Seine. I would say, visiting a Parisian cafe is a must-do activity for any couple.
View more of this Paris engagement photos at cafe.
2. Enjoy the serenity at Square Jean XXIII Park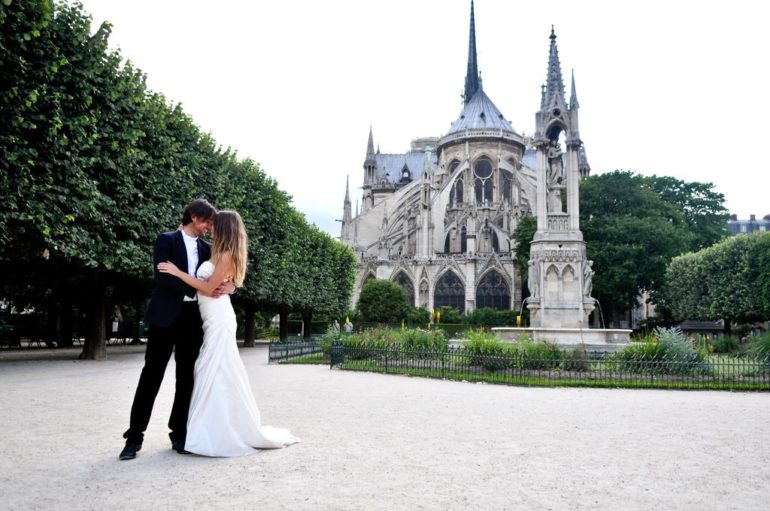 Situated right behind the Notre-Dame Cathedral, this park is a perfect stop-over to relax on a bench and take a break from the hustle and bustle of Paris. In spring, this is a must-visit because the cherry trees bloom in pink!
3. Strolling along the banks of Seine River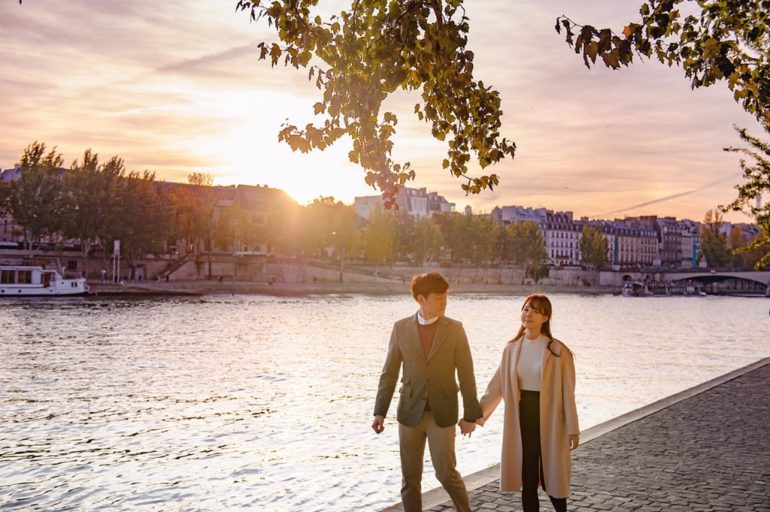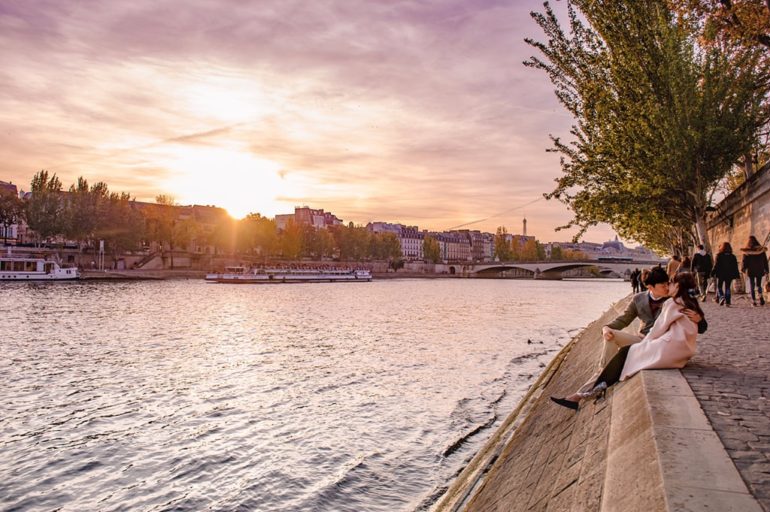 We love how a simple walk along the Seine river can also be a beautiful and timeless memory of your engagement.
See all photos from this Paris engagement photo session from the Louvre to Eiffel Tower.
4. Cuddling in the bed of your Parisian apartment
Do an at-home session by shooting in right inside your apartment. Embellished with details, a Parisian architecture in the background and Parisian breakfast, croissant and coffee, the photos will be super intimate with the romantic touch of Paris!
View more photos of this at-home casual shoot.
5. Strolling on Pont du Alexandre III during sunset
An intricately decorated bridge, with a beautiful backdrop. You can see the golden dome of Les Invalides and the Grand and Petit Palais on the other end. The most famous bridge in Paris is a grand work of art and worthwhile to shoot at.
6. Experience the streets in the art district of Montmartre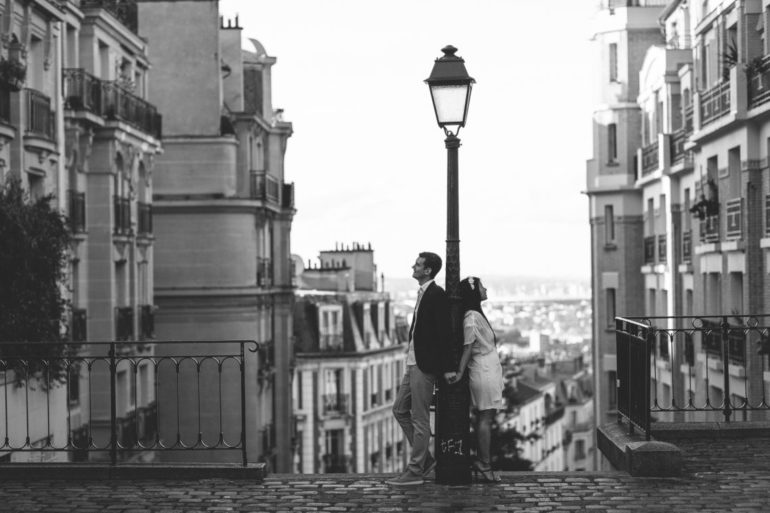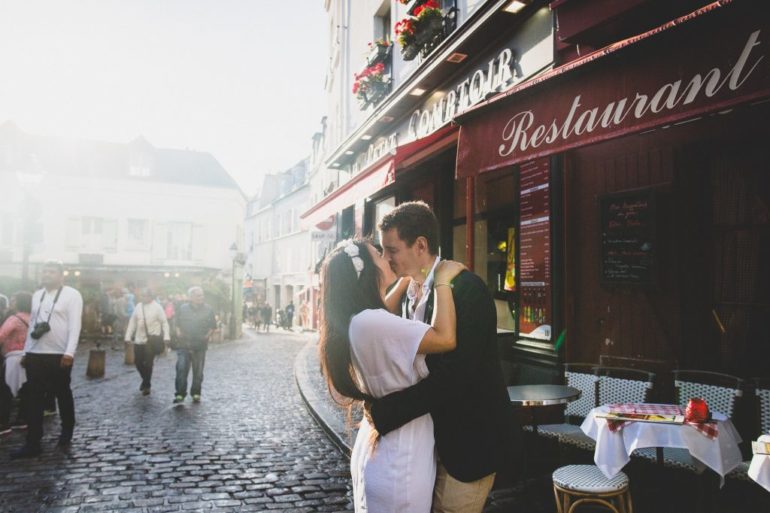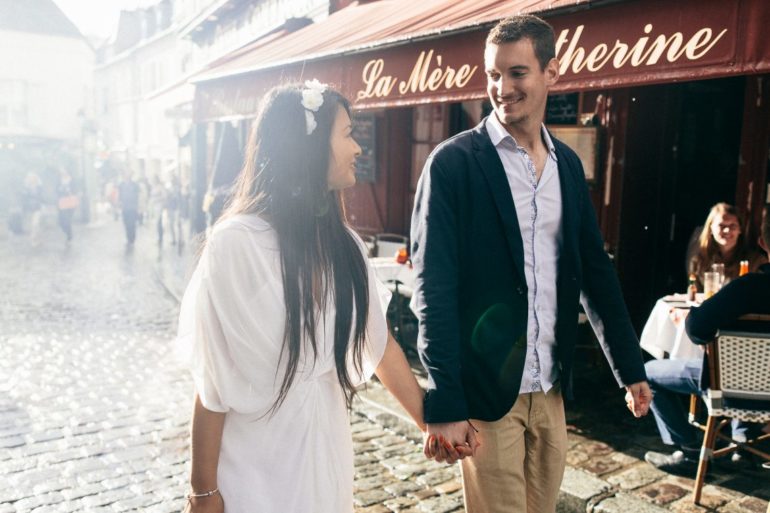 Monmarte is a well-known art district filled with romantic ambience. Being on a hilltop, you can get a fantastic view of Paris too! Since you are there don't forget to visit Sacre Coeur – another iconic Paris monument.
7. Visit the Louvre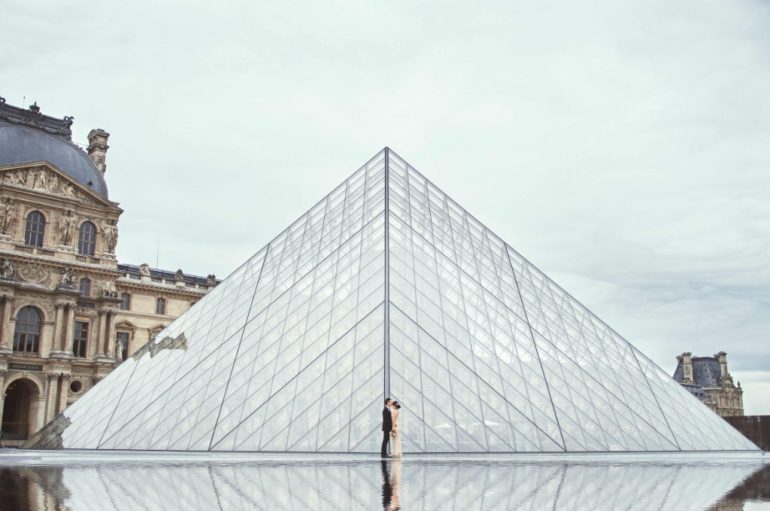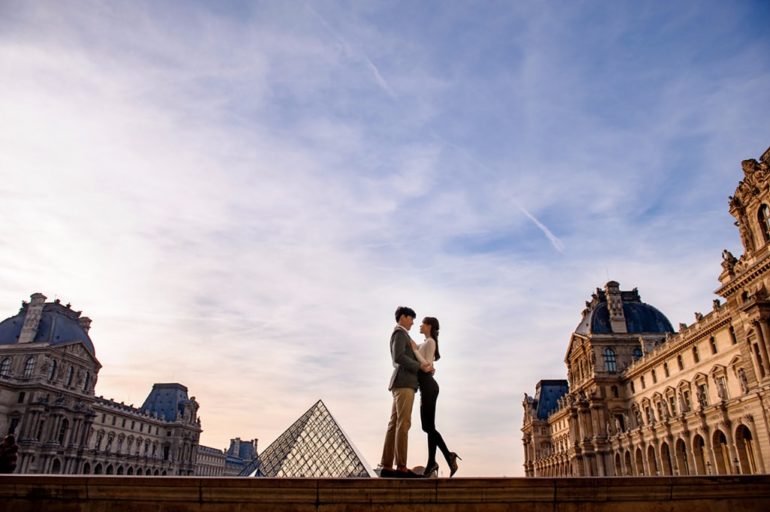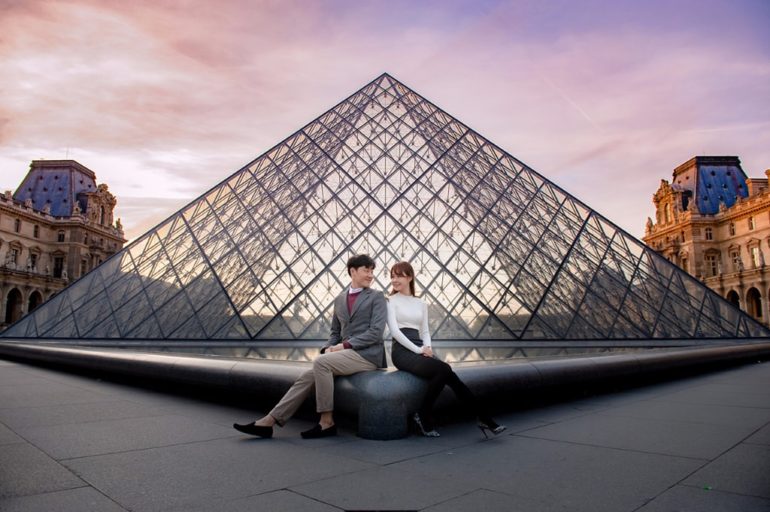 Art-lovers will love to visit the world's biggest museum. Be it the glass pyramid or the courtyard, with its mix of modern and historical architecture, even if you are not an expert in art. A visit to the Louvre is a must for an elegant and romantic engagement photos.
Read our feature on Ariel & JK's Paris engagement photo shoot.
8. Ride on a carousel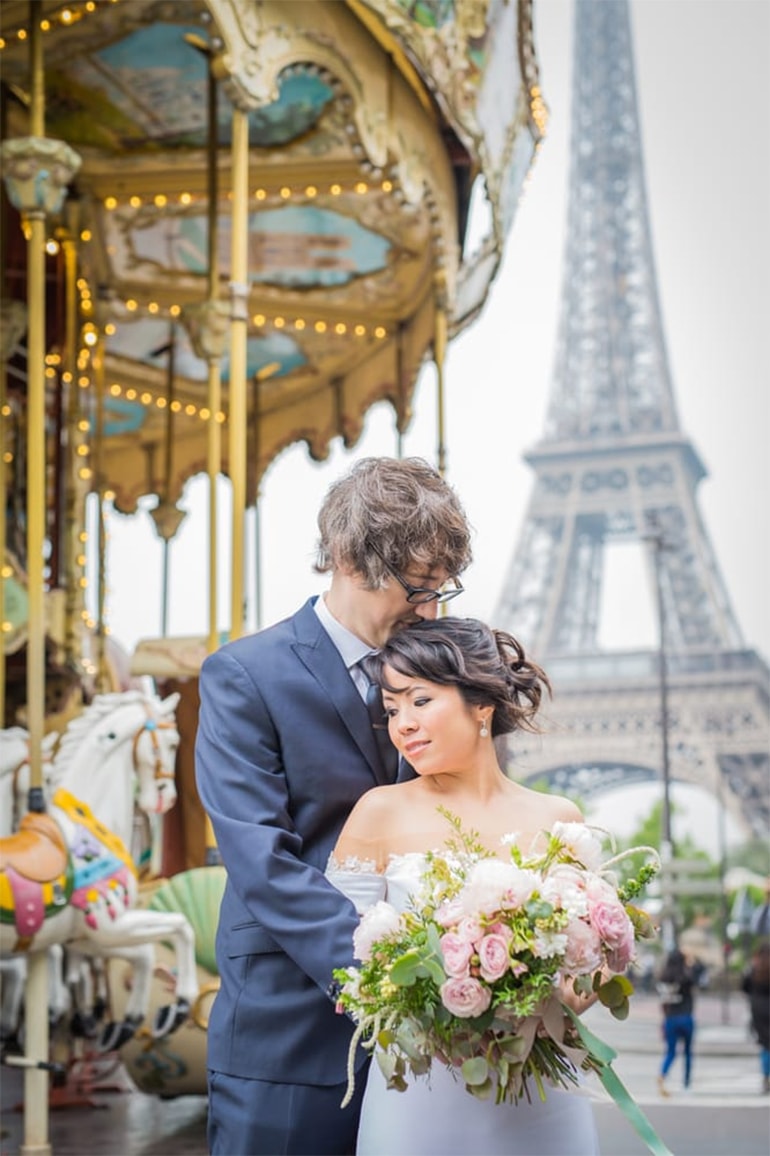 There are a few carousels that located across Paris. Our favourite, The Le Carrousel De La Tour Eiffel is conveniently located close to the the Eiffel Tower. These merry-go-rounds brings will definitely bring some romantic fun to your photos. After all, isn't love a carousel with its ups and down?
9. Shop like a Parisian at Galerie Vivienne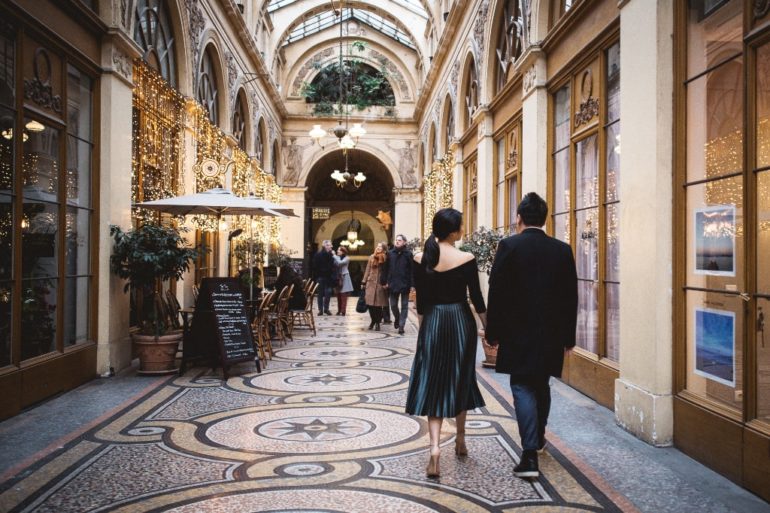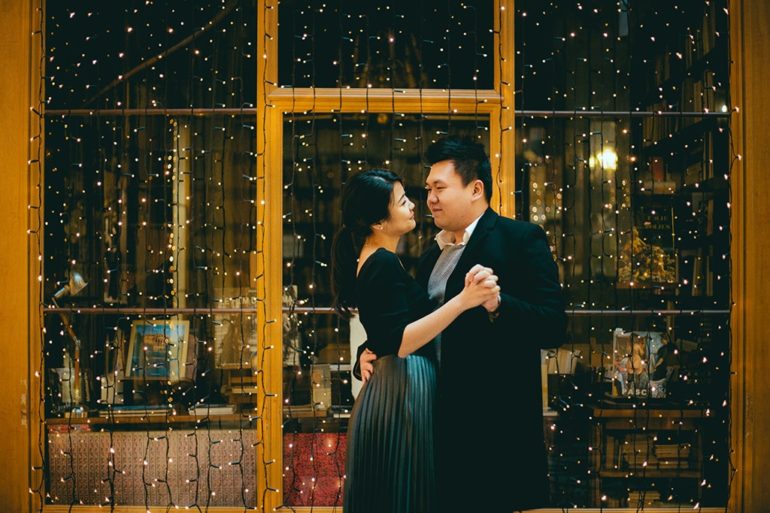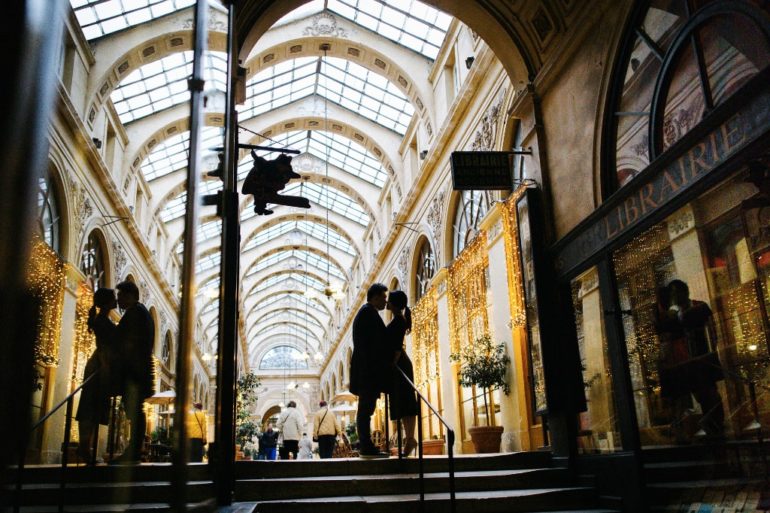 Galerie Vivienne is a hidden gem in Paris. This sheltered shopping street also doubles up as a fantastic location if it turns into a rainy day. Built in 1823, this well-maintained shopping arcade features an elegant glass canopy above and an intricate mosaic detail on the floor. Perfect!
10. Catching the best view of the Eiffel Tower at sunrise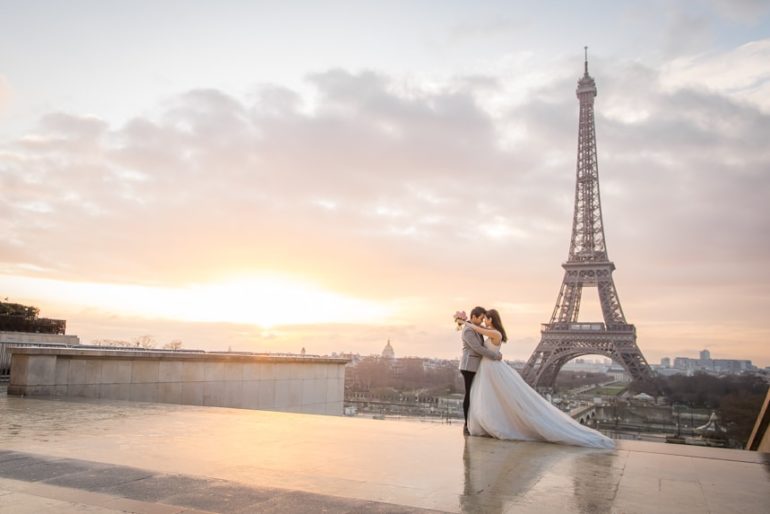 It would be blasphemous not to include the Eiffel Tower in our list. Best to visit Place Du Trocadero at dawn, to catch the first light shining on the Eiffel Tower.
Trust us, it will be worth it!
Now that you have read through these fantastic ideas for your Paris engagement photoshoot, start saving them on Pinterest. If you are looking to book a Paris photoshoot, head over to our website and learn more about our Paris engagement photoshoot packages.