Korea is known not only for their traditional buildings and modern architecture, but also the abundance of charming natural scenery there. Within Seoul itself you can find various spots such as parks, ranches and the Han River existing harmoniously alongside the many skyscrapers. Jeju Island is also a natural jewel with the many beautiful natural landscapes it offers. The best part? These natural sceneries shine in pre-wedding photos no matter what season you'll be there, truly making Korea's best season for a pre-wedding photoshoot every season there is.
Summer: June to August
To make the best of summers in Korea, Jeju Island is where you want to be! The many white sand and blue water beaches there, like Hweopjae beach and Gwangchigi beach, make the most stunning backgrounds for your pre-wedding photoshoot. Apart from their beaches, hydrangea flowers are also in full bloom at the Camellia Hill for floral enthusists.
Seoul summers don't lose out to Jeju Island either, with the annual rose festival held at the Olympic park bringing fields of beautiful roses in different colours alongside the many seasonal flower fields in the park. In the outskirts of Seoul, there are also ranches that boast lush green fields with cows and sheeps grazing and frolicking on the fields.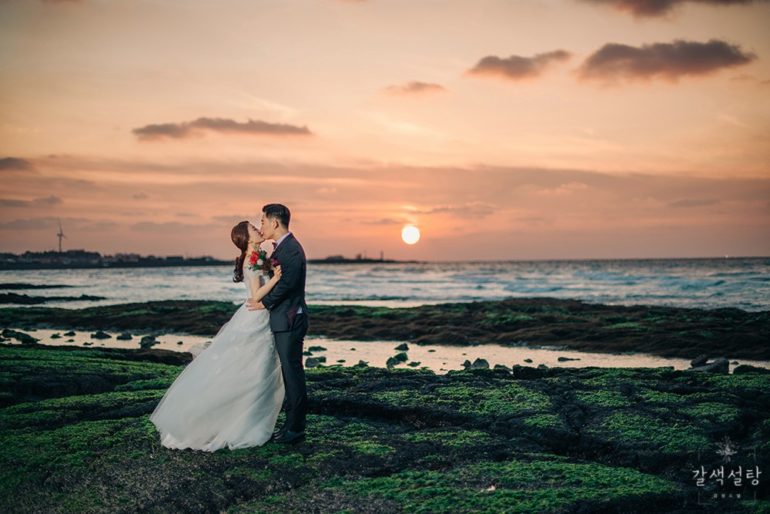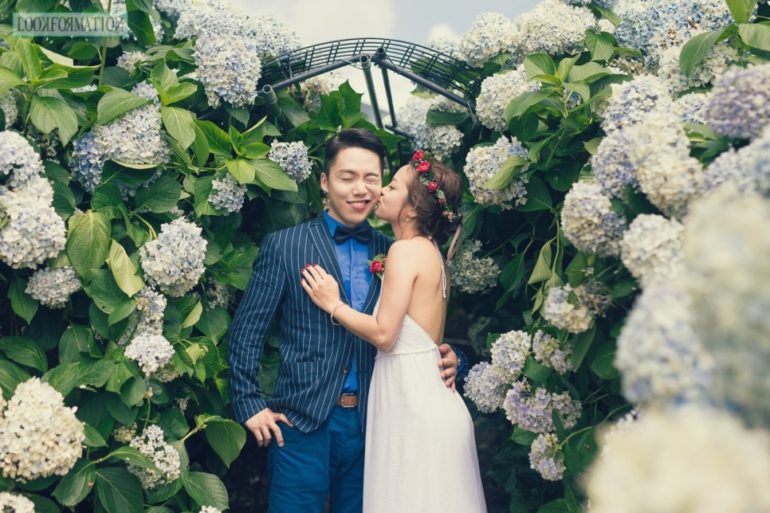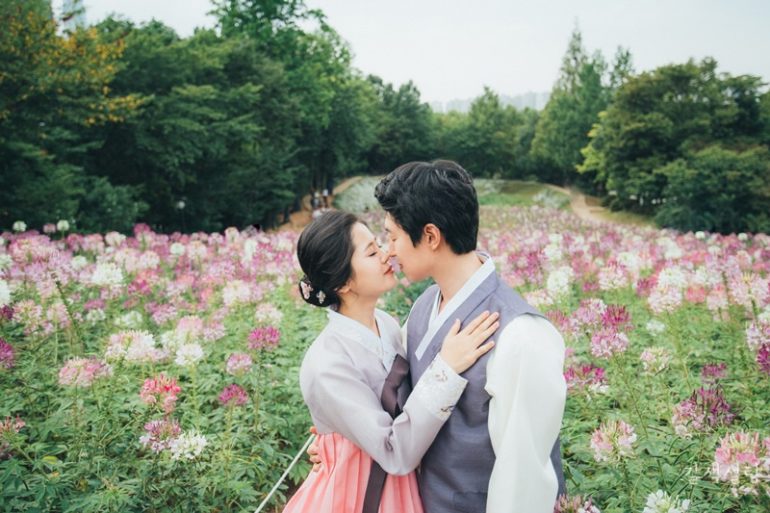 Autumn: September to November
Fall is a magical time in Korea, when many areas begin to emanate warm hues of the golden yellow, orange and flaming red fall foliage. The numerous parks in Seoul, from Haneul park to Seoul forest to Seonyudo park, are painted in pretty autumn hues as the maple leaves in the parks gradually change in colour. The eulalia field in Haneul park also comes into full bloom into October, casting a magical spell over the park.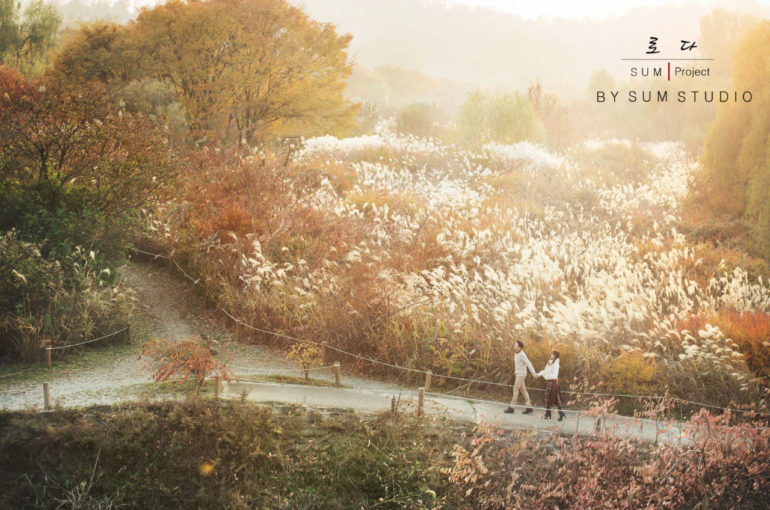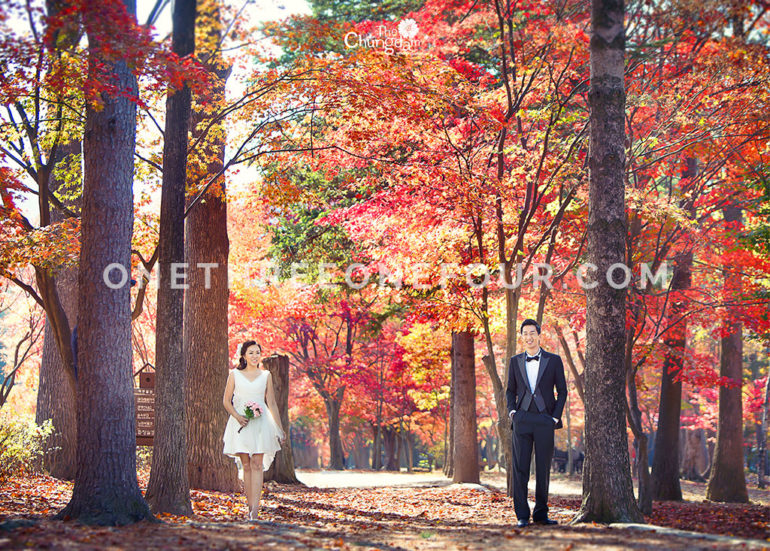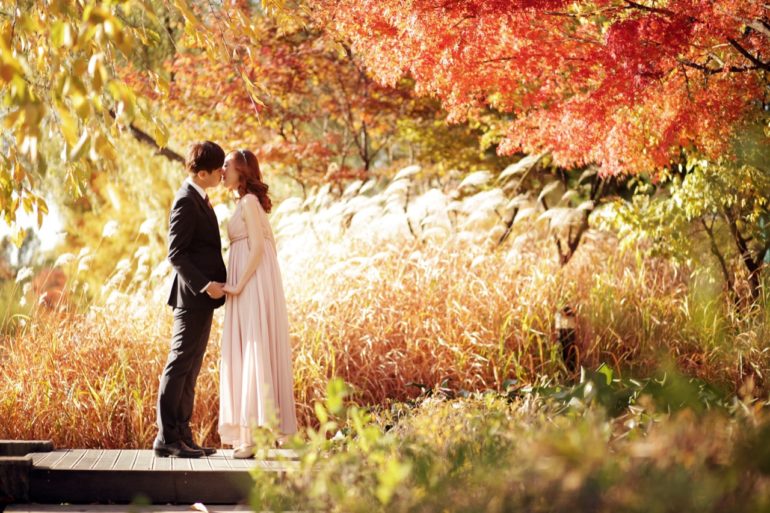 Winter: December to February
The snow in Seoul might not look like much, but travel further outside Seoul and you'll see that that's where the snowy magic lies. From the snow-filled pastures of Samyang ranch to the famous rows of bare trees against a beautifully white background in Nami Island to the snowy mountainous landscapes of Gangwon-do, Korea is a real winter wonderland for pre-wedding photoshoots during the winter season.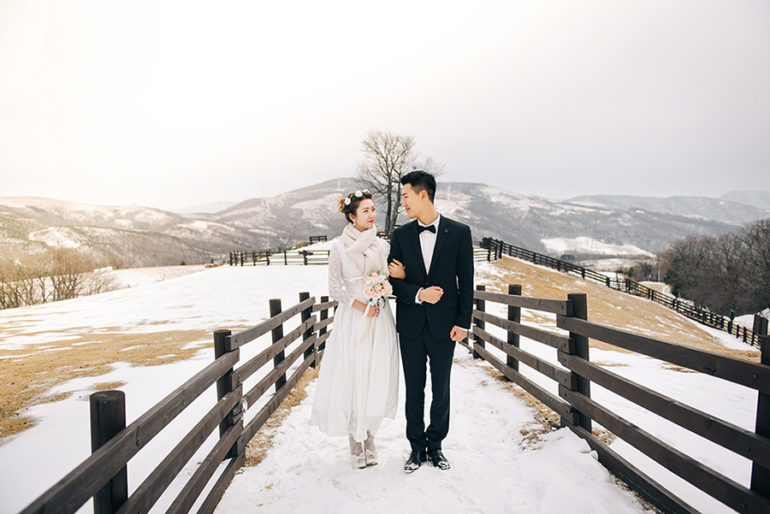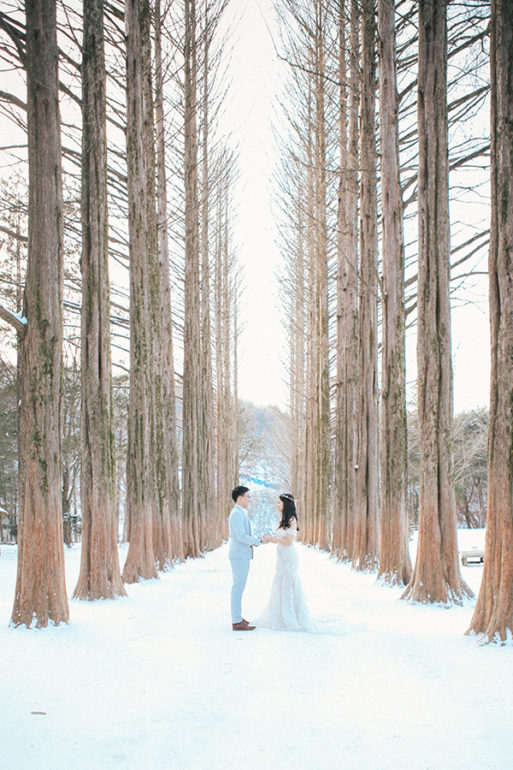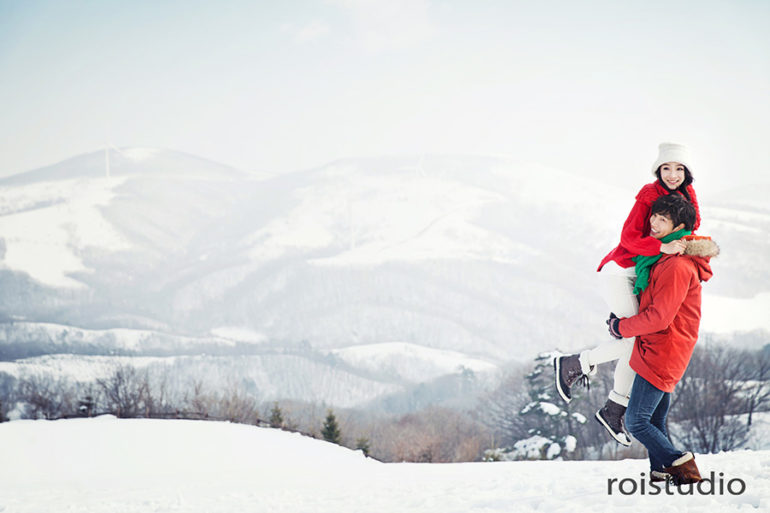 Spring: March to May
The mention of spring in Korea brings one image to everyone's mind — pretty pink cherry blossoms! Yeouido is where Korea's famous cherry blossom festival is held at, but the hordes of crowds there trying to get a good view or picture of the blossoms make it a definite no as a place to take pre-wedding photos. Instead, try heading to Seoul forest, Dream forest or Seonyudo park for a quieter atmosphere with equally beautiful cherry blossoms. See our other recommended Instagram-worthy spots to catch the cherry blossoms.
But cherry blossoms are not all there is to spring in Korea, there is a whole array of beautiful flowers too! From cosmos in varying shades of pink at Haneul park to a field full of cheerful yellow canola (also known as rapeseed) flowers at Seopjikoji Hill and Noksan-ro in Jeju Island, spring brings with it bursts of different colours for a stunning pre-wedding photoshoot in Korea.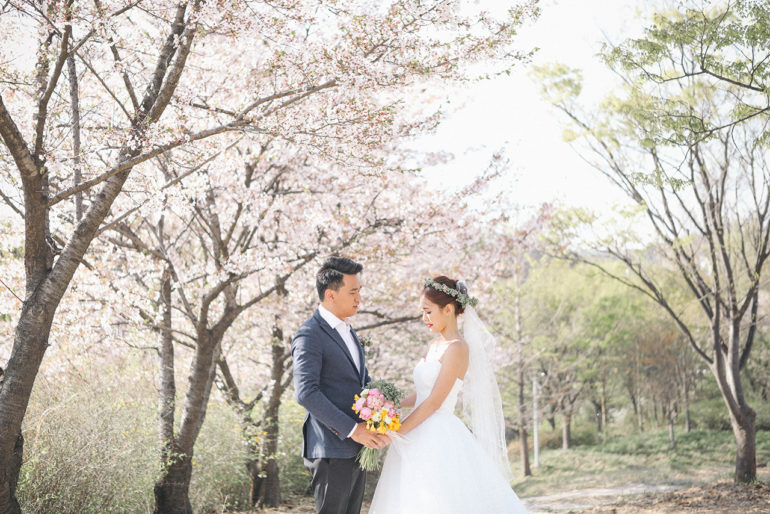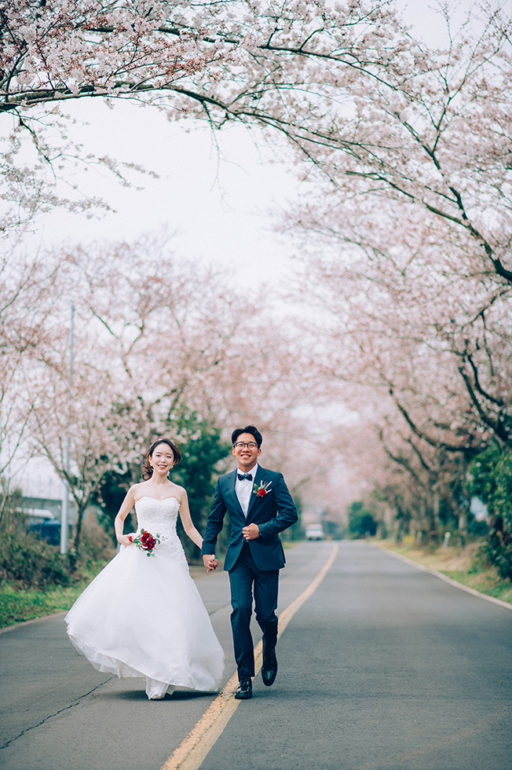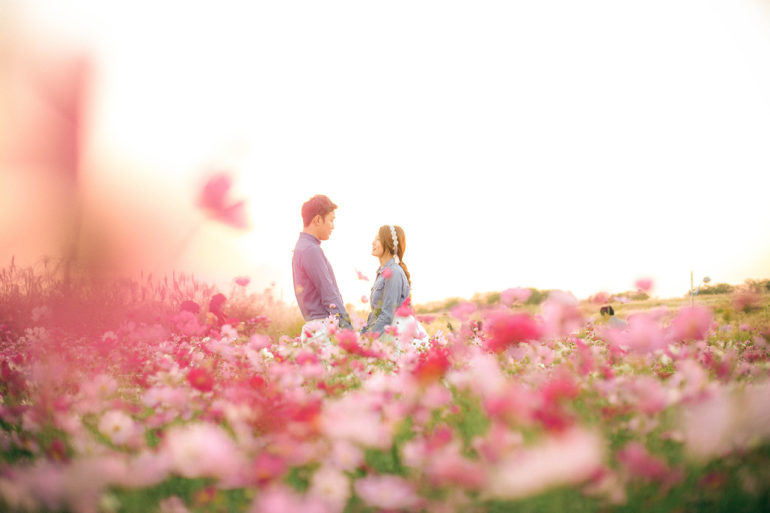 Korea is undeniably charming no matter what the season, making it the perfect place for couples to hold their pre-wedding photoshoots at. Are you captivated by the beauty of Korea in all four seasons and the different kinds of pre-wedding photos you can take there? Have a look at our list of Korean wedding photographers to find one to take equally gorgeous pre-wedding photos for you too!