New Zealand is famous for its incredible natural sceneries, ranging from the majestic mountains to the unique glaciers.
However, you may not know what to expect for a wedding shoot in New Zealand.
Fret not, we have come up with a list of important pointers to take note for your shoot in New Zealand so that you will be fully prepared!
Locations
The Coromandel Peak, more commonly known as Roy's Peak, is undeniably a popular location for a photoshoot, and it is a must-visit location for many.
For most of you, you can expect a once-in-a-lifetime opportunity of flying to the top of a mountain peak in a helicopter. The unobstructed views of the snow-capped mountains in the horizon is simply to-die-for.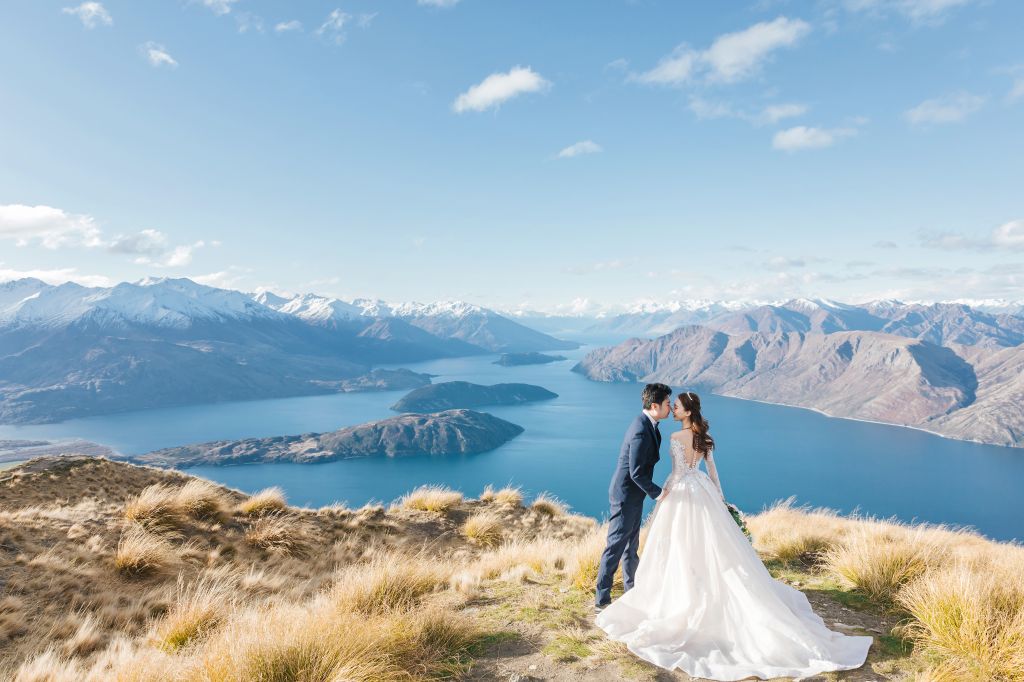 The Arrowtown House is a famous wooden house that many photographers love to visit, and the alluring forest surrounding the house will surely add an air of mystery to your photos!
Lake Tekapo is also a photoshoot hotspot for couples to do their wedding photoshoot at. Here, you can capture the gorgeous lupins surrounding the lake, and they will definitely add a pop of colours to your photos!
The lake also has one of the clearest waters with alluring turquoise hues which will make your photos look amazing! Still not convinced? Take a look at these 19 Stunning Photos Of Lake Tekapo which will show you just why everyone loves it.
You can also find more hidden gems to take your wedding photoshoot at by reading our articles on 14 Breathtaking Places In New Zealand For Your Pre-Wedding Photoshoot and the Top 5 Lakes For Your Pre-wedding Photoshoot In New Zealand That Are Not Lake Tekapo.
Best season to visit
New Zealand is a country full of spectacular colours, and you can capture many different seasonal gems during different times of the year. From early January to end February, you can catch endless stretches of Lavender in full bloom.
In April, you can catch the vast fields of charming autumn foliage, and this is arguably the most beautiful season in New Zealand! You can read up more about why autumn is the best season for a new zealand wedding photoshoot here!
You can also catch the otherworldly beauty of New Zealand during Winter from early June to end August, with snow-capped mountains and frozen glaciers as your backdrop.
The arrival of spring signalled by the blanket of baby pink cherry blossoms in New Zealand, and it occurs during the month of September. The famous Lupin season in New Zealand takes place from late November to early December, and you will be able to see the stunning lupins growing along lakesides.
SEE ALSO: Mesmerising New Zealand Pre-Wedding Photos Proves It Is Incredible In All Seasons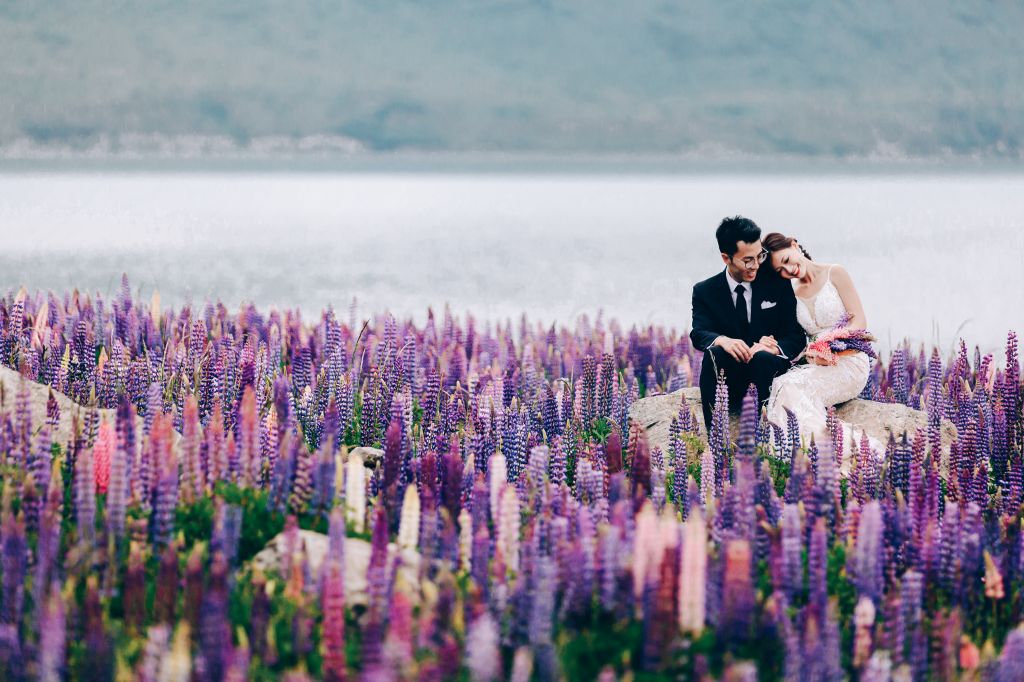 Weather/ Temperature
New Zealand has a largely temperature climate, where it has an average temperature of around 15°C in the north of the country and an average temperature of around 9°C in the south. The coldest month in New Zealand is usually July, while the warmest month is usually January or February.
To battle the cold during the colder months, we suggest you to bring along heat packs, as well as to put on thermal wear underneath your gowns. You can also prepare some hot drinks in thermal flasks to warm yourself up mid-way through the shoot!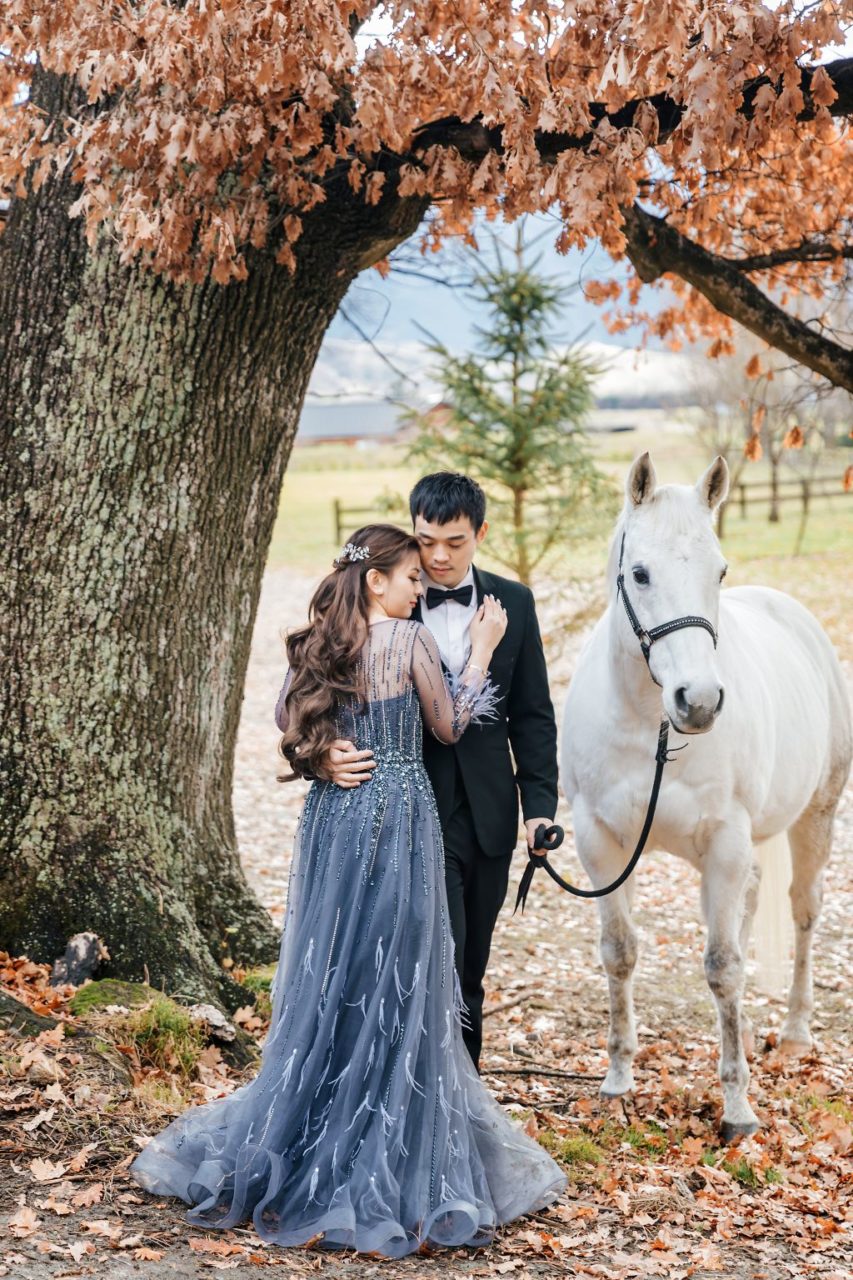 Gown selection
We recommend you to opt for A-line gowns for your wedding shoot in New Zealand to allow for heat packs and thermal wear to be worn underneath so that you can keep yourself warm if you were to shoot during the colder seasons.
You should also choose at least one dramatic, voluminous gown, since this type of gowns are the best for wide angle shots to capture the stunning natural landscape New Zealand has to offer.
SEE ALSO: Choosing the Right Gown and Suit for your Wedding Photos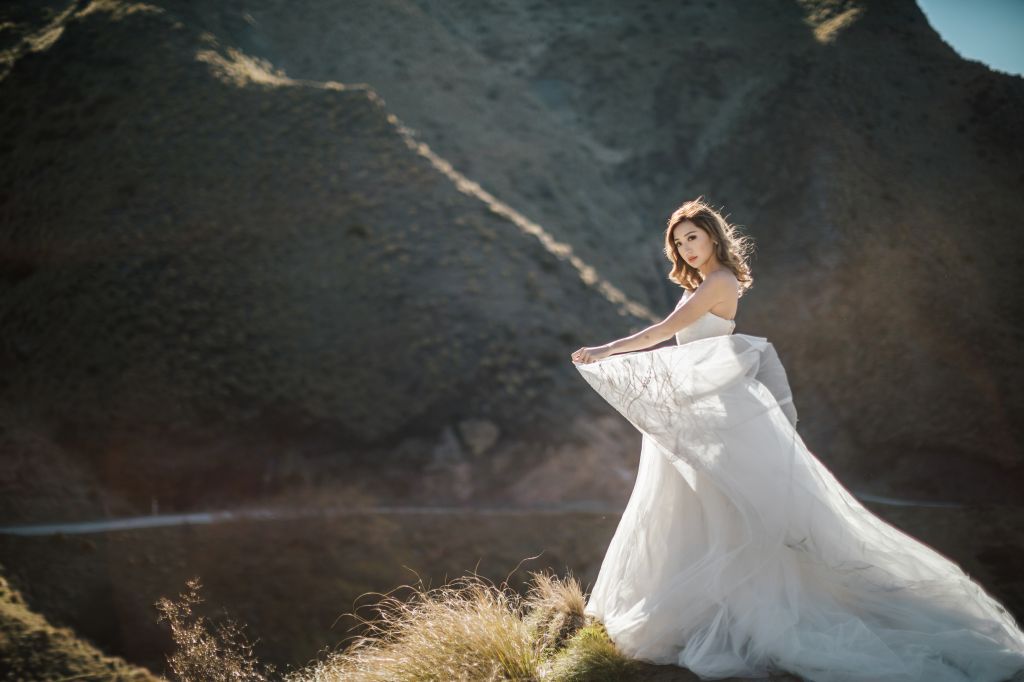 Prices & Packages
We offer 3 types of New Zealand wedding photography packages – a classic, premium and diamond package. With our classic package (NZD 3,950), you get 6 to 8 hours of photoshoot at 2-3 locations and 30 edited photos.
If you opt for our 2-day premium package (NZD 6,200), you get 12 hours of photoshoot at 4 to 6 locations and 50 edited photos. For our 3-day diamond package (NZD 8,500), you can enjoy 18 hours of photoshoot at 6 to 8 locations, with 70 edited photos.
For more information about our New Zealand wedding photography packages, do be sure to check out our website!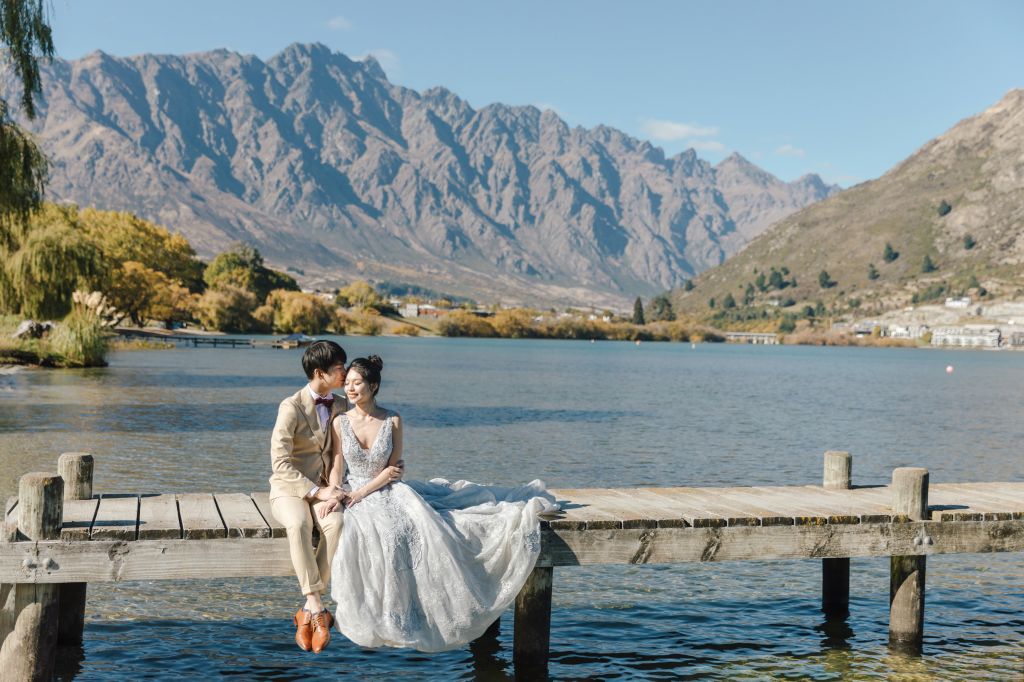 Accommodations
If you are visiting the South Island, we recommend staying in Queenstown for convenience. For couples who have booked our premium and diamond packages, free night accommodations will be provided!
For our premium package, we provide 1 night of free accommodation at the Lake Tekapo area. You can also add on a starry night shoot to your package, as the night sky being enveloped in a celestial ensemble of stars will certainly be a sight to behold. New Zealand is known for having very limited light pollution during the night, so you can fully capture the shimmering stars in the sky!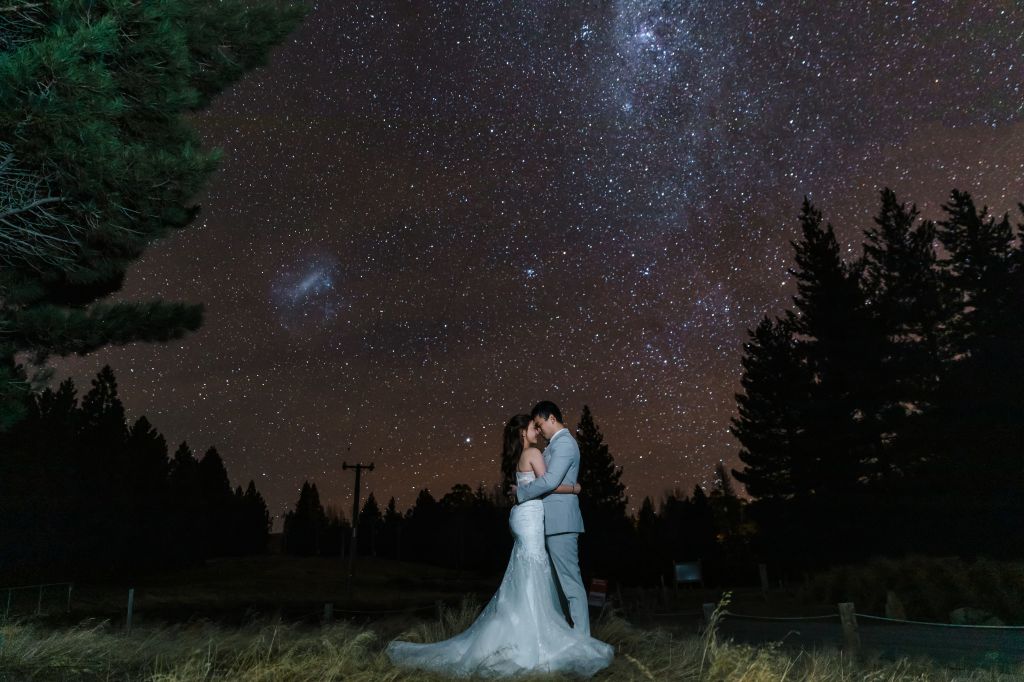 For our diamond package, we provide 2 nights of free accommodation both in Queenstown and in the Lake Tekapo area.
Transport
Some locations in New Zealand are only accessible with cars, and your vehicle should also be suited for rough terrain. It is best that you engage in a local driver, as they would know how to handle the road situations best since the roads at Skippers Canyon can be pretty dangerous and narrow to maneuver.
For couples who booked our service, we provide private transport with local drivers during the photoshoot, picking you from your hotel, to the photoshoot locations and back to the comforts of your bed. This way, you can get some rest on the car while you travel to your next location!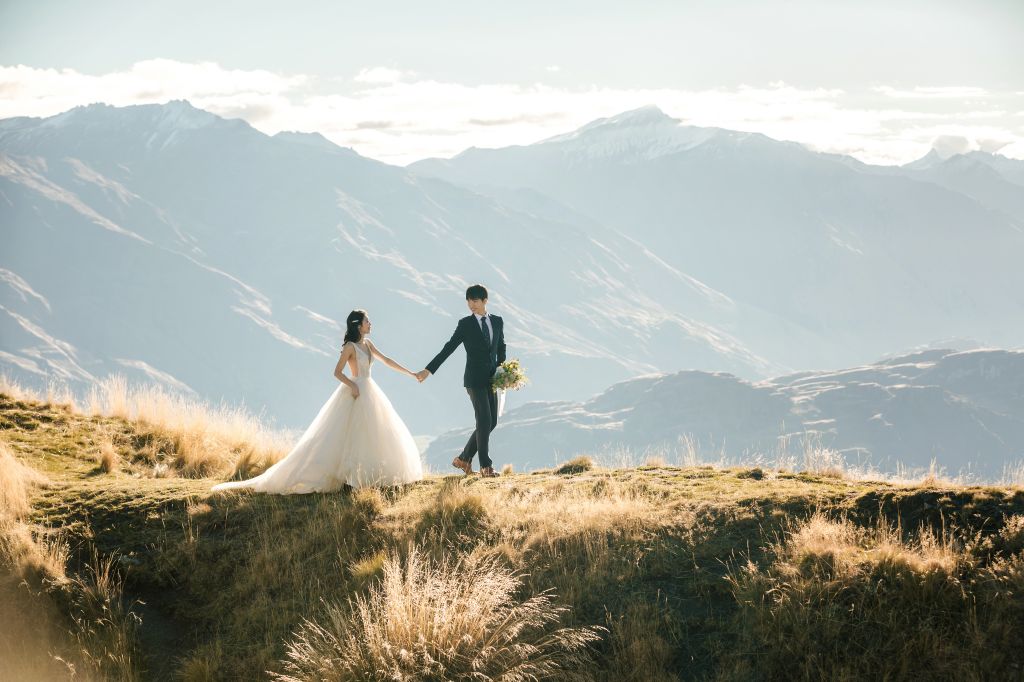 Other tips
During your shoot, some of the locations you have chosen may require you to stand on ledges and cliffs that are slightly perilous, so you should always be careful and alert! However, the outcome will be absolutely worth it!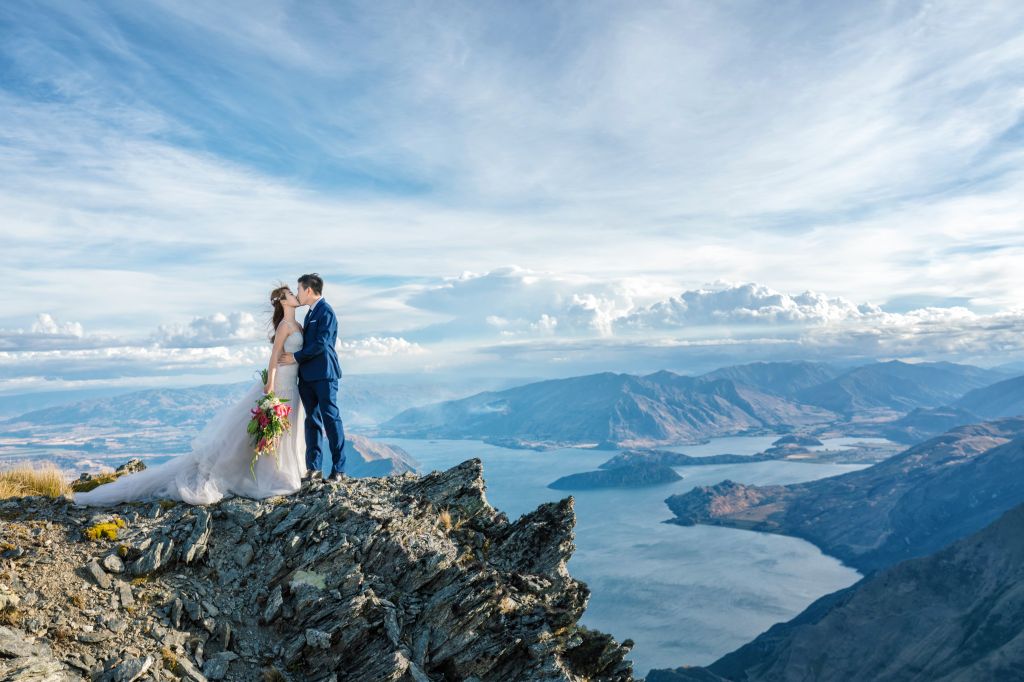 ---
We hope this guide will be helpful for couples who are planning to do their wedding photoshoots in New Zealand. For more information on our New Zealand wedding photography packages, be sure to check our website!
Still have doubts on why you should book us for your New Zealand wedding photoshoot? Have a look at 6 Reasons Why Our All-Inclusive New Zealand Wedding Photoshoots Win Hands Down!