Korea photoshoot studios are an extremely popular choice for pre-weddings as their studio sets are unrivalled. You will never be able to get so many gorgeous photoshoot backdrops all at one place!
Furthermore, the package includes makeup, several wedding gowns, a personal helper and everything else you could possibly need! Their all inclusive packages are definitely a bang for the buck!
Here are a few of our top recommended Korea studios and their affordable package prices.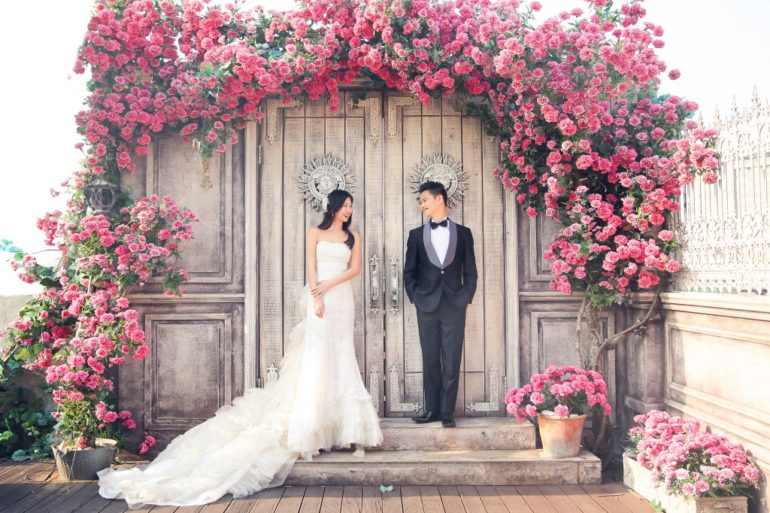 Recommended Korea Studios
An elegant studio that adopts a mix of minimalist and natural theme. The perfect studio for you if you are looking for something that is not over the top but still provides an extremely romantic atmosphere. Make up and gowns are all fully taken care of in their studio so that you can relax and enjoy your time there while having beautiful pictures taken of you!
"The shoot was smooth and we had so much fun. The photos and edits were awesome as well! Our friends and families were very impressed by the results!" – Cally, Australia
Package price: KRW 2,150,000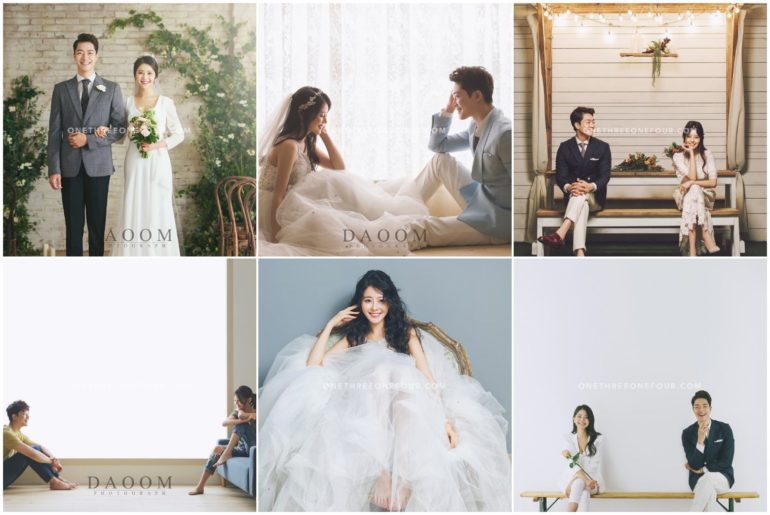 Gaeul Studio has many concepts to suit your needs. Their most popular set is the romantic floral theme and you can see those pseudo cherry blossoms blooming all year round! Just earlier this year, they introduced sets that are more elegant with a touch of vintage.
They are also the first ever studio to shoot underwater! How amazing is that?!
"Adrian and I loved the photos so much. We were very impressed with the team at the studio, not forgetting our dearest coordinator, Erin, who helped us with all the back and forth translation." -Megan, Canada
Package price: KRW 2,450,000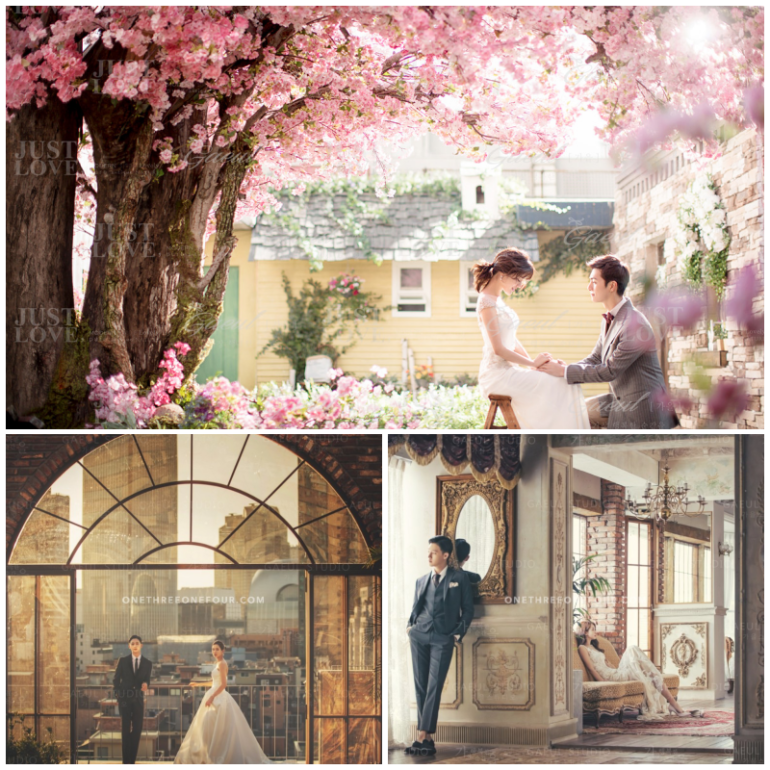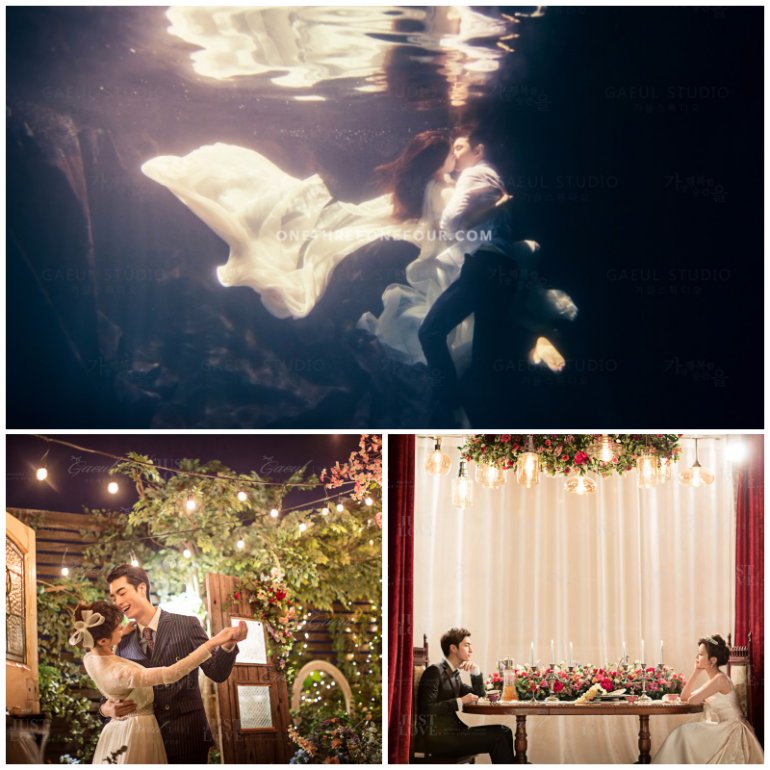 Bong studio is located just outside the city of Seoul, in the midst of beautiful forest surroundings. This makes them the perfect wedding studio for couples looking to have a mix of outdoor photos with studio shots.
"One of the best decision made! Me and my partner had such an enjoyable time and it was sad when we had to say our goodbyes. Certainly a 5 star service that you can only find here!" – Cheryl, Singapore
Package price: KRW 2,450,000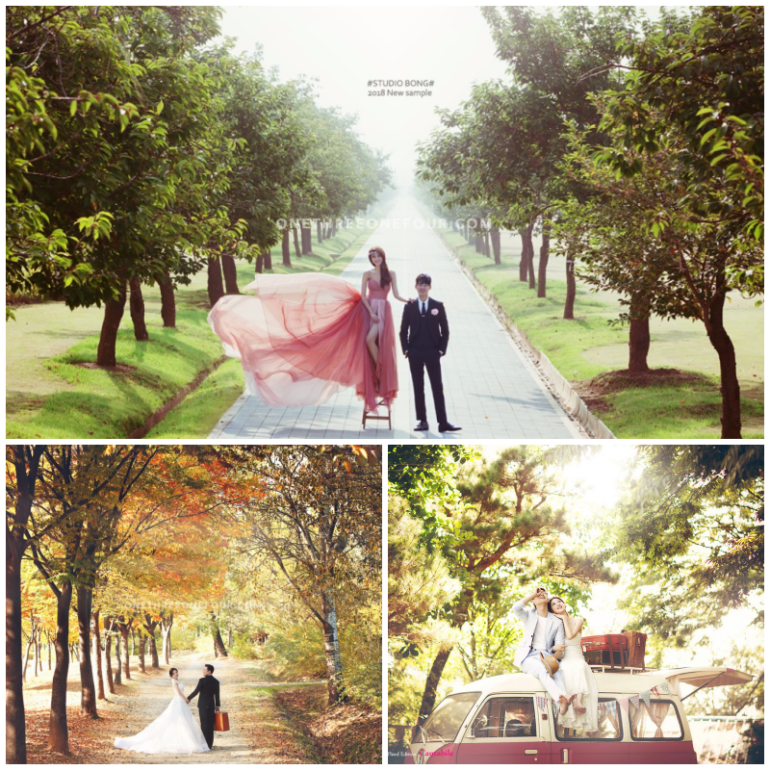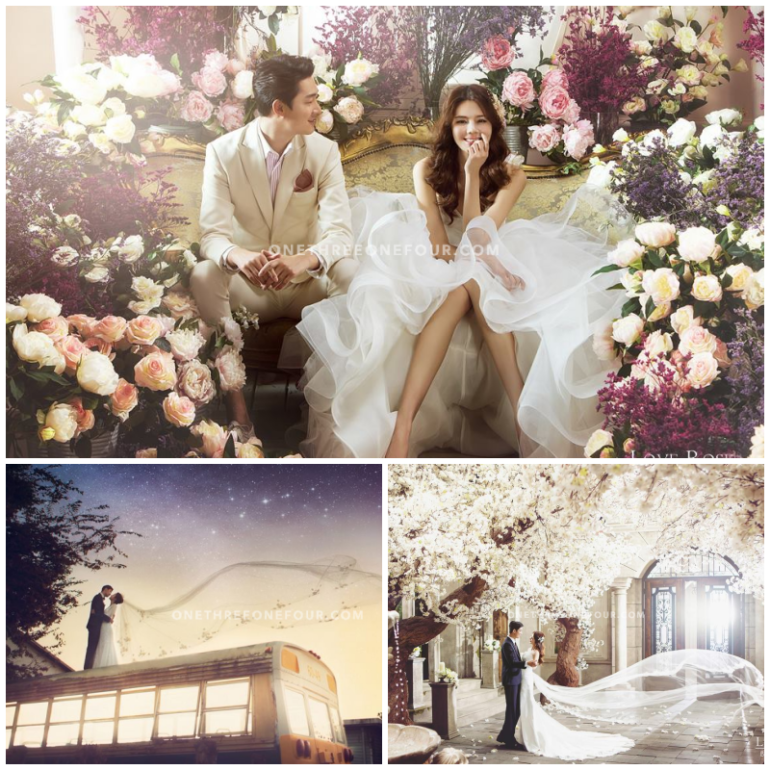 Yongma Land Studio brings you to an abandoned theme park that is vibrant in the day and cosy at night! Besides the outdoor shoot, it also has a variety of backdrops for you to choose from in their indoor studio. It is the perfect place for a grand photoshoot as their studio is decorated to resemble a castle that looks straight out of a fairytale!
"Yongma Land is a fascinating place to take shoots and it is so romantic!" – Rainbow, Hong Kong
Package Price: KRW 2,300,000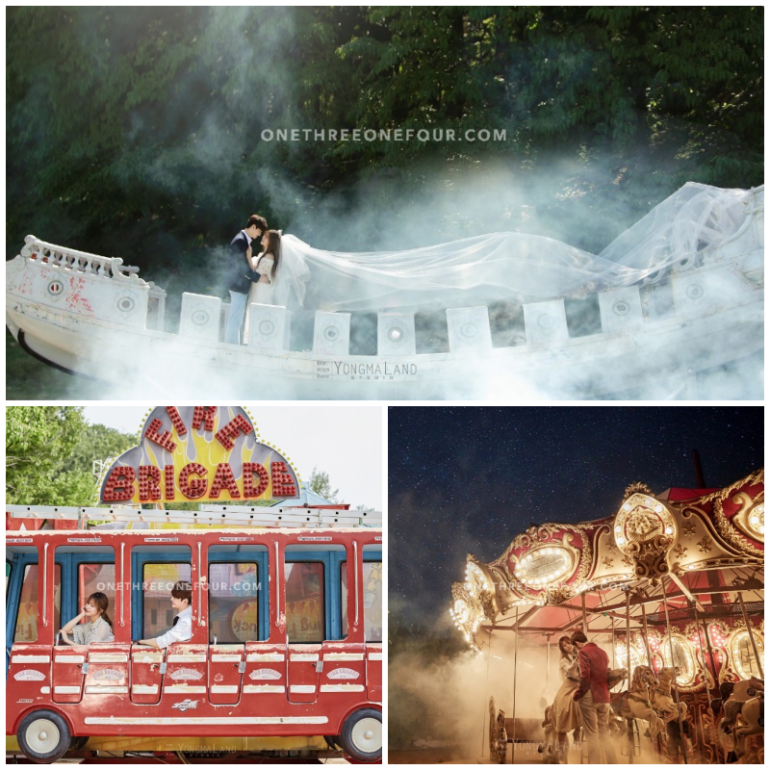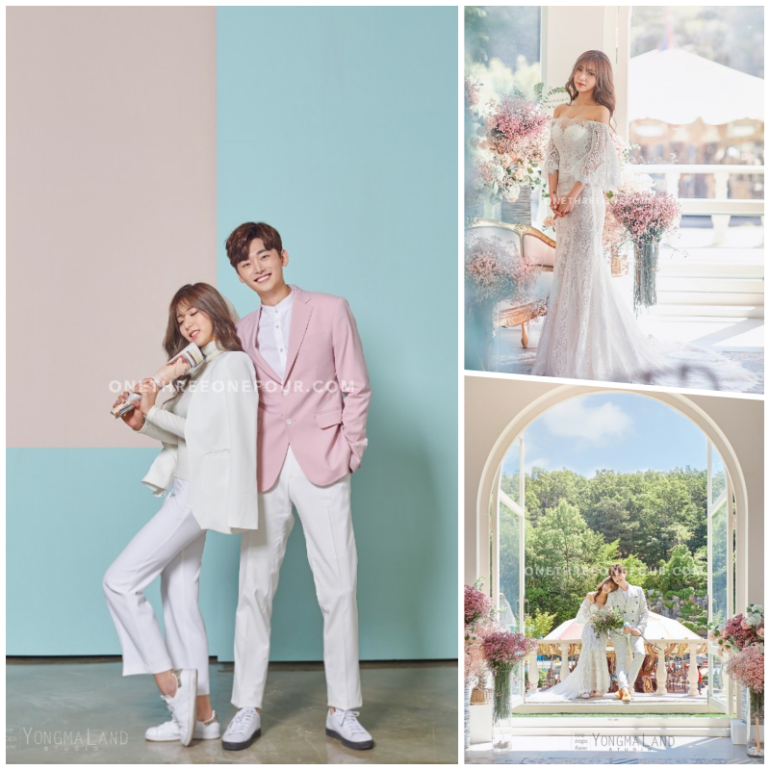 Nadri Studio is situated about 45min away from Seoul and being located at the countryside gives them the advantage of having a large studio. They also offer complimentary outdoor shoots along a rustic old railway track that is exclusive to them!
We chose Nadri Studio because of their beautiful outdoor photos and they didn't disappoint. Our photographer was very detailed and good at directing us. The photos are really pretty… I'm totally in love with them! – Qian Hui, Singapore
Package price: KRW 2,250,000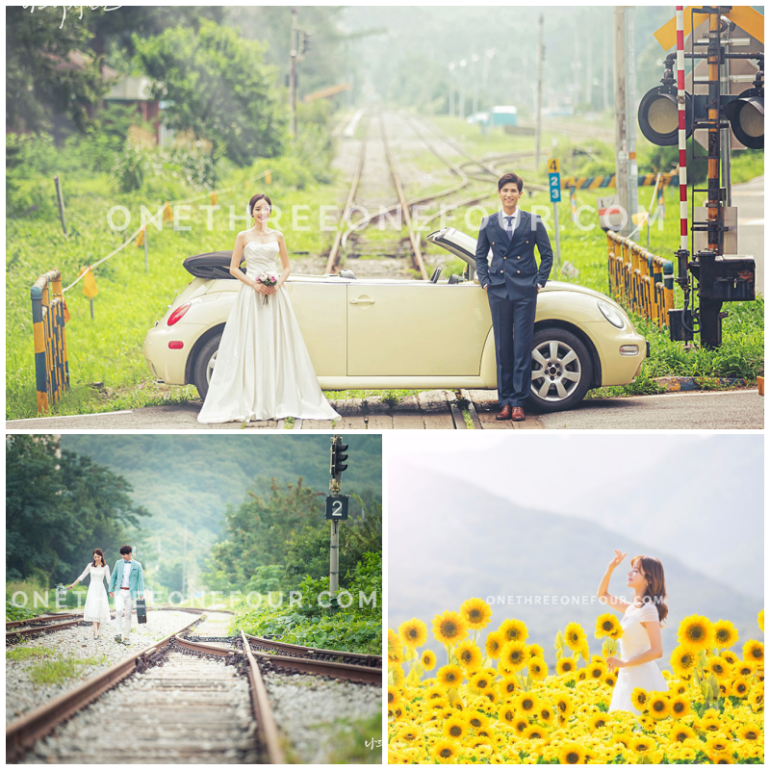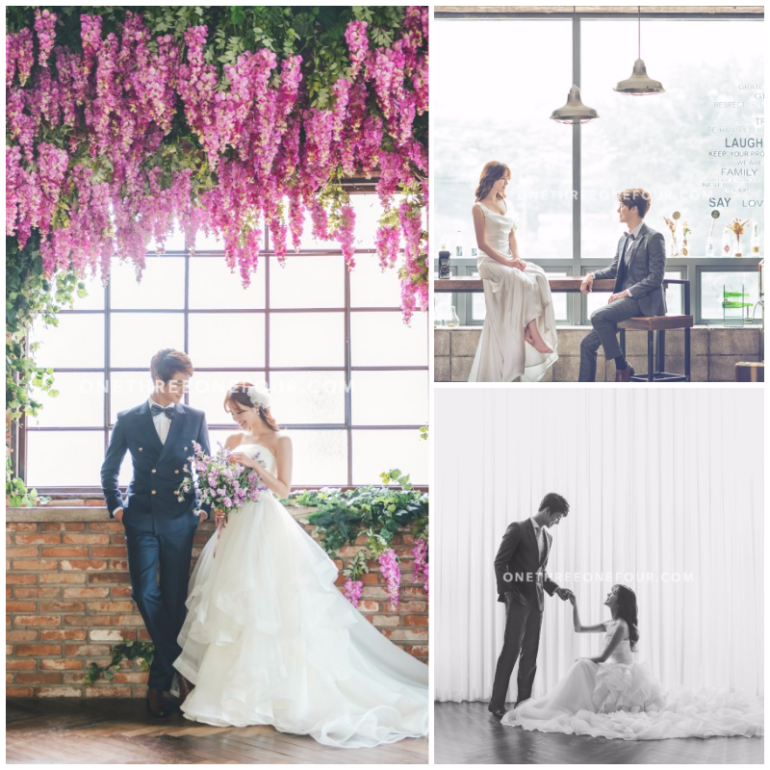 Pentagraphy is an up and coming Korea photoshoot studio that combines sleek minimalism with a tinge of bohemian beauty. You can expect a rustic vibe, which is uncommon compared to the typical Korean studios!
Package price: KRW 2,700,000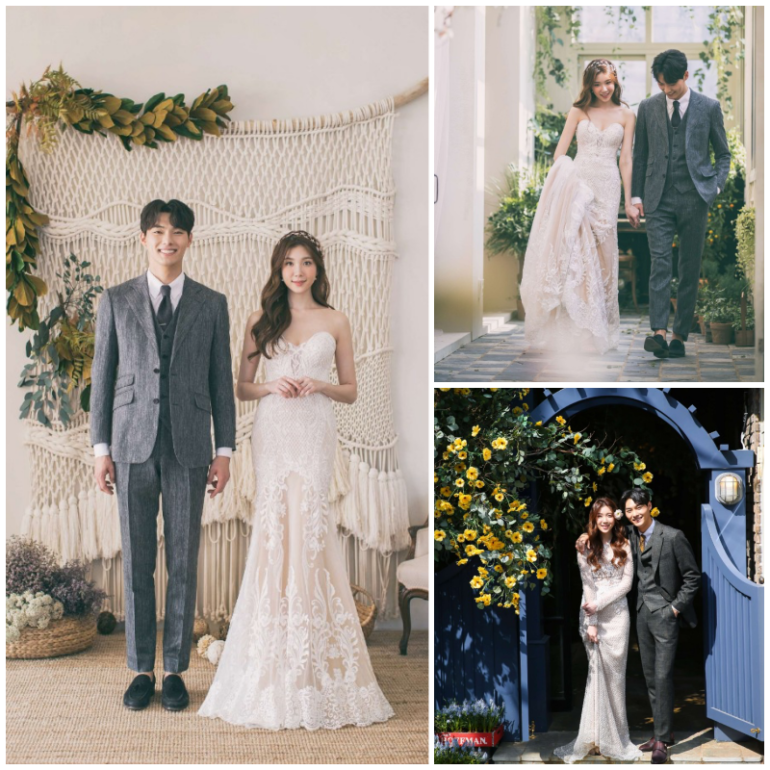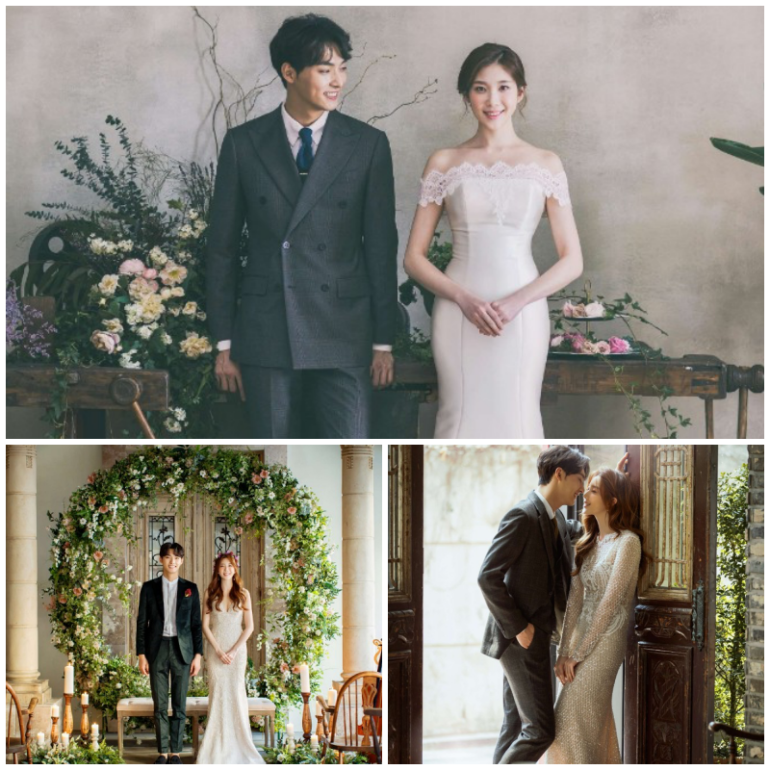 Book A Korea Studio Pre-Wedding Photoshoot Now
Are you heading to Korea for your pre-wedding photoshoot? We have a comprehensive list of Korea studios and you will surely find one suitable for you! Head to our website to find out more information about the different Korea Studio Photoshoot Packages now!