This comprehensive guide to top wedding venues in Singapore will help you pick out a wedding venue that will suit your personality and your wedding theme, making your big day extra special.
If there's anything that is as important as the bride and groom on the big day, it should be your wedding venue. The wedding venue sets the theme and the atmosphere for your wedding day, and hence selecting the right location to celebrate the joyous occasion is one of the big decisions that you and your lover have to make together.
Singapore Wedding Venues 2017/2018 Update: We know how hard it can be finding the perfect wedding venue, what more one that fits your budget and the size of your guest list. So we've helped you to compile a list of wedding venues in Singapore, complete with venue details and capacity and wedding and solemnisation price lists to help ease your wedding-planning pain. Browse and shop your wedding venue here!
1. Outdoor Wedding/Garden Wedding/In the Parks
While traditional wedding places for the big day have long been hotels or restaurants, increasingly, many couples are now going for alternative outdoor wedding venues in Singapore.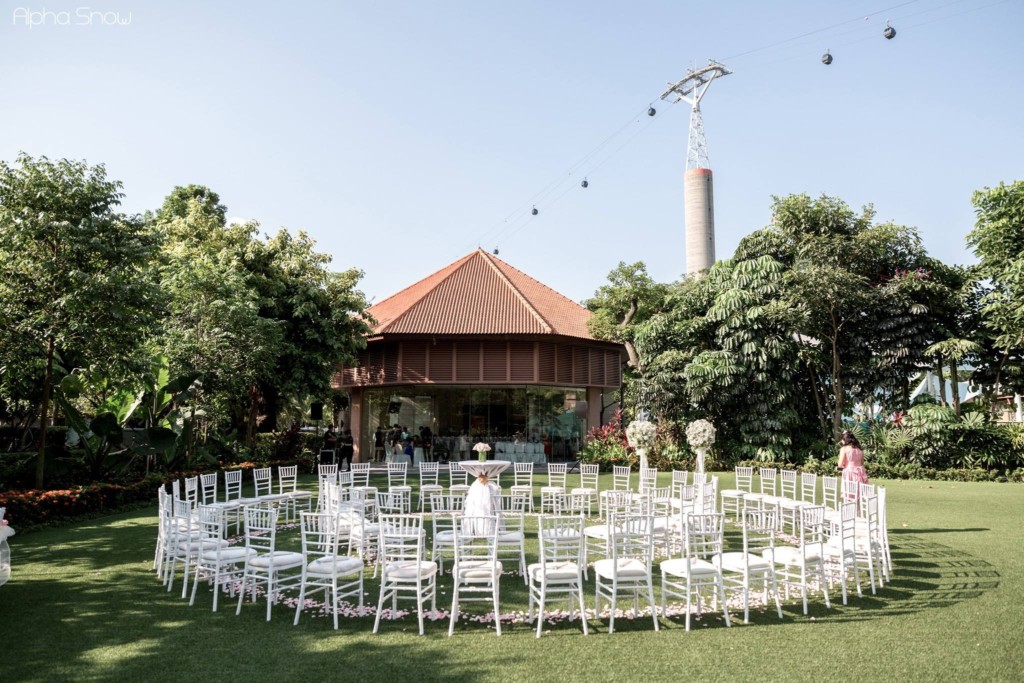 Photo by Alpha Snow Photography at Resorts World Sentosa Singapore
Be surrounded with lush green lawns and pretty blooms as you say 'I do'. Garden weddings have been ever-so-popular, with the laid-back and relax vibes they give, and not forgetting the gorgeous landscapes that our Garden City has to offer. With simple decor, props and plenty of natural light, we guarantee that you can have a picture-perfect wedding that will be memorable for your guests and you!
Top Garden Wedding Venues in Singapore
Hotel / Resorts:
Amara Sanctuary Resort Sentosa
Hotel Fort Canning
Resorts World Sentosa Singapore
Sofitel Singapore Sentosa Resort & Spa
Ramada Hotel at Zhongshan Park
Raffles Hotel Singapore

NParks:
HortLawn at Hort Park
OMSQ at Fort Canning Park
Raffles House at Fort Canning Park
Terrace Garden at Telok Blangah Hill Park
Reservoir Deck at Macritchie Reservoir
Reservoir Lawn at Bedok Reservoir
Restaurants/Cafes in the Parks:
Food for Thought at Singapore Botanic Gardens
The Cornerstone at Bishan Park
Boufe Boutique Cafe at Phoenix Park
Vava Bistro at Macritchie Reservoir
Spruce at Phoenix Park
Canopy Garden Dining at Bishan Park
Corner House at Singapore Botanic Gardens
Villa Halia at Singapore Botanic Gardens
Faber Peak at Mount Faber
Alkaff Mansion Ristorante at Telok Blangah Hill Park
Wild Oats at Punggol Park
Vineyard at Hort Park
Colonial Houses:
Burkill Hall at Singapore Botanic Gardens
Alkaff Mansion Ristorante
Nosh Restaurant
Corner House
Tamarind Hill
Masons
UNA at One Rochester
North Border Bar & Grill
Lewin Terrace
Others:
The White Rabbit
PS Cafe at Harding Road
House at Dempsey
Tin Hill Social
Rider's Cafe
Gardenasia
Open Farm Community
2. Cafe Wedding

Photo by Kai Photography at Brunches Cafe


Photo by Smittenpixels at Food For Thought @ Singapore Botanic Gardens
Many Singaporeans are fans of hunting down for the best cafes in town, but do you know that cafes can also be a perfect and intimate space for you to hold your wedding at? Celebrate your love amidst the indulgence of good food and chill atmosphere, and revel in the warmth, laughter and joy that your cosy wedding will bring along for you! Tying the knot in a cafe will also mean that you have got more time to interact with your guests while not having to spend a bomb, a win-win situation!
Top cafe wedding venues in Singapore:
21 on Rajah
Brunches Cafe
Cafe Melba
Cafe Gavroche
Carpenter and Cook
Coffeemin
Craftsmen Specialty Coffee
d'Good Cafe
To-gather Cafe
Elements & Co.
FIX
East Manhatten
Mr Punch Public House
Kombi Rocks
Hungry Heroes
The Reading Room
Whisk & Paddle
Shop Wonderland
Potato Head
East Manhattan @ Lorong Kilat
Eat Play Love Cafe
Five & Dime
Fresh Fruits Lab
Group Therapy Cafe
Nassim Hill Bakery
NOM Bistro & Bakery
Table Manners
The Coastal Settlement
The Refinery
3. Beach wedding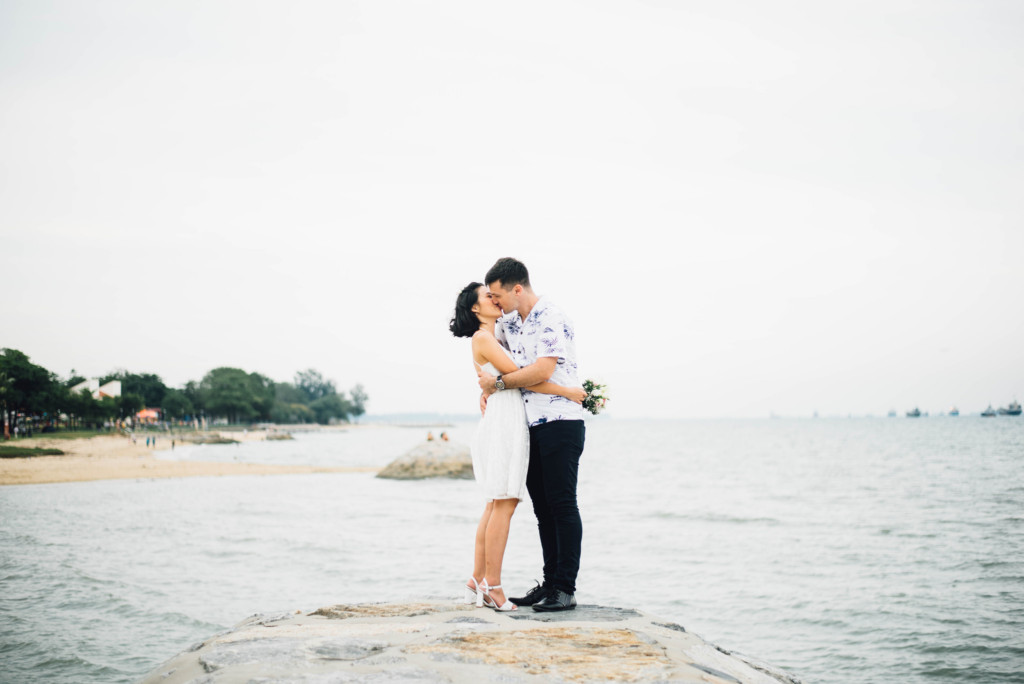 Photo by Chuttersnap at East Coast Park
No one can say no to the sun, sand and sea. Celebrate the joyous occasion with a panoramic view of the vast and endless deep blue sea! With the sound of the calm, tranquil waves washing up the sandy coast, these are definitely the most romantic and mystical wedding locations you can ever have for you and your partner to exchange your sweet wedding vows and commit to each other for a lifetime!
Top Beach Wedding Venues in Singapore:
Atmosphere Bistro at East Coast Park
Changi Beach Club
Coastes at Sentosa Siloso Beach
East Coast Park
Mambo Beach Club at Sentosa
Tanjong Beach Club at Sentosa
Siloso / Tanjong Sentosa Beaches
Wave House Sentosa

4. Wedding By The Sea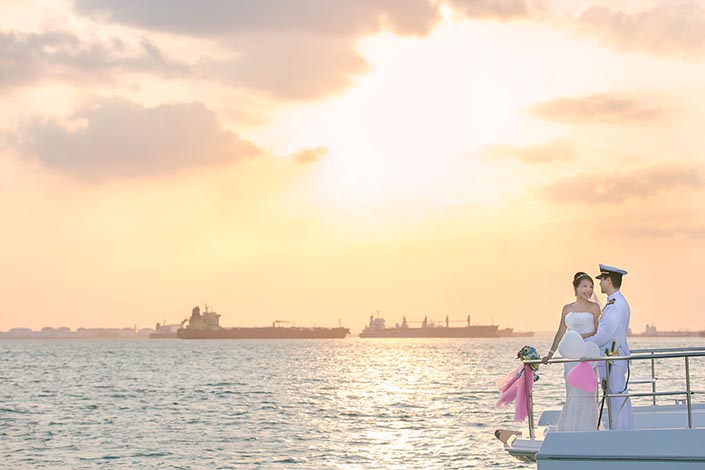 Full album: Awesome Memories Photography at ONE° 15 Marina Club
Fancy a view of the sea while you and your partner are tying a knot? These locations offer you stunning views of the sea complete with cooling winds that will make your gown flutter in the gentle breeze. Venues with a sea view have increasingly been popular places for couples to celebrate their nuptials and we totally know why!
Top Wedding-By-The-Sea Venues in Singapore:

Marina Barrage
Museo at Sentosa Cove
Peony Jade at Keppel Club
ONE°15 Marina Club
Illido At The Cliff
Raffles Marina Country Club
Sea Scent Restaurant
Shangi-La Rasa Sentosa Resort & Spa
Sofitel Singapore Sentosa Resort & Spa
5. Waterfront Wedding
Photo by The Clifford Pier
Imagine being surrounded by your loved ones and husband/wife as you catch the sunset along the waterfronts of these locations! This is definitely one of those venues that all couples should seriously consider- the breathtaking sceneries are enough to blow our minds away.
Top Waterfront Wedding Venues in Singapore:
Macritchie Reservoir Park
Labrador Nature Reserve
Bedok Reservoir Park (Floating Deck and Viewing Gallery)
The Clifford Pier
1919 Waterboat House
Forlino
Orto
Republic of Singapore Yacht Club
Sky Garden at IFly Singapore
My Art Space
Grand Copthorne Waterfront Hotel
6. Poolside Wedding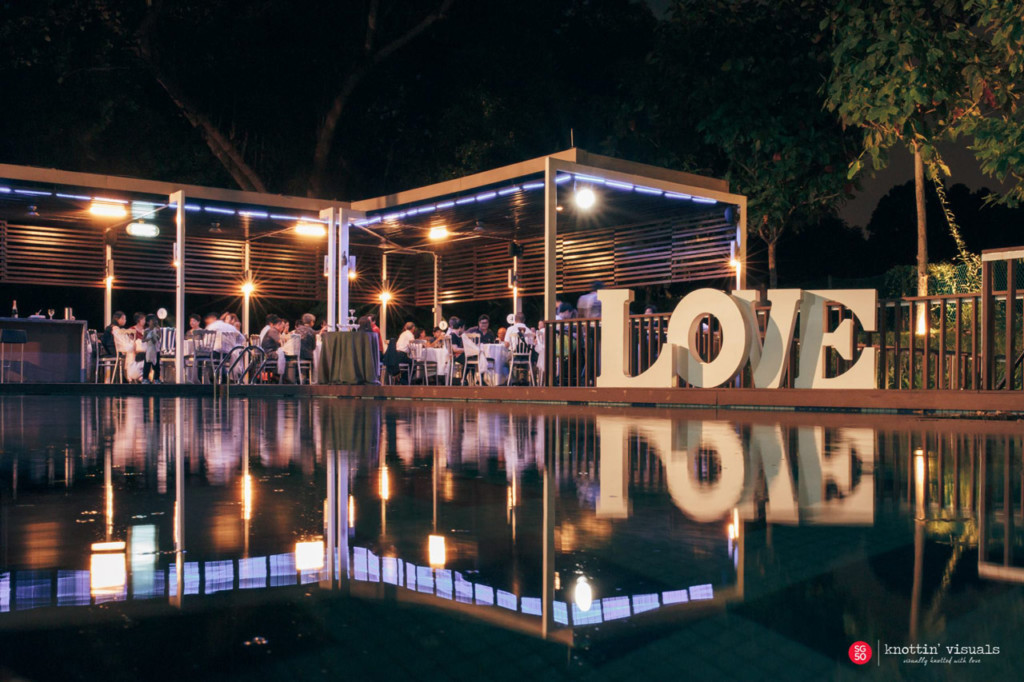 Photo by Knottin' Visuals at Village Hotel Changi
The sweltering heat in Singapore can make poolside weddings to be so tempting and attractive! This is definitely for the couples who love to have fun and try out something that has not been done a million times before. You can opt to have your wedding solemnisation and wedding banquet in these unique spaces.
Top Poolside Wedding Venues in Singapore:
Aranda Country Club
Capella Singapore
Carlton Hotel Singapore
HI SO Rooftop Pool Bar
Orchid Country Club
The British Club
Raffles Town Club
Novotel Singapore
Village Hotel Changi
Grand Mercure Roxy Hotel
Crowne Plaza Hotel
Swissotel Merchant Court
Goodwood Park Hotel
Park Hotel Clarke Quay
Naumi Hotel
7. Chinese Restaurant Wedding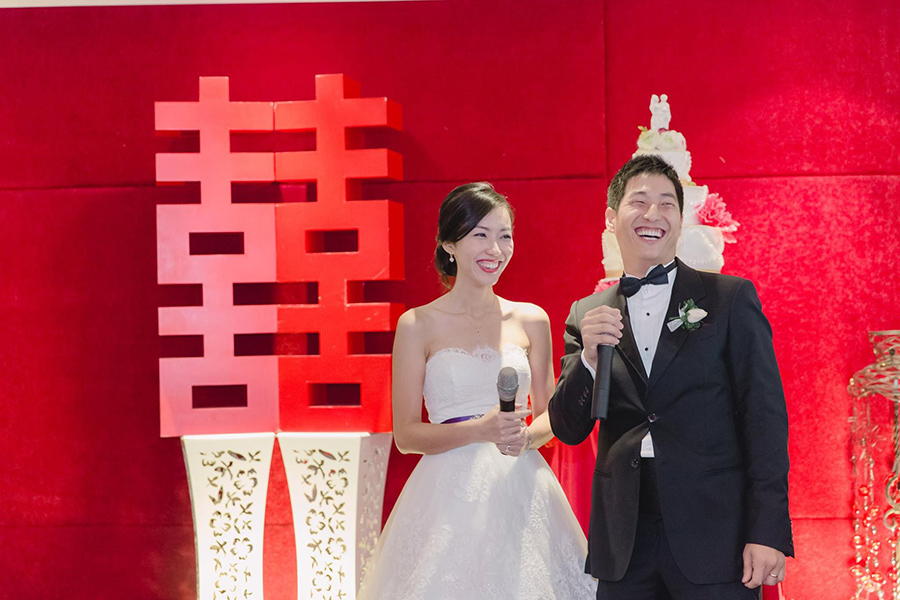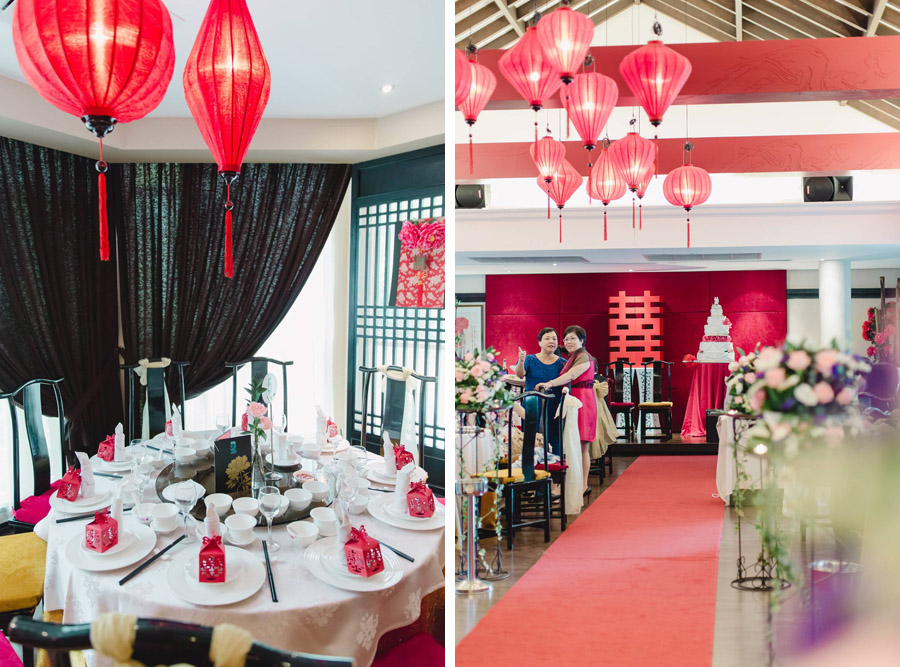 Photo by Confetti Peektures at Peony Jade at Keppel Club
Compared to hotel ballrooms, having a wedding in a Chinese restaurant is a lot more intimate and a lot less damaging to your wallet. You can also be guaranteed that you and your guests will be served with top notch, mouth-watering Chinese dishes. A wedding that will not only fill up your stomachs, but your hearts, impress your guests with an unforgettable wedding at one of these Chinese restaurants.
Top Chinese Restaurant Wedding Venues in Singapore:
Royal China
Grand Shanghai Restaurant
Min Jiang at One-North
Min Jiang at Goodwood Park Hotel
Wah Lok Cantonese Restaurant at Carlton Hotel
Yan Ting at The St Regis
Tong Le Private Dining
Peony Jade at Keppel Club
Royal Pavilion at Park Regis
Jade at The Fullerton hotel
Jing at One Fullerton
Ban Heng Restaurants
Blue Lotus Chinese Eating House
Fu Lin Men
Gim Tim Restaurant
Golden Peony
Hai Tien Lo at Pan Pacific Singapore
Hua Ting at Orchard Hotel
LingZhi Vegetarian Restaurant
Majestic Bay at Gardens by the Bay
Mouth Restaurant
Peach Blossoms at Marina Square
Peach Garden Restaurants
Qian Xi Restaurants
Ah Yat Abalone Forum Restaurant
Shin Yeh at Liang Court
Shisen Hanten at Mandarin Orchard
Si Chuan Dou Hua at UOB Plaza
Summer Palace at Regent Singapore
Tim Palace
Tung Lok Restaurants
Yunnan Garden Restaurant
8. Malay Wedding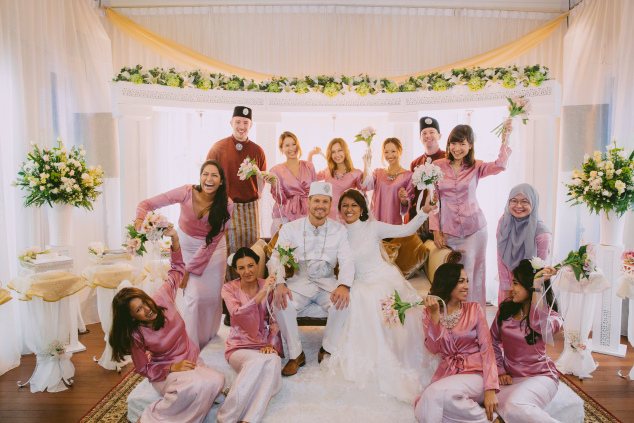 Photo by Pixioo Photography at Mamanda
For our Malay brides, be spoilt for choice as you browse these locations that serve up great Halal food. We guarantee that you'll have a grand celebration with your families and friends in these locations with delectable dishes and beautiful decorations! We are sure that with these wedding venues, your wedding will be a festive affair that will be utterly memorable and incredibly romantic!
Top Malay Wedding Venues in Singapore:
Gurame Indonesian Restaurant
Lagun Sari Wedding and Catering Services
Mamanda
Charisma D'Venue
Desa Kartika
Orto
d' Pelangi Weddings
Warung in the East
Spa Boutique
The Grassroots' Club
Arab Association of Singapore
Singapore Silat Federation
D'Resort
21 on Rajah
9. Church/Chapel Wedding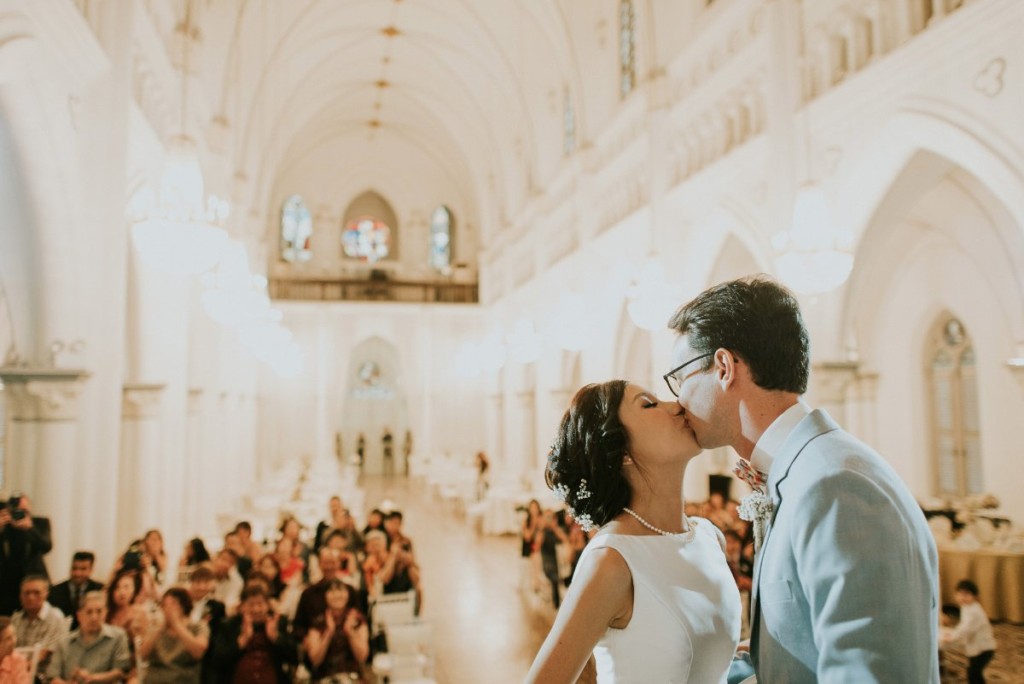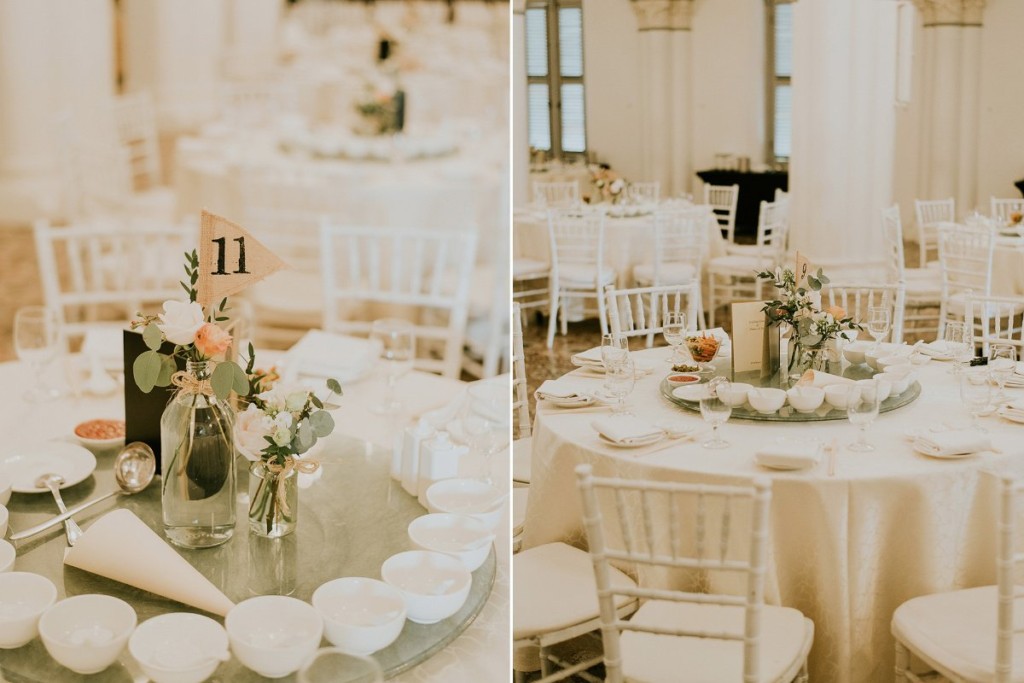 Photo by Andri Tei Photography at CHIJMES Hall
Church weddings have been increasingly appealing, especially with the awe-inspiring interior and exteriors of church. Having your holy matrimony in any of these locations will give you a sacred and enchanting experience as you declare your commitment to marriage for a lifetime.
Top Church/Chapel Wedding Venues in Singapore:
Armenian Apostolic Church of St. Gregory the Illuminator
CHIJMES Hall
Church of Our Lady of Perpetual Succour
Paya Lebar Methodist Church
St Andrew's Cathedral
Blessed Sacrament Church
Church of the Nativity of the Blessed Virgin Mary
Church of Saint Teresa
Our Lady of Lourdes
10. Wedding with a Panoramic/Skyline View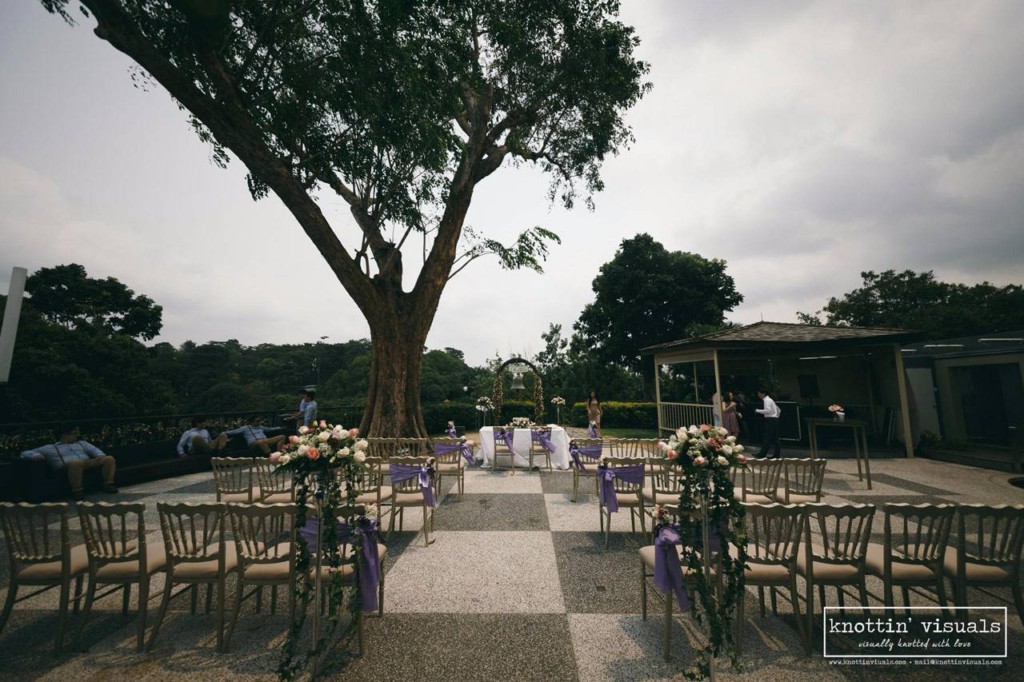 Photo by Knottin' Visuals at Faber Peak
You can make your wedding reception or solemnisation extra special by tying the knot with a view of Singapore's breathtaking city skyline. Perhaps having these panoramic locations as your wedding venue will help to add on to the glam factor of your wedding banquet, making sure that your wedding will reach new heights!
Top Panoramic Wedding Venues in Singapore:
Hilltop Garden Restaurant
Aura
Cook & Brew
The Star Gallery
1-Altitude
Peach Garden at OCBC Tower
Faber Peak
Sky Garden at IFly Singapore
11. Intimate Wedding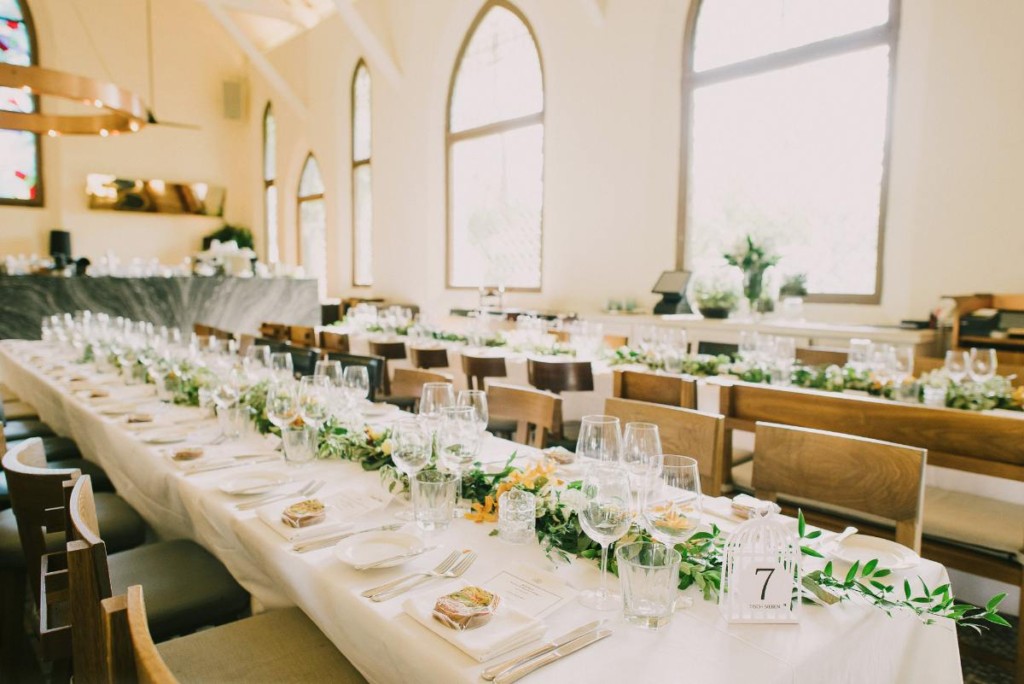 Photo by Andri Tei Photography at The White Rabbit
Intimate weddings have been a popular choice over the years, with most couples wanting to surround themselves with close friends, family, and people whom love them. Besides, it's less expensive so a fun-sized wedding may do the trick for couples who are on a tight budget.
Top Intimate Wedding Venues in Singapore:
The White Rabbit
Lewin Terrace
Forlino
Corner House
Masons Restaurant and Bar
Tamarind Hill
The Halia
UNA at One Rochester
Flutes at the National Museum
Empress at Asian Civilisations Museum
La Ventana
Vineyard at Hort Park
Da Paolo BistroBar
Nosh Restaurant
PS Cafe at Harding Road
The Dunearn Restaurant
Latteria Mozzarella
Salt Tapas & Bar
Tree Lizard Restaurant & Bar
Blue Ginger
Singapore Art Museum – The Courtyard
The British Club
12. Colonial House Wedding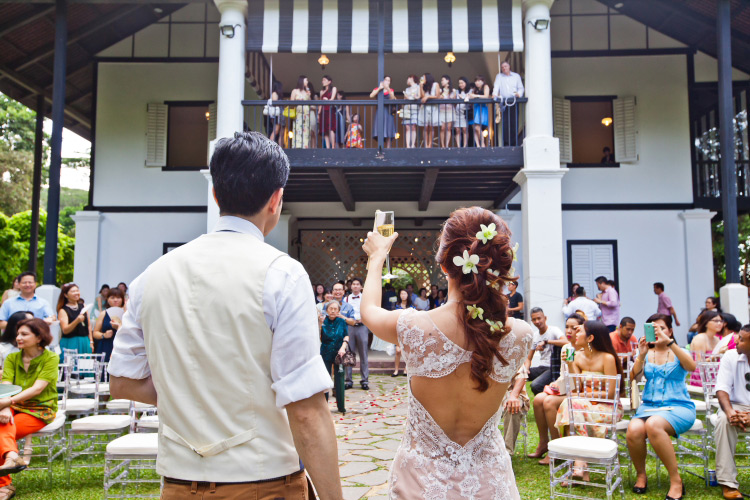 Photo by Chrisppics+ at Burkill Hall
There's always something so charming and nostalgic about these colonial buildings, with their elegant and intricate architecture on the interior and exterior. Having your wedding held in any of these locations will surely wow your guests and allow them to experience a wedding like they never had before.
Top Colonial House Wedding Venues in Singapore:
Emily Hill
Beaulieu House
Min Jiang at One-North
Indocafe
The Colonial at Scotts
Sculpture Square
Raffles House at Fort Canning Park
Halia at Raffles Hotel
Little Olde Gallery
Burkill Hall at Singapore Botanic Gardens
Alkaff Mansion Ristorante
Nosh Restaurant
Corner House
Tamarind Hill
Masons
UNA at One Rochester
North Border Bar & Grill
Lewin Terrace
Spa Boutique
13. Villa Wedding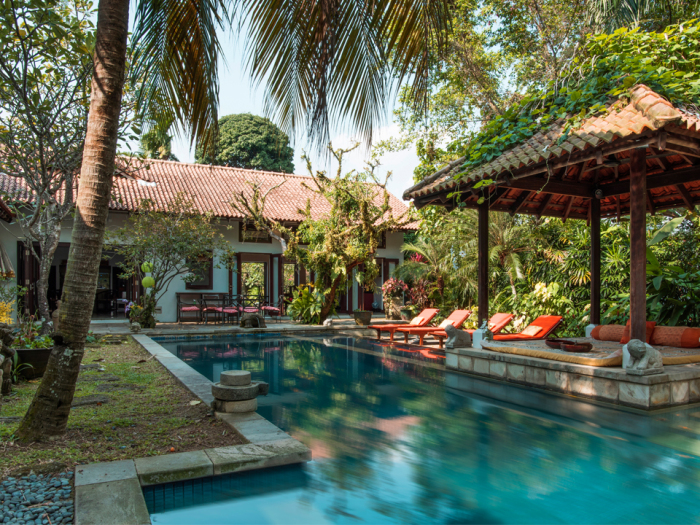 Photo by Venuerific
There's nothing that sounds more glam and posh than having your big celebration at a villa in Singapore, such as the Villa Paradiso at Botanic Gardens or the Villa du Jardin in Sentosa. Be pampered by these private and idyllic sanctuaries and be transported to a Balinese-like paradise on this joyous occasion.
Top Villa Wedding Venues in Singapore:
Villa Paradiso at Singapore Botanic Gardens
Villa du Jardin
14. Boutique Hotel Wedding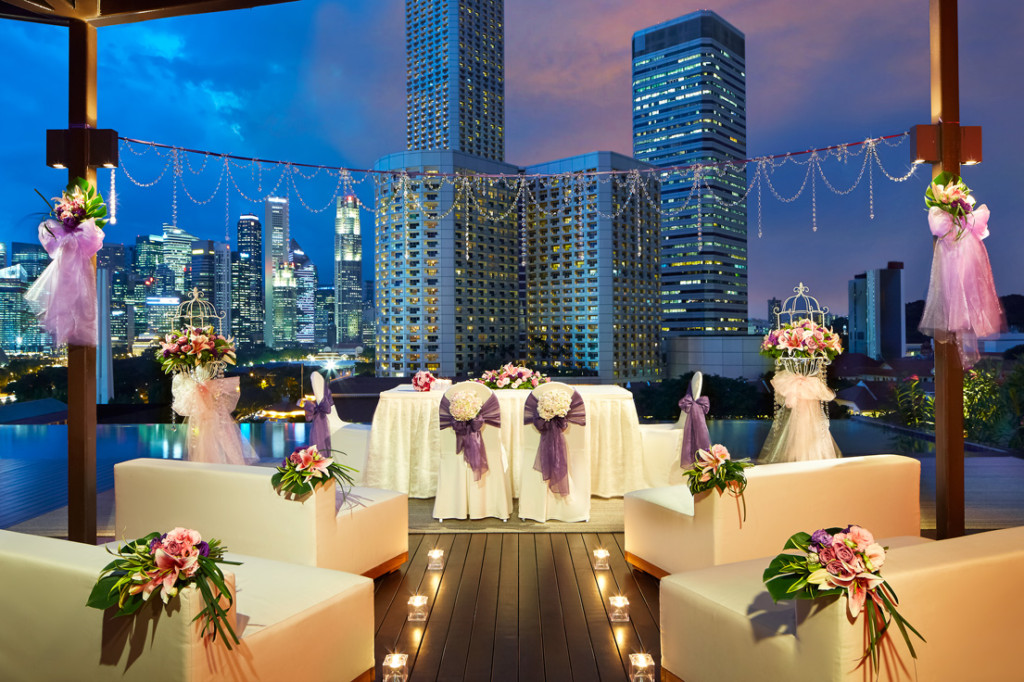 Photo by Naumi Hotel
Boutique hotels are a great venue for intimate and cozy weddings. Some of these hotels, like Naumi Hotel, have an infinity rooftop pool and exclusive bar, allowing you to have your wedding with a gorgeous backdrop whilst you have a luxurious and glamorous wedding reception.
Top Boutique Hotel Wedding Venues in Singapore:
Naumi Hotel
Hotel Re!
Klapsons
Wangz Hotel
New Majestic Hotel
Quicy Hotel
The Scarlet Singapore
Park Regis Hotel
15. Hotel Wedding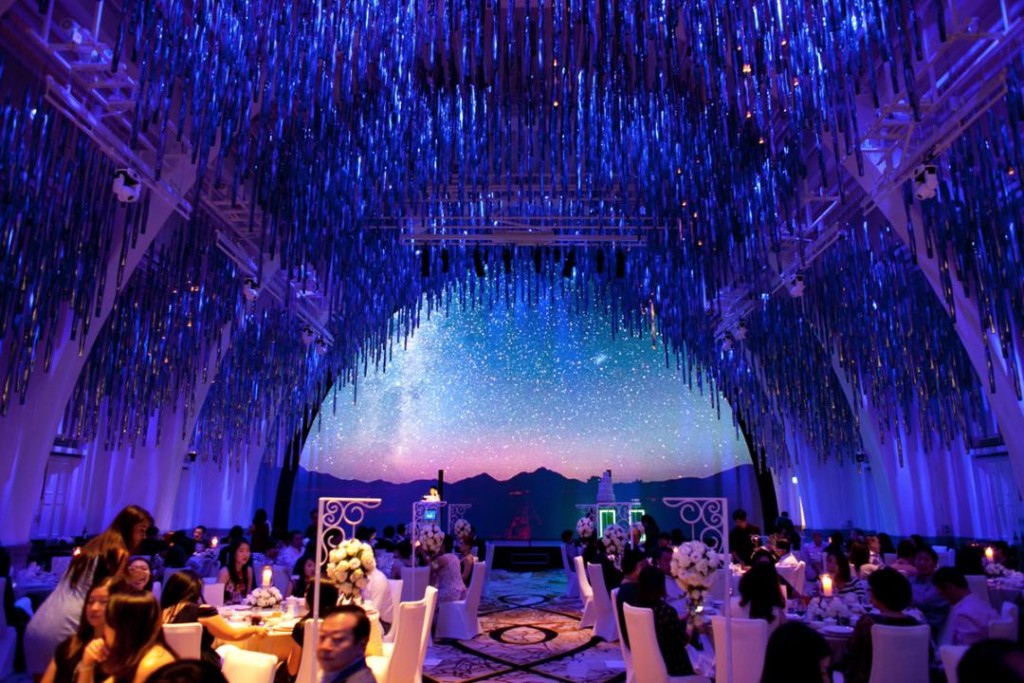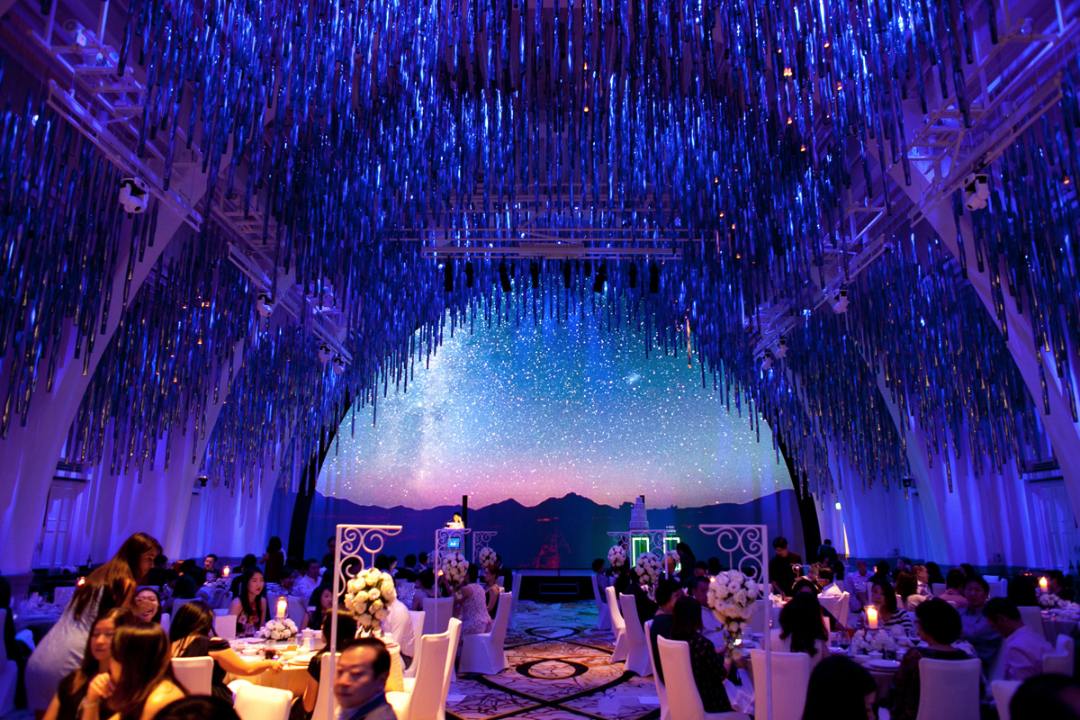 Photo by UnderTheStars Photography at The South Beach
Traditional wedding celebrations have always been held in the ballrooms of hotels and with the large number of hotels all around Singapore, it can be difficult to pick one that suits your style and your needs. We have chosen a few of Singapore's most beautiful and gorgeous hotel ballrooms that will give you a captivating and stunning grand affair.
Top Hotel Wedding Venues in Singapore:
Shangri-La Hotel Singapore
Intercontinental Singapore
Rendezvous Hotel
W Singapore
The Ritz Carlton
The St Regis Singapore
Pan Pacific Hotel
Grand Hyatt Singapore
Grand Park City Hall
Hotel Fort Canning
Swissotel The Stamford
Fairmont Singapore
Crowne Plaza Changi Airport
Capella Singapore
The South Beach
Amara Sanctuary Resort Sentosa (Huge, square, pillarless and 6m high ceiling. Thanks Anna for the tip!)
16. Wedding in a Museum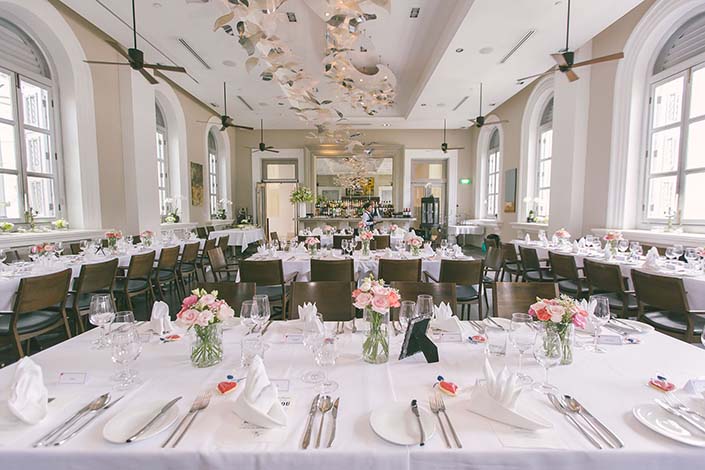 Photo by Awesome Memories Photography at Flutes at National Museum
Having a wedding reception in any of Singapore's museums will give your celebration a special touch and make it utterly memorable and unforgettable, especially for those who are fans of the arts and culture! Some of Singapore's most beautiful museums also feature gorgeous colonial architecture, and you'll definitely have a picture-perfect wedding in these locations!
Top Museum Wedding Venues in Singapore:
Mint Museum of Toys
Singapore Art Museum
Flutes at National Museum of Singapore
National Museum of Singapore
Asian Civilisation Museum
17. Unique, Fun, Quirky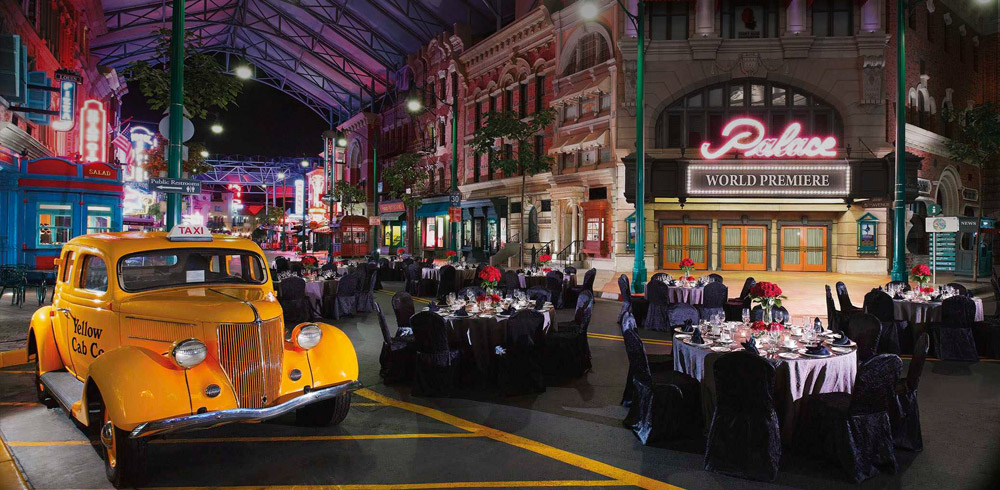 Photo by Resorts World Singapore
If you love something that is fun, quirky, and not your usual cookie-cutter wedding venues, then here's a list of locations that you will fall in love with. Imagine getting hitched while being surrounded by wildlife in the Singapore Zoological Gardens or in Jurong Bird Park! We cannot imagine how fun it will be to have a wedding reception in these unique locations!
Top Unique Wedding Venues in Singapore:
The Music Salon
Jurong Bird Park
Singapore Zoo
Resorts World Singapore
---
With this comprehensive list on where you can hold your wedding celebrations in Singapore, we hope that you will be able to find the right venue that will not only look picture-perfect, but one that you and your loved ones will remember even in years to come.
Let's grow this list together! Feel free to let us know which picture-perfect venues we have missed out. Say hi at [email protected].
To find out the pricelist of each venue, head over to Singapore Wedding Banquet Pricelist 2017.