Spring is coming in two months and that calls for celebration for all Sakura fans! It is the time of the year when cherry blossom trees come to full bloom, transforming Japan into a breathtaking pink and white. Regrettably, this amazing phenomenon only lasts a couple of weeks and thousands of visitors flood to Japan each year to bask in its pinkish goodness.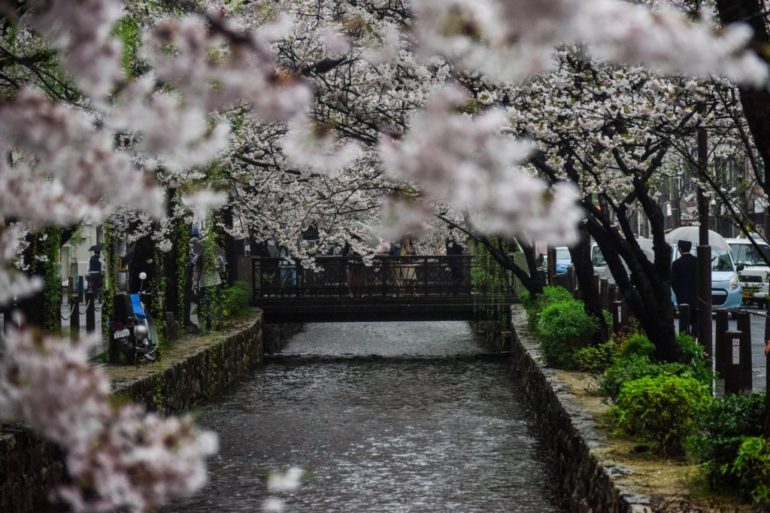 It is truly a sight to behold and we wouldn't want you to miss it! So read on for guide to the most popular viewing spots all over Japan! For those planning a cherry blossom photoshoot in Japan, you're in luck! We will also be sharing some locations away from the usual tourist crowds so that you wouldn't have to wait in line to take pictures with the beautiful flowers.
Tokyo
Starts blooming: 21 March 2018
Best viewing period: 29 March – 4 April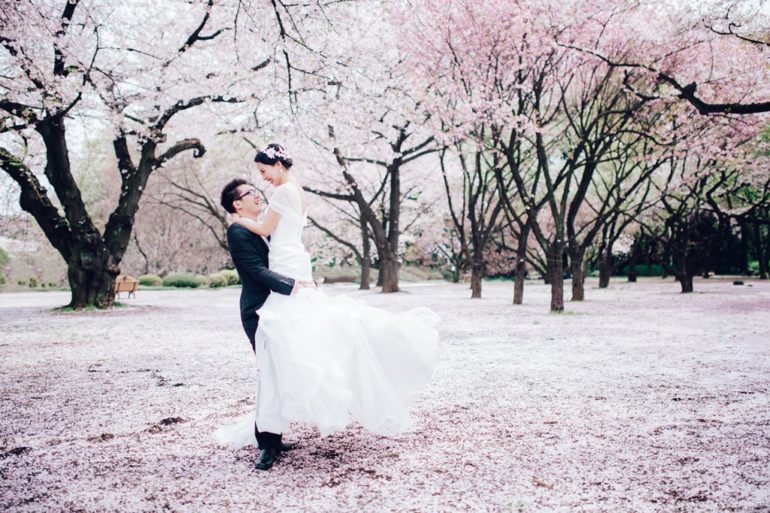 Crowded areas:
Shinjuku Gyoen: Possibly one of the most popular cherry blossom viewing spots in Tokyo with spacious lawns that will be flooded with locals and tourists alike. Do visit if you would like to soak in the local hanami culture.
Ueno Park: A long time traditional favourite for viewing cherry blossoms, many hanami parties are held over here. Be prepared for a huge crowd as this park bustles with tourists throughout the Spring period!
Uncrowded areas:
Sarue Onshi Park: This is the ideal place for a quiet and peaceful afternoon with the cherry blossoms as it is unknown to most tourists. The park is mostly visited by tourists staying around the area, giving you plenty of time and space to take the perfect picture! There is also an iconic clock tower at the centre which makes for a good picture spot!
Showa Kinen Park: Our most recommended viewing spot in Tokyo! Although it is a little further out from central Tokyo, this park is definitely worth a visit. The park spans across 163 hectares, with many hotspots for viewing the cherry blossoms. This may be the perfect location for a photoshoot!
Hiroshima
Starts blooming: 27 March 2018 
Best viewing period: 4 – 11 April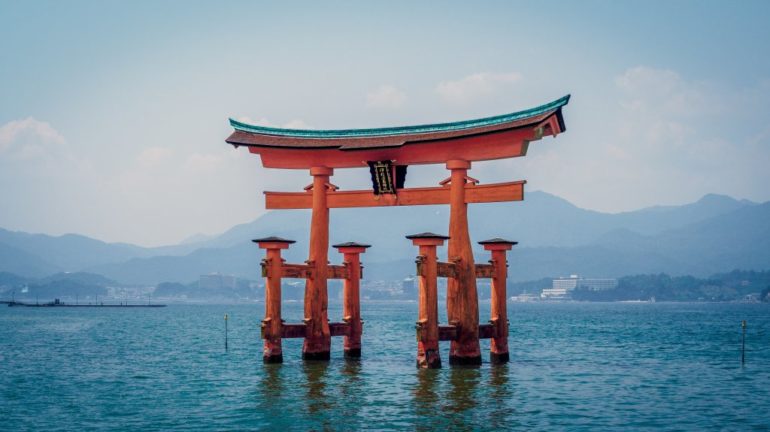 Crowded areas:
Miyajima: Boats that arrive at Miyajima are always crowded with tourists trying to catch a glimpse of the "floating" Torii gate. The Tahota Pagoda surrounded by Sakura is located in its premises and is an ideal photo spot!
Hiroshima Castle: A reconstructed castle with close to 500 cherry trees in its grounds. This is a popular place for tourists and local hanami parties!
Uncrowded areas:
Shukkei-en Garden: The garden is usually not crowded during weekdays and there is a beautiful stone bridge which is ideal for taking photos. The garden also opens till late for night viewing of the brightly lit cherry blossom trees that give off a completely different elegance.
Kyoto
Starts blooming: 31 March 2018 
Best viewing period: 5 – 11 April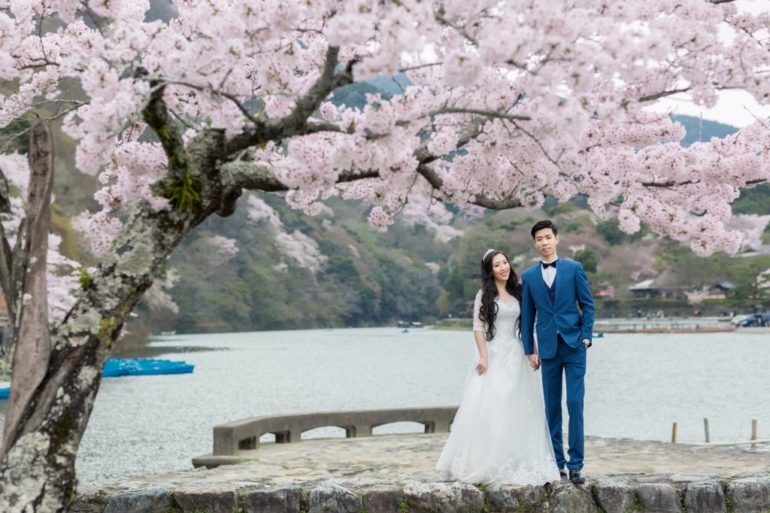 Crowded areas:
Maruyama Park: This is Kyoto's most popular and most crowded cherry blossom viewing and hanami party spot! The iconic weeping cherry tree which is 88 years old is located here, which draws in huge crowds to catch a sight of the symbol of cherry blossom in Kyoto.
Heian Shrine: If you missed the weeping tree at Maruyama, fret not as large numbers of weeping trees bloom in the garden of the Heian Shrine. This is also a great spot for viewing if you are late for the blooming period as cherry blossoms here bloom a few days later than most.
Gion Shirakawa: A unique cherry blossom experience in Kyoto as this area blends the traditional Japanese architecture into the wonderful pink cherry blooms. There is also lots to do around the area as it is surrounded by restaurants, food and Geisha!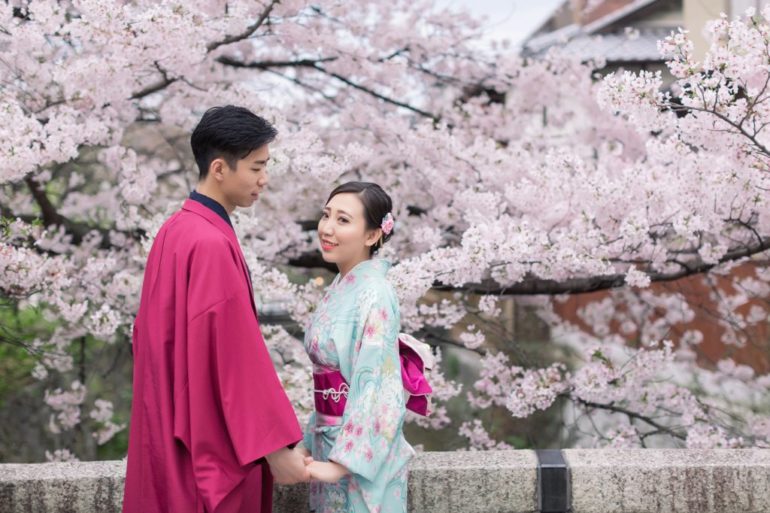 Uncrowded areas:
Takinogawa River: The pedestrian path between Oji to Naka Itabashi train station is lined with beautiful cherry blossom trees. This is a good quiet place for your photos along the river with the cherry blossoms in the background.
Arashiyama: This is our pick for the best photo spot in Kyoto! Located on the outskirts of Kyoto, Arashiyama draws in a lesser crowd but it is one of the most picturesque places for cherry blossom viewing. This area is surrounded by lakes, bamboo forests and vast mountains speckled with cherry blossom trees!
Osaka
Starts blooming: 1 April 2018
Best viewing period: 5 – 11 April
Crowded areas:
Kema Sakuranomiya Park: Nearly 5000 cherry blossom trees line the Osaka River at this riverside park. It is one of the most popular tourist destinations in Osaka in Spring and locals are often spotted having picnics on the lawns.
Osaka Mint: A short 560m one-way street that is flooded with tourists as the walkway only opens once a year during the cherry blossoms season. It is practically impossible to take a photo without being photobombed by 10 other tourists! However, this place houses some of the most unique cherry blossom trees and you can pop by the Mint Museum for a more eventful day!
Uncrowded areas:
Expo 70 Commemorative Park: An expansive area that spreads across 260 hectares, this park consists of many sites that are not limited to Sakura! There is a traditional Japanese garden and an open-air craft market during the cherry blossom season. You can easily spend half a day here!
Tsurumi Ryokuchi Park: Another park with a huge area, Tsurumi Ryokuchi was the site for a flower exhibition in 1990! There are hundreds of cherry blossom trees consisting of many different varieties! There is also an iconic windmill in the park surrounded by a sea of beautiful flowers.
Nara
Starts blooming: 3 April 2018
Best viewing period: 6 – 12 April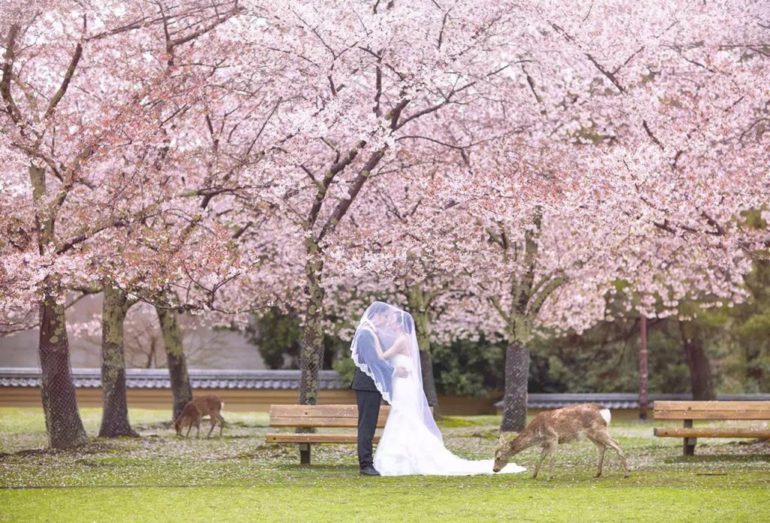 Crowded areas:
Nara Park: Famous for thousands of wandering deer, Nara Park is home to more than 1700 cherry blossom trees. It is a great place for a photoshoot in the company of the deer. Despite the crowd, the expansive park does offer areas that may be relatively quieter.
Uncrowded areas:
Mt Yoshino: Surely one of the best sites for cherry blossom viewing in Japan with close to 30,000 trees all around! There are many hanami viewing spots along the way as you ascend the mountain. The view atop the mountains is second to none and the cherry blossom season lasts longer than most places because of its altitude.
Yoshimizu-jinja Shrine: Just around the area of Mt Yoshino, the shrine has an observatory deck that offers an unobstructed view of mountains that are covered with cherry trees!
Hokkaido
Starts blooming: 27 April 2018 
Best viewing period 29 April – 4 May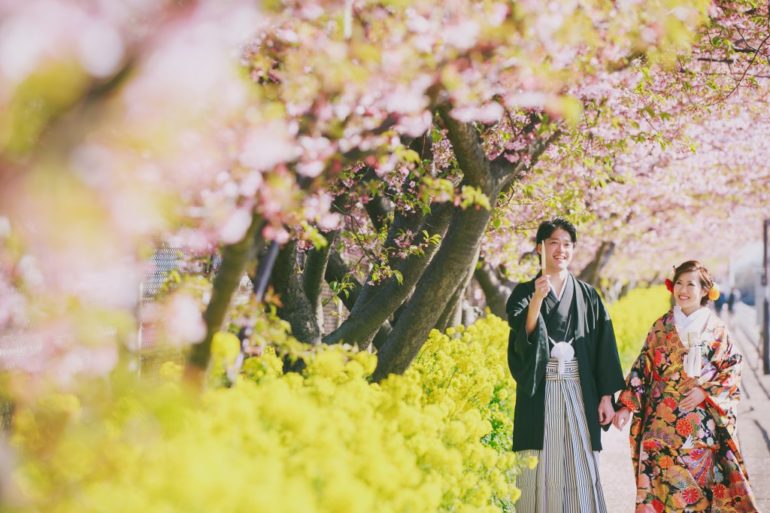 Crowded areas:
Matsume Park: Deemed one of Japan's top 100 cherry blossom viewing spot, there are over 10,000 cherry trees with more than 250 varieties. The park is also lively with music and performances during the cherry blossom festival!
Uncrowded areas:
Nijukken Road: This is a 7km long road lined with 3000 cherry trees at the sides. Most visitors simply enjoy the view from their cars as they drive along the road, making it a good place for a photoshoot as you are likely to have many cherry trees all to yourself!
Moerenuma Park: This park took 7 years to design and build and has a unique interior to it. There is a section specially dedicated to cherry trees called the Sakura Forest that consists of almost 3000 cherry trees, one of highest numbers in Hokkaido!
Bonus place: Fukui
Best viewing period: Early April
Unknown to most tourists, Fukui is 2 hours from Nagoya or Kyoto. Although it is a little out of the way, the cherry blossoms that line the Asuwagawa river is spectacular! This is an ideal spot for a photoshoot as the 600 cherry blossoms along the river blooms overhead and creates a dreamy pink tunnel. When night falls, the trees are illuminated, creating a mysterious pinkish white glow that is nothing but magical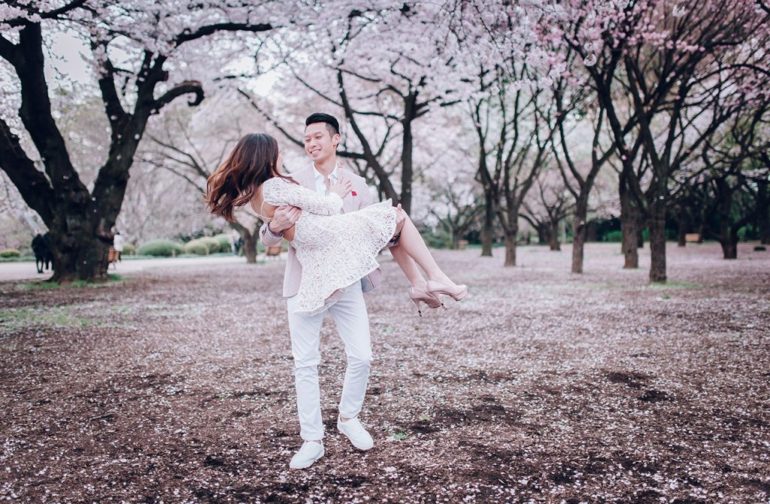 We hope that we have helped you decide on the best viewing spots to suit your needs. If there are any other locations that you wish to inquire, leave a comment! Looking for a kimono photoshoot during the cherry blossom season? We will be sharing a guide on kimono renting, like us on Facebook to stay updated!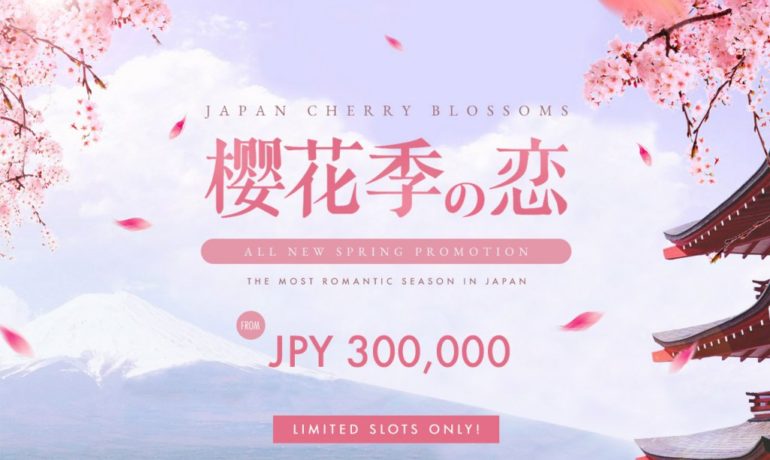 We have an exclusive photoshoot package just for the Sakura season with experienced photographers taking the best cherry blossom pictures! Learn more about this limited time promotion!