This summer in Hokkaido, we had the privilege of shooting with Alicia Tan (@aliciatal) and Joseph Germani (@josephgermani), who are better known as the Sneaker Couple.
Find out more about what Alicia has to say about the advantages and struggles of their high profile relationship.
Read all the way to get some juicy updates on their marriage plans!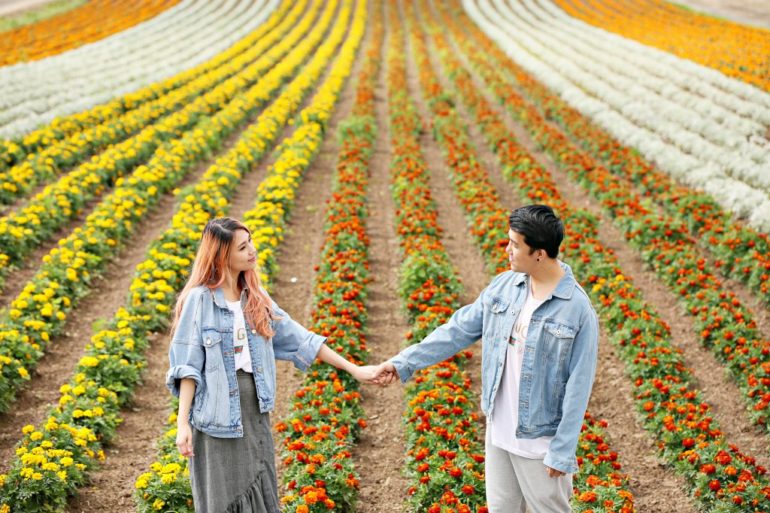 How Did They Meet?
"We first met through YouTube! Joseph was already a YouTuber and he was engaged to produce a music video for our local artiste, Vince Chong. I was casted to be the main girl in the music video as well and that's how we got to know each other. However, we were just friends at that time and only got together a year later."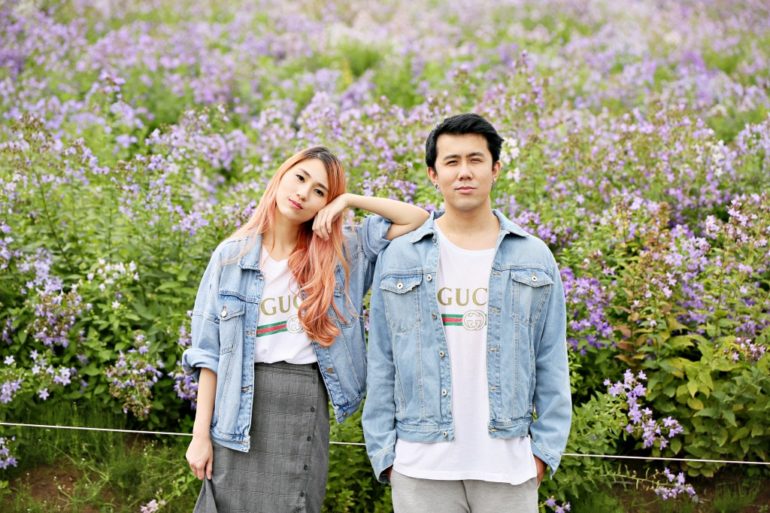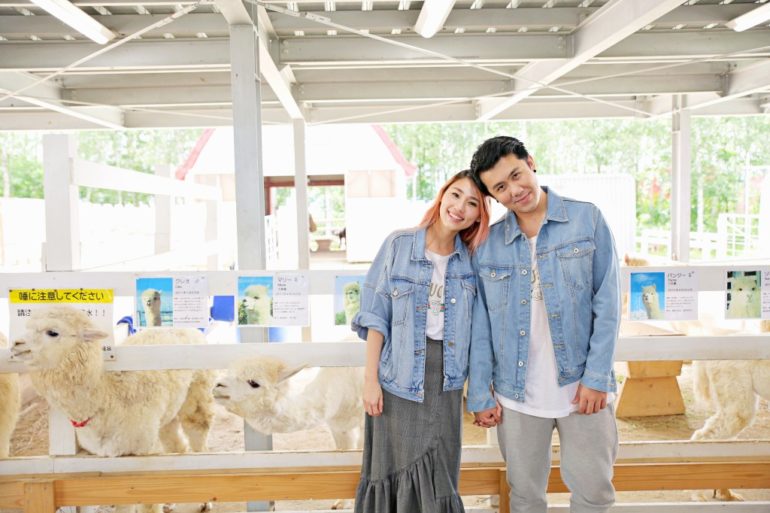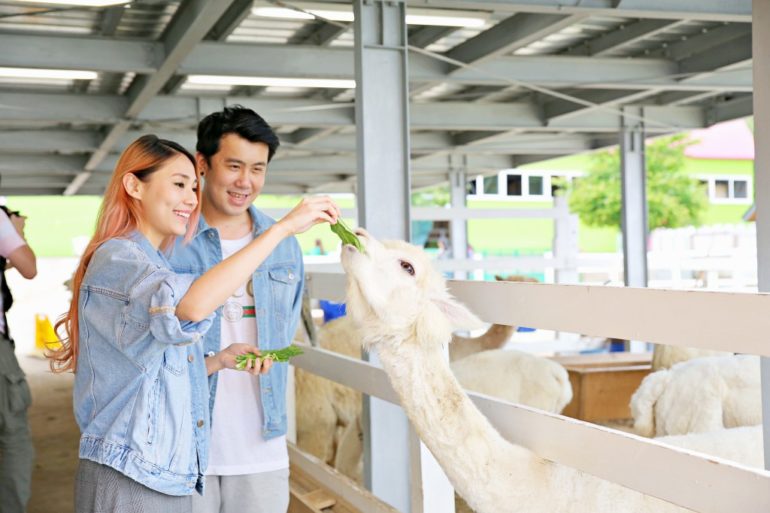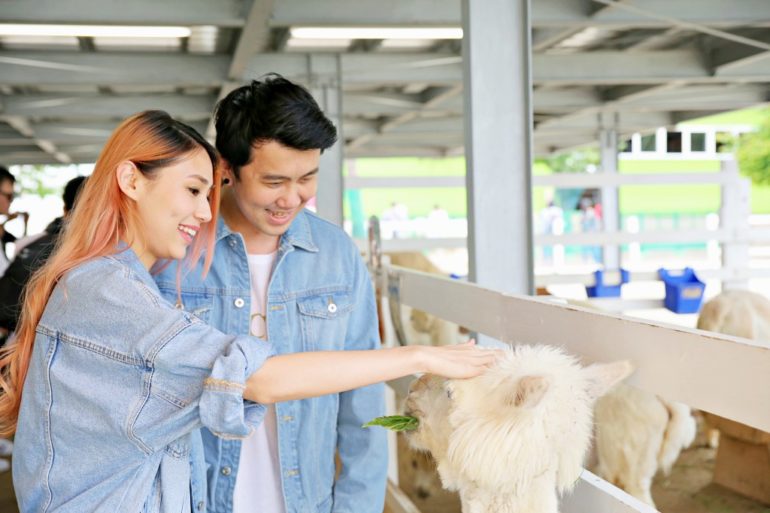 Credit: OneThreeOneFour (Kouta)
Getting Publicly Flamed For Their Relationship
"So many people have their own opinions on who we should be with instead"
"When we first got together and announced the news to the public, it created quite a big hoo-hah. So many people had their own opinions on who we should be with instead, how we aren't compatible or how we wouldn't last. It was really dramatic on the internet and I'm not even exaggerating. We were just so surprised how people reacted but hey, look at us now, going strong on our 4th year as a couple."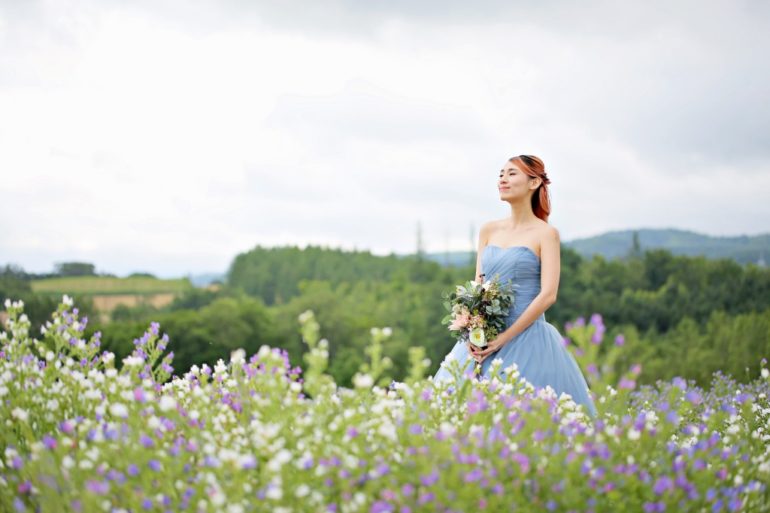 What Do You Love About Joseph?
He is very caring, loving, and he is a family guy. He loves my family as much as he loves his. He really takes effort to love me, and of course, he is charismatic and funny too.
Awwwwwwww~ Who doesn't love a family guy?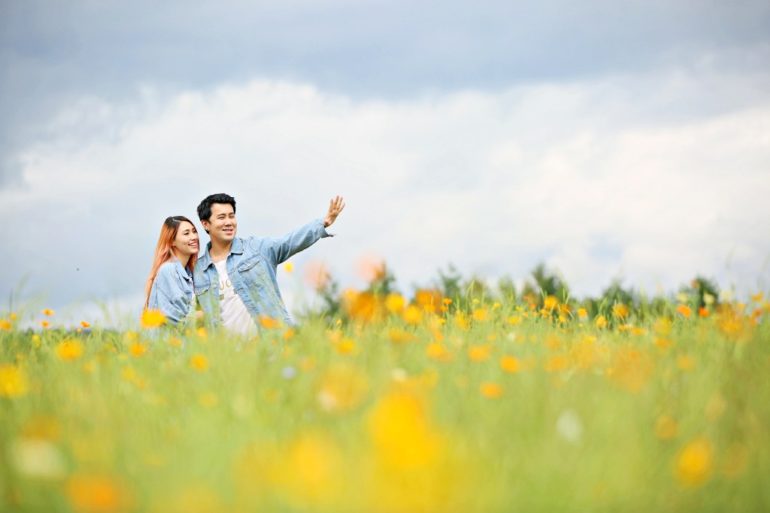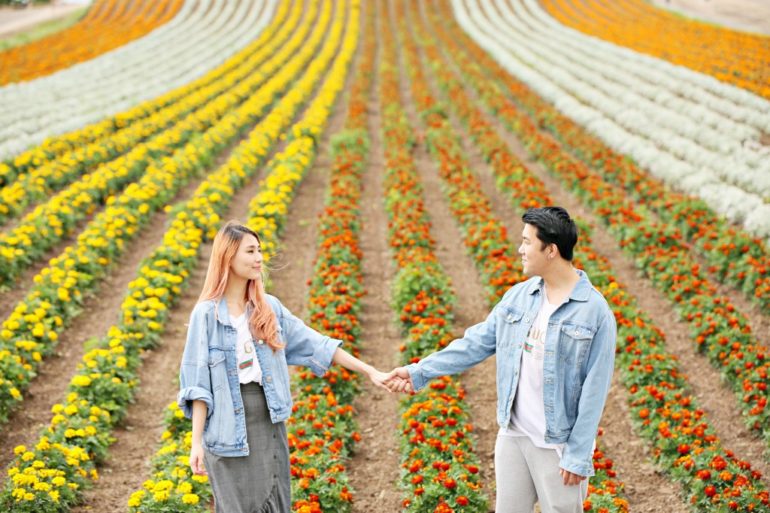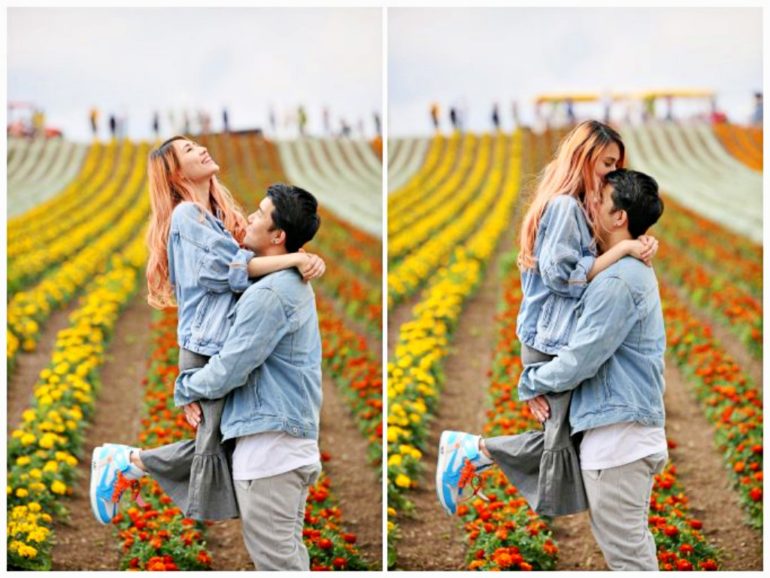 What Is It Like To Be An Influencer Couple?
"we do not have our own privacy, which may be dangerous or toxic if not handled properly"
"Well, we are still a 'normal' couple that does things that a normal couple does, but the great thing is that we get to spend a lot of time together, we work together, and most importantly, we understand each other's work. We love working together as we get to team up, learn each others' strengths & weaknesses and just grow together. It's a great feeling.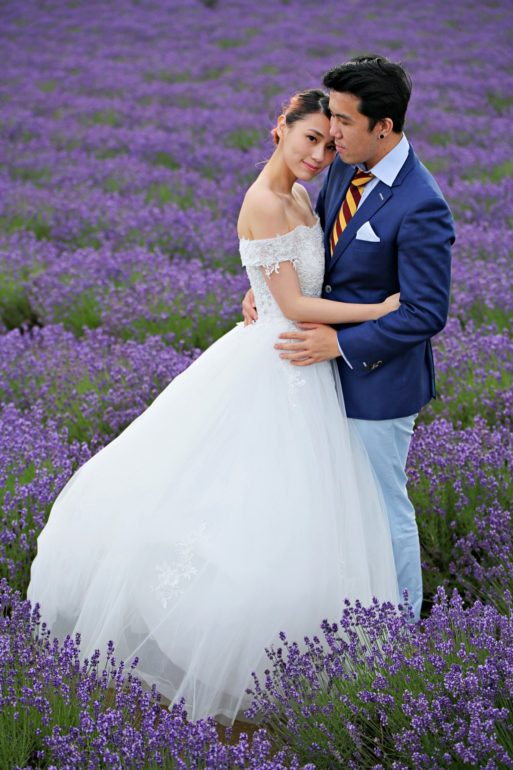 Being an influencer couple, a lot of our daily activities, lives, and relationship is open to the public. So many may think that we do not have our own privacy, which may be dangerous or toxic if not handled properly. But I guess we are quite good at balancing it, and we are happy to share our relationship with our followers and to inspire people that yes, a healthy , loving relationship can exist 🙂 "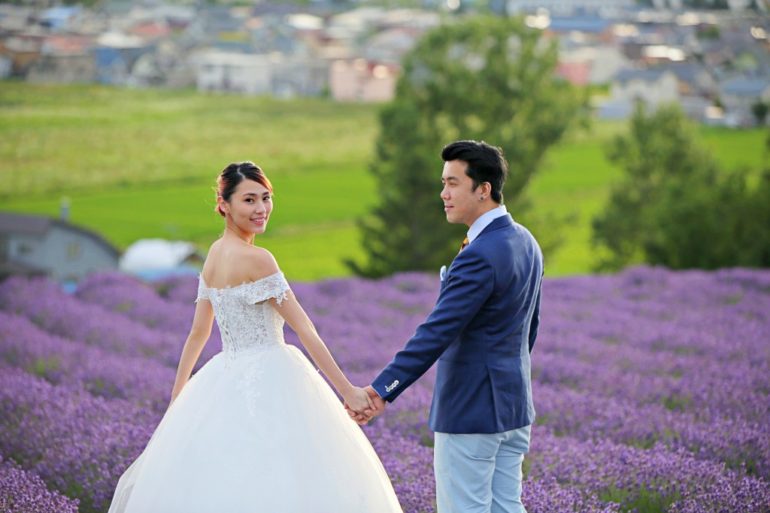 Any Plans For Marriage?
Fans of the sneaker couple, behold!!!! This is groundbreaking news and you are getting first hand insider news on it!
"Yes, we do. Maybe in 2 years? :)"
YAYYYYYYYY~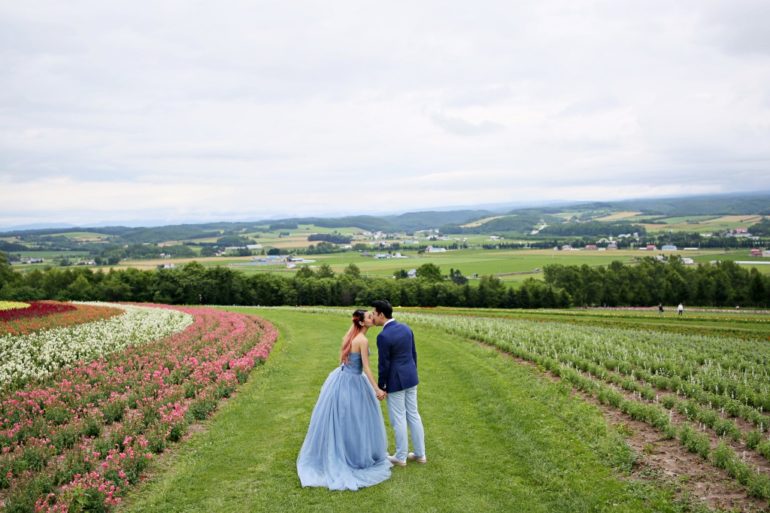 Favourite Photoshoot Location In Hokkaido?
"We both loved the lavender field at Hinode Park the most! The entire location at the top of the hill was very serene with beautiful views of hills and cute houses from afar, and of course surrounded by lavenders! It's surreal! Also, we got to catch the sunset which was so beautiful!"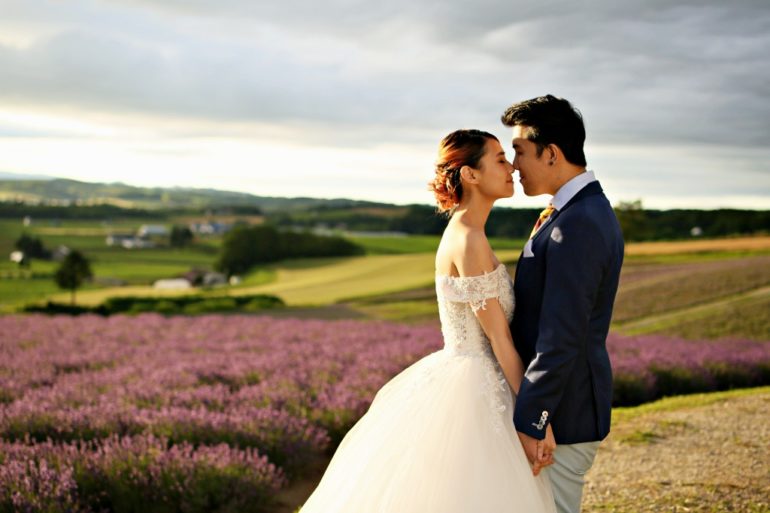 How Did You Feel After This Pseudo-Prewedding Shoot?
"The whole experience does remind us on how far we've come, and how much we love each other. Well, I tell you, the beautiful locations does help to foster the relationship further, haha!"
Yes, we can almost see the sparks flying all over the place as their gazes lock on each other.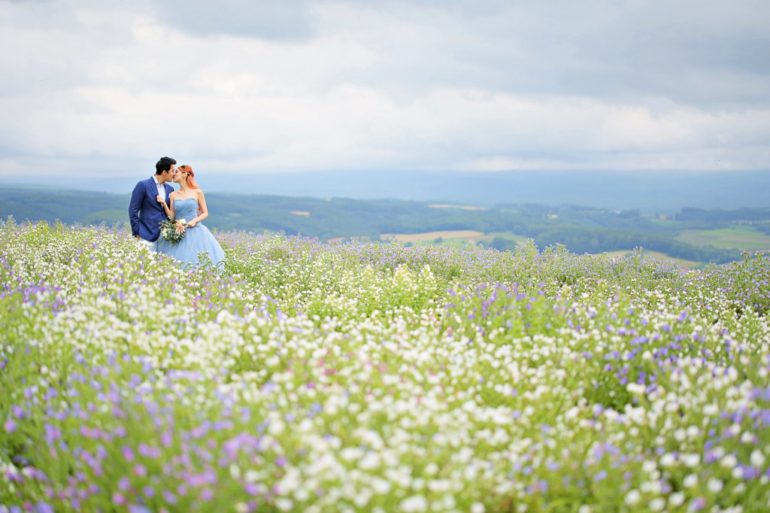 How Was Your Experience With OneThreeOneFour?
"It was a great experience! We get to experience some of the best places in Hokkaido and Kouta is really great with his composition and his trained eye at taking great photos. It wasn't stressful at all! It was all fun and easy going.
I could totally see why you guys recommended shooting in Hokkaido! It's so so romantic and beautiful in the summer. Flowers are blooming to perfection, weather is great! Seriously perfect for a couple shoot!"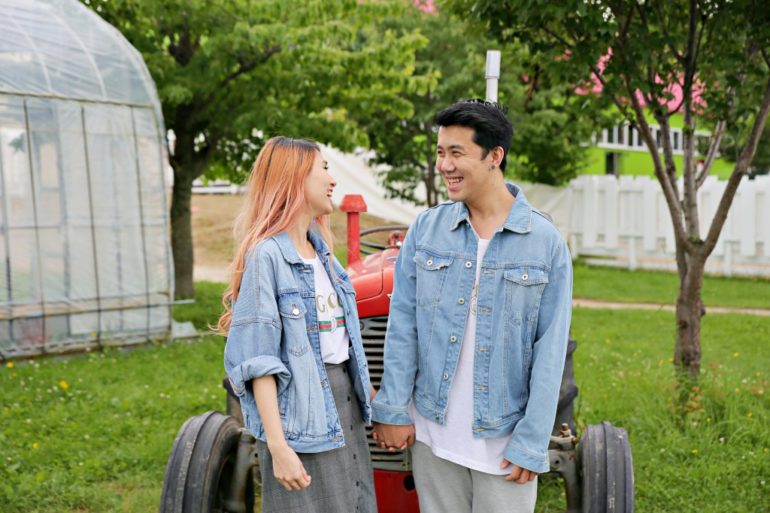 ---
Thank you so much to this extremely talented and genuine couple for being a part of our shoot too. Can't wait to shoot for you guys again during your actual pre-wedding!
As for their loyal fans, stay tuned to our Instagram for more updates on their pictures!