Have you ever been to a wedding where you can barely recognise your friend because of the heavy eyeshadows and thick makeup? I've been to one, and it isn't something that I want. Ever since that wedding, I told myself that I want to look like myself on my wedding day!
We all know that having the right makeup artist is so important to your whole wedding look. After much research, I was drawn to those natural makeup looks that Autelier Makeup does, and I decided to work with Cherry Au, from Autelier Makeup.
The Gold Standard Experience
Makeup Studio
The moment I stepped into Autelier Makeup's studio, I could tell that they are very particular about the whole experience! The space was well kept, filled with soft music and a scent of white tea fragrance in the air. In the main area, stood the makeup studio up in a loft. It is fitted with a gorgeous Hollywood style vanity mirror, lined up with soft white lights. As I sat down, Cherry served a nice warm cup of tea. What a lovely welcome!
Consultation
Cherry started with the usual questions of my makeup preferences followed by questions particular to my wedding venue, theme, wedding dress and schedule. I'm glad that she asked, because I know she would make the best recommendations to complement my wedding.
After learning much from Cherry about the tips and styles that fits my wedding, I also shared with her some looks I personally. Thank goodness for Pinterest! I like it that Cherry is candid with her opinions.
The Hollywood curls – a 40s vintage wave – was a hair style that I really like. Okay, I admit, I got a little obsessed with it. "Maybe not," Cherry said. She was upfront about it and explained to me why this hairdo suits a photoshoot better but would not work for a wedding day. At this point, I know the right thing to do is to trust my professional makeup artist (a lesson I learnt from my gown fitting experience).
Trial makeup session
We started the whole makeup with a fresh cooling facial sheet mask. Masks are great at rejuvenating and hydrating your skin. Cherry swears by this hack as the perfect way to prep your face for makeup. The secret is that a face that is moist and supple would require less makeup to fix and at the end, you get a more natural glowing skin.
With the heated rollers on one hand, and my hair on the other, Cherry started to work on my hair. Each stroke was firm and confident. I love how she is very thorough with the styling of the hair. Cherry uses different types of tools to achieve various styles. She starts off with the heated rollers to give volume. Then, an iron to crimp the hair providing texture for better styling. Finally, a curler to create those natural-looking waves.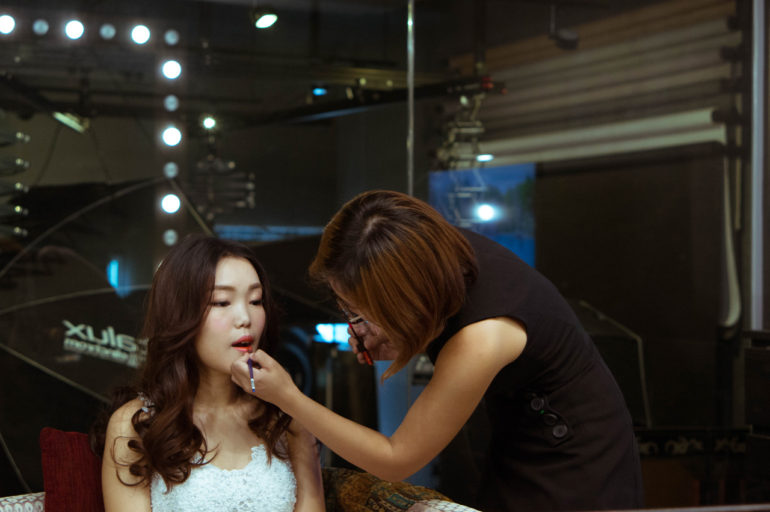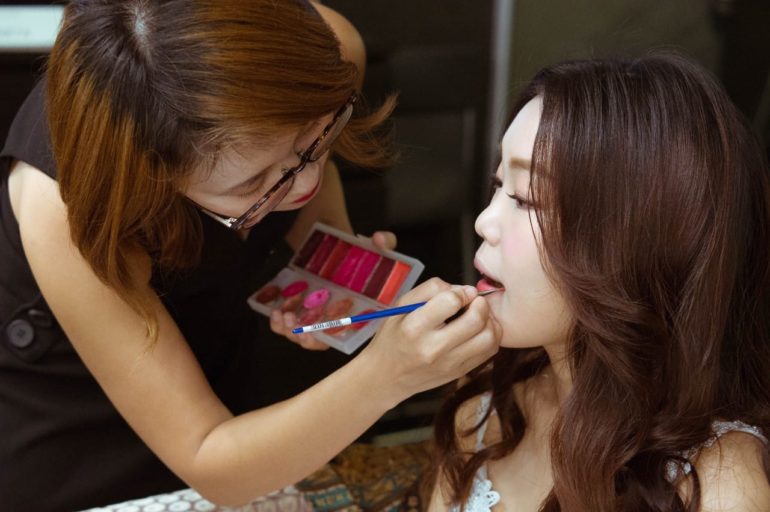 Bridal Portrait Photoshoot
With my makeup and hair complete, I slipped into my wedding dress, rented from The Gown Warehouse. Scott and I were ready for our bridal portrait photoshoot. Right in the main area, is a portrait studio by Ejun Low Photography.
As it turns out that it was, Ejun who is on the piano, playing melodious tunes in the studio. It was lovely to relish that relaxing atmosphere amidst all the wedding stress that we were in.
See my new look from the trial makeup, I really love it!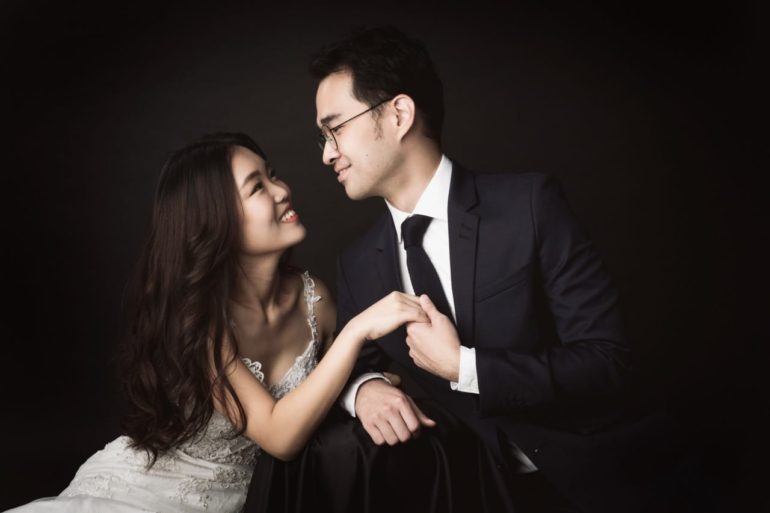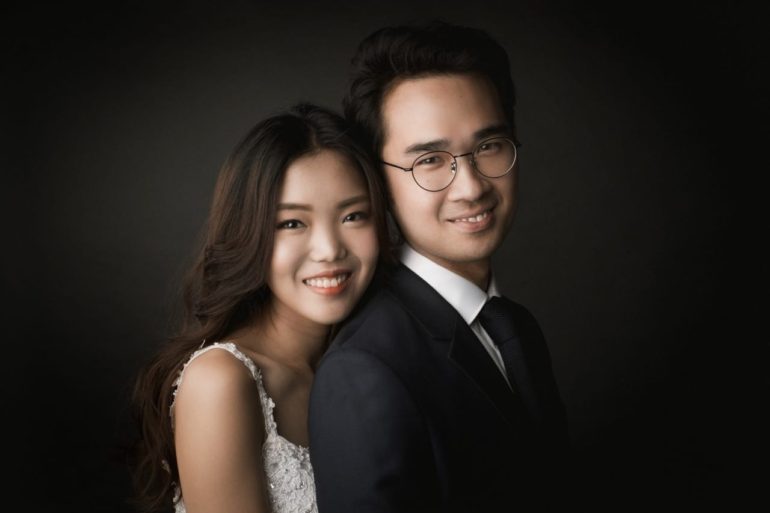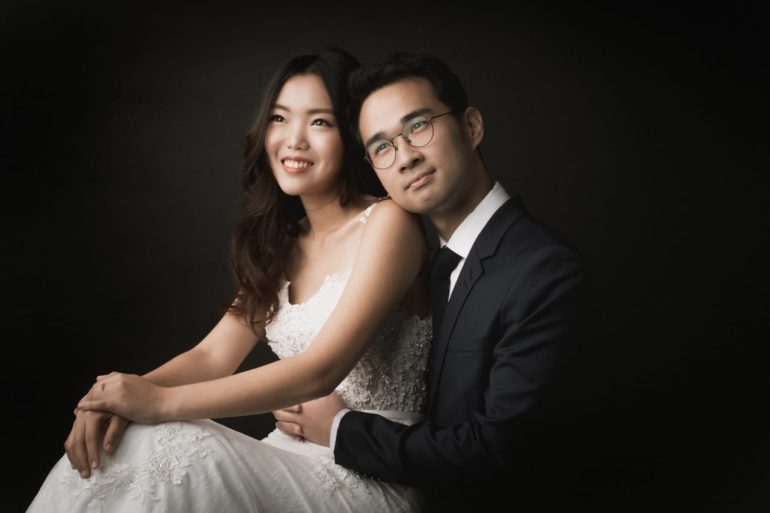 I love the well crafted poses and the soft lighting in these photos. Everything is just right! Ejun Low, the photographer, would carefully guide us on each shot. For example, how a little tip-toeing when you are seated down will give you a better silhouette.
In fact, before the session even started, he would look out for flattering angles in both Scott and I. We were a little nervous as this was our first time doing a studio photoshoot, but props to Ejun for making us so comfortable through out the entire session!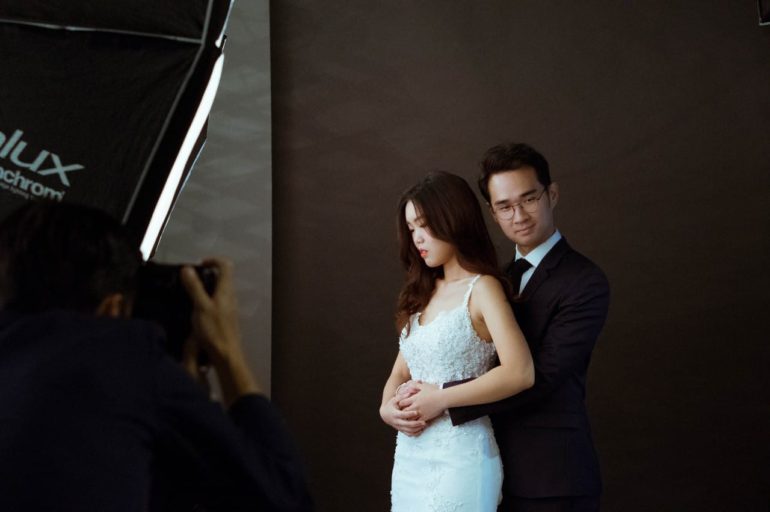 A big thanks to Ejun Photography for this amazing photo session!
This trial makeup was an excellent session for the both of us. I really love how pampering this bridal beauty experience was! Cherry now knows more about my wedding and my style preferences. After the trial makeup session, I know Cherry's way of working and I know I'm in good hands for my wedding!
On My Actual Wedding Day
Of course this post wouldn't be complete without my actual wedding day photos! We did two looks on my big day, one for my outdoor ROM at MacRitchie Reservoir Park, the other for my wedding reception in the evening.
A Bohemian look for morning solemnisation at MacRitchie
A soft wispy braided fishtail, topped off with my lovely flower crowns from D'Petals. Notice how she angled the crown stylishly! I love that natural and radiant look that Cherry gave me. The light-weight makeup complements my rustic outdoor solemnisation.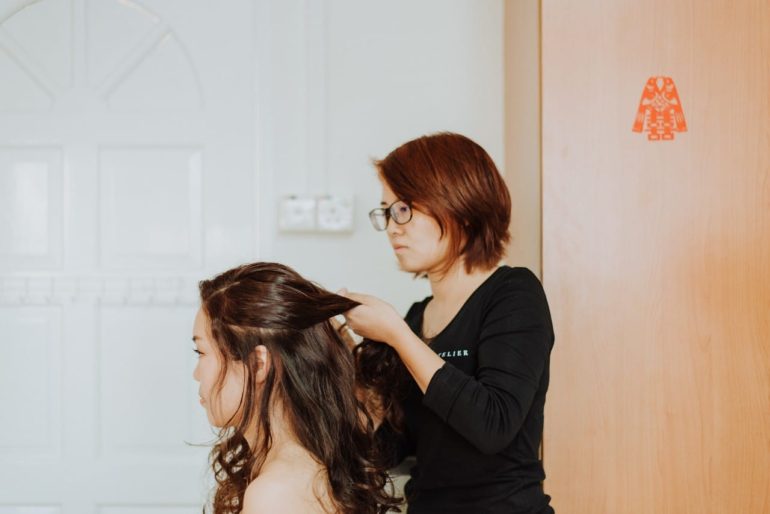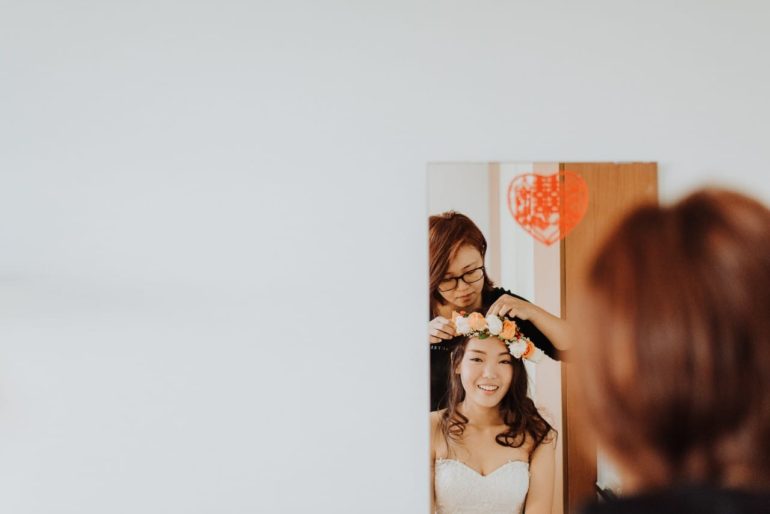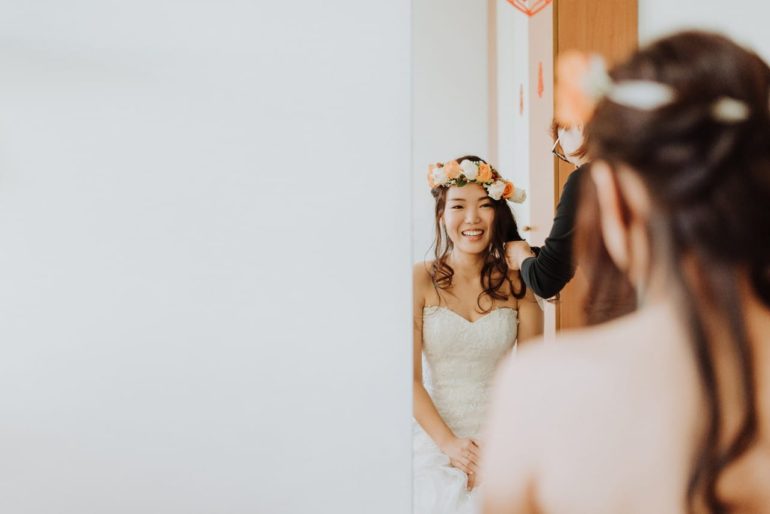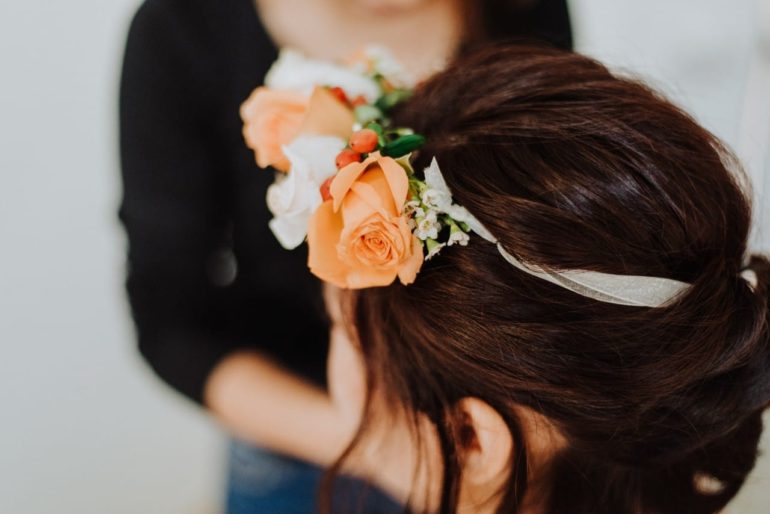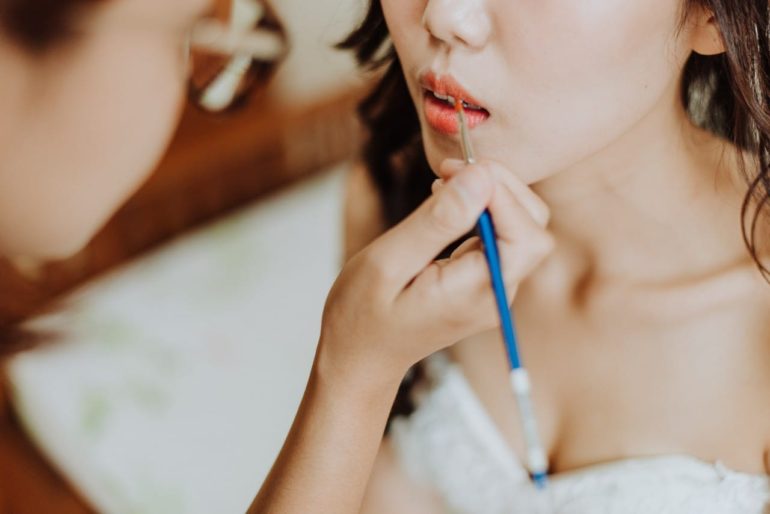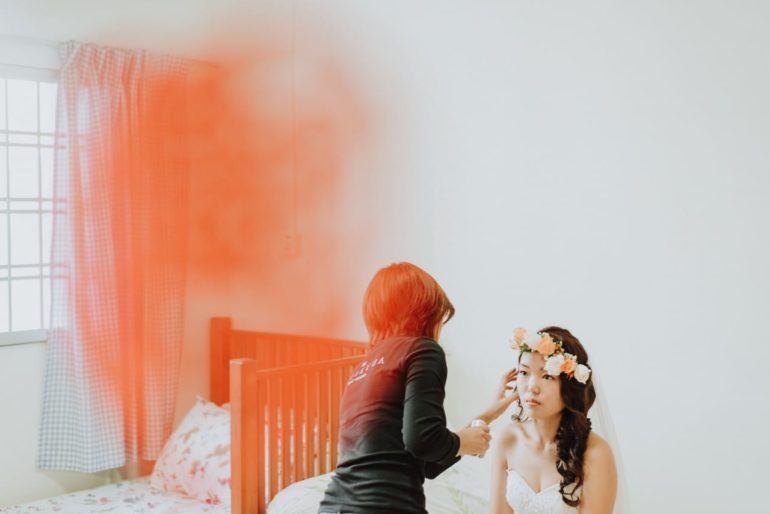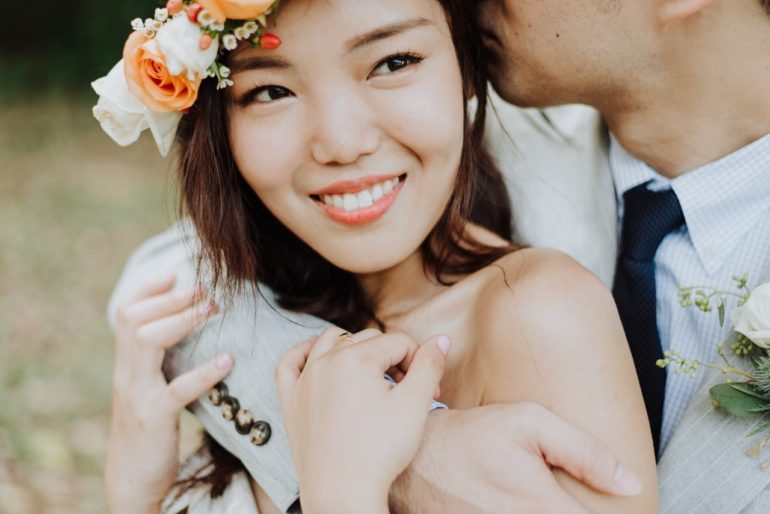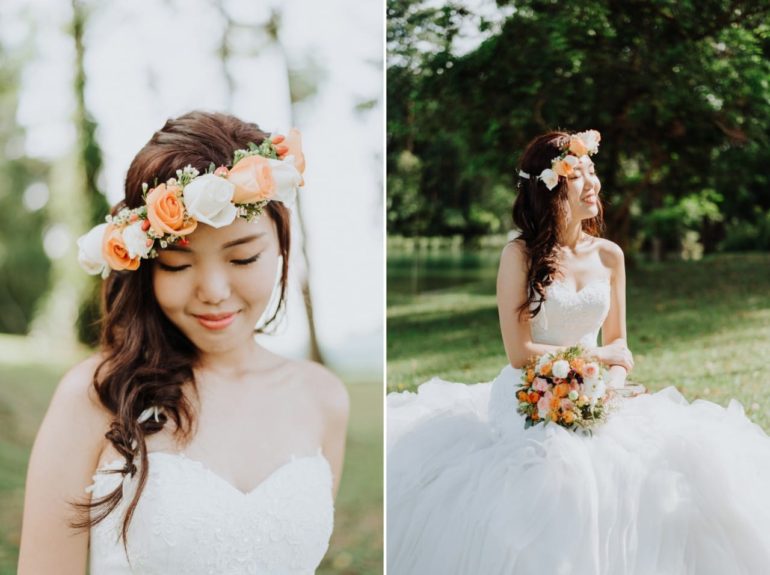 Gatsby Romantic Look at Chinese Vintage Restaurant
This look is oozing with glamorous vibes, fitting for my wedding reception at Grand Shanghai. That cherry-red tint on my lips, with the loose waves and a statement headpiece. I love how versatile this look is! It fitted perfectly for both my wedding dress and evening gown.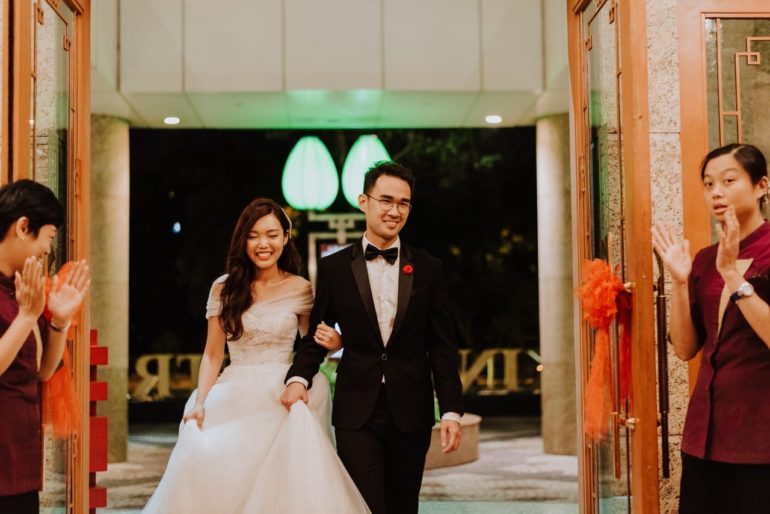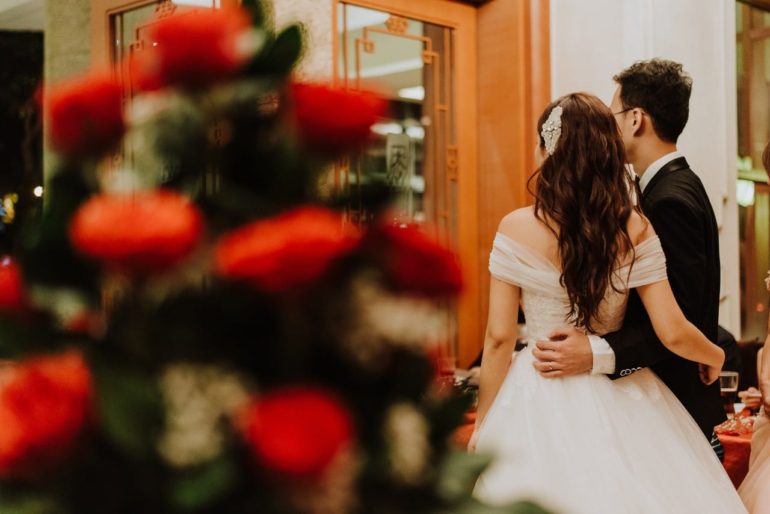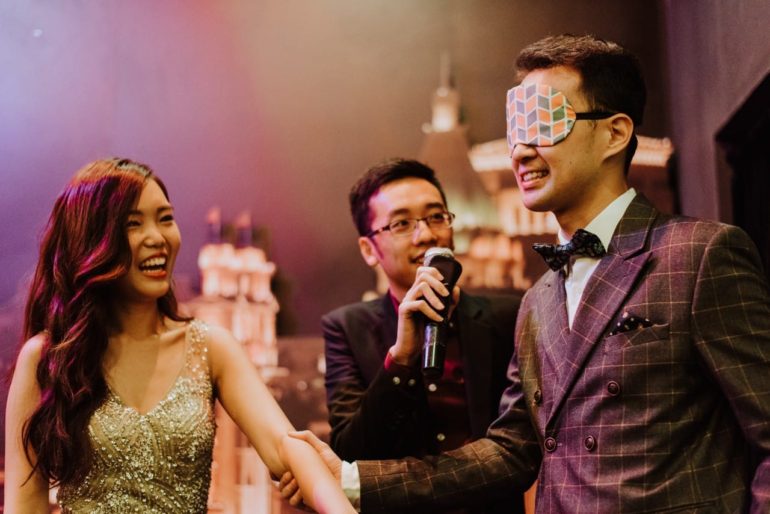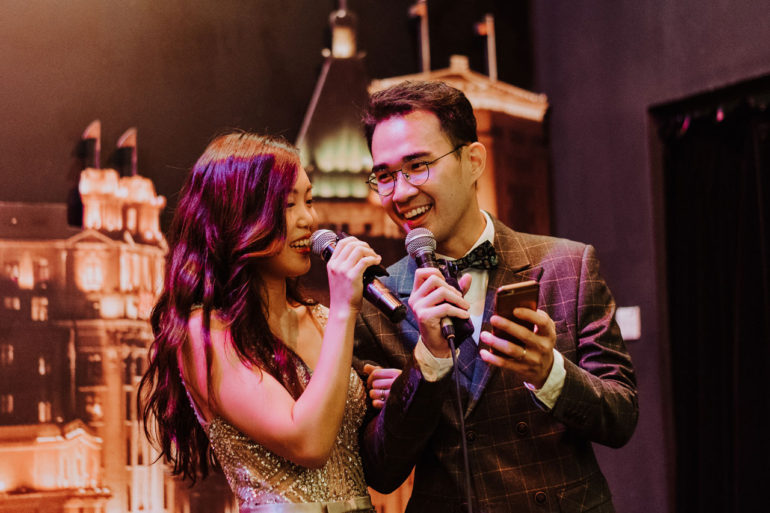 Review of Autelier Makeup
On the morning of my wedding day, I wanted a fishtail braid to complement my flower crown for that Boho bride look. Cherry happily accommodated to my last-minute request, even though it was after the trial session. Her magical hands quickly got to working, braiding my hair. I could feel that Cherry was sincere and really aim to create that perfect look for my Big Day. Thanks so much Cherry!
Besides being my makeup artist, Cherry was a friend too. Like a friend that has recently got married, I could easily share with her my wedding jitters. I'm glad she is so nice to chat with and that we could connect at many levels. After our conversations, I feel less anxious and more recharged!
Price and styles aside, brides-to-be should not overlook having the right chemistry with your makeup artist. Cherry scored in all these aspects. I'm so thankful she gave me a stunning and natural look that I wanted for my wedding!
Autelier Makeup
Website: http://auteliermakeup.com/
Facebook: http://www.facebook.com/auteliermakeup
Instagram: https://www.instagram.com/autelier_makeup/
---