Gatecrashing is a Chinese tradition to mark the start of your wedding. It is one of the most looked forward to event for the bride and the bridesmaids (but definitely not for the groom and groomsmen).
There will be a series of games (also know as terrifying challenges) to train up your husband-to-be, so that he will be worthy to take your hand in marriage.
Here are some of our couples' gatecrashing games that have us laughing at its creativity and crying at their plight. In the order of mild to intense….ly crazy.
1. Bribery
You'd be lucky if all the bridesmaid wants is money. This is the easiest of them all, you may burn a hole in your pocket but at least you won't be breaking any bones…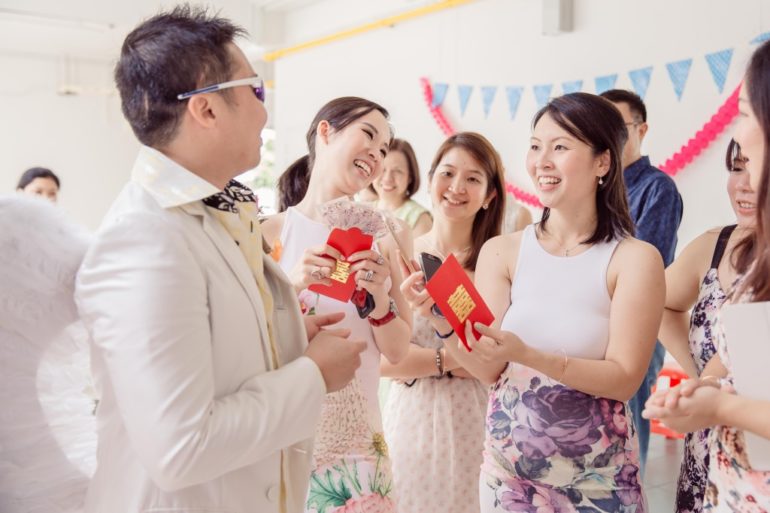 2. Back To Babies
If you have been waiting to see your husband-to-be in any sort of outfit, be it onesies, tutus or diapers, THE TIME HAS FINALLY COME!! He will have no reason (or power) to reject you, so whip out your most ridiculous outfits and have your cameras ready!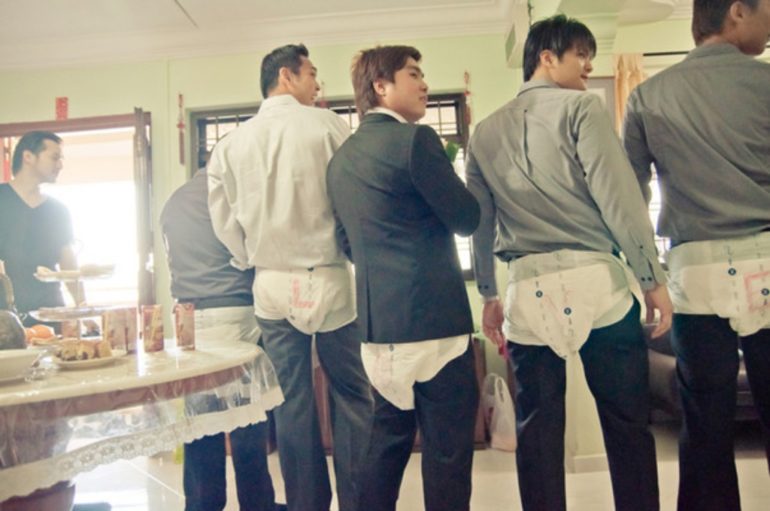 3. Popping Some Moves
Does your husband-to-be have a secret talent or something you have always wanted him to do? This is the perfect time to ask him to show off some dance moves or his melodious voice! But do brace yourself for some calefares at his side that may ruin the show a little…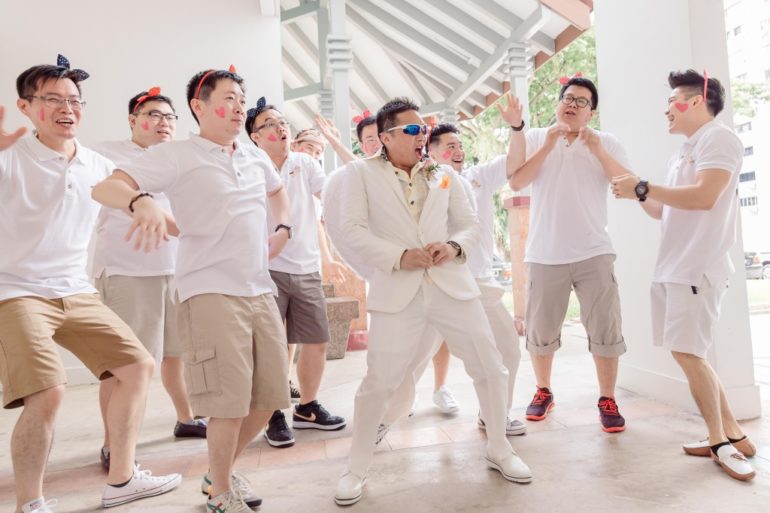 4. Stretching It Out
This can be done in many ways! Find a picture of the most intense twister game or the latest yoga pose Instagram trend and make the brother gang copy it. We are sure your husband-to-be will need some stretching and relaxation before the big day. Grooms, don't have to thank us!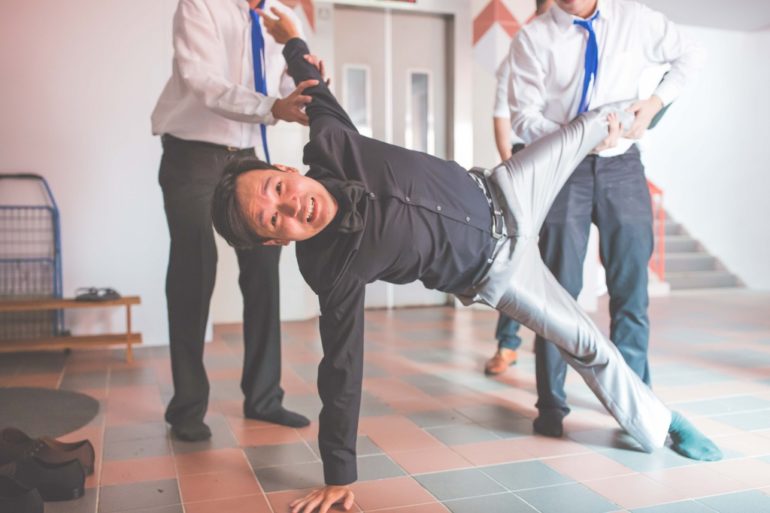 5. Limbo
Our childhood favourite!! The limbo game! Of course, this game is no fun without any stakes. Think of stakes such as reducing the angpao money with every level they manage to cross. Your husband-to-be will be a limbo master at the end of it.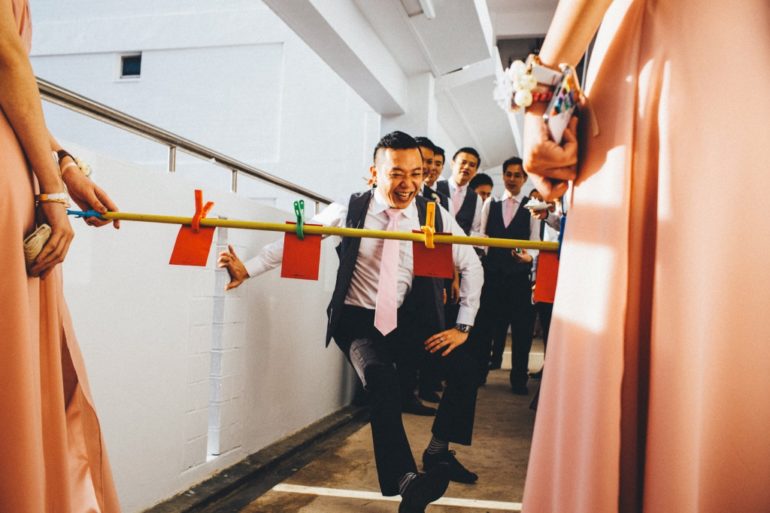 6. Shake It Off
A popular game where you put a pingpong ball inside a tissue box and tie it to the groom's waist and they have to get the ball out to win. It may sound easy but trust me, it is totally not. You will be surprised at how well your husband can twerk by the end of the day!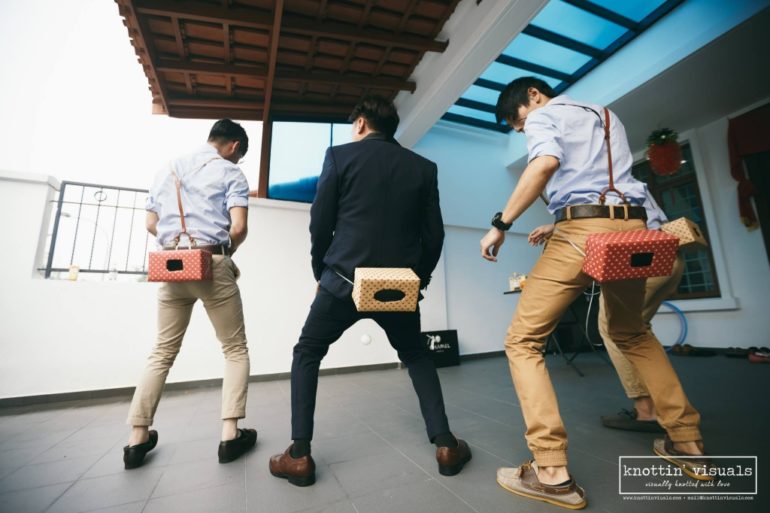 7. YAMSENG
We have probably done this at some point in our lives but gatecrashing is the time to take it one level up! Forget about the lame milo with coke concoctions, now's the time to add in some wasabi, garlic chilli sauce and mustard. Come up with your best recipes but be prepared to keep your toilet doors wide open!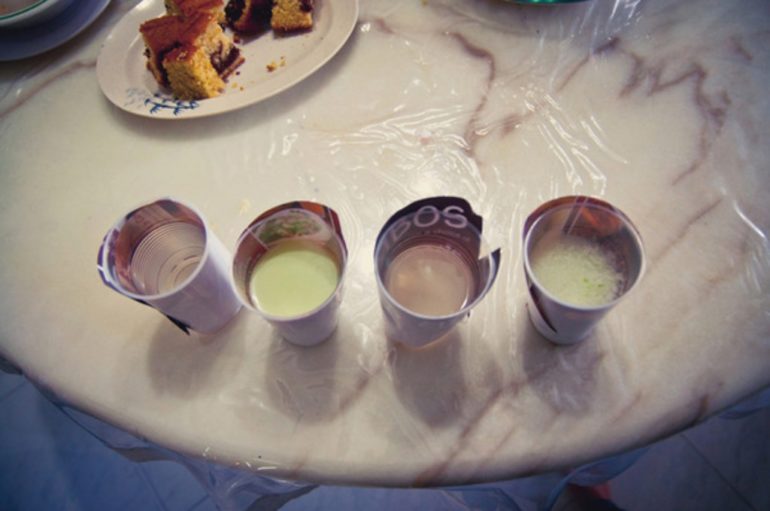 8. Spicy Noodle Challenge
Things are starting to get a little heaty… If you haven't tried the famous spicy Samyang Chicken Noodle, DON'T. This is the most spicy noodle that ever existed and you will be running for water after the first mouthful. This is definitely one of the most torturous challenges you can come up with.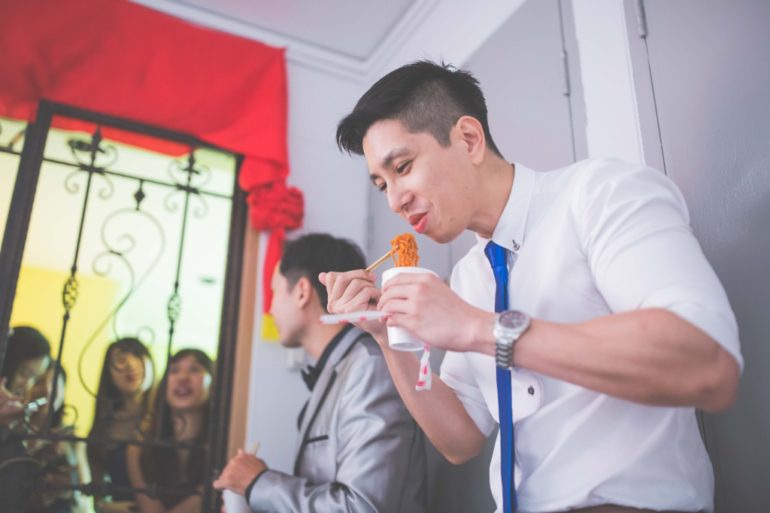 9. Bare It All
Just kidding, what is spicy noodles compared to having your leg hair all waxed out?! It is  painful enough to have one strand of your leg hair plucked out, imagine ONE WHOLE STRIP. Groom and groomsmen, we are sorry for including this. We are all praying for your loss.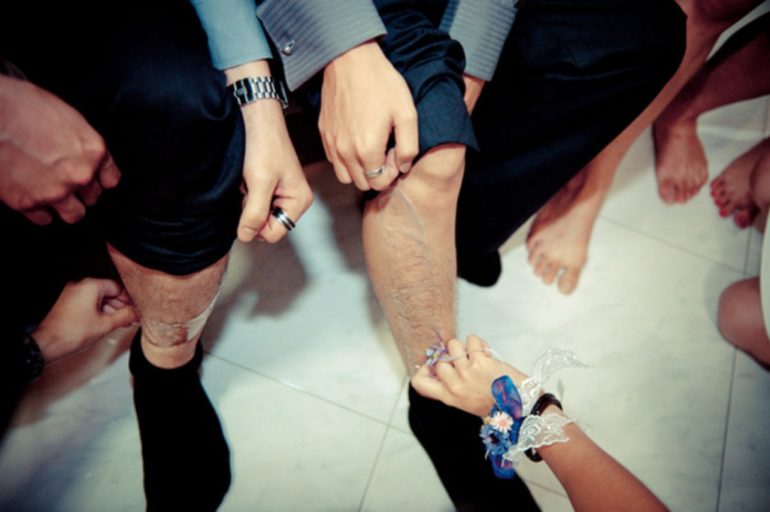 10. Mat From Hell
One of our couples probably got this idea from Running Man. You will not be the same man again after stepping on this acupuncture mat. Just imagine skipping on top of the pebble paths at the playground. Good luck to the guy on the extreme left. Whoever passes this test, definitely deserves you.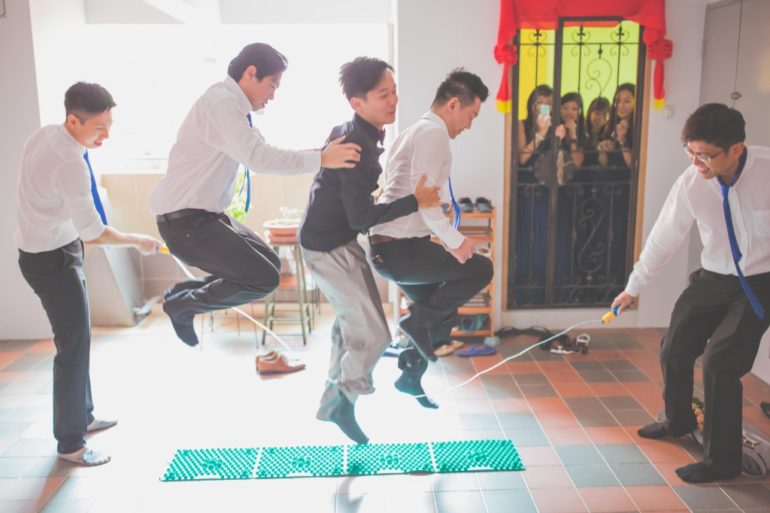 Book Your Actual Day Wedding Photographer
Do you have more gatecrashing game ideas? Let us know in the comment below, the more tormenting the better! If you are looking for an actual day wedding photographer to capture these once in a lifetime moments, head on to our website to check us out! We do both pre-wedding and actual day photography at many other destinations too!