For many brides-to-be out there, scrolling through Pinterest for wedding theme inspirations is a routine that can be so familiar as your wedding day draws near. But at times, it is easy to feel overwhelmed by the vast and endless themes and inspirations out there, and even daunting when you think about how you can turn your ideas into reality.
At OneThreeOneFour, we want to help you to be the most stress-free bride ever so you can enjoy this once-in-a-lifetime experience. So here's a list of the top 12 amazing wedding themes that will impress and make your wedding day extra special and unforgettable. We've also listed down the 'fairy godmothers' aka the top wedding stylists in Singapore behind these beautiful set ups so you know who to go to to turn your dreams into reality! You too, can have a magical wedding without breaking a sweat!
1. The Great Gatsby by Rosette Designs & Co.

Check out Azhar and Alexis's Great Gatsby Themed Wedding styled by Rosette Designs, photographs taken by Awesome Memories Photography.
Thanks to the Great Gatsby film that starred Leonardo Dicarprio, the glitz, glamour and extravagance of the Roaring Twenties have been a popular wedding theme all over the world. With flamboyant feathered centrepieces, pearls, splashes of red, black and gold, a Great Gatsby-themed wedding will be filled with so much grandeur and opulence. Great Gatsby is a classic love story, and having a Great Gatsby-inspired wedding will make your big day all the more perfect for you and your lover!
Website: Rosette Designs & Co.
Phone: +65 9669 4213
Email: [email protected]
2. Floral and Woods by Wedrock Weddings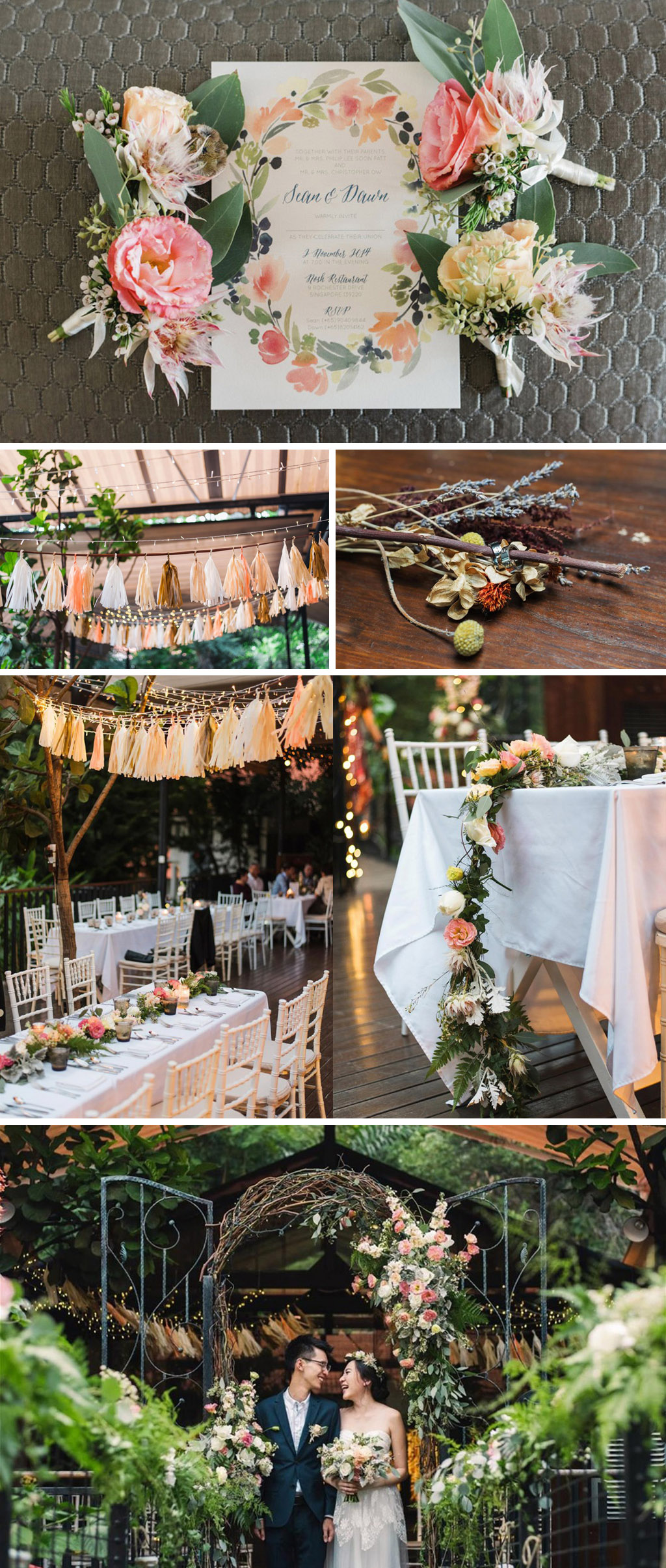 See full album here: A Midsummer Night's Dream Wedding Styled by Wedrock Weddings
For those who're thinking of having a garden wedding, this rustic wedding theme by Wedrock Weddings will be so ideal! With pretty blooms surrounding you everywhere, pastel tassels and pretty fairy lights hanging above you, immerse yourself in a lush floral wonderland as you tie the knot. Top it off with woody accents for a summery vibe that will make your day even more charming. A rustic floral wedding will not only be picturesque and romantic, but you will feel like you've stepped into an enchanted forest in a fairytale!
You can also wear a sweet and stylish floral crown or have watercolour floral wedding invites to complement the rustic floral wedding theme.
Website: Wedrock Weddings
Phone: +65 81132473
Email: [email protected]/ Wedding Enquiry Form
Address: Eng Hoon Street, Tiong Bahru, Singapore
3. Travel/Wanderlust by MerryLove Weddings

See full album here: Sebastien and Francesca Travel Themed Wedding, Styled by MerryLove Weddings, photographs taken by John Lim Photography.
For the couple who are globetrotters, why not include some travel-inspired touch to your wedding? With a globe as a table centrepiece, paper aeroplanes, vintage suitcases and personal travel memorabilia, a sense of wanderlust and a spirit of adventure will be sure to fill the atmosphere of your wedding reception. You can even add an interactive and unique touch to your wedding by getting your guests to decide your honeymoon destination, like what Sebastien and Francesca did!
Website: MerryLove Weddings
Phone: +65 9647 3713
Email: [email protected]
Address: 443B Fajar Road Singapore 672443
4. Classic Elegance in White by Elly Floral Artistry or The Wedding Stylist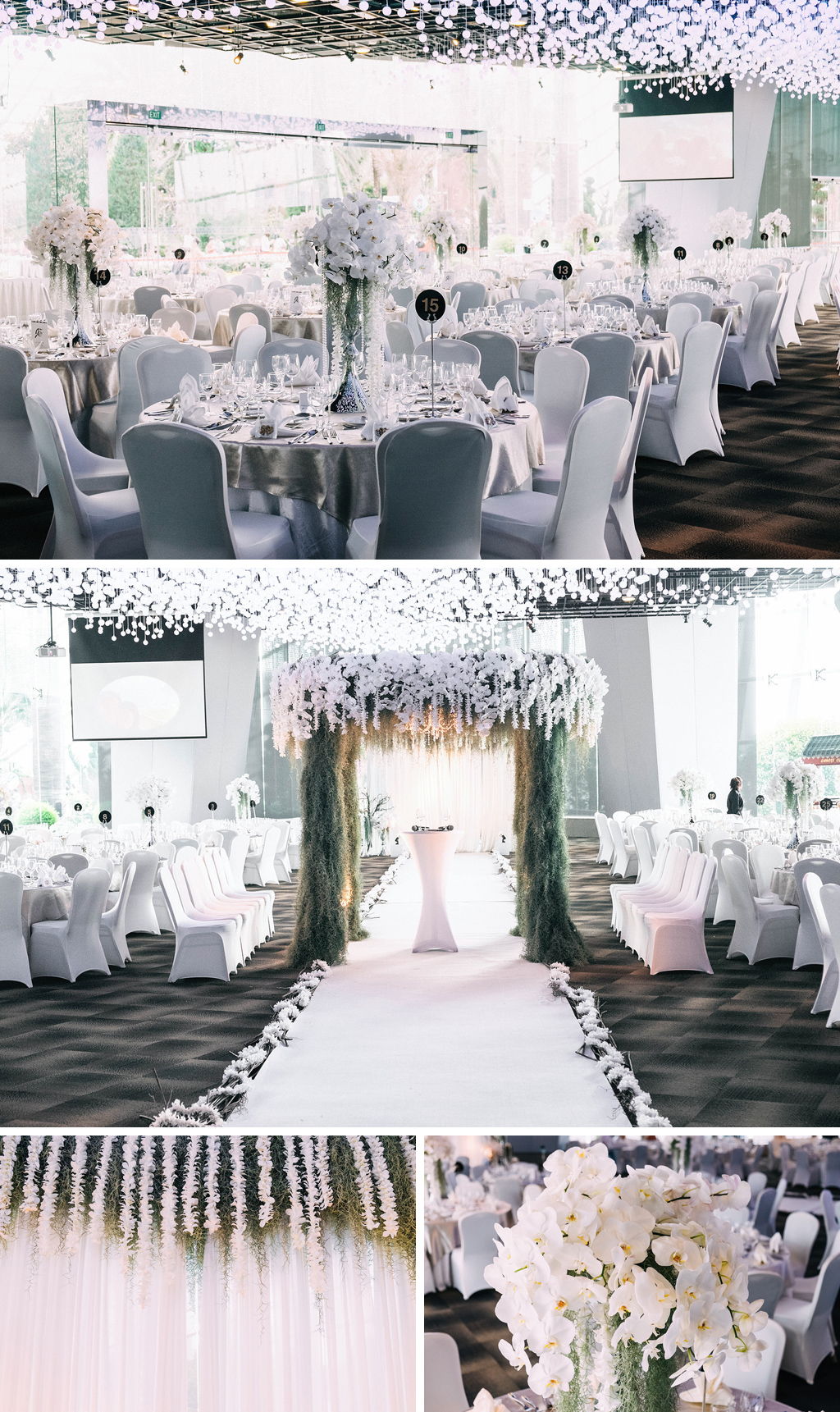 Check out this White Floral Wonderland in Gardens by the Bay by Elly Floral Artistry
You can never go wrong with white, and that goes the same for wedding themes and decor too! White is not only pure, but it also exudes romance, elegance and class. With white orchirds, luxury white curtains, sleek white chairs, an all-white wedding gives a dreamy and ethereal effect as you tie the knot.
Website: Elly Floral Artistry
Email: [email protected]
Add a Pop of Colour
If you want to put a spin on an all-white wedding, having red roses as decoration helps to add a pop of colour and helps to encapsulate the romance and passion of you and your partner's love story.
Website: The Wedding Stylist 
Phone: +65 9128 9561 / +65 9658 5006
Email: [email protected]
Address: 2 Kallang Ave, #09-17 CT Hub, Singapore 339407
Check out this classic and romantic white wedding in a chapel, styled by The Wedding Stylist
5. Modern Oriental by Chère

See full album here: Eastern Rustic Wedding styled by Chère: Weddings & Parties.
Oriental does not necessarily mean boring and traditional. For our millennial couples who want to have a oriental wedding to pay homage to their heritage, you can opt for one with a modern twist. With a red, black and gold colour palette and a sleek touch to traditional Chinese motifs, your wedding will look instantly modern and glam!
Website: Chère
Phone: +65 6881 0510
Email: [email protected]
Address: 114 Lavender Street CT Hub 2 #08-52 Singapore 338729
6. Colonial Vintage by Styled Story and Med Kärlek Inc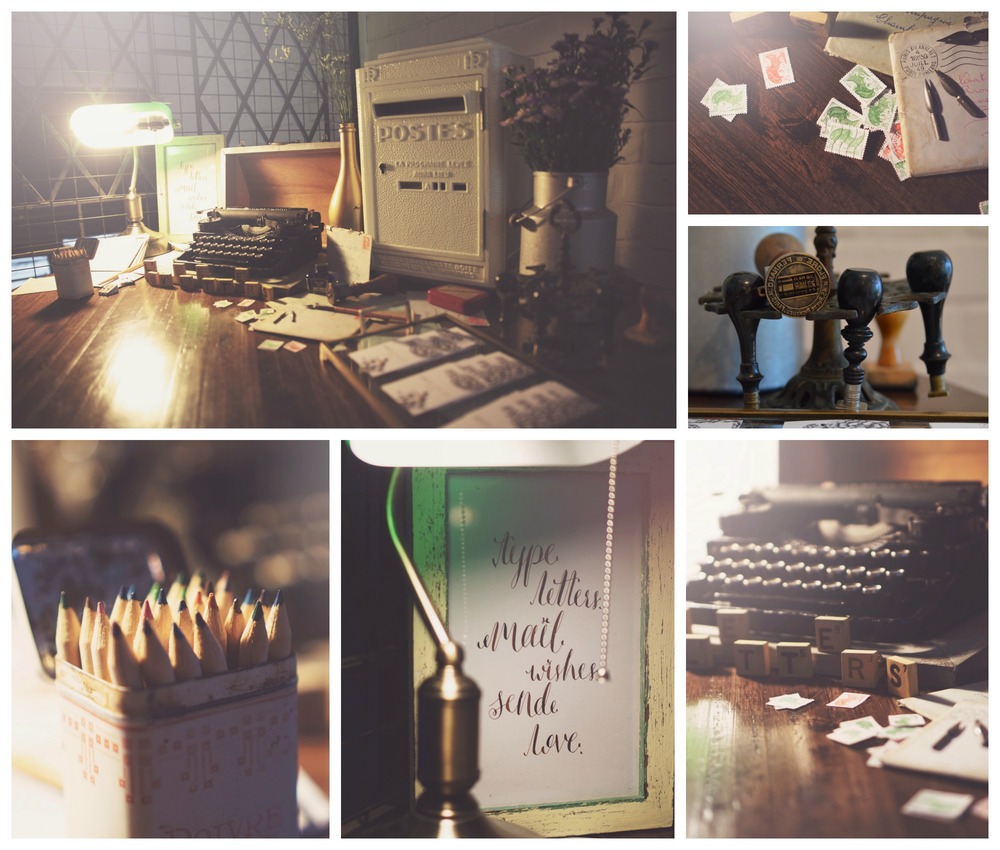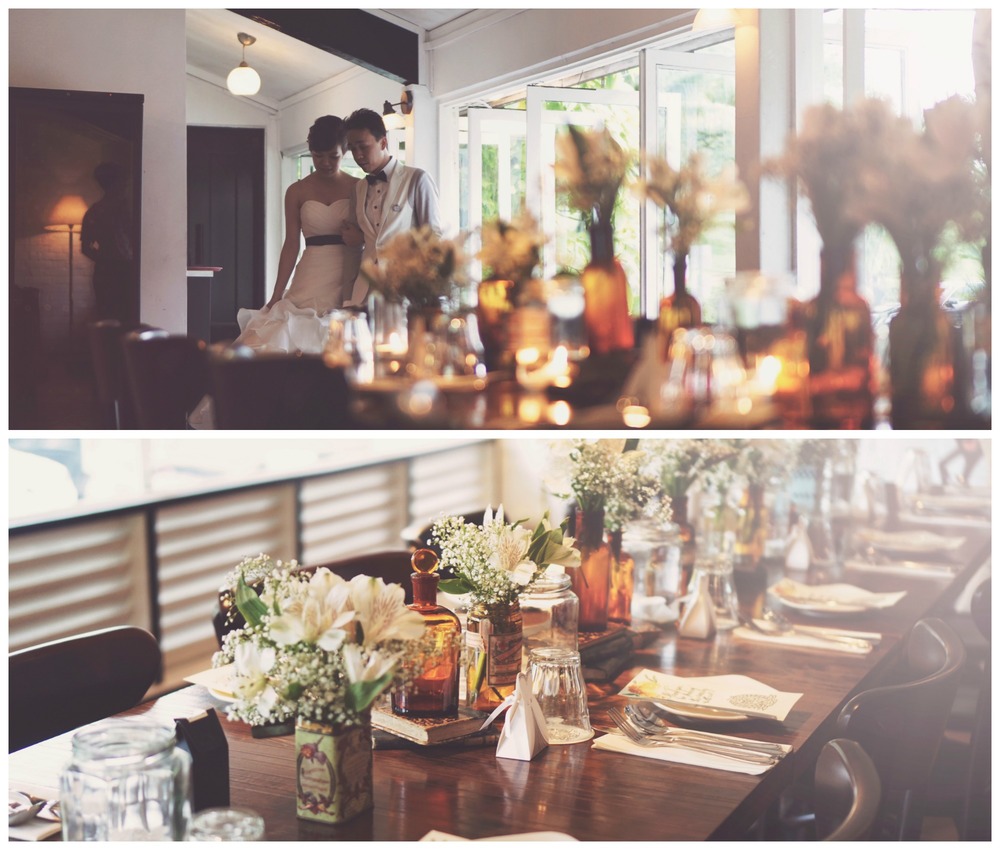 Check out this colonial vintage wedding at Rider's Cafe Singapore, styled by Styled Story and Med Kärlek Inc.
You don't need a colonial venue to have a wedding that exudes colonial vintage. With the right styling and decor, you too can have a charming and nostalgic wedding. With some vintage travel suitcases and wine crates, you can add a little rustic and sophisticated edge to your big day and transform any ordinary location into one that oozes charm.
Website: Styled Story
Email: [email protected]
Website: Med Kärlek Inc 
Email: [email protected]
7. Peranakan Pleasures by Heaven in a Wild Flower

Check out this Peranakan-themed dessert table by Heaven in a Wild Flower.
A Peranakan-themed wedding will be sure to be a colourful one. With its rich, flamboyant colours, ornate details and use of geometry, a Peranakan styling for your wedding will definitely be eye catching and picturesque. Heaven in a Wild Flower makes sure that every detail has a Peranakan touch to it, just look at the quintessential geometric diamond design in gold on the cake! With a Peranakan-themed dessert wedding, your guests will be treated to a feast for the eyes, and also a feast, literally.
Website: Heaven in a Wild Flower
Email: [email protected]
8. Into the Woods by The Wedding Stylist

Check out this rustic and chic woodland-themed wedding by The Wedding Stylist
Whisk your guests away into an enchanted forests by having a wood-themed wedding. With emerald vines, twigs  and fresh green plants as decor for your tablescape, transform your wedding venue into a forest for a night. You can even include a picnic basket with fresh flowers to complete the rustic and chic woodlands wedding. With this styling, your guests will sure to feel like they've stepped into the grand outdoors (without the heat, of course!)
Website: The Wedding Stylist 
Phone: +65 9128 9561 / +65 9658 5006
Email: [email protected]
Address: 2 Kallang Ave, #09-17 CT Hub, Singapore 339407
9. Ombre of Pinks by Beautiful Gatherings

Check out this Ombre of Pinks styled shoot by Beautiful Gatherings. With their incorporation of varying shades of pink, everything just looks so elegant and chic!
One of the hottest trend on the wedding theme list is to have ombre tones incorporated into your big day. Be it your wedding cake, wedding stationery or tablescape, an ombre effect in your wedding decor can make your wedding day seriously chic. If you cannot decide on a colour for your ombre effect, why not choose pink? Pink is the colour that will help to make a statement about your love and romance. We love how Beautiful Gatherings incorporated varying shades of pink into their styling, making everything look so elegant and chic!
Website: Beautiful Gatherings
Phone: +65 6711 8475
Email: [email protected]
Address: 81 Wolskel Road Singapore 357983
10. Tangerine Tango by Fabulation

Check out this Tangerine-Themed Wedding styled by Fabulation.
Tangerine is a unique colour scheme for a wedding but this styling by Fabulation makes this Indian wedding look just so royal and impressive! Tangerine is bold and rich, and just screams summer. It is not difficult to have a tangerine-themed wedding. For example, you can have a mix of orange, white and coral blooms for your table centrepieces to have a colourful celebration.
Website: Fabulation
Phone: 6225 9212
Email: [email protected]
Address: 37 Blair Road, Singapore 089937
11. Purple and Succulents by Stitch X Marker Styling Studio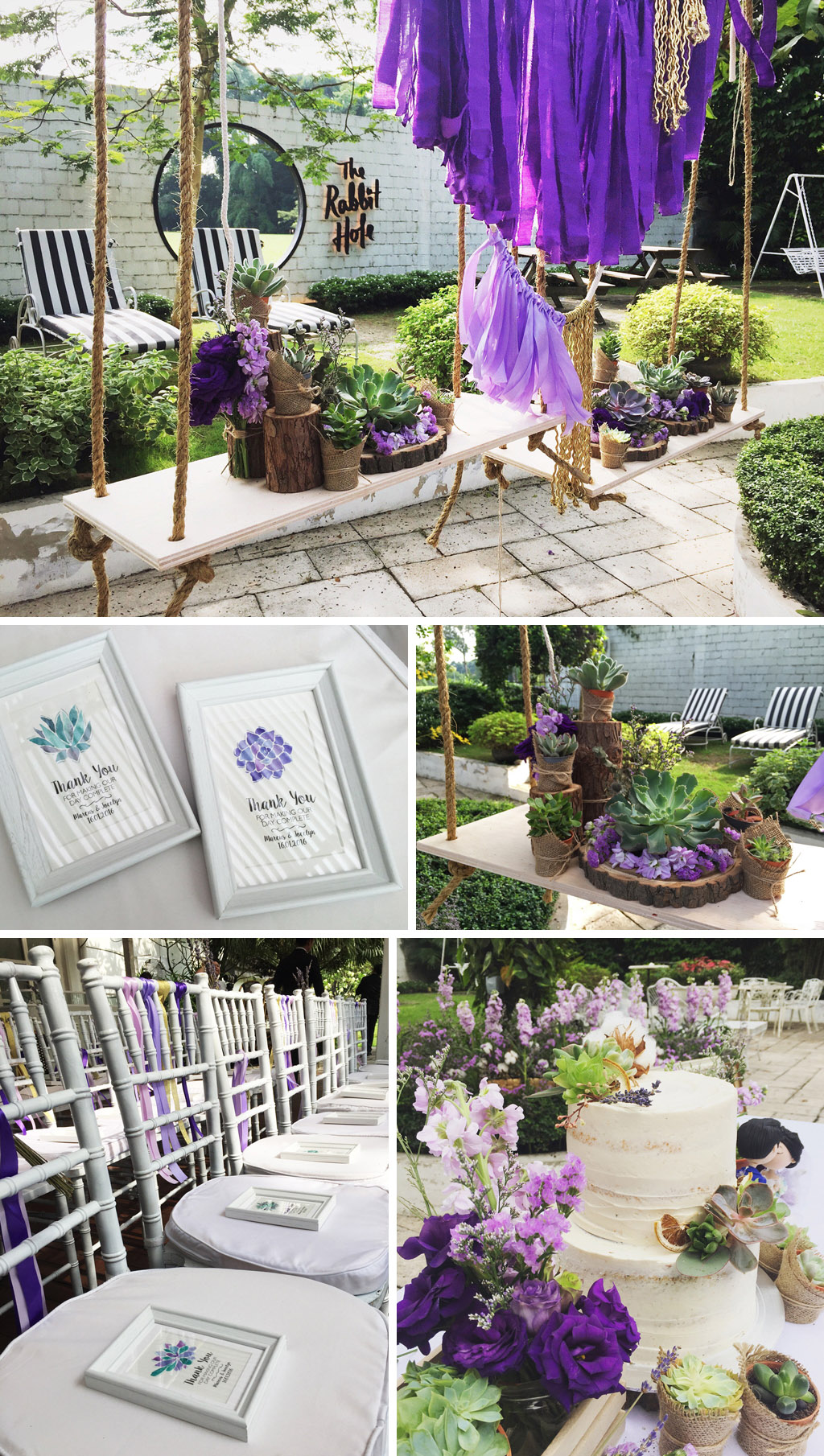 Check out this purple and succulents garden wedding by Stitch X Marker.
Don't be mistaken that a garden wedding is all about flowers and colours. If you are a bride that wants something a little different, you can use succulents to bring in lush botanical elements to complete the whole garden vibe. You can also give out mini pots of succulents to your wedding guests so that they can bring a bit of nature home.
Website: Stitch X Marker
Email: [email protected]
12. Under the Sea by Inside The Knot
Check out this Under The Sea wedding styled by Inside the Knot.
If you have a love for the ocean and want your loved ones to fall in love with the deep blue sea the way you do, why not have a Under The Sea-themed wedding? With some seashells decor, some diving gear and some nautical life buoy, your guests will be immersed in a magical, under water world experience.
Website: Inside the Knot
Phone: 8799 0300
Email: [email protected]
Address: 13A Jalan Aruan, Singapore 229123
---
With these wedding theme ideas, we hope that you will be able to choose a wedding theme that is distinctively you. We also hope that this list will help you to find the right wedding stylist so you can make your very own dream wedding come true!