Donning a wedding gown and sashaying down the aisle is almost every girl's dream. But are you going to walk down in a rented gown or a purchased piece? If you're still sitting on the fence, then read on!


Rent
Renting a wedding gown allows you to save a handsome sum of moolah. It's definitely going to cost merely a fraction of the price if you were to rent than to buy. Let's be real practical here, you are only going to wear it once and chuck it at one corner of your storage thereafter. Unless you're going to frame it up, it is not worth paying a hefty price for it.
What about the aftercare? Professional cleaning and preservation of gowns aren't cheap. To keep it in pristine condition, you have to send it to the professionals every now and then for the rest of your life. Like com'on you already splurged thousands of dollars on this dress, the last thing you would want to see is the yellow stains on it?
When it comes to saving space, renting definitely wins hands down (duh)! Leave all the trouble of dry cleaning, packing and aftercare to the boutique!
Cost-Effective & Storage-Friendly: Rent √√√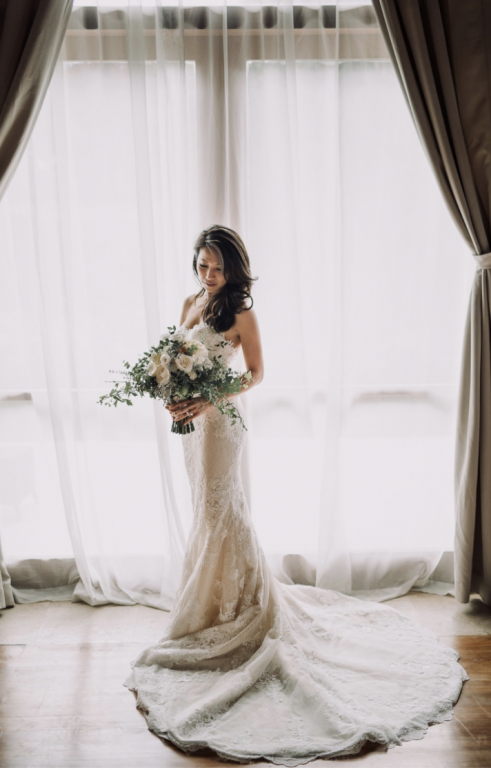 Buy
If your budget permits, there's also no reason for you to not consider a designer gown or a tailor-made gown.
Renting a gown is way more pocket-friendly, but these "ready-to-wear" gowns are usually manufactured based on the average/ standard women sizes. In other words, they usually require some sort of alteration in terms of their sizing or length for a perfect fit.
A custom sewn gown, on the other hand, allows you to take charge and have full control over it – fabric, design and cutting are all tailored to your personal preference and needless to say, it will definitely be a piece that is extraordinarily unique and hugs you just right at all the curves.
One & Only Gown in the World & Sentimental Value: Buy √√√
All of this boils down to precisely what you prioritise and value most. If budget is your greatest concern, then you should definitely go for a rent-dress. If sentimental value has greater significance to you, then leave no regrets by purchasing a gown that captures your heart.
If you have yet to decide on a location, then perhaps our next guide may smoothen your planning process! Check out our This or That: Intimate vs Grand Wedding!
If you have settled your location and now in search of a gown or a photographer, we are here to help! Head over to our website now for some amazing photography packages that include gown and suit rental!