As the capital of Japan, Tokyo is a popular location for couples to do their wedding photoshoot at since there are plenty of stunning locations to choose from. Tokyo changes remarkably throughout the seasons, and fall brings beautiful golden foliage to the city.
However, you may have some queries regarding an autumn photoshoot in Tokyo. Fret not, we got you covered!
When does autumn start and end in Tokyo?
Fall in Tokyo starts in September and ends in early December. The best time to catch the alluring autumn leaves in Tokyo is from November to early December.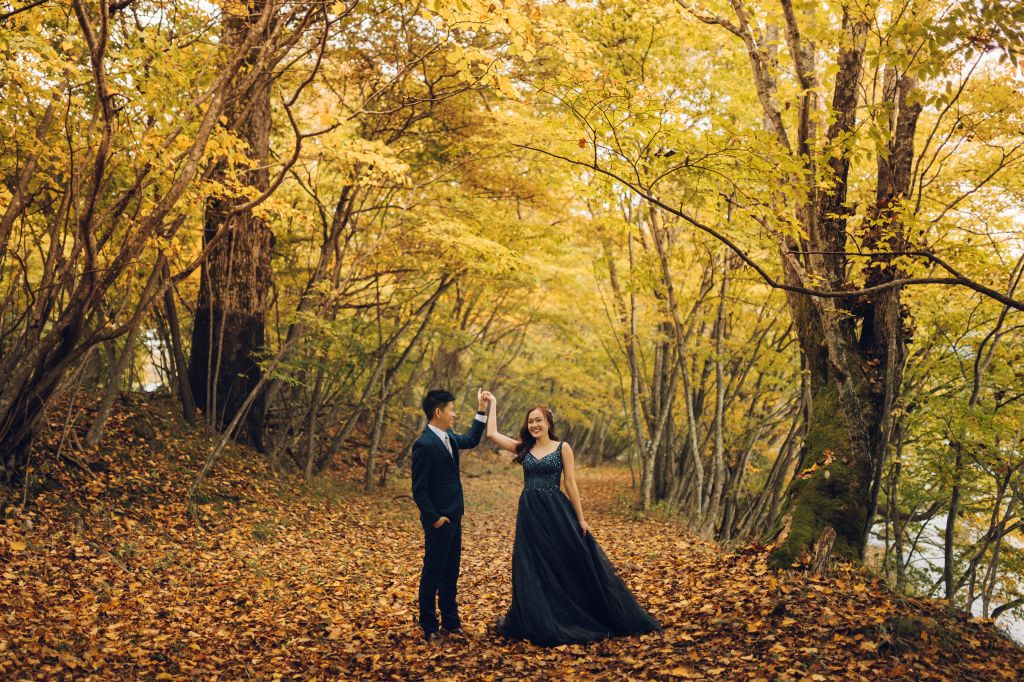 What is the best time for photoshoot?
The Golden Hours are the best timings for photoshoots, it will bring the autumnal colours to life! The Golden Hour refers to the hour after sunrise and before sunset, where the sun casts a soft and warm light to the surroundings.
During Autumn in Tokyo, the sun rises at around 6am and sets around 4.30pm, so be sure to take your photos before the sun sets for a day shoot!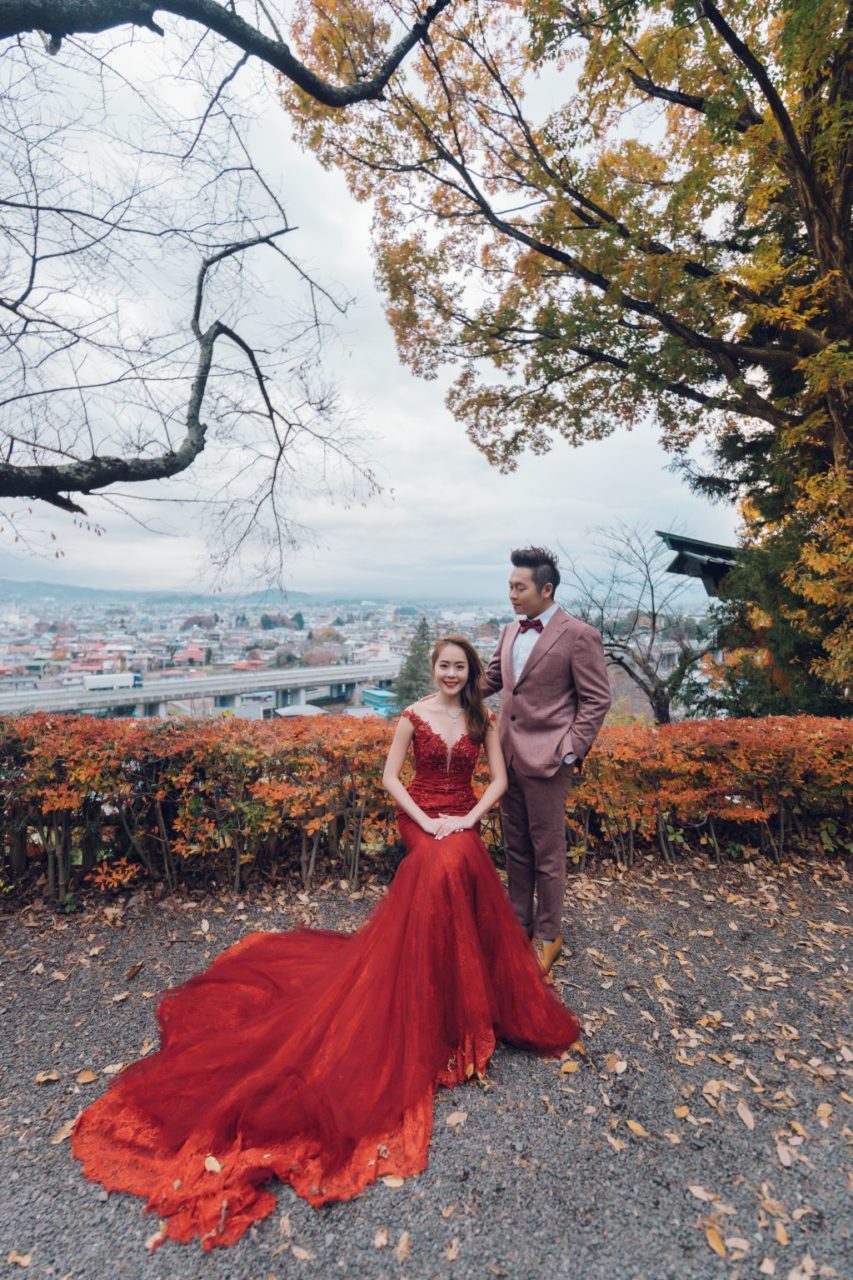 What will the weather be like?
The average temperature in Tokyo during fall is around 20ºC. In the morning and evening, the temperatures will be slightly lower, at around 14 ºC.
In the mornings and evenings, it might get cold even during autumn, so we recommend you bring a cardigan along! During November, the temperature drops significantly, so do be prepared to have a thicker coat on hand!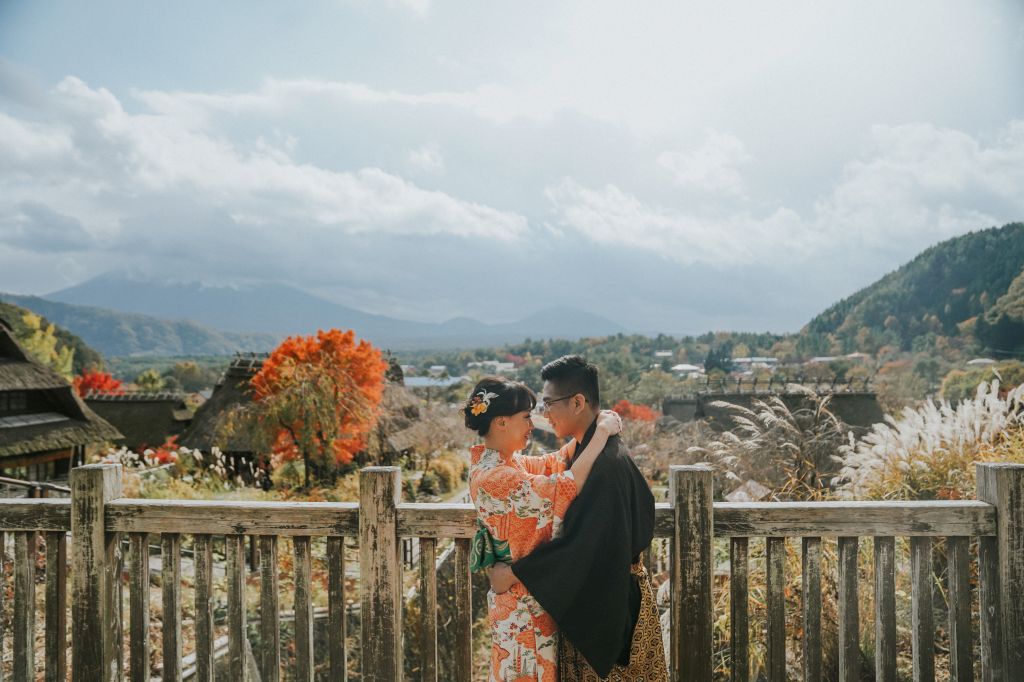 What are the best locations to shoot at during the autumn season?
The golden foliage is the highlight of the Autumn season. Thus, we recommend you to visit the Maple Corridor, which is perfect for a stunning shot under the autumn leaves! The Maple Corridor is located near Lake Kawaguchi near Mount Fuji, and it is easily accesible by bus as well! This picturesque spot to enjoy the golden foliage during autumn can be quite crowded during the weekends, so it would be better to visit it during the weekdays!
The Iyashinosato Village is also a great location to take wedding photos in autumn. The houses in the village are built with thatched roofs, which matches perfectly with the autumn foliage. Put on a kimono and it instantly adds a rich cultural touch to your pre-wedding photos!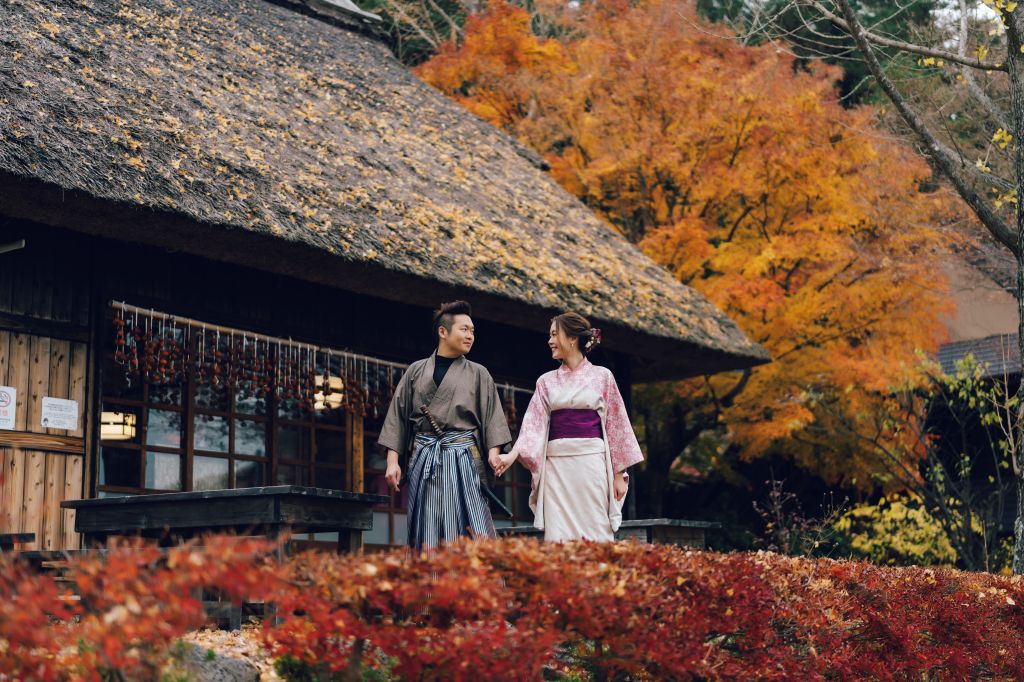 Does it rain during Autumn in Tokyo?
Rainy days are common during the Autumn season. Hence, it is best to plan your trip and photoshoot according to the weather forecast. Do remember to bring along an umbrella too!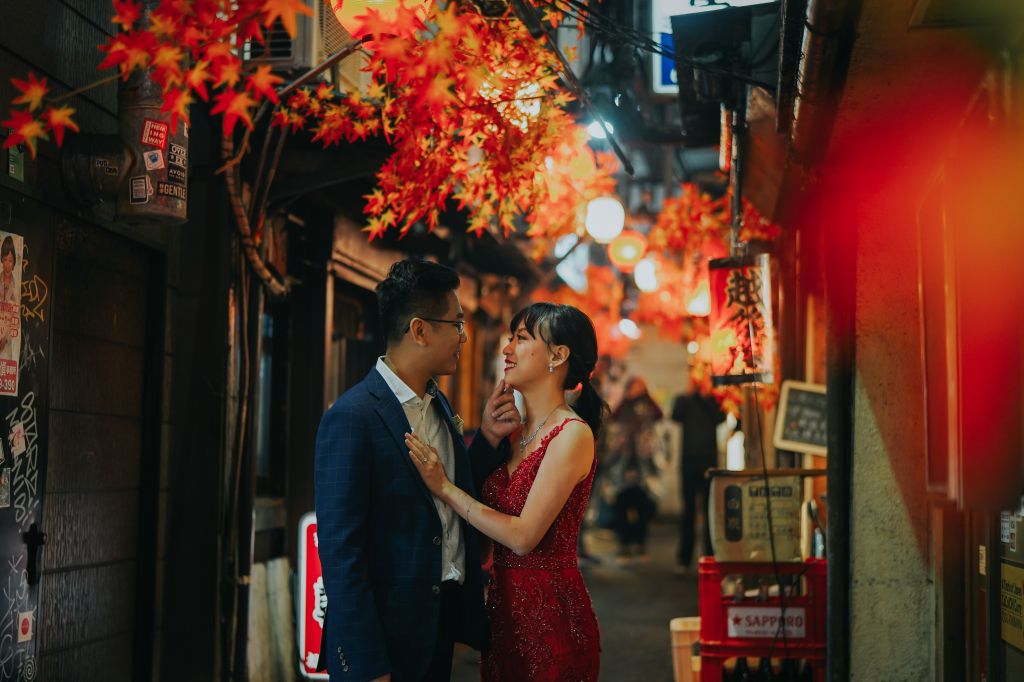 What type of makeup should I wear in Autumn?
Before we get started on the makeup, you should put on your sunscreen! Facial sunscreen is a daily essential that you can't forget about, since there will still be sunrays beaming down on you even during Autumn!
Fall makeup is all about sultry eye shadow shades, and hence we recommend you go for a smokey-eye makeup look. However, for a day shoot, be careful not to overdo the smokey-eye makeup by sticking to lighter eye-shadow shades like light browns, golds, and yellows. For a night shoot, you should go for darker colours such as purples, greys and blacks!
You should also go for bolder lip colours like plums, deep reds, and orange browns to complete the look!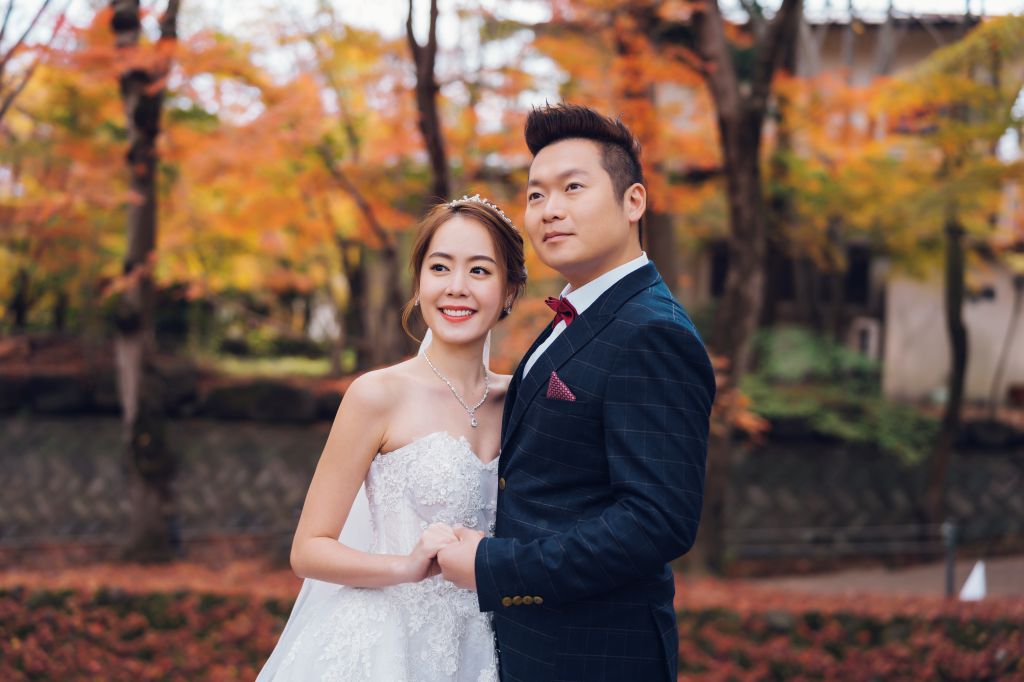 What colours should I wear during Autumn?
We recommend wearing darker colours such as blue or burgundy for your photoshoot during Autumn, to match the yellow autumn foliage. You can check out our article on how to choose the right wedding gowns and suits for your wedding photos for more tips!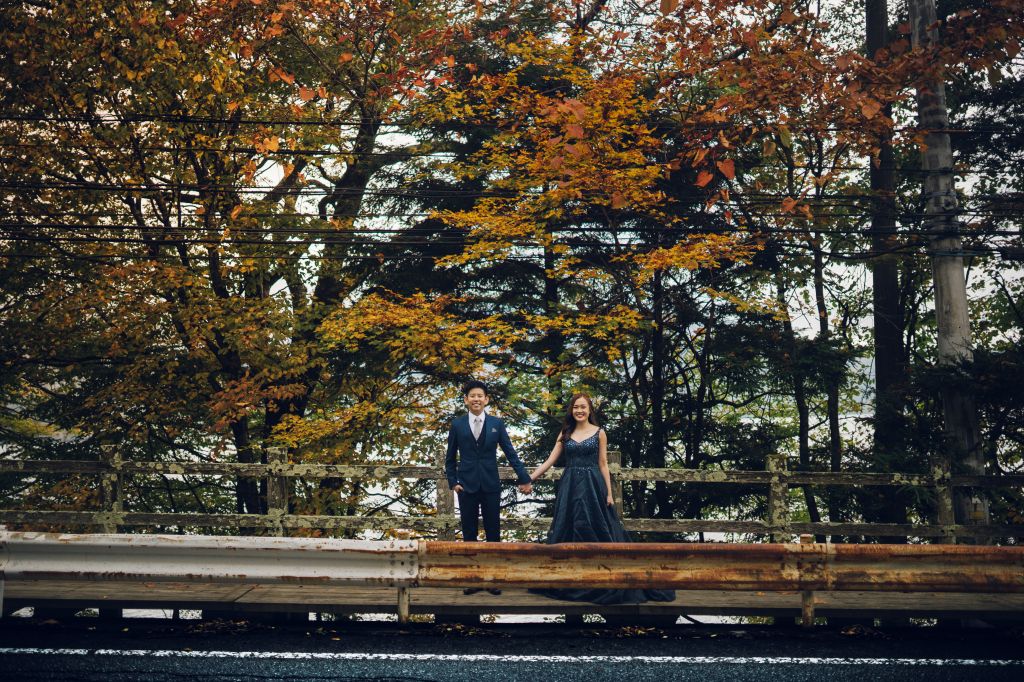 Where should I stay during autumn in Tokyo?
We recommend our couples to stay near the city area and near amenities like subway stations for easier travels. In Tokyo, hotels in areas like Ginza, Shibuya and Shinjuku are the most popular, so be sure to make your reservations for these hotels a few months before your autumn trip!
We hope this guide prepared you for your autumn wedding photoshoot in Tokyo Japan.
Have more questions? Head over to our website to learn about our wedding photoshoot package in Tokyo.