We will be sharing pictures from behind the scenes of Korea pre-wedding photo shoot process, from gown fitting to makeup & hair to the photography studio. These pictures will help couples understand the typical flow of the photo shoot.
Itinerary in Short
Typically, your pre-wedding shoot in Korea stretches over 2 days, day 1 for dress fitting and day 2 for makeup, hair and the photo shoot.
The first day is to choose your wedding gown and also to pay the balance of your photoshoot package. For Day 1, please reserve about 4 hours on your schedule for the first day.
The second day is the actual photo shoot. It starts from the morning where you will be chauffeured to the salon for hair and makeup styling before changing into your outfits. Then you'll make your way to the wedding studio and the photo shoot begins. For Day 2, please reserve about 8 hours on your schedule.
View a detailed pre-wedding shoot itinerary in Korea here.
Korean Bridal Gown Boutique – Sanga Couture
On your 1st day, you would be visiting a bridal gown boutique (the Koreans call it a wedding dress shop) to try out and select your wedding gowns and tuxedos.
The entire process only takes about an hour, so after this you can get go back to your shopping!
You will be invited to one of the rooms, where the bridal shop assistant will work with you to choose your ideal wedding gowns. Based on your preferences, the bridal assistant would pick about 6 wedding gowns for you. You can try on the 6 different gowns and see which compliments your body best!
Brides should know their preferred styles/silhouette before their appointment. When you're planning on your pre-wedding photo shoot, you can make a wedding gown board on Pinterest or save photos onto your mobile phone or iPad.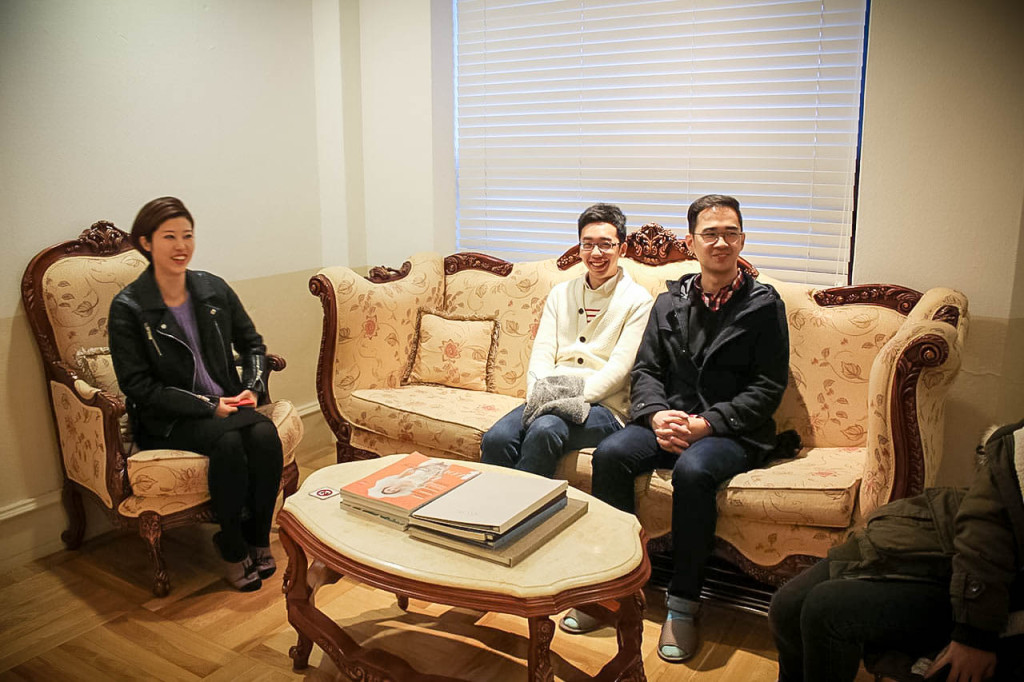 I really like the experience here! With a dedicated private room, the entire experience was really cosy and comfortable. The bridal assistant would help you out with everything…
The Gown Fitting Process
First, you will be asked to change into an inner wear and a loose robe, then she will help you to do up your hair and put on some accessories for you (so that you'll have the complete bridal look when you try on the gowns, these are really down to the details). Then another assistant brings in the gown and sets it in place on the platform. All you need to do is simply step into the dress, and the assistants will help you to pull it up and tie up the dress.
Yes, you will feel like a real princess.
And they even have the flower bouquet ready for you. Then comes the most romantic part of the fitting, the assistants will open up the curtains and unveil your bridal look.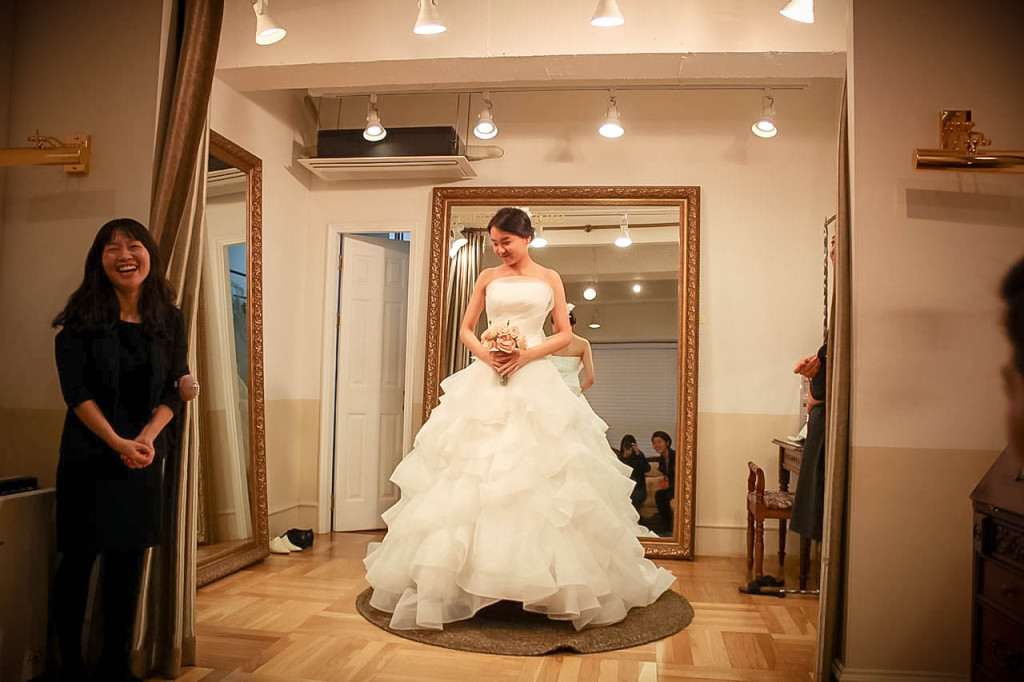 Here's the bridal assistant demonstrating how you can have 2 different styles with 1 wedding gown. Simply, by adding/removing lace toppers, you can have an entirely different look and add more variety to your pre-wedding shoot.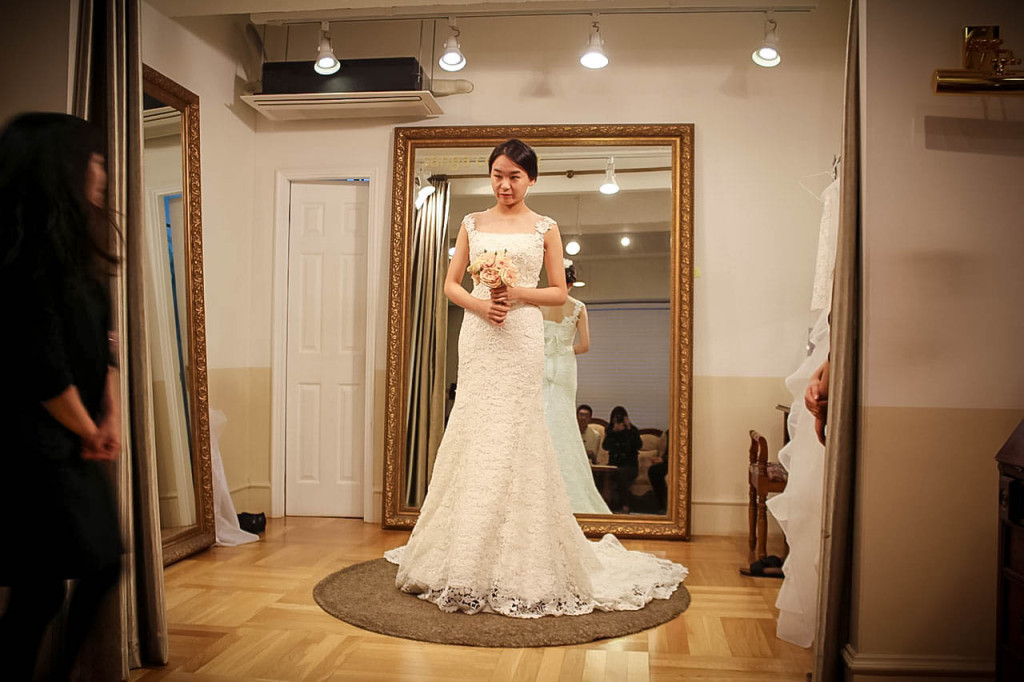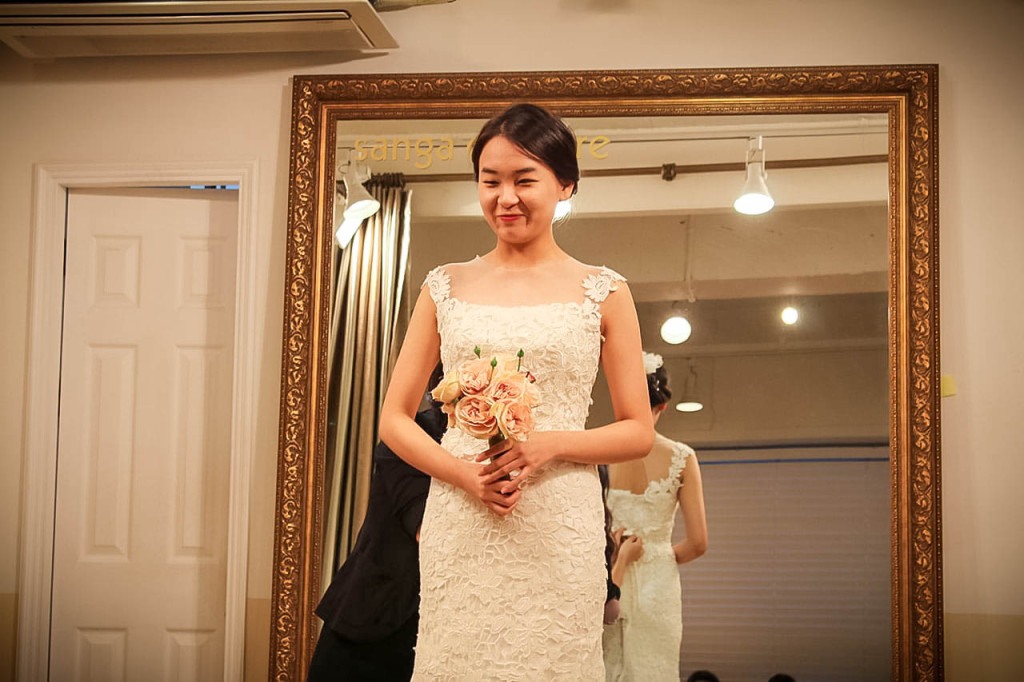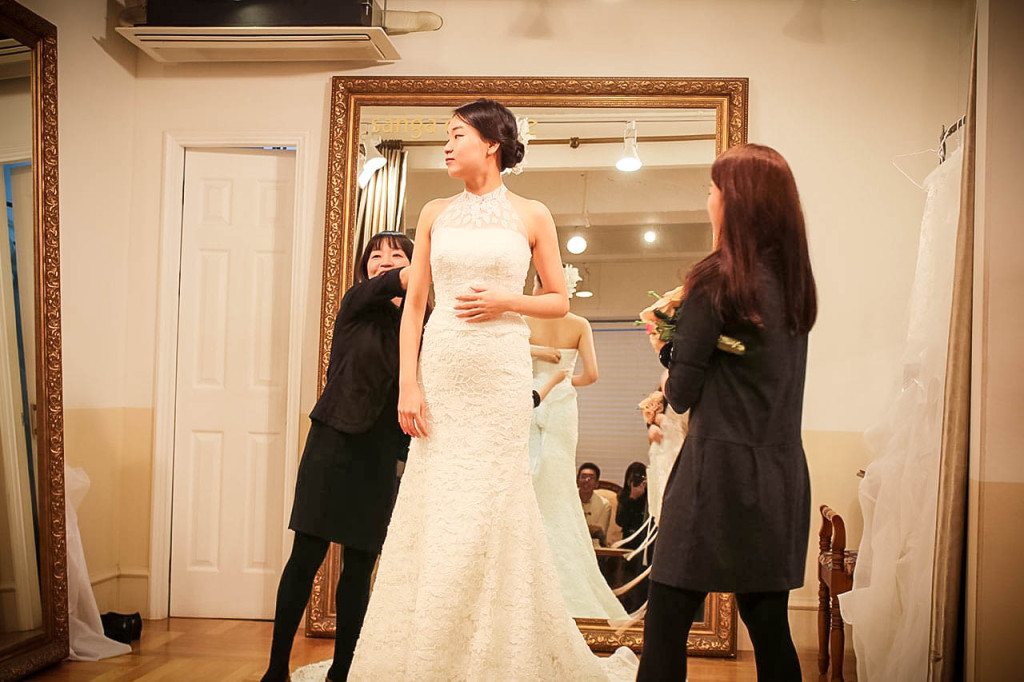 Voila! Another adding another long-sleeved lace topper and it looks like a totally different gown.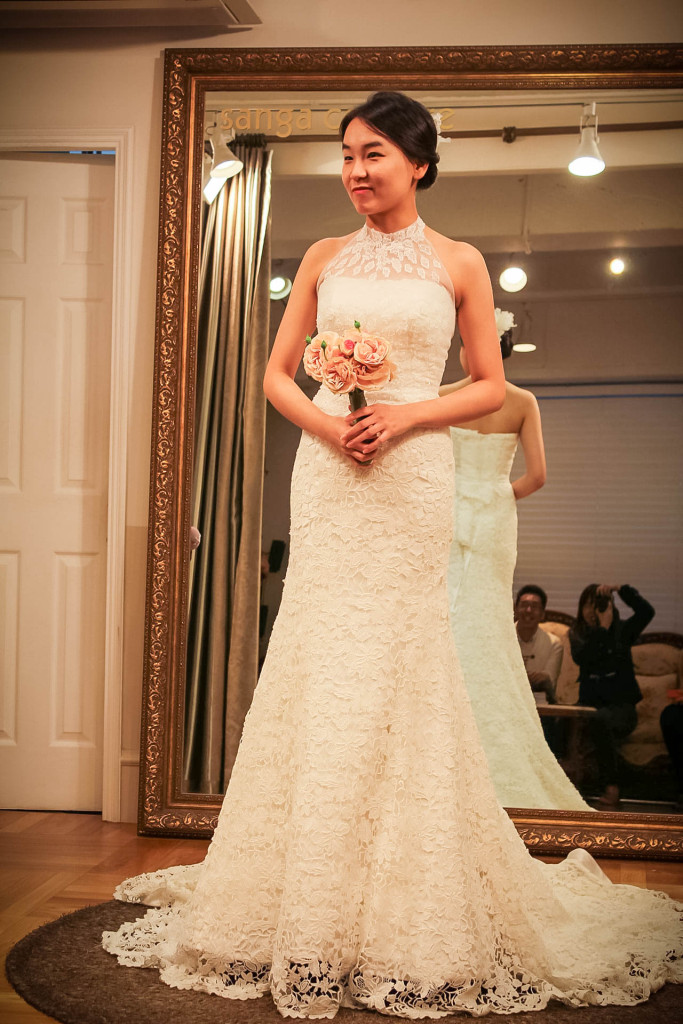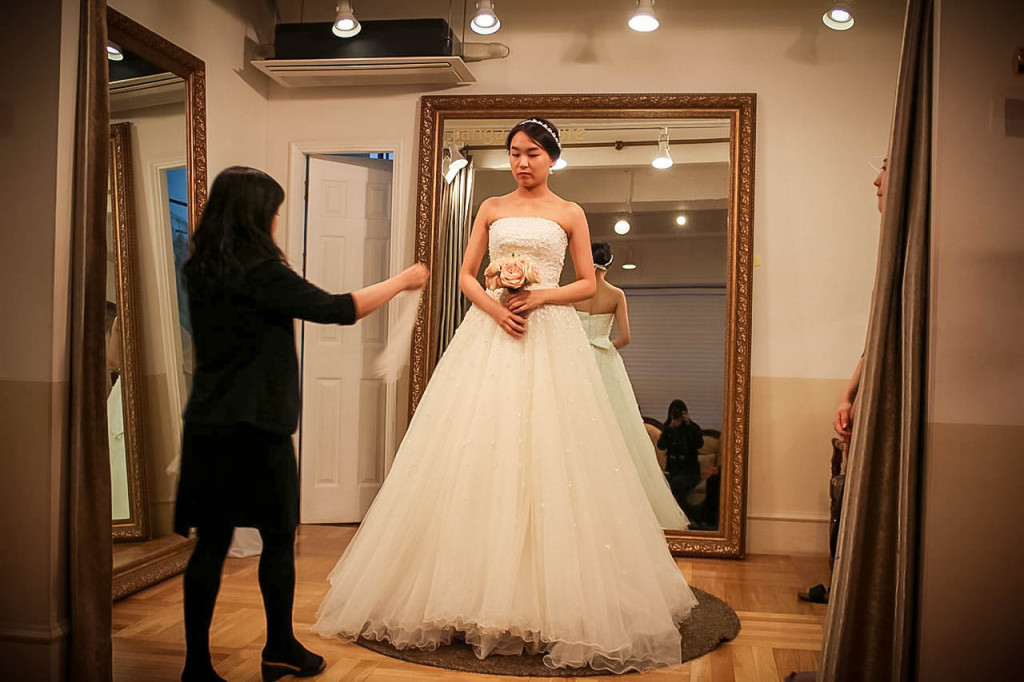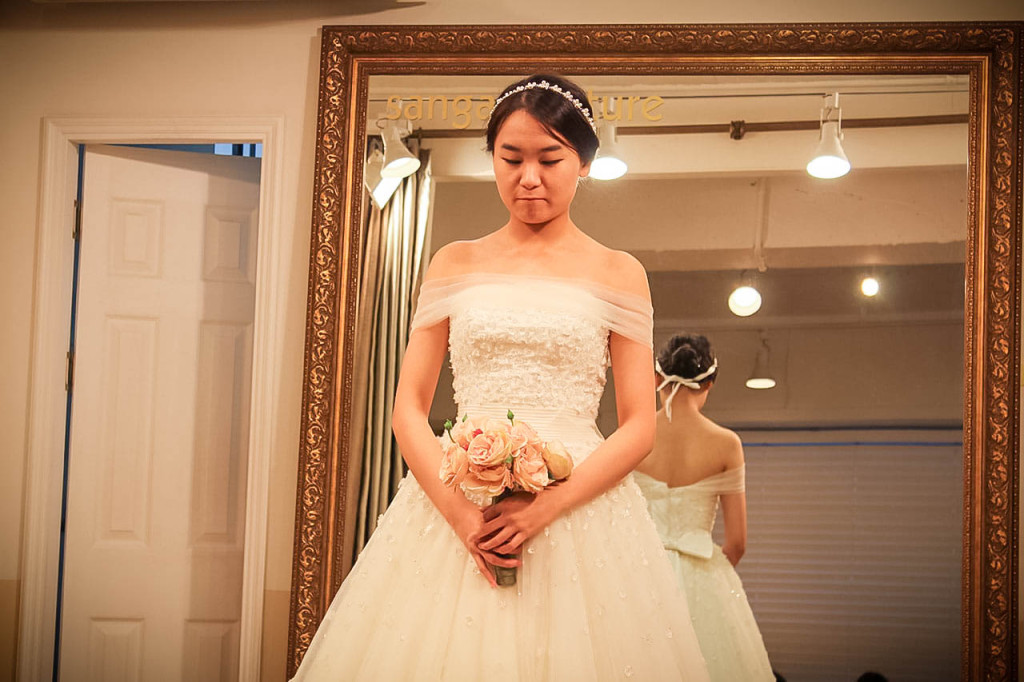 Brides can choose 2 white gowns and 1 evening gown. Accessories are included too: tiara, veil, earrings, necklaces, shoes (best to use your own) and inner-wear.
Groom
Groom can choose one suit. The dress shirts and vest are included. You also don't have to worry about bow-ties and neck-ties, it would be provided. You need to bring your dress shoes.
Important information:
Prepare sample images of your preferred wedding gowns
Bride can choose 2 white wedding gowns and 1 evening gown
Groom can choose 1 tuxedo set
Sanga Couture is one of our wedding gown boutiques. It offers a very refined and comfortable experience for brides and groom to choose and try on their outfits.
---
Hair & Makeup Salon
You'll start your photo shoot day at the hair and makeup salon. Our driver will pick you up and drop you off at your selected salon. Because the schedule for the day would be very tight, we recommend our couples to have a heavy meal before everything. We'll provide some light snacks such as sandwiches or Korean rice rolls (gimbaps) along the  way to help you keep those hungry monsters away!
A personal helper from the bridal boutique will meet you at the salon to deliver your gowns/suit. She will help you change into your first outfit at the salon. She will also assist you through out the day, helping you to change to the different outfits and changing your hair styles.
Before the Photoshoot
You should avoid applying any thing on your hair. No hair oil, no hair treatment, no gel/wax. Just shampoo your hair the night before. Keep your face free from any thick moisturizing cream too, stick to the cleanser, toner and light lotion. If you have a preferred style of makeup, please inform your makeup artist. It is best if you have pictures of your preferred makeup style.

The makeup salon has all sorts of makeup that you can imagine… I mean ALL sorts!
Just look at that, a makeup paradise!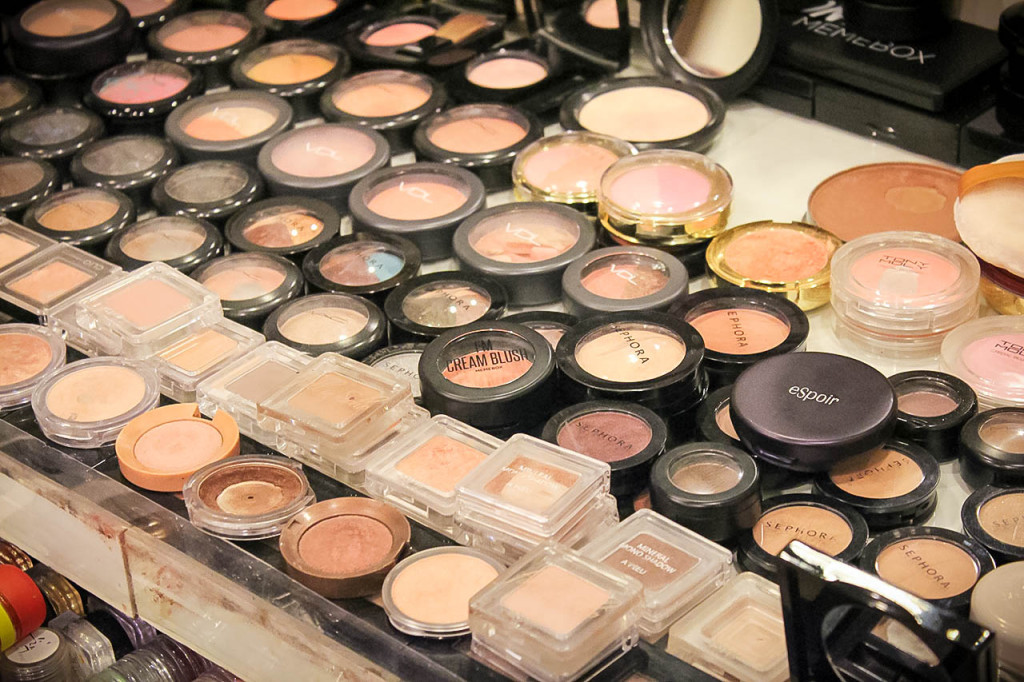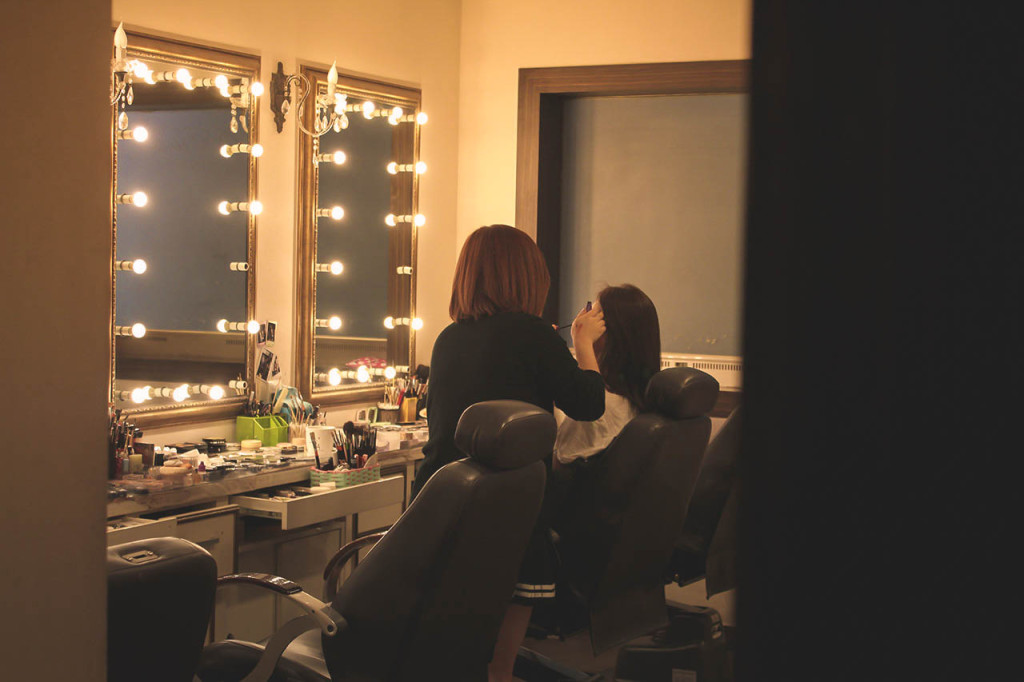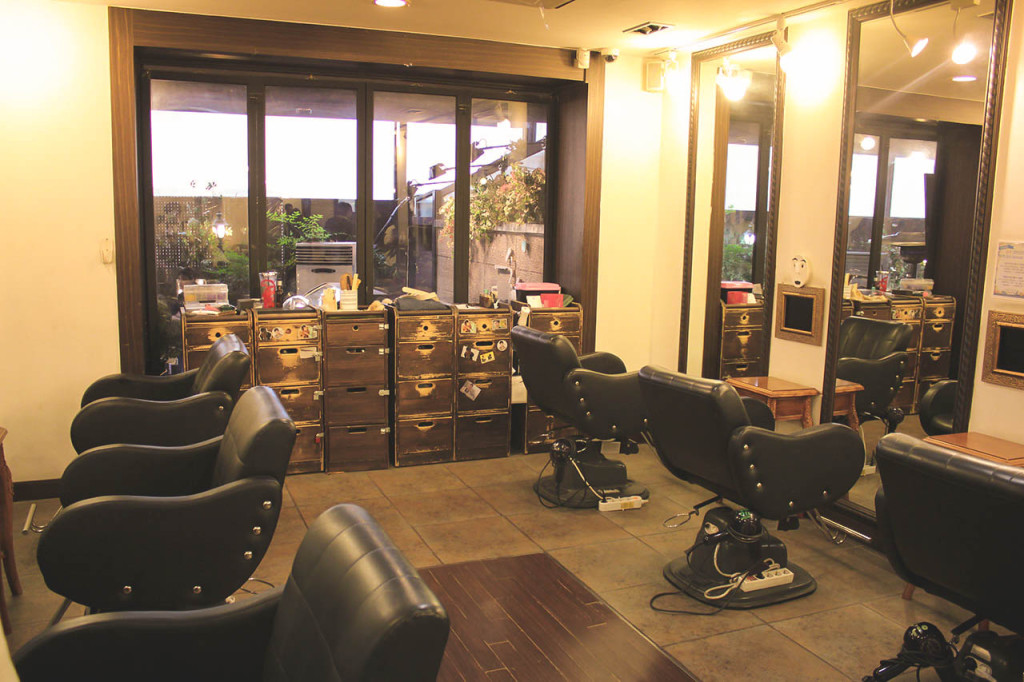 For the groom, he will get his hair styled and also some basic makeup. After that we can change into this tuxedo/suit. Brides, you don't have to worry for your groom, there is a waiting area for him to get comfortable. They serve free coffee/tea there!
The entire session at the hair and makeup salon will take approximately ~3 hours.
Important information:
Do not apply and hair gel or wax
Do put on your contact lenses, if applicable.
Do not apply any essence or high-density cream on your face, use only toner and light moisturizing lotion after washing your face.
Do not wear any accessories such as earrings, necklace and bracelet, this is to prevent lost of your personal belongings.
Grooms should wear long socks that complements their dress shoes and suit
Do have a heavy breakfast, light snacks (sandwiches/gimbaps) will be served when couple is at the hair and makeup salon.
---
Wedding Studio: Pium Studio
The final stop would be the wedding photography studio. The entire session takes approximately 4 hours. Through out the session, your personal helper would be touching up on your makeup, changing your hairstyle for you too. We also encourage brides to share with the studio photographer the poses that they want.
You'll be stunned at how good the Koreans are with their wedding studios.
Every corner, (and I mean every corner!) can be used as a backdrop for your photoshoot.
To make sure their quality of their photos are consistent, the main lightings are built into the walls of the studio. They also setup additional lighting to create the natural sunlight effect.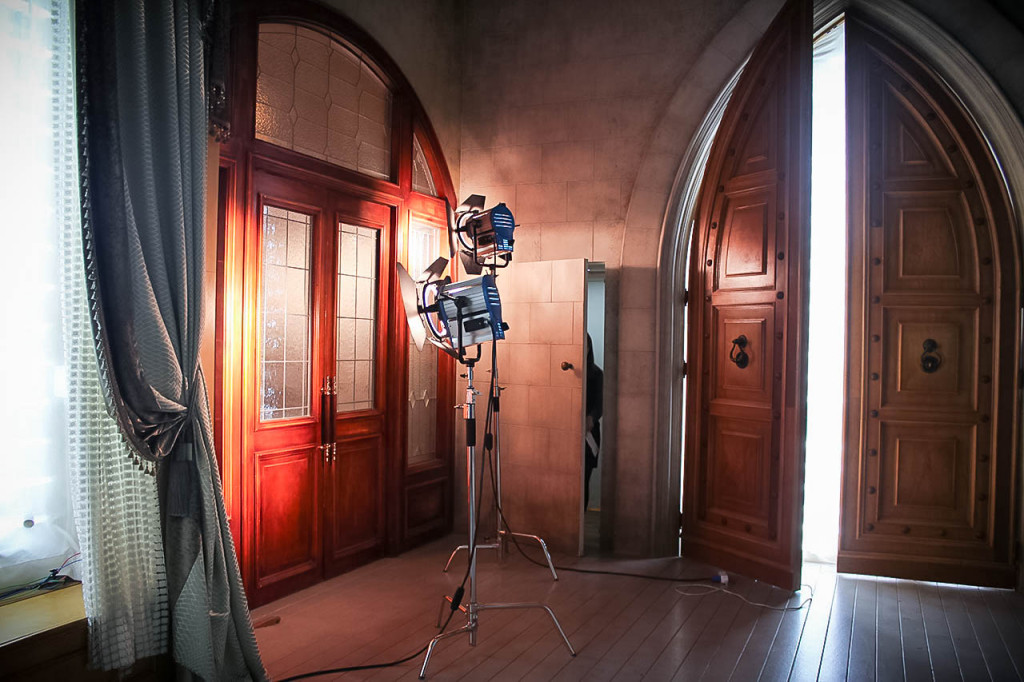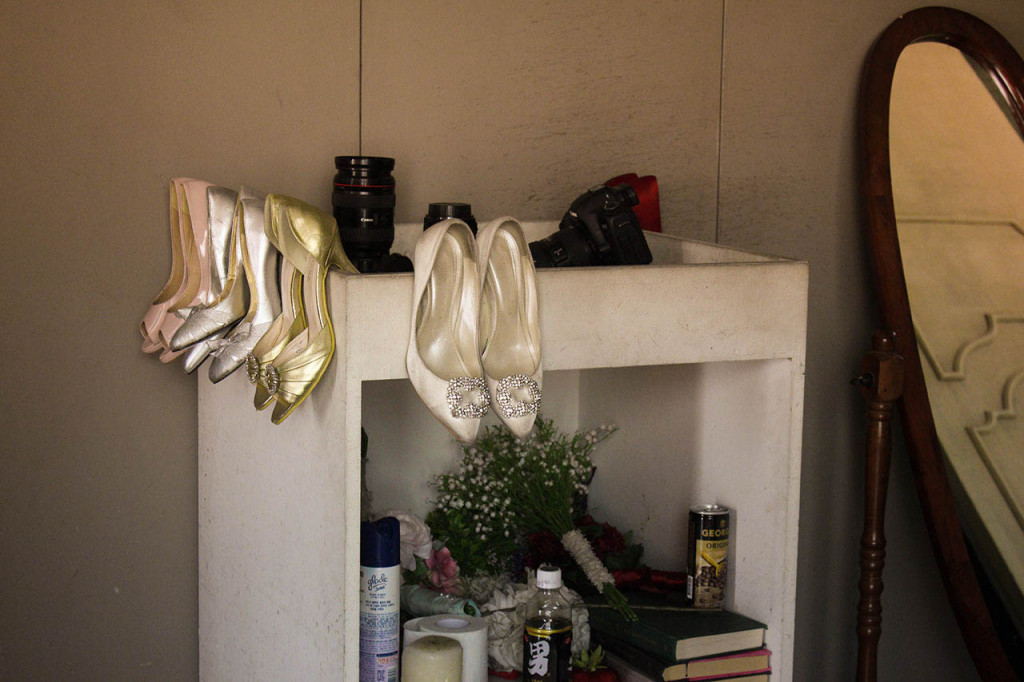 Extra dress shoes on standby for the bride.
In a single space, couples can select the backdrop they like best!
Principal photographer of Pium Studio showing his favorite set, the love blossom garden. It might not look like much on the first picture, because the flashes are not switched on. But he was excited to show us how it works and used his camera to demonstrate how the lighting works.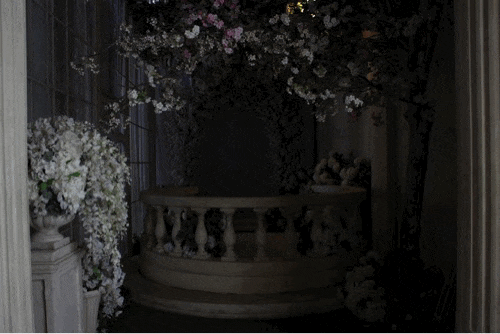 Most importantly, the bride looks absolutely gorgeous! If you're interested to see more of the sets, see this video by Pium Studio. For details and prices of their packages, visit Pium Studio's profile.
We have compiled the list of tips, dos and donts for your photo shoot in a separate posts for your easy reference too. 
Are there any other things that you would like to know about the Korea pre-wedding photo shoot process? Let us know at the comments section.