Dad jokes can be totally embarrassing (and adorable but we won't admit it) but Alexys' dad took it to another level. While on a trip to Hokkaido with her family, Alexys' dad decided to strike a conversation with a bunch of guys on the train and that marked the embarrassing start of a beautiful relationship.
Read on to find out the whole story and check out the absolutely stunning pre-wedding photos taken at Otaru during Winter!

First Encounter
Alexys was with her family on a train from Niseko to Otaru while Alex (YUP THEY ARE ALEX AND ALEXYS, IT'S A MATCH MADE IN HEAVEN) was with his friends. Alexys' dad has always been a little nosy and loves talking to strangers, so he went up to talk to Alex and his friends to Alexys' utter embarrassment.
But all that matters is they exchanged their numbers, started hanging out back in Singapore and went on many adventures thereafter.

The Proposal
With a shared love for travelling, Alex was determined to propose overseas. While travelling through Slovenia, Alex hired a local videographer to follow them around to film down the perfect moment.
When they were having an unassuming lunch, the waiter (who was bribed by Alex) brought them outside the restaurant to enjoy their coffee. He led them to a pavilion that was decorated beautifully with roses and candles where Alex got on one knee and popped the big question!

A Tip For Winter Pre-Wedding Photoshoots
Winter is undoubtedly a stunning season for your pre-wedding photoshoot but it can be quite a pain! Here's what Alexys has to say if you are planning a shoot in this extremely cold weather.
"For guys, it's easy because they can wear an inner layer. For girls, perhaps incorporate a matching coat to the outfit, if not, have a coat handy which the make up artist can hand to you in between shots. I wish I wore waterproof shoes too because my heels got ruined after a day walking around in the snow."

Experience With OneThreeOneFour
"It was great and communicating with Eve was easy. We got to look at different portfolios of photographers to choose which style we liked. We were able to get comfortable with our photographer despite it being the first time meeting him."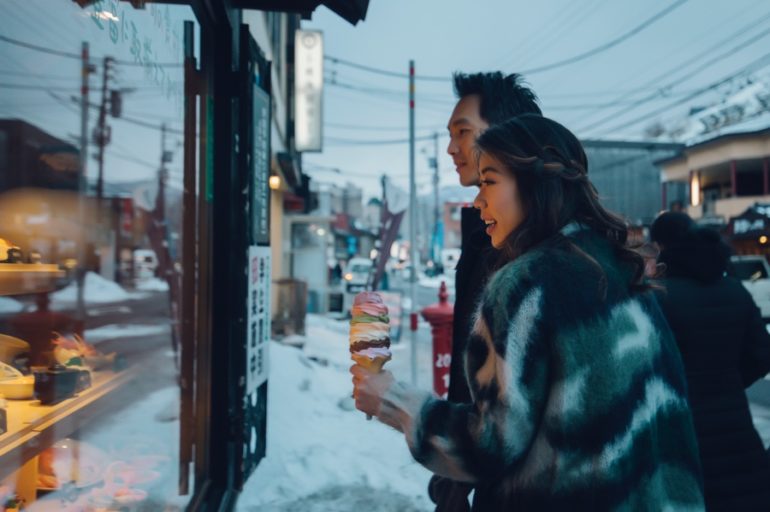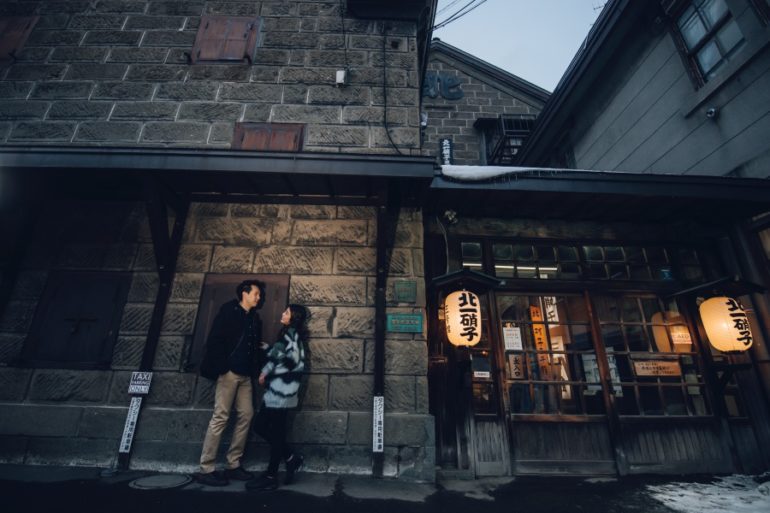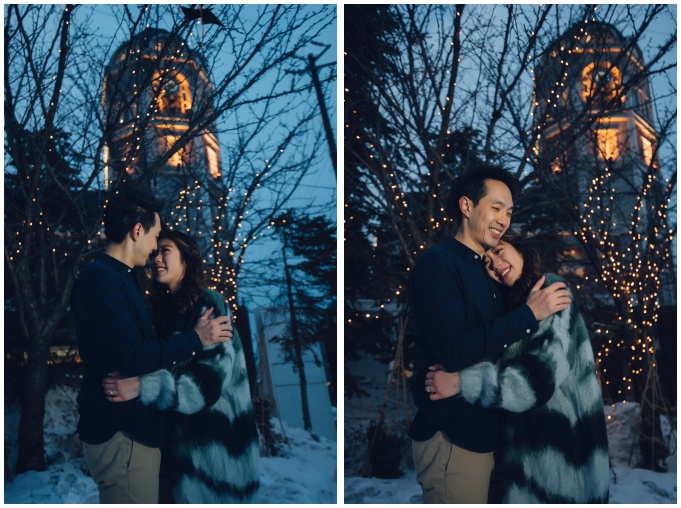 Book A Overseas Pre-Wedding Photoshoot
Do you have a place in mind for your next big adventure?
OneThreeOneFour is an expert in destination photography and we would love to document every couple's love story.
Chat with us on our website to find out more about our photoshoot packages now!