If diamonds are a girl's best friend, then flowers will be our second. There is hardly any girl in this world whose heart will not flutter at the sight of a sea of flowers. We have gathered some of our favourite destinations with the loveliest blooms that will make an unforgettable pre-wedding photoshoot!
Hokkaido
Hokkaido is getting increasingly popular as a pre-wedding destination as couples are discovering the beauty in this laid back island. It's many cities exude various charms that offer a myriad of backdrops that are excellent for photoshoots!
The lavender season in Furano is the most popular time to visit Hokkaido as thousands of tourists fly over every year to catch the gorgeous blooms!
SEE ALSO: Top 8 Flower Fields You Need To Visit In Hokkaido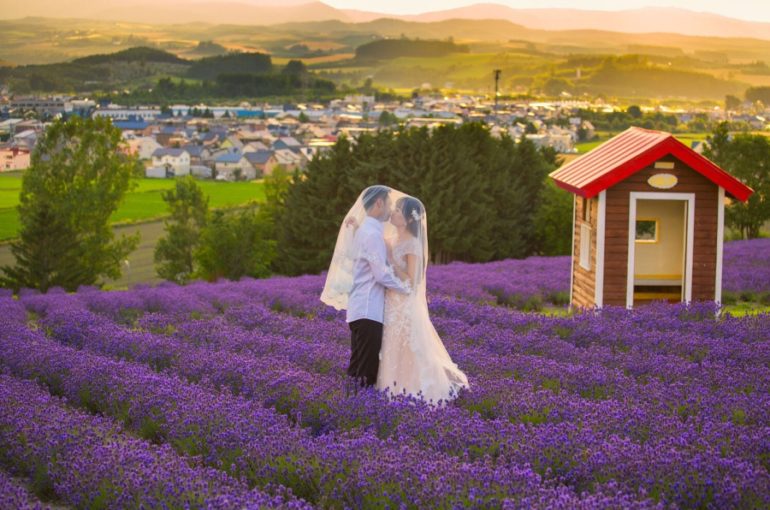 Thailand
Thailand is definitely a great place to visit if you're on a tight budget. You'll be saving lots on flights, accommodation and food since they are amazingly affordable!
Khao Yai, which is located 2 hours away from Bangkok, is an amazing natural paradise worth taking a day trip to! It's sunflower fields bloom from November all the way to January and you will be shocked at the overwhelming sea of yellow!
SEE ALSO: 5 Hidden Gems Near Bangkok Worth Taking A Day Trip To
Korea & Japan
You probably know the most popular flower that these two countries are known for. Every Spring, Korea and Japan will be bustling with tourists who specially fly in to admire the swoon-worthy cherry blossoms!
These fluffy pastel pink flowers are definitely one of the most romantic backdrops for your pre-wedding photos. They have a really short lifespan so book your tickets early to catch them every April!
SEE ALSO: Best Cherry Blossom Viewing Spots In Japan Away From The Crowd
New Zealand
Well, these aren't exactly flowers but all that matters is they look like it right? New Zealand's lupins are the most beautiful weeds that can ever exist in this world! The mesmerising pink and purple that surround the famous Lake Tekapo of New Zealand has stolen the hearts of many and it's not hard to see why.
These lupins are the highlight of summer time in New Zealand and you can catch them at Lake Tekapo every November – January!
SEE ALSO: 19 Photos Taken At Lake Tekapo – Every Couple's Favourite Spot In New Zealand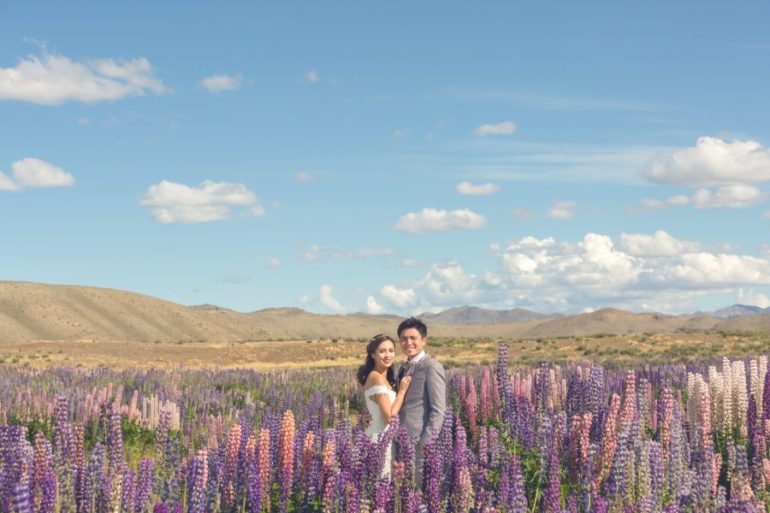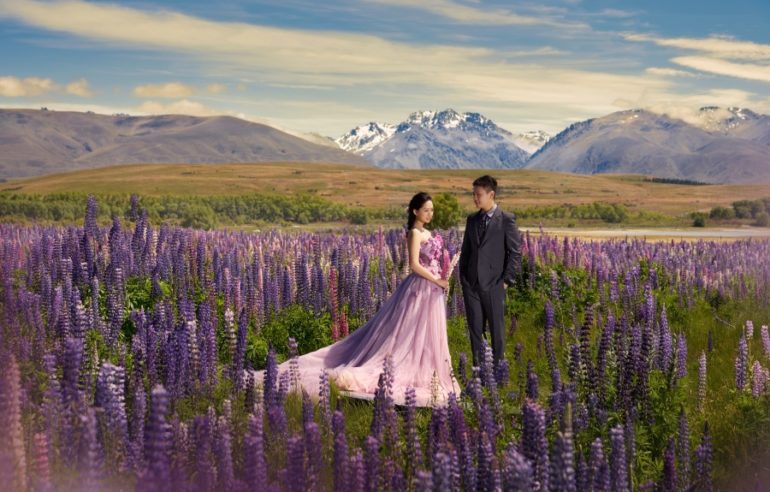 Jeju Island
Jeju Island is the most popular place in Korea for a scenic photoshoot with the beautiful nature. Famous for its picturesque routes, Jeju offers a variety of backdrops from forests to beaches.
The Canola Flower Festival is one of the most looked forward to periods to visit Jeju. You'll be welcomed by a sea of vibrant yellow flowers that fill the entire field right under the famous Hallasan Mountain!
SEE ALSO: 8 Hidden Photoshoot Locations In Jeju Island That Google Doesn't Show You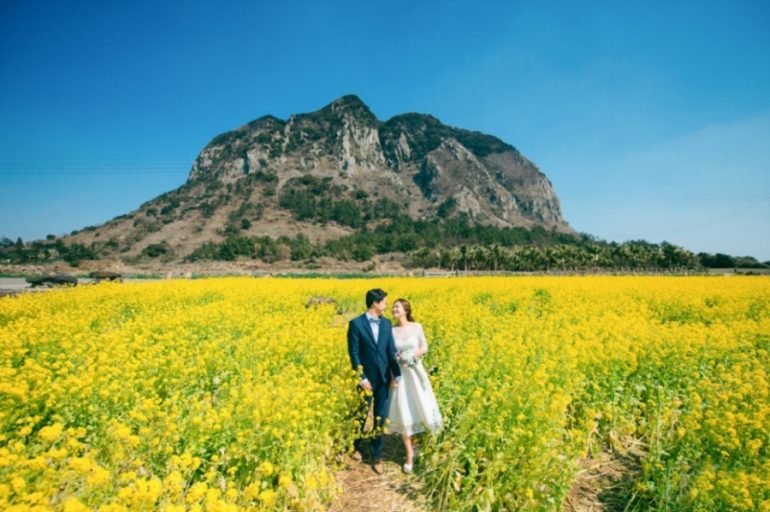 Book An Overseas Wedding Photoshoot
Are you planning to travel overseas? OneThreeOneFour is a professional wedding photography company that specialises in many destinations around the world!
We know just where to bring you to find the most glorious flower fields without the tourist crowd. Head to our website to find out more about our photoshoot packages now!