As much as guys may not be as vain concern about their looks compared to women, but this is also your once-in-a-lifetime wedding as well! I'm pretty sure your SO will appreciate your effort in dolling yourself up instead of looking like an uncoordinated mess.
Fret not if you have no idea where to start because your saviour is here! Read on to level up your fashion sense and overall appearance in preparation for your wedding day!
colour coordination, outfit coordination, hairstyle, facial, eyebrow grooming
1. Outfit Coordination
Most of the time, grooms don't seem to have much say in what kind of outfits they wear. Though partially it could be due to the decision power lying in the brides' hands, most of the time grooms actually have no clues on what should they be wearing.
There are two ways which the groom can go about coordinating outfits: colour coordination & print coordination.
Colour coordination
If you are someone who isn't good at this, simply pick an outfit that matches your bride's gown. For instance, if your SO picked a rustic wedding gown, then choose a shirt/suit/tuxedo that has a similar shade! Easy?
On the other hand, if you have a keen eye for fashion, flaunt it by playing with different colour combinations! A nice contrast would create a vivid and energising effect, making the both of you pop even more!
For those who would like to play with different combinations but are not confident in doing so, you make reference to the short guide below:
White goes well with all colours, especially black, red and blue
Black, a universal colour that matches all hues
Red combines with yellow, white, green, blue, black
Navy blue works well with red, brown, orange, pale-yellow, light-lilac, grey and white
Beige: combines with blue, brown, emerald, black, red, white.
Ivory/Beige complements black, white, red, blue and brown
Print coordination
A nice set of suit with subtle floral prints matching your bride's floral embroidered gown would definitely make a statement!
2.  Accessories
Now, who says who don't have to style yourself with a couple of accessories? Males may not have as many options as females, but that shouldn't be a reason for you to overlook this portion! In fact, accessories gain even greater importance during your big day -I mean there are going to be hundreds of guests wearing suits or tuxedo so how are you going to stand out amongst the crowd?
Choosing the right accessory is going to make the crucial difference, setting you apart from the others! There are so many areas where you can inject your personality and creativity into! From a bow tie/necktie to a boutonniere, cummerbund or cufflinks you can easily spice your outfit up with a distinctive design that matches your wedding theme! Be daring and you'll definitely be under the spotlight.


3. Hairstyle
Undercuts, slick back or side part – anything that suits your taste! Get a good cut before your big day and learn the tips to styling your own hair will do the job.
It is also important to know your own hair texture & hair types in order to pick the best hair styling product eg pomade, clay, gel or wax for yourself. This would ensure that every strand of your hair stays in shape throughout the day.


4. Facial
Break away from the stereotype of "facials are only for women" because acne and blackheads don't only grow on women's face. Clear your clogged pores with a good facial session for a fresh look!
Tips: Your face wouldn't magically transform after going for 1 session so do go for a couple and maintain the glow with basic skin care routines.
DO NOT book a facial session 1-2 weeks before your wedding because it takes awhile for the redness from extraction to fade away!

5. Eyebrow Grooming
I would say having a neat eyebrow actually makes a huge lot of difference – it is one of the defining factors in framing your face. In fact, having a pair of plucked brows would instantly make you look more kempt! Tears might be rolling down your cheek but I'd say it is definitely worth it to keep everything on fleek!

6. Gym
If you are someone who does not have the habit of hitting the gym, then this is your best time to start cultivating a healthier lifestyle. Shed away all the excess fats and achieve a lean body (just imagine those toned muscles showing through your tight-fitting suit, how flattering would that be!)
Muscles aside, working out is sure to make you look more radiant and energised! I'm sure many of us are already aware of the enormous benefits that exercising guarantees which requires no more nagging from me. Hurry up, grab your sports shoes now and get goin'!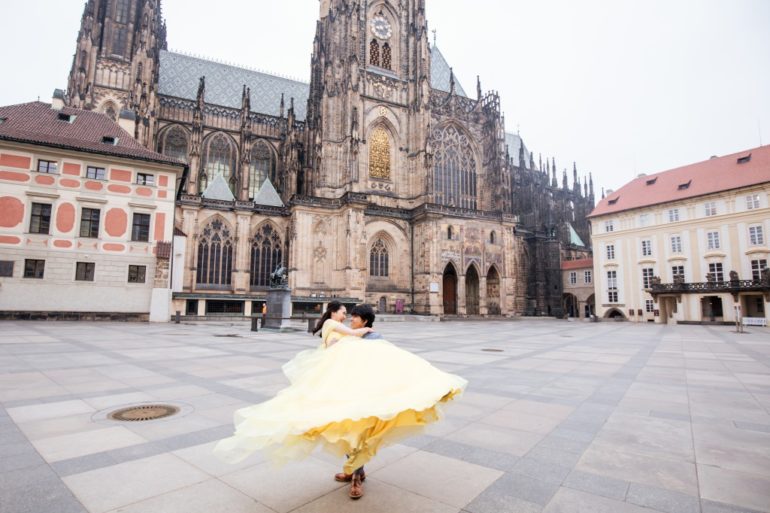 I kid you not, not only does following this guide warrant you a smart look and an air of confidence to walk down the aisle on your wedding day, but you will also impress your SO so keep these tips etched in your mind!
After taking care of yourself, it's time to show some love to your bride by noting down some tips for Her: 5 Things to Do To Look Even More Stunning on Your Wedding Day