Gion is the most popular place located in the heart of Kyoto. It is one of the few places where traditional shops and houses are still preserved in their original form. If you are looking for a place that exudes historical elegance, Gion is the place to go!
Due to its rich cultural beauty, the streets of Gion are always swarmed with tourists, so head down early for a peaceful photoshoot session!
We have compiled a list of the most picturesque spots around the area for your traditional photoshoot.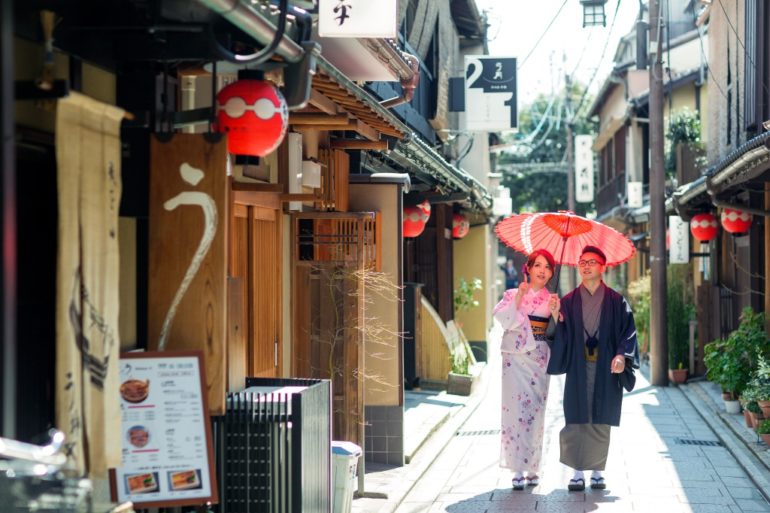 1. Hanamikoji-dori
This is the most popular street in Gion and you will definitely pass by it on your way to the other locations. The street is lined with preserved machiya houses that are now functioning as shops and restaurants. You will also spot many geishas and other tourists walking around in their kimonos, this is definitely one of the best spots for a kimono photoshoot!
SEE ALSO: Comprehensive Guide To Kimono Rental And Photoshoot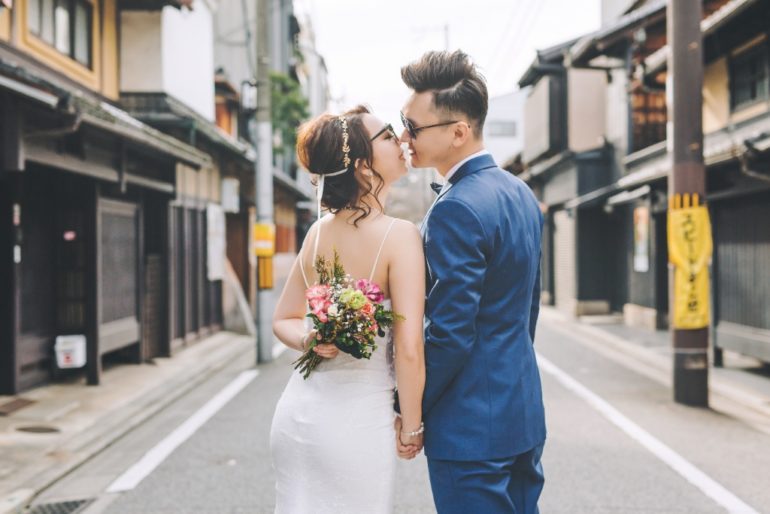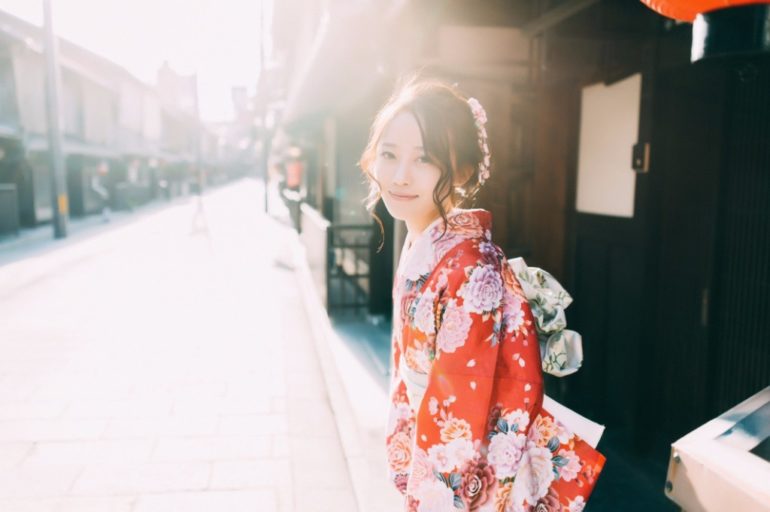 You will likely spot this photogenic wooden bridge along the way. This is one of the popular photo spots along the bridge and it is especially mesmerising during the cherry blossom season!
SEE ALSO: Japan's cherry blossom forecast and best viewing spots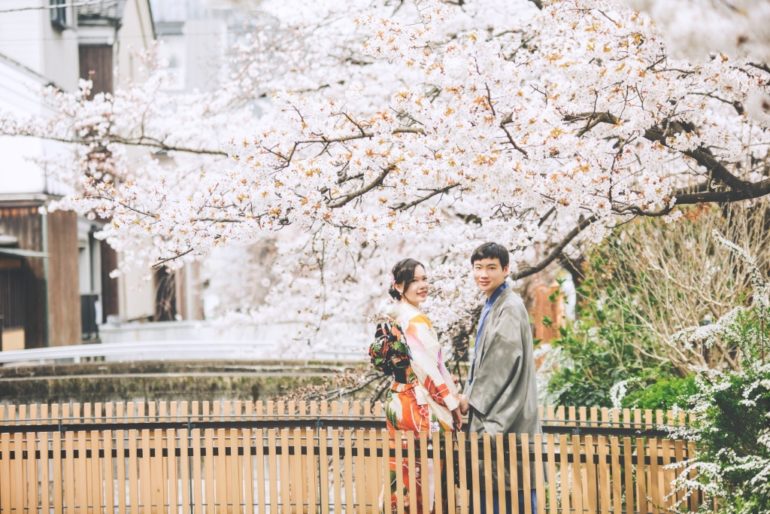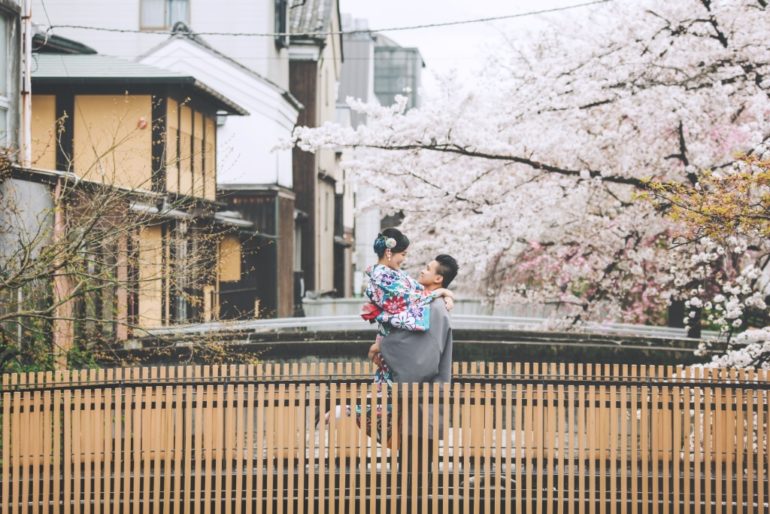 2. Gion Tatsumi Bridge
This is the most iconic bridge along the Hanamikoji street. The orange planks that line the ends of the bridge are hard to miss and many tourists and locals choose to take photos here. If you happen to stay here until the night, give the bridge another shot when the lanterns are all lit. It gives off a completely different personality that you can't capture in the day!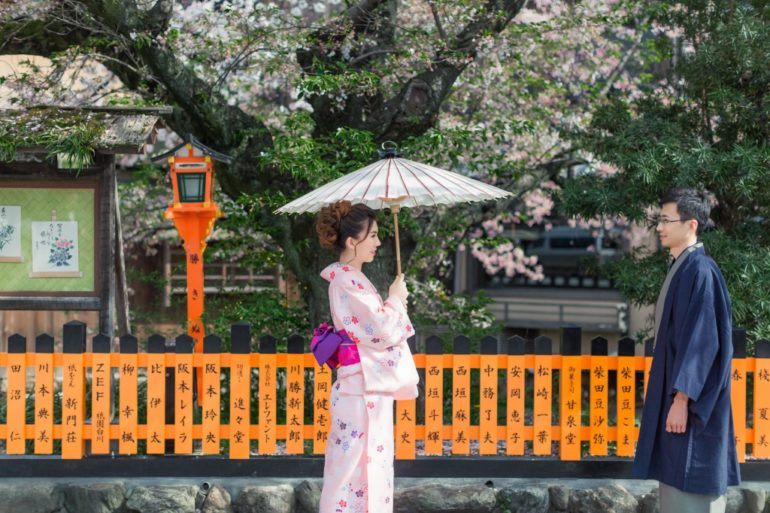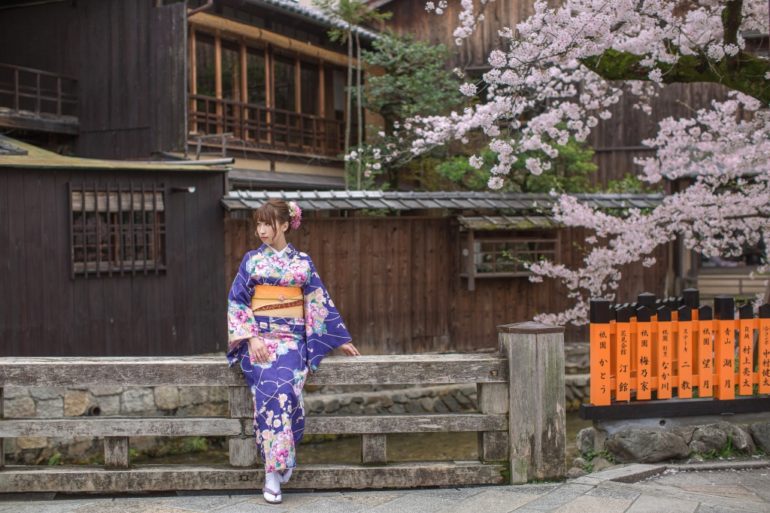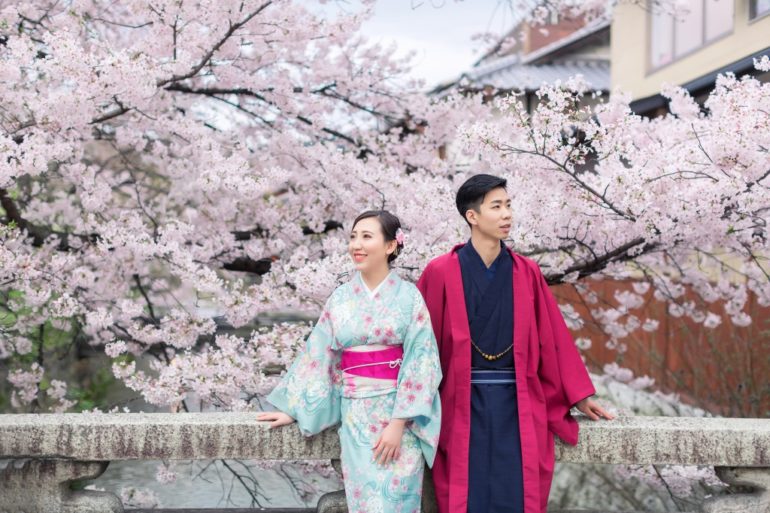 3. Tatsumi Daimyojin Shrine
Located just 10 steps away from the Gion Tatsumi Bridge, this is a small shrine that many tourists love going to. The entrance of the shrine is one of our favourite photo spot, especially towards the night. There is a big cherry tree planted right beside the entrance and is covered with cherry blossoms in Spring, making it all the more beautiful.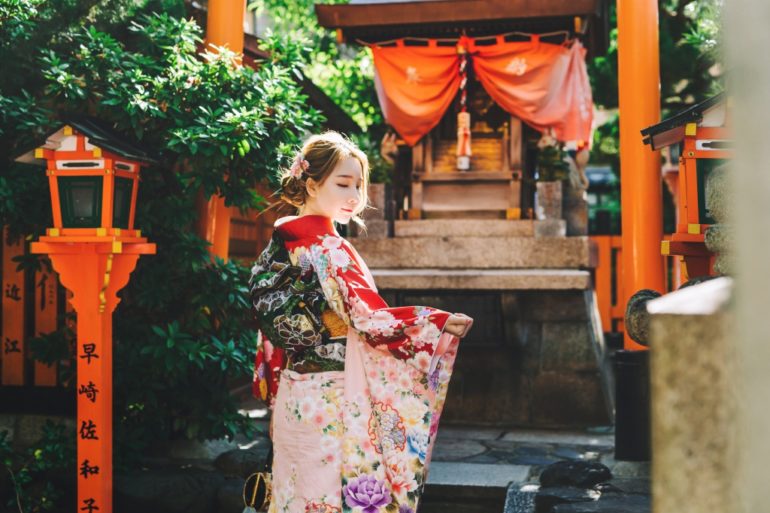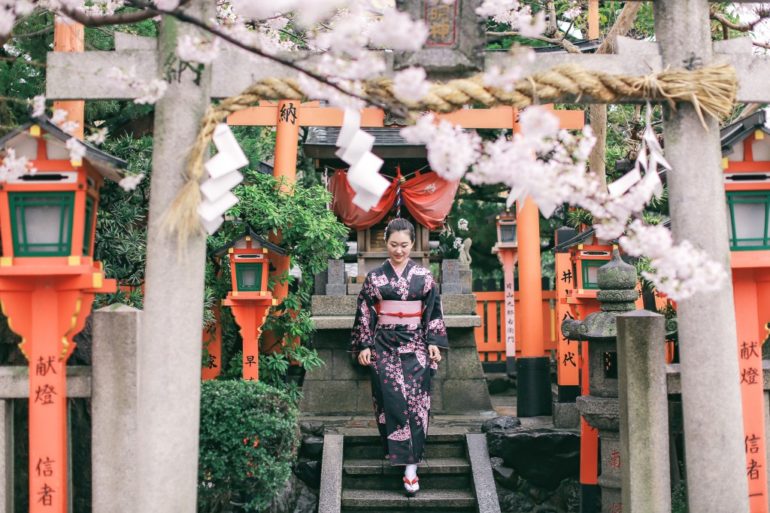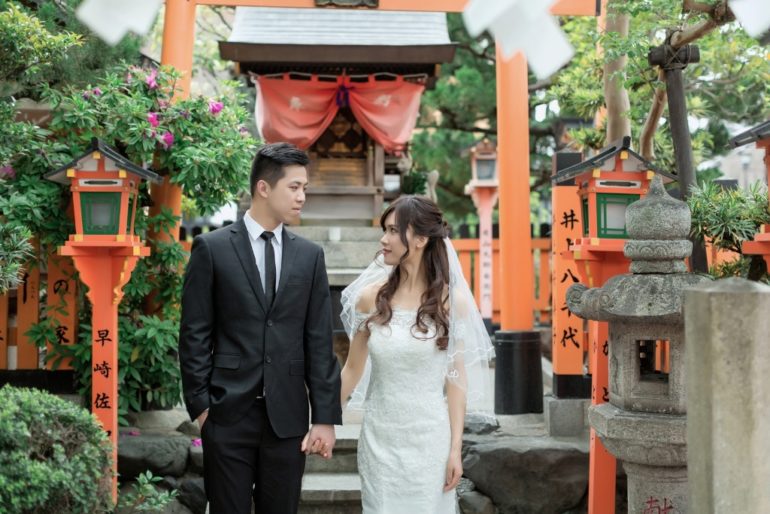 4. Kenninji Temple
Located on the other side of the street is the oldest zen temple in Kyoto. This is one of the only locations around Gion where you can have a photoshoot inside a temple. It is the perfect place for an indoor photoshoot in the seating areas that resemble tatami houses. The surrounding of the temple is an oasis of calm and gives off a feeling of serenity that you won't be getting from the busy Gion area just outside.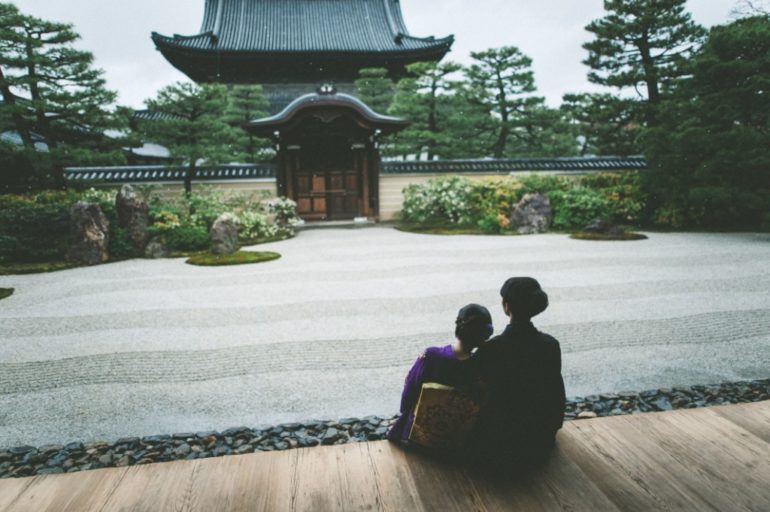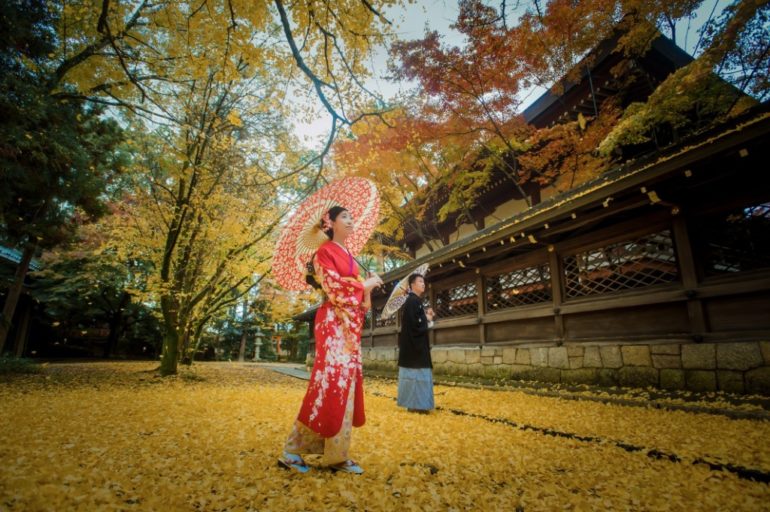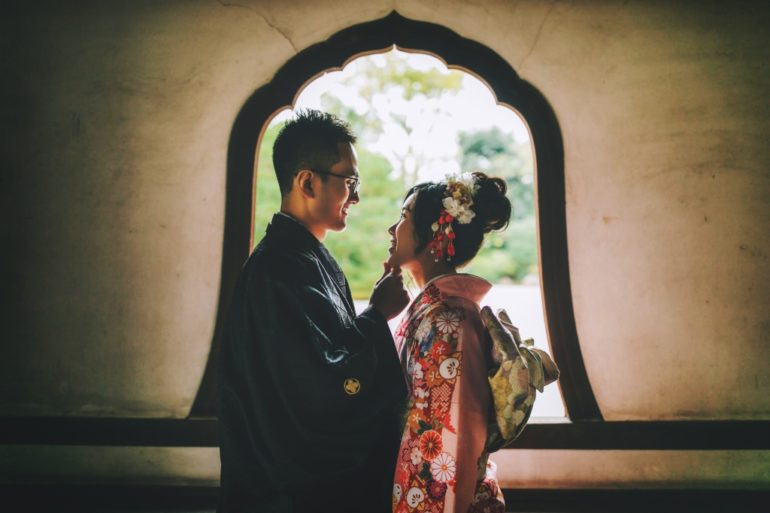 5. Shosei-en Garden
The Shiosei-en garden is located about 10mins walk away from Kenninji Temple.  This is a tranquil garden hidden behind large walls, where you can escape from the hustle and bustle of the city outdoors. The wooden bridges and garden ponds make stunning photo spots, especially during Autumn when the lush greenery turns into a golden foliage.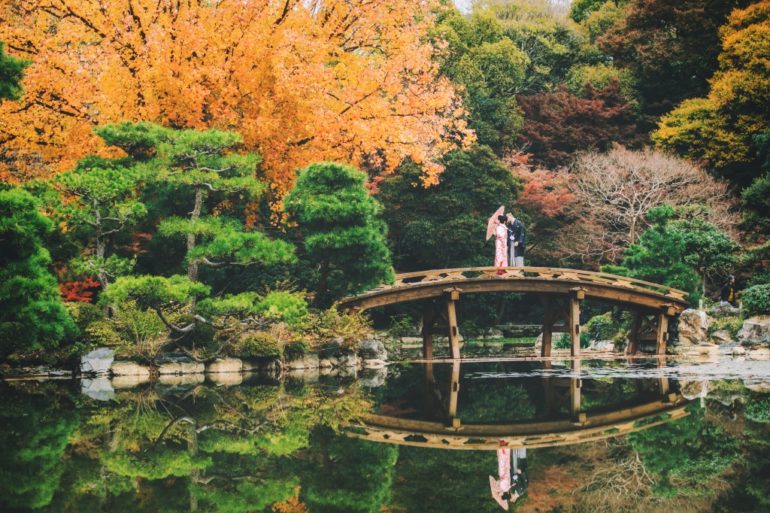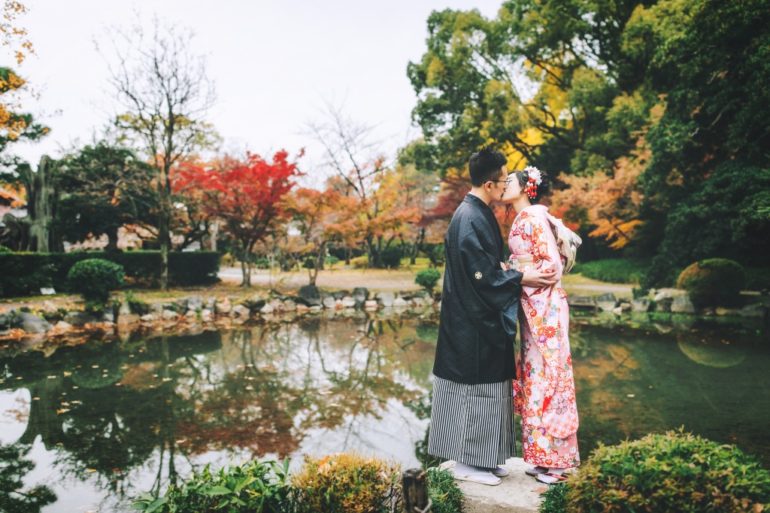 6. Hokanji Temple
An iconic 5-storey pagoda temple in Kyoto. This is located a little further away from Gion and the is not always open to visitors. However, there are still certain spots around Gion where you can capture the tip of this beautiful historic temple. The temple is surrounded by cobbled paths and old wooden Japanese shops, giving off a traditional old-Kyoto feel.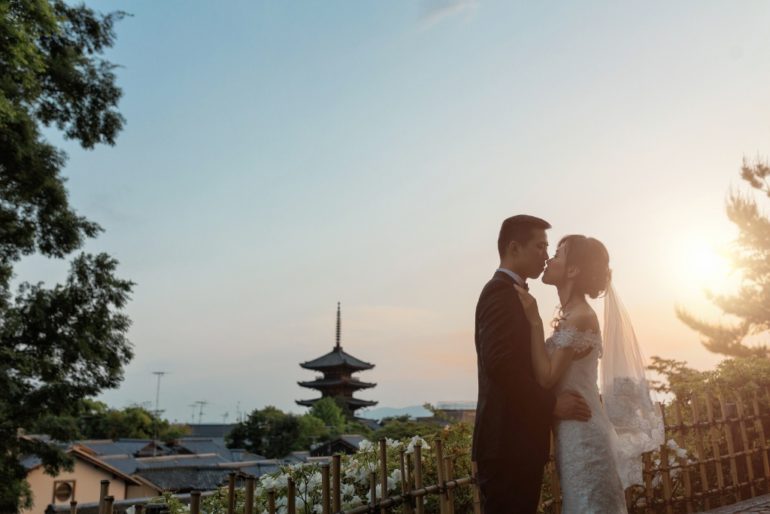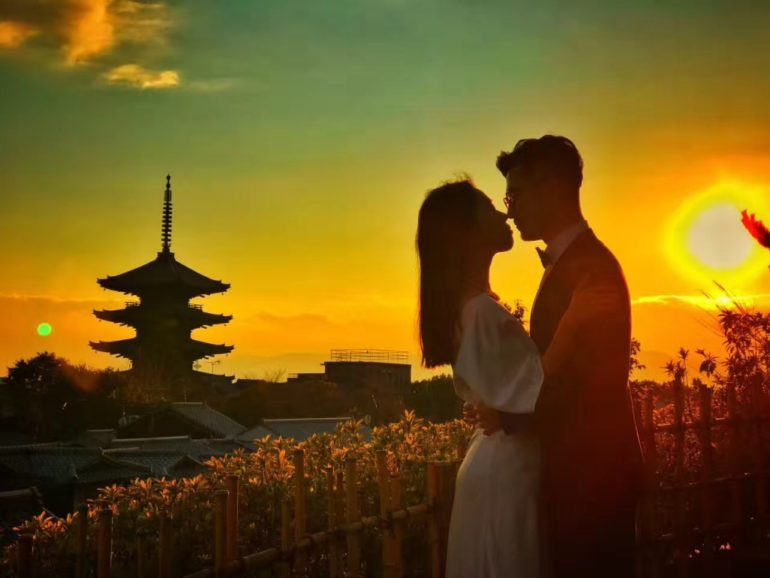 Bonus: Kifune Shrine
This shrine is not located near Gion but we decided to include it as well. The entrance of this shrine was made for movie screens. In autumn, it is surrounded by maple leaves and in winter, the lanterns shaped in little houses that leads you to the temple, are covered in a blanket of snow. It is truly a surreal sight and one that you need to witness for yourself.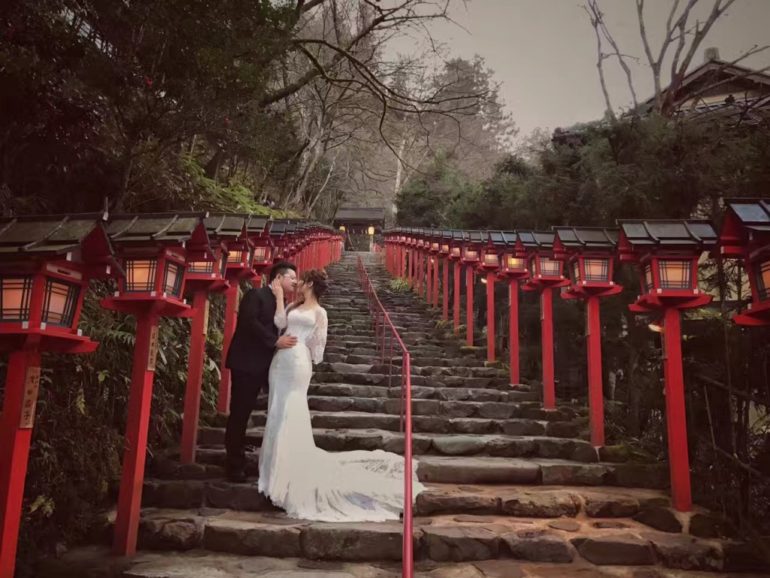 Cherry blossom season is coming and Kyoto is one of the best places to view these beautiful flowers! Check out our cherry blossom forecast and viewing spots.
We are also having a limited-time cherry blossom photoshoot promotion. If you are looking for a photographer to document your Japan trip, do head over to our website!