Your wedding day is not just a special day for you but for the sisters closest to your heart too! Your girlfriends have been there for you through many of  life's biggest milestones and you would want them to celebrate your big day with you. Not only do you want to include them, you will want them to add a special touch to your wedding.
We have been part of so many weddings and seen so many wedding photos. Here are our top 5 picks for the best bridesmaid colours! These gorgeous coloured dresses will complement your stunning white gown perfectly just as these girls always do. They will also provide a finishing touch to your wedding colour theme!
1. Blue
I've always had a little something for blue. The soft and calming light blue goes so amazingly well with white and gives off a serene vibe when matched together. One of our brides chose a satin blue dress and it was one of the classiest bridesmaid dresses we have seen!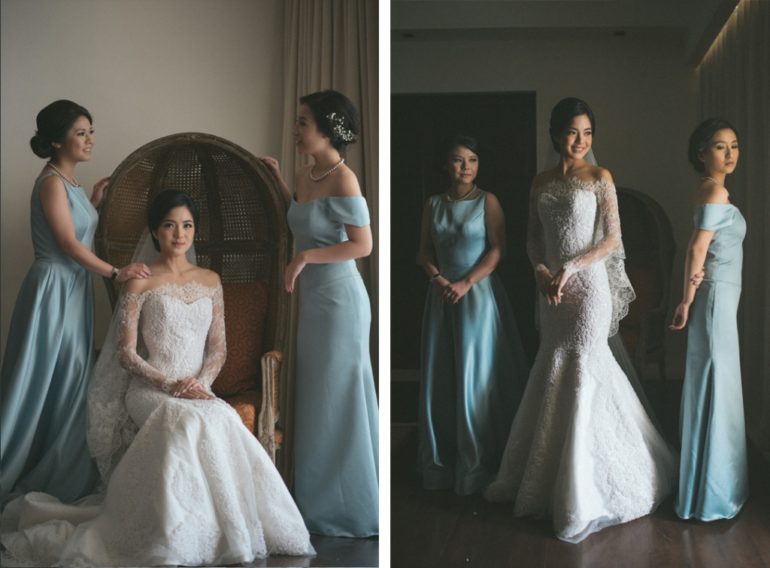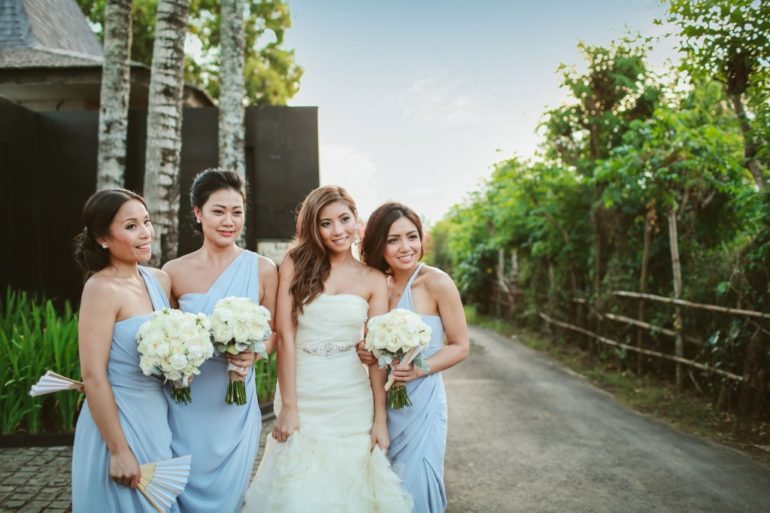 If you want something louder, try cobalt or electric blue. These two eye-catching colours are perfect if you are looking to add a bolder touch to your wedding theme.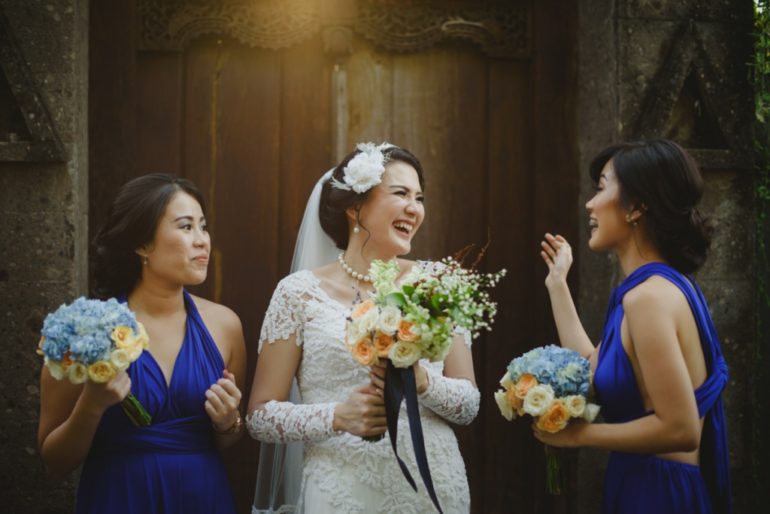 2. Pink
Of course this colour is going to be here. Most girls would have wanted a pink room at some point in time. I don't even have to mention how sweet a combination white and pink is. It is the most feminine and lovely colour combination you can come up with and this one is definitely for the brides who are still little girls at heart!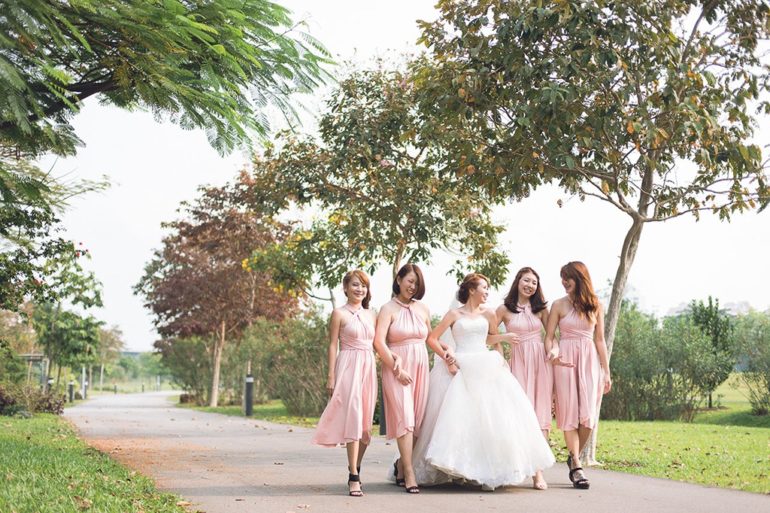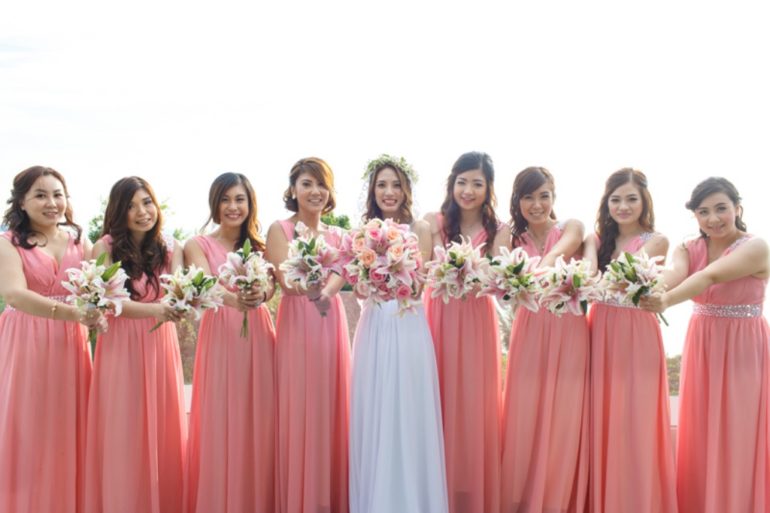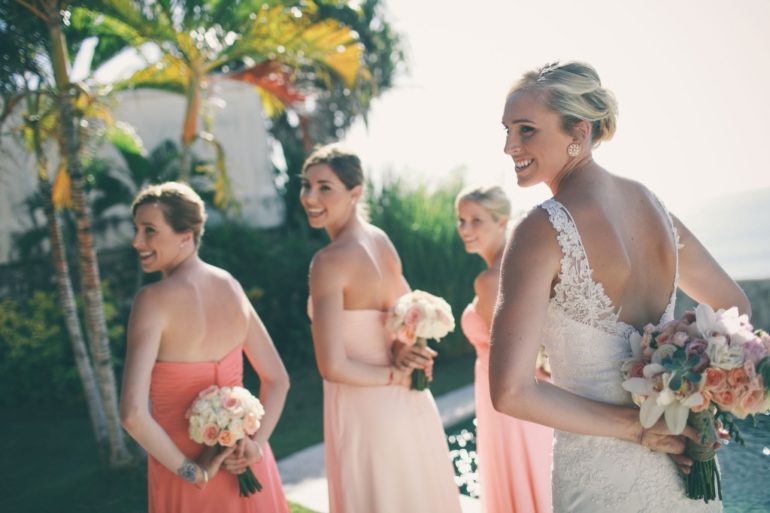 If you think baby pink is a little too sweet for your liking, you might want to give fuchsia a shot! This darker shade of pink is more striking and bewitching. A passionate colour to have on your wedding day!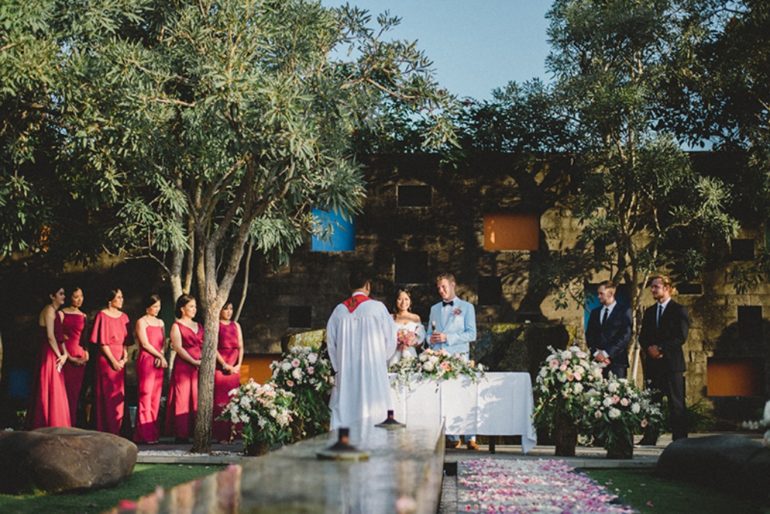 3. Tiffany
Tiffany is the colour that results from the optimal blend of green and blue. A colour that many girls are actually familiar with because of the big brand Tiffany & Co that first made this colour popular. This colour is loved by many and it is easy to see why. A refreshing hint of green mixed with the perfectly gorgeous turquoise. It is definitely one of the most popular colours for all occasions!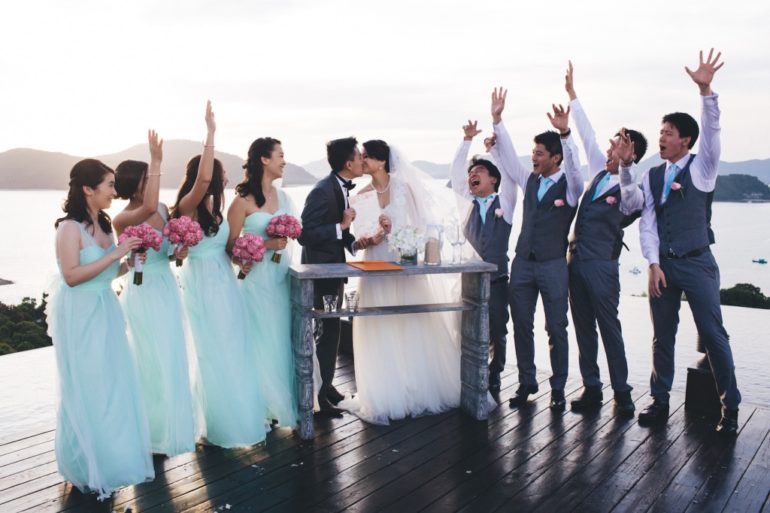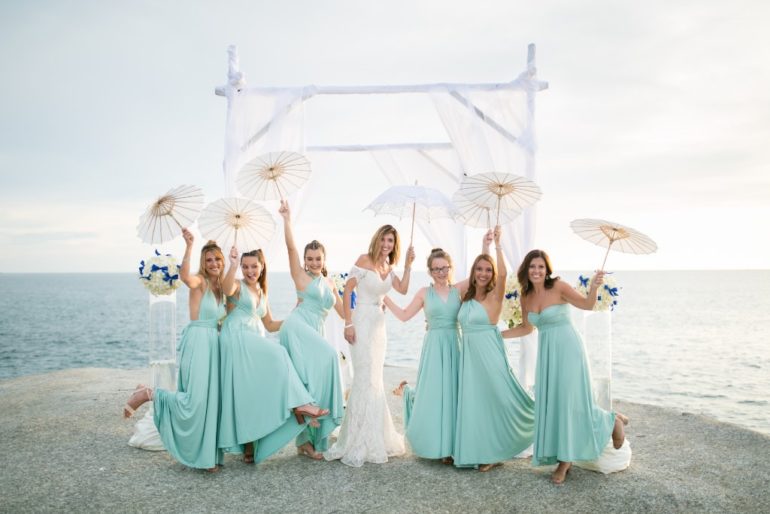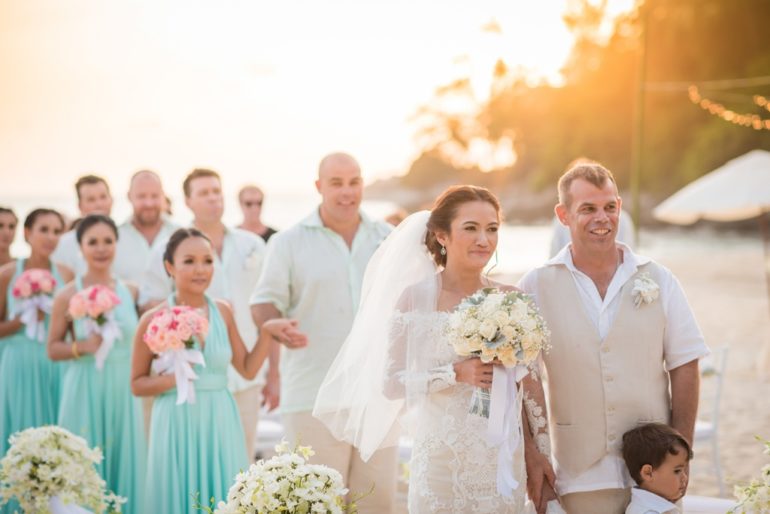 4. Beige
Beige may sound like an odd colour to have because it is such a light shade and doesn't seem match your white gown. But I changed my mind after looking at these pictures! They have a rather elegant touch and is the perfect colour to have if you want your white gown to stand out! Try to dress your groomsmen in navy blue too, blue and beige is one of the most popular wedding colour themes of 2018!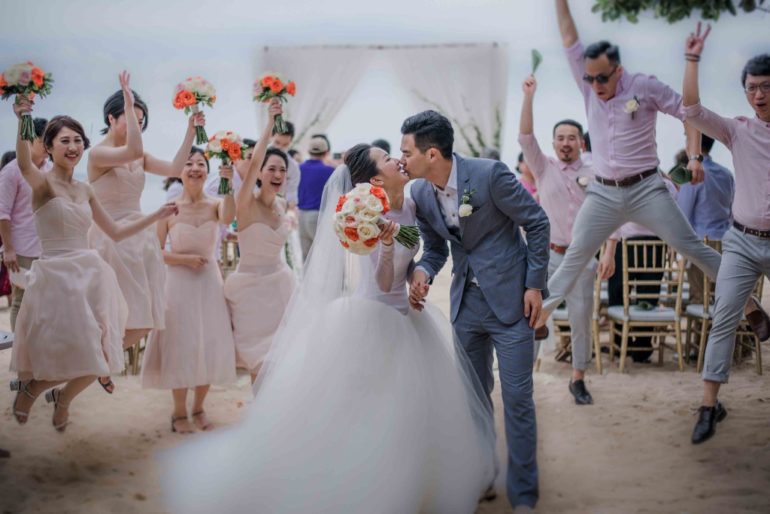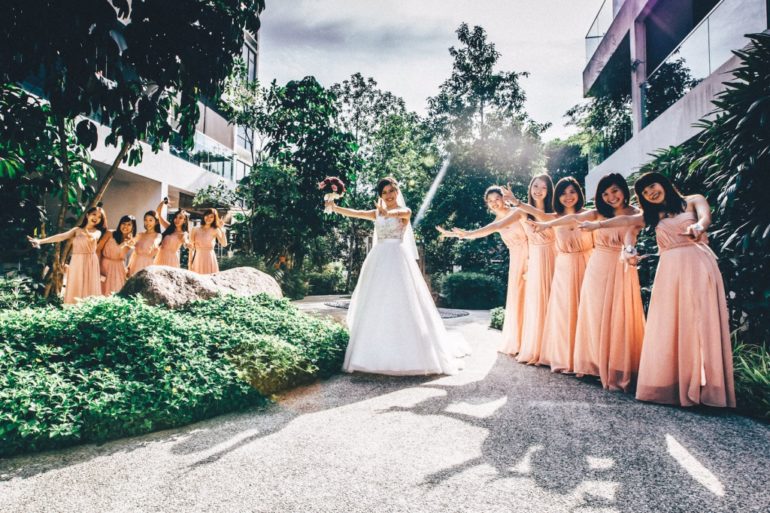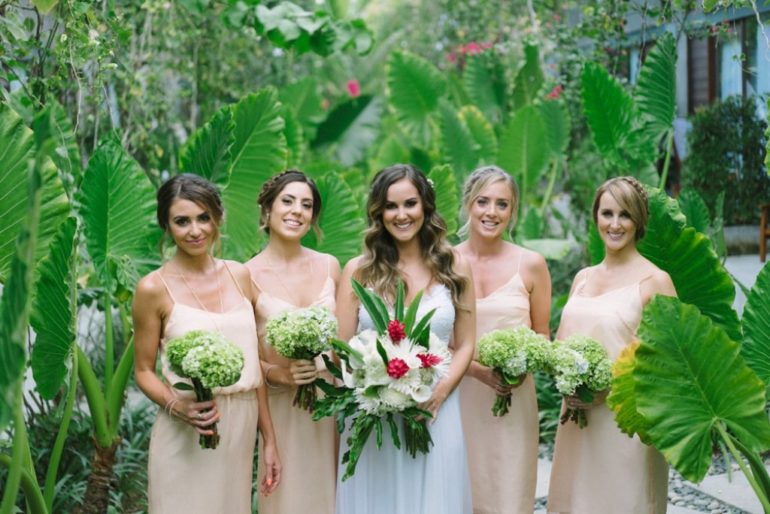 5. Neutrals
For the couples who are going for a more classic and minimalist theme, these neutrals will never go wrong! The full white squad for those who appreciate a clean sleek look. You can also show off how perfectly in sync you and your bridesmaids are!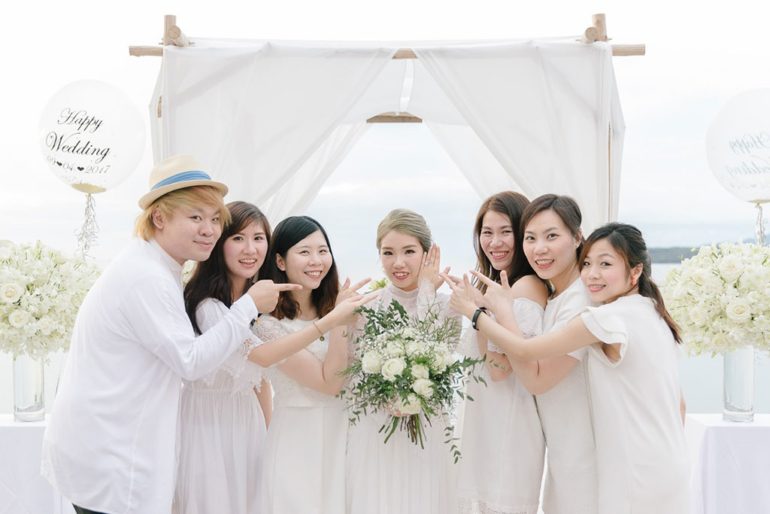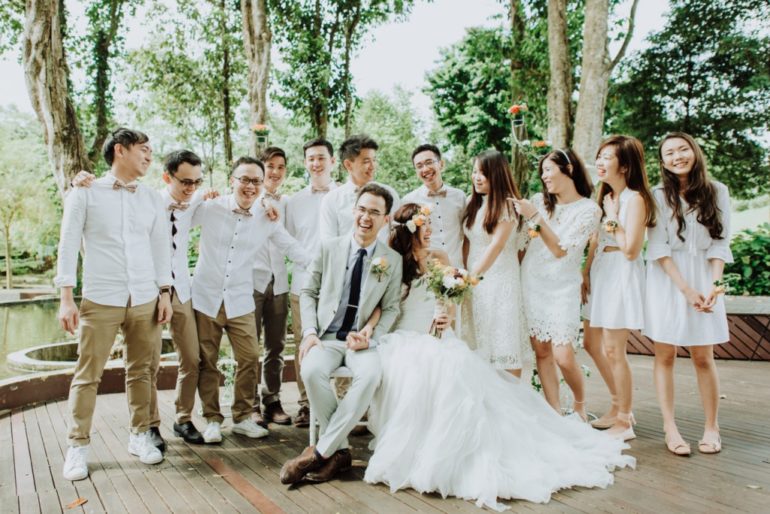 The black and white colour way is a timeless classic. They look amazing together so effortlessly. An excellent colour combination for the couples who just want to keep it simple.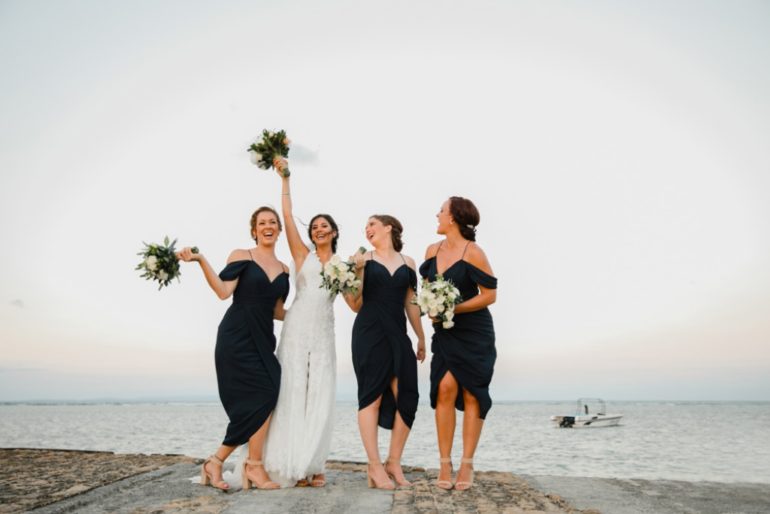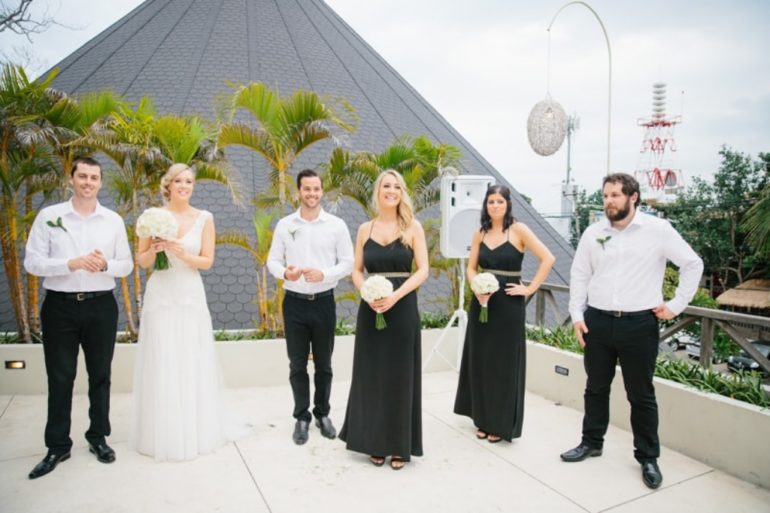 If you can't decide between white or black, there's still grey! Grey might seem like a dull colour but given the right material and design, a grey bridesmaid dress exudes immense elegance. It is an unexpectedly great pairing with white!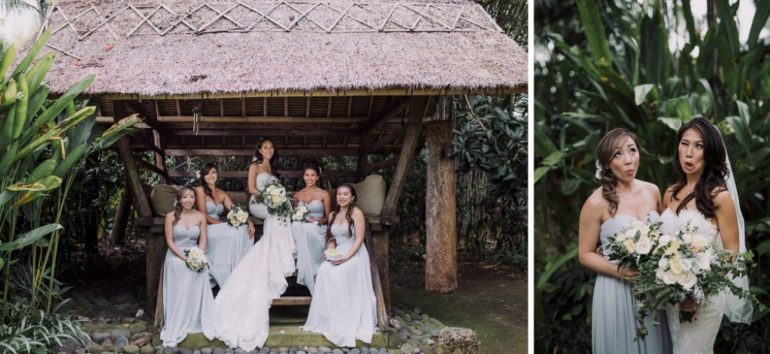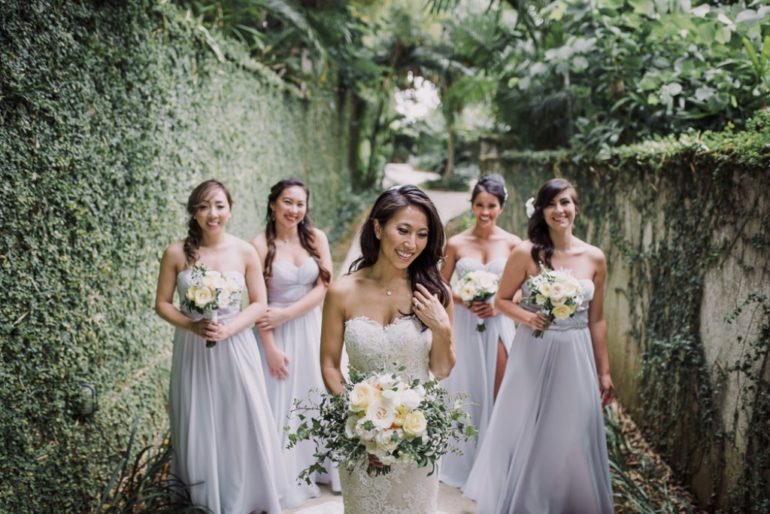 6. Rainbow
There are so many beautiful colours and you can't decide on one? Don't worry, these brides faced the same issue and had the perfect solution! Why pick one when you can have everything??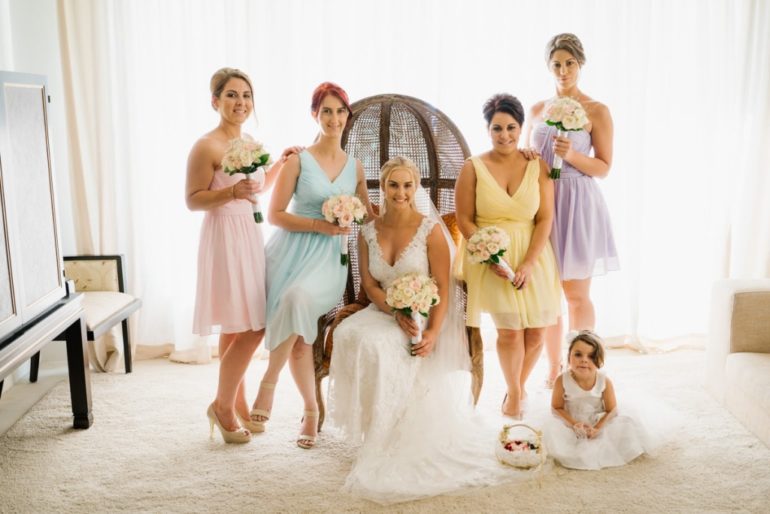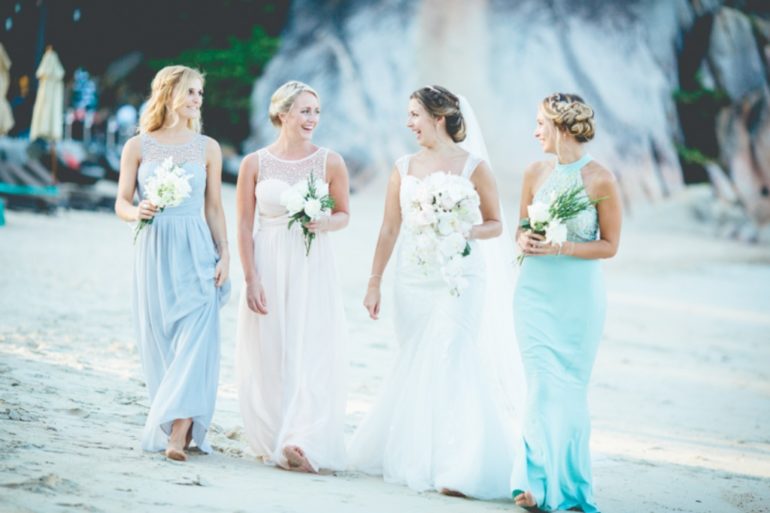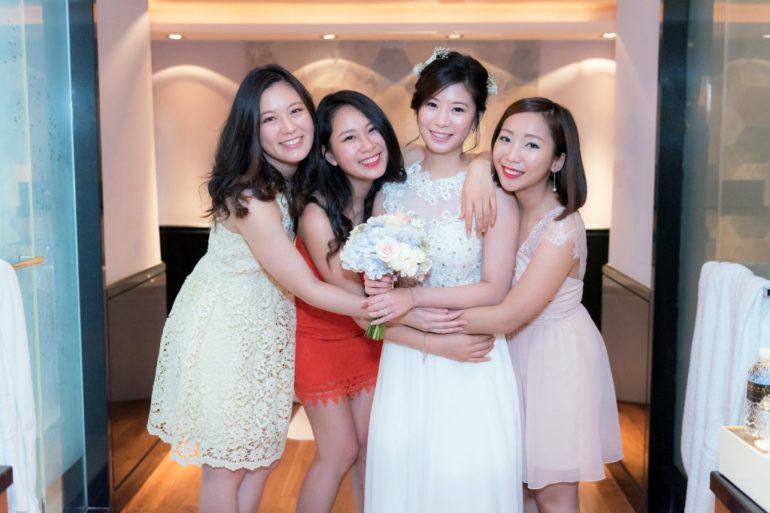 That said, I wouldn't advice choosing colours that may clash as it may just make your wedding look extremely messy! Try to stick with either all pastels or all dark colours! Another tip is to pick different shades of the same base colour!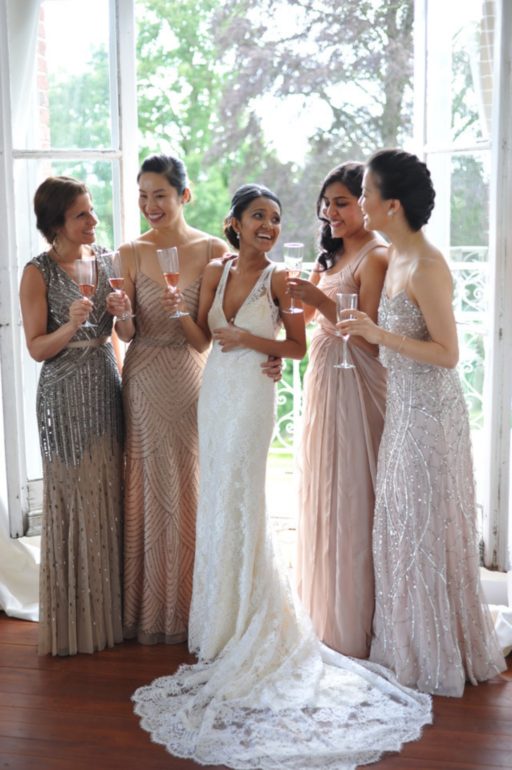 We hope this article helped you find the perfect colour theme for your wedding! Visit our marketplace to browse through our collection of bridesmaid dresses and other wedding accessories! If you are looking for a photographer to document your big day, do head over to our website! We offer destination wedding shoots at a few places!