Destination pre-weddings are gaining popularity as couples are exploring more exotic places for their once in a lifetime pre-wedding photoshoot.
Having a photoshoot in a foreign land may sound like a lot of trouble when you are already struggling to figure your way around. Fret not, it can be easier than it seems and here's 5 different ways to do it.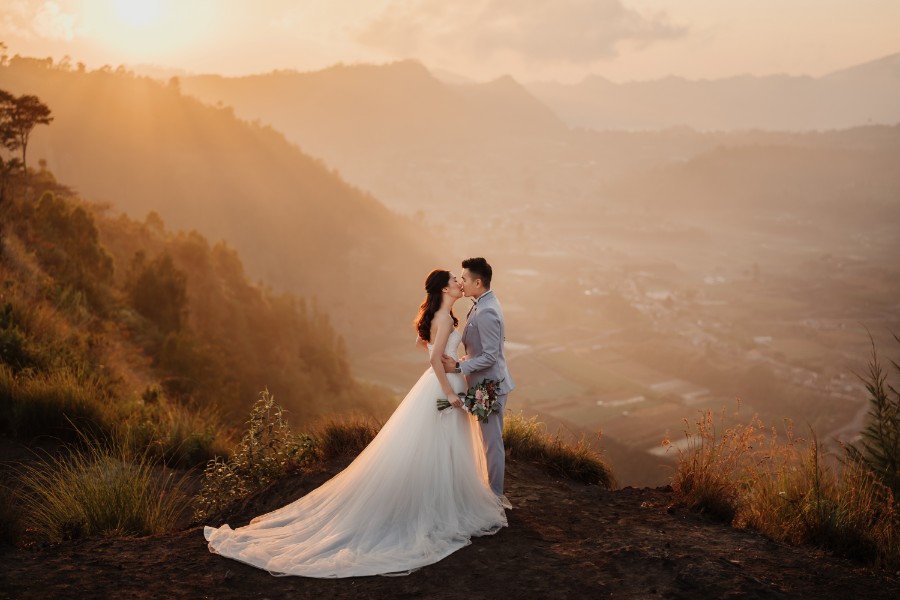 Fly Your Own Photographers ($$$$$)
(+) If you are heading to Japan or Korea and worried that communication will be a hindrance, many couples prefer to fly their preferred crew over. The crew usually consists of the photographer (sometimes their assistant too) and a makeup artist. This ensures that communication will be smooth and you get to pick your favourite team from back home that you've probably read lots of reviews about.
(-) All this assurance comes at a price as you will have to fork out extra for the flight and lodging of your team, on top of their services. However, for couples who feel that budget is not a concern, this may be the best option for you to put your heart and mind at ease.
(-) One of the most important part of your pre-wedding photoshoot is of course your wedding gown! And this is going to be another hassle for you as you will have to find a suitable gown rental boutique and personally bring the gowns to the destination.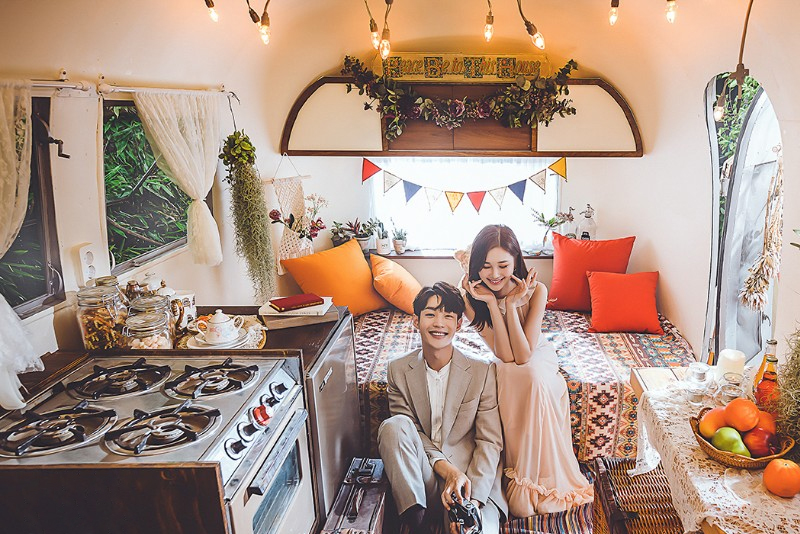 Sign With A Local Bridal Boutique ($$$$)
(+) There are plenty of local bridal boutiques that offer overseas pre-wedding photoshoots. This is a major plus point as you can seek out a trustworthy and quality-assured boutique for this once in a lifetime photoshoot.
(+) Signing with a boutique brings lots of convenience as they will help you coordinate all the necessary services. Most of the time, their packages will also include wedding gowns which takes another thing off your mind!
(-) Convenience comes at a high price and this is no exception. The pre-wedding photoshoot packages will be on the pricier end as it also covers the flight and accommodation of their team.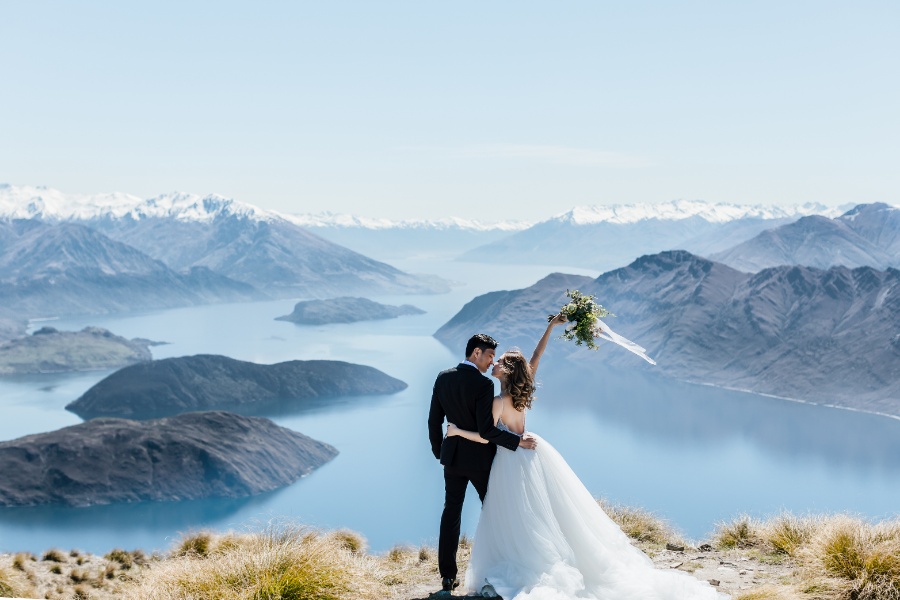 Book With A Specialised Destination Photography Company ($$$)
(+) These companies have photography teams based locally at each destination, which saves you the flight and accommodation costs.
(+) Since the photographers are locals, they know every destination like the back of their hands. You will be able to shoot at many hidden gems that travelling photographers will never find out about.
(+) Like signing with a local boutique, you can sit back and relax while the company settles everything that you need. From gowns to makeup to transport and translator, all these will be taken care of!
(-) Just as previously mentioned, convenience comes at a price and this may be a barrier to many couples.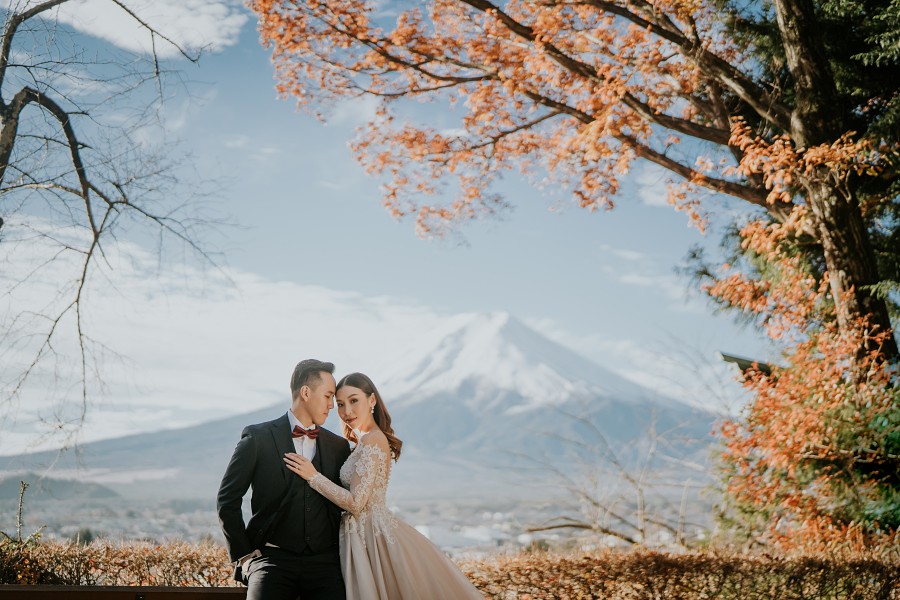 Shoot With A Travelling Photographer ($$)
(+) Some photographers have regular schedules and travel to a few countries every year. You can save on their flight and accommodation costs as those are fully shouldered by the photographers themselves.
(-) These photographers usually shoot for multiple couples at the same time to maximise their profits. As a result, you will have to share this intimate photo session with 1 – 2 other couples and wait for your turn at every location. This might cause you to miss out on some time sensitive moments like catching the best moment of the sunrise.
(-) As these photographers have fixed schedules, you will have to accommodate to their dates, which may not be exactly the season you are hoping for.
(-) These photographers work individually so you will have to take care of your make up, gowns, bouquets and everything else on your own. Hence, the low price tag on this option.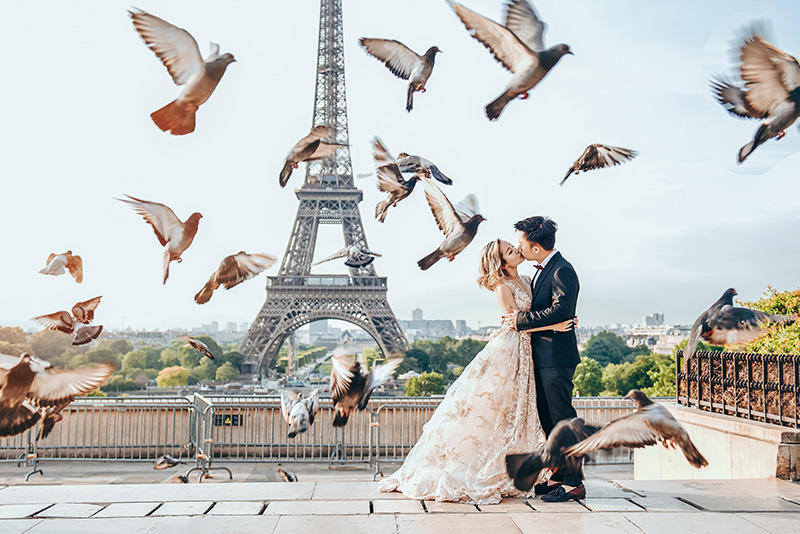 Book A Local Photographer ($)
(+) You can do your research and book a local photographer in your dream destination. This takes away the flight and accommodation costs of the photographer.
(+) When it comes to knowledge of a destination, nobody can be compared to a local photographer. They know exactly when the Sakuras will bloom and where are the best place for photoshoots away from the crowd.
(-) Communication may be a problem if you are travelling to countries such as Japan, Korea or France. Therefore, you will have to do lots of homework to find a photographer who suits your style and can speak your language.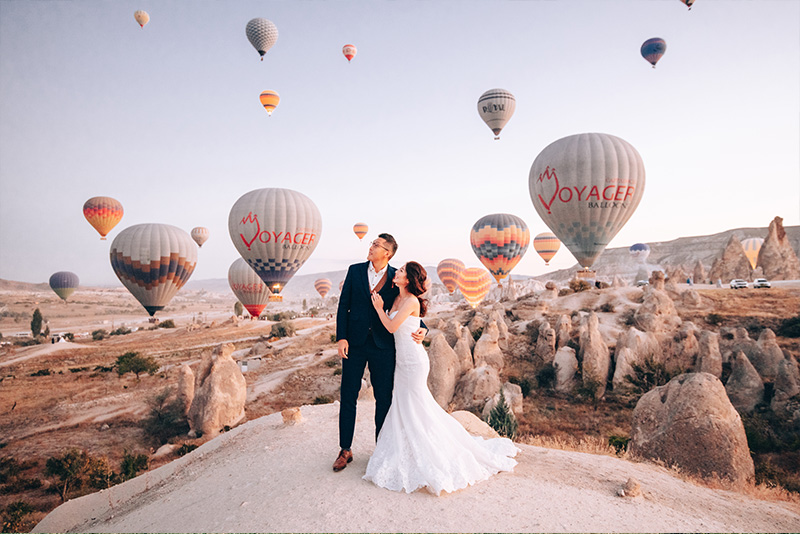 Now that you have explore the various options of a overseas wedding photoshoot, which option would fit you best?
SEE MORE: 10 Practical Tips For Your Overseas Wedding Photoshoot
OneThreeOneFour is a specialised destination photography company based in Singapore. Learn more about overseas wedding photoshoots (top destinations, packages and services) on our website.