To most Chinese couples, 过大礼 (Guo Da Li) is probably an unfamiliar component of the wedding. Besides the Guo Da Li cakes that we often received from relatives, soon-to-marry couples often have difficulty planning what they need to buy for this Chinese tradition.
Today, we are here to guide you through your 过大礼 (Guo Da Li)!
What is 过大礼 (Guo Da Li)?
过大礼 (Guo Da Li) is a Chinese betrothal ceremony where the groom offers a set of gifts to the bride's family to express his sincerity in marrying her. Besides that, the bride's side of the family has to prepare their own set of gifts to return the goodwill.
When does it happen?
The day for 过大礼 (Guo Da Li) will usually take place 2 weeks to a month from the actual wedding day. Dates and times can be calculated prior so that couples can do the gifting on an auspicious day.
On a side note, since the traditional Chinese believe it's bad luck if any wedding related things were to be done in the 7th month (Hungry Ghost Month), couples should avoid doing anything in the 7th month.
What are the gifts to buy for 过大礼 (Guo Da Li)?
The items that we list serves as a general guide for couples to purchase for their Guo Da Li. It really depends on the couple and what their family wants. Most parents these days are also choosing a simpler Guo Da Li!
From the Groom's family
Items the groom would have to prepare:
A Basket (to carry the gifts; type of it will depend on the bride's dialect)
A red packet (ang pao) for the 聘金 (pin jin)
Traditional wedding cakes (for bride's family and their relatives)
2 pairs of 龙凤烛 (2 x dragon and 2 x phoenix candles)
Pig trotters or a roast pig
2 Hard liquor or wine
Oranges (typically 8 of them)
Jewellery (for the bride)
Double happiness stickers
Red banner to hang over the door
From the Bride's family
In general, the brides's family would return part of the gifts as part of the 回礼 (Hui Li). Besides returning some of the gifts, the bride's parent would also prepare the dowry for their daughter.
Items for 回礼 (Hui Li):
2 bottles of orange juice or soft drinks
Tea leaves
Longan
A gift for the groom (usually a pair of pants, a belt, or a wallet)
A shirt for the groom's father
A pair of shoes for the groom's mother
Items for dowry:
A set of bowls and teacups (to be used during the tea ceremony)
New bedsheets
Jewellery (from the bride's family to the bride)
A red umbrella
A bedside lamp
A pair of bedroom slippers
For a more complete list of items including the different variations for each dialect group, you can see a more comprehensive list at House of Etiquette's website.
Where can I get them?
For couples who are planning to get the entire traditional sets, you can check out these wedding shops that act as a one stop shop for all your 过大礼 (Guo Da Li) items.
1. Le Knot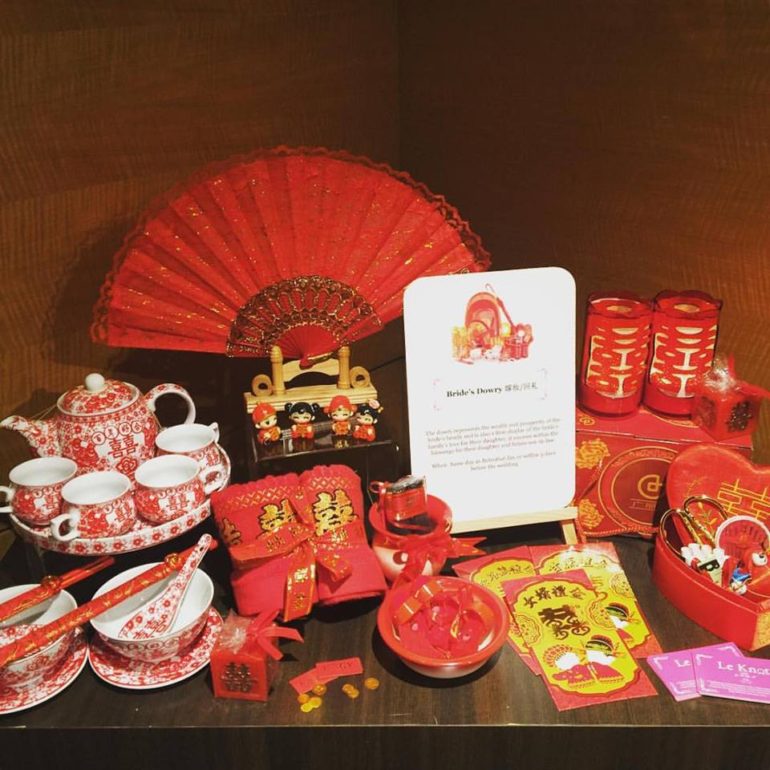 Address: 810 Geylang Road, City Plaza #05-09A Singapore 409286
Contact: +65 6844 5803
Website: http://www.leknot.com.sg/tradition/traditional-chinese-wedding-gift/
2. Shuang Xi Le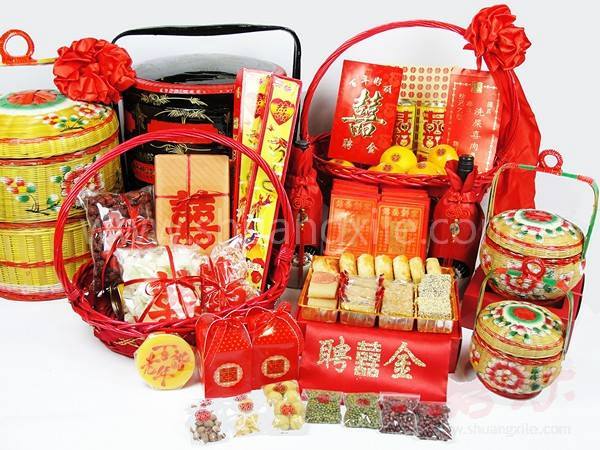 Address:  Square 2 #03-39  at 10 Sinaran Drive Singapore 307506
Contact: +65 6397 2018
Sun Plaza #01-21 at 30 Sembawang Drive, Singapore 757713
Contact: +65 6481 5301
Website: http://www.shuangxile.com/
3. The Chinese Wedding Shop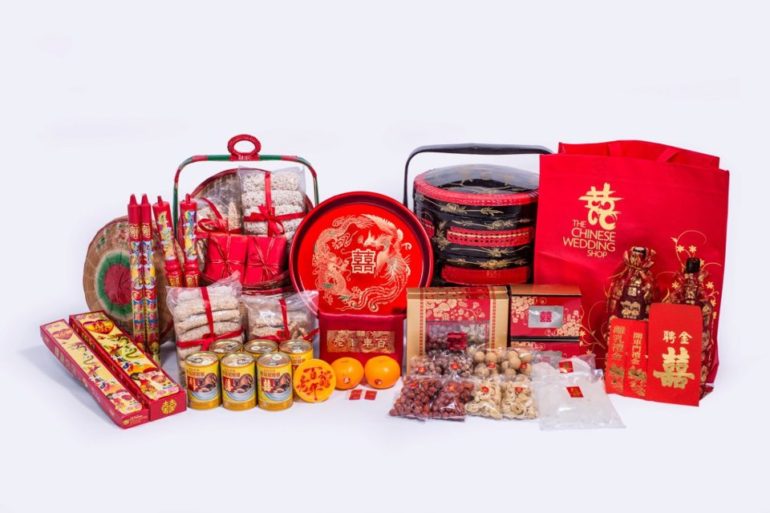 Address: Ang Mo Kio Central #01-12A Jubilee Square at 61 Ang Mo Kio Avenue 8
Contact: +65 6455 9863
Jurong East Central #04-49 JEM at 50 Jurong Gateway
Contact: +65 6684 8006
Website: http://www.thechineseweddingshop.com.sg/
If you are on a tighter budget, try getting these items on your own. What's a few more shopping trips if you can save for that big honeymoon right? Firstly, you can visit Taobao to get the items individually, just as Sheryl did! Find out how Sheryl managed to get her 过大礼 (Guo Da Li) items on Taobao. She even provided links! Or you can get more inspiration on how to save by reading what Mrs Oops did over at her blog.
Additionally, we can get you started with our article on where to get 过大礼 (Guo Da Li) cakes in Singapore!
Do I have to do it?
Traditionally, couples in the past would follow through with everything. However, in today's modern times, families are a lot less traditional and superstitious. Hence, many of the monetary and jewelry gifts can be negotiated upon and discussed between both families.
The process of 过大礼 (Guo Da Li) should be a joyous and meaningful one. Therefore, soon to wed couples should not be overly stressed out over this and should decide what to leave out and what to include. It matters more that everyone is happy 🙂
What are the gifts that you would buy for the 过大礼 (Guo Da Li)? Do you plan to follow the tradition closely or will you take a more modern approach to it?