Singapore is an amazing destination for a wedding photoshoot. Despite being a little red dot, it offers a variety of picturesque backdrops.
We have prepared this comprehensive pre-wedding photoshoot guide to answer all your questions on where to take wedding photos, what photoshoot ideas to take note of
Locations & Ideas
Singapore has many scenic locations to shoot at, with a good mix of spectacular architecture and refreshing natural sceneries.
The National Museum of Singapore is an amazing location to have your photoshoot at, because of its grand interior. The museum is also air-conditioned, which is definitely a huge plus point when shooting in humid Singapore. The museum is also furnished with ample natural lighting which is easily the key ingredient to a great photo!
Apart from the National Museum, Singapore also has many historical buildings built during the colonial times that can still be found today. These buildings will not only make a great backdrop for your photos, but they also add a historical charm to your photos! You can read up more on these history-rich locations in Singapore here!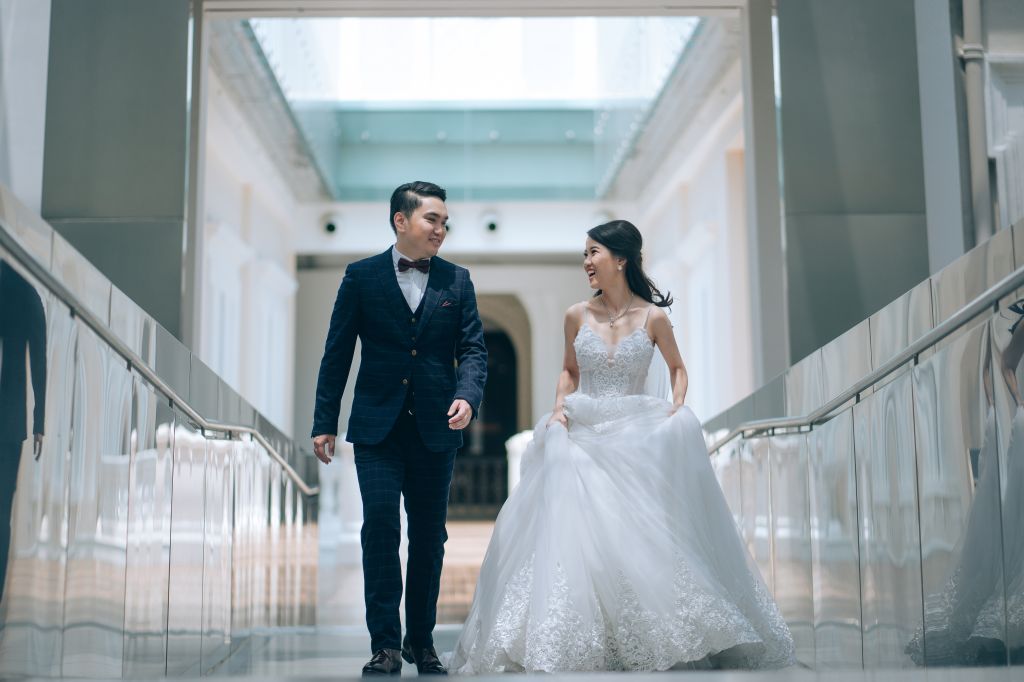 For a night shoot, you can head to Marina Bay Sands (MBS) to capture the MBS light and water show. The beautiful fountains and laser lights will create a visually stunning background for your wedding shoot. You also get to capture the gorgeous cityscape being illuminated at night, and you can even walk through the DNA-inspired Helix Bridge which will be beautifully lit up at night!
For couples who are camera-shy, steal get inspired with photoshoot ideas on what props, poses for the different spots in Singapore.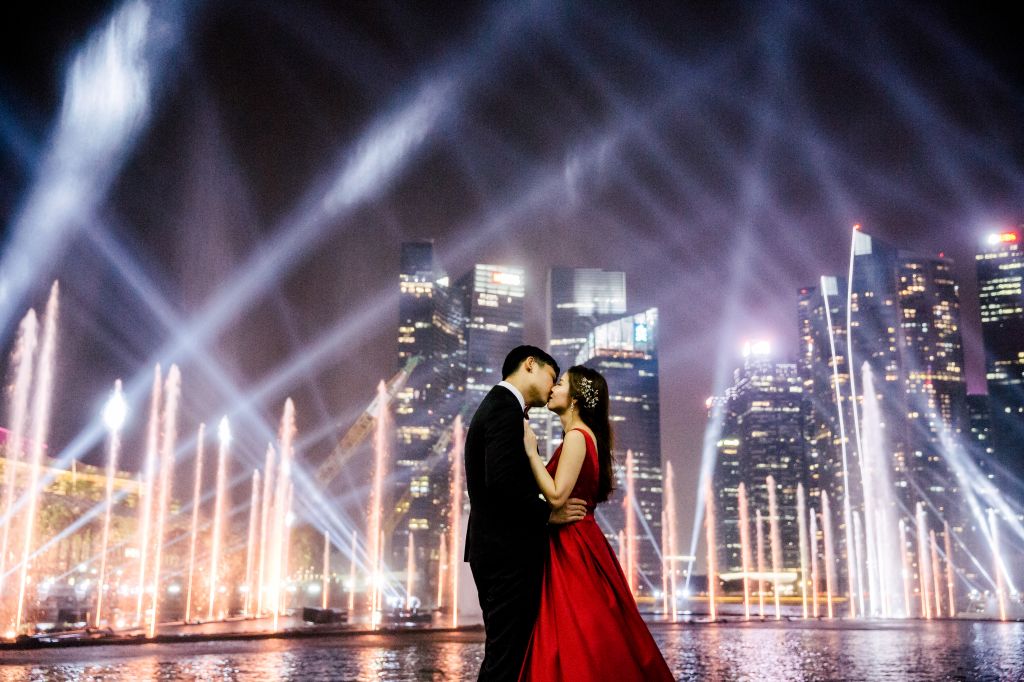 We have also come up with a list of best indoor locations in Singapore and 10 unique locations in Singapore to shoot at, so be sure to check them out to discover more hidden gems in this Little Red Dot!
Prices & Packages
We offer three Singapore photography packages – the basic package, the classic package and the premium package.
The basic package (priced at SGD 1,499) includes 2 hours of photoshoot at 1 location, with 20 edited photos. The classic package (priced at SGD 2,299) includes 4 hours of photoshoot at 2 locations, with 30 edited photos. Last but not the least, our premium package (priced at SGD 2,899) includes 6 hours of photoshoot at 3 locations, with 40 edited photos.
For all our packages, makeup and hairstyling will be provided, along with a bouquet! You can learn more about our Singapore wedding photography packages here.
We also serve couples looking for a casual engagement photoshoot.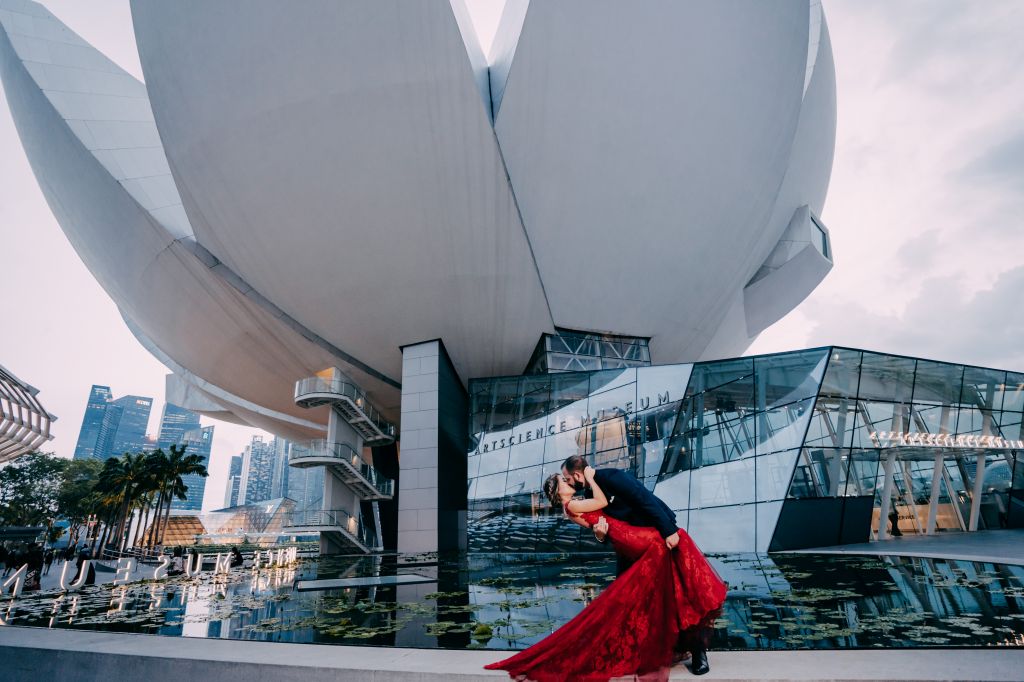 Frequently Asked Questions
When should I do my wedding shoot prior to my actual wedding day?
We recommend our couples to do their wedding shoot 6 months before their actual wedding day. This is to ensure that your album will be fully ready to be showcased on your actual wedding day, since your edited photos will be ready in around 8-10 weeks. In addition to that, album production takes 4 weeks after approval and shipping takes an average of 1 week.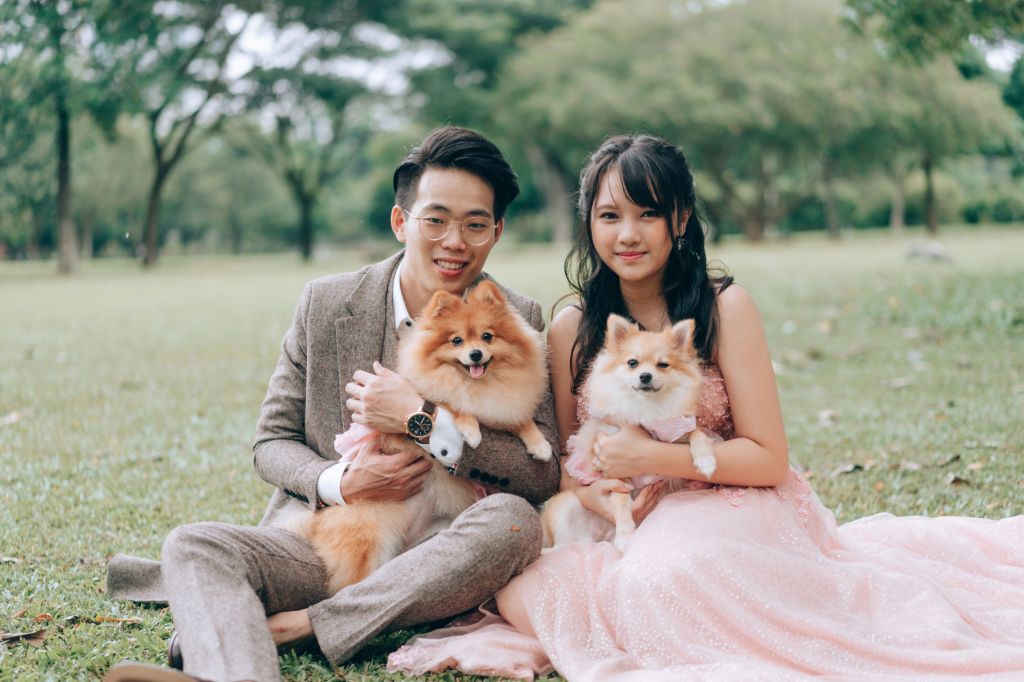 How do I choose my gowns and suits?
For all our Singapore packages, gowns and suits are provided. For our basic package, 1 wedding dress and 1 groom suit will be provided. For our classic and premium package, 2 wedding dresses and 1 groom suit will be provided.
For our local clients, you can come down to our studio personally to pick out your favourite gowns from our partner company Bridefully Yours. Bridefully Yours is a bridal boutique that handpicks and designs every gown in their collection to cater to modern brides. With an impressive collection of more than 200 gowns, you will be spoilt for choice when picking out the perfect gown for your shoot!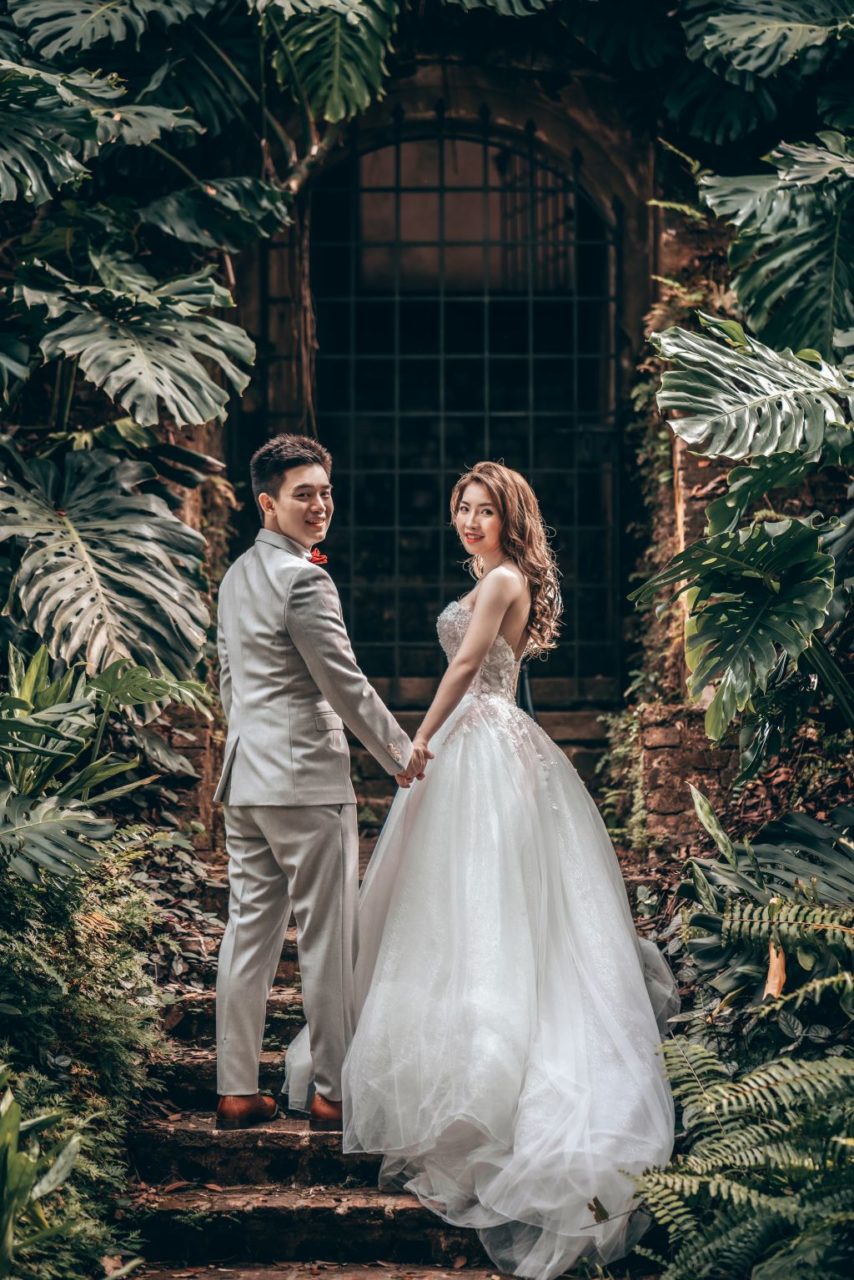 Are there any tips to battle the humid weather?
The weather in Singapore can get unbearable, with an average temperature of around 26°, with the humidity level at a minimum of 64 percent. Thus, here are some tips to fight the sweltering heat!
First, you should get the entire waterproof series (from eyeliner, concealer, lipstick to mascara) in preparation for your shoot, to prevent your makeup from smudging under the humid weather. Remember to apply sunscreen to any exposed skin!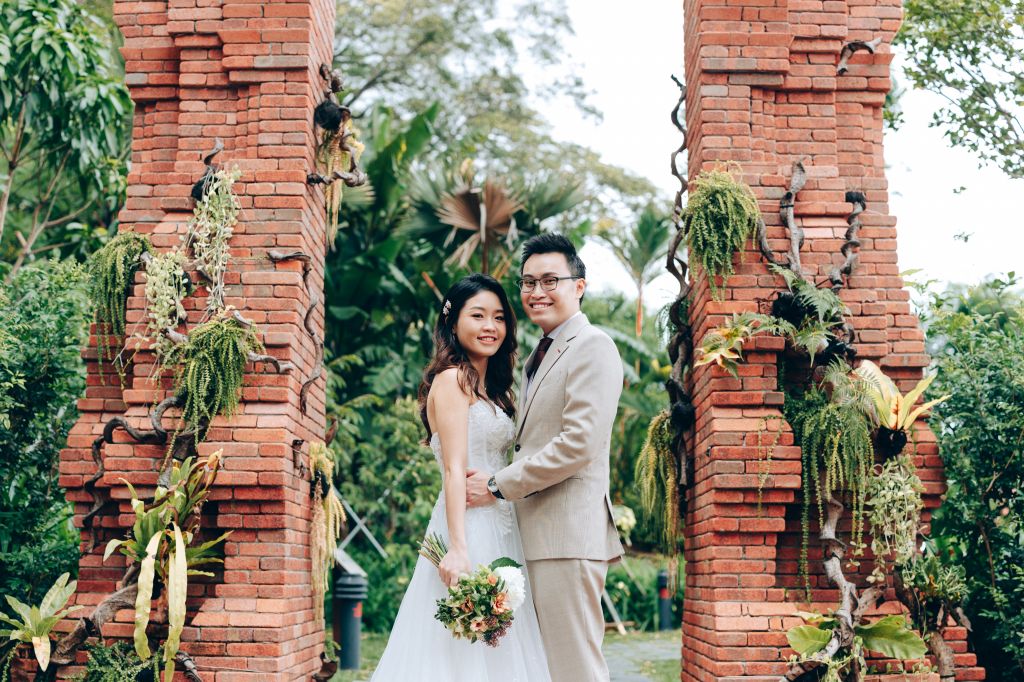 You should also opt for a matte foundation so that your face won't look oily in your photos during the long hours of shoot! In addition, to guard against shine on your nose and forehead, you should bring along blotting papers and powder.
To fight frizz and humidity, you should also avoid letting down your hair in the warm weather. Instead, you should request for a hair updo to keep hair off your face and neck to stay cool and picture-perfect!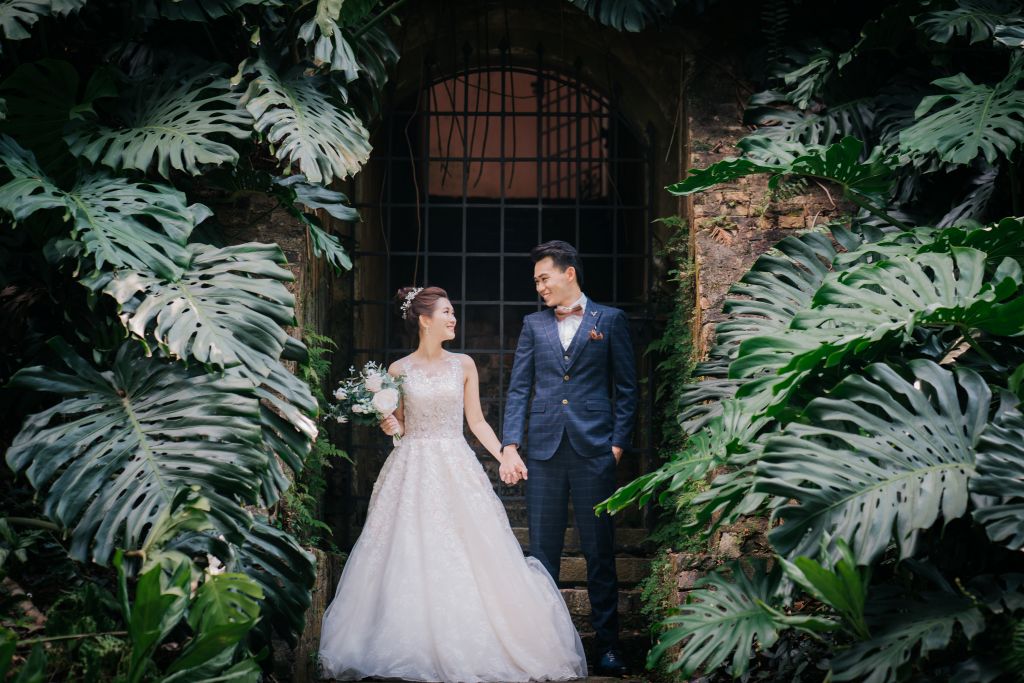 We also recommend you bring along little hand-held, battery-run fans, or even paper fans to cool yourself in the warm humid weather. You can also carry a foldable umbrella around for some shade when the sun gets too unbearable!
You can discover more tips on how to stay cool and comfortable during a outdoor shoot in Singapore here!
What is the best month/time to have a photoshoot?
The best period to take gorgeous outdoor wedding photos would be from February to Early April, as well as in November. These are the months in which you'll most likely be free from the haze and the monsoon season.
The best timings to head outdoor for a shoot would be early in the morning at around 8am, or during the golden hour in the late afternoon at around 5.30pm.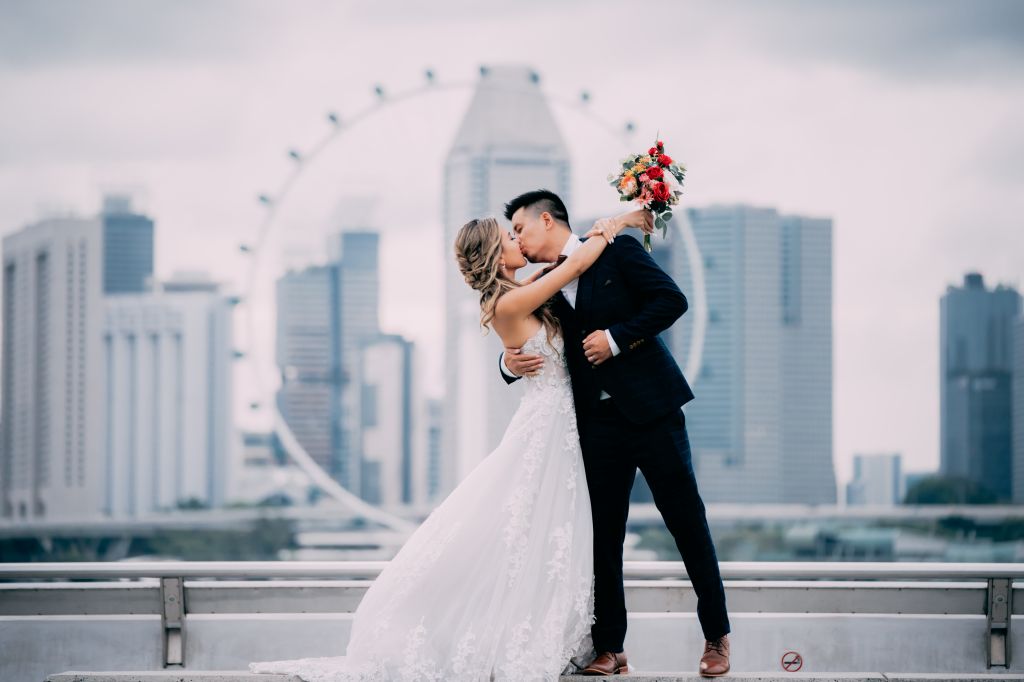 Are there any extra fees?
The National Museum of Singapore charges at SGD 184 for 2 hours of wedding shoot inside the museum, while outdoor shoots on museum grounds are complimentary. The National Gallery charges at SGD 350 for wedding shoots.
Take note that these fees are charged by the management of the location, not by the photographers. For OneThreeOneFour couples, you won't have to worry for any hidden costs, as we will advise the relevant fees when we plan the photoshoot for you.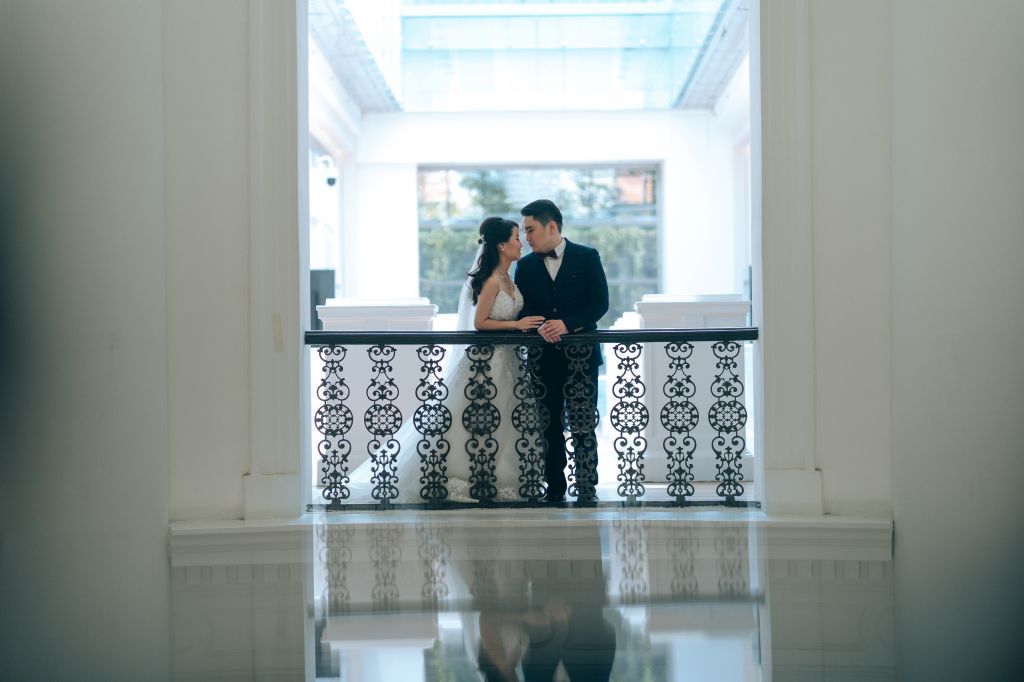 How do I travel between photoshoot locations?
Since you will be in your wedding gowns and suits, the most convenient mode of transport would be private cars, although Singapore has convenient public transport.
For couples who booked our service, we provide private transport during the photoshoot, picking you from your hotel/ home, to the photoshoot locations and back to the comforts of your bed. This way, you can get some rest on the car while you travel to your next location!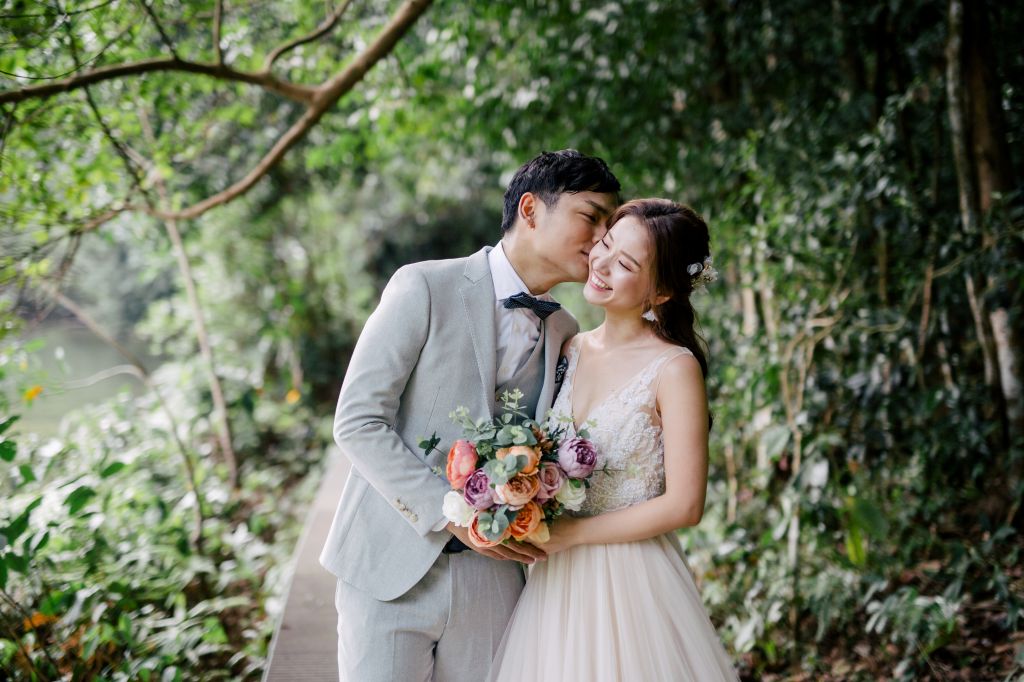 Would I need professional makeup and hairstyling?
We highly recommend to you have a professional makeup artist. It is important to stay relax and enjoy the photoshoot, without having to worry about whether your makeup is in place.
We will allocate makeup artists and hairstylists to help you look your best for your photoshoot! We usually allocate 2 hours of makeup and hairstyling. However, do note that there will be an accompanying makeup artist for your shoot only if you book our classic or premium package!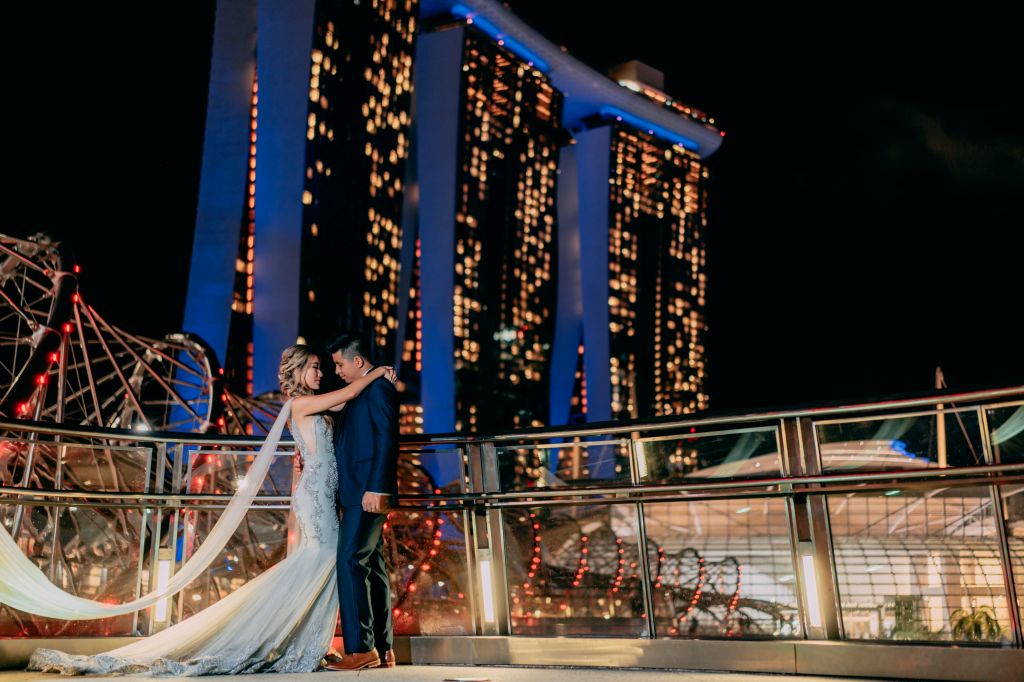 We hope this guide will be helpful for couples who are planning to do their wedding photoshoots in Singapore. For more information on our Singapore wedding photography packages, be sure to check our website!
We also offer Actual Day photography packages of over 8 hours of shoot to help you capture this special and memorable occasion. Be sure not to miss our pre-wedding promotion for a discounted price of our package!