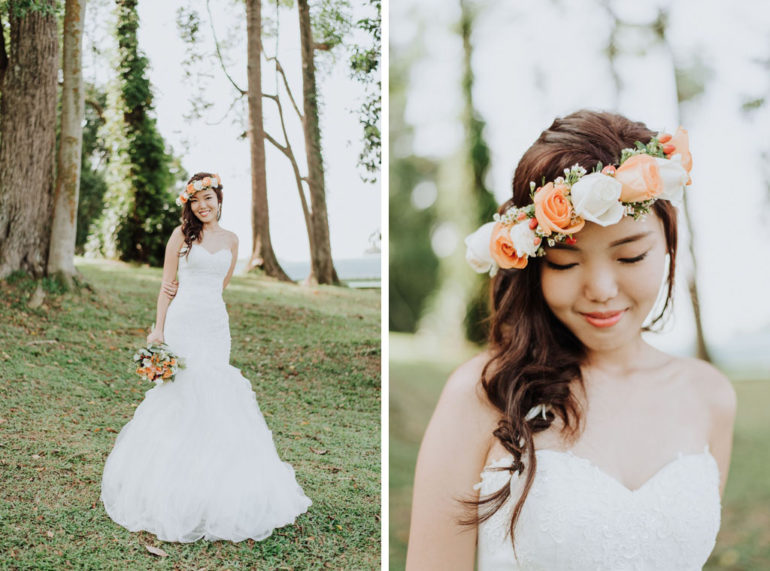 Personally, I find one of the best parts of the whole wedding planning process is the choosing of gowns! Having to browse through the plethora of beautiful gowns on Pinterest is just so gratifying. The thought of me in that dress walking down the aisle… 😍😍
Without further ado, allow me to share my gown fitting experience with fellow brides-to-be!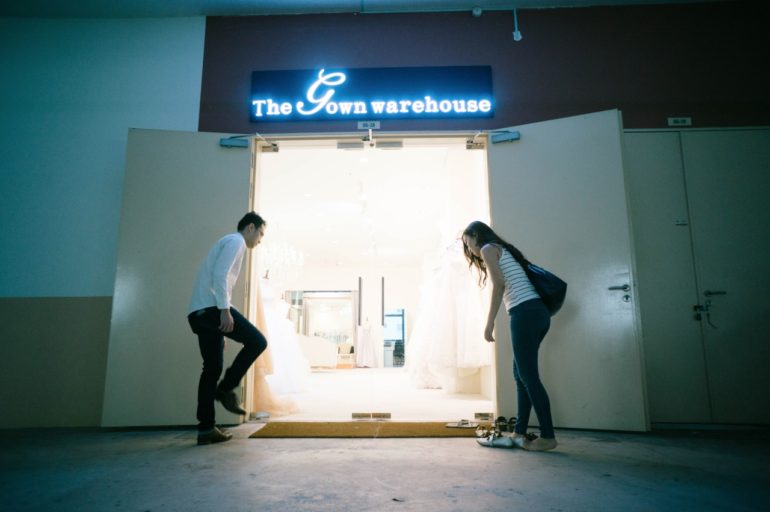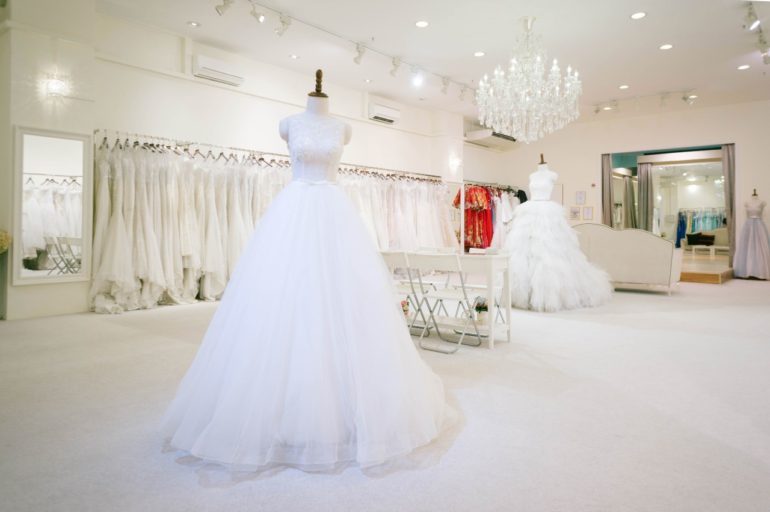 In the main area of The Gown Warehouse.
A mix of evening gowns with white gowns in the other room.
Consultation and gown selection
Upon arrival, Megan, the bridal consultant, sat us down to share the process in getting the right wedding dresses for me. For a start, she helped me identify the kind of dresses that would complement my body type – making sure I would look good on my wedding day!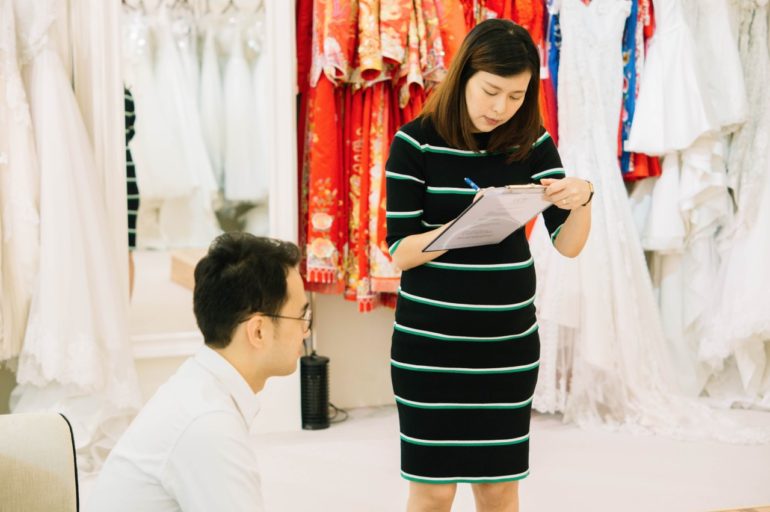 Later on in the appointment, Eunice, the lady boss of The Gown Warehouse came over to help us too! To get a better understanding of our wedding, she asked us some questions such as the theme of our wedding and where it was going to be held.
TIP: It is very important to share your wedding venue(s) with the bridal consultant. This will enable them to recommend suitable gowns that will complement the venue(s).
Solemnisation
For the morning solemnisation ceremony that was going to be held at MacRitchie Reservoir, Eunice suggested to get a gown that is lighter in weight with short or no train.  This would allow me to move more easily around the park.
Wedding reception
As for the evening reception, she advised me to get a gown with a train for the first march-in. Trains not only evoke elegance and grandeur, they also add formality to the occasion. For the second march-in, we explored an evening gown in The Great Gatsby theme. This dress would complement the Grand Shanghai's ambience and 1920's vintage outlook!
Having settled the styles of the gowns, Eunice then asked me for my preference in silhouettes, sleeves, necklines and fabrics.
Brides-to-be, this is where your homework comes in handy! Show your bridal consultants some images and samples of the gowns you love! From these images, they would roughly know what kind of gowns you prefer.
After looking through the gowns that I pinned, Eunice got my style! She knew exactly what I was looking for – something white, elegant and simple. Something with more lace and few diamanté (no glittering ornaments for me!)
One key takeaway and advice for all brides-to-be is, let the experts do their job! After all, they do know best!
Let the experts do their job
When it came down to choosing specific gowns, Eunice suggested that she and I both pick a few to try out.
Because, the gowns Eunice picked for me turned out so gorgeous~ I must admit, I was initially doubtful of the gowns Eunice picked for me because they did not appeal to me at first sight. But after trying all the gowns out, those gowns that I picked did not turn out as nice as I expected. 😐
Definitely, the experts know best! The gowns look very different on the rack as compared to when you try them on so don't be afraid to try! However, since you won't have time to try them all, trust the professional bridal consultants and let them give you a hand!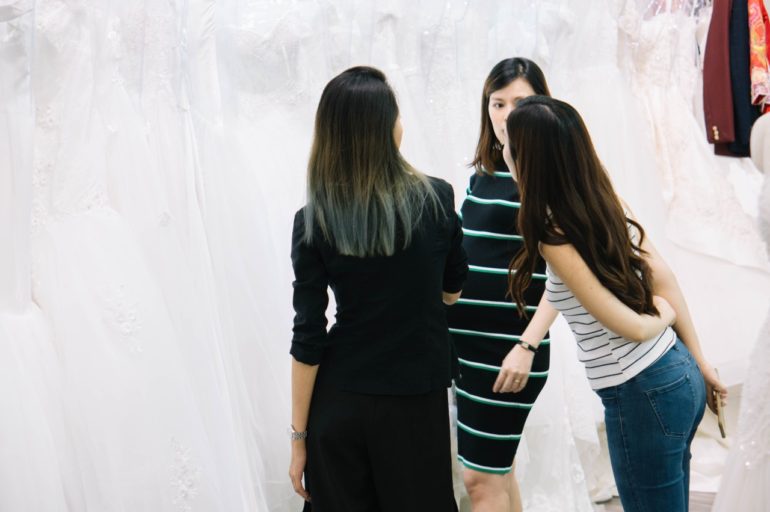 For the selection of my second and third gowns, I told Eunice that I trust her 100% and to recommend me gowns she would seem fit.
Groom's Suit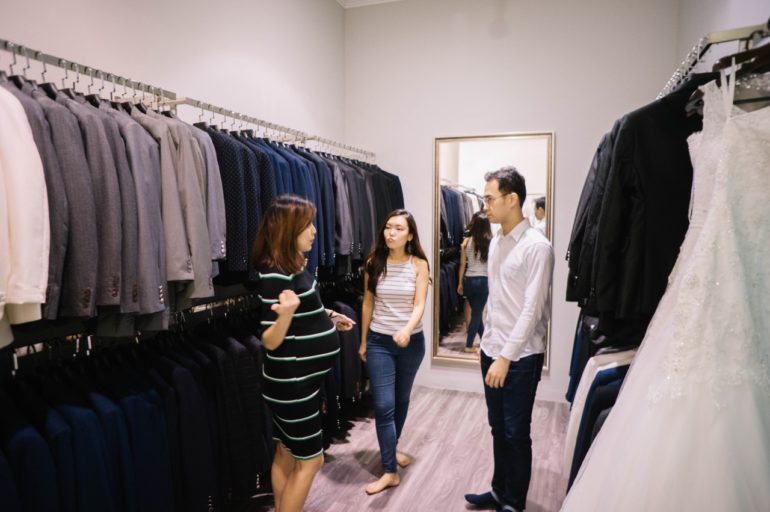 Since Scott and I agreed that the groom's suit should complement the bride's dress, picking a suit for him was much easier after the gowns were picked. For a classic and formal look, we picked a black suit for the first march-in of our wedding reception. It was something more stylish and fitted him better. For the second suit, he chose a navy blue set with peak lapels.
Amazing fitting rooms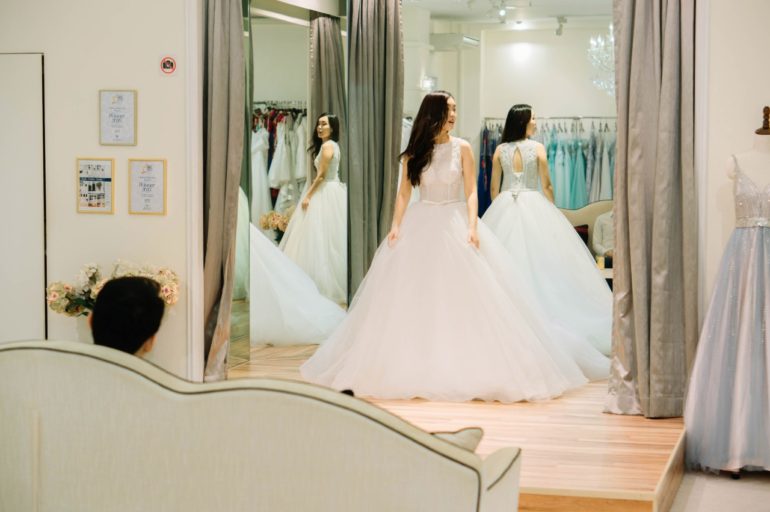 The fitting rooms at The Gown Warehouse were so spacious, brightly lighted and were fully fitted with mirrors all around. The experience was absolutely stunning! Being extremely clumsy, I did not have to worry about fumbling and knocking around the inside the changing room, I had plenty of space to manoeuvre.
Moreover, Eunice and her assistant were waiting outside. They constantly assured me and offered me help whenever I needed it. Once I was ready, they would come in to help lace up the gown. If the fit was not right, they would simply pin it up so that it would look fitting from the front.
This was my favourite part! Once I'm all set, they would draw the curtain and unveil my look! Voila! And there he was, my husband-to-be, sitting on the sofa, completely awestruck by my beauty! Heh!
You really require a big space to pull off this experience. This is similar to the Korean bridal boutique fitting experience in Seoul. The Gown Warehouse has three huge fitting rooms across their boutique.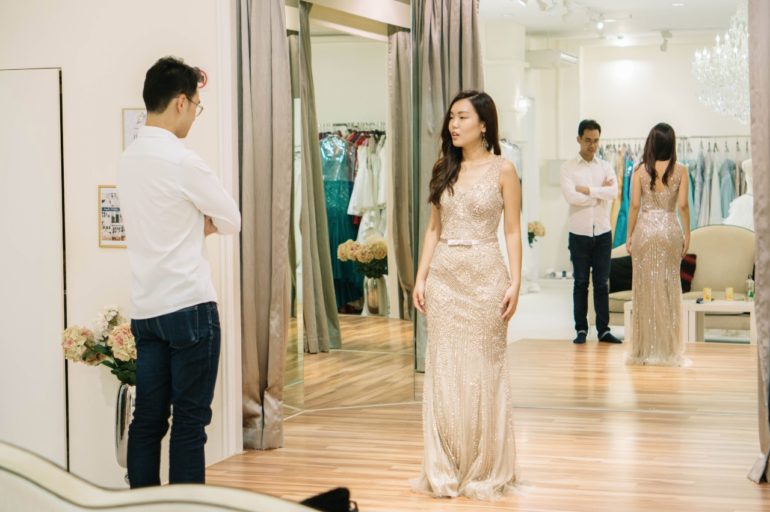 Gown Fitting
3 weeks before our actual wedding day, we went back to take our measurements and went thought a round of fitting.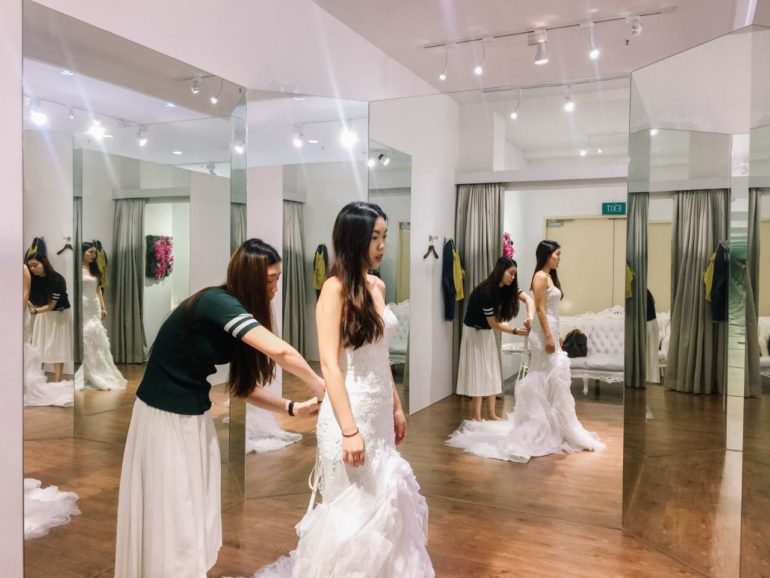 Give yourself a more complete bridal look when you try on the wedding dresses
4 To-dos on the day of your wedding gown selection
Having gone through the whole gown selection to gown fitting process, here are 4 things you ought to do on the day you go down to the bridal boutique:
Put on some makeup
Style your hair a little
Wear a pair of dangling earrings
Wear a nude colour g-string
When trying on the gowns, it is best to give yourself a more complete bridal look. This will allow you to better visualize how you will look on the actual wedding day.
Final Fitting, Accessories and Collection
3 days before our wedding, we went back to The Gown Warehouse for the final fitting.
For my first gown, I found a little bulge of the fabric at the hip area. I told my bridal consultant, Megan, about it and she fixed it right away! How amazing! It seems like they all have seamstress capabilities and I'm so thankful for that. The other two gowns were a perfect fit!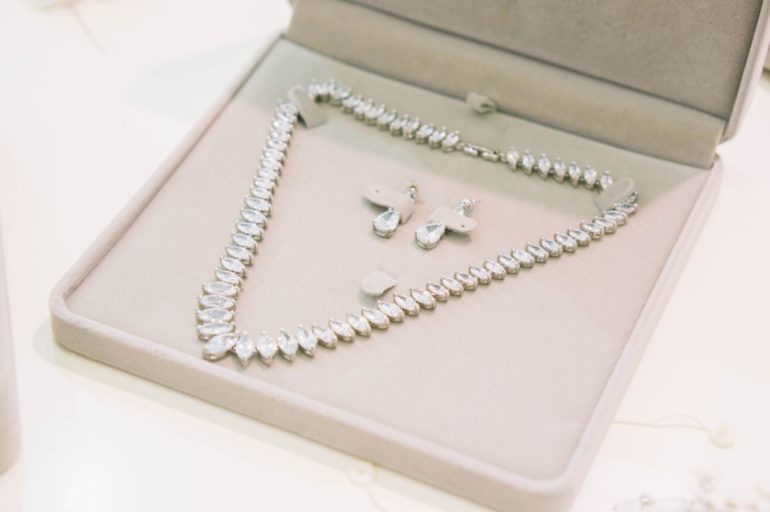 During the final fitting, Megan helped pick out accessories (veil, earrings and necklaces) for each gown. She was very meticulous and gave me great advice!
She picked a simpler necklace, a pair of earrings and a short bridal veil to pair with my simple lace gown. As for the evening's white A-line gown, she picked a more dramatic pair of earrings and a necklace for a more grand and luxurious vibe.
Here are the three gowns I wore on my wedding day!
Gown 1: A Mermaid Lace White Gown for Outdoor Solemnization at MacRitchie Reservoir Park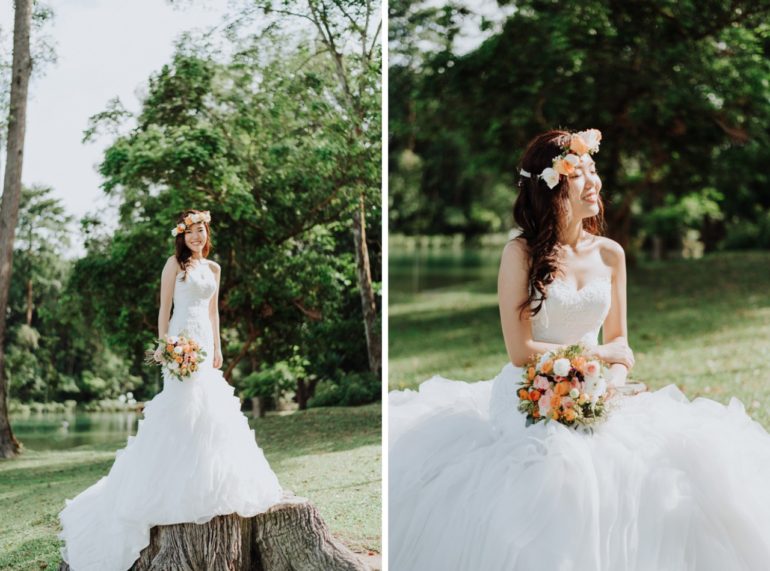 Since I decided on a rustic woodland theme, I wanted a simple lace dress that would match my floral crown. As I have a pear shape body (heavy at the hip area), the mermaid silhouette was perfect for me as it accentuated and complemented my body! I loved it!
See also: How This Couple Created A Pinterest-worth Garden Wedding in Singapore.
Gown 2: A Long Train Drop-shoulder Lace White Gown for Dinner Reception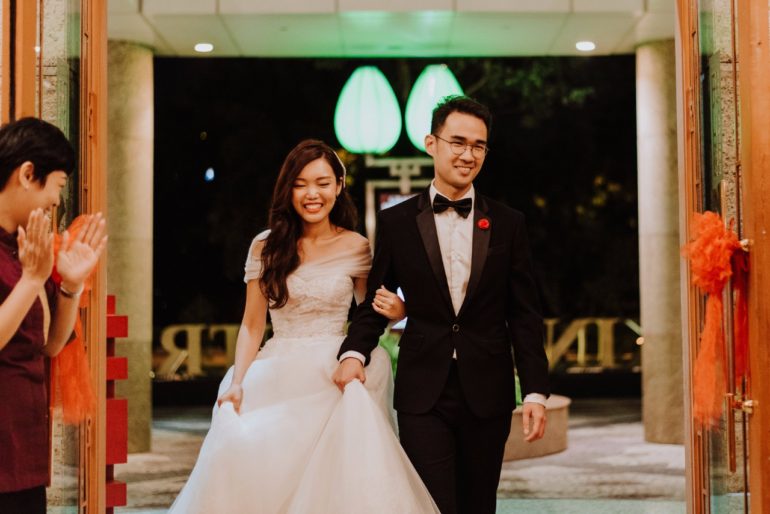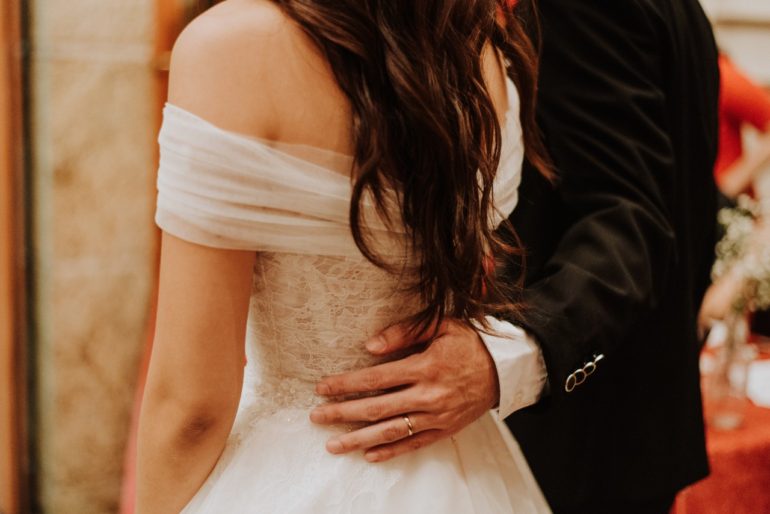 I received countless of compliments for this gown. I loved how soft and subtle the lace on the bodice is, and how the drop-shoulder tulle makes the whole gown very romantic and dreamy. THIS WAS AND STILL REMAINS AS MY DREAM WEDDING GOWN!
I did not fancy ballgowns with puffy princess-y skirts, so this gown had a more elegant A-line-like silhouette. I loved it so much that I took a long last look before I had to return the gown!
Gown 3: A Luxurious Diamante Evening Gown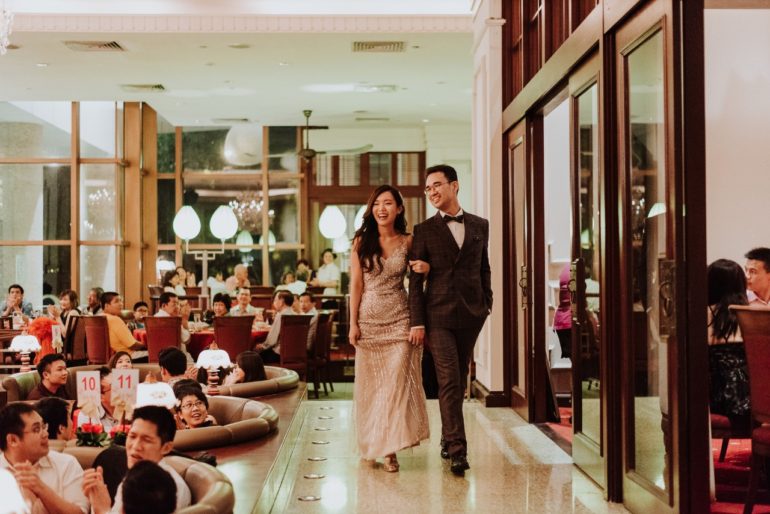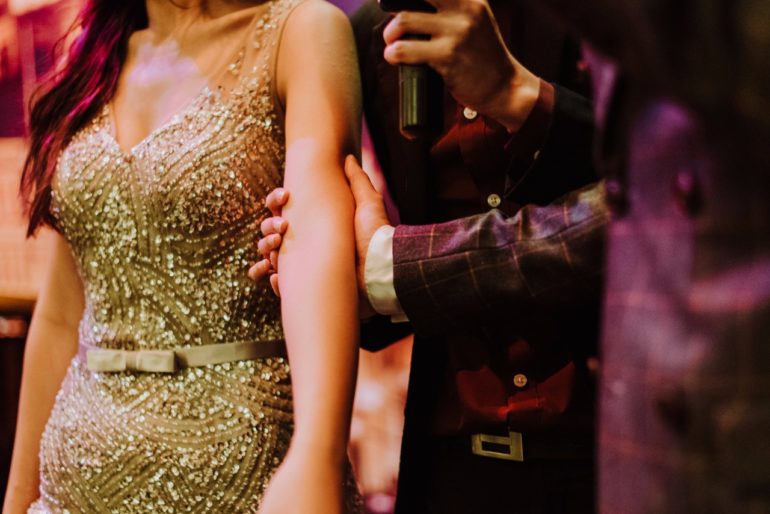 For my evening gown, I chose an intricately detailed glamorous diamante gown. I wanted an evening gown with a totally different look and silhouette for my second march in. I chose a sheath silhouette, which was something more clean cut and allowed for easier movement. The gown was absolutely convenient to walk in. I did not even need my bridesmaid to help me about when I was taking photos with the guests. The best thing was it complemented the Grand Shanghai's vintage theme fully!
I'm really loved all my dresses! A big THANK YOU to Eunice and her team for all the advice, recommendations and help in choosing my dream wedding gowns!
When it comes to gowns, I believe having a passionate and committed bridal consultant is key. You need someone who has the passion to make you the most beautiful bride and who has the commitment to help you find the best gown! The team at The Gown Warehouse definitely fits the bill!
Final recommendations for brides-to-be
When doing your gown research, don't get too fixated with a specific design. It's hard to find an exact replica! Rather, use Pinterest to pin a few gowns that you love. Your research should help you understand what kind of silhouette, material, necklines you prefer.
At the end of the day, it is most important to find a gown that complements your body shape, size, height and fits your style and personality.
TIP: Trying on the dresses is crucial. Only after you try on the dresses, will you know what is more suitable for you!
Thank you once again, TGW! I had an amazing once-in-a-lifetime gown experience with you guys.
About The Gown Warehouse
Located at Woodlands, The Gown Warehouse is an established bridal studio in Singapore. They have an enormous mix of gowns, from dresses that are affordable as well as those that are more pricey. They've even got gowns of the latest designs! With so many designs to choose from, you will definitely be spoilt for choice!
The Gown Warehouse
Website: https://www.thegownwarehouse.sg
Facebook: https://www.facebook.com/TheGownWarehouse
Instagram: https://www.instagram.com/thegownwarehouse
---
Looking for a list of wedding dress shops for your wedding? Start with our compilation of 25 Bridal Boutiques in Singapore. And if you want to learn more about other parts of my wedding planning journey, read here for my fabulous experience with my ROM caterer.