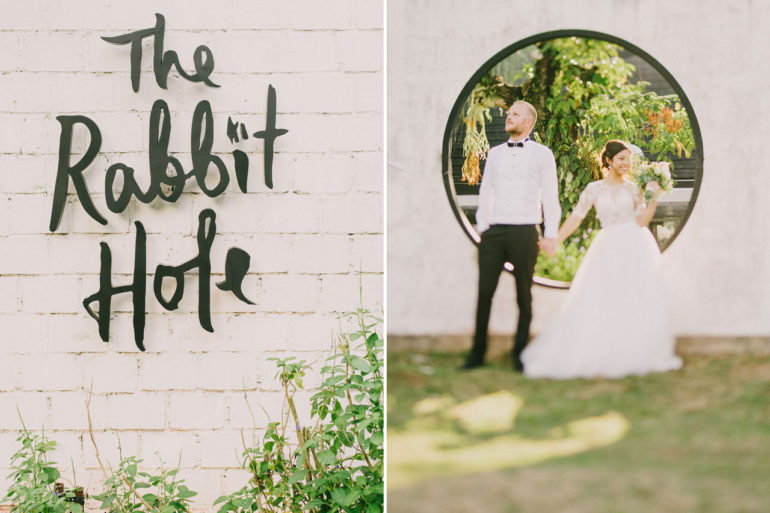 After reading our ultimate list of wedding venues in Singapore, here is one venue for those who are leaning towards an intimate wedding ceremony to consider!
Tucked away from the city bustle, The White Rabbit is located at Dempsey road. They are an European restaurant in a restored 1930s Ebenezer chapel. The restaurant is inspired by aspects of Lewis Carroll's story – Alice in Wonderland. With 2 of their iconic stained glass windows surrounding the area, get ready to be fascinated by this history-rich venue.
Wedding Packages
At The White Rabbit, they offer a series of wedding solemnisation packages for 20 to 60 guests and also an array of lunch and dinner menus prepared specially for private events for couples to consider. Prices range from around $95 per pax for a 4 course lunch and $125 per pax for a 4 course dinner. Expect to pick from dishes of high quality such as Angus Beef Cheeks, Grilled Halibut Fillet and Butter Poached Maine Lobster.
Seating Arrangements
Seating arrangements at The White Rabbit can vary depending if you're having an intimate wedding solemnization ceremony or hosting your wedding dinner there. Please scroll down to view the seating arrangements taken by our photographer during a wedding dinner for a better picture.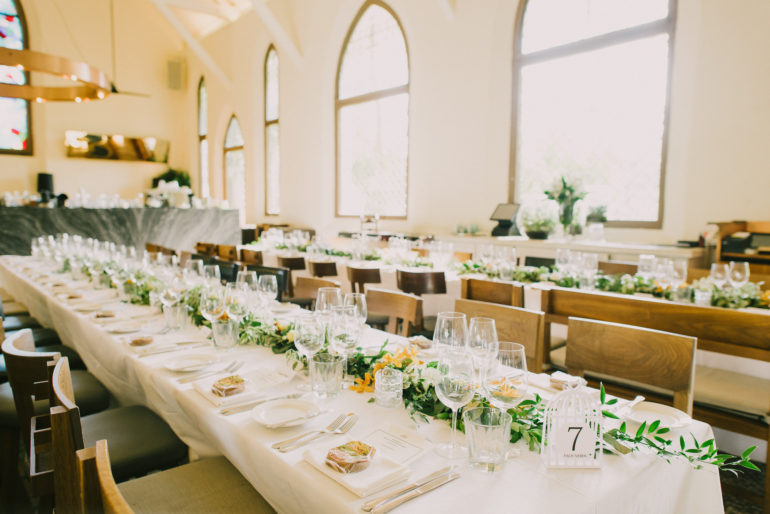 Spaces
At The White Rabbit, you can never be short of space. These spaces are special in their own unique way and are at your disposal for decorations. Brides-to-be can plan for something different in each space!
Main Dining Area
The main dinning area can fit 120 guests easily for a fine-dinning experience. Be it daylight or nightfall, guests can enjoy the view the big windows surrounding the chapel will bring.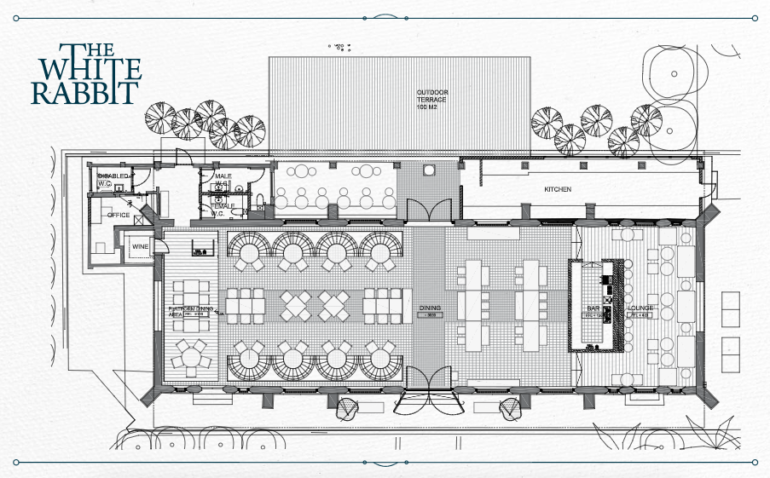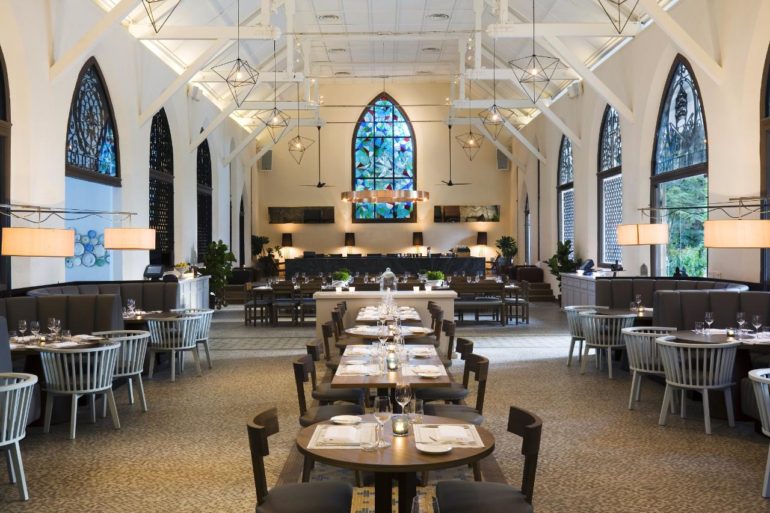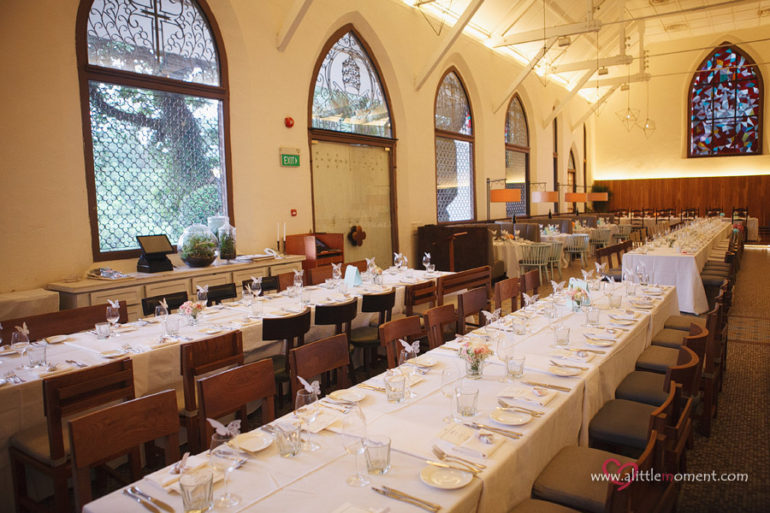 The Rabbit Hole
Popular for pre-dinner drinks and for an intimate solemnisation ceremony, The Rabbit Hole is an outdoor terrace fully furnished with traditional garden furniture and equipped with bar.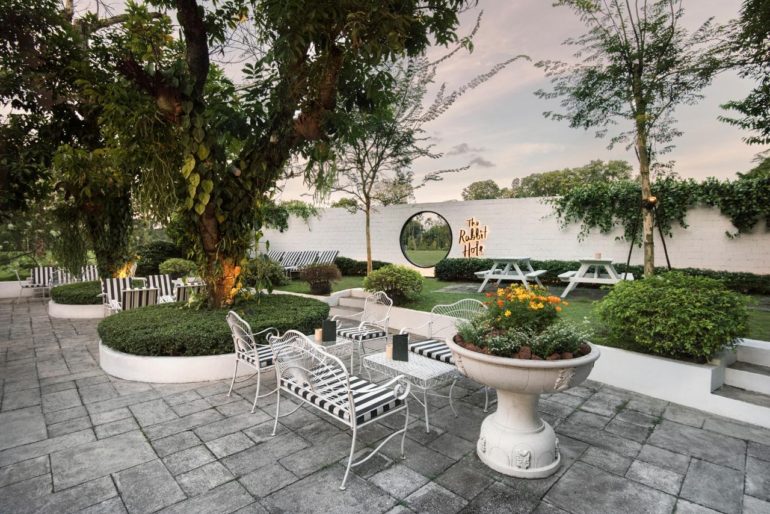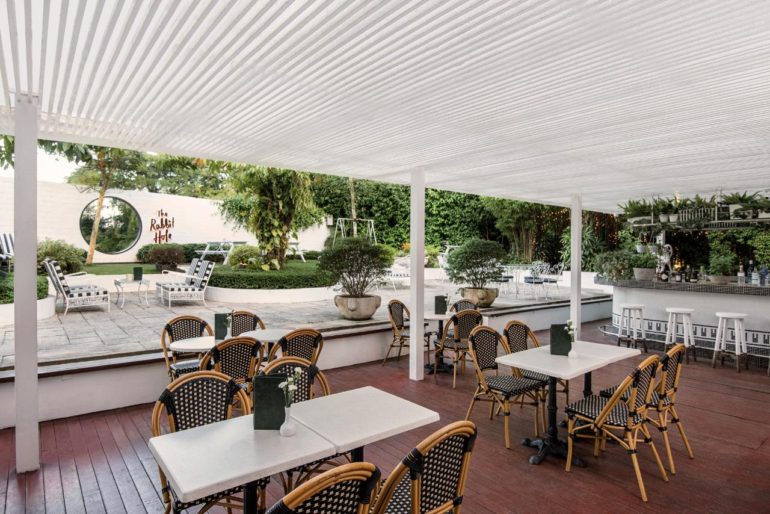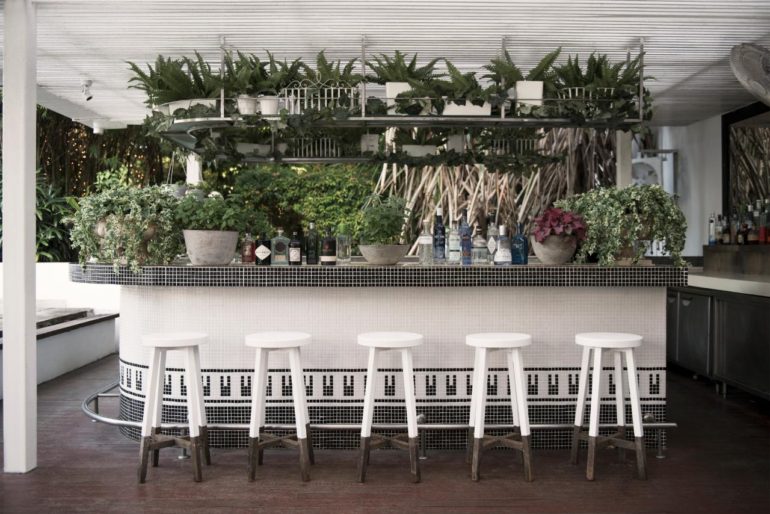 The Sunday Room
Despite not frequently used by couples for wedding purposes, the Sunday Room is still an adequate space for an intimate semi-private gathering.
Amenities
Parking is complimentary with 60 parking spaces at The White Rabbit's facilities and another additional 30 over at St. James Kindergarten, only a short walk away. They also have an AV sound system installed for music and 2 wireless microphones available for use.
Photo Spots
If you're not already impressed by the boundless possibilities that would make The White Rabbit a great wedding venue, they also have a number of good photo spots! Get inspired by these photos and squeeze in a quick photoshoot with your photographer before your guests start to stream in.
The Rabbit Hole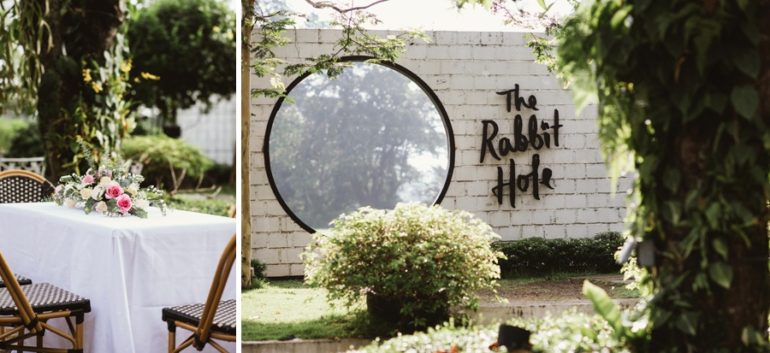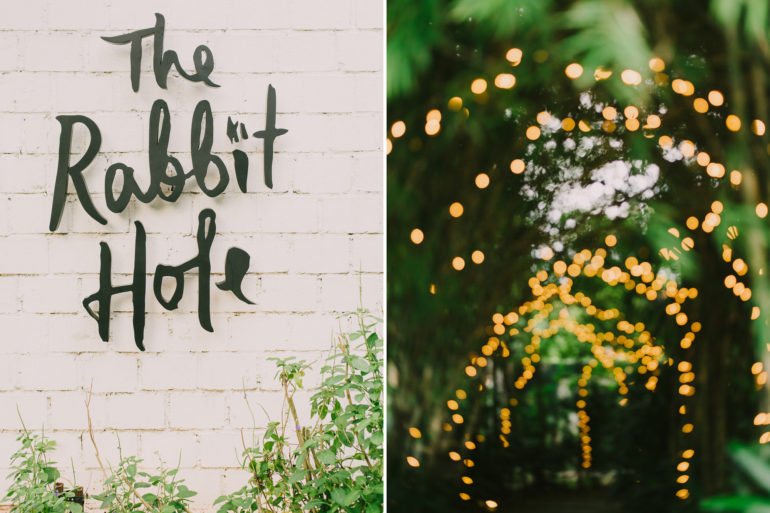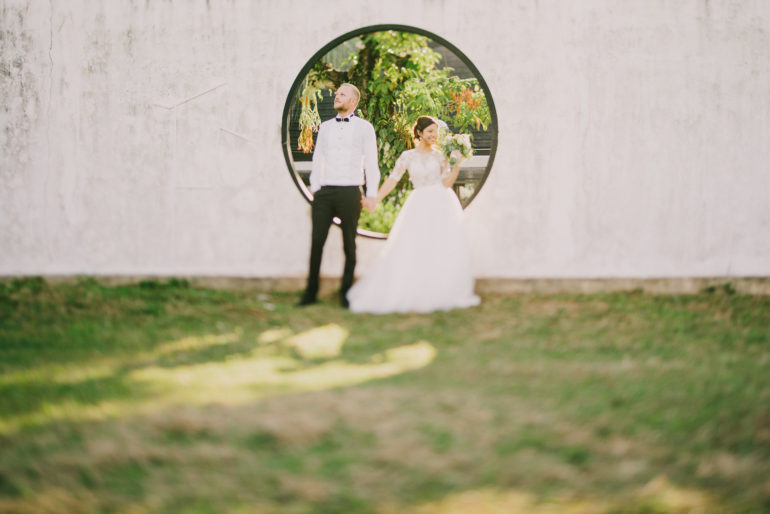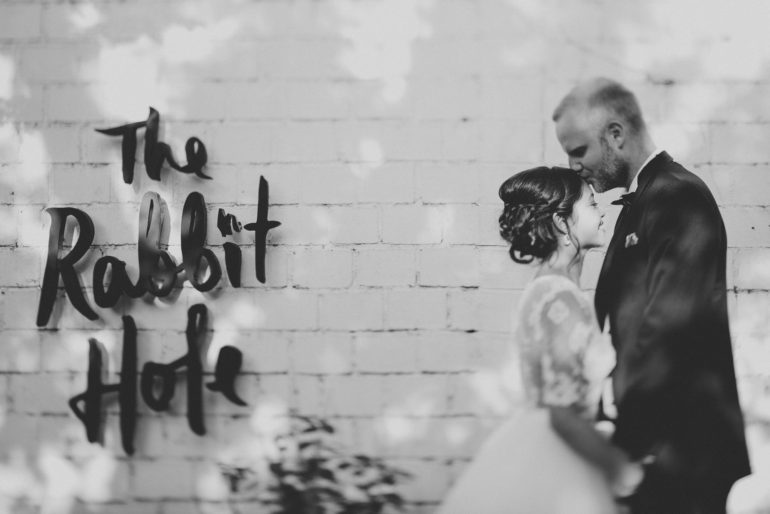 Under the canopy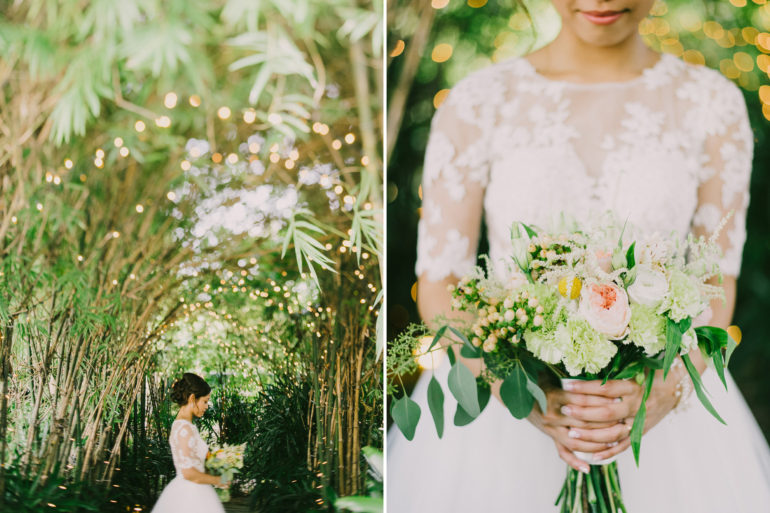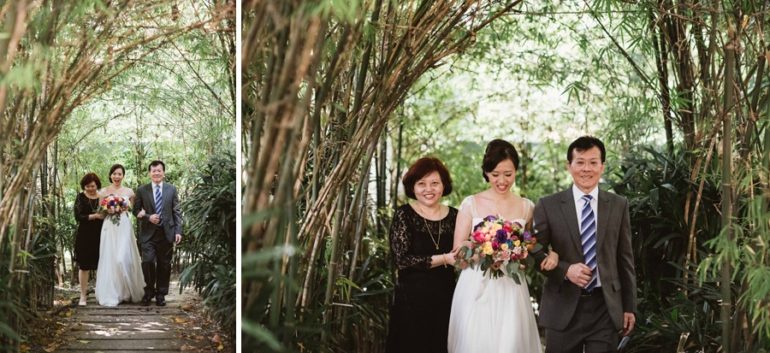 With the stained glass window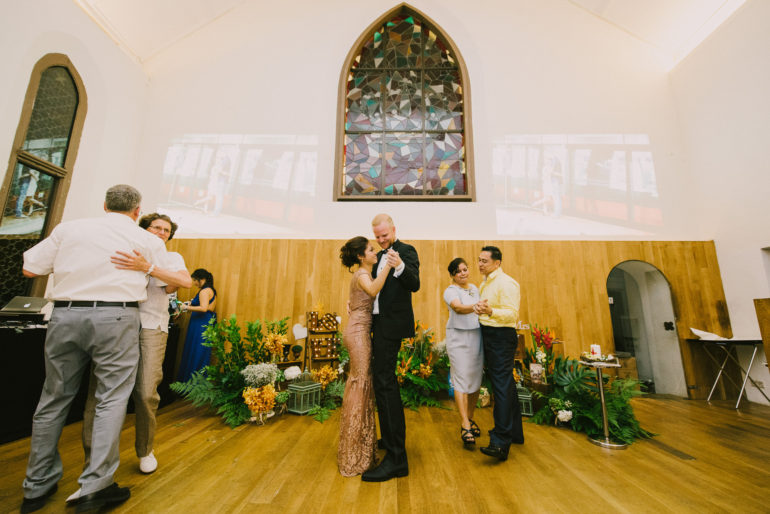 Real Weddings
For more photos of weddings held at The White Rabbit, see the following real wedding stories on OneThreeOneFour.
Jonas & Melissa by Andri Tei Photography
Yinru & Wei Yao by A Little Moment Photography
Tor & Clara by The Beautiful Moment Photography
Can't wait to start planning your wedding at The White Rabbit now? Give them a ring at +65 6473 9965 or drop them an email at [email protected].
With a wedding venue in mind, proceed to the next step and hop on over to our photography market place to book a pre-wedding shoot anywhere around the world!