Ever been to a wedding and found yourself glued to your phone instead of enjoying the banquet? Perhaps, you were attending a wedding of a distant relative or maybe the popping of the champagne and yum seng isn't your thing. Now that you're planning your own wedding reception, I'm sure you'll like to minimise the chances of your guests feeling this way.
Games are an ideal way to engage your guests! They are entertaining and a fun way for your guests to know more about you and your partner!
Here are 8 fun and meaningful games to your playing during your wedding banquet!
1. The Shoe Game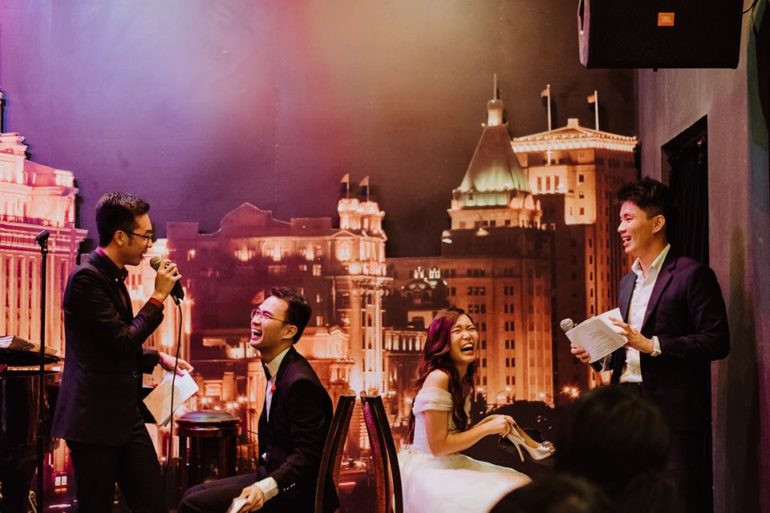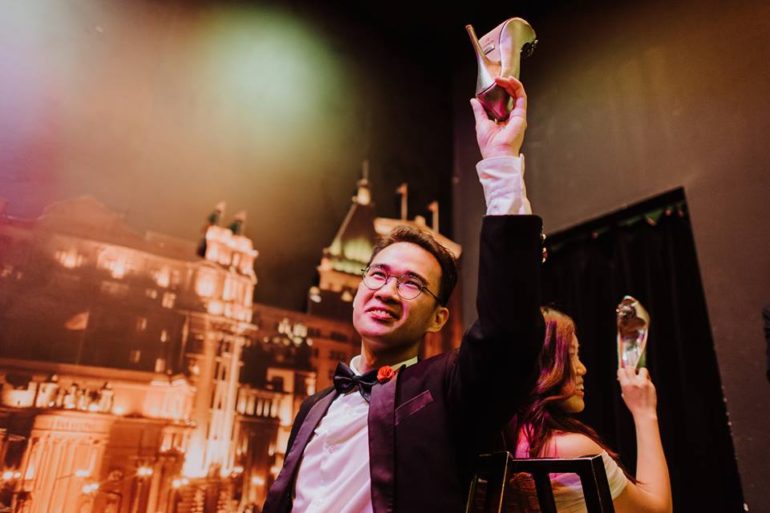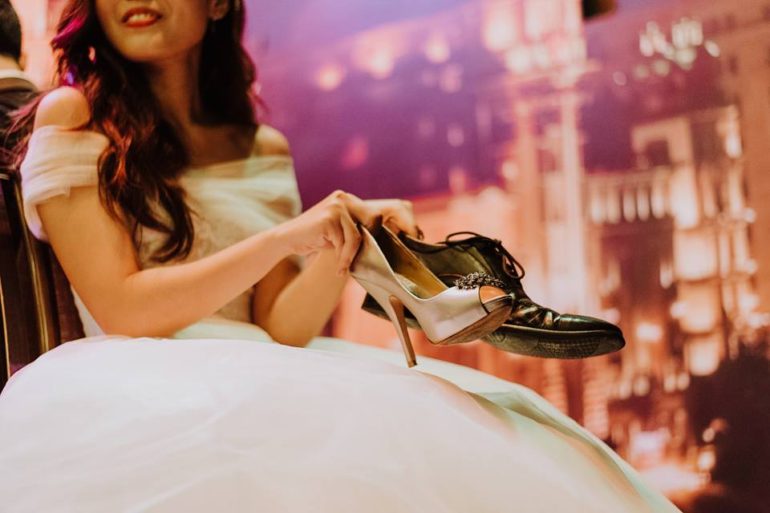 The Shoe Game is by far the most popular wedding game! It is an ideal game to warm up your guests early in your reception.
Here's how to play the game. Place two chairs back to back and have the bride and groom sit opposite each other. Your emcee or the game coordinator should then read out each question.
Some sample questions include simple ones such as, "Who wakes up first in the morning?" and "Who steals the cover's more?". However, your guests will be more interested in revealing questions. Take it up a notch with questions such as, "Who is the bigger flirt?" and "Who initiated the first kiss?" for a better laugh!
Here are a list of questions to get you started:
When the two of you first met, who made the first move?
Who is the better driver?
Who got better grades in school?
Who is more creative?
Who is the one that will be the first to wake up
Who is more clumsy?
Who is better with keeping surprises?
Who is first to say, "I'm sorry?"
Who is better looking?
Who is messier?
Who is the better cook?
Who is the better kisser?
Who likes to show their affection the most?
Who is more vane?
Who is most likely to be late for dates?
Who is in charge of the remote?
Who has the wackiest family?
Who will be the first to fall asleep tonight?
Who spends more money?
And finally, who do you love more than anyone in the world?
You can also watch how the couple played their shoe game below:
2. Guess Who?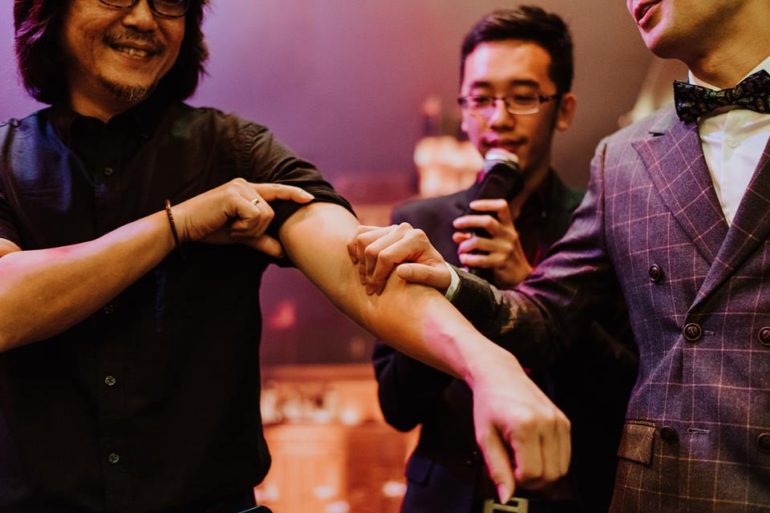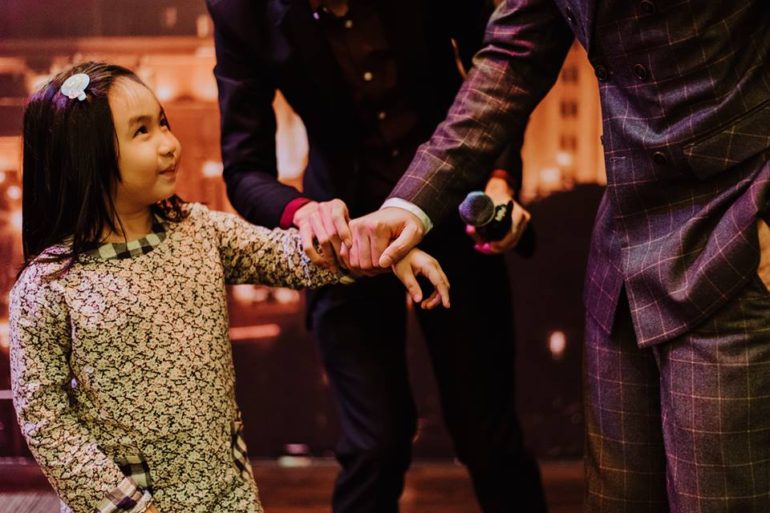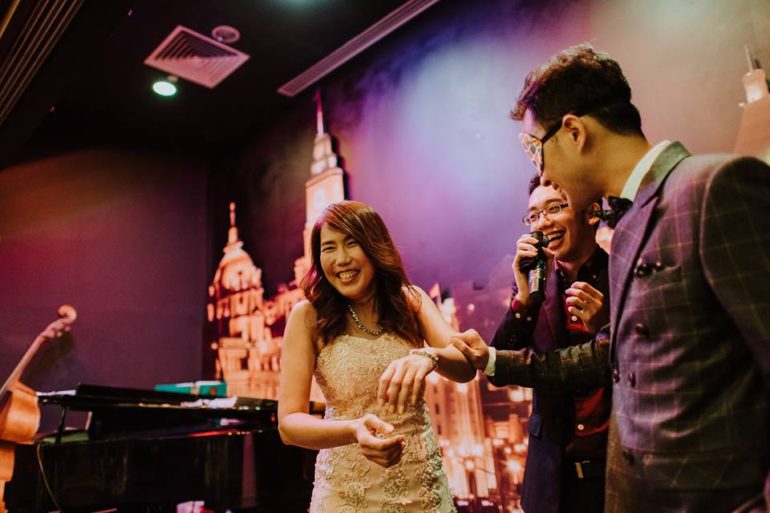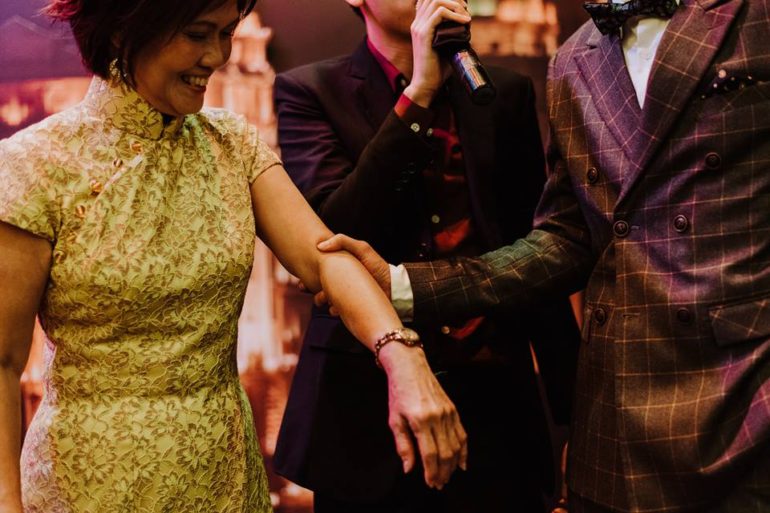 I've attended friends' weddings who have tried this game, and the effect is amazing! All you need for this game are a few volunteers and a blindfold. Firstly, blindfold the groom. Then have him touch the arms of all the volunteers, including you – the bride. You can gather as many guests as possible (girls, guys, babies, granny's) to make things more challenging for the groom! Will he be able to figure out who in the lineup is his bride?
3. Crossword Puzzle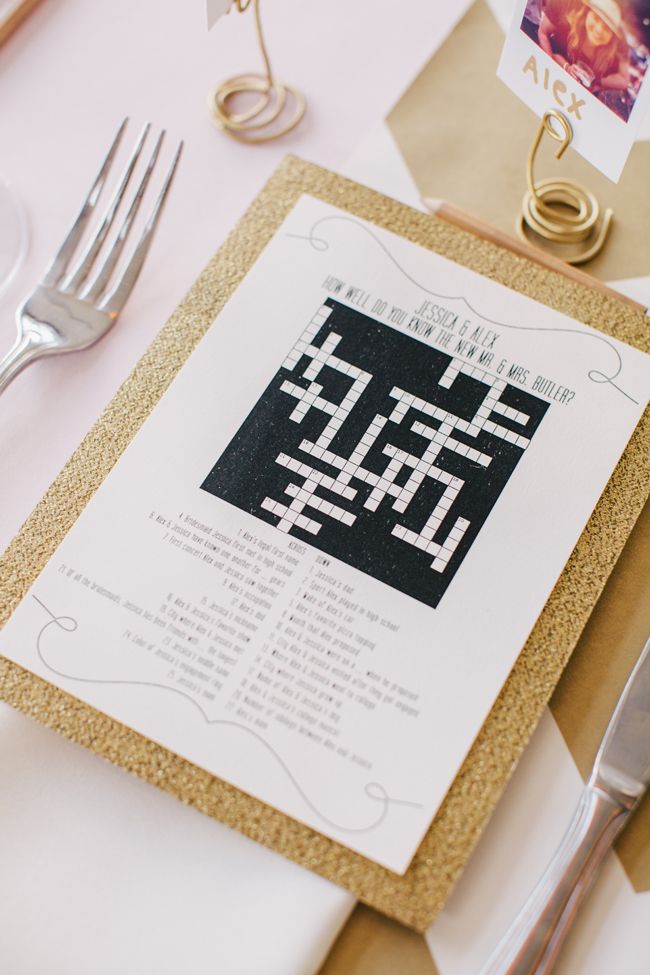 Create a crossword puzzle all about you guys! Include trivia such as the bride's birthday month, groom's favourite ice-cream flavour, and name of your pet dog etc! You can provide these hints at the bottom of the page. Your guests can then work together and the fastest table that gets all of the words right wins!
This dinner-table activity will be a great way for your guests to bond. Hence, try giving these crossword puzzles to each table at the beginning of the banquet so that your guests can warm up to each other while discussing the puzzles!
4. Fill In the Blanks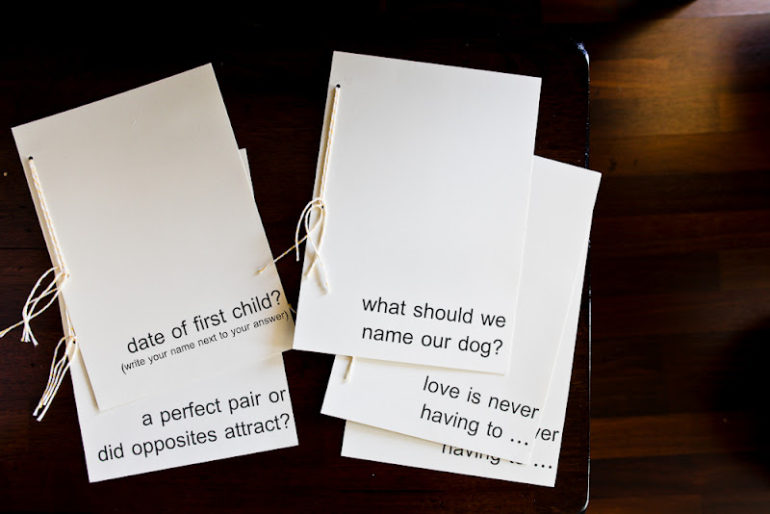 On each table at your wedding banquet, put a pen and these booklets with an array of questions that your guests can fill in! You can include intimate questions such as "Where should we go on date nights?", "What should we name our first child?" to random ones such as "Where should we go if we're craving cheesecake?".
Besides being a meaningful game, it would also make a good momento for the couple after your wedding. You never know, you might just take a name suggestion from your friends and they would end up naming your first born!  Spice things up by having different questions on different tables!
5. Marriage Advice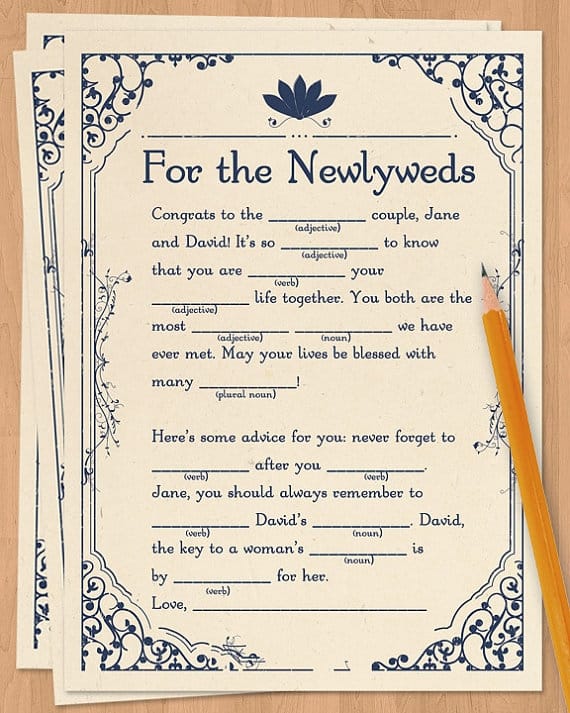 This game has a similar ring to the previous one, where guests fill in the blanks on a question or two. However, instead of giving each table different questions, print out the same questions for everyone on a handout. Double up on this dinner-table game by having your bridal party selecting the funniest advice, the most-loving advice or other note-worthy ones. Share them with your guests! Perhaps a special gift for the best advice?
Hey, at the end of your wedding you can bring these along on your honeymoon and get ready to have a good laugh at everyone's answers too!
6. What would THEY rather?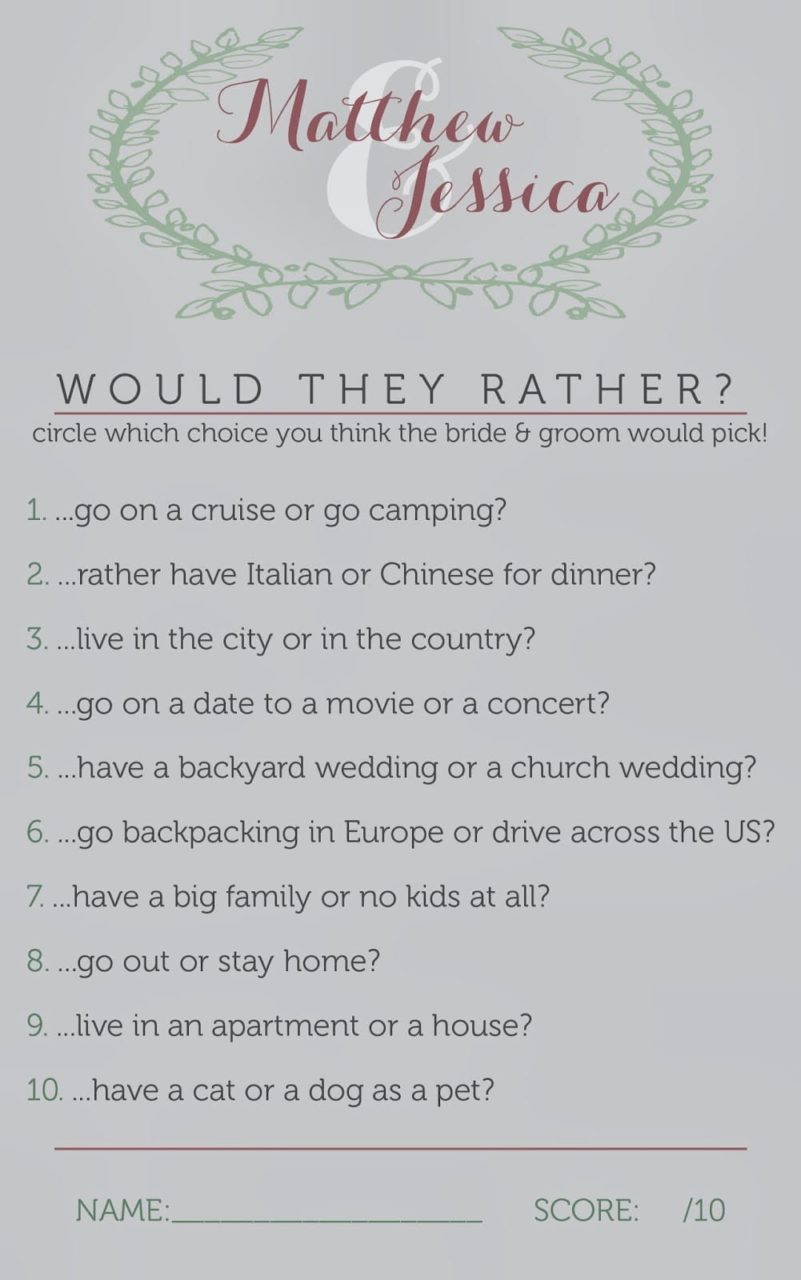 Come up with a vary of "would you rather" questions for your guests to answer and as usual, the ones with the most points win!
7. How well do you know the couple?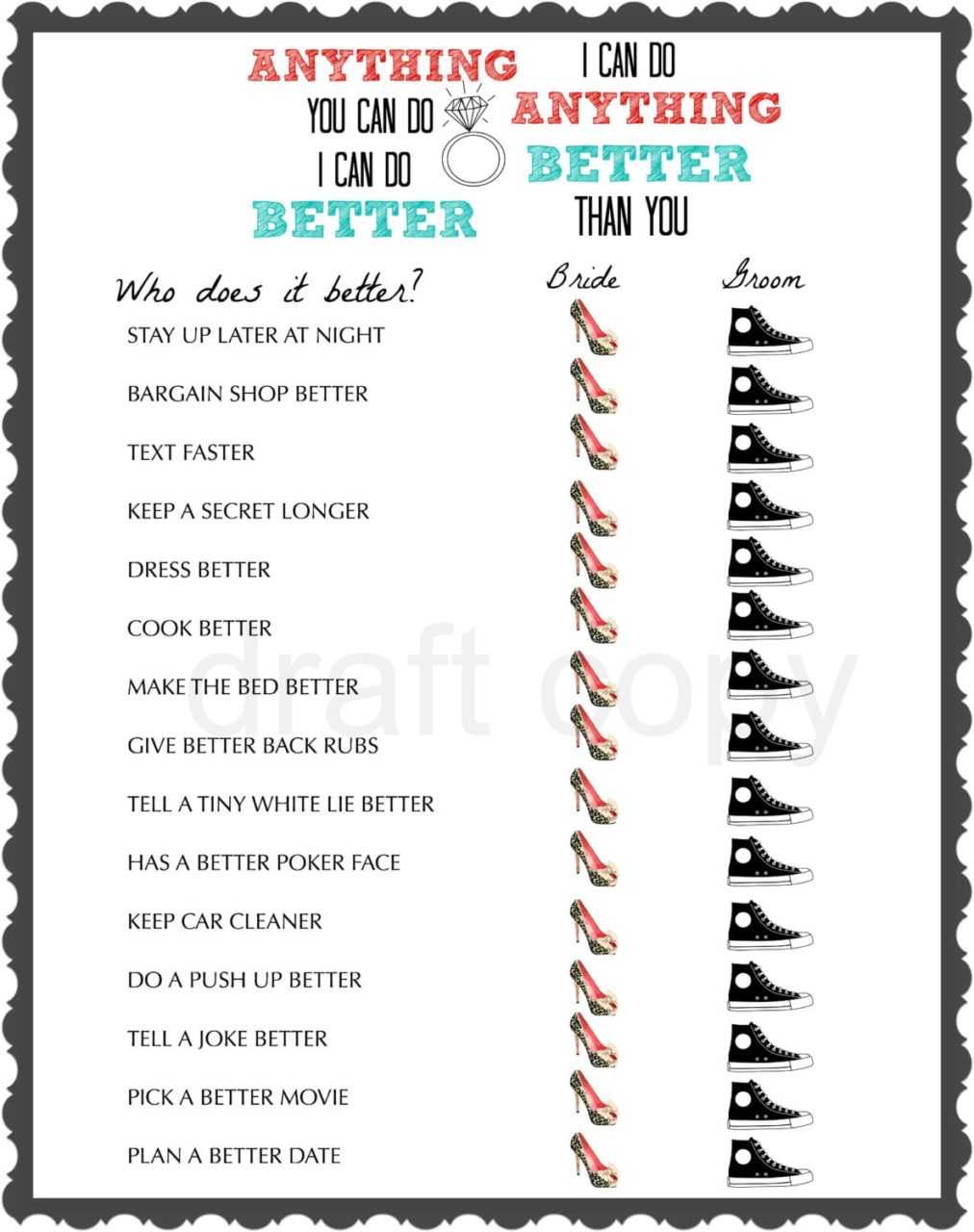 Sick of your first cousins claiming they know you better than your best friends? Test how well your guests really know you with these fun questions! You'll be surprise at how your friend or family see you in your relationship! Have your guests tally up their scores and present the winner(s) with a little gift or two!
8. Last man standing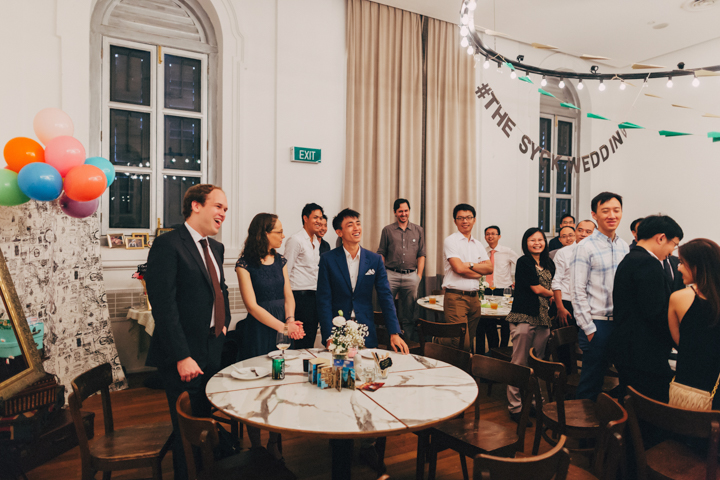 Get everyone up on their feet for this game! Read out random statements such as "If you've never been to Japan, sit down" or "If you've threw up at a drinking session, sit down". You can also bring guests back into the game with statements such as "If you've owned a pet dog before, stand up."
Continue reading out all the statements till a single guest is left standing and crown the winner!
Brides-to-be if you're still looking for your dream wedding venue to hold your dinner banquet, check out all the venues available here! We also provide wedding day gown rental, photography, and makeup services for your actual wedding day. Learn more about our wedding day services here!