Client: Linda & Terence, From Singapore
Bali Wedding at Alila Soori Villa
With just a few weeks to her dream wedding in Bali, Linda had everything sorted out. Except for one thing, she has not booked a wedding photographer to cover her Big Day.
Linda Tan and Terence Goh, have been together for 15 years. The couple have always wanted to have an intimate wedding ceremony with their close friends and family. And so, they chose to have a destination wedding and held it at the Alila Soori Villa.
Photoshoot before the wedding
After the tea ceremony in the morning, the couple prepared for their photoshoot. Linda was delighted at how convenient their session turned out, "I thought we had to travel out of our villa, to somewhere far, for our photoshoot. Thankully, Bayu and Ivony covered a wedding in our villa previously and they knew exactly where the good spots are located AROUND the villa. We would never have known these spots if it wasn't for Bayu and Ivonny." Ivony from Bali Pixtura said "it's just a walking distance to the rice field and you could also enjoy ocean view from its peninsula." They took some beautiful shots in the rice fields and at the cliff, before the wedding ceremony.
"We would never have known these spots if it wasn't for Bayu and Ivony."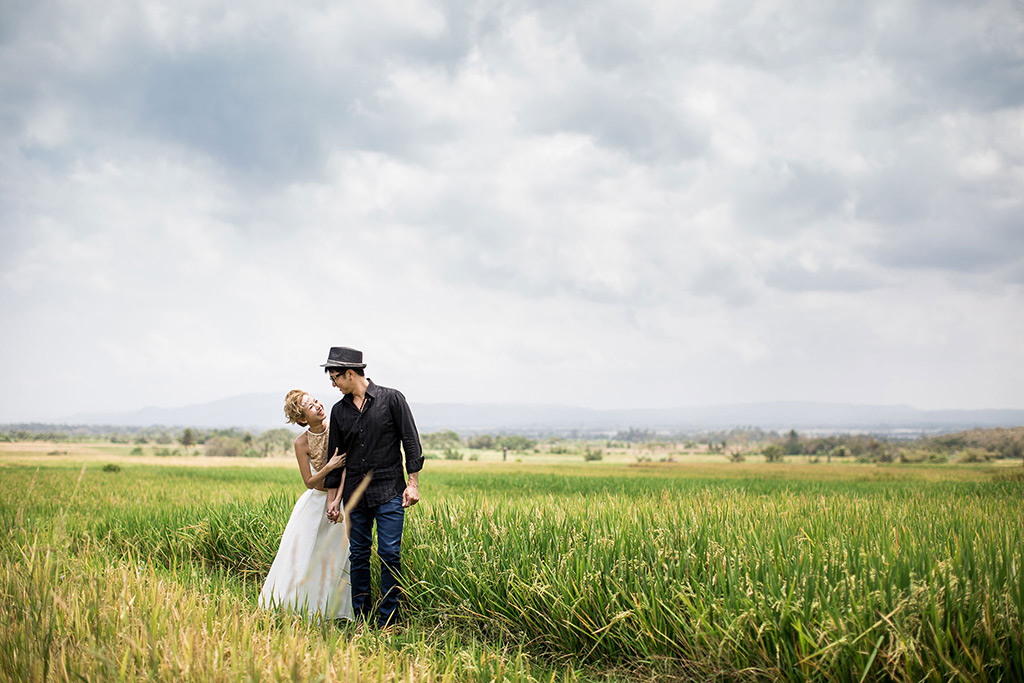 At the rice fields behind Alila Soori Villa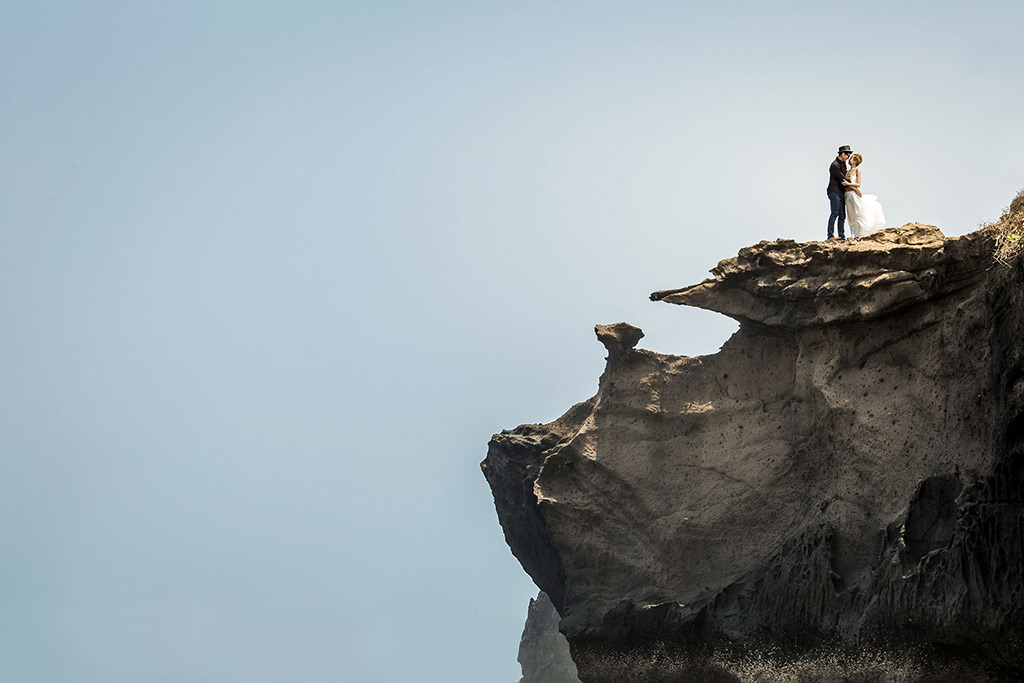 An epic shot of the couple on top of a cliff
Wedding Ceremony
With her close friends and family seated, Linda and Terence exchanged their wedding vows under a Buddhist ceremony. It was a beautiful moment – a newly wed, with the support of their loved ones, in a beautiful garden in the villa.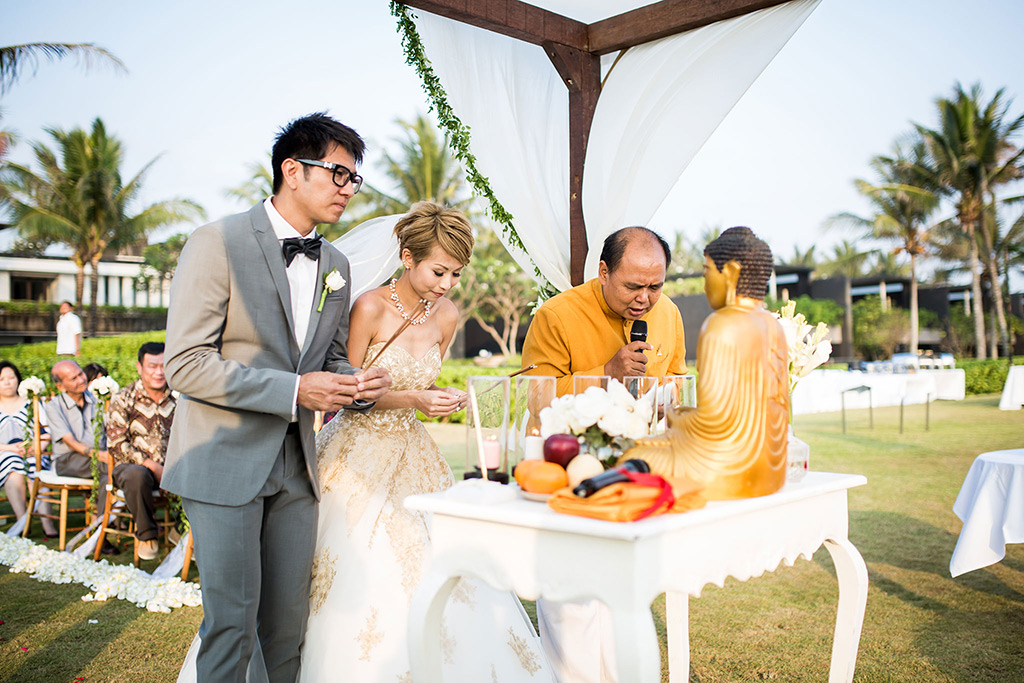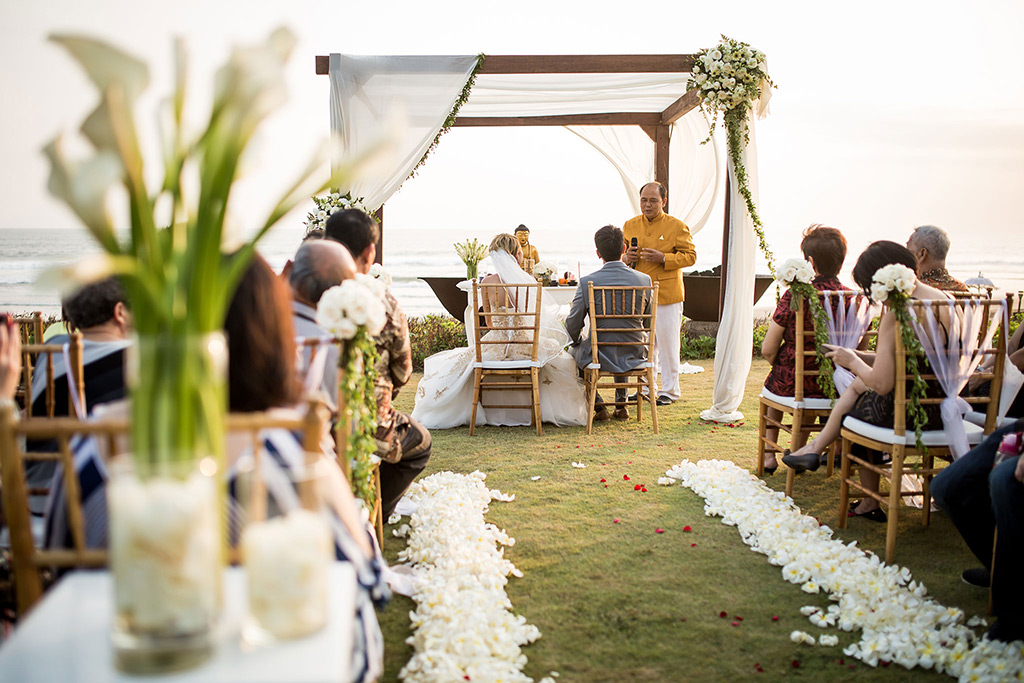 After the Wedding Ceremony
Before the evening reception, Bali Pixtura took the couple to the beach to take a few shots during the golden hours - the sunset.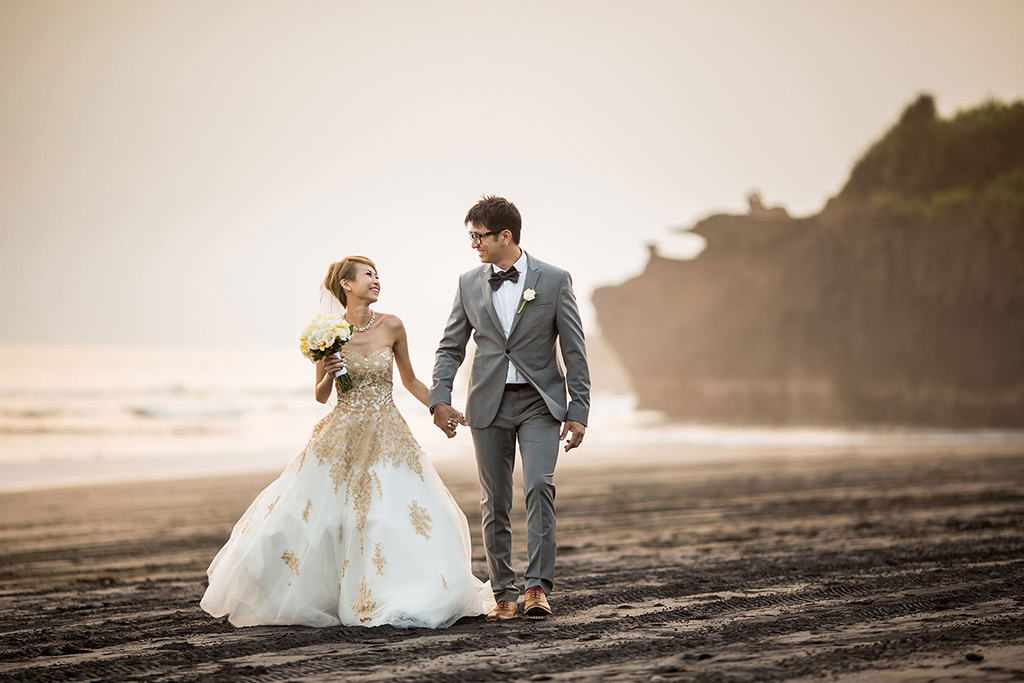 A Beautiful End
In the evening reception, the entire reception was decorated with lots of naked light bulbs. Their wedding ceremony ended beautifully with the fireworks and their friends and family celebrating their wedding!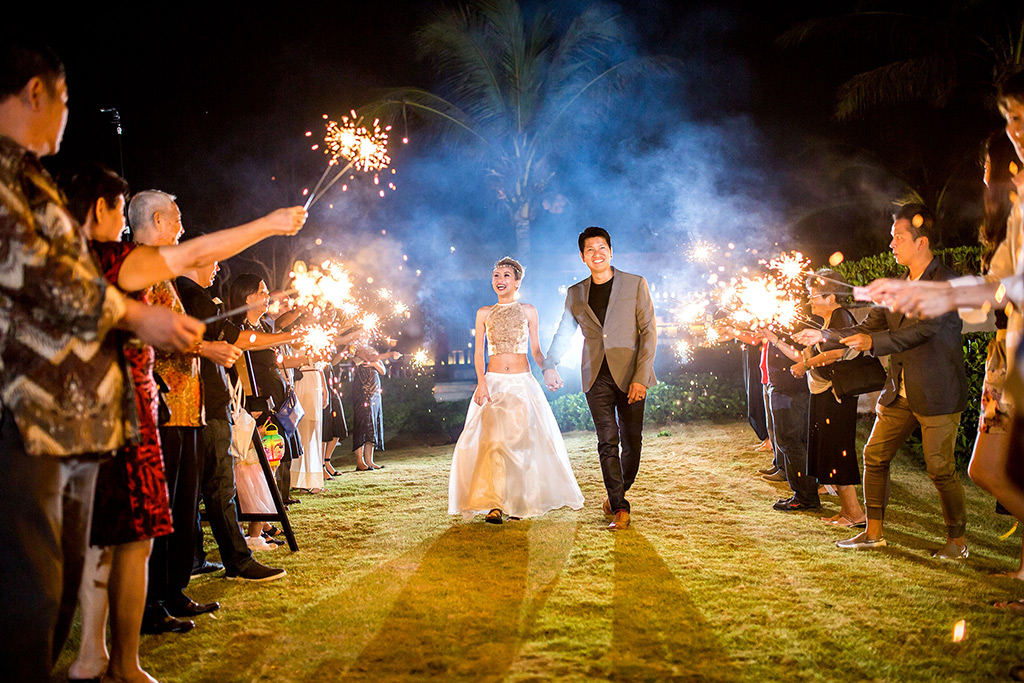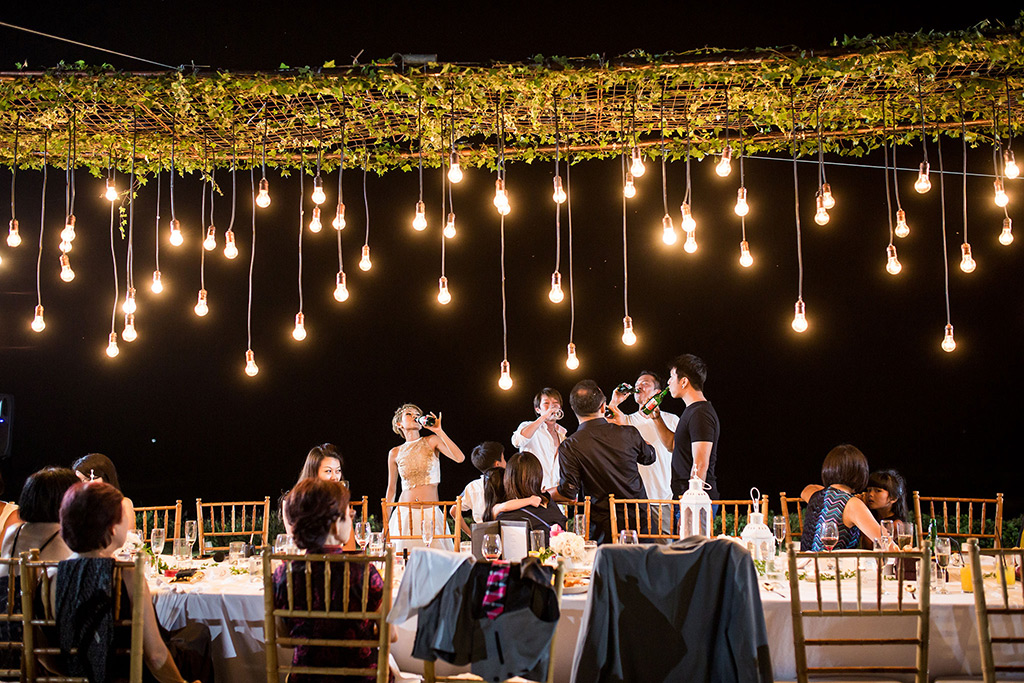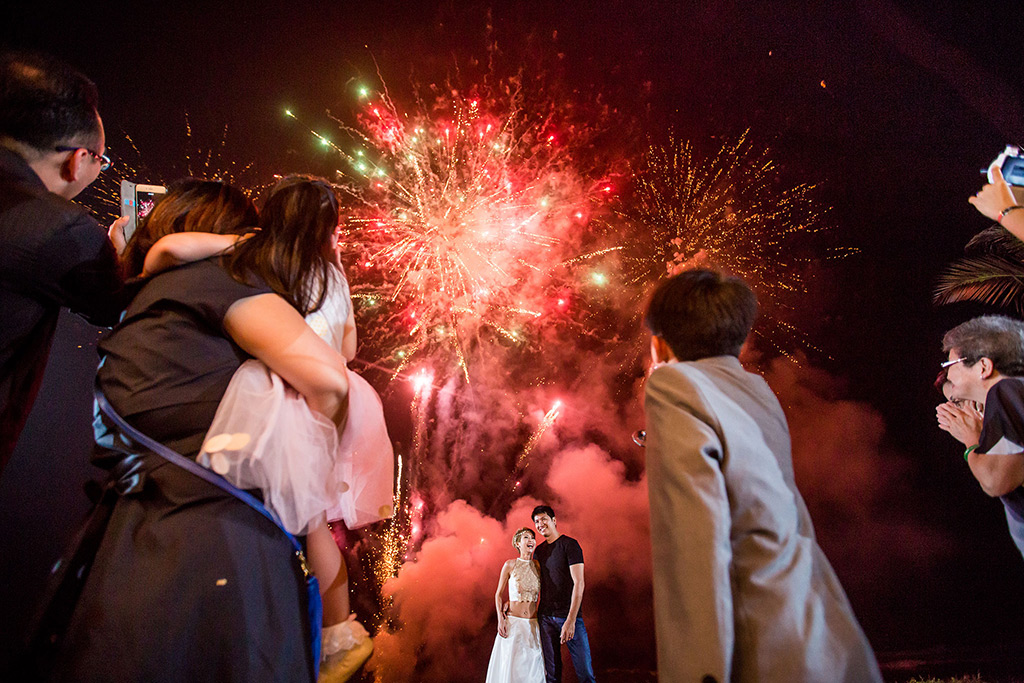 Initially, Linda didn't wanted to hire a photographer. But after much pursuasion by her friends and family, she was convinced that she needed to document those precious moments. With just few weeks away from her wedding, she could not find a suitable weddding photographer from Singapore. Her friend then recommended OneThreeOneFour for her find and book a Bali wedding photographer.
Why She Chose Bali Pixtura
Linda shared with us why she chose Bali Pixtura, "Bayu was really accomodating to my requests. After sharing with him a rough idea of my wedding day, he gave me suggestions on how I can plan my schedule. It was really helpful. Plus, Bali Pixtura was very responsive during our discussion."
About Bali Pixtura
Bayu and Ivony a is a team of young, enthusiastic and creative photographers specializing in documenting Bali Wedding and PreWedding / Engagement Photography.
To view their portfolio and price list, visit Bali Pixtura's profile on OneThreeOneFour.