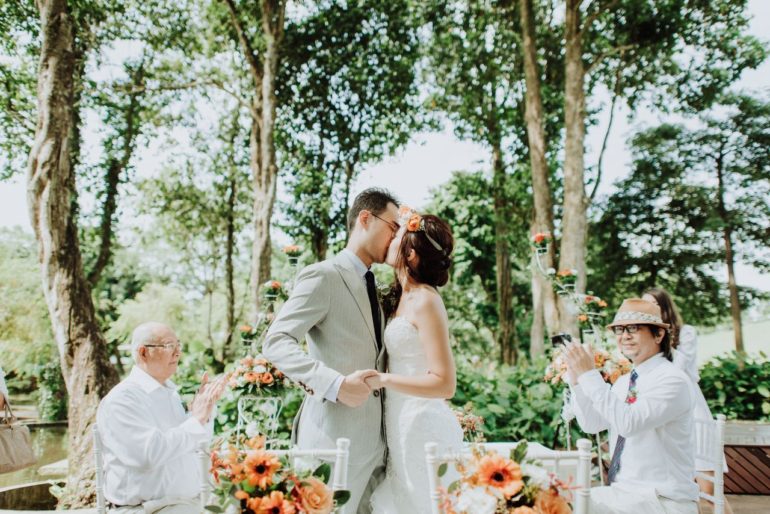 Holding an outdoor solemnisation at a park is pretty uncommon for many Singaporeans. So I decided to do an in-depth review to share my experience of our ROM at MacRitchie Reservoir Park to fellow brides-to-be.
We had two main criteria for our solemnisation.
First, our guests should be able to be comfortable and enjoy good food.
Second, we would like the whole setup to have a rustic woodland feel.
We searched for various food catering companies in Singapore starting with Four Seasons Catering, Purple Sage and Orange Clove Catering. We even considered going DIY! However, after much deliberation with my fiance, Scott, we realised that there is simply too much work to do. We would need to rent tables and chairs, style the entire Reservoir Deck and bring in our own food. Even if we have our bridal party to help us out with the entire setup, it would simply be too hectic. Therefore, we decided to let the professionals take care of our ROM session!
Grand Food Tasting: Food Tasting Session
I'm super impressed by the idea of food tasting session at absolutely no costs. You don't get such free services with restaurants or hotel. It seems that Orange Clove catering is the only company to offer such services. It just shows the level of confidence they have in their services.
This year, Orange Clove catering held their food tasting sessions in CHIJMES. We missed it, so we join other fellow couples at their wedding showroom instead.
Do follow OC Weddings on Facebook to stay updated on their next food tasting session. 
Call me biased, but I always feel that catering foods are meh~ This food tasting session however, really changed my opinion about the quality of catering food. I must say, the chefs at Orange Clove catering really did a good job! I love the canapés, especially the inclusion of fruits that kept it light and refreshing!
Planning for the Outdoor Solemnisation
Food Selection
The food tasting session is a great way to learn more Orange Clove's food quality. I highly recommend that any bride-to-be to personally try it.
At Orange Clove Catering, the menu selection are generally divided into three categories, Asian, Western and Fusion. Since we chose The Grand Shanghai for our wedding reception dinner, we decided to go for more Western dishes for our solemnisation.
After sending in our choice of food, Janice, our wedding consultant, came back with some really good advice. She suggested that we should balance out our selection with a couple of lighter dishes. She doesn't really have to do that does she? But she did! And that's dedication!
Janice even went to the extent to carefully plan out the order of the food at the buffet line. Scott and I were really impressed, the level of detail the team at Orange Clove goes into for this.
Styling
We wanted a rustic woodland concept for our ROM – think country, tall trees and a little bit of magic. From the inspirations we gathered online, we pinned our favourite rustic theme table centrepieces and table settings. We also chose orange, green and white as our theme colours. This rustic woodland theme would surely complement the Reservoir Deck at MacRitchie Reservoir Park!  See the photos below and our Pinterest board.
We showed Louis, who handles the theme styling, what we wanted for our wedding solemnisation. He knew what we were after, just like that. Louis gave us some suggestions, such as the use of linen fabric, mason jars, wooden boards and green pom pom flowers.
For couples who are still searching for the right theme and styling, Orange Clove has a collection of catalogues with different wedding theme sets for you to choose from. We were able to see their sample collection of props, fabrics and other details they use for the styling right in their wedding showroom.
TIP: To speed things up, you can do a moodboard of the wedding decorations that you like, i.e. the props, the table settings, the flowers, the floral centrepieces, the buffet line table. My suggestion for my fellow bride-to-bes is to go on Pinterest and start pinning your inspirations all in one board. Here are 12 wedding themes to start off!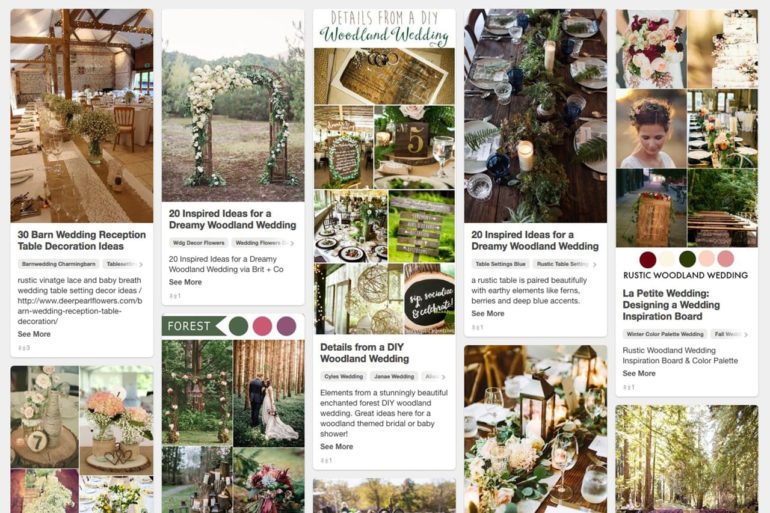 Once the stylist have to get a good feel of your desired theme, they will be able to better help you style your wedding and give you suggestions and advices. Orange Clove will also come up with a prototype of the set up before the execution so that the couple can view and approve.
Table layout and setup
Two weeks after our first meeting, we went down with the team to our wedding venue. Armed with a measuring tape, pen and paper, the OC team started measuring the space, drafting out possible layout plans.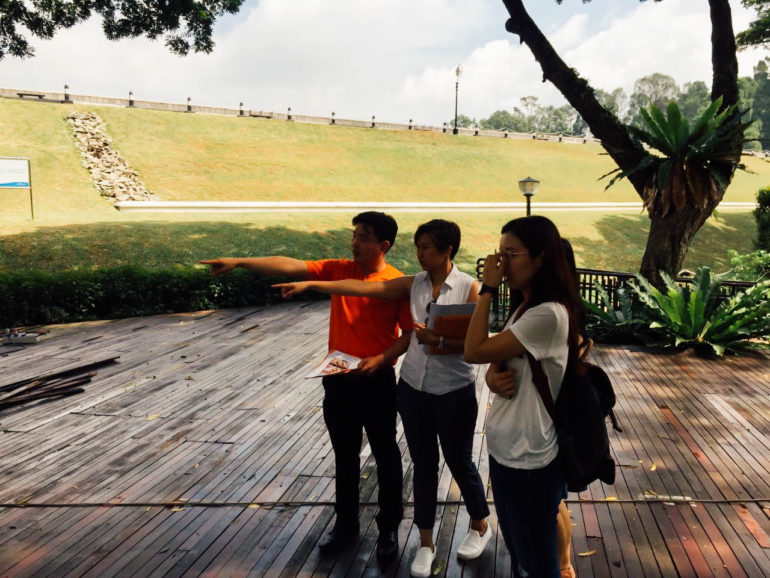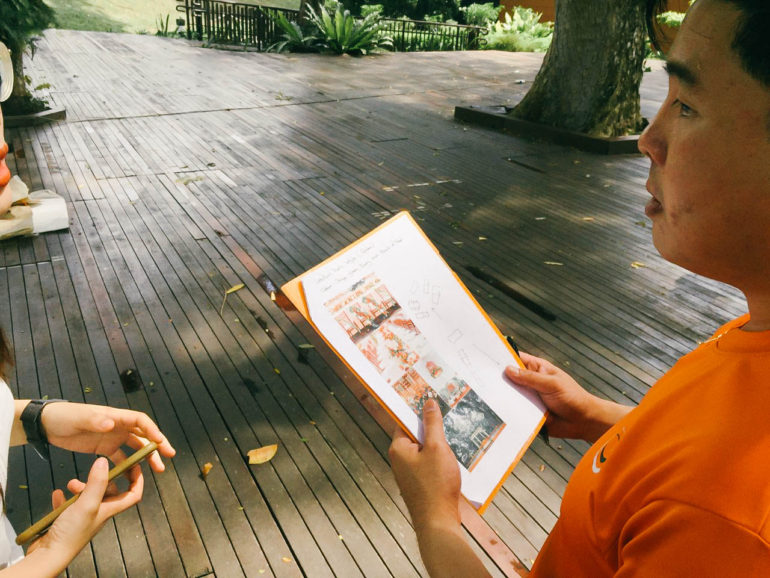 I love it that they did not stop at just one layout, but they kept trying different arrangements to see which complements the venue best.
On top of that, they explored ideas on blending the decorations and styling to match the space. For example, using an existing wooden platform as a dessert corner so that it fits nicely with the buffet line.
Brilliant!
TIP: It is very useful to use Google Street View app (iOS and Android) to shoot a 360º view of the venue, it will help you a great deal during your planning. Anytime you need a good look of the venue, you just have to view the 360º photo.
Actual wedding day
Rustic woodland styling and setup
We really love the whole styling of our solemnisation from the table setups to the chairs, to the florals, to the decor and props! Besides that, they also creatively used mason jars, linen fabric, mini tree stumps and many more details to dress up the entire space!
Florals
OC Weddings used a great selection of fresh flowers like, orange gerberas, roses, white eustons, red orchids and many more to produce gorgeous decorations on the table centrepieces, arcs and chairs. These are fresh flowers!
Enough of my blabbering and let the pictures do the talking here.
Beautiful styled rustic woodland theme, checked!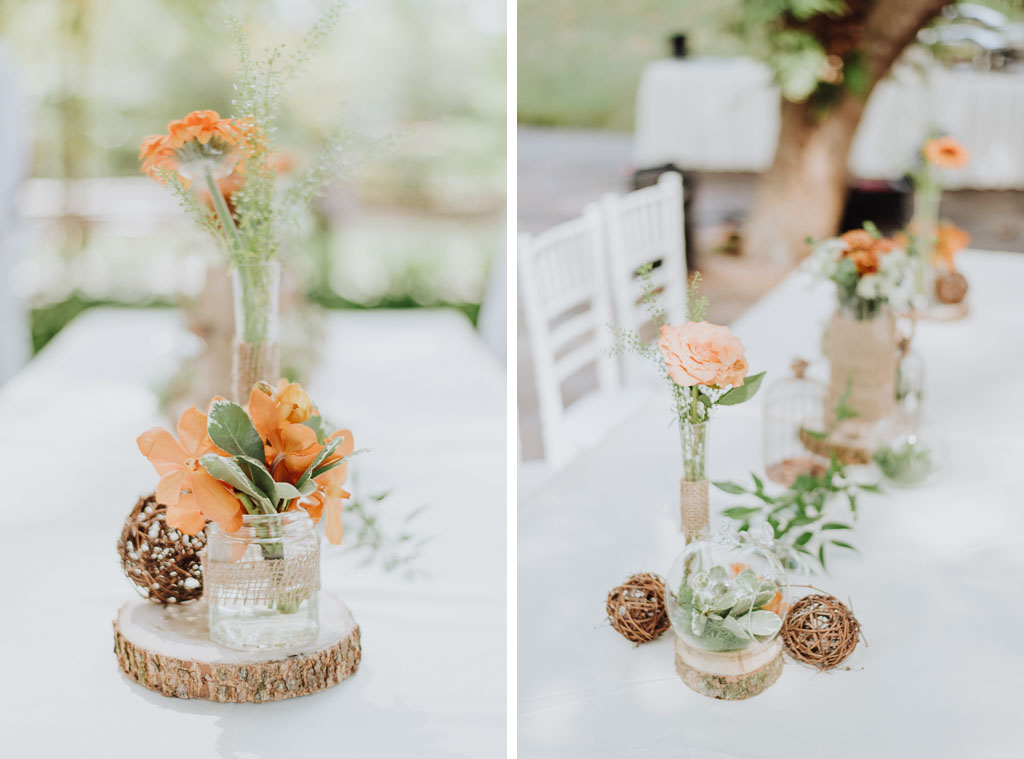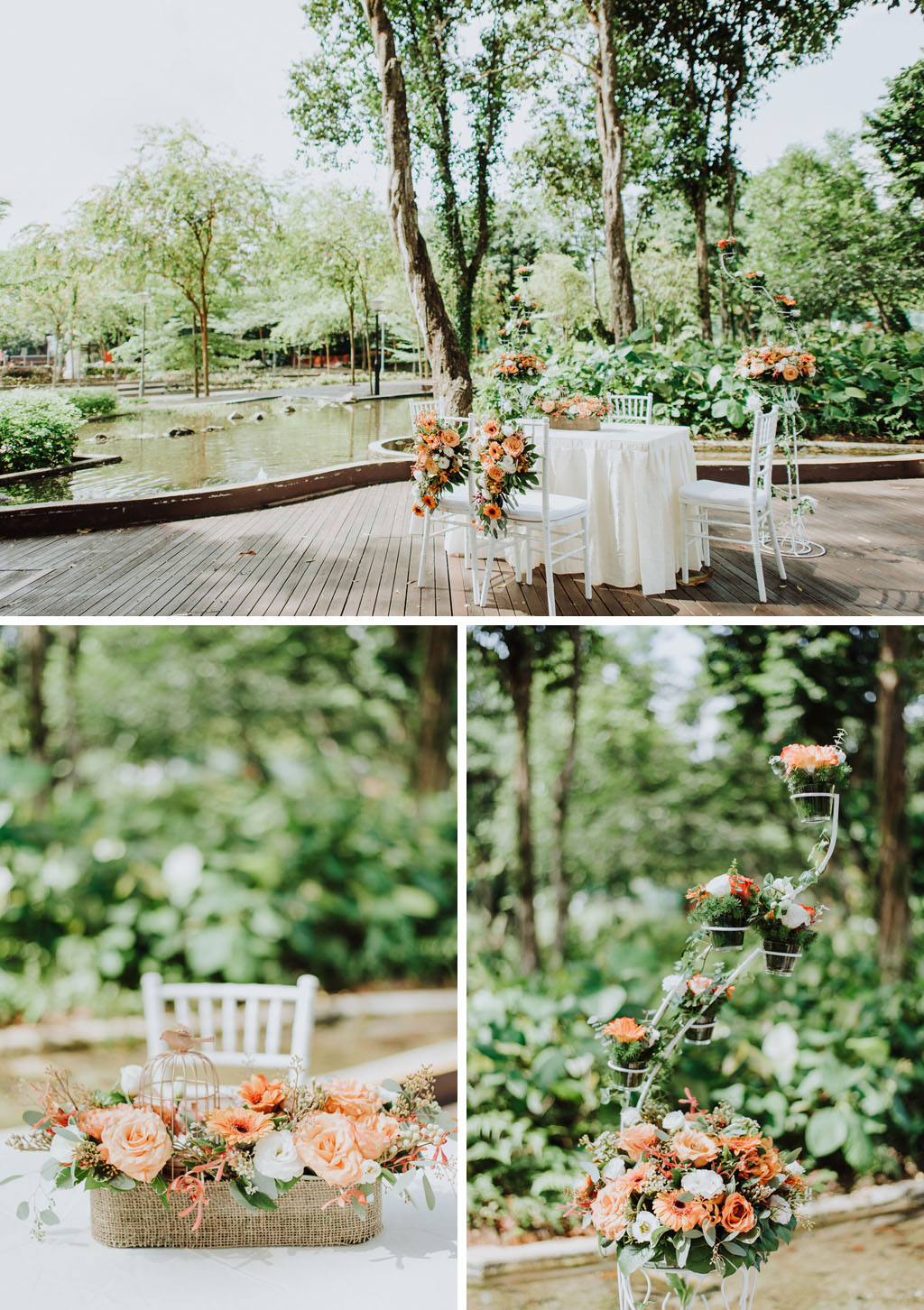 Food
The florals are amazing and rustic woodland styling at the buffet setup is just so pretty. They even made great use of the venue like the huge wooden bench to display the dessert items!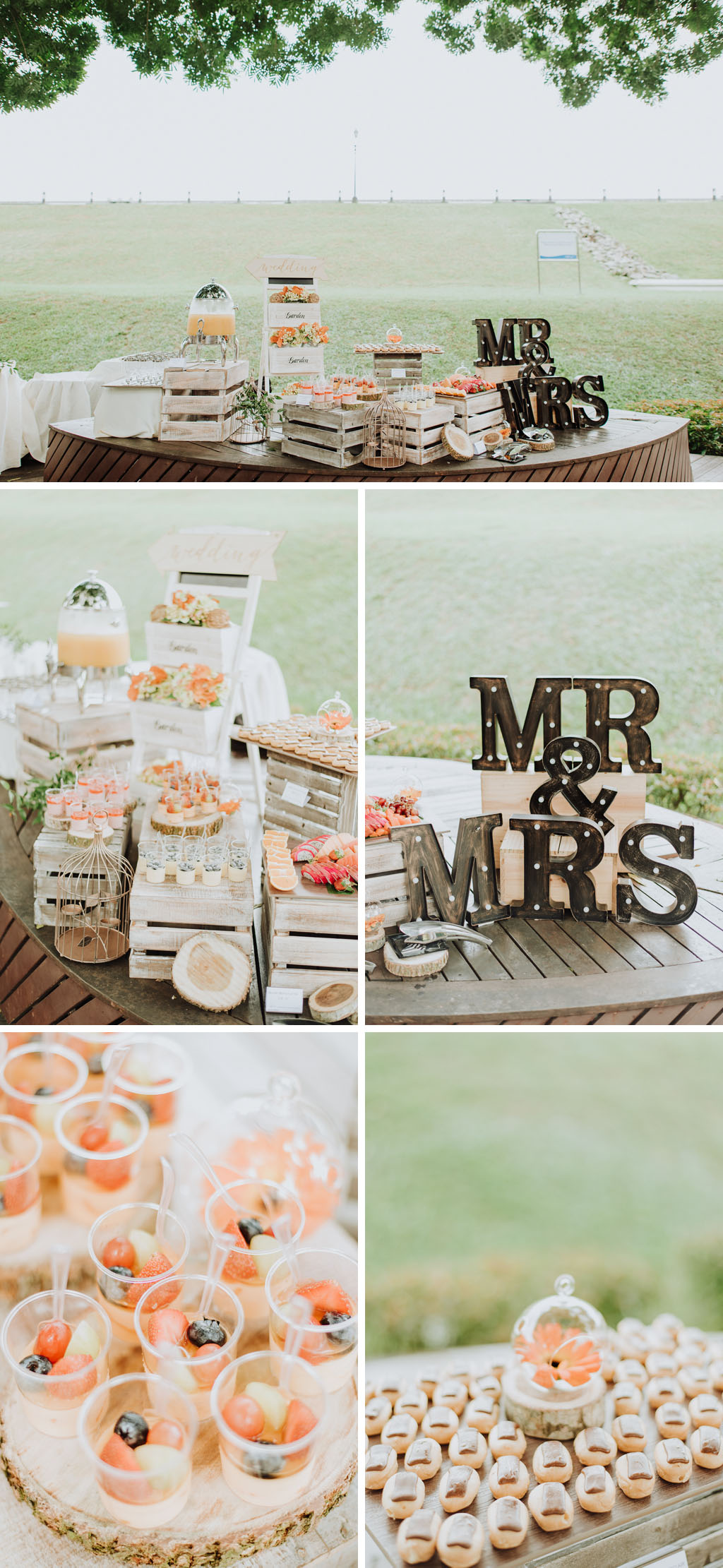 You know the food is good, when guests kept going back for more.
We were delighted that our guests enjoyed the food. You know the food is good, when guests kept going back for more.
In fact, the baked scallop was all swooped up that Scott and I both didn't get the chance to try it! Most of my friends also raved about the canapés, especially the smoked duck and the grilled scallop.
Personally, I love the mushroom and chicken penne pasta, the buttered broccoli with almond flakes and the honey glazed chicken! Scott was really happy that the food was still piping hot when he had it *roll eyes*.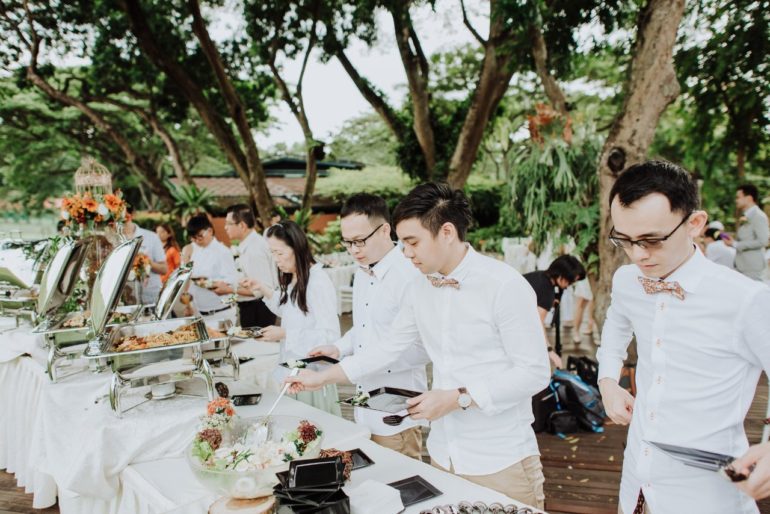 I also noticed that they gave us a higher grade of silverware and plates, which made it a more enjoyable experience eating.
Gastronomic food for my guests, checked!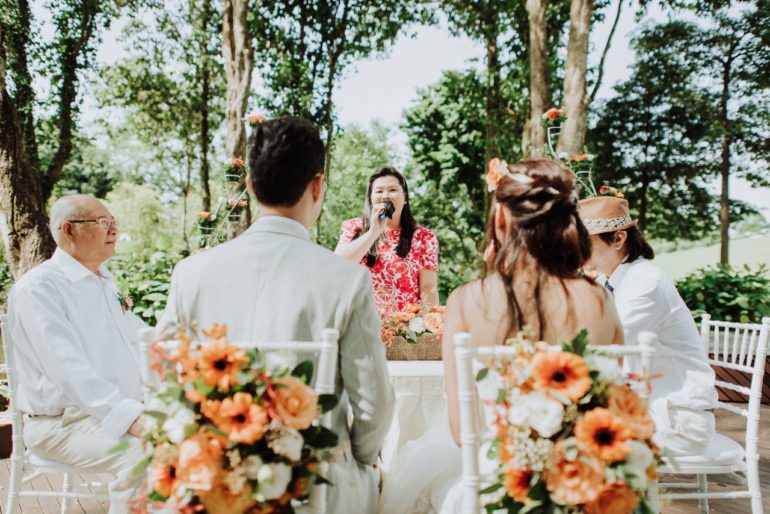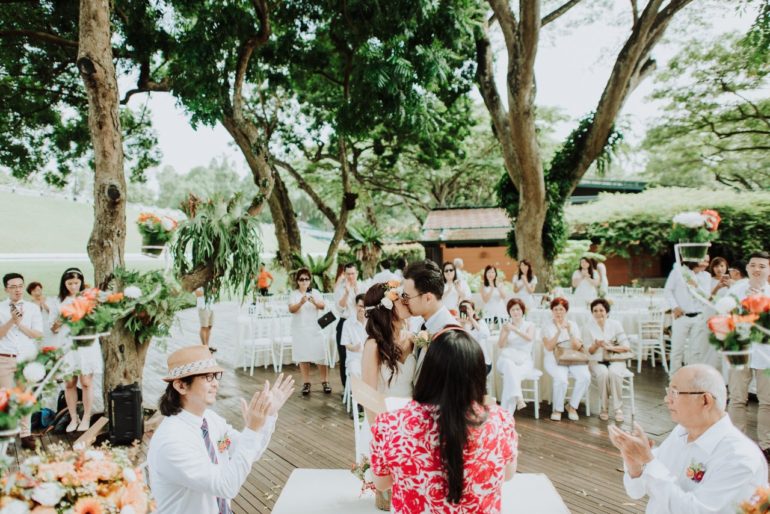 Pray for clear skies
For couples who are considering outdoor wedding venues, please have a wet weather plan. The stress kicked in a week before our wedding day. It was raining everyday, yes EVERYDAY. I can't imagine all the work we done, planning, styling and food, would be gone. The risk is real!
We really tested Orange Clove, the team was all geared up for the worst scenario on our wedding day. They brought umbrellas for the guests and even fairy lights to brighten up the space just in case we needed to move to the shelters.
Thank you Orange Clove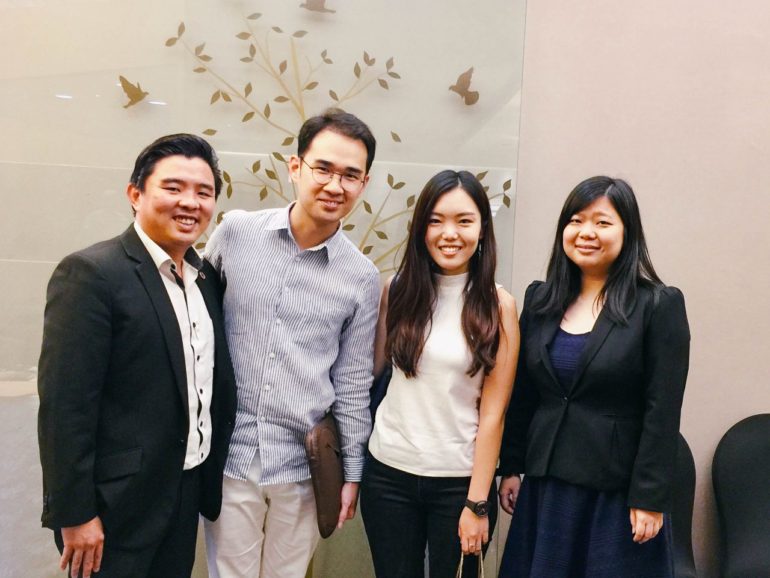 Big thanks to Orange Clove for making my solemnisation reception perfect. I'm blessed to have, Louis, Janice and the rest of the team there during the entire session. They took great care of everything, from serving up great food to carefully styling the entire venue. Scott and I are thankful to have such a professional team to count on for our wedding solemnisation reception.
About Orange Clove Catering
OC Weddings is the wedding arm under Orange Clove, the award-winning food catering company in Singapore. These professionals provides more than just food and styling. OC Weddings provides a full suite of wedding services, from sourcing of wedding venues to even helping you with your wedding car rental!
My wedding solemnisation was perfect thanks to them. If you want to know more about them, you definitely have to join their free food tasting session! It is the best opportunity to meet the team and experience their work first hand!